We have all been guilty of sticking on some new threads only to attract a rogue bit of lunch sauce or a splashed after-work drink. Maybe, that's why, as men, we approach wearing the colour white with trepidation.
History shows us the most admired stylish men wore white with ease. Steve McQueen's Superga's, Fred Astaire's wide-legged trousers and Marlon Brando's figure-hugging tee embraced it with aplomb. Sure, white doesn't have the sleek, refined positioning of black or navy. But, in summer, it is a great example of pared-back dressing. Notably able to absorb a range of other hues while reflecting the sun's rays.
Those looking to involve more white in their summer wardrobe needn't look like they are off to Pitti. Sure, there is a movement towards all-white ensembles. But, as someone with kids, I'm perturbed to recommend this for fear of big dry cleaning bills. So, let's break down the best ways to introduce white into men's clothing during the warmer months and beyond.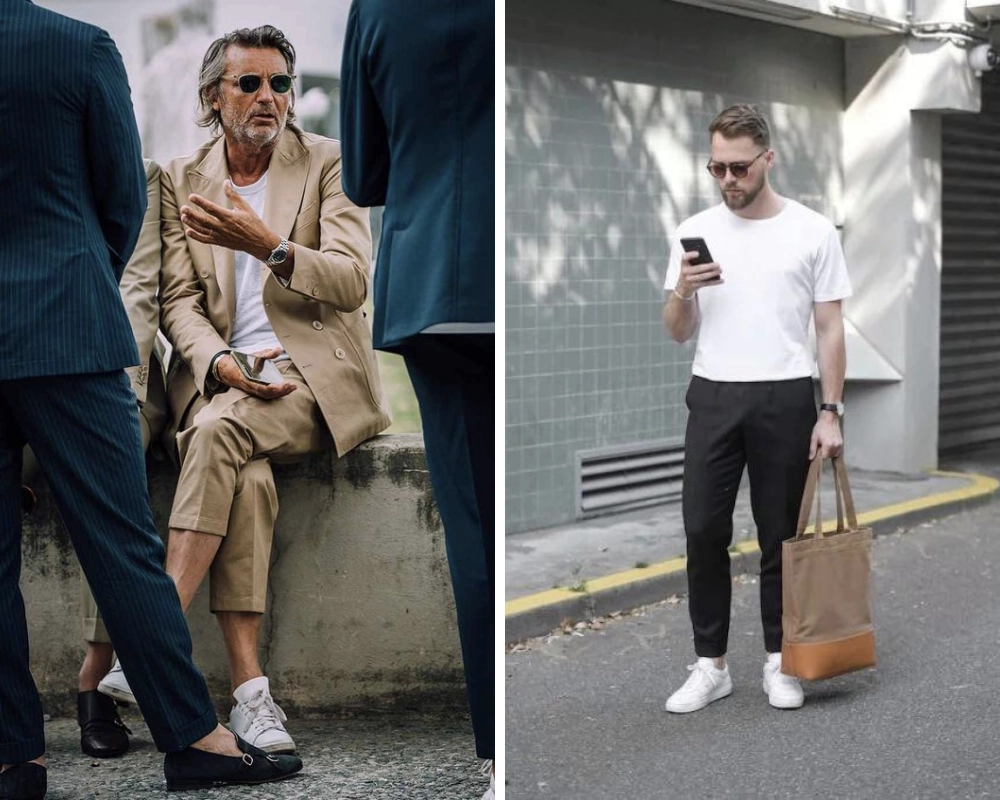 White T-Shirt
A multi-faceted piece of menswear, the white t-shirt, might seem humble. However, it is adept at delivering a staple for nearly all occasions.
As a growing trend to a less-formal workplace gathers pace, men can choose a white t-shirt as an ideal way to break up tailored clothing. Its unassuming nature makes it a subtle backdrop to suiting, especially if you want to rock pastel blues or autumnal greens in your rotations. While at the other end of the scale, the sheer simplicity of a white t-shirt pairs itself nicely with chinos, shorts and even denim.
Like the Swiss army knife of menswear, white t-shirts don't have to stop there. The inception of such a garment was to serve a purpose as an undergarment. As a result, men can still wear it astutely for this reason. Either hidden during the colder months or as a succinct piece of layering in those transitional months when the weather can't make up its mind.
White Trousers
As men embrace a more hybrid formality, we should see greater confidence in wearing white trousers. A glance across the water sees no end of men donning white trousers in the summer months. For those on these shores, it still remains a menswear taboo.
Guys can go a couple of avenues if they want to introduce white on their bottom half. The easiest is to pick a pair of white jeans. They are less pristine and can be a quick switch to your beige chino. Wear within the realm of smart casual as a partner to a nice polo shirt or linen shirt.
Alternatively, more formal white trousers can revamp your separates. The colour can sit well with those hues you typically already have in your blazers, like navy, beige, or brown. Just make sure you choose smart footwear that compliments the overall aesthetic. Our pick is a loafer in suede or leather for that dash of Neopolitan-tailored summer dressing.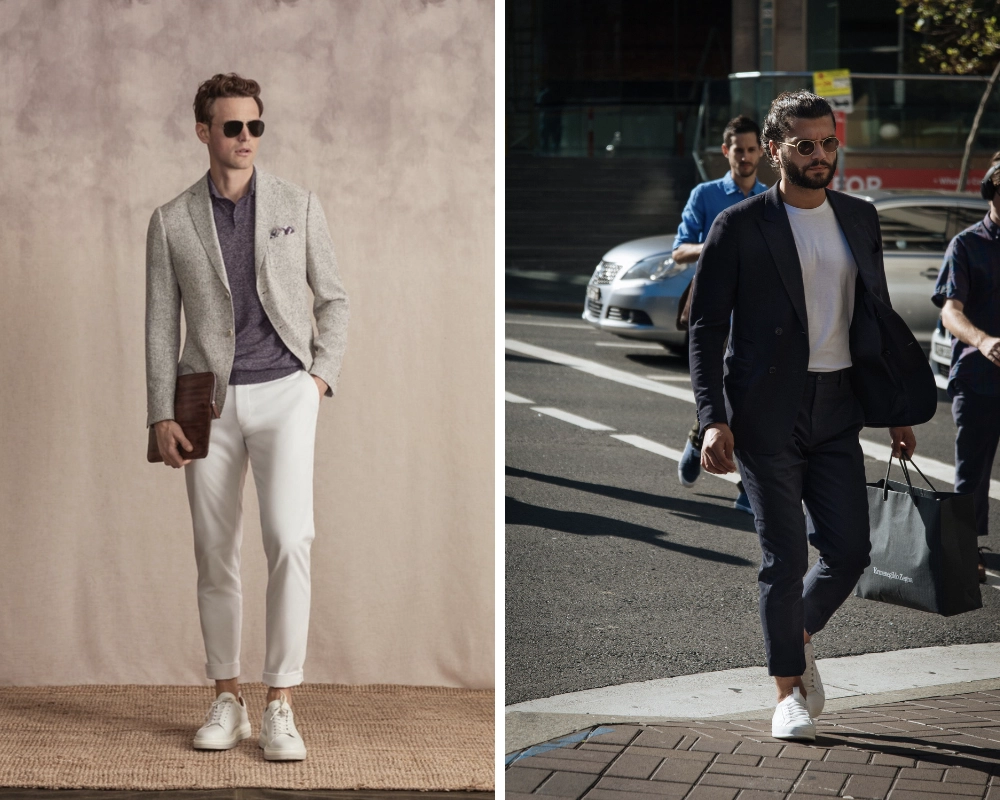 White Trainers
White footwear shouldn't be too much of a jump for the men reading. A versatile menswear staple, the white trainer is a firm favourite among the stylish elite. It is unassuming and minimalist, making it ideal for being worn with a variety of clothing.
We like to give our tailoring a contemporary feel by incorporating a pair of white trainers. But, it is worth noting that the whole look has to play to this aesthetic. So, we can't go formal on top and trainers on the feet. You'll look like an office worker about to change into their heels after walking to work. Try to loosen the top half with a t-shirt or polo shirt instead of the traditional shirt and tie.
White trainers can be worn with pretty much anything in your wardrobe outside of smart wear. Chinos and shorts all look natural with a pair of these trainers. If you don't already have this footwear in your rotation, you are missing out on their minimalist power.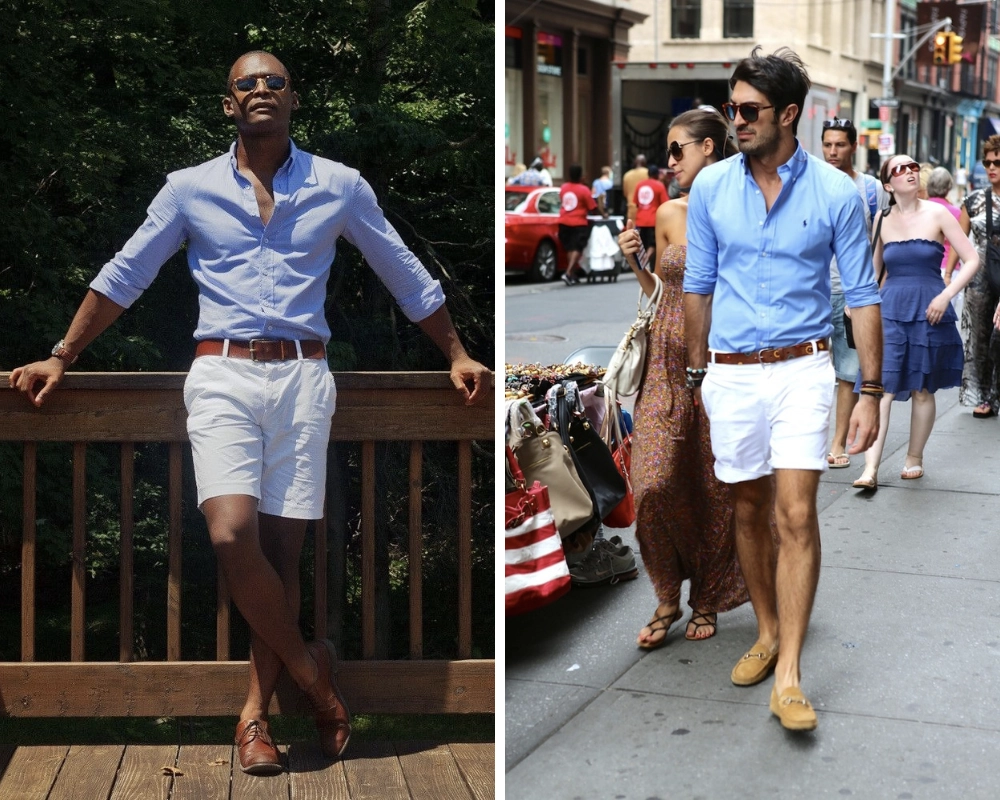 White Shorts
White shorts can offer a welcome relief for men in a sea of navy and beige. As with everything on this list, fit is crucial. Above the knee is the sweet spot for guys, with a rising hemline from here a sign of the wearer's confidence.
The neutral tone of white makes it an ideal partner for a robust palette choice. Why not introduce a pattern within a Cuban collar shirt for an attention-grabbing style? Alternatively, a plain Oxford button-down or linen shirt delivers a polished finish. Whichever way you wear them, white shorts offer a twist to the typical summer outfit that can deliver a mix of casual and smart.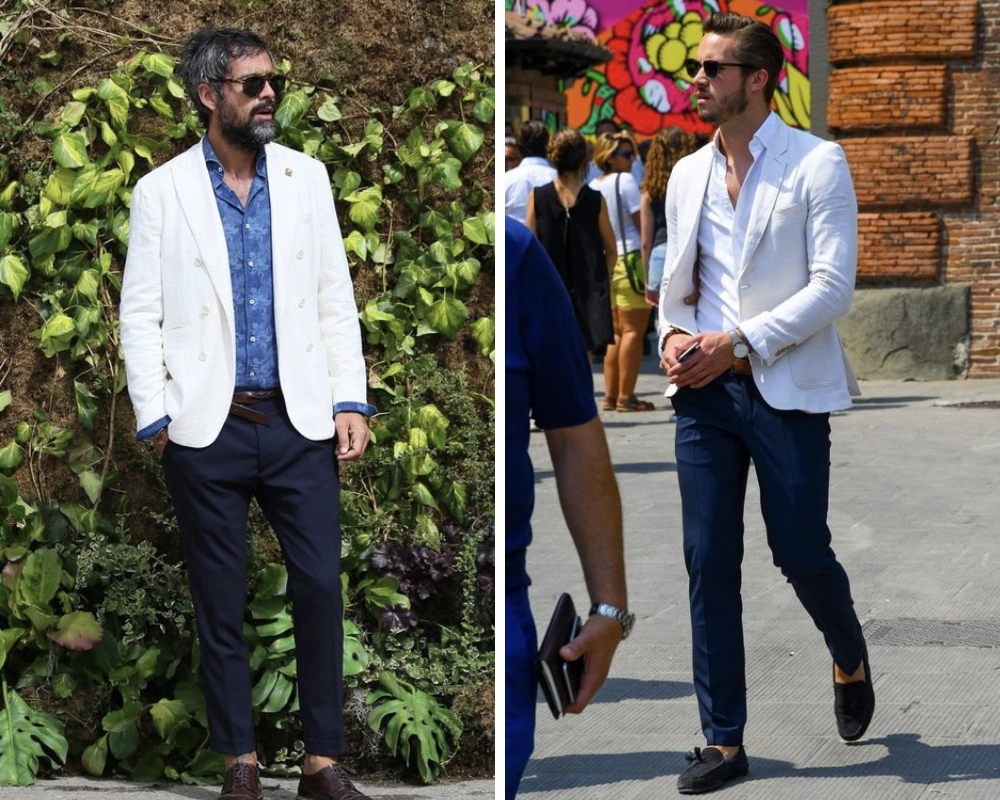 White Blazer
Whether you are going for the all-white ensemble or introducing just a white blazer, men can find a nice way to update their formal attire.
In the summer months, our tailoring takes on a more unstructured nature. Removing the lining and relaxing the shoulder can steer men to a more laid-back formality. A white blazer can nestle within this, delivering a European take on traditional smart clothing.
To partner with your white blazer, follow this unstructured nature. Think open-neck shirts and loafers with no socks to play into this cultivated look. At the same time, accessories like a coloured pocket square or sunglasses can finish the outfit without becoming too showy.
Now you have a wealth of options, you can feel confident in wearing white this summer no matter the event.