The Oxford English dictionary defines the shoe as, 'one of a pair of outer coverings for your feet, usually made of leather or plastic.' I think we can all agree that things have moved on a little.
Across all four seasons of the year, men face many style dilemmas – hot, cold, rain or no rain, colour, trends, practicality, and formality. If it's a personal passion, then these conundrums and quandaries are enjoyed, part of the evolution of one's individual style journey. There's always that sense, at least for this writer, that the search for the complete wardrobe (shoes very much included) never ends – perhaps that's the beauty of it.
As human beings, we want to feel we are prepared for every eventuality. When it comes to style choices, especially if you live in the UK, the need for a varied, sliding scale of elegant, functional footwear at your disposal - no matter the weather or occasion - is imperative.
When it comes to footwear, it can sometimes feel as though the options are endless. With such abundance at our fingertips, it can be difficult to cut through the noise and take a step back (no pun intended).
What we are hoping to achieve today is a guide, some helpful direction on the essentials. Now, by essentials, we don't mean basic or run-of-the-mill – it's those styles that can slot into your lifestyle at a moment's notice and make an outfit or add that final practical touch. From formal occasions, dining out and the office to shopping trips, country pubs and warm weather sojourns, it's all here.
Without further ado, let's begin:
1. The Penny Loafer
A timeless icon in leather, the penny loafer refers originally to the most famous of Ivy League shoes – the "Weejun." Founded in 1876, American brand G.H. Bass & Co. debuted Weejuns (a clever bit of homage wordplay based on the original inspiration) in 1936, basing the style on slip-on shoes worn by 19th-century Norwegian fishermen.
Embraced by countless subcultures in the modern era and oozing heritage, the penny loafer is, quite simply, a classic that always feels fresh. Those clean lines, that unmistakable silhouette. This shoe has that uncanny skill of being able to look just as stylish dressed up with a suit or tailored ensemble as it does down with chinos or blue denim jeans.
Incidentally, the nickname "penny" was coined (again, no pun intended) when youthful wearers of the time started slotting coins into the conveniently sized slot at the front of the loafer.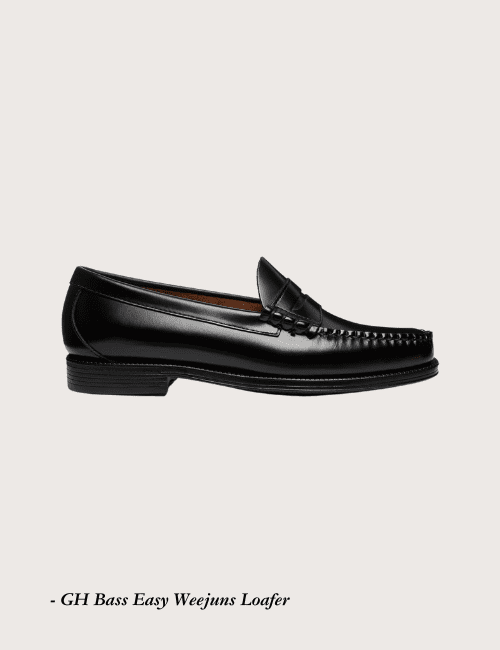 2. The Smart Trainer
A contemporary move when it comes to men's style, the notion of the smart trainer is something that fits well with the evolution of the modern wardrobe. The most notable illustration is the pristine white, low-profile lace-up, an elegant, souped-up take on the classic tennis shoe. Famous examples we all recognise come from the likes of Common Projects, Axel Arigato and the Adidas Stan Smith – but you can find a pair that fits this remit across many brands, from luxury Houses to the high street.
In terms of styling, there's so much on offer here, and they don't just have to be white in colour – the smart trainer also comes in black, navy, high-shine brown patina leather and more. Partnered with tailored separates or a suit, it can bring an on-trend relaxed elegance perfect for heading into town, whether for work or play.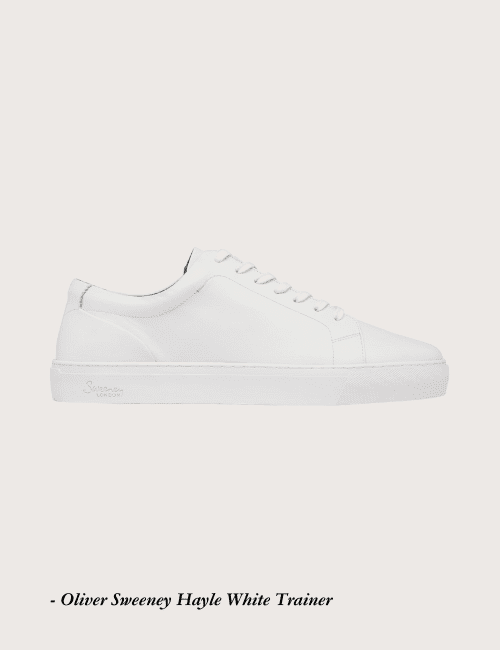 3. The Oxford Shoe
A timeless formal leather footwear style that imbues a palpable sense of English sophistication. With a rich history and some gentle debate around the exact origins of the shoe, we know that the Oxford has been around for centuries. Characterised by its decorative broguing, punched eyelets and closed lacing system, it's usually offered in regal browns or classic black leather.
The Oxford shoe is the perfect black tie or formal occasion option when the dress code requires it. There's something intelligent, something mature about a decision to own and wear a pair. It never has and never will go out of style, which is yet another valid reason to always have them in your repertoire.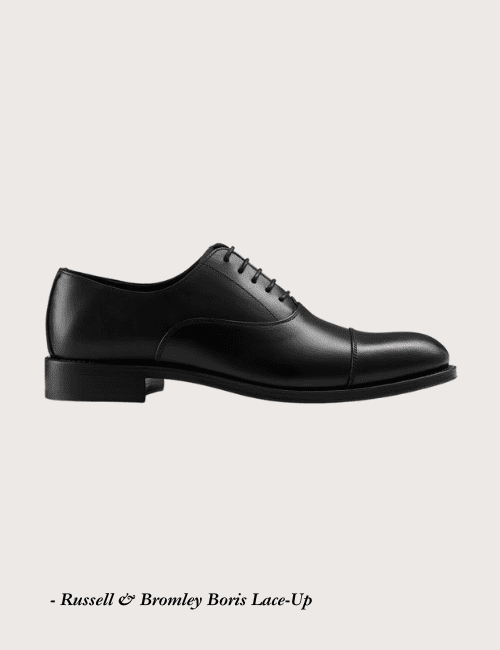 4. The Winter Boot
With the proliferation of outdoorsy, gorpcore trends hitting more of the mainstream fashion consciousness, the notion of owning a pair (or two) of winter boots in 2023 and beyond doesn't feel like too much of a stretch.
There's something out there for all tastes, from the highly technical, trek-like examples from Merrell, North Face and Salomon to robust, workwear-inspired kicks from brands like Red Wing, Grenson and Sorel.
If you select the right boot, it can offer durability, comfort, cold-proofing, and the obvious style kudos.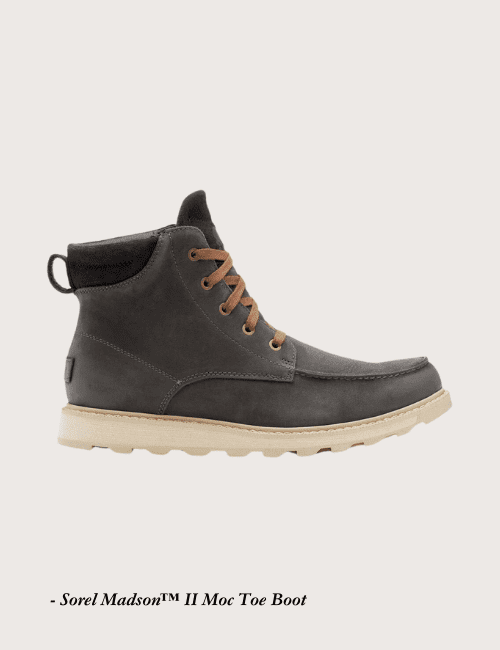 5. The Driving Shoe
Softly-constructed and resembling the classic moccasin, driving shoes have a refined slipper feel about them, but don't be fooled. Originally developed in the 1960s in Italy in the 1960s, this seminal style was designed for driving comfort and performance but also for elegance.
When this writer thinks of the driving shoe, the mind wanders to beautiful places – 1980s Michael Douglas wearing Tods or dreams of cruising the Riviera in a suitably vintage open-top sports car.
As a lighter, more flexible alternative to the traditional loafer, the driving shoe (usually offered up in various tones of suede) is the ideal vacation shoe - particularly for warmer climes paired with a relaxed wide-leg trouser, stonewash denim or a simple, tailored short.
6. The Chukka Boot
Characterised by its ankle-high profile, crepe rubber sole and minimal, open lacing system, the "chukka" boot originates from World War II – a form of desert boot originally worn by British soldiers in the Western Desert Campaign.
Worn regularly by the King of Cool himself, Steve McQueen, there's an effortlessness to the chukka (or desert) boot that transcends generations. Easily worn with jeans and a simple crew neck tee for that roguish air, or dressed up with tailored separates or a roll neck knit in winter.
A casual classic that's been adopted by subcultures and laced by many a famous face for decades since their inception, this boot is another that doesn't seem to ever go out of style.
Note: Google 'Steve McQueen wearing Chukka boots' for full inspiration.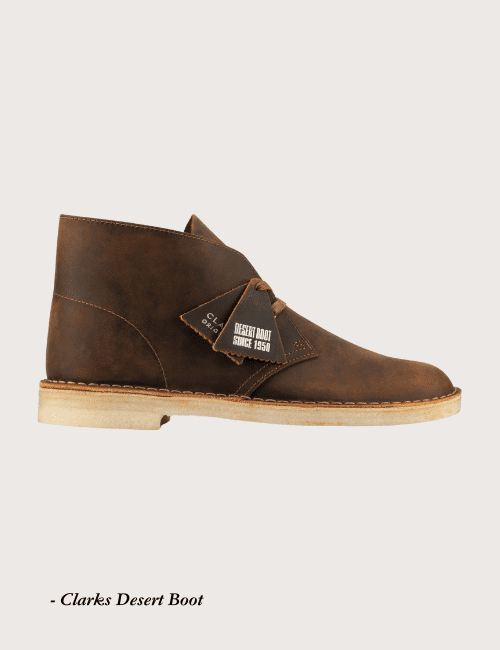 7. The Espadrille
A simple summer must-have with a rich, storied legacy. The story begins in 14th-century Spain, where the espadrille (or espardenyas in ancient Catalan) was an essential piece of utilitarian workwear worn by peasants and soldiers of the day. Over time, the different regions of Spain developed their own unique styles, colours, and features, but the essence of the espadrille remained true to its origins. From those early iterations to the present era, there's a deep and intriguing tale to discover – for anyone that's interested in further reading.
As it stands today, this casual, roped-sole canvas shoe is the epitome of Mediterranean chic. Worn with a relaxed chino short or wide leg trouser (in linen perhaps), the scene is set for the wearer.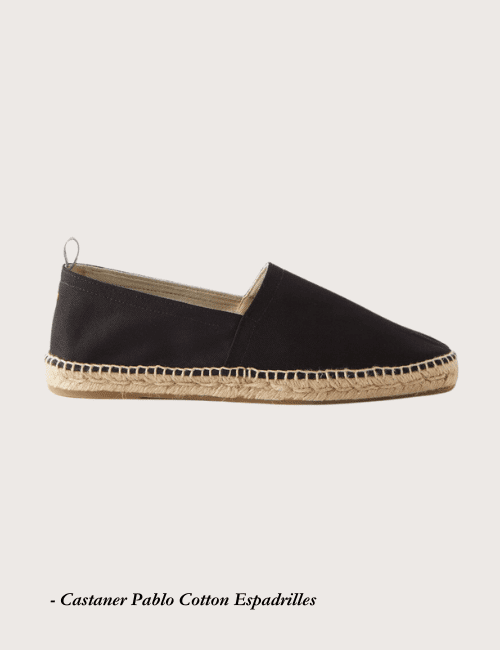 8. The Chelsea Boot
Last but not least, the Chelsea boot – a stone-cold classic of British formality and charm. If the wallet will allow, there are some truly exceptional styles out there that reflect a dedication to craftsmanship. There's a phrase this writer has heard being used for the contemporary Chelsea boot, and that's "tough-luxe" – black slip-on ankle boots that provide durability and refinement in equal measure.
There seem to be two ways to go: 1. The traditional, dressier shoe with a slimmer, more formal silhouette or 2. The slightly chunkier, rounder toe of a utility-inspired Chelsea, much more in the vein of a Dr Martens boot.
Whatever your preference or penchant, the Chelsea boot - like all of the other seven styles of footwear quoted here today – makes a strong claim to be included in your shoe rack at home if they aren't there already.