Pairing your shirt and tie in the right combination can be a struggle for a lot of men. Those that find themselves confined to a corporate suit for the majority of the working week, can quickly see their character sucked out of their working wardrobe. Typically accessories like ties, pocket squares and even socks can be a subtle way of bringing out your personality. But, taking that too far in the wrong environment can turn heads for the wrong reasons. So, men fill their wardrobes with shirts and ties that are 'safe'. Afraid to try new combinations they revert back to these tried and tested (but slightly boring) options.
If we were to give you a patterned tie and gingham shirt, would it leave you quaking in your oxfords? What about introducing the colour purple?
Understanding colour matching is going to be key in learning which colour shirt goes with which colour tie.
Firstly, these are similar colours. Colours that sit close to each other on a colour wheel. Think a dark grey suit with a black tie. You are probably using this in your wider wardrobe like with the suit and tie example. Now it is about applying the same principle for a shirt and tie combination.
Secondly, we have complimentary colours. These are opposite each other on the colour wheel. Approach with caution these can be the most difficult combinations to get right.
Lastly, there are contrasting colours, otherwise known as clashing colours. Don't be put off by the name, the key is the shade. Think mid-blue shirt with an oxblood or burgundy red shirt rather than a high-intensity blue and red alternative.
In this guide, we will bring you 10 of the best shirt and tie combinations to save you time and hassle when planning your work wardrobe. From the starter combination to more advanced, there will be a shirt and tie combo for you to try. Investing in these is a sure-fire way to looking your best daily.
1. White Shirt + Anything
The white shirt is the perfect base for practically any tie. It has an expert ability to absorb colour and patterns, so it is a safe choice for any men a little sartorially challenged. Combination ideas include spots, stripes or tartans, ass it will be an easy way to add something a bit different in the office. A white shirt can transcend seasons, so you might combine with more pastel hues for your tie in the summer and darker, earthier tones for the rest of the year.
2. Blue Shirt + Green Tie
An outdated and forgettable style rule that men should not follow is "blue and green should never be seen". That is because they clash on the colour wheel. But, remember what we mentioned about tones. Using a blue shirt as your foundation is the base you need to add a green tie. A combination that looks great in more autumnal weather. You can add more texture to your tie in the colder months by opting for wool or a knitted version.
3. Blue Shirt + Blue Tie
A blue shirt and blue tie combination are a timeless classic if a little on the safe side. Keep the shirt a lighter colour to the tie and venture into different textures or patterns to update. Don't forget though; there is nothing wrong with timeless style. There is a reason gentleman still rely on this tried and tested combination. We saw Daniel Craig in James Bond wearing a blue shirt and tie, and if it is good enough for Bond then it is good enough for us. Like with Daniel Craig, if you want to bring something a little different into the mix then you might choose a shirt collar that isn't your typical spread collar.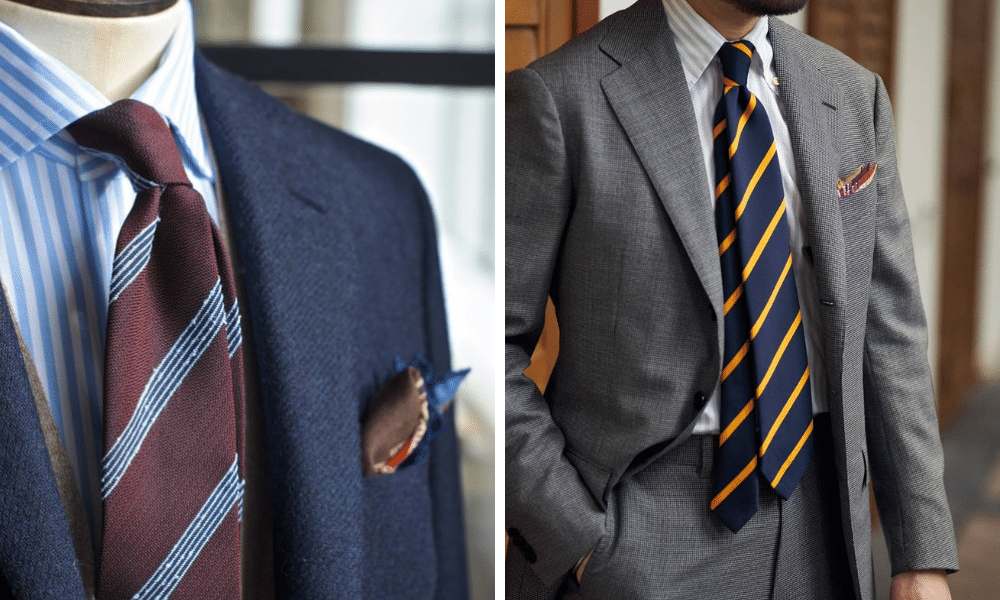 4. Striped Shirt + Diagonal Striped Tie
This combo is going to be a little scary for some men, but we assure you it can take you up a style notch if you can pull it off. Just remember that the width of stripes on the tie should be wider/bigger than that of the shirt. Colour-wise a navy base is a beautiful place start from, with an additional dash of colour in the diagonal stripe on the tie.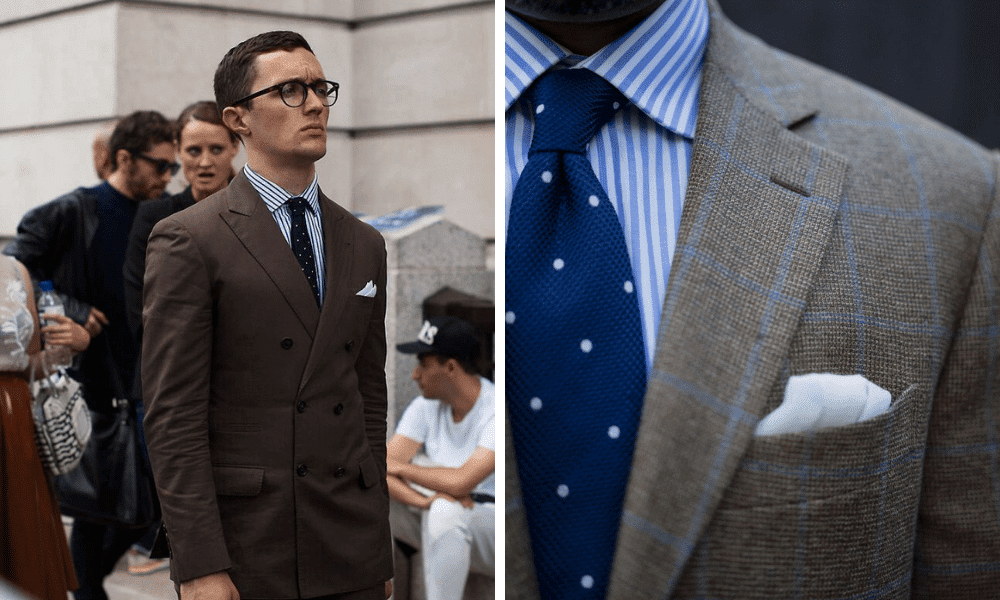 5. Striped Shirt + Spotted Tie
The key with this look is for it not to look too busy. You don't want bold shirt stripes with a cacophony of bright spots on the tie. The spots should nearly always be white, but you can play around with navy, red or even green as the main tie colour. Remember that this guide is showing you what colours compliment each other. So stick to our guidelines as a rule of thumb for choosing your shirt colour.
6. Blue Shirt + Burgundy Tie
A fantastic combination that men should experiment with is blue and burgundy hues. Wearing a navy blue or grey suit can become stale every day. So instead of sticking to the safe navy blue tie choice, a burgundy tie will do wonders in giving your outfit a bit of a lift.
7. Pink Shirt + Red Tie
For those men looking to break out of conformity, then this combination is one to try. Not for the faint-hearted, we would advise approaching with caution. If this is not colours, you would typically embrace then probably best to move on. But for those comfortable with the looks of surprise and admiration in equal measure then this could be the show-stopping combo you've been looking for.
With all our choices, colour tone is key. We don't want the pink shirt to be too bright as they will contrast too much with the red tie.
8. Blue Shirt + Brown Tie
Again, similar to the blue shirt and green tie combination, these tonal colours work well together during the spring and autumn seasons. You could also try a lighter colour tie to prolong wearing this arrangement into the warmer months. But much like the green tie, adding texture or a patterned pocket square will lift this outfit when outside the office window is looking drab and dreary.
To try another twist on this combination, we recommend experimenting with a chambray denim shirt. This light weave denim can make a great alternative dress shirt in your wardrobe. Pay attention to the collar, as some can be quite casual. But, getting it right means it will partner nicely with a dark brown tie.
9. Gingham Shirt + Knitted Tie
A gingham shirt is an excellent addition to your base range of shirt colours. It adds texture without being too dramatic. Stick to a gingham shirt colour like blue, or burgundy for this combination. By moving away from a plain white or blue shirt not only will it look different to those around you, but by combining it with a plain knitted tie you are showing your sartorial clout.
10. Patterned Ties
With a multitude of patterned ties for men to choose from, with it comes a sartorial minefield. If in doubt, the safest way to add a bit of bold pattern into your work wardrobe is by offsetting it against a neutral, unobtrusive shirt colour. Lighter colours are ideal for this as they will absorb any energetic tie patterns. So opt for pale pink, blue or grey and the old faithful white shirt as your pattern partners for this summer.
With non-white shirts, we would recommend picking out colours from the tie to complement the shirt. They don't have to be an exact colour matches, but navy blue in a printed tie can be combined with a light blue shirt for example.
Final Word
Balancing shirt and tie combinations can be a difficult thing for men to get right. Hopefully, this guide has given you some insight into the colours, patterns and textures that work together to lift your office suit.
You might not already have the right combination in your wardrobe. Ask for advice from those around you like a friend or sales assistant to make sure you buy the right shirt or tie when out shopping. As you build up more options in your wardrobe then you will effortlessly be picking the right shirt and tie combination every day for work.