When it comes to summer dressing, few fabrics can enable men to toe the line between formality and laidback nonchalance like linen. Crafted into a shirt, linen's breathability means men have a dependable staple that can keep the sweat patches at bay. All while giving some much-needed structure that allows us to wear this shirt within multiple dress codes.
No longer a laughing stock, the linen shirt has become our warm-weather saviour, leaving beach weddings and excessive creasing in the past. It has been neatly blended with fabrics like cotton or silk to deliver formality while still keeping an element of this in its rawest form. Whichever way you wear it, it is time to start embracing a linen shirt as a staple of summer wardrobes.
Why You Need a Linen Shirt
What isn't there to love about a linen shirt? A natural fabric with a low thread count, it allows air to circulate the body, keeping men cooler in the heat. Not to mention being adept at wicking away sweat. As if the morning commute in summer isn't hard enough without worrying about damp patches. Linen has your back (and armpits) covered.
For those men keeping an eye on their environmental impact. Linen comes from the flax plant, requiring less water and pesticides than other crops. Thus making linen a more eco-friendly choice versus different fabrics.
There have definitely been advancements in the production of linen in menswear. But, there is no escaping from the fact that compared to other materials, it is more susceptible to creasing. However, we can almost eradicate this by looking for cotton-linen blends.
In its rawest form, 100% linen is hard to beat for smart casual summer dressing. Available in various fits and cuts, there is no shortage of options to suit every wedding invite or weekend date over the next few months.
How To Style a Linen Shirt
Styling a linen shirt is easy because it's such a versatile piece of clothing. You can wear it with shorts for a casual look or pair it with chinos for a more formal look. A linen shirt also works well as a layering piece, so if it gets cooler in the evening, you can easily throw on a denim jacket or lightweight blazer.
Here are a few of our favourite linen looks.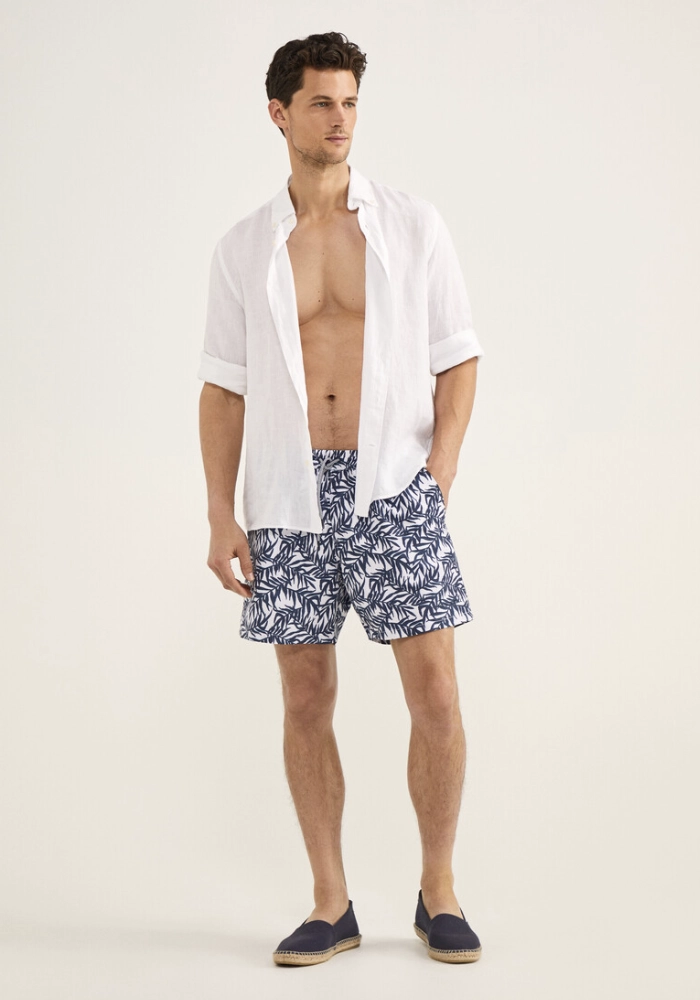 Holiday Vibes
Granted, the linen shirt might give off more than a whiff of Caribbean holidays. Worn with your favourite choice of swim shorts and sandals, it is a surefire classic for those days in the sun. But back home, you don't need to discard the linen shirt to the back of the wardrobe.
For our daily rotation, we are looking to the Med. Think the South of Frace or the Italian coastline. That mix of off-duty formality can combine tailored shorts with espadrilles for coastal shades of elevated European style. It is a relaxed silhouette, with a lightweight shirt giving a welcome partnership to the summer heat.
Men can accessorise this look with their favourite watch or jewellery to take it further from the pool and closer towards everyday practicality.
Summer Tailoring
Although linen shirts are often associated with a slightly casual feel, they can also be dressed up with a more formal look. The key to mastering this is twofold.
First, reach for a linen blend shirt to minimise creasing and keep that air of formality. Secondly, utilise texture to your advantage. A linen shirt gives off a different aesthetic to a basic cotton shirt, so use that as a contrast to your summer suit. Doubling up by partnering linen on linen will only remove the depth needed and leave your outfit lacking the smarter edge.
In addition, men can create that contrast through colour. This works well if you have chosen to lose the blazer. Opt for darker-tone trousers to ground the look while using a lighter-coloured linen shirt on top for the disparity.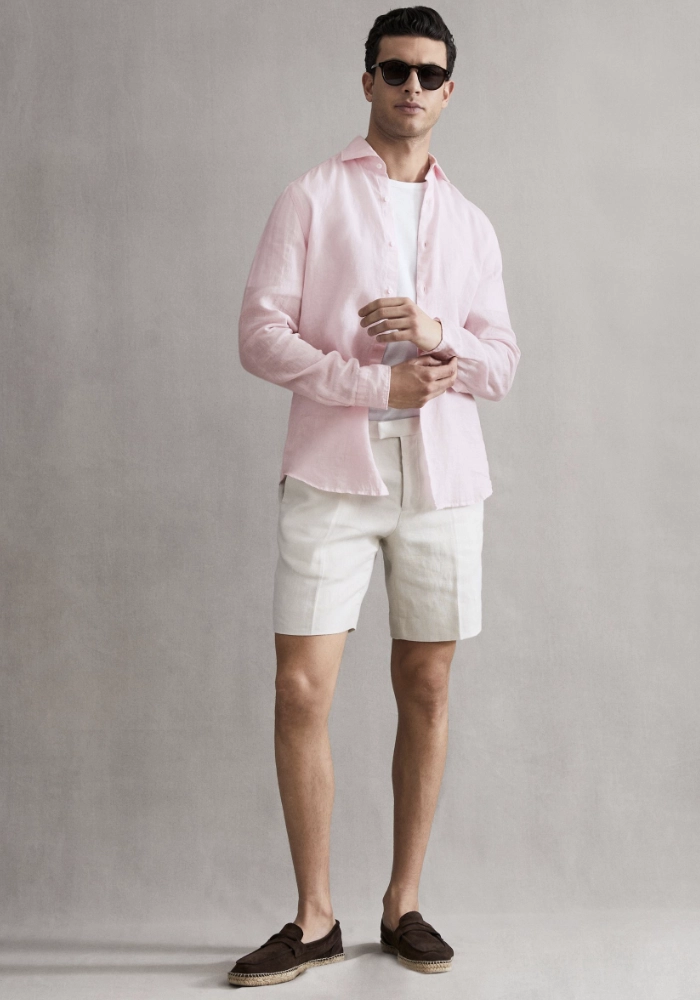 Weekend Casual
This is where you get free reign to style your linen shirt. Out of summer, we might be choosing our polo shirt or oxford button-down for that smart-casual weekend look. Something not too smart but far enough from slobbish, you don't look like you've just popped into the corner shop to buy some milk. On warmer days, the linen shirt is ready-made to step in and deliver what its predecessors have before it.
We would suggest breaking the outfit up a little by rolling the sleeves and adding a belt. It will draw the eye and ensure we don't look like we've just stepped off the beach. Alternatively, try a striped linen shirt or even a Cuban collar version to offer some interest and something different to a more basic cut.
On the feet, mix it up. Men can choose trainers, desert boots or driving shoes, which will all play nicely into this off-duty look.
1. Uniqlo Premium Linen Regular Shirt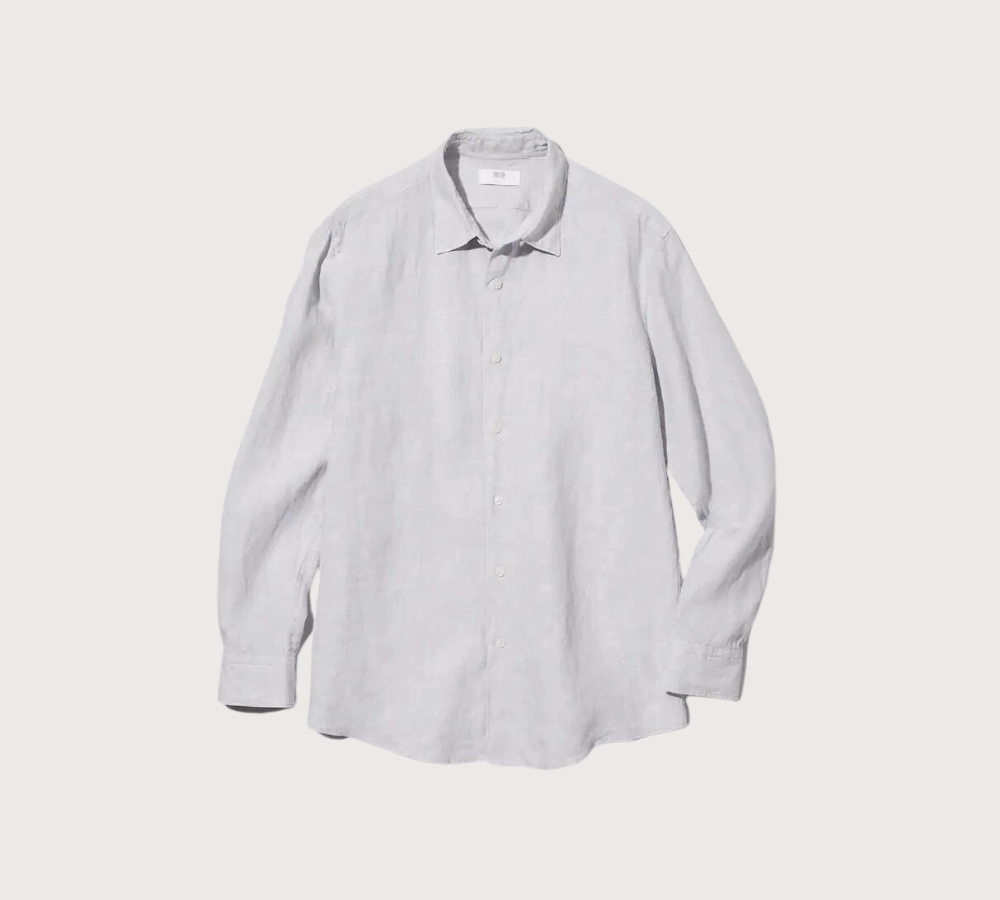 Available in a rainbow of colours, Uniqlo has easily allowed men to get their hands on linen at an affordable price. For those on the fence, this is an entry-level way to showcase how linen can take your outfits up a level in summer without losing the style you have honed the rest of the year.
2. Arket Regular Fit Linen Shirt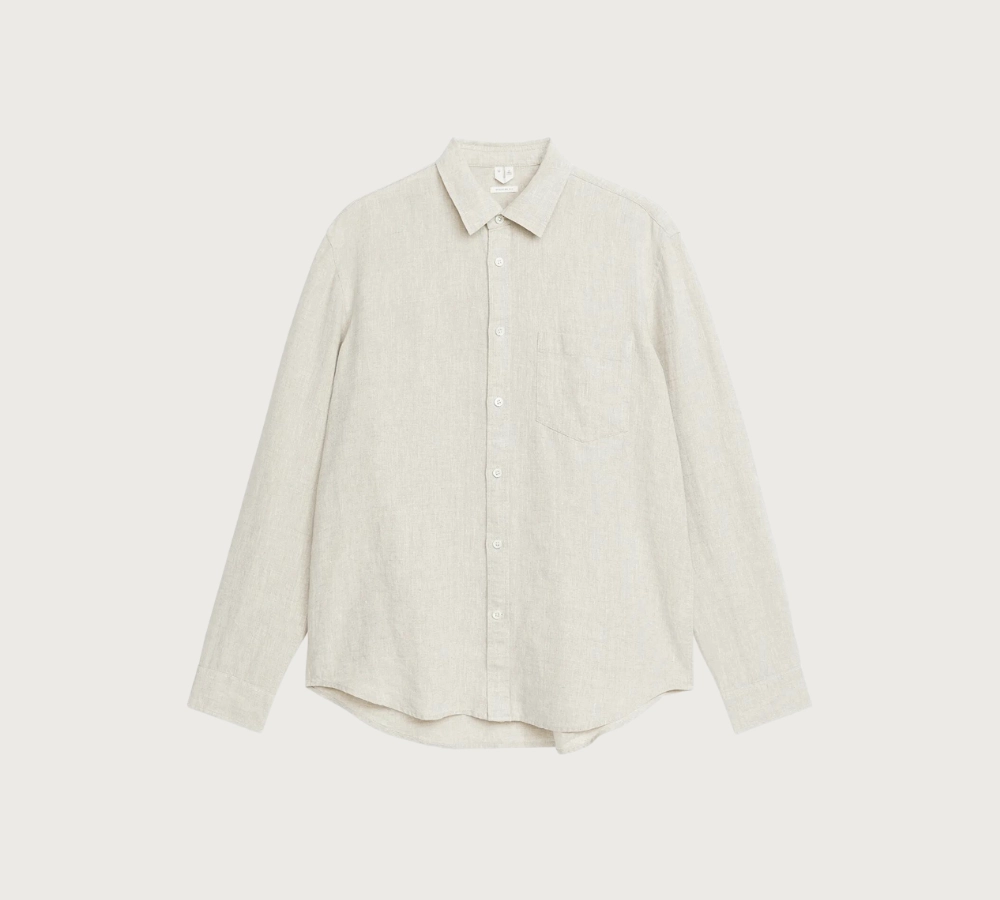 Purveyors of a Scandi-minimalist aesthetic. Arket is known for delivering the core basics that every stylish guy needs. This linen shirt is no different. A classic cut in 100% linen, this will ensure you are kept cool but refined wherever those hazy summer days take you.
3. Suit Supply Light Brown Slim Fit Shirt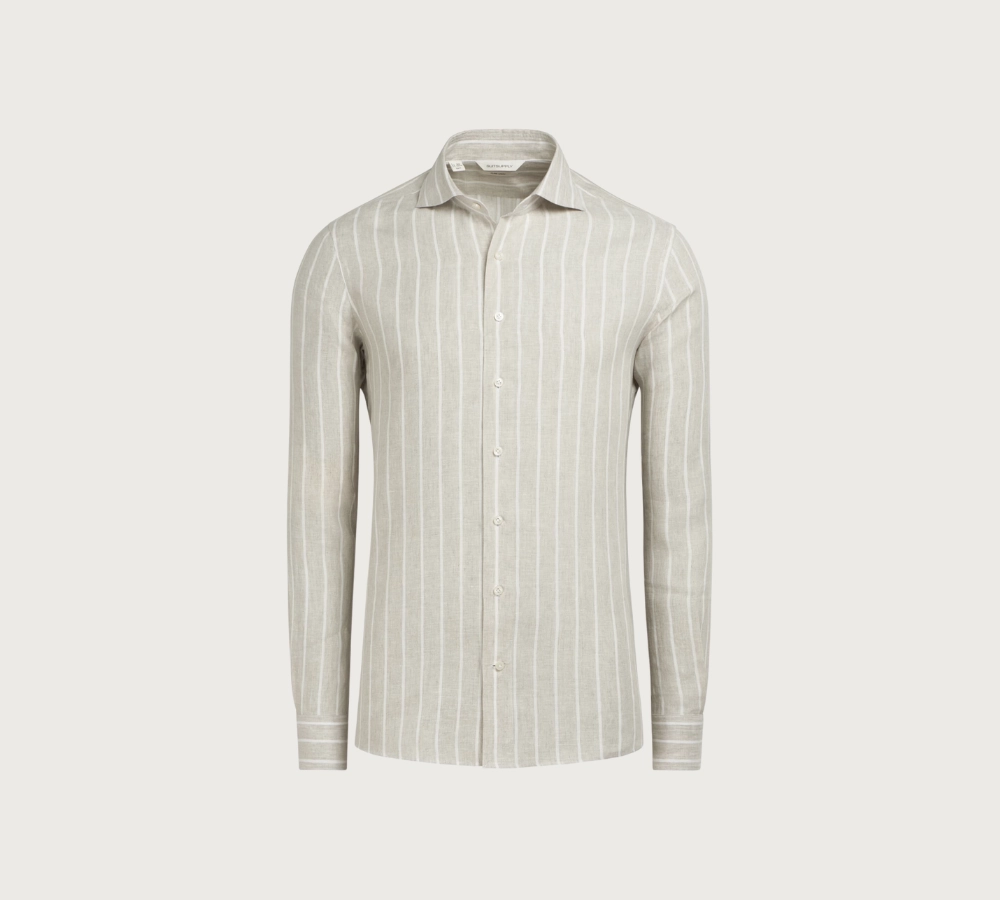 Get that touch of European style with this Italian-made, 100% linen shirt. With a slightly shorter hemline, this is the perfect piece for cultivated casualwear. Men get all the hallmarks of a formal shirt but with a casual twist, giving them versatility and comfort entwined in this striped number.
4. Luca Faloni Portofino Linen Shirt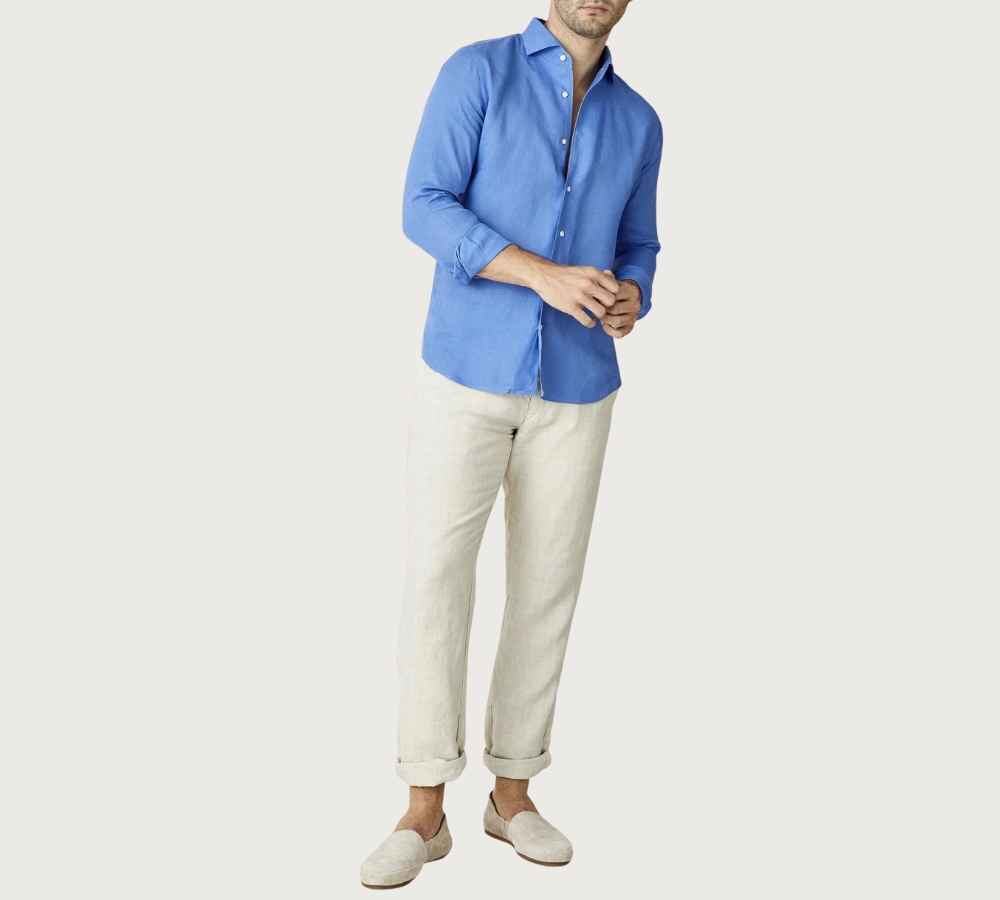 The signature linen shirt from Luca Faloni, the Portofino, is a fine example of not messing with the classics. From its timeless cut, Italian linen and mother-of-pearl buttons. The brand has shown by beautifully crafting great clothing, men will get a shirt that will last them for years to come.
5. Asket Beige Linen Shirt
One of the beauties of great quality linen is its ability to get softer the more you wear and wash it. And that's exactly what men can expect from Asket's headline linen shirt. The ethos of linen as an eco-choice for menswear pairs nicely with Asket's own views on sustainability. It's a match made in heaven.
6. 100 Hands Olive Green Linen Shirt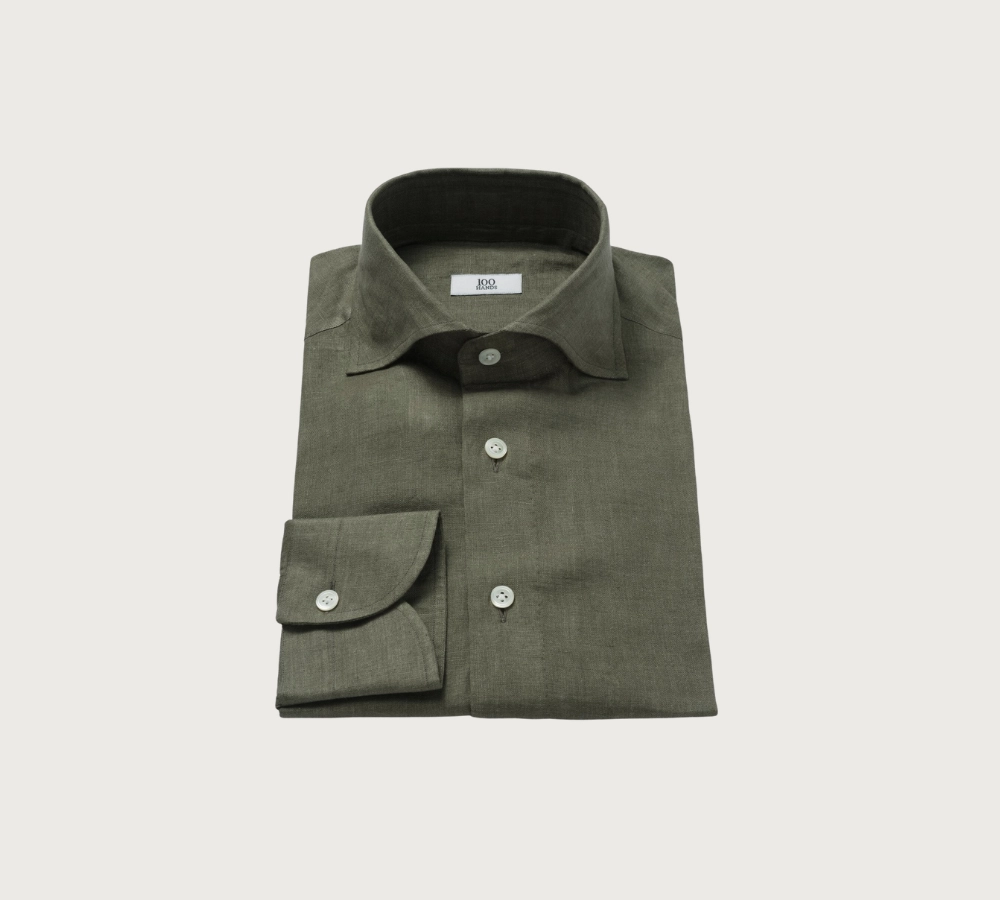 Why does a linen shirt have to be for your holiday? Invest in a 100 Hands shirt, and you will get a menswear piece that will feel wasted on the beach. Intricately crafted, this is a luxury bit of kit that deserves to be worn through summer and beyond.
7. Emma Willis Jeans Linen Shirt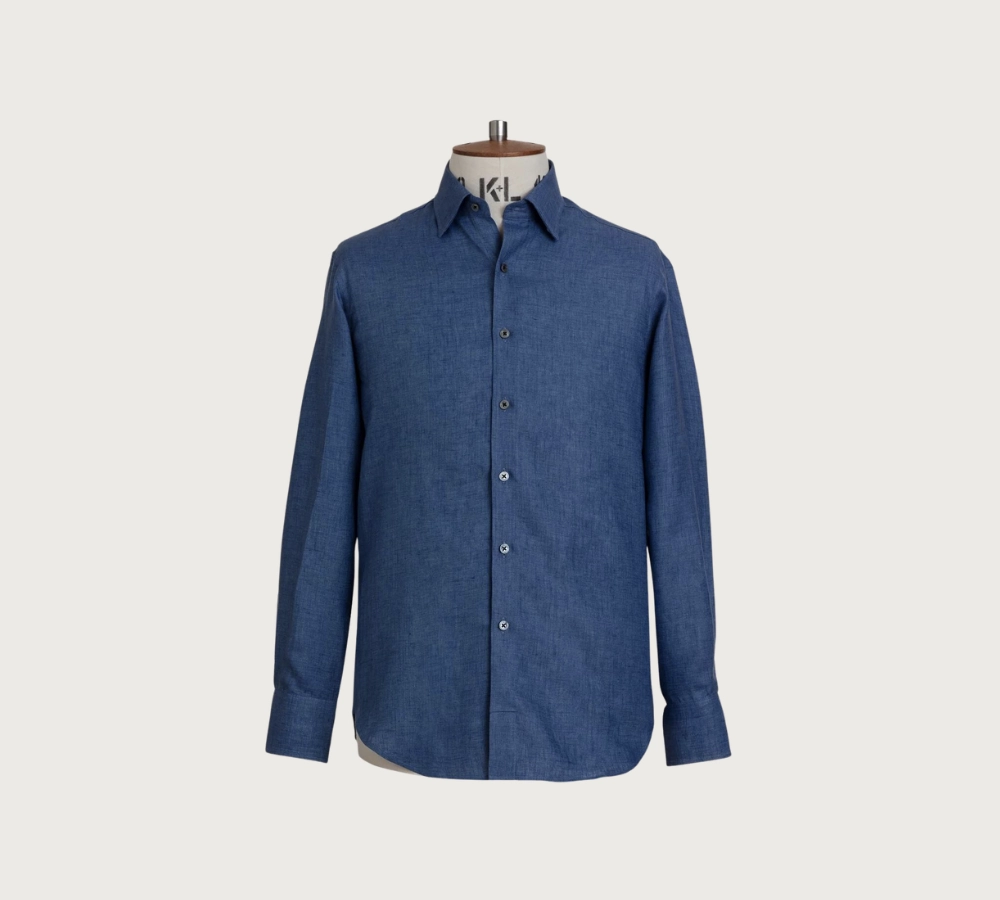 This linen shirt from Emma Willis carefully plays into how versatile this fabric can be. Wear it tucked in for a formal take on summer dressing. Or, the curved tail at the back allows for men to wear this untucked, maybe with the sleeves rolled up and still get that air of formality, albeit slightly more casual.
8. Mango Regular Fit Striped Shirt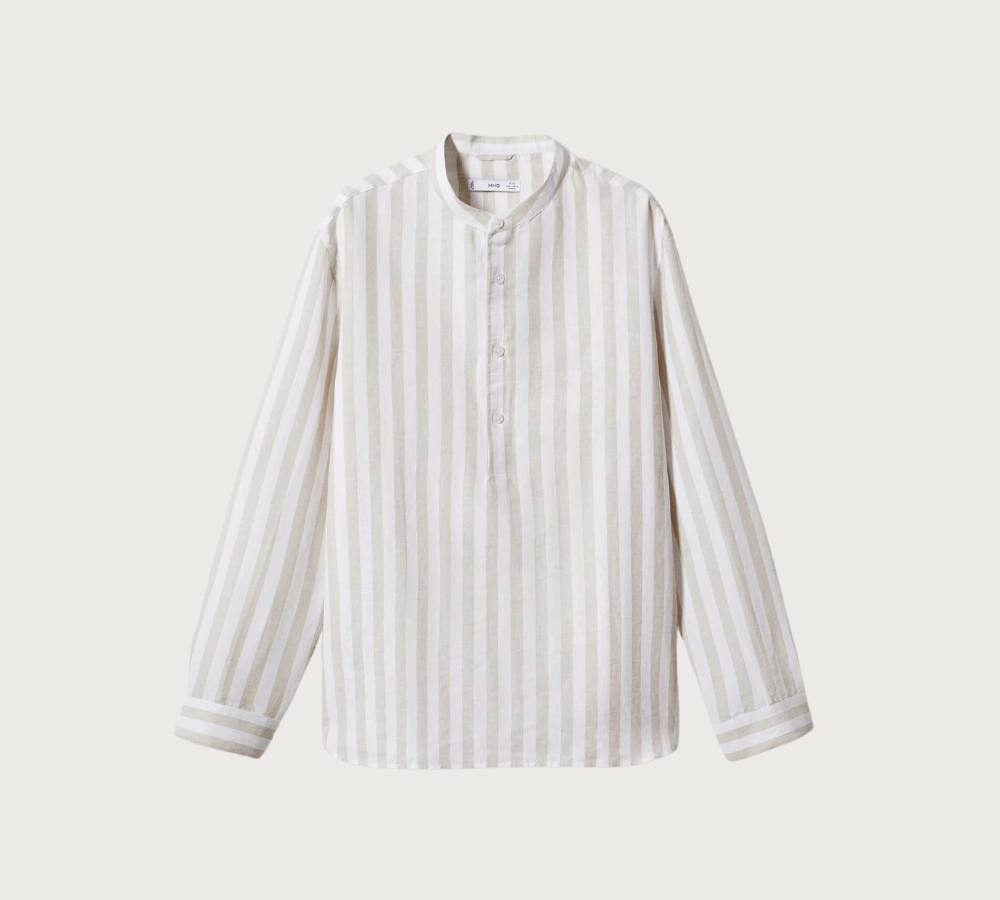 A Mao collar evokes visions of balmy East-Asian days. Stripping the collar away from a traditional collar relieves restrictiveness, which is much needed in the heat. There is no place for a tie, and nor should there. Your OOO is now firmly on.
9. Percival Long Sleeve Cuban Linen Shirt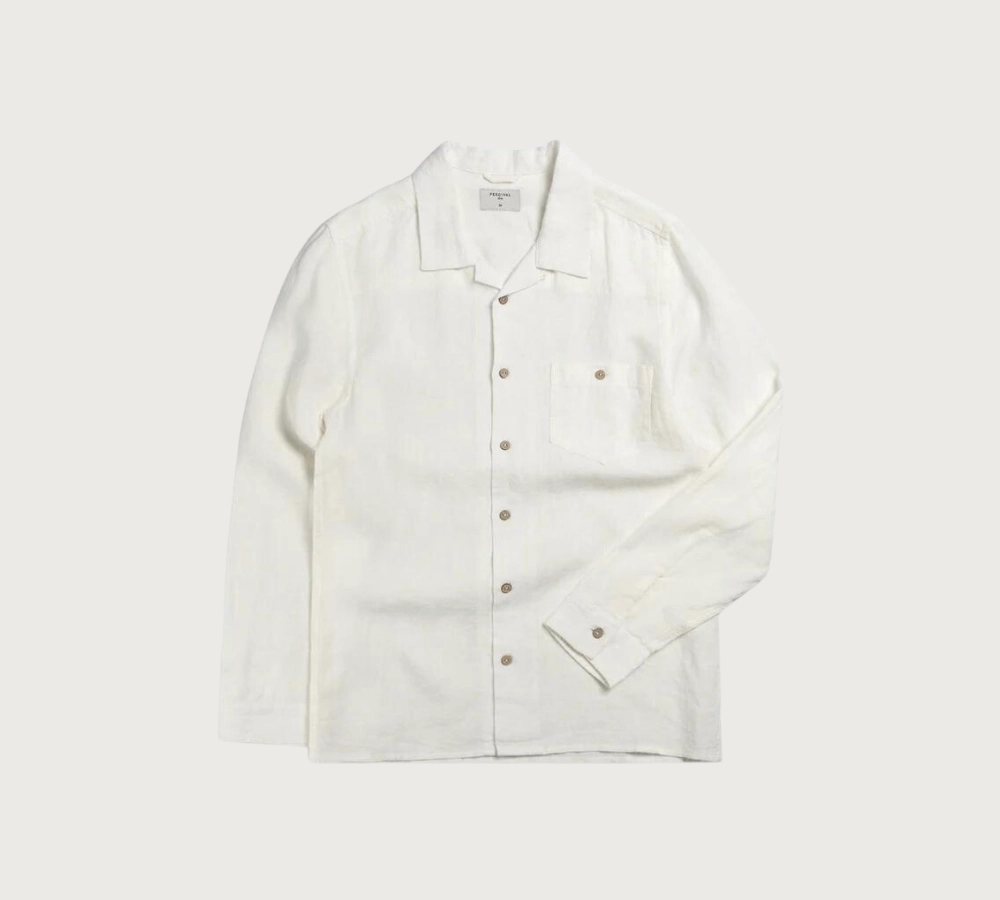 The brand of the moment, Percival is everywhere with their fun take on menswear. Partner this long-sleeved linen shirt over a simple vest and tee for an artful summer layering piece. Remember, we live in Britain, and the sun is a cherished, fleeting moment, so be prepared for evening chills in the beer garden with this modern pick.
10. Sirplus Cornfield Linen Cuban Collar Shirt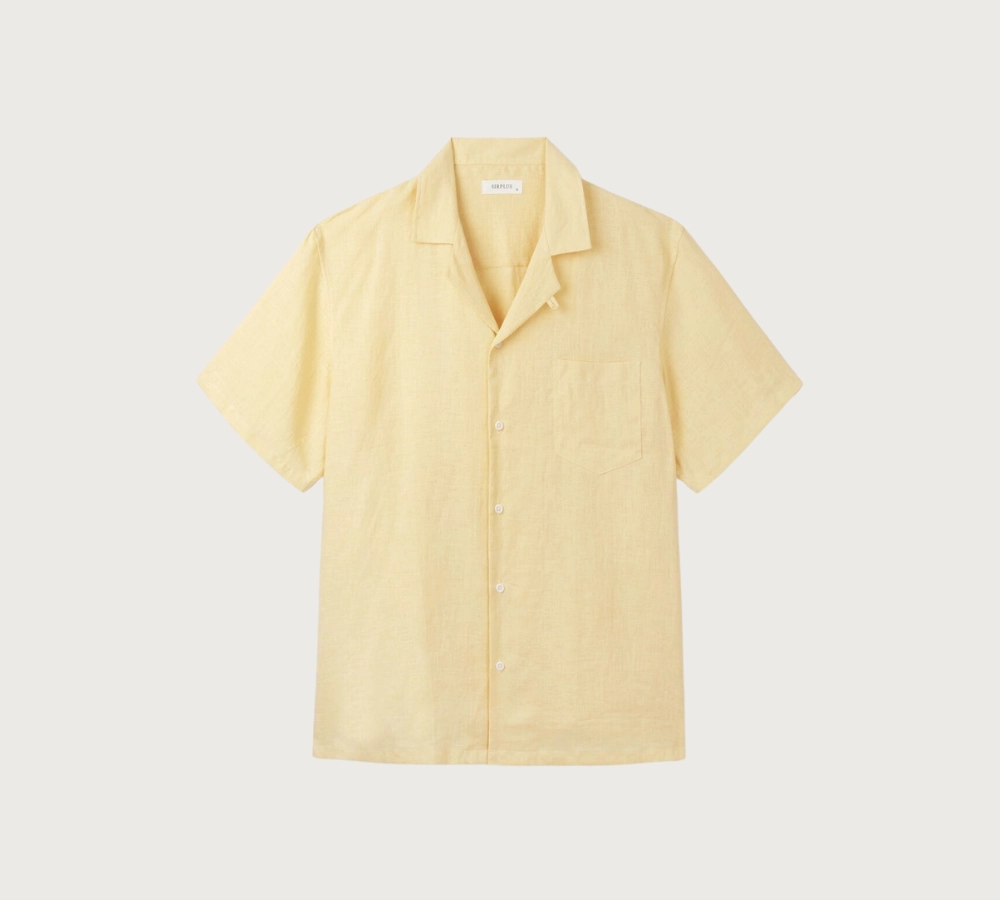 Delivered in summer hues of cornfield yellow, this colour palette is screaming out for you to stick your shorts on and grab a cocktail. It's time to clock out of work and enjoy the summer sun. Made in Portugal from 100% linen, Sirplus again gives us a masterclass in underrated, timeless men's style.
11. Reiss Holiday Linen Shirt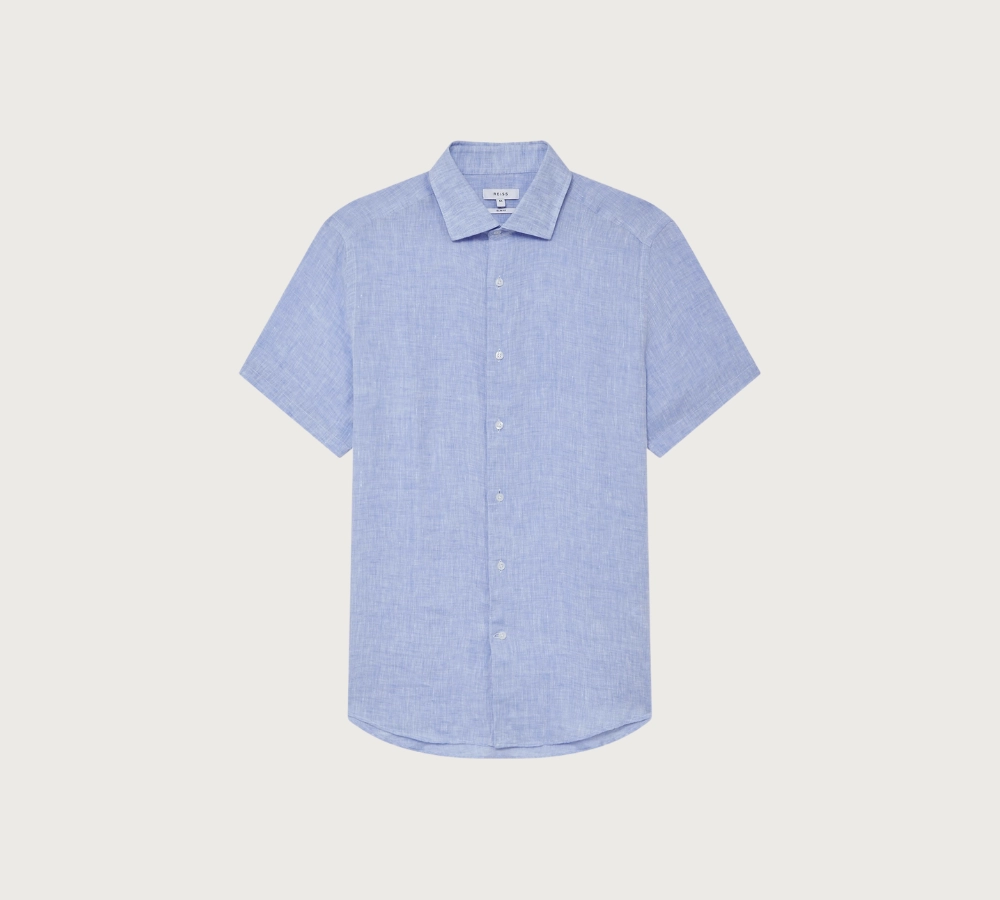 As the name suggests, Reiss is making holiday prep a breeze with their collection of short-sleeve linen shirts. With a blue that hopefully mirrors the seas of your far-flung getaway, the cutaway collar also helps to add a vintage touch to this summer staple.
12. Peninsula La Greca Linen Shirt
Inspired by Mediterranean tiles, this Peninsula linen shirt gives us bucketloads of Santorini vibes. Soft linen has been cut into a tailored fit, making this a great choice for the evening restaurant date.
13. NN07 Julio 5706 Convertible-Collar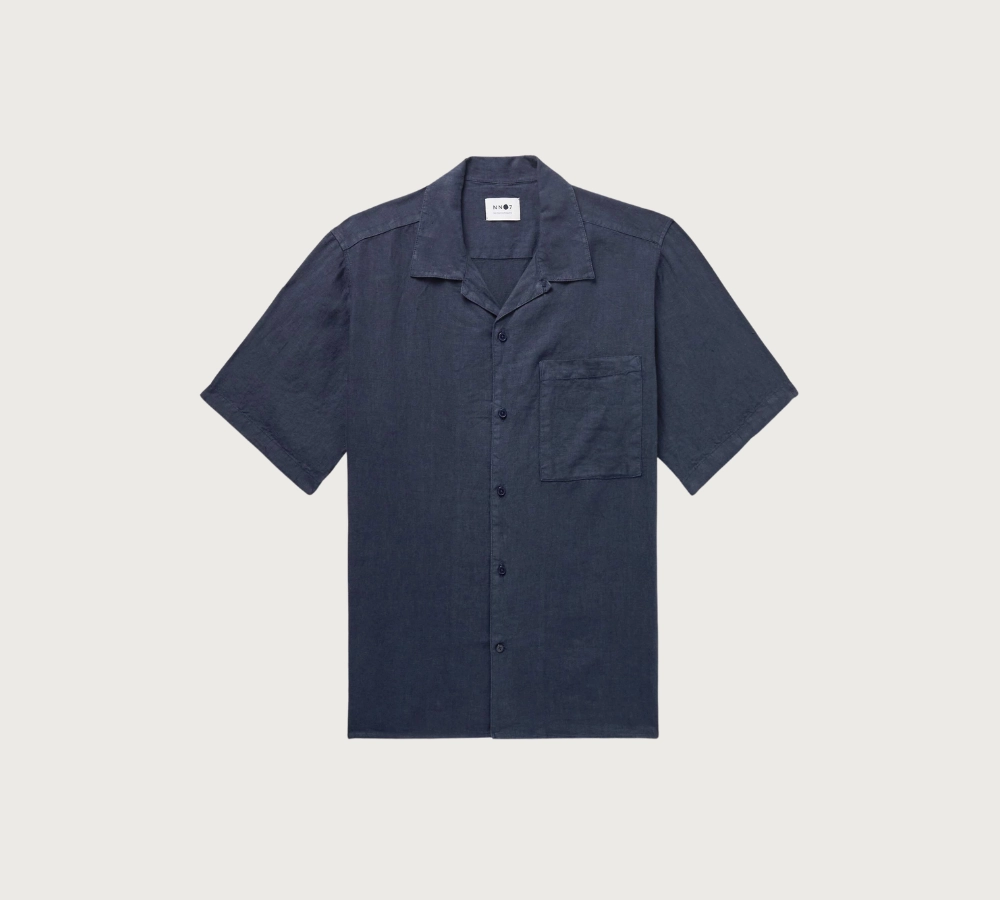 Rocking a Sean Connery, James Bond-inspired shirt is a great way to nail the Riviera look so many of us crave at this time of year. Wear this NNO7 linen shirt with shorts or chinos for a luxe version of weekend casual.
14. Mr P Checked Linen Shirt
Head to Mr Porter's, Mr P. line for something a little different. Surprisingly easy to style, this checked linen shirt needs a simple pair of trousers and a chore jacket for a laidback spring/summer outfit. Less Texas cowboy and more man about town.
15. Massimo Dutti 100% Linen Shirt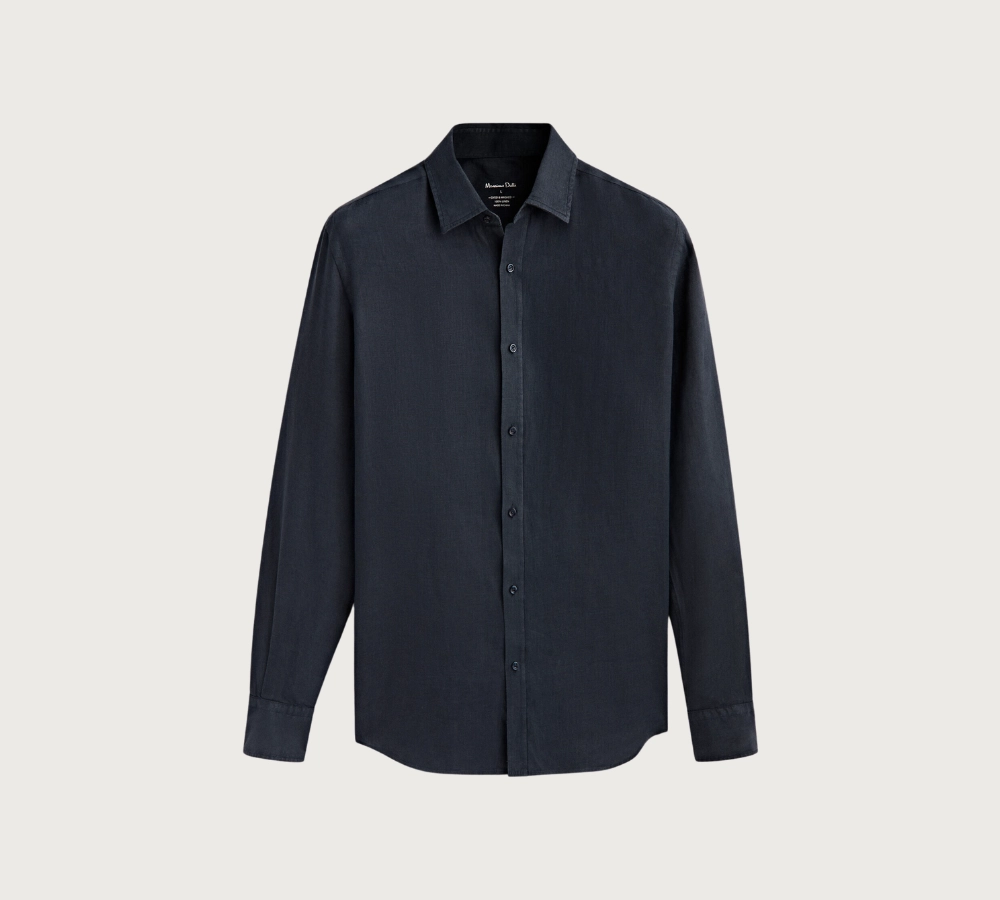 Lastly, we have this classic from Massimo Dutti. No bells and whistles here, just a simple, well-made linen shirt that will be as dependable as an ice-cold drink this summer.