A chameleon of smart casual dressing, a blazer is an essential piece of sartorial kit for men. It delivers a refined look that makes it a great choice for a mix of different dress codes, from your date night to a relaxed work vibe. Picking a more casual style will only expand your options further. This might mean losing some of the blazer's tailored aesthetic, but the result will be a key piece for spring, summer and beyond. In this article, we'll explore what a blazer is, the different types and materials available, and offer tips on how to wear and style this versatile item.
What is a Blazer?
A blazer is a type of jacket with a rich history and has evolved over time to become a staple in many wardrobes today. Cast aside thoughts of splitting your suit and wearing the suit jacket independently. The blazer is clothing in its own right. Originally, rowing club members wore blazers in England in the 1800s. These jackets were made from heavy wool and featured bold stripes in the club's colours, and were worn with complimenting (not matching) trousers. Hence the difference with a suit jacket.
Over time, blazers became more popular outside of the rowing community and started to take on different styles and materials. Today, blazers come in various colours, patterns, and materials, making them a lynchpin of smart casual outfits.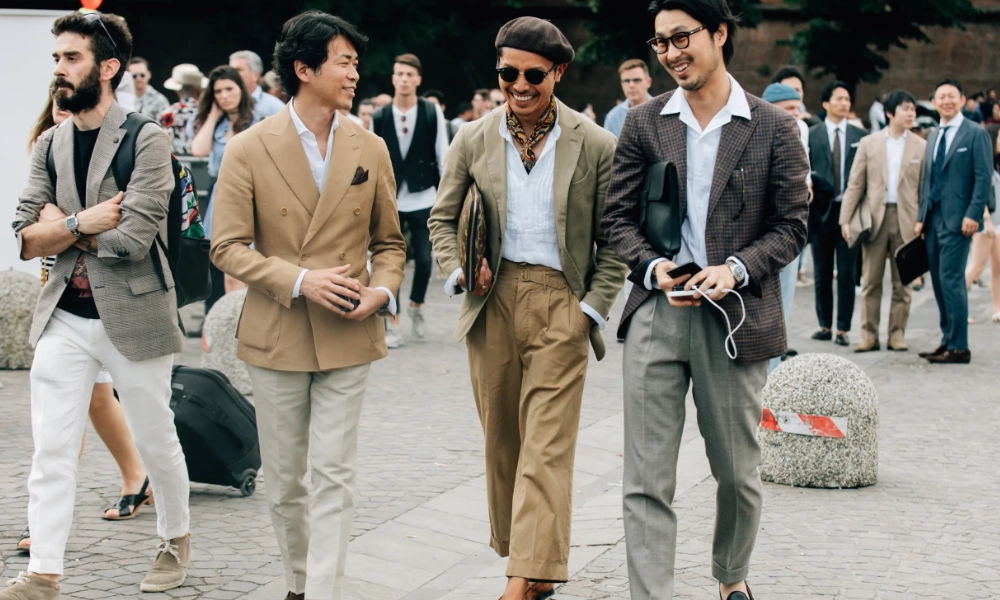 Rules For Wearing a Blazer
To save you any future sartorial embarrassment, we have included a list of key elements to remember when wearing a blazer.
Your Blazer Should Fit Beautifully
An ill-fitting blazer will make you look slobbish. Pay close attention to how the blazer fits and drapes on the body. Different styles of blazers will present opposing outcomes, so find what works for your body shape.
Experiment With Colours
A navy two-button blazer is a staple of a modern man's wardrobe. But that doesn't mean after you have ticked that off, men can't seek alternatives. Playing with patterns or fabrics can add interest and lift, giving your outfit a contemporary twist.
Don't Pair With The Same Colour
For the style uneducated, this can be a rookie error. Yes, tonally pairing colours on the top and bottom half can look great. However, it can be difficult to get right, so we recommend airing on the side of caution.
Consider The Occasion
Some blazers, say a double-breasted number, are considered formal. Whereby an unlined two-button might be further along the scale towards casual. The former would work for a wedding invite but might be too much for a pint in the pub. Always have one eye on the occasion when planning an outfit.
Accessories Should Be Subtle
What we mean by this is a bold tie, with pocket square and tie bar, will be overkill. Start with an understated pocket square. Sometimes, that might be all you need, and men should show restraint with accessories as they can easily ruin an outfit.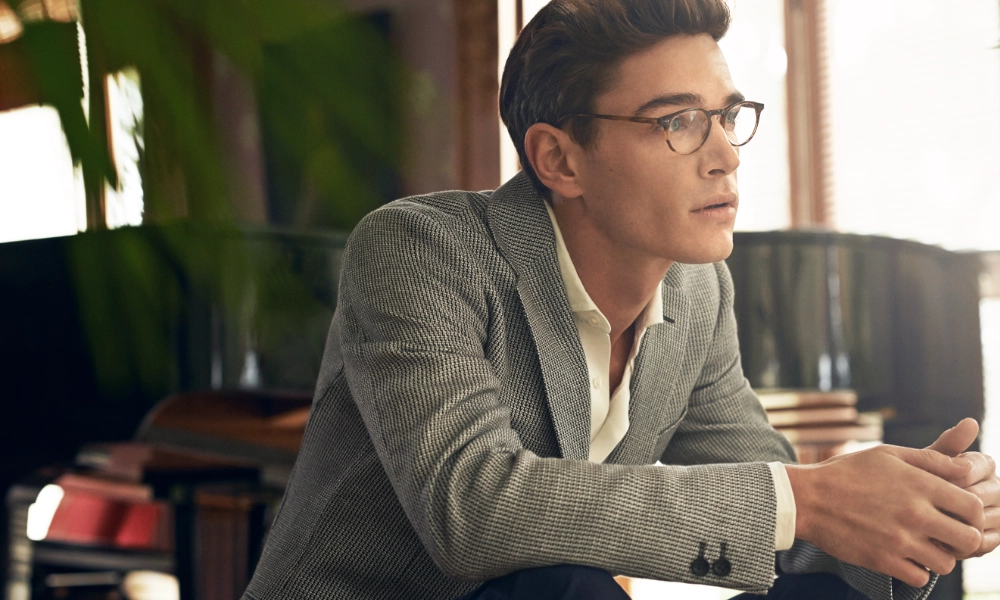 Different Men's Blazer Materials
When choosing the right material for your casual blazer, there are many options to consider. Each material has unique qualities that can make a big difference in terms of comfort and style.
Cotton
Cotton is popular for less formal blazers due to its breathability and comfort. It is a lightweight material perfect for warmer weather, making it a great choice for summer events or outdoor gatherings. It holds its shape well and doesn't take much effort to keep it presentable. Probably the most versatile blazer material, you can even partner with jeans and a t-shirt for a smart casual ensemble.
Linen
Another lightweight option for blazers is linen. This material is perfect for hot and humid weather, as it is highly breathable and allows air to circulate around the body. Linen blazers are also known for their relaxed and casual style, making them popular for beach weddings or outdoor parties. Keep the aesthetic loose when picking an outfit, and opt for less structured footwear like a loafer or white trainer.
Wool
Wool and wool blends are good picks for those looking for a heavier option. These materials are perfect for cooler weather, as they offer excellent insulation and can help keep you warm on chilly days. The material is thicker and more robust, making it durable and structured by nature. As such, they would work well with chinos or smart trousers.
Different Styles of Men's Blazer
There are a few styles to choose from when it comes to blazers. Single-breasted blazers are the most common and easiest to style. They are perfect for formal and casual occasions and can be dressed up or down depending on the occasion. These blazers typically have two or three buttons and a notch lapel.
Double-breasted blazers, on the other hand, are a little more formal and can add some extra flair to your outfit. They have two parallel buttons on the front, giving them a unique and stylish look. These blazers are perfect for weddings, business meetings, or other formal events. They usually have peak lapels, which add weight to their formal appearance.
Both a single or double-breasted blazer will come in lined or unlined versions. The more lining you have (think of it as padding), the more structured the blazer appears. Stucture makes the blazer look like a traditional suit jacket and therefore lends itself to formal occasions. That's why an unlined blazed is an ideal laidback casual choice that delivers pared-back tailoring.
Casual Lightweight Blazer Outfit Ideas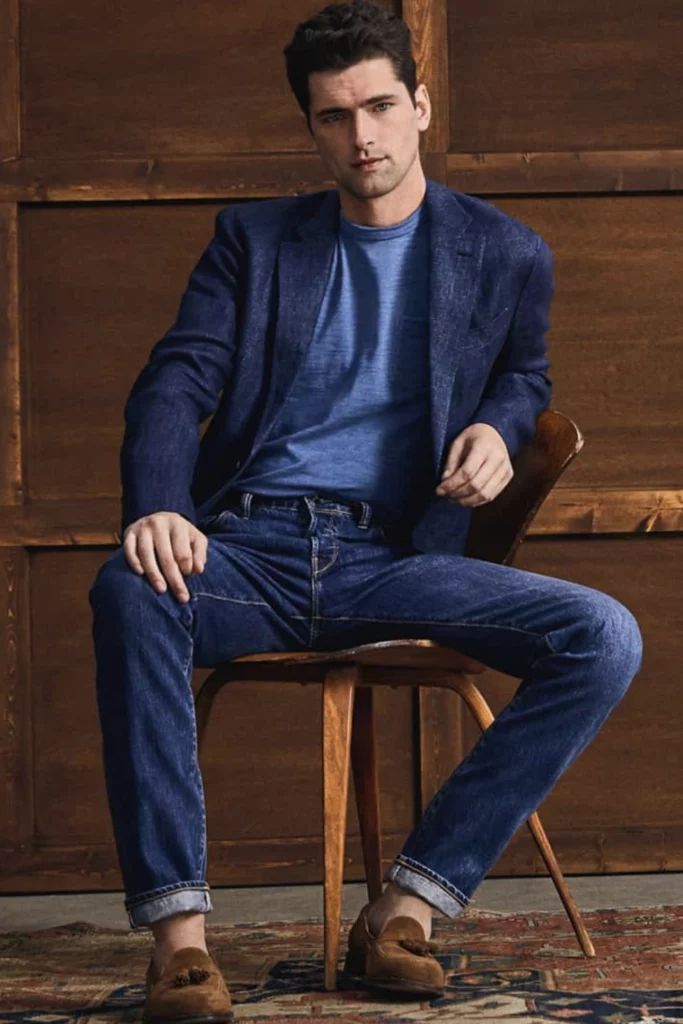 Blazer with Jeans
One of the most popular ways to wear a lightweight blazer is with jeans. Pair your blazer with dark-wash jeans and a plain t-shirt for a casual look. This effortless combination can take you from the office to a night out with friends.
The addition of the t-shirt gives the look a more contemporary feel, and this needs to travel down to the feet. A brogue of Oxford shoes could look jarring with the top half, which is why a suede loafer or even a minimalist trainer would be our pick.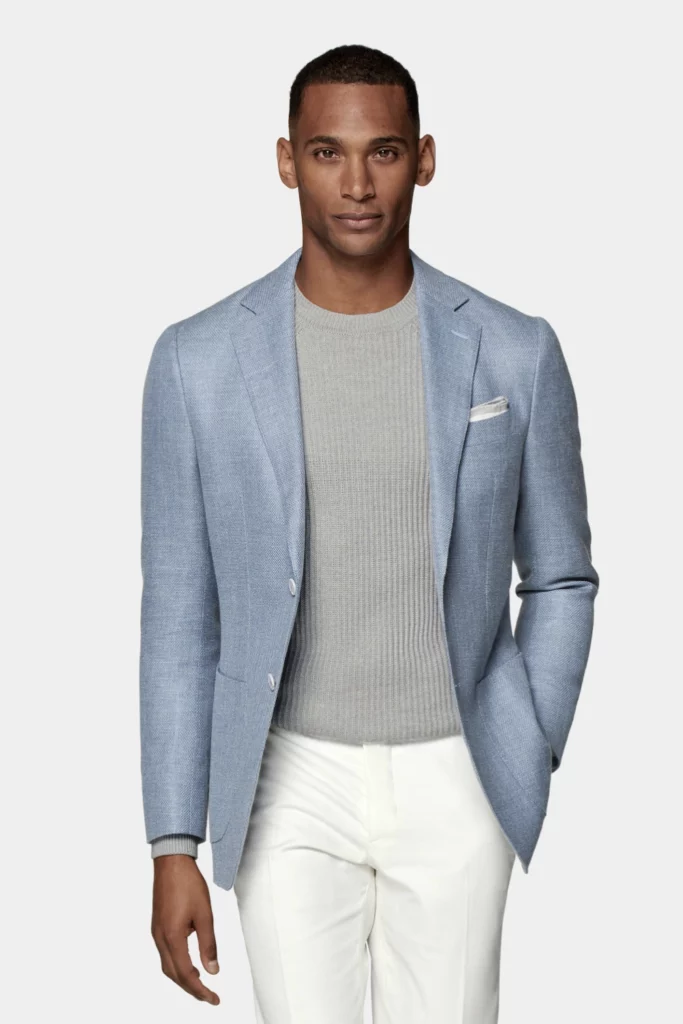 Blazer with Knitwear
A classic combination, a navy blazer paired with cream trousers, is perfect for a less formal summer event. Though, men can use those same foundations to great effect. A light blue version, for example, says summer is here. At the same time, giving us more casual options underneath. Lightweight knitwear can easily be worn in place of a formal shirt, but both would work.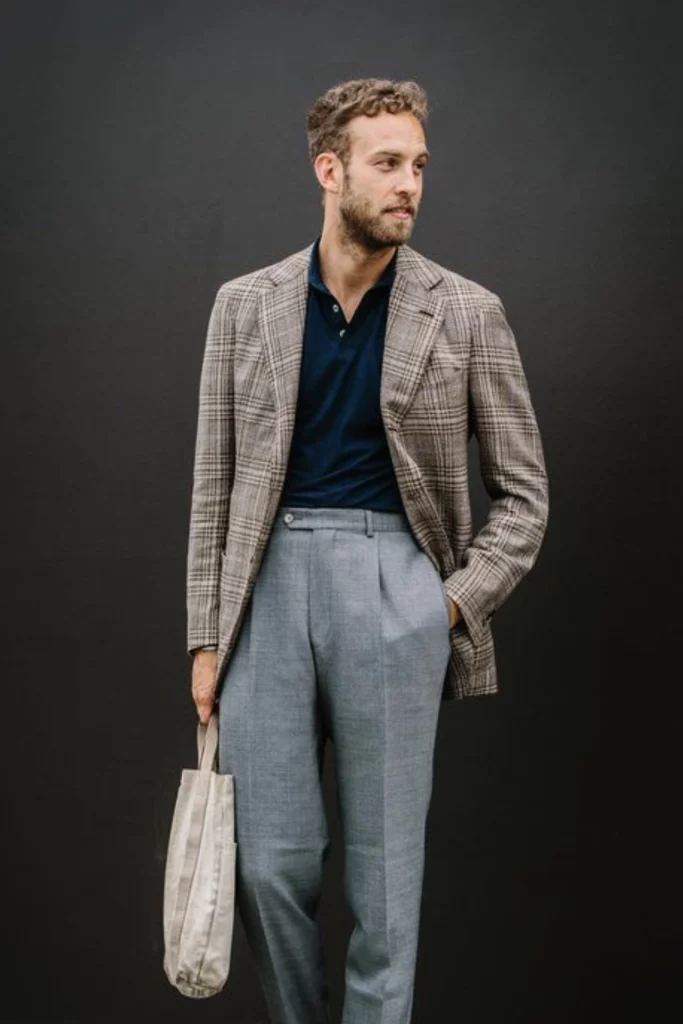 Blazer with Polo Shirt
A polo shirt is a natural heir to the smart casual tailored throne, currently sat by the Oxford button-down. The polo shirt, when bought in a quality fabric like cashmere, merino wool or even a cotton blend offers a restrained casual element. Not as easygoing as the t-shirt it strikes a smart casual balance that is hard to beat.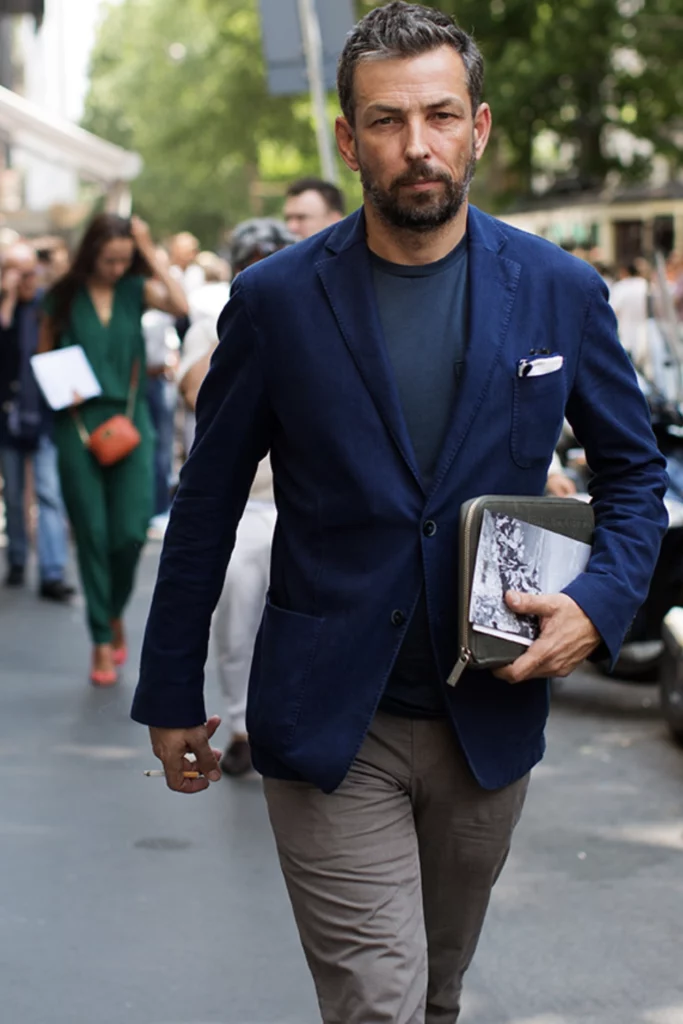 Blazer with T-Shirt
In order to nail this look, gents need to carefully choose their blazers, t-shirt and trousers in a flattering, slim-line style. An oversized tee would look completely out of place, while well-fitted trousers like a chino help to create a unified silhouette.
On the feet, men can go full beach-bar holiday by wearing espadrilles or keep it more every day with a driving shoe or boat shoe.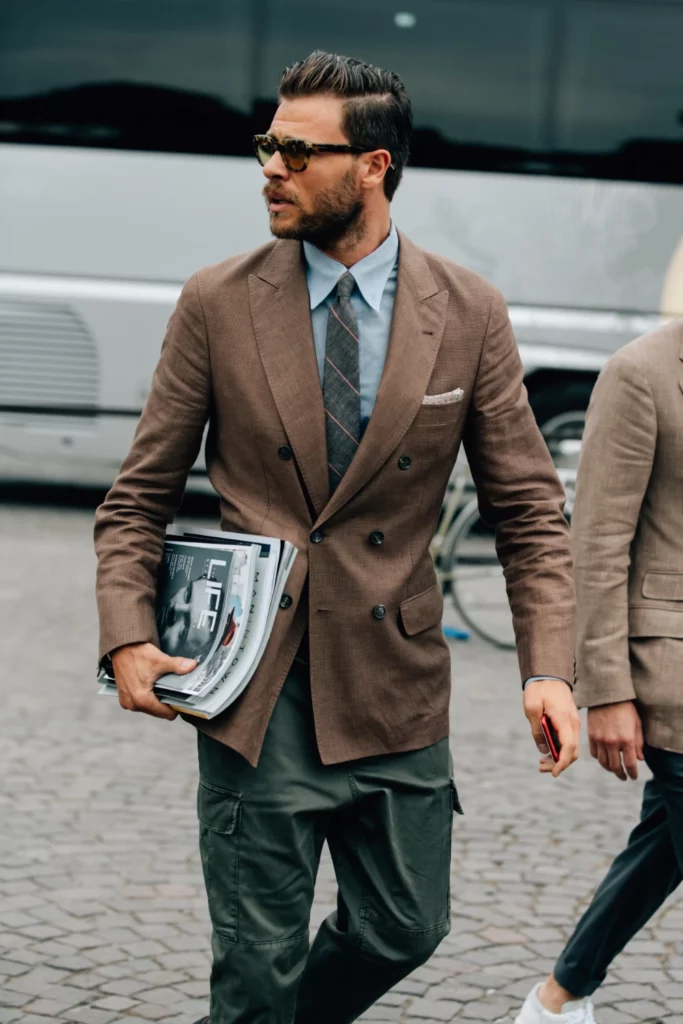 Blazer with Cargo Trousers
Some might faint at the idea of pairing these two polar opposites. But, the cargo trouser renaissance of late continues, and if you choose more refined options, it can work well with a blazer. We don't need to go as formal on top as the gentleman above. A simple polo shirt and blazer should suffice for a modern twist.
Top Blazer Picks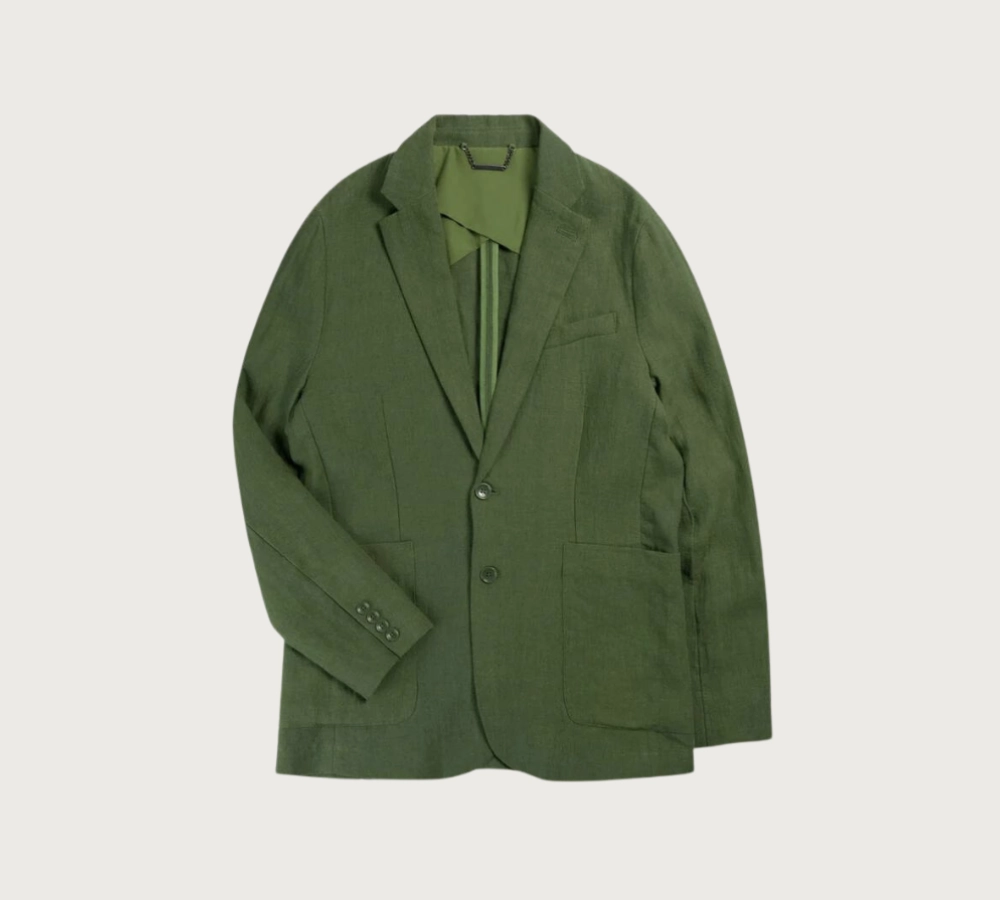 Percival
Drake's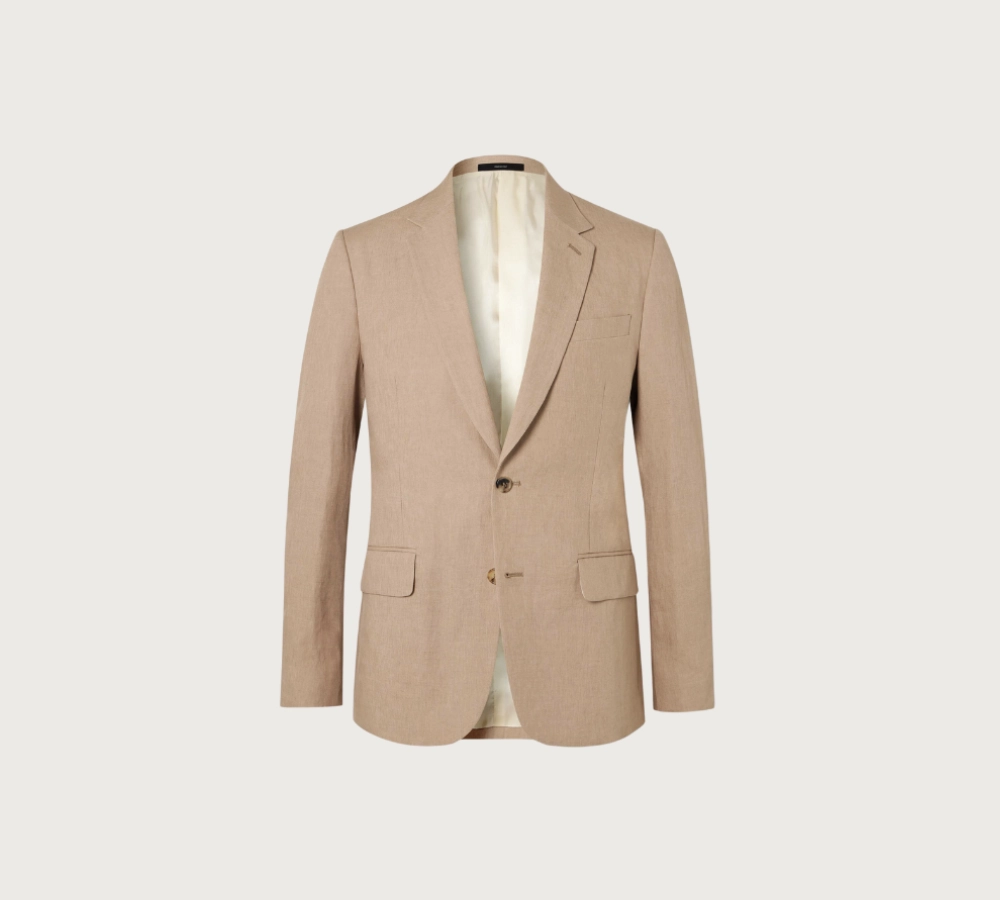 Paul Smith
Wax London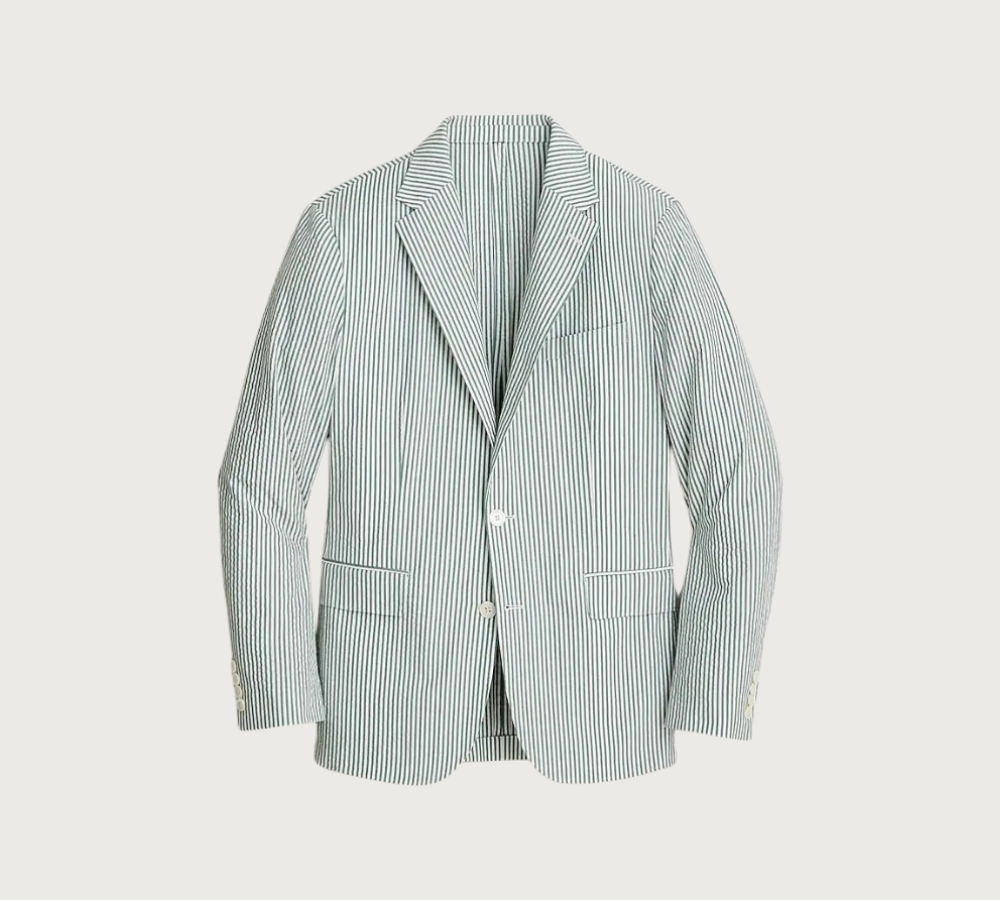 J Crew