The summer suit is officially back. 2022 feels like the first time we can enjoy our tailored selves for some time. Men can finally ditch the work-from-home pants to get dolled up in their finest threads.
Formalwear is having a resurgence. Men are returning to the office, and wedding invitations are rolling in.
The suit's nonchalant ability to frame your body is undeniable. Hiding any unwanted bumps while always making you look your dapper best. Though, after limited use over the past few years., now is the time to refresh your tailoring.
Never fear, we are here to steer you guys through the choppy waters of menswear. Navigating through the tailored waves to bring you the best summer suits or any budget.
What To Look For In A Summer Suit?
During the summer months, functionality tends to take over our daily outfits. We look for items that will repel the heat and keep us cool as we do our business. Though, functionality doesn't always go hand-in-hand with presentability.
To journey over this treacherous style bridge, we need to cover three main aspects.
Fabrics
We need our clothing to be functional while still looking great in the heat. Crucial to this is picking a material that will allow air to circulate the body and thus keep us cool.
The best fabric for letting the air in is linen. Linen's downside is that it wrinkles, which is not a look everyone enjoys. We recommend opting for a linen-cotton mix. It will hold its structure better and reduce the amount of creasing during wear.
Fit
Why not take the opportunity in the summer to deconstruct your suit? Removing linings and shoulder padding, for example, will allow you more breathing room. The key is to identify unstructured jackets within a two-piece suit. It won't have as much body weight and will sit a little looser on the frame.
What a slim or skinny fit gives a man in a narrow rockstar silhouette can also be restrictive. A tailored or straight fit will still give you a nice silhouette without having you sweating into your champagne glass.
Colour
A useful styling trick men can use as the mercury rises to pick colours that help repel the sun's rays. Summer suit ranges always feature a myriad of beiges and creams. Why? They do a great job at reflecting the sun helping you maintain your sweat-free composure.
The Best Summer Suits For Men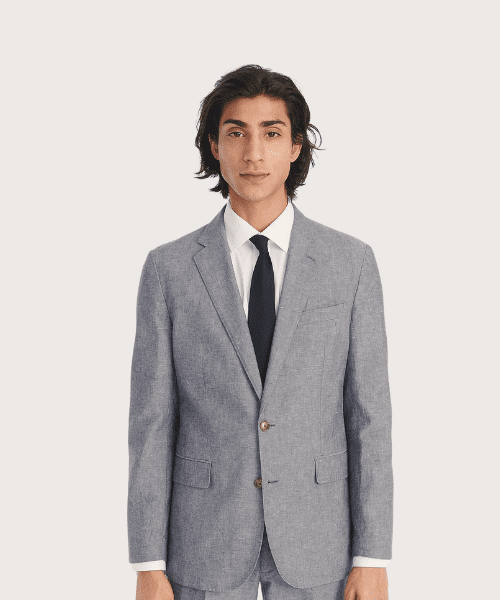 1/20
J CREW
This unstructured version of the Ludlow suit was originally released in 2017. Still going strong, it is versatile, unpadded and crafted from some of the finest linen.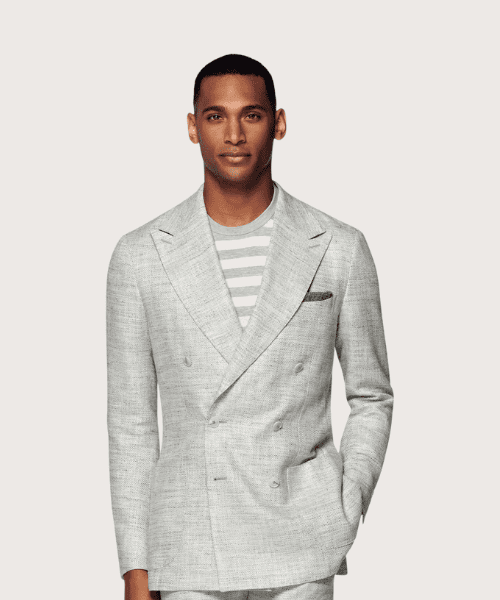 2/20
SUIT SUPPLY
The Havana range, lightweight and timeless, is a top pick for summer. This double-breasted number was woven in Italy from a mix of linen, silk and cotton.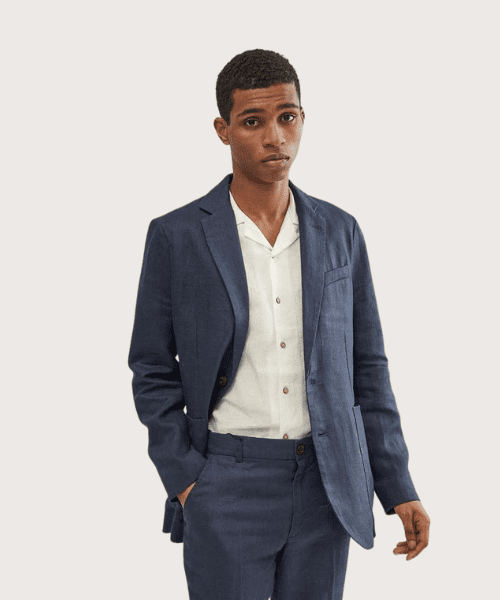 3/20
PERCIVAL
The fit for this suit is based on Percival's popular tailored blazer, only this time it is crafted from 100% linen. Perfect for a summer drinks rendezvous.
4/20
RALPH LAUREN
Bringing a modern twist on a classic preppy style is what Ralph Lauren is famed for. This suit has a natural shoulder and is half-canvassed to create a relaxed look.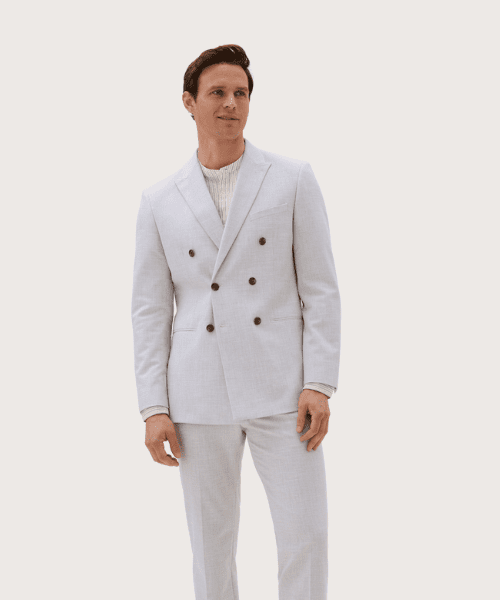 5/20
MARKS & SPENCER
The innovative flex technology in this pick from M&S lends itself well to the heat, allowing movement and breathability. Ideal for a warm weather wedding.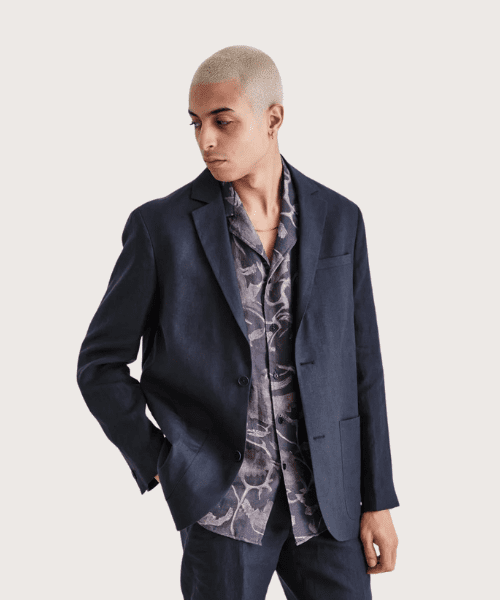 6/20
WAX LONDON
Summer tailoring is all about the relaxed fit. This blazer is half-lined for a softer silhouette and can be jazzed up with a Cuban collar shirt underneath.
7/20
BURTON
Burton covers you if men need something more affordable for that last-minute invite. A powder blue hue is a suit colour you can only get away with in summer.
8/20
BOGLIOLI
Wear as a suit or as separates, this option from Italian suit giants Boglioli is nonchalant and sophisticated.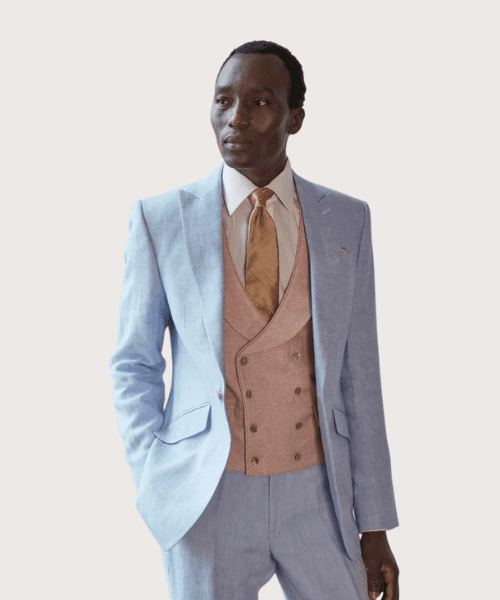 9/20
FAVOURBROOK
Started by menswear stalwart Oliver Spencer, Favourbrook brings a contemporary twist to traditional formalwear. Constructed from 100% linen, it will keep you cool on your big day.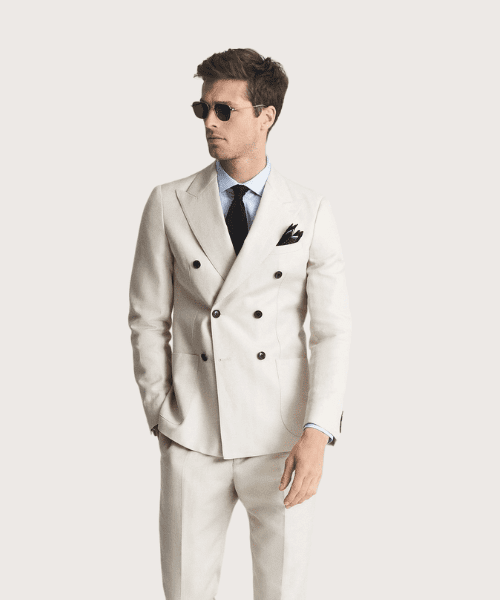 10/20
REISS
Mixing cotton and linen in a herringbone design, this suit has a dash of vintage about it. The peak lapels accentuate the shoulders nicely, while the light palette offers countless styling options.
11/20
ORLEBAR BROWN
A laidback vibe prevails with this unstructured blazer from Orlebar Brown. Small details such as soft shoulders mean they can be worn with a formal shirt. Alternatively, layer with thin knitwear or a simple tee to tap into that relaxed mode.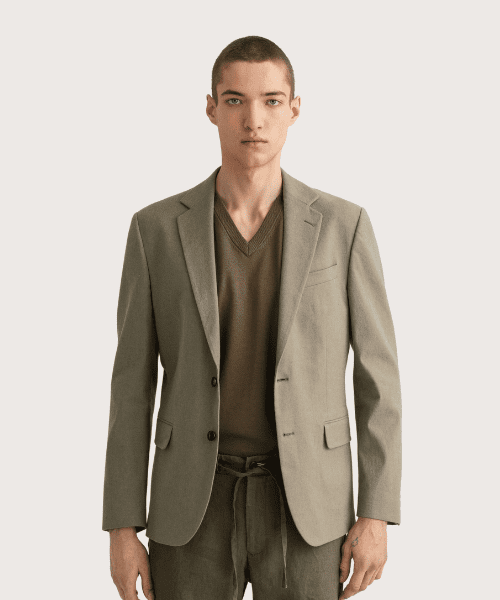 12/20
GANT
A linen-cotton mix with a hint of elasticity ensures this summer suit has some stretch, making it more light and airy. In a racing green colourway, it is a nice break from the lighter hues on the market in the warmer months.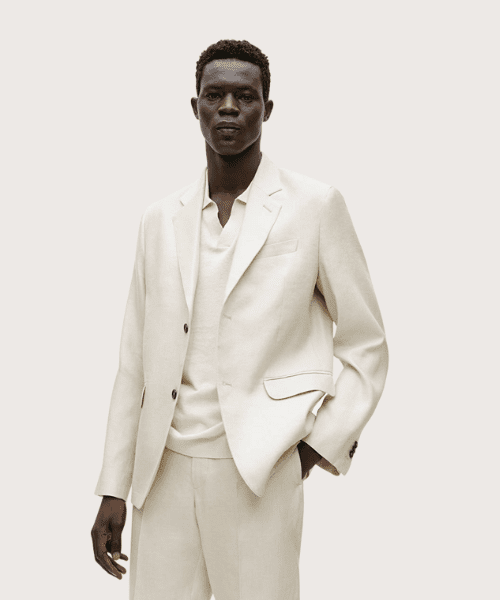 13/20
ARKET
The semi-constructed nature of this suit is made from a twill-woven blend of cotton and hemp. The resulting finish is one of the coolest suits in style and fabric.
14/20
THOM SWEENEY
Tailored in Italy, a linen suit like this number from Thom Sweeney is essential fodder during warmer months. Mix the jacket or trousers with other pieces from your wardrobe for maximum wear.
15/20
TED BAKER
With an overall slightly more casual fit, this suit has all the elements a man needs to dress up or down. We want our wardrobe to be flexible and interchangeable, which is somewhere this pick can slip into seamlessly.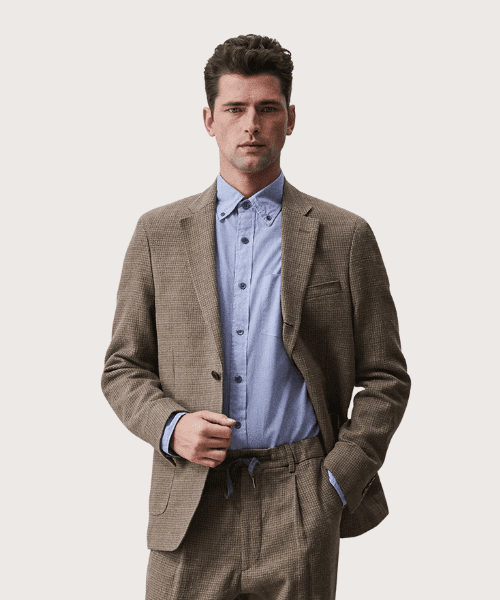 16/20
TODD SNYDER
Should you be travelling this summer and can't face an airport trip in sweats then we have the answer. A drawstring waist touser and natural fit blazer are key comfort points with this aptly named 'Traveler Suit' from New York brand, Todd Snyder.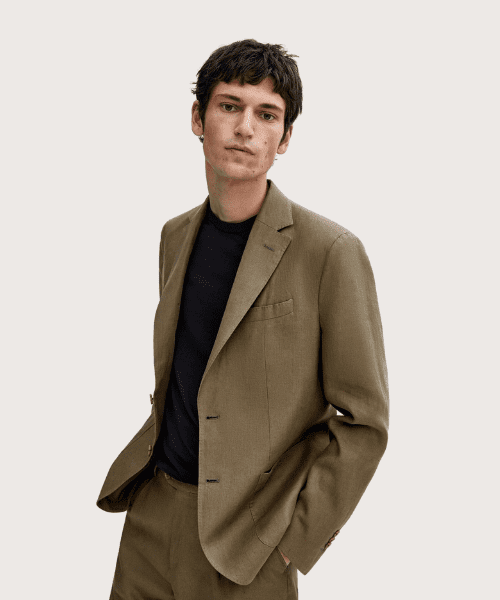 17/20
MASSIMO DUTTI
Not all suits in summer need to be pastels to be attention-grabbing. This olive linen suit is refined while still making an impact.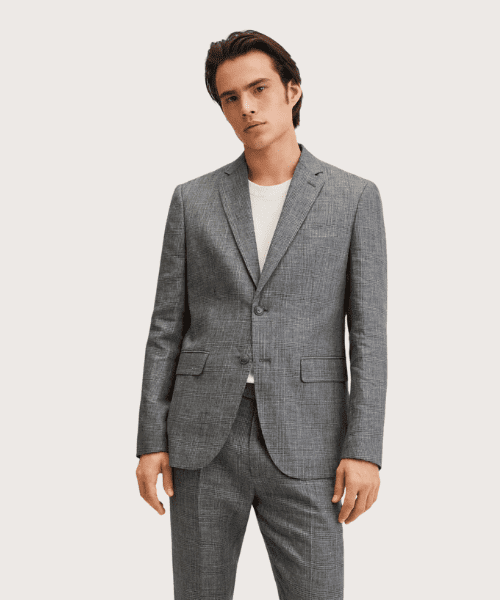 18/20
MANGO
A Prince of Wales check fabric is a timeless classic. Incorporating it elevates this linen summer suit crafted from sustainable fibres to a new level.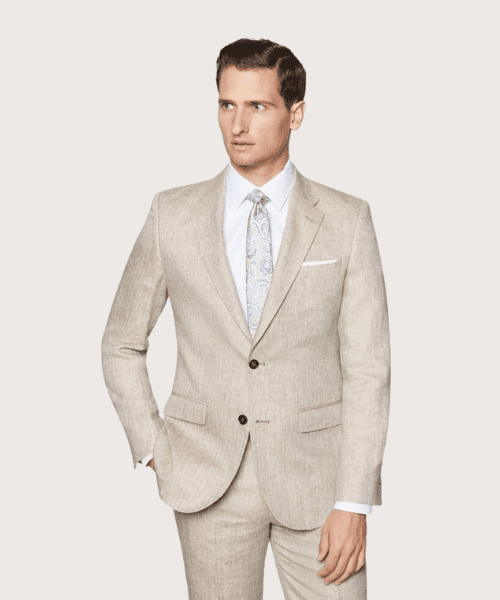 19/20
HAWES & CURTIS
An exquisitely tailored-fit suit crafted from pure linen and woven in Italy. Double vents allow for much-needed freedom of movement within this elegant piece.
20/20
SIRPLUS
This suit is a workwear-inspired number expertly produced in a cotton-linen blend. It will take you perfectly from work to evening summer drinks.