Historically overlooked in a man's wardrobe due to its more functional aesthetic. The polo shirt is now a dependable staple that needs to be embraced. Sure, the pique versions made famous by Lacoste are still available. But, to do it justice, men should be perusing the array of waffle knits and zip-neck alternatives.
The recent resurgence of polo shirts might be down to menswear embracing the 'dad-look' or changing opinions towards office dressing. Either way, this humble piece has had a menswear shot in the arm, showcasing how enhanced fits and fabrics alongside tweaks in collars and necklines can resonate with a modern audience.
What to wear with your polo shirt
From a holiday beach bar to the daily office grind. Men can include the polo shirt in multiple rotations due to the options we now have. Pick a silk cotton blend or cashmere version to partner with tailoring for a more contemporary look. Or stick on your sunglasses and statement shorts with a jacquard knit polo for a summer-ready outfit that is an upgrade to the standard t-shirt.
Just remember, whichever aesthetic you choose, it's still important to focus on the end goal of where and how you are going to wear the polo shirt.
Like with our smart shirts, the polo shirt should have a natural finish on the shoulder and not be too tight (or baggy) through the sleeves or torso. A failsafe is to keep the top button undone as it looks complimentary for a wider range of men. While the polo shirt length should finish between the upper and mid crotch.
Convinced about the polo shirt? AGR is here to help you navigate the vast range available, and have picked our favourites in the list below.
1. Aurelien Egyptian Cotton Polo Shirt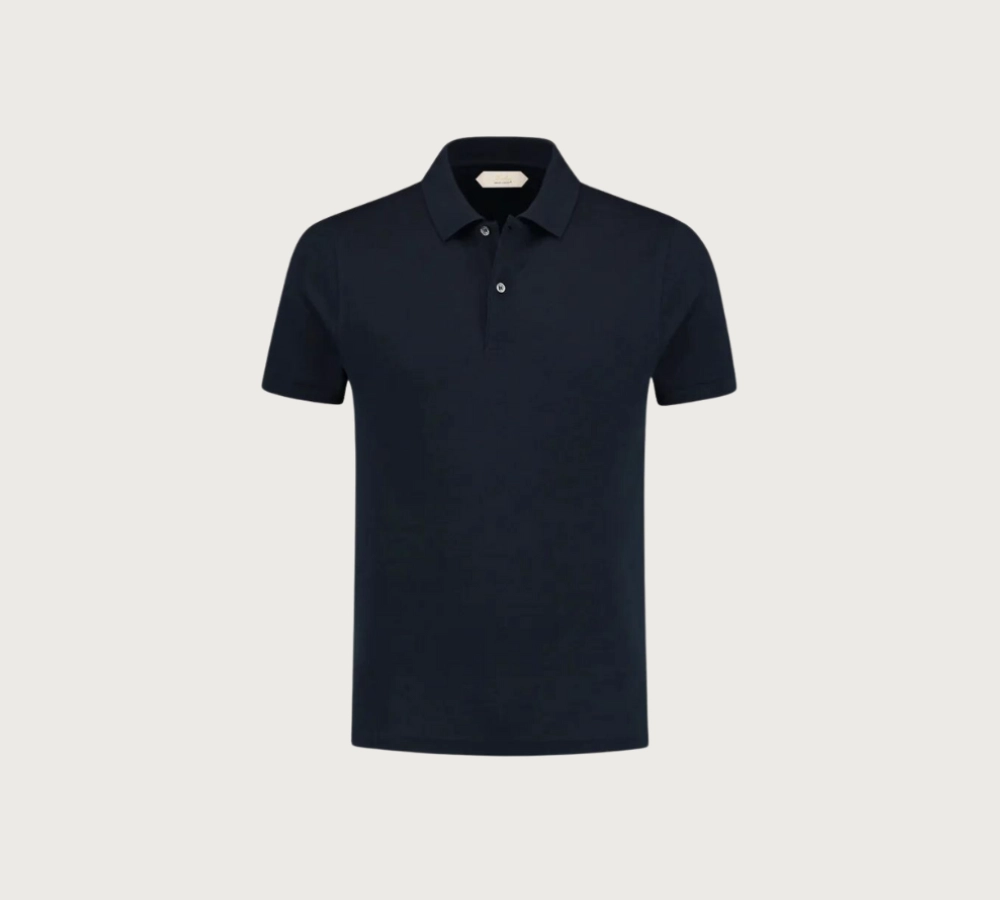 We are getting started with an effervescent classic. This polo shirt is from the Italian brand Aurelien and has been expertly cut from Egyptian cotton. The drape is sublime with the length slightly longer making it ideal for being worn tucked or untucked depending on your mood. Simply bellissimo!
2. Paul Smith 'Artist Stripe' Tipping Polo Shirt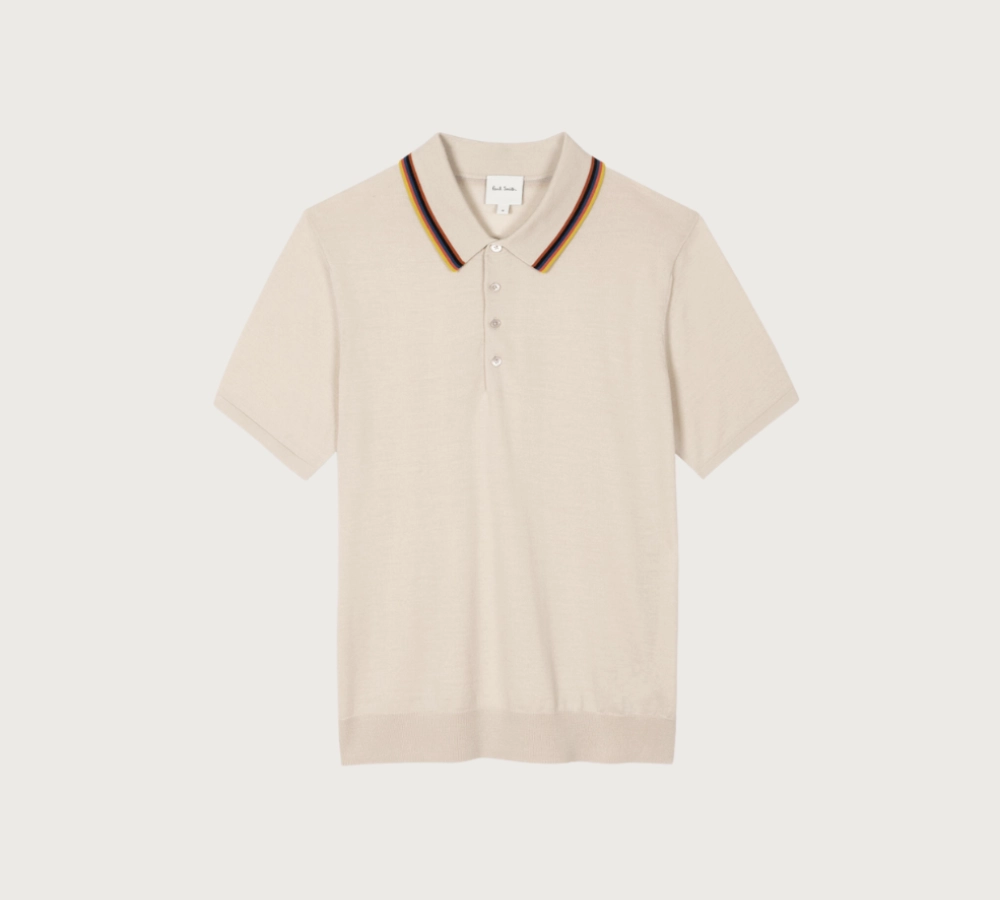 Presented in a colourway ideal for the warmer months, Paul Smith has added interest with a striped collar. The overall feel is quintessentially British, with a nod to the mod subculture that the brand has leaned into heavily over the years. Bonus points for the use of machine-washable merino wool in its construction.
3. Spoke London Organic Pique Polo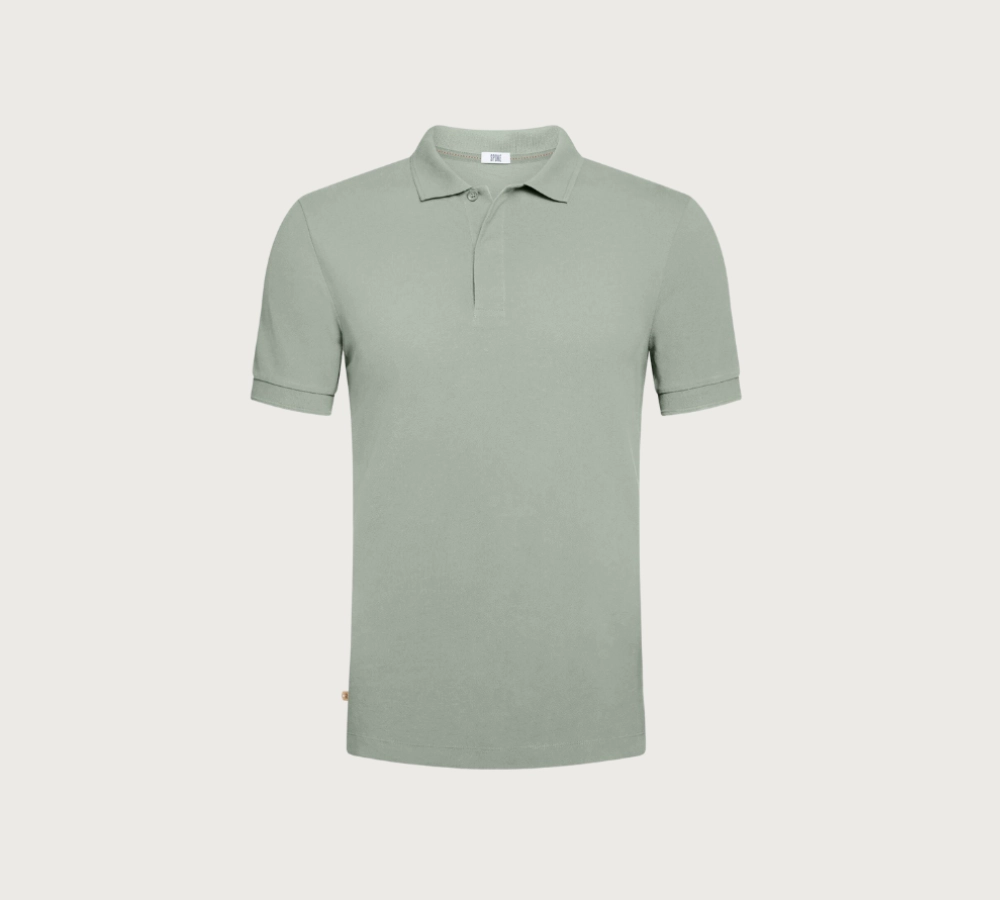 Spoke London is blazing a trail in menswear enabling men to get clothing that is true to their shape. Their polo shirt range is no different. Available in a myriad of colours, men can choose their size, cut and length to get a dependable staple that will see them through summer and beyond.
4. Drake's Olive Linen Cotton Polo Shirt
A classic polo shirt from Drake's has been given a facelift for summer with a fabric blend of linen and cotton. Made in Italy it delivers a delicate soft finish that would look great partnered with tailored trousers. Pass us the Aperol Spritz.
5. Sunspel Honeycomb Knit Polo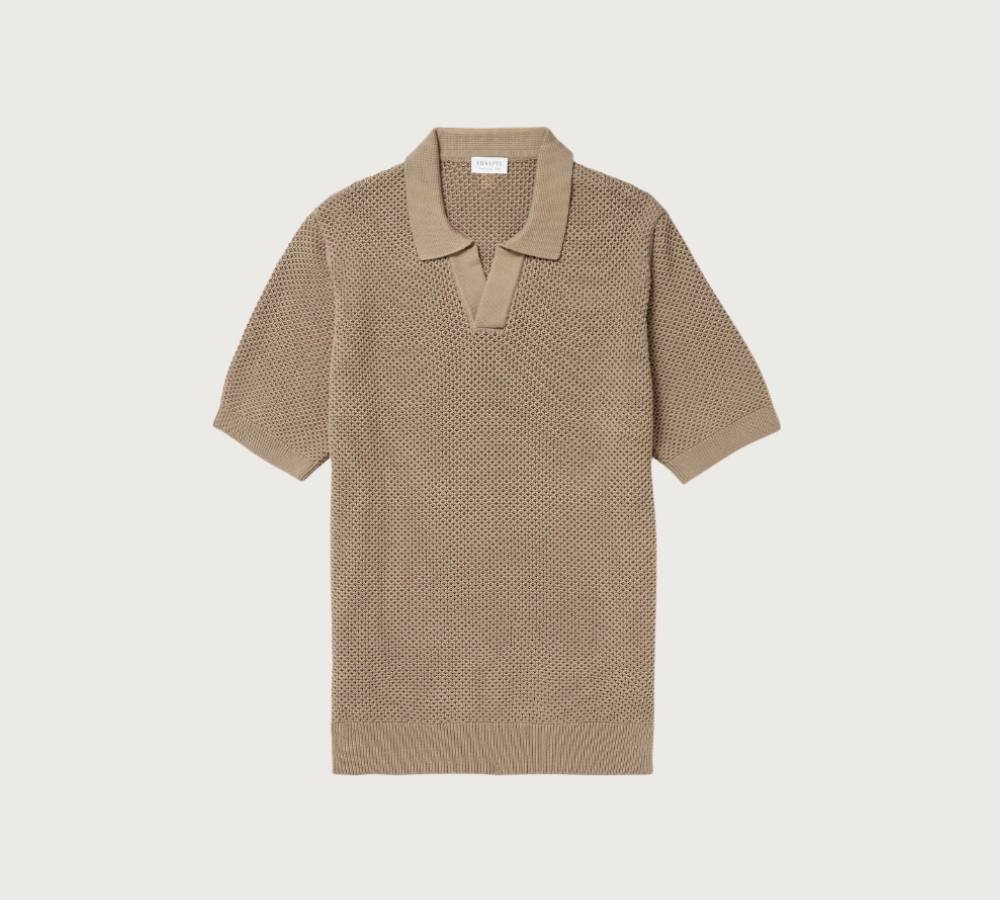 Part of the eight-piece collection that British brand Sunspel has created in partnership with Mr Porter, this honeycomb knit is a winner for 2023. Offering breathability through its use of premium cotton and honeycomb construction it delivers an elevated but relaxed look. It has all the hallmarks of the British brand's trademark minimalism with a Mr Porter twist.
6. Che Studios Quinn Camel Polo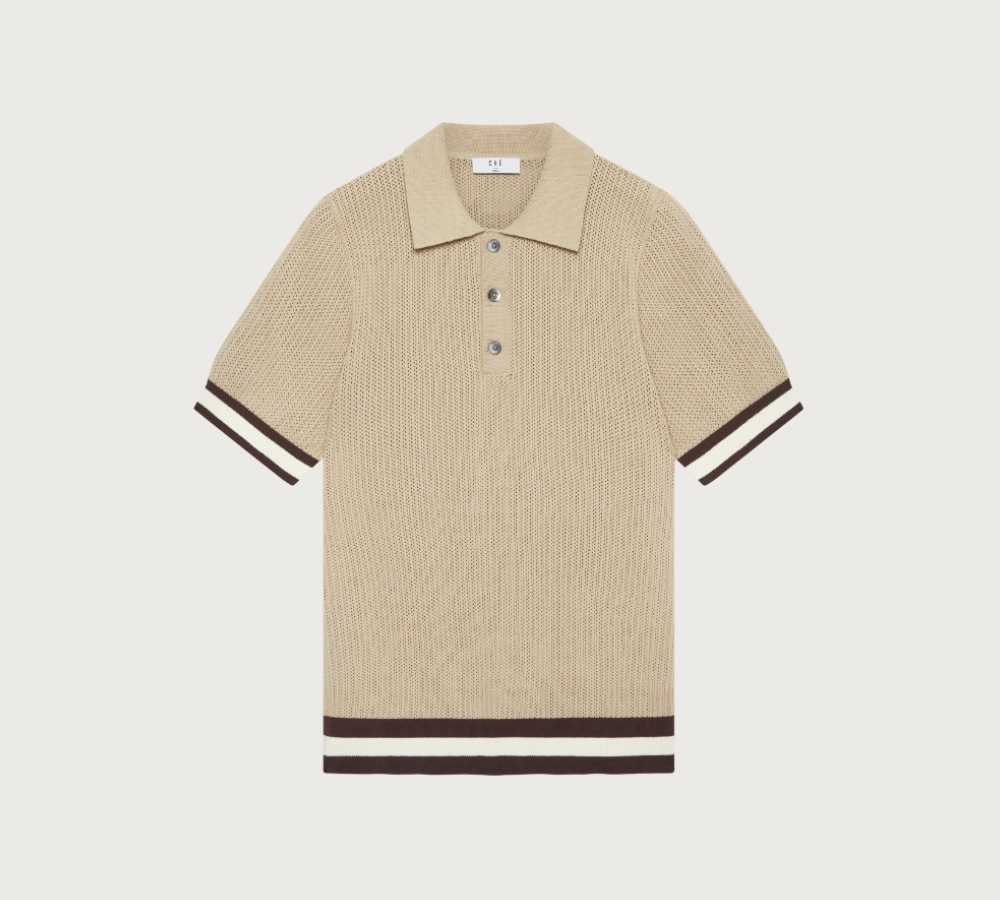 From the mind of street-style favourite Oliver Cheshire comes Che Studios. Serving as their creative director, Mr Cheshire has been getting rave reviews for his modern range of resort wear pieces. This pick references 1960s Americana, with a truckload of vintage vibes completed with tortoiseshell buttons and the brand's trademark stripes.
7. Arket Cotton Linen Polo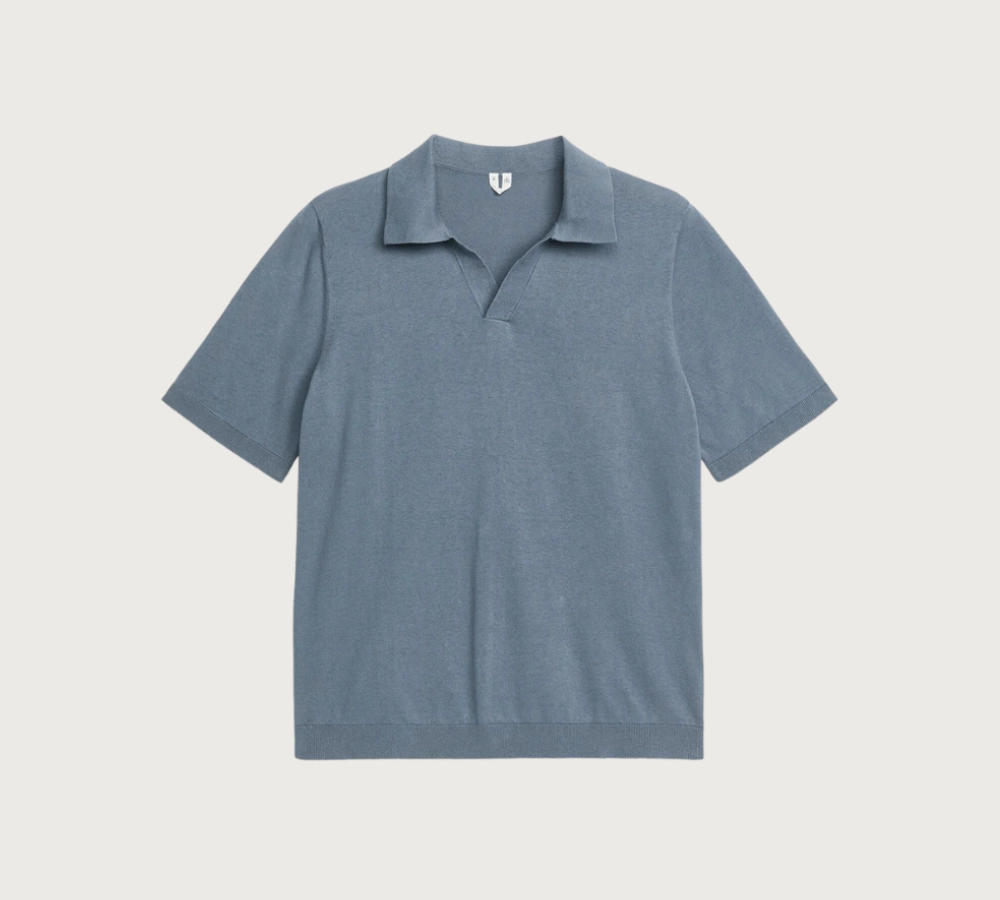 A modern, understated piece from Arket. Opening the collar up by removing the buttons, not only offers a cooling edge to this polo but also delivers a contemporary neckline. The relaxed feel should only be an encouragement for guys to try this out with their favourite shorts or chinos.
8. GANT Drop Needle Pique Polo Shirt
There is so much to love about this polo shirt from GANT. But marvel at the drop needle technique, and the subtle use of yellow on the sleeves for starters. It has all the preppiness we would expect from the Amercian brand, though somehow still feels modern and relevant.
9. Sirplus Terracotta Waffle Knit Polo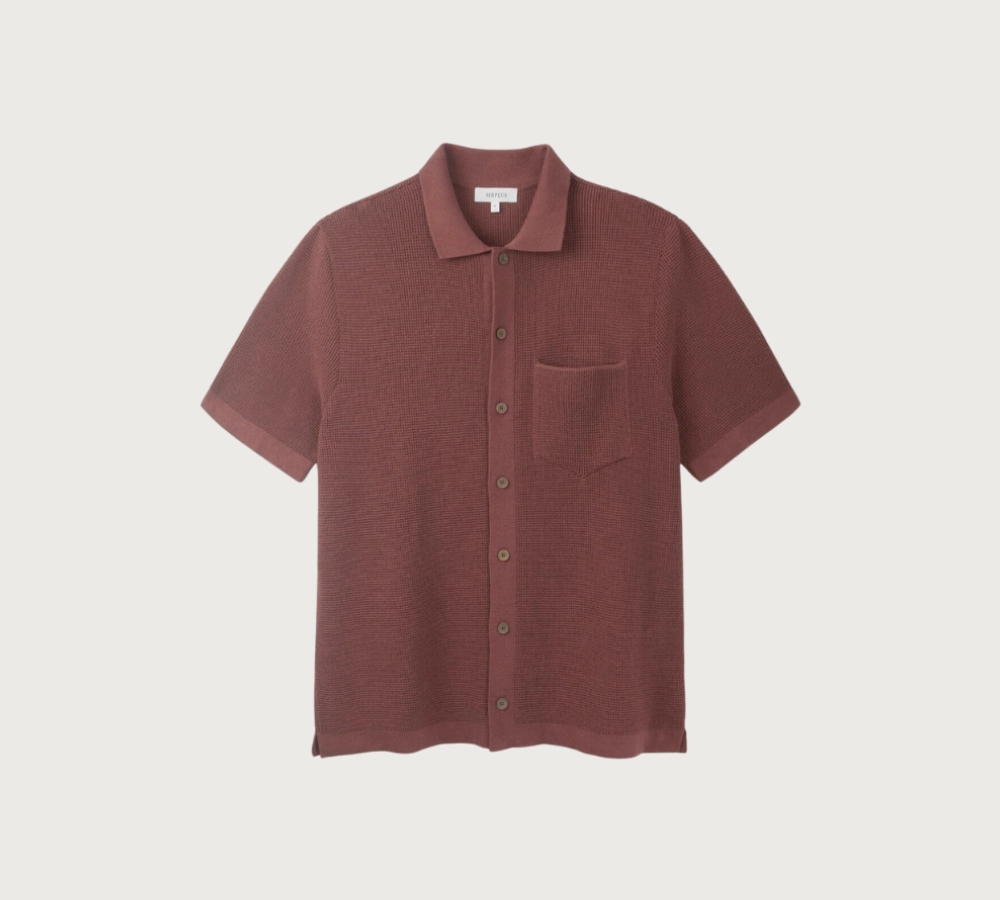 Perfectly merging both the 'polo' and 'shirt' elements, this waffle option slaps of Mediterranean sun in a terracotta colour palette. Made from organic cotton, the full breadth of buttons makes it ideal for that beach-to-bar look with a hybrid of style and functionality.
10. OAS Company Dusty Plum Polo Shirt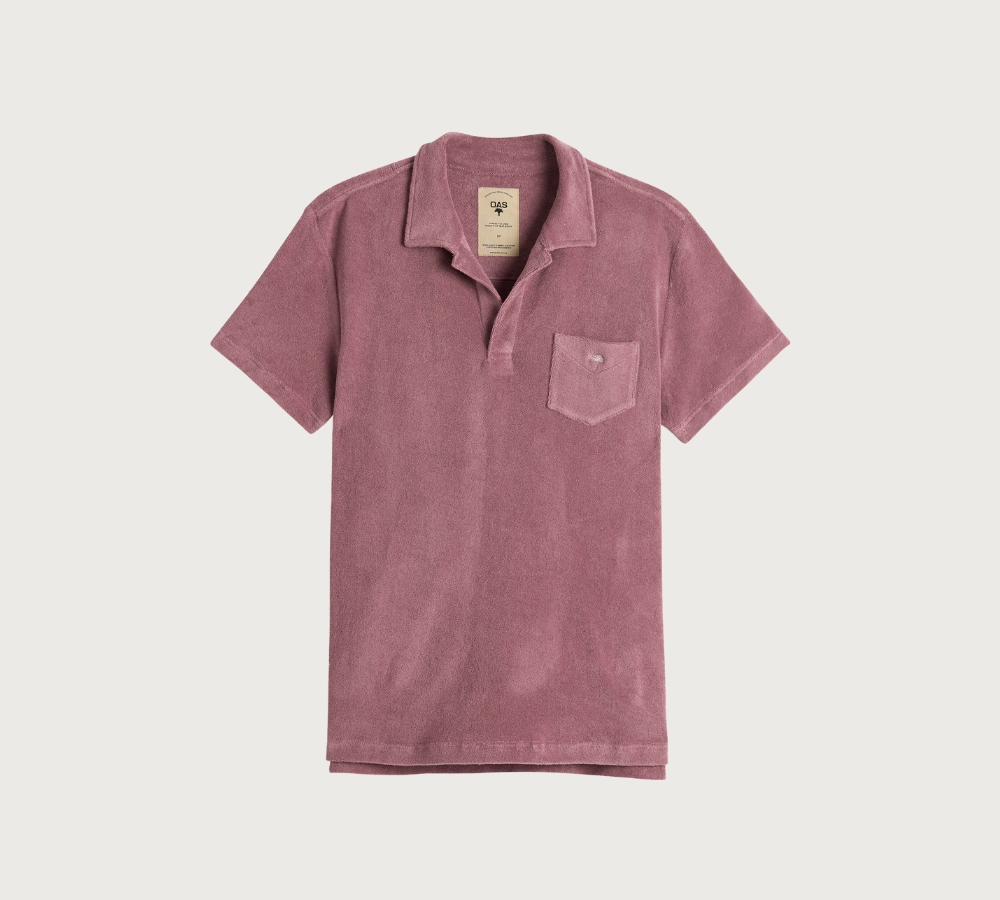 The towelling effect of the terry cotton used to make this polo makes it suited for your upcoming summer holiday. Throw it on over your swim shorts after exiting the pool for shades of Rivieira chic.
11. Mr.P Jacquard Knit Polo Shirt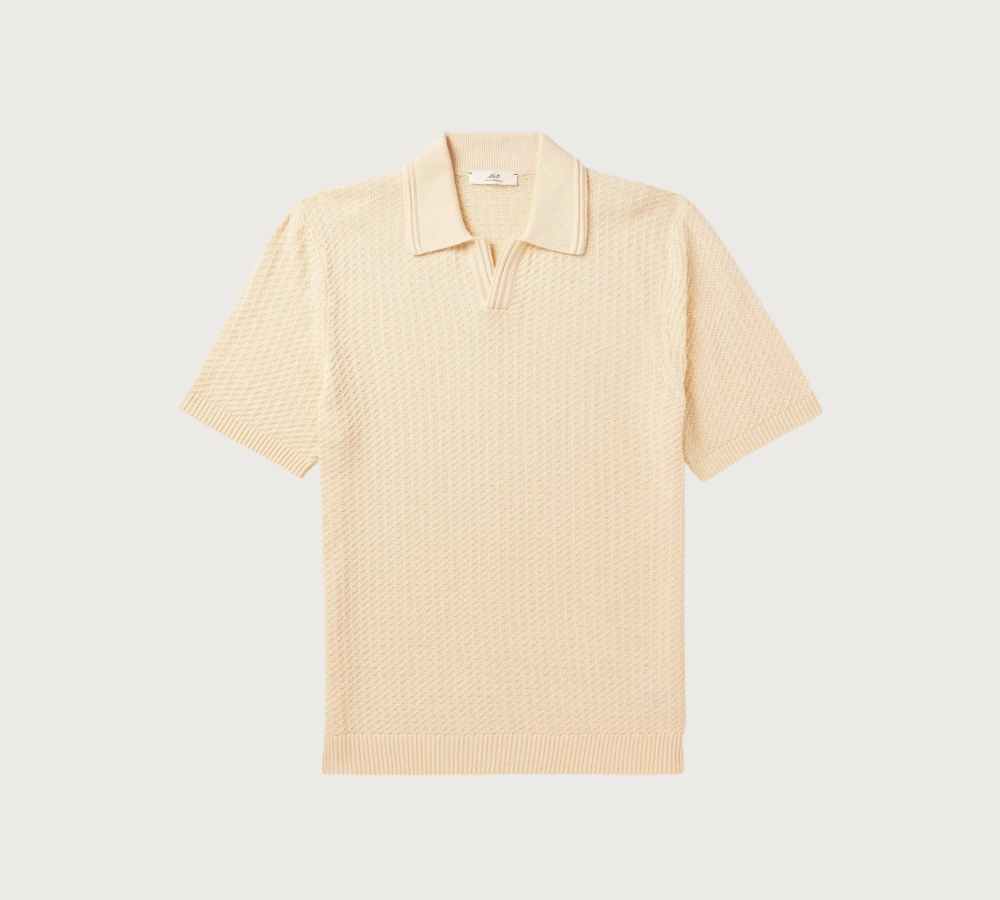 Bringing texture to your summer wardrobe is this choice from Mr Porter. A refined pick, we can see it effortlessly being worn for a day at work or even the weekend BBQ invite. Just make sure to keep the ketchup at arm's length.
12. Purdey Slim Fit Cotton Polo Shirt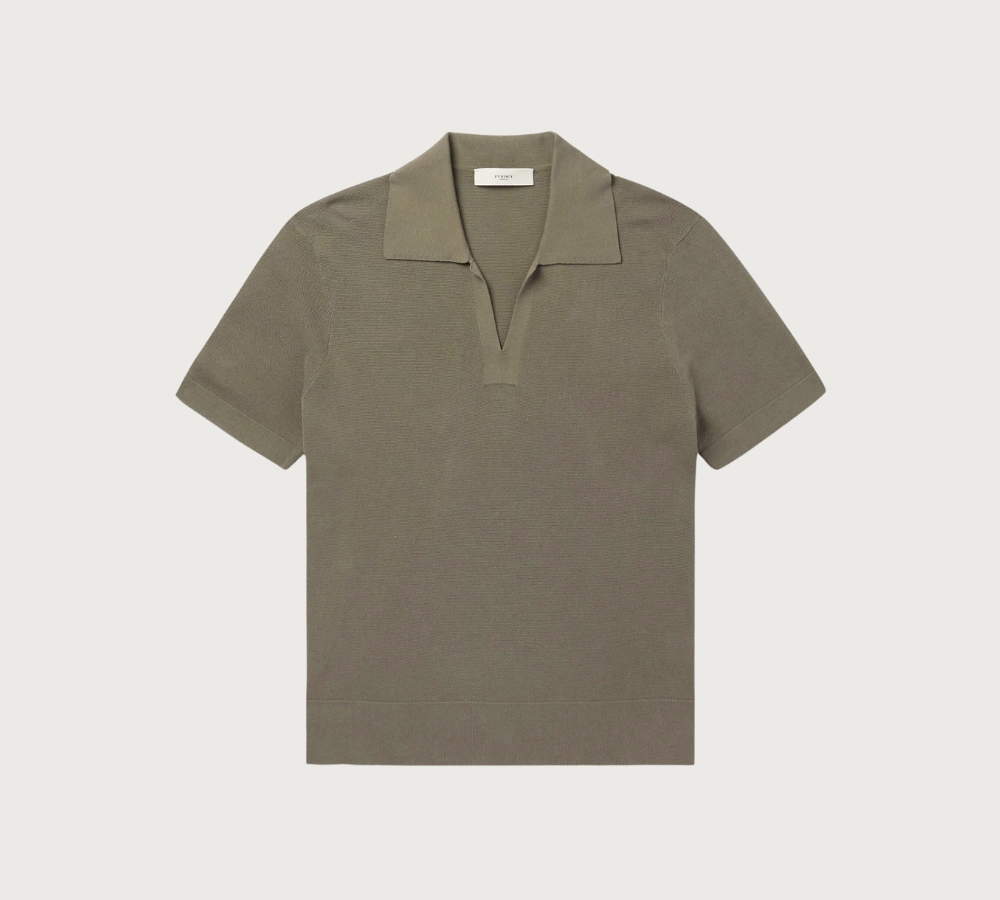 A sexy neckline from Purdey is backed-up with medium 18-gauge cotton construction. So, for those men that understand how the finer details can make or break an outfit, this is the polo shirt for you.
13. Massimo Dutti Striped Polo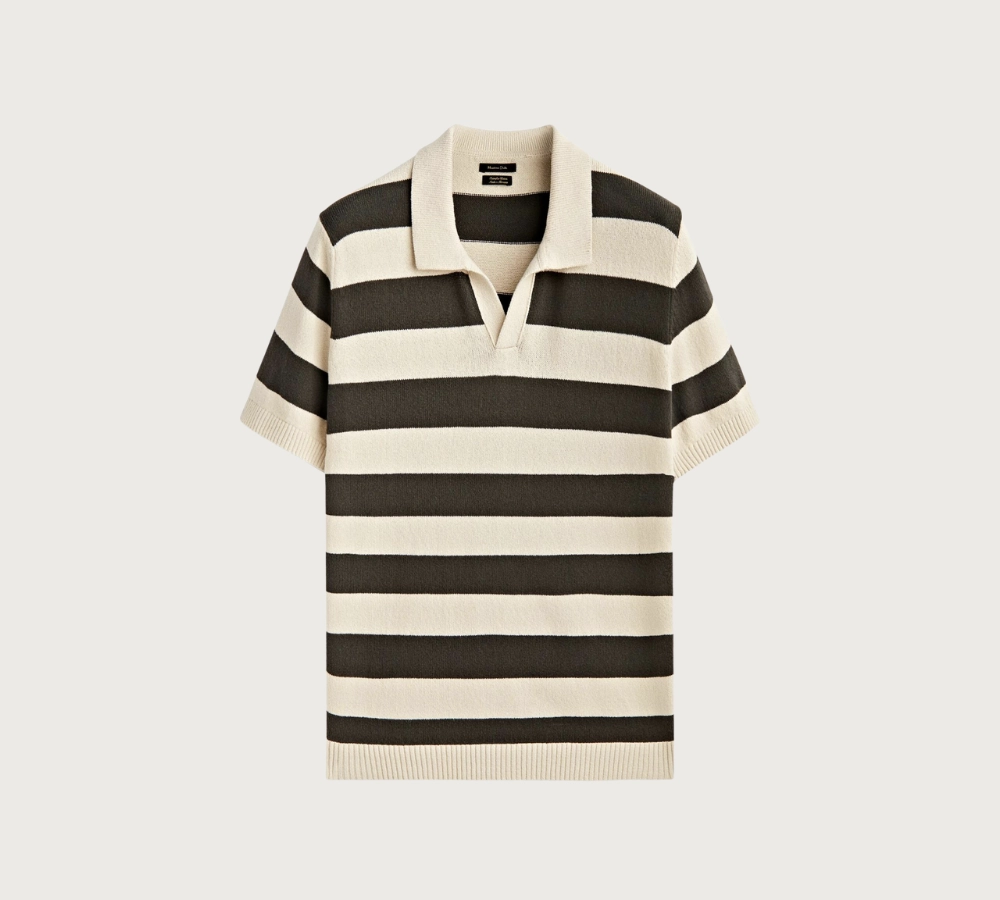 Men don't have to stray from the high street to get a great polo shirt this summer. Massimo Dutti has done a great job of creating a range of products suitable for urban living this season, with this polo a firm favourite for us.
14. Thom Sweeney Skipper Polo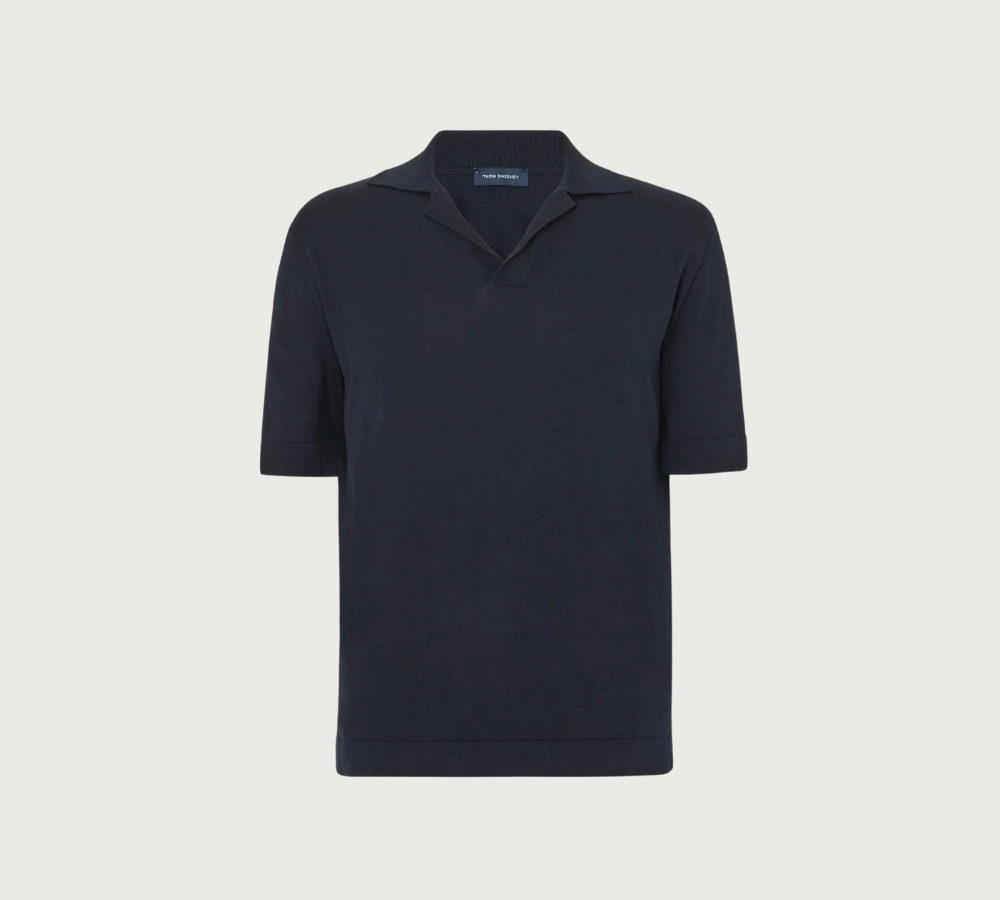 Applying their detailed tailoring eye to more than just smart wear, Thom Sweney has been able to create products that bridge the smart casual dress code. A fine example is this navy polo shirt that can easily be worn with a suit or dressed down with chinos or shorts with a deceptively sharp finish.
15. Mango Structured Fine Knit Polo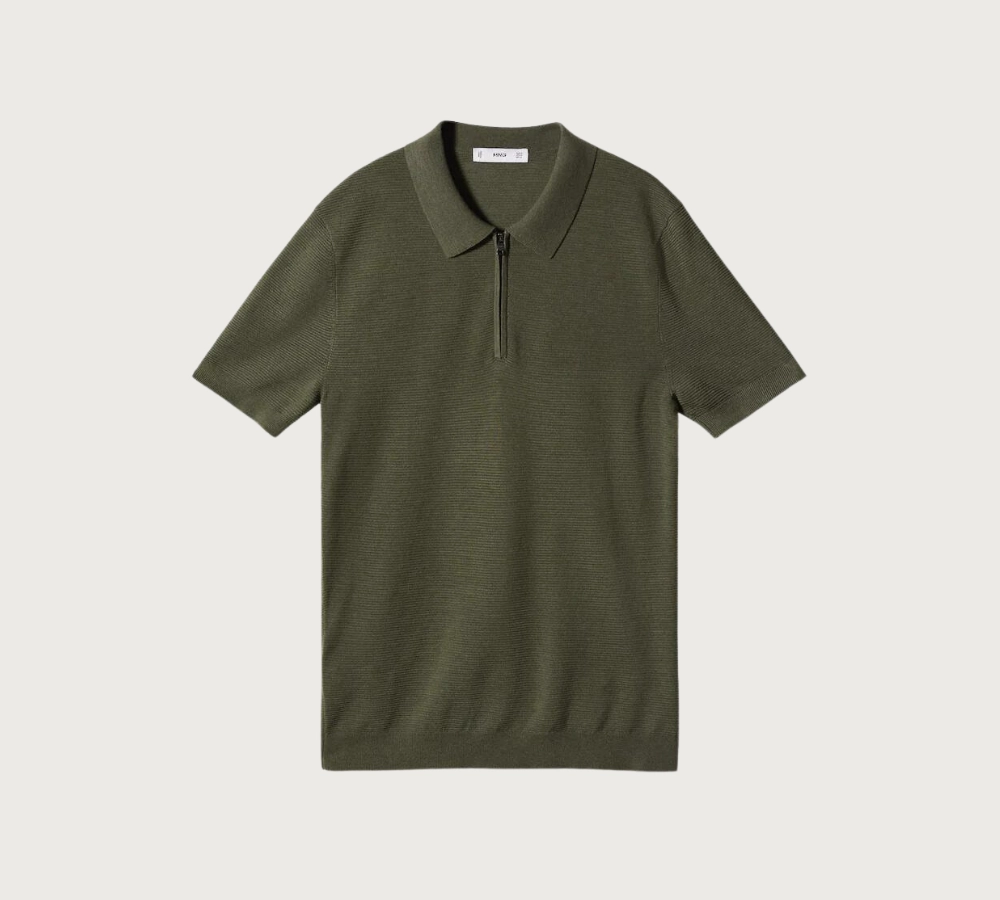 This is a classic example of how menswear brands can modernise a staple like the polo shirt. Mango has switched up this primary men's piece with a zip collar and fitted drape. A streamlined top, we recommend wearing with tailored trousers and white trainers.