Summer, we can be honest, typically creeps up on us men. One day we proudly wear our cashmere jumper and mac, and the next, we are met with sweaty armpits on the commute to work. It doesn't have to be that way, and it is all about how we prepare for this notoriously difficult sartorial time of the year. Shorts are the answer for men looking exasperated at their summer (or lack of) wardrobe.
A versatile menswear piece, shorts come in all shapes and sizes, making them ideal for anything from hitting the beach to hitting the city bar. The key is to understand what shorts are most flattering for you and will integrate with your wider outfit choices. Thankfully, we are here to guide you through so you know which shorts to buy.
How To Buy Shorts
Before diving into specific shorts styles, let's cover some important buying considerations. When selecting the perfect pair of shorts, you should keep a few key things in mind.
Length
Shorts come in various lengths, from knee-length to thigh-amplifying short shorts. Every year the experts will tell you a different length to be wearing. However, for most men, the most flattering length will be from the knee to mid-thigh. This is your safe space.
Fit
No man should be showing the world what they were born with. Leave something to the imagination and ensure your shorts leave you some room. You should be able to get your finger comfortably around the hem and the waist. Being too restricted will only cause you to be more uncomfortable in hot weather.
Material
The material of your shorts can make all the difference in looks and comfort. Cotton is lightweight, breathable, and a good option for summer, while polyester is more durable and can handle more wear and tear. If you don't mind a bit of creasing, linen or a linen mix can ideally be partnered with a button-down shirt.
Style
Lastly, consider the overall style of the shorts and how they fit into your wardrobe. Do you want shorts that are casual or formal? Do you want them to be plain or patterned? Answering these questions will help you make the right choice. We always recommend men buy clothing that will last. So, if you can't see yourself wearing it again in 12 months, is it worth it?
Different Short Styles
Next up, we will run through some of our favourite short styles here at AGR. Tapping into these key picks will ensure you are never caught short (excuse the pun) when the sun decides to make an appearance.
Chino Shorts
This is the staple pair men are most likely to have lurking in their wardrobes. Chino shorts are a dependable, simple choice that can cover various occasions due to their versatility.
A flat-front chino has an optimum hemline of about an inch above the knee. This length will ensure you get maximum wear as the easy-on-the-eye aesthetic and durable fabric could make these your daily favourites. When styling your chino shorts we like to wear them with a shirt and driving shoes for a smart casual look. But, equally, they can be worn with a simple tee for off-duty style.
Whichever way you rock them, the chino short is a timeless option that will have your back time and again. The fact that they come in every colour known to man, only adds to their allure.
Swimming Shorts
Burn your budgie smugglers and invest in a pair of great swimming shorts. There has been an explosion in resort wear over the past decade, and our holiday outfits are thankful for it. The sheer array of quality fabrics and head-turning designs mean the swimming short is no longer just for the water.
With quick-drying technology and tailored fits. Men can now feel comfortable wearing their swimming shorts from the pool to the bar. Just stick on a relaxed-fit linen shirt and some espadrilles, and you can skip a trip back to the hotel room.
When styling your shorts, remember it's a game of two halves. If you have chosen patterned swim shorts, muted tones on top would be preferred and vice-versa. Your only issue now is finding a pool in the city so you don't have to stop wearing them.
Cargo Shorts
Once the uniform of choice for early-2000 teens, cargo shorts (and trousers) have seen a resurgence of late, with a more refined fit and smaller pockets. This updated version has been widely adopted and is now a strong option for a contemporary style of shorts.
The key to wearing cargo shorts, as with much of menswear, is about keeping it simple. As cargo shorts have quite a bit going on, patterned shirts or logo tees can be jarring. Clean, minimalist pieces like white trainers or a basic t-shirt will be less distracting and create a more cohesive look.
With a utilitarian aesthetic, it's not hard to see why cargo pants are so popular. They work in workwear or even streetwear outfits. Just remember, though, the pockets are for show. Keep your phone and wallet elsewhere, and for the love of god, no keychains.
Short Shorts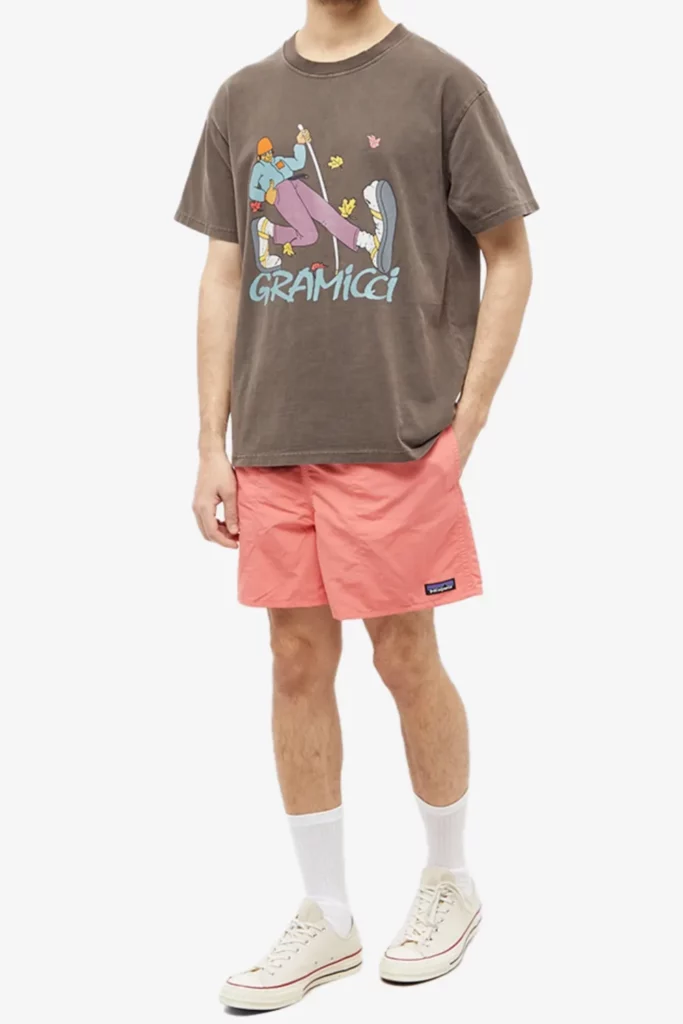 Shorts that nestle at the mid to upper thigh can be very flattering for those looking to show off a little more leg. They go by the moniker "short shorts" and can be difficult for most men to pull off. This length doesn't give you anywhere to escape. If you have consistently missed leg day, short shorts might be worth swerving. At the same time, those with large thighs are also recommended to move on to the next pick.
The resulting slither of men who would look great in this style now need to know what to wear with them. There are, of course, retro-inspired picks that pair nicely with trainers and a vintage tee. Though, we prefer a more understated pair of short shorts that can stick a linen shirt above and loafers beneath to nail some Mediterranean vibes.
Tailored Shorts
Though the chino can offer you an element of smartness, there is only one style that can truly lay claim to a formal option: tailored shorts. Similar to smart trousers in construction and material, the hem has risen above the knee to make them wardrobe fodder for the summer months.
It's crucial to get the fit right with these ones. A slouchy fit will look slobbish, which is not the desired outcome. To keep them presentable, choose a pair with a slim silhouette, allowing them to be worn with a formal shirt and smart shoes.
Adaptability is key to a modern man's wardrobe. We should approach tailored shorts in a similar vein. Yes, they are formal, but we have proven before on these pages that this shouldn't stop us from introducing casual elements. Like tailored trousers can be styled with a t-shirt and trainers, the shorts equivalent can also be. Taking the tailored shorts from their niche birthplace to a wider, more versatile home in your rotations.