For any products purchased through the links on this site we may earn a small commission
40 Of The Best White Trainers For Men 2021
A white trainer is a menswear essential. This humble piece transcends formal to casual attire with ease. We bang on a lot about versatility and this item of footwear is a prime example. Adept at being partnered with a suit during the week as well as chinos at the weekend. The white trainer has got your back. If cared for correctly they will also see you through all year-round, come rain or shine, they will be glistening with pride.
From its humble sporting beginnings, the white trainer is now a mainstay of men's fashion. It has been adapted into different styles using a range of materials by both luxury and high street brands. From calf leather low tops, to mesh athleisure options, there is a pair for every budget and taste.
Related Post: Best White Trainers Under £100
In this list of the best white trainers for men, we are keeping it simple. These classic styles can be worn season after season, elongating their life and providing more bang for your buck.
Luxury Trainers
1. Dolce & Gabbana Logo-Appliqué
Exemplifying Domenico and Stefano's love of sportswear, these round-toe leather sneakers are a slice of Italian luxury. Crafted in Italy and adorned with one of the most famous names in fashion, they are a versatile menswear staple.
Price: £485
2. Thom Browne Tricolour
Not content with just redefining men's tailoring, Thom Browne has added his well-known tricolour to these perforated white leather sneakers. With a smart, preppy feel, as you might expect, these would like great partnered with a suit.
Price: £640
3. Saint Laurent S/L 10
With contrasting suede panelling, these white perforated leather trainers are a nice choice for either a casual or smart outfit. They have a classic, simple profile that makes them easy to integrate into any gents wardrobe.
Price: £420
4. Balmain Embossed
These paired-down clean silhouette trainers have been given a twist with the addition of a raised gum rubber sole. Embossed with the Balmain 'B' they are the perfect piece of footwear to elevate an off-duty outfit.
Price: £475
5. Uniform Standard Series 1
This fresh pair of kicks are from East London footwear brand, Uniform Standard. From repurposed packaging to the recycled materials used to make them, every pair of shoes is sustainably created to last longer. These guys will soon become your new favourite footwear brand.
Price: £140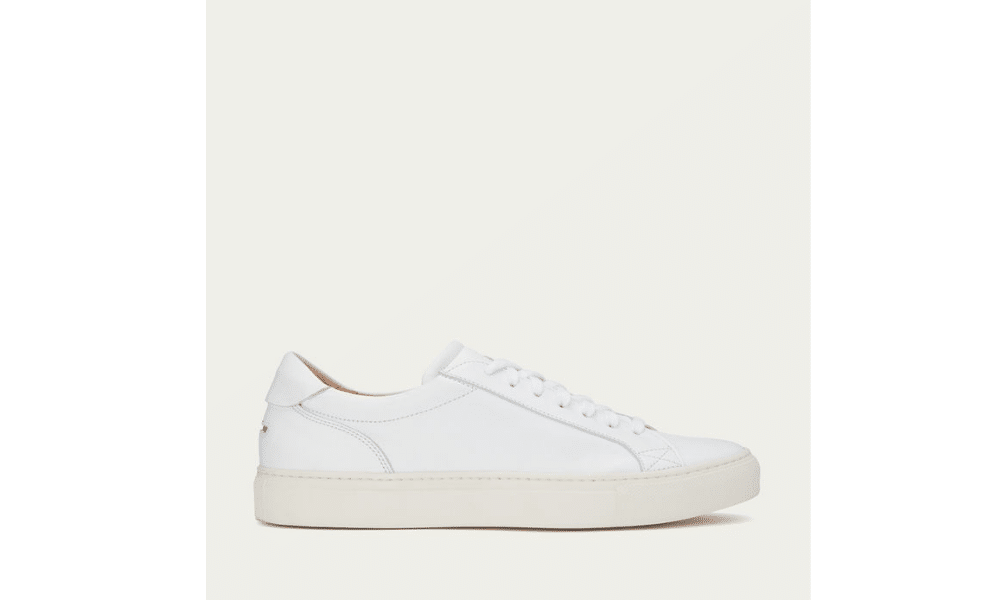 6. Unseen Helier
Designed in London and crafted in Italy, these Anglo-Italian trainers are bastions of functionality. Made from premium Italian Nappa leather, they pack a punch when it comes to quality. These are a hybrid of unassuming British design with famed Italian craftsmanship.
Price: £215
7. North 89 No-1 Napa
These white trainers boast a luxurious comfort thanks to inners produced with memory foam. The attention to detail from this Swedish brand doesn't stop there. Antibacterial soles will keep bad smells at bay in the summer and premium Italian nubuck encases the foot upon wearing.
Price: £196
8. Scarosso Ugo Bianco
Handcrafted by skilled artisans, they are produced from premium Italian calfskin. This luxuriously supple material is partnered with a ribbed rubber sole. The result is a classic, elegant design that seamlessly delivers added value to your daily outfit choice.
Price: £185
9. Mr P Larry Leather
Exclusive to Mr Porter these white leather sneakers are your go-to choice for everyday activities. Made from calf leather they will offer a minimalist foundation to build upon. Ideal with wide-legged chinos and a workers jacket.
Price: £195
10. Common Projects Achilles
Much heralded as the daddy of all-white trainers, Common Projects delivers a clean aesthetic matched with premium materials. Versatile and functional, we challenge you to find anyone that can't find a way to wear these and look great.
Price: £290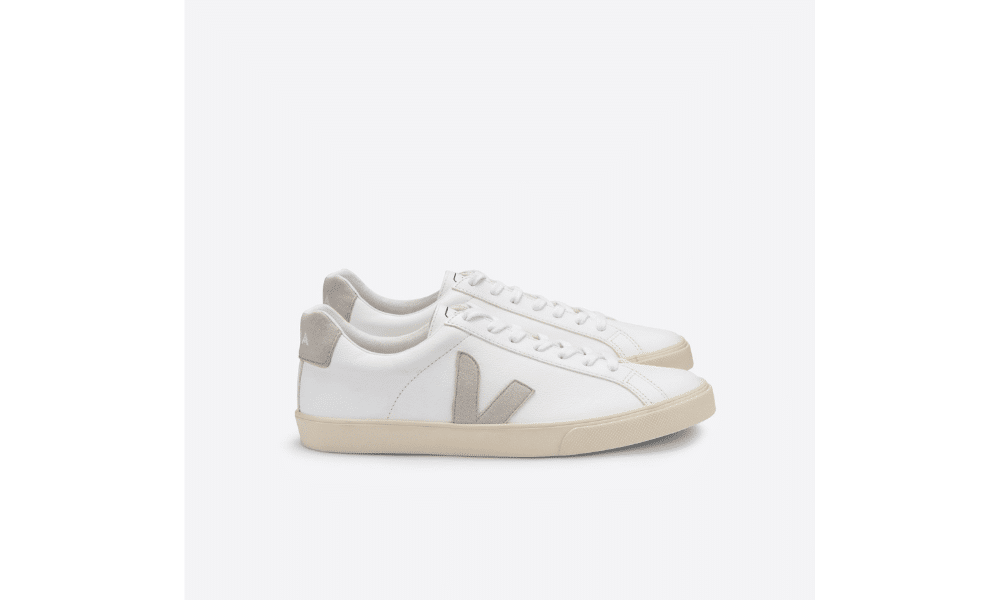 11. Veja Esplar
Made in Brazil the lining mixes organic cotton and recycled polyester. Veja is a brand with a purpose, they support a positive impact at every stage of production. That means fair pay to workers, the best sustainably sourced materials and all that adds up to sneakers that cost 5 times more to produce than others on the market. But, we can all agree, it is money well spent.
Price: €110
12. Grenson Sneaker 1
This trainer is part of the first-ever sneaker range from historic shoemakers Grenson. Channelling their expertise faultlessly into casual footwear, they have produced an exquisite tennis shoe from premium calf leather. This can now sit proudly alongside their wider range of classic men's formal footwear.
Price: £195
Sports Brands
13. New Balance CT Alley
Inspired by a tennis silhouette, the clean lines are perfected with a premium leather upper. It comes with simple branding and a flick of red colour. This is a sports style shoe that can easily be fed into your daily wardrobe to offer comfort and classic design.
Price: £70
14. Adidas Originals 3mc
Look no further if you are searching for minimalist comfort. Lined with a sock-liner for extra cosiness, they are a faultless option for men that require a clean and casual aesthetic. These are more reasonably priced due to their canvas instead of leather uppers.
Price: £54.95
15. Nike Waffle Racer
The Nike Waffle Racer was originally released in the '70s and the design has remained true to its earliest creation ever since. Featuring shell and suede uppers they are more casual than smart. Stick on these with a pair of chinos and knit jumper for a cosy trip to the pub.
Price: £75
16. Lacoste Lerond Gold
Epitomising simple, minimalist design, these white leather trainers from Lacoste are a great foundation piece. The clean aesthetic means they are excellent options for either smart or casual attire.
Price: £75
17. Fred Perry B721
Blending British style with an athletic twist, Fred Perry was founded by the former Wimbledon champion in 1952. Featuring the brands signature logo on the side this is a laid-back style shoe that will see you through the weekend with aplomb.
Price: £75
18. New Balance All Coasts
Another entry from the US sports giant. This is an upgrade on the brands familiar 574 shoe and again follows a different tennis-inspired silhouette. Featuring premium leather and suede their REVlite midsole adds superior cushioning underfoot.
Price: £65
19. Adidas Stan Smiths
The Stan Smith trainer is probably one of the most famous white sneakers you could buy. A timeless style that has been at the forefront of men's footwear fashion since it was created in the '60s. Named after the former Grand Slam tennis champion, its shows once again how tennis shoes have taken over the casual footwear market.
Price: £75
20. Puma Ralph Sampson
Ralph Sampson is a well-known face in the world of basketball and these Puma's endorsed by him have some real court appeal. The monotone black and white design is a great balanced colour palette to let the rest of your outfit pack a punch.
Price: £65
21. Converse All Star
The iconic Converse All Star gets an upgrade with a leather upper. Remaining true to the original style we are all familiar with, the whited-out branding delivers a fresh twist on a menswear classic.
Price: £65
Mid Market Picks
22. Arket
Made from premium leather this court-style shoe comes with tonal detailing and padded trim for added comfort. Who better than the Scandinavians to show us how to deliver on simple minimalist style.
Price: £89
23. Suit Supply White Sneakers
Complete any relaxed look with these white tennis shoes. Made from premium Italian calf leather, the sand suede detailing is paired with a cemented rubber sole. Inside there are charcoal insoles to absorb moisture and reduce bad odours.
Price: £149
24. Reiss Luca
The Luca trainer in white is produced from tumbled leather. Made in Italy, this narrow style sneaker has 100% leather uppers with a rubber sole. As you expect from Reiss this is all about affordable luxury without the extortionate price point.
Price: £145
25. Massimo Dutti Heel Tab
Produced using sustainable practices these leather white trainers are a perfect choice for men who love details. The contrasting coloured leather heel tab adds a nice twist to a classic tennis-style trainer. Every pair has an extra light sole ideal for those working in the city who need to travel a lot.
Price: £79.95
26. French Connection Lars Logo
A classic lace-up canvas shoe, the French Connection Lars trainer can easily become your wardrobe staple. We suggest partnering with chinos and a button-down Oxford shirt for a laid back weekend outfit.
Price: £85
27. Suit Supply Leather Trainers
Suit Supply has become the go-to place for stylish men looking to expand their suiting options. But, they don't stop at formal attire. Browse their range of denim and casual ranges for effortless panache. These white leather trainers fit superbly into that style and will become a firm favourite.
Price: £129
28. Reiss Finley
Yet another great pick from British brand, Reiss. Crafted in Portugal from smooth white leather they will be your footwear of choice no matter if the occasion is formal or casual. The overall narrow style lends itself well to being worn with smarter trousers.
Price: £120
28. COS Oversized Canvas
Built for comfort these twill effect canvas trainers have an oversized rubber sole. The larger sole only adds to their relaxation. Once on, you won't want to take them off.
Price: £55
29. Massimo Dutti Leather Trim
White trainers don't have to be boring. Invest in these leather trim versions from Massimo Dutti for a nonchalant and elegant style. Ideal for casual looks, they will elevate any relaxed outfit.
Price: £79.95
High Street Picks
30. Topman White Lace Up
The fashion-forward high street store knows how to cover the basics as well. All good men's wardrobes need a collection of staples. These white lace-up trainers cover everything you need for everyday style.
Price: £29.99
31. Zara Contrast Plimsolls
With contrasting coloured trims on the heel and tongue, this is a nice touch for the somewhat overused plimsoll style. The uppers are 100% polyurethane making the shoe lightweight and water-resistant.
Price: £25.99
32. Dune Temmpo
These white trainers from Dune will help you upgrade your everyday staples. They feature cushioned ankle support and a chunky sole for added comfort.
Price: £90
33. Paul & Bear Basic Urban
These basic trainers from Paul & Bear are a fuss-free and budget-friendly pick. Coming in under £20, they are easy on the wallet and easy to add to your existing wardrobe.
Price: £19.99
34. Aldo Assimilis
Fitting perfectly into the sports-leisure look, the Aldo Assimilis is finished with a retro stripe on the side. Partner with denim jeans for a relaxed feel.
Price: £60
35. Mango Leather Maxi Trainers
Inspired by tennis shoes, Mango's men's maxi trainers are rounded toe with a rubber sole. They are also available for customisation. You can add your embroidery on the side panel using symbols or two initials.
Price: £49.99
36. Superga 2390 COTU
If this brand was good enough for the infallible Steve McQueen then it is good enough for me. The debonair Mr McQueen was a fan of Superga for his off-duty looks and we can't blame him for loving these laidback pair.
Price: £55
37. Dune Trophy 1
Adding a twist by using perforated uppers has created a casual, comfortable style that won't let you down. Ideal for daily use, these chunky-soled trainers will take you from the office to the pub after.
Price: £80
38. Mango Monocoloured Leather
Sometimes the simplest of things are the most effective. These trainers are classic, unassuming and a great option no matter whether it is sunny or not.
Price: £49.99
39. Aldo Rex
Made using the Aldo CleanStep technology, you can be safe in the knowledge that your new shoes aren't adversely affecting the environment. Aldo makes a rubber-like material for their soles from harvested algae biomass. The result is cleaner oceans and a cleaner sustainability footprint.
Price: £75
40. H&M Premium Quality
Part of their premium quality range, these are 100% leather uppers and linings. With hardwearing rubber soles, they are still budget-friendly as you would expect from this high street favourite.
Price: £49.99
Please follow and like us: