A white trainer is a menswear essential. This humble piece transcends formal to casual attire with ease. We bang on a lot about versatility, and this item of footwear is a prime example. Adept at being partnered with a suit during the week and chinos at the weekend. The white trainer has always got your back. If cared for correctly, they will also see you through all year round, come rain or shine, they will be glistening with pride.
From its humble sporting beginnings, the white trainer is now a mainstay of men's fashion. It has been adapted into different styles using various materials by both luxury and high-street brands. From calf leather low tops to mesh athleisure options, there is a pair for every budget and taste.
Related Post: Best White Trainers Under £100
In this list of the best white trainers for men, we are keeping it simple. These classic styles can be worn season after season, elongating their life and providing more bang for your buck.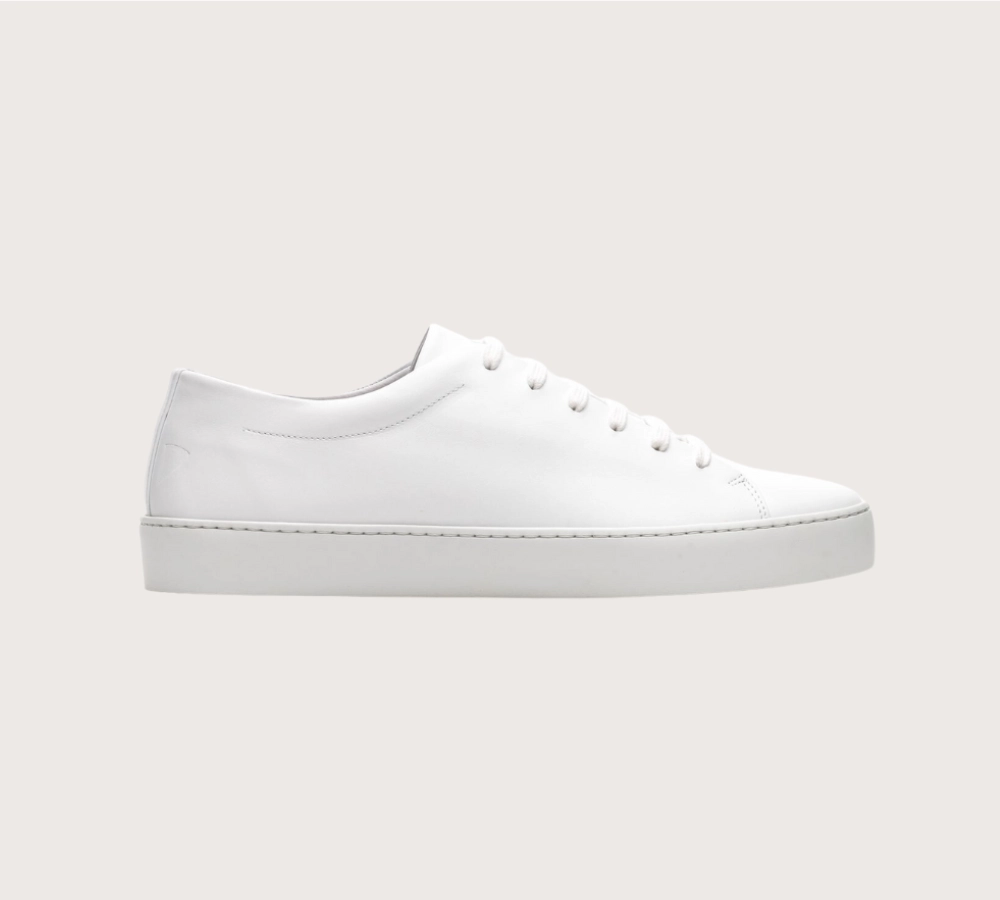 Jaks
This was the first trainer Jak's created and defines their interpretation of luxury minimalist aesthetics. Elevated by the premium materials used to craft them in Portugal, these trainers show how you can't take the humble white trainer for granted. It deserves to be loved.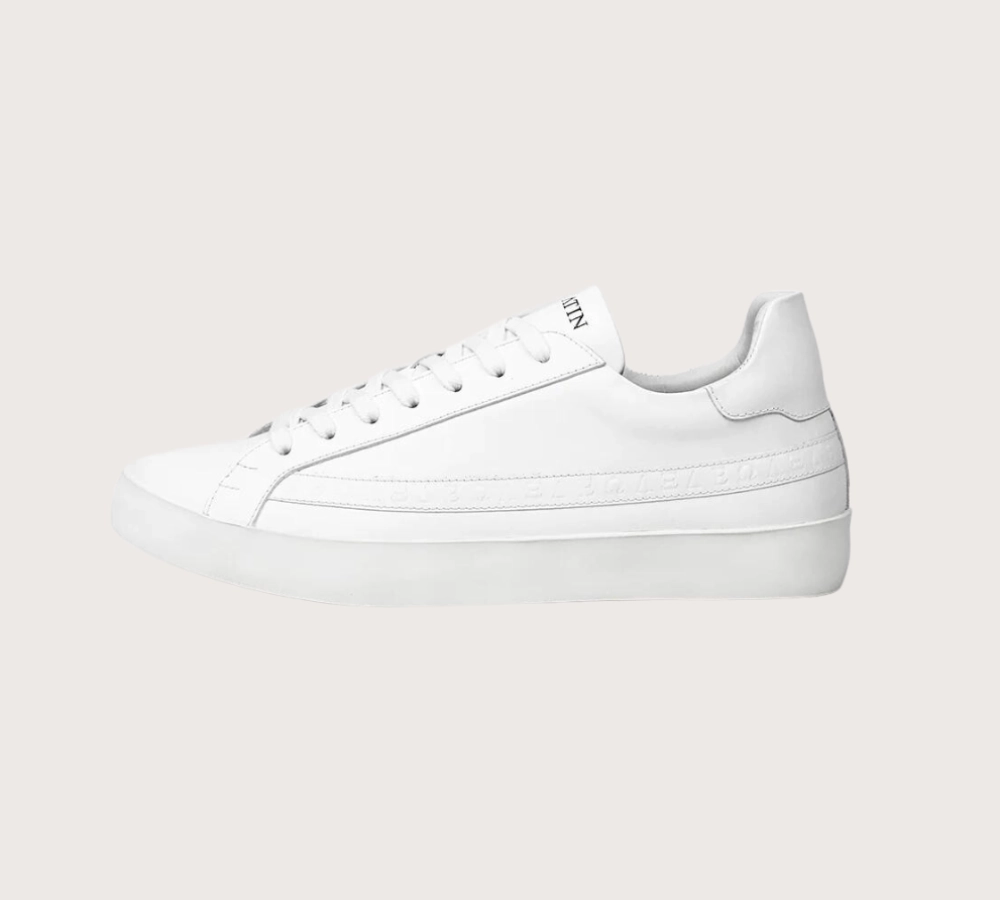 Sans Martin
Expertly manufactured to border both comfort and style, the triple-layered footbed is cushion-soft underfoot. Sans Martin footwear is ethically handmade using locally sourced premium materials. If you need another reason, the brand will donate a portion of every sale to charity.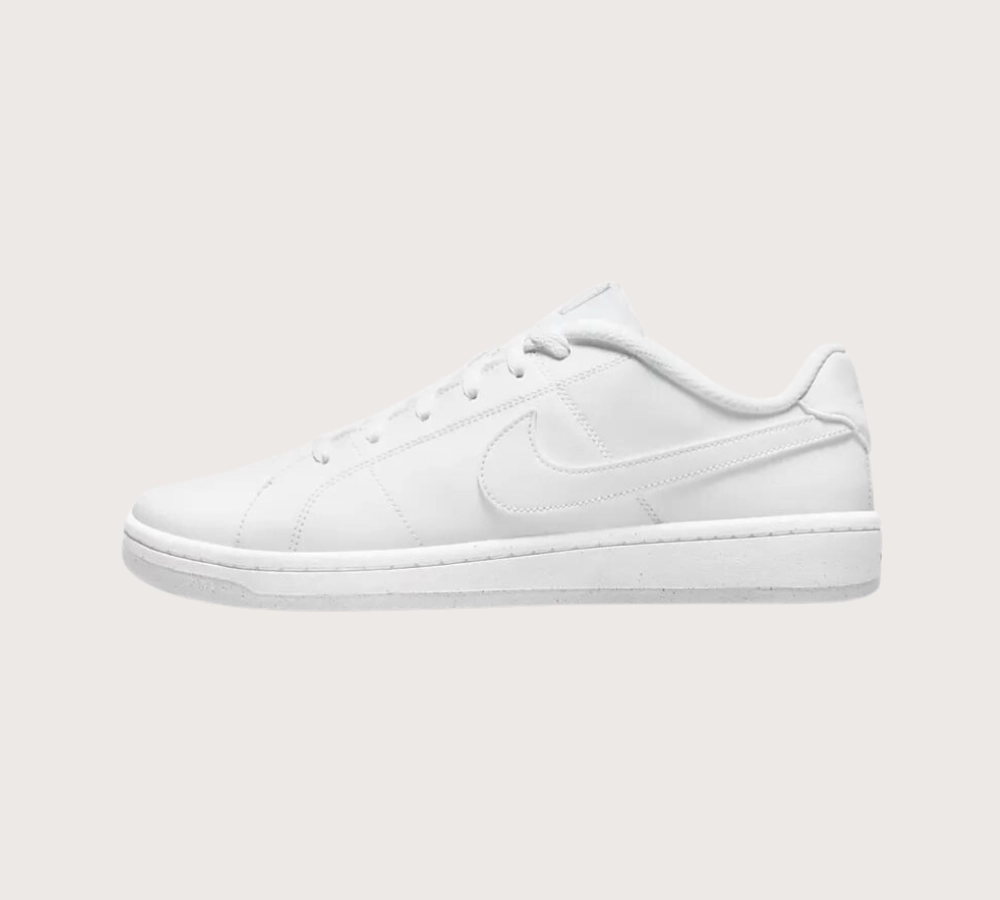 Nike
Reworking a favourite with an old-school swoosh, Nike has introduced at least 20% sustainable materials (by weight) to this design to ensure they are building for the future. In addition, the laces are made from 100% polyester, though there is nothing rubbish about the finished look.
Dalgado
Looking to subvert the world of fast fashion, Dalgado is handcrafting menswear pieces with the planet in mind. Durable Italian rubber soles support gold-rated pebble leather from Tuscany. With a padded tongue for extra comfort, these are the classic well-made white trainer that your feet deserve.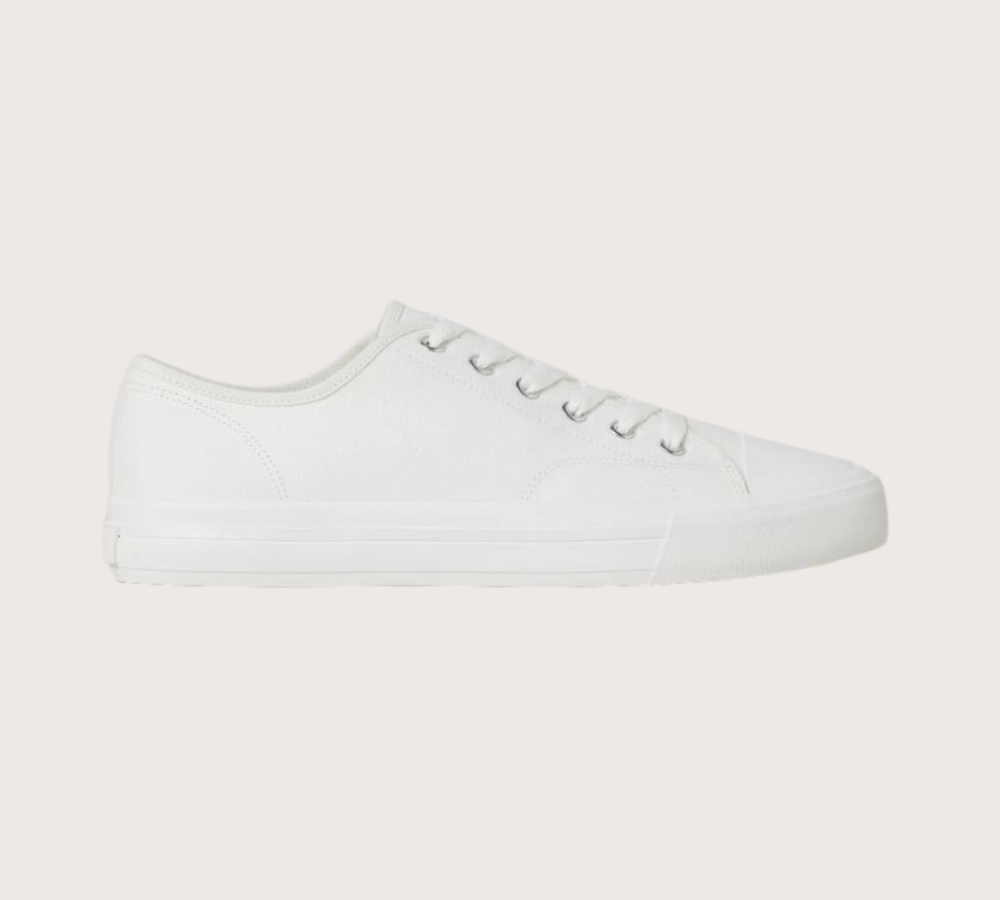 H&M
Sometimes you just need some simplicity in your life. The fashion giant that is H&M has these absurdly straightforward and affordable canvas sneakers that would look great with chinos this summer.
Saint Laurent
Adorned with a black heel, these white leather trainers capture Anthony Vaccarello's high-octane approach to casual staples. The graffiti logo shows a rock edge while presenting to everyone how deep your pockets go. They are worth it, right?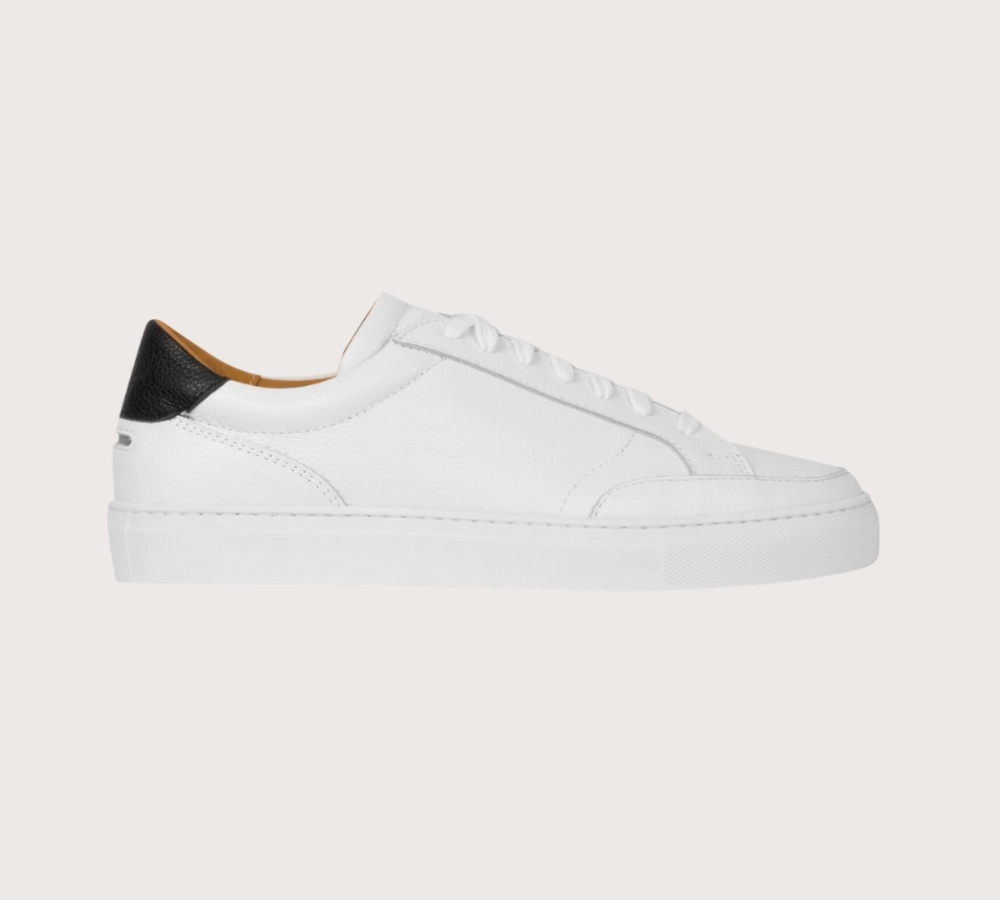 Unseen
Designed in London and crafted in Italy, these Anglo-Italian trainers are bastions of functionality. Made from premium Italian leather, they pack a punch when it comes to quality. These are a hybrid of unassuming British design with famed Italian craftsmanship.
Mr P
Exclusive to Mr Porter, these white leather sneakers are your go-to choice for everyday activities. Made from calf leather, they will offer a minimalist foundation to build upon. Ideal with wide-legged chinos and a worker's jacket.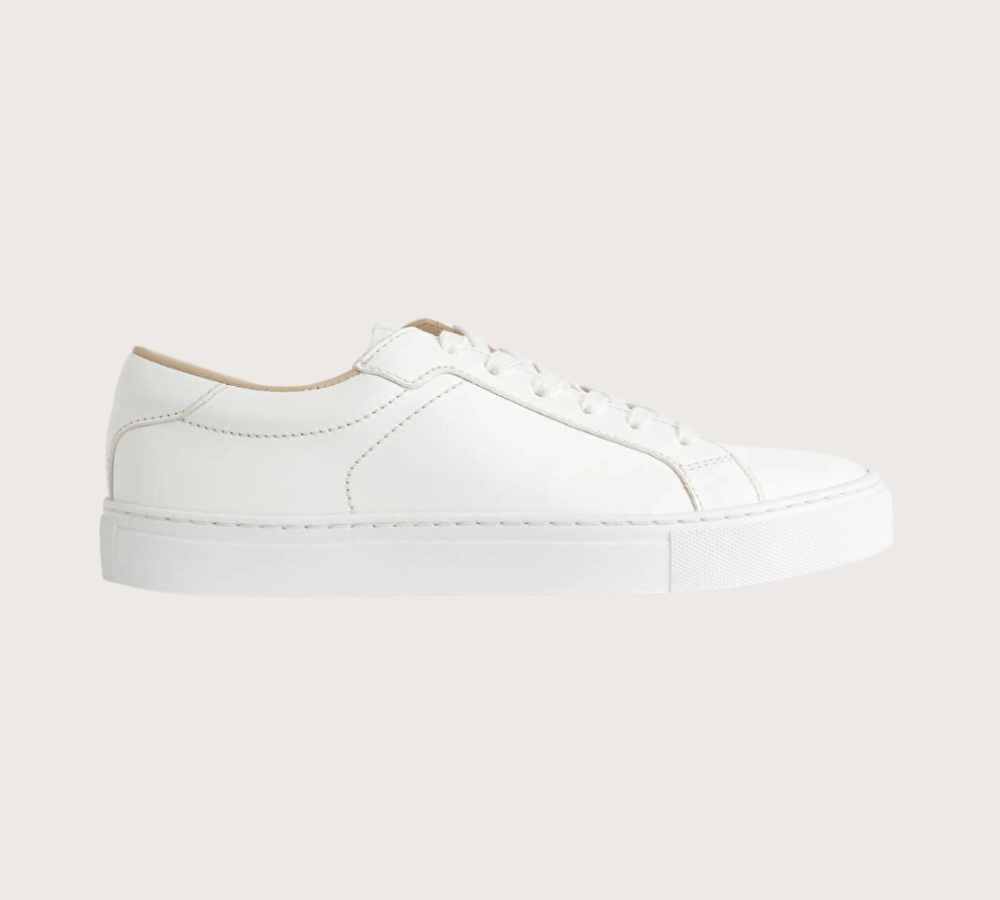 Arket
Made using a metal-free tanning process to create a soft and supple leather, Arket has added to this comfort with interior padding. Heralding from Portugal where you will have guessed by now, most of the best trainers are being manufactured these days, Arket has crafted a welcome take on a classic.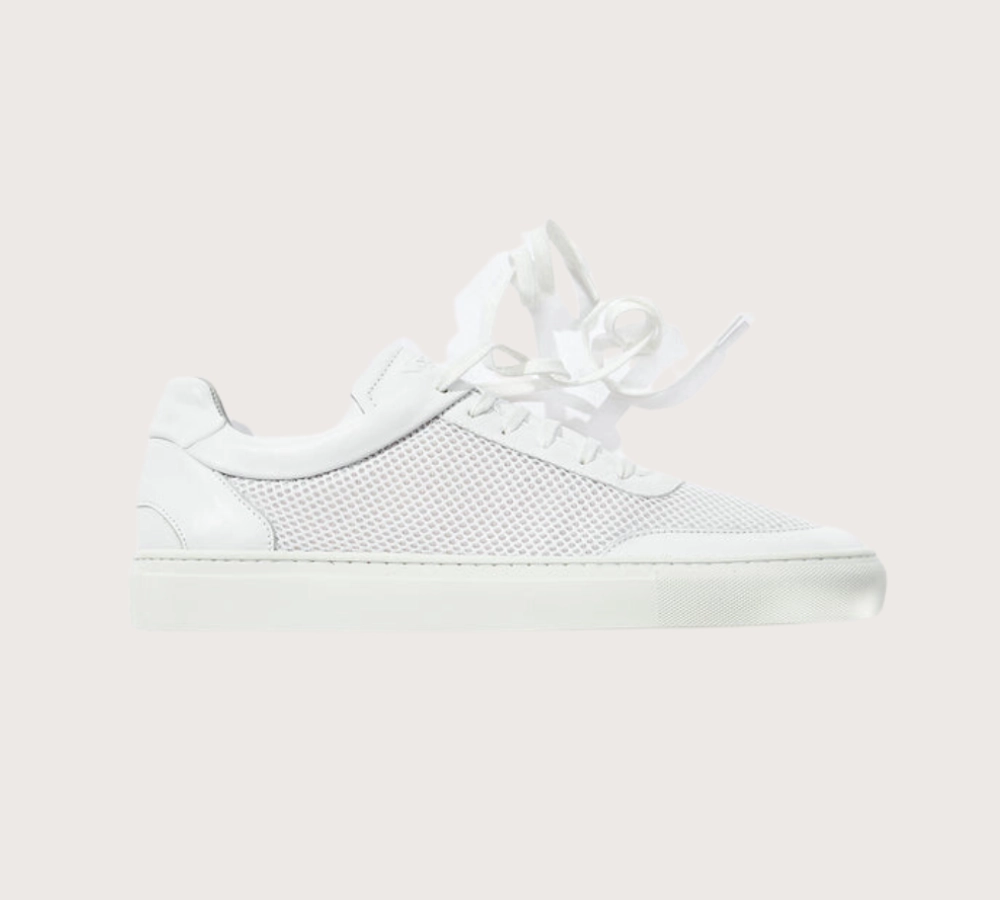 North89
These white trainers boast a luxurious comfort thanks to inners produced with memory foam. Perfecting season-agnostic footwear, North 89 has handcrafted these from perforated suede with a calfskin lining. The result is a sleek update with a sporty feel.
Massimo Dutti
Menswear aficionados have been heralding the use of Nappa leather in accessories for years. These trainers have been produced with the famed material a sit under a reasonable £100 price tag, cheaper than other brands would charge. Silky soft, Nappa leather footwear has a durability that matches its finesse which makes these great high street picks.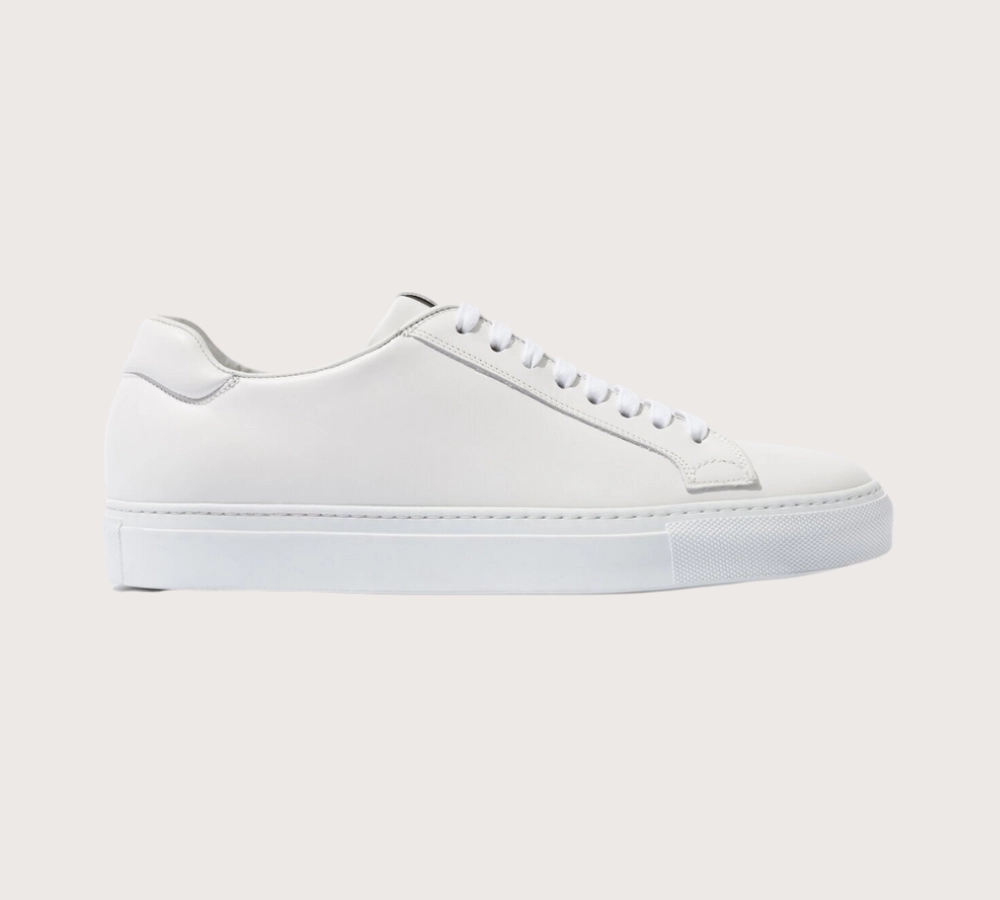 Scarosso
Handcrafted by skilled artisans, they are produced from premium Italian calfskin. This luxuriously supple material is partnered with a ribbed rubber sole. The result is a classic, elegant design that seamlessly delivers added value to your daily outfit choice.
Common Projects
Much heralded as the daddy of all-white trainers, Common Projects delivers a clean aesthetic matched with premium materials. Versatile and functional, we challenge you to find anyone that can't find a way to wear these and look great.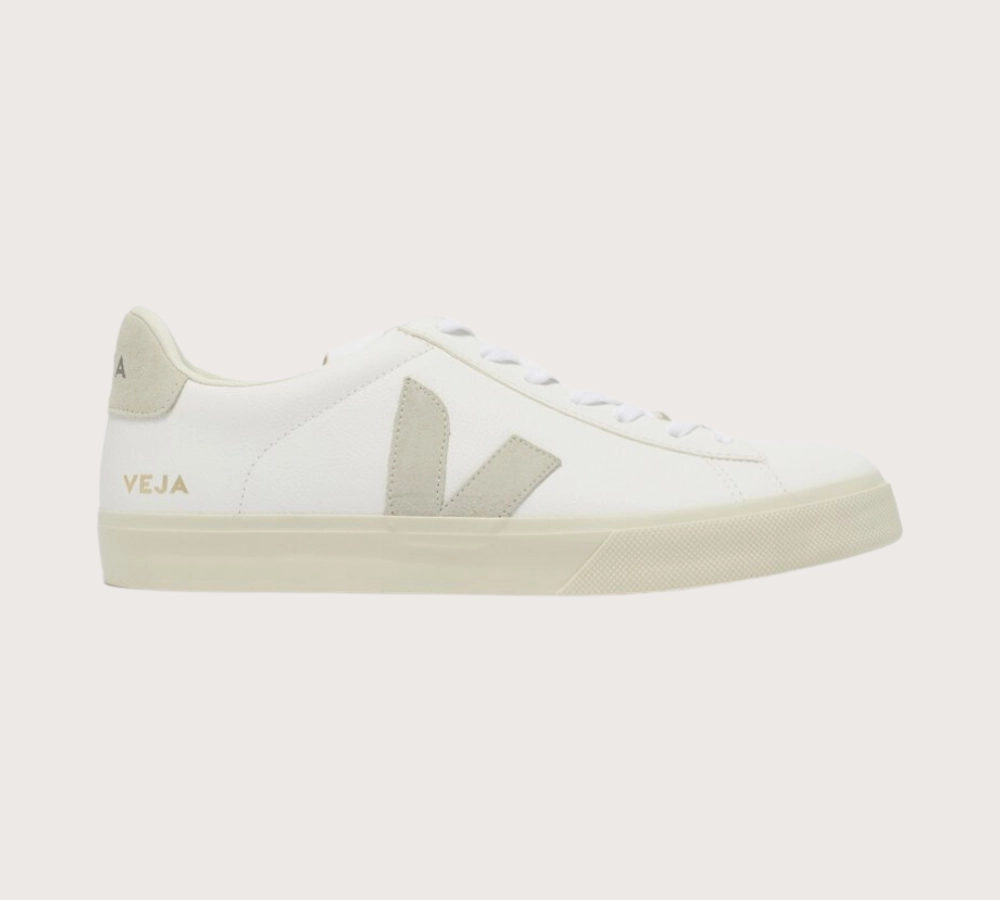 Veja
Made in Brazil the lining mixes organic cotton and recycled polyester. Veja is a brand with a purpose, they support a positive impact at every stage of production. That means fair pay to workers, the best sustainably sourced materials and all that adds up to sneakers that cost 5 times more to produce than others on the market. But, we can all agree, it is money well spent.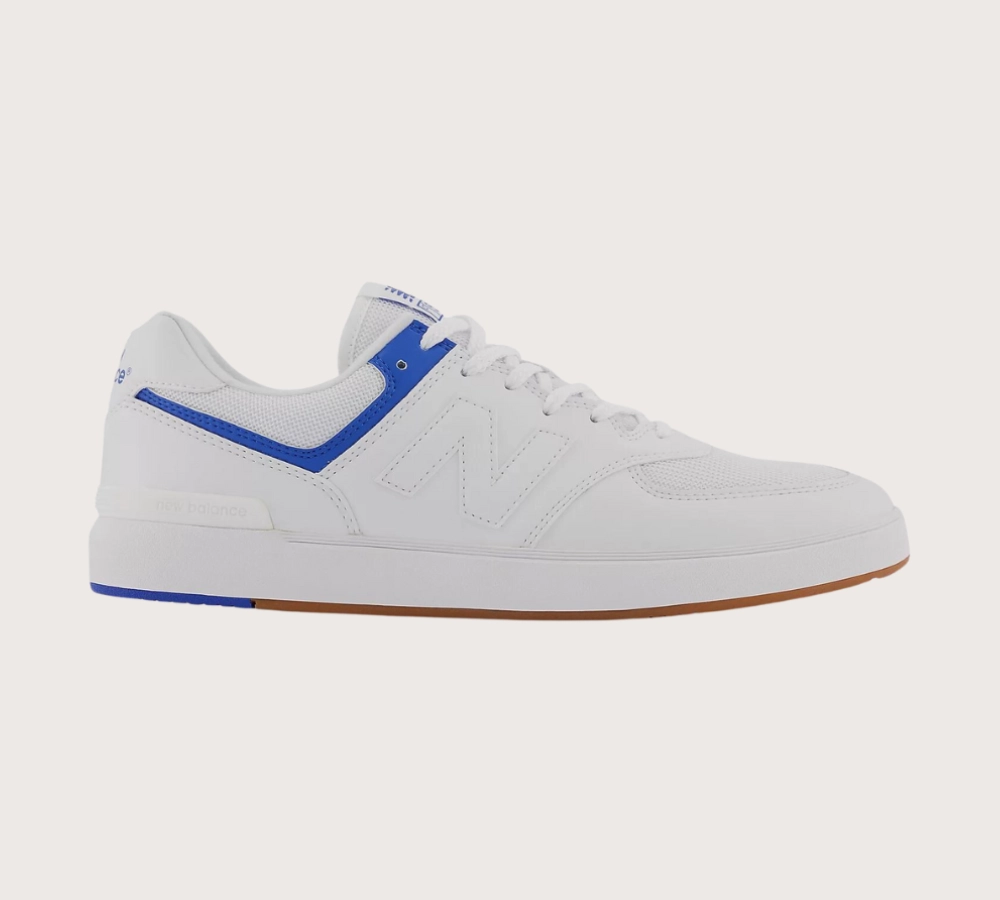 New Balance
The 574 is a sneaker synonymous with New Balance. An unassuming platform to launch your own unique style from. It is modern but with that laidback retro feel to it. The materials and comfort are what you would come to expect from this US brand. A REVlite sole offers super-soft cushioning, while the leather uppers are subtly embellished with a striking blue streak.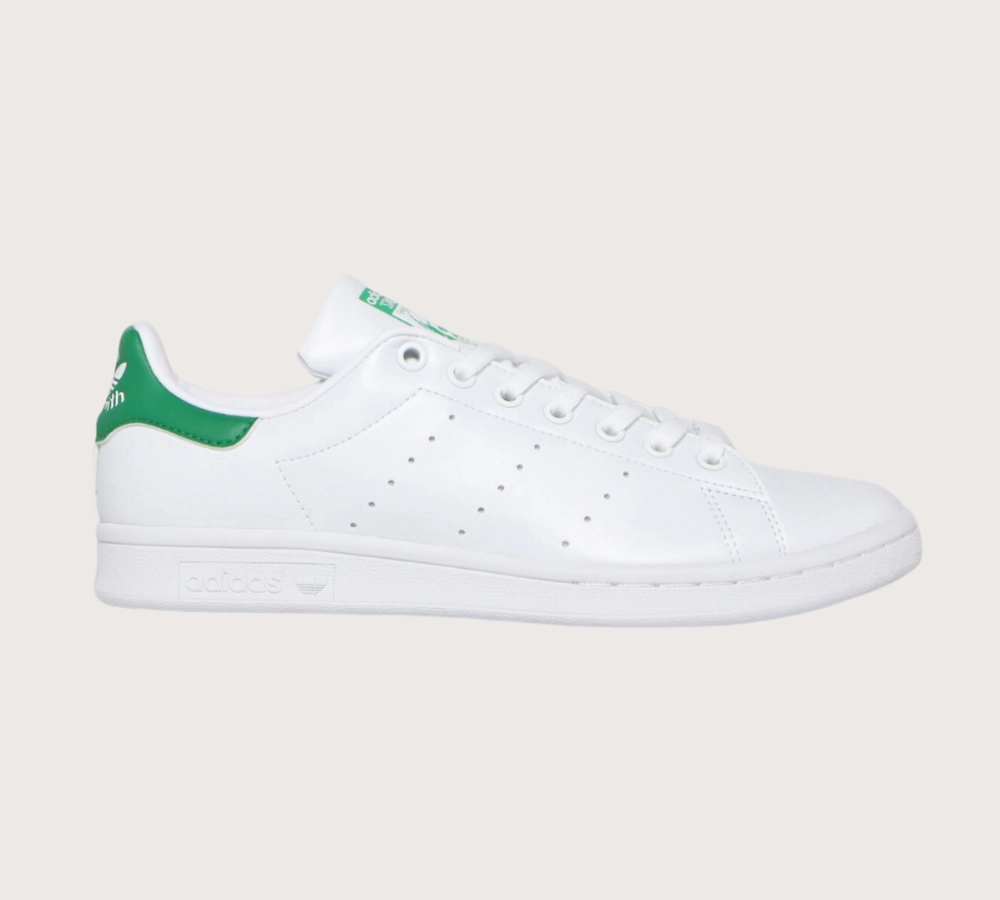 Adidas
The Stan Smith trainer is probably one of the most famous white sneakers you could buy. A timeless style that has been at the forefront of men's footwear fashion since it was created in the '60s. Named after the former Grand Slam tennis champion, it shows once again how tennis shoes have taken over the casual footwear market.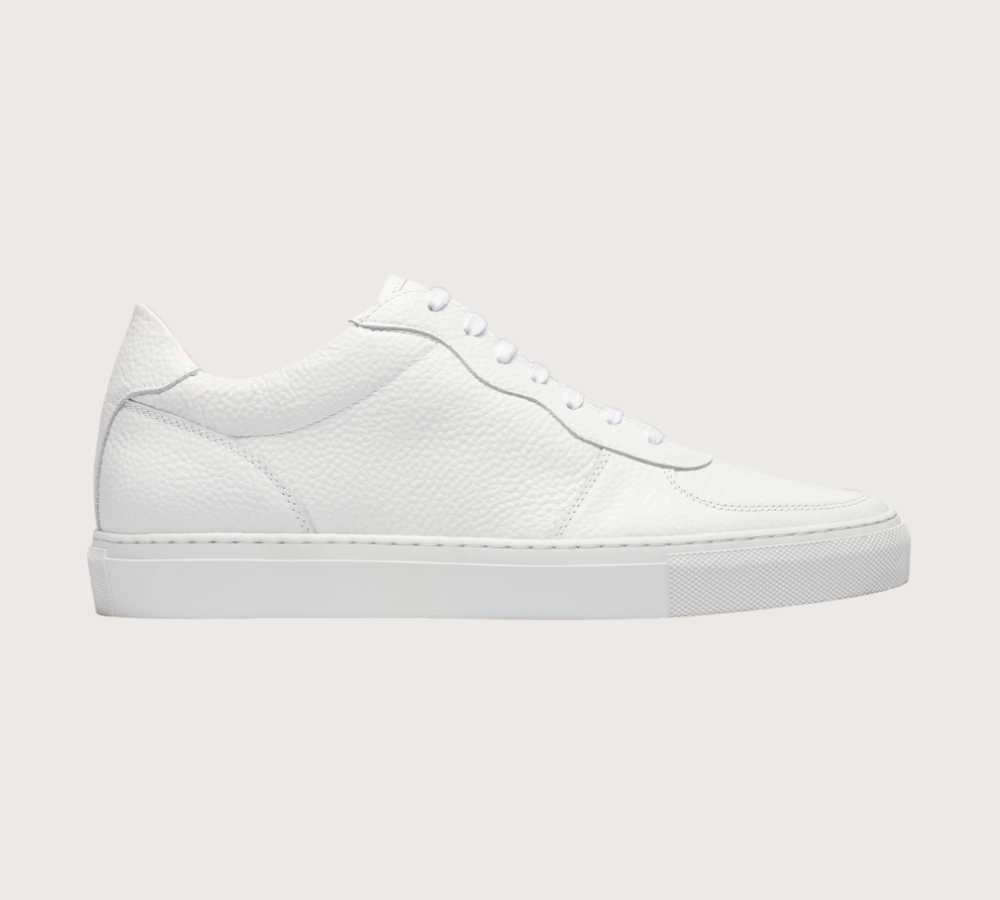 Suit Supply
Suit Supply has become the go-to place for stylish men looking to expand their suiting options. But they don't stop at formal attire. Browse their range of denim and casual ranges for effortless panache. These white leather trainers fit superbly into that style and will become a firm favourite.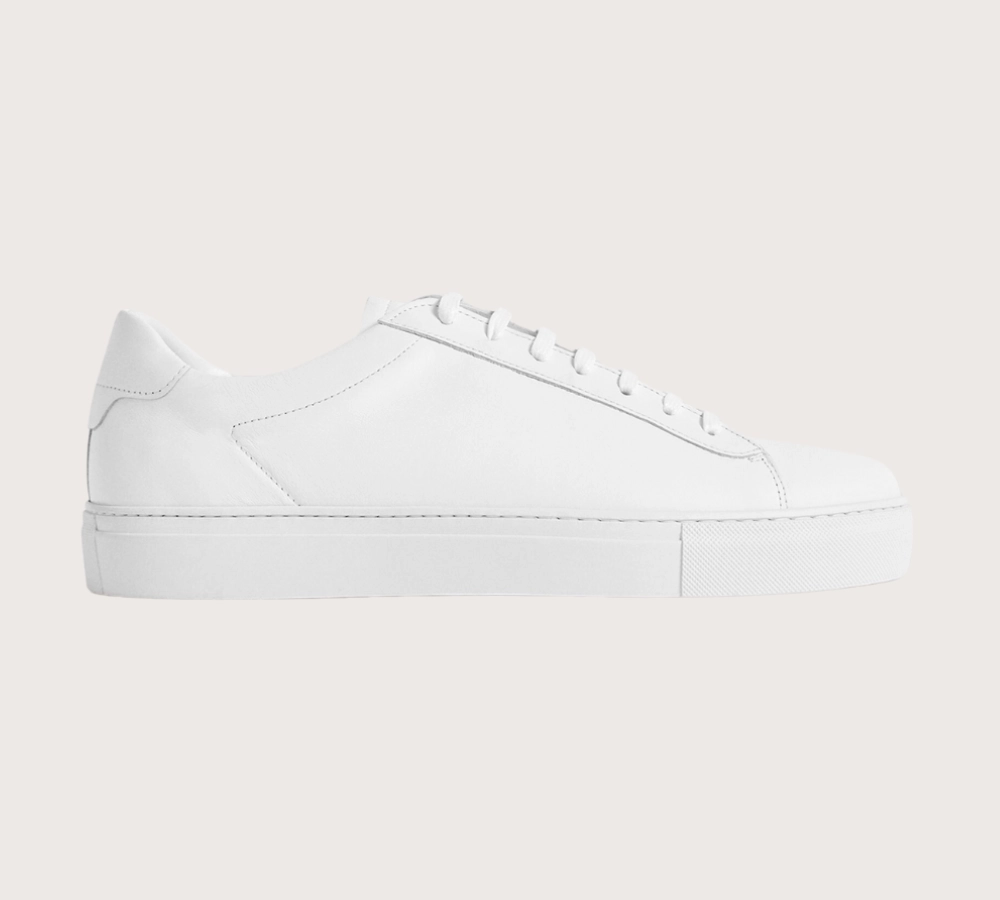 Reiss
With distinctive suede detailing on the toe and a chunky sole, the Ashley trainer from Reiss has a nice low-top silhouette. This makes them ideal for wearing with jeans or easily adaptable to be paired with more formal trousers.
COS
Crafted using an environmentally friendly chrome-free tanning process for extra softness. The comfort is increased with extra support around the ankle. They are as simple and minimalist as you would expect from a brand like COS.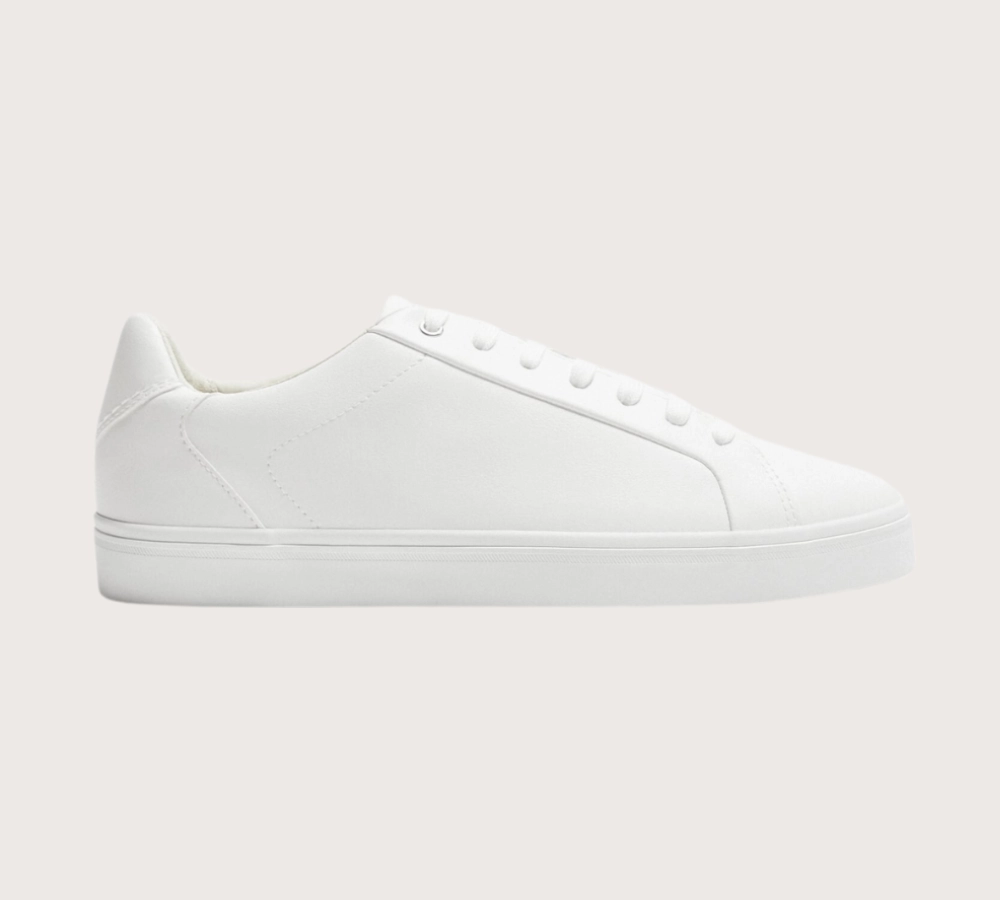 Zara
Featuring a chunky sole and irregular design, Zara has updated the classic white trainer for 2023. Manufactured from materials that aim to minimalise the environmental impact of fashion, these sneakers are trend-crossing picks that we are very much onboard with.