Are you looking to add something extra to your menswear look? One envious glance at our stylish Italian counterparts could be the answer. 'Spezzato' or 'broken suit' in English is the sartorial flair of pairing different formal pieces together. We typically refer to this as 'suit separates. It sounds simple but is fraught with menswear faux pas'. Colour, fabric, not to mention fit can all play a part in getting this wrong.
This guide will dive into how men can mix suit separates for any occasion - from formal events to everyday office attire - so follow along. Once mastered, it will deliver infinite wardrobe options as you mix individual formal components with aplomb.
What Are Suit Separates?
In essence, separates are different pieces of formal menswear combined to produce a new outfit iteration. Typically this is a two-piece version that includes a jacket and trousers but also a three-piece that consists of a jacket, trousers and vest or waistcoat.
The beauty of suit separates is that they offer the same classic fit and styling of a traditional suit but with the added versatility to mix and match pieces from different aesthetics; colour, fabric or texture. This flexibility allows men to create a look that is unique to them.
Notably, each piece can be tailored to fit you perfectly – whether you're looking for something more relaxed or want to keep it sharp with a tapered silhouette. The choices it creates will be sure to fit any dress code needed.
When Is The Best Time To Wear Suit Separates?
Stepping out of the warm embrace of your everyday suit can be daunting. After all, many occasions and events may warrant donning formal attire, and the suit is the founding father. But, as long as the dress code is within the scope of formal (aside from black tie), there is always room to experiment with separates. Weddings, date nights, or corporate lunches can all be tackled head-on. Remember, the key to mastering this sartorial technique is embracing its flexibility. Lean into how versatile you can make it. Playing with colours, fabrics, and fits can create a more polished or casual outcome.
Do's & Don'ts With Mixing Suit Pieces
One of the major barriers when wearing separate suit jackets and trousers is finding a pairing that appears good together. In isolation, your suit choices look great, but mixed, they create questions around texture and colour. Tones that are too similar can lead to men failing to achieve the clear separation we need to nail the broken suit look.
Thankfully, there are some sartorial rules men can follow to create a well-put-together ensemble.
Colour Creates The Contrast
Focusing on colour is a great starting point when planning an outfit from separate pieces. Colour is the first thing people will see and can sometimes be the hardest element to get right. The key is to develop contrast.
Colour hues that are too similar can look like you picked the wrong trousers to wear with your jacket. Rather than purposefully choosing different formal pieces. A complementing but contrasting colour pick will remove that confusion.
A top tip is introducing a colour that can be a unifier between your top and bottom. For example, navy trousers blend nicely with a check jacket if the jacket has navy incorporated in it. Alternatively, an accessory like a navy tie can do the same trick.
If in doubt, stick to some failsafe colour combinations, which we highlight later.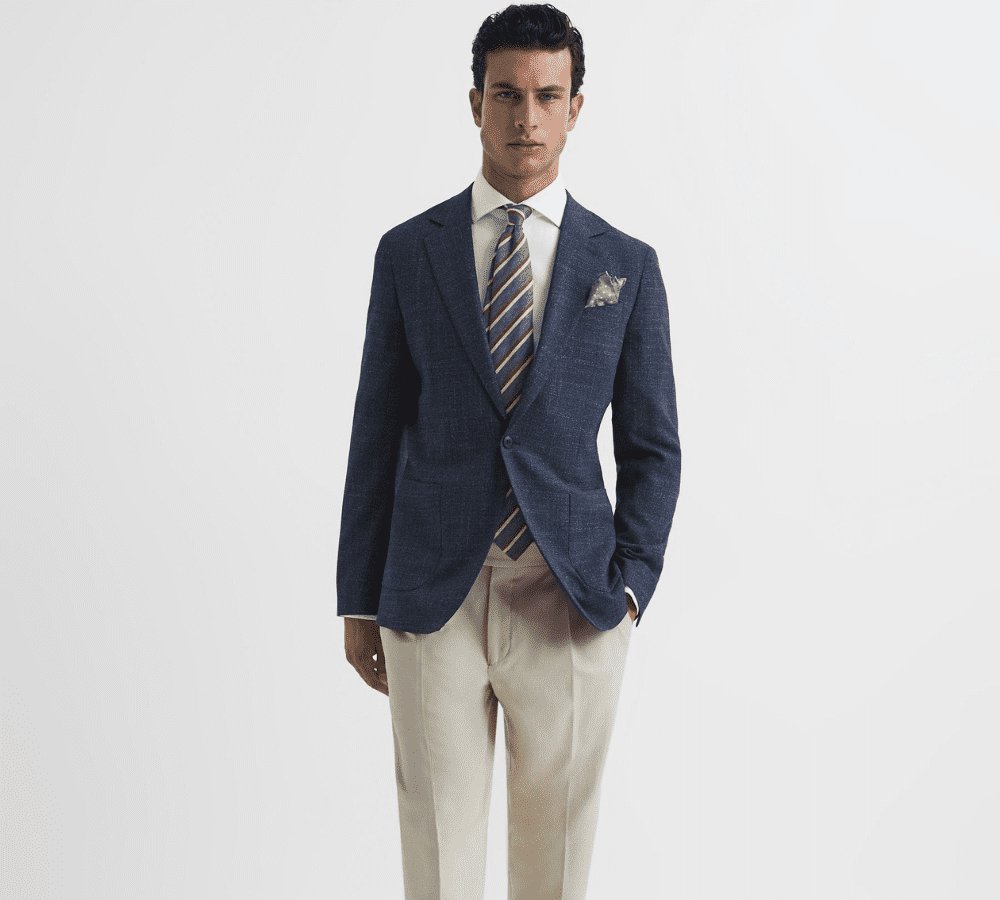 Nail How The Suit Pieces Fit
We go on about it all the time. Knowing how to get your clothes to fit you correctly means you are halfway to looking your best, regardless of brand, cloth, colour etc. If it doesn't fit right, it will never look great.
Crucially, when wearing suit separates, the fit can be an additional element to show uniformity. A tailored jacket with loose-fit trousers will be too much of a juxtaposition for most men. Try and ensure that the silhouette is the same on both halves.
Those that want an overall tailored outcome might benefit from getting some alterations. At least this way, you can create harmony without relying on two different brands to have executed their formal items similarly.
Our following rule will help with getting this right.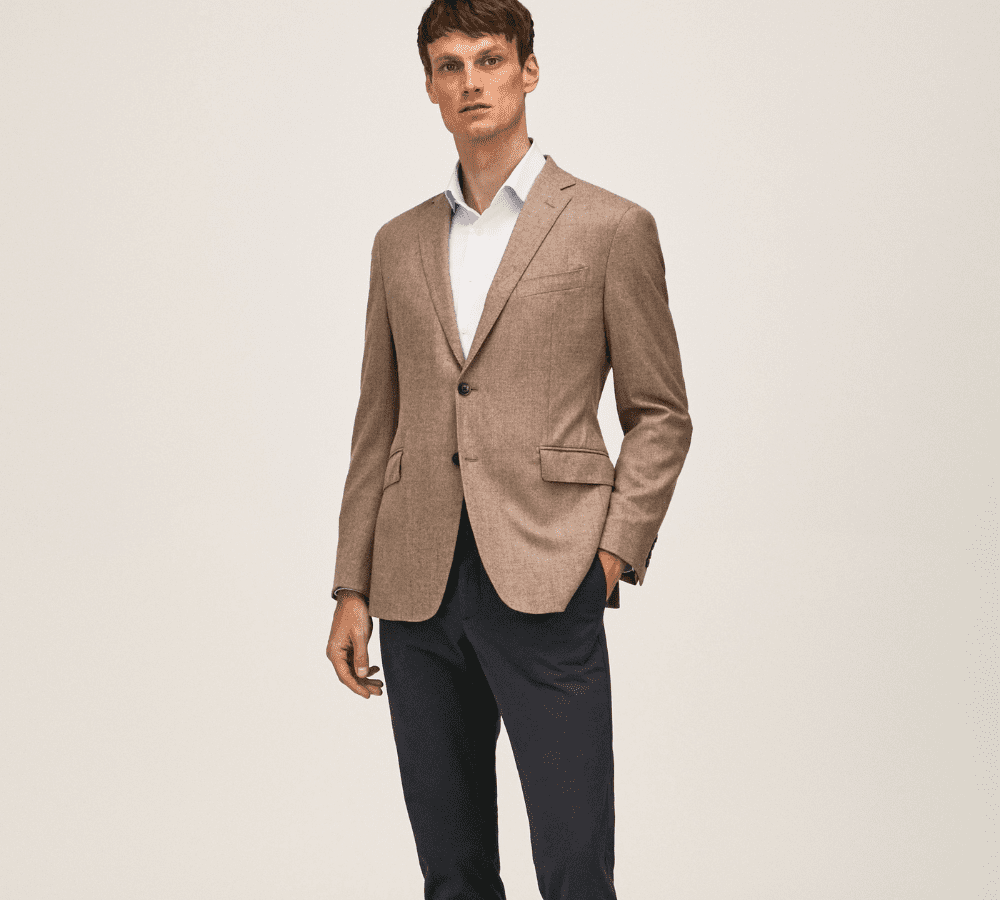 Don't Go Too Formal
By this rule, we mean that overly formal suits will be more challenging to pair with other trousers. Suit jackets in a structured fit with padded shoulders will look their best when worn with matching trousers.
Men need to look for jackets with a more relaxed composition. That entails a natural shoulder, not fully lined. An excellent choice is a two-button style. Then once we have the foundation of the colour and fit in place, guys can start to play with texture.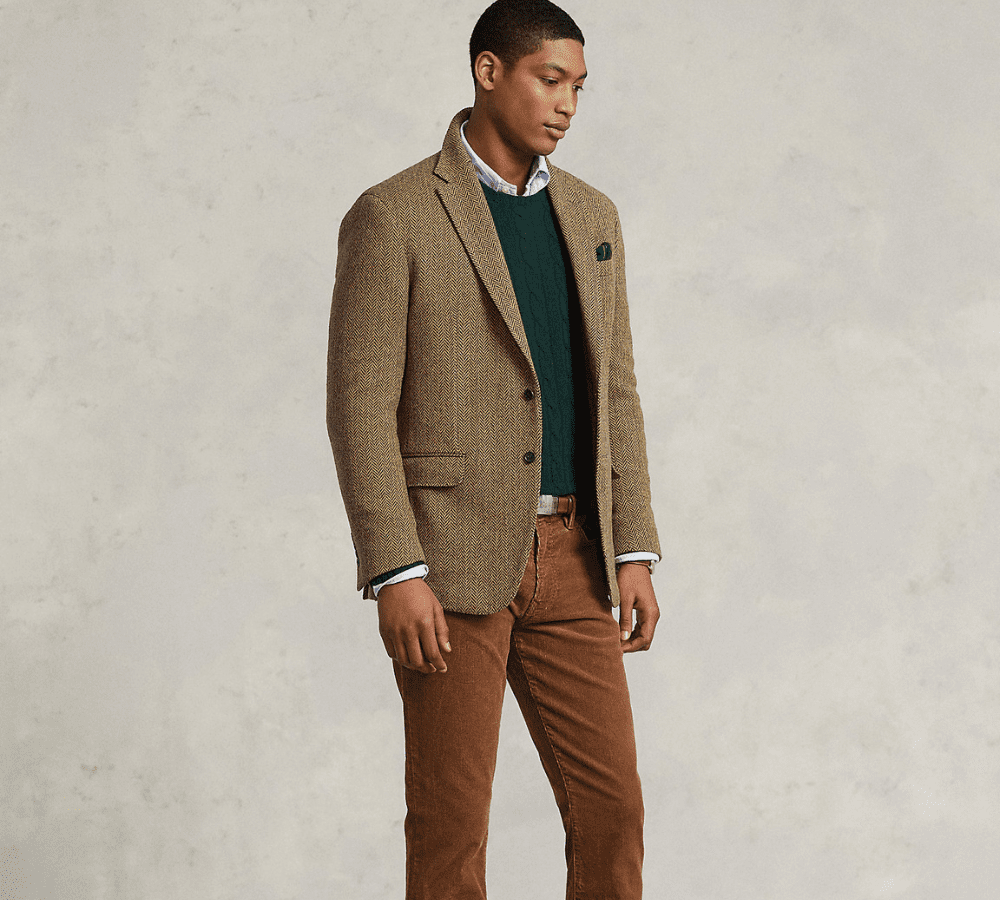 Add Some Texture
In this instance, we focus on how our fabric choices can elevate our separate look. Depending on the occasion and even time of year, fabric choice can play a part in hitting the sweet spot of the broken suit.
Mixing summer and winter fabrics is a recipe for sartorial disaster. Though, if we keep within these confounds, linen can add texture in summer, like wool in winter. Similar weights are a good barometer as to whether the materials will work with one another.
Remember to tick off the previous points, and only then should you start experimenting with texture. Try cotton trousers, for example, with a different colour linen jacket for a smart casual wedding dress code. We can switch the cotton to wool and linen to moleskin in colder months. The colours can be the same, but the change of fabrics immediately mixes up the outfit.
Get it right, and the fabrics can create an additional layer of interest in unison with colour, uplifting you to menswear celestial status.
Failsafe Blazer & Trouser Combos
In our current climate, most men might not want to consider tailoring. Its formalities can often be at odds with the direction menswear has taken over the past few years, with everyone and his mother doing athleisure. Soft tailoring is an excellent middle road, and we can include suit separates in this conversation.
Unstructured jackets are the tailoring world's answer to athleisure. With more room in the body and arms, you immediately feel a greater sense of comfort. By partnering with the right formal trousers, men can still be smart. You just need to know what works.
Below are some of our favourite blazers and trouser combinations. So, whether you opt for soft tailoring or a more formal choice, these colour partners can be the best foundation for your outfit picks.
Grey Blazer & Beige Trousers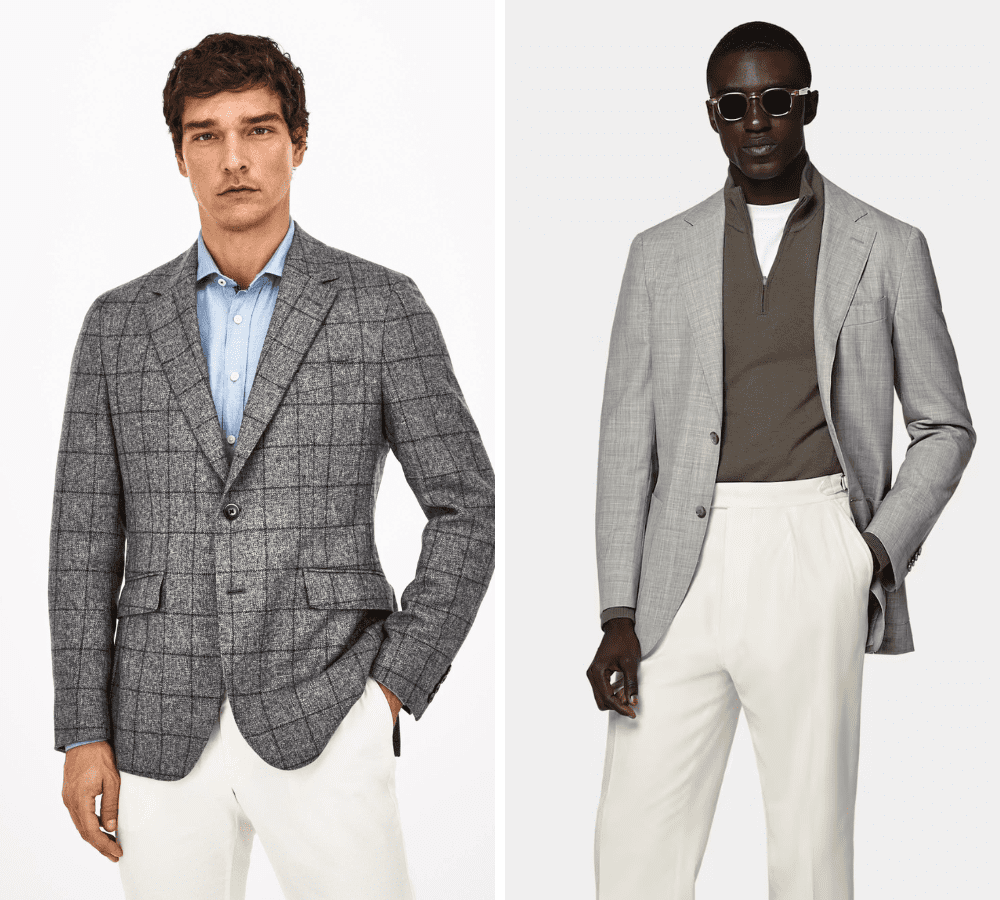 Beige, although best avoided in winter, is a very adaptive colour for summer. The muted palette is a great backdrop to various colours and textures. If you want to introduce a more head-turning jacket, keep the rest of the look in a similar tone. Like in the left-hand photo, light blue allows the jacket to come to the fore. Alternatively, you can see that in the right-hand photo, beige can absorb deeper earthier tones layered on top of another foundational colour like white. Perfect to lead into transitional seasons.
Navy Blazer & Beige Trousers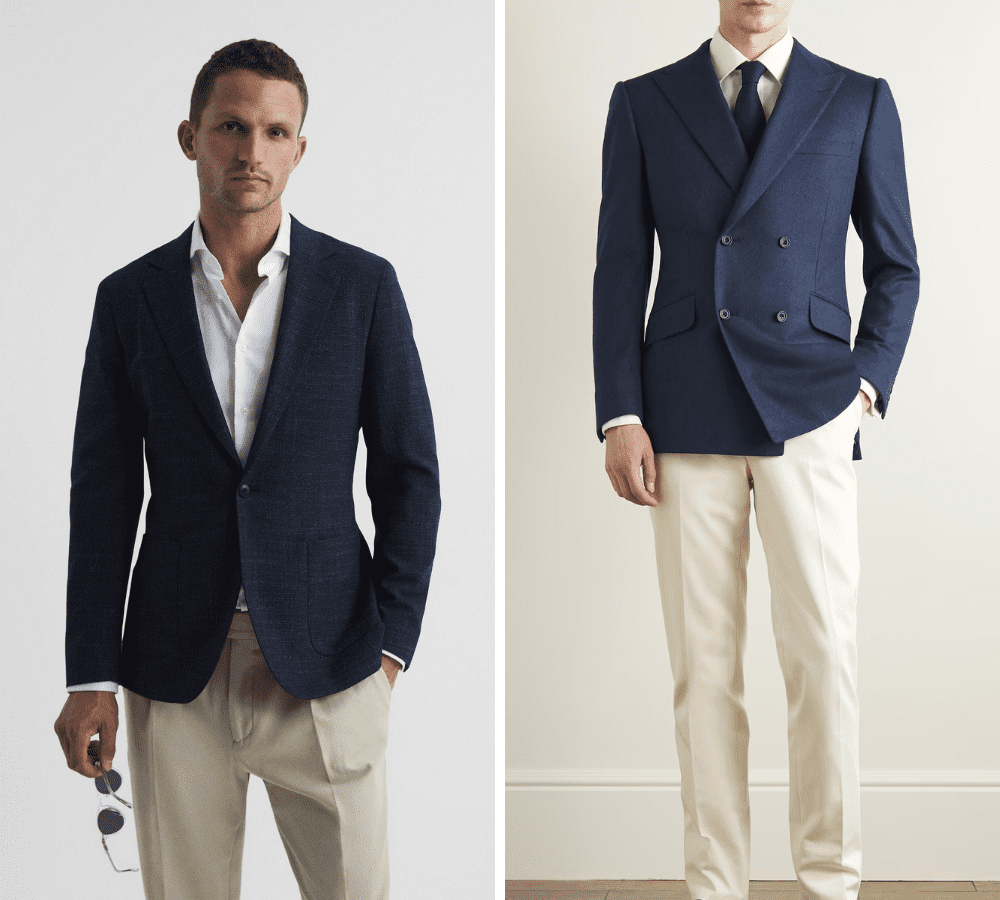 A navy suit is a menswear essential. This versatile number should be in every man's wardrobe, and for a good reason. When we use the jacket on its own, there are numerous opportunities.
One we rely on a lot is the blue and beige combination. Full of preppy vibes, it looks great over a simple white t-shirt or a more formal shirt. Accesories-wise, a striped tie, colourful pocket square, and even a white Panama hat wouldn't go a miss here.
Grey Blazer & Grey Trousers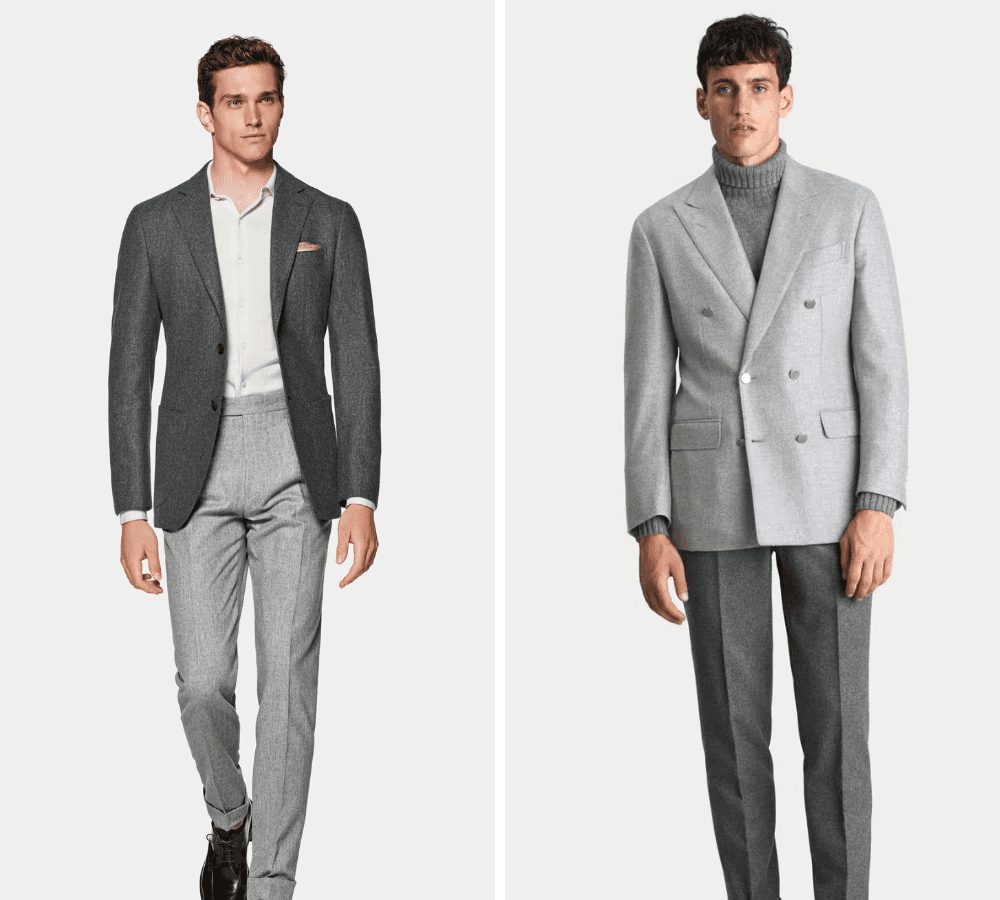 If you hadn't read the rest of the article, you might be forgiven for thinking that this menswear had made a typing error. Though, to reference previous rules on wearing suit separates, texture and colour play a part. We can opt for grey on top and bottom if there is enough contrast in colour. The texture is a key weapon in achieving this.
Both photos picked have a clear difference in the depth of colour, which creates that imaginary line between the top and bottom half. Men must keep the rest of the look paired back and minimal to execute it, like with black shoes as a footwear choice. They do a fantastic job grounding everything.
Navy Blazer & Grey Trousers
Many men might feel that wearing beige or white on their bottom half is a little too daring. This is where grey can come into play. The masculine combination of navy and grey can be elevated with earthy-toned knitwear, while men can use their tie or pocket square to add a dash of individuality.
Choose from black or dark brown loafers to complete this contemporary look. Just remember, too light, and your shoes will draw the eye down and appear out of place. We want the grey and blue to be the focus here.