The white t-shirt is the epitome of versatile, understated cool. Why? Because it can be worn with literally anything. Paired with denim or as part of a deconstructed formal look, the white tee can take on everything a man can throw at it and still look great.
In the past, the crew neck t-shirt would not have been seen on its own. Hidden beneath a shirt as an undergarment, it was unshackled by icons of the silver screen like James Dean and Marlon Brando. They showed how this overlooked garment could be used as a base layer for a leather or Harrington jacket.
Propelling it into the eyes of the youth of that day, it was grabbed with both hands by sub-cultures and the general public. Here it has stayed ever since.
Though, that doesn't mean every white t-shirt is equal. Now you are showing it off to the world; men need the fit and materials to meet their specific requirements.
Best White T-Shirt Material
In our opinion, you can't go wrong with cotton. If you need a white t-shirt for exercise or sporting endeavours, look at sweat-wicking materials like polyester or Uniqlo's specifically created Airism range. For everyday use, cotton is the number one choice due to its breathability and softness to the touch.
When you are wearing any item for long periods it needs to be comfortable. A cotton tee will allow air to circulate, keeping you cooler for longer.
How Should A White T-Shirt Fit
Obviously, with changing seasons come changing tastes. Some men might prefer a looser fit in the summer months versus a more fitted alternative in winter. If in doubt, you should always look for a t-shirt with seams that line up with your shoulders, similar to your shirt.
With length, men don't want the t-shirt to ride up too much every time they stretch their arms. So, get the waistband to fall just over the start of your trouser pockets, which should accommodate any overextensions.
How To Care For Your White T-Shirt
The key to your white t-shirt looking so good is the fact that it stays, well, white. When you lose that pristine finish then, it starts to look tired and unloved.
Crucial for the longevity of your colour is how you wash it. That means following washing instructions to the letter and keeping whites with whites. No rogue red socks in sight, please.
TIP: Adding extra whitening technology into the wash can also help maintain that crisp white look.
No matter your budget, our list of the best white t-shirts on the market right now will enable you to shop with peace of mind ensuring you give this iconic piece of clothing all the recognition it deserves.
Best White T-Shirt Under £20
Not everybody has an endless pot of money to spend on their wardrobe. Some men might want to reserve bigger purchases for a suit or footwear. In this case, getting well-fitted white t-shirts that won't blow the monthly salary is still possible.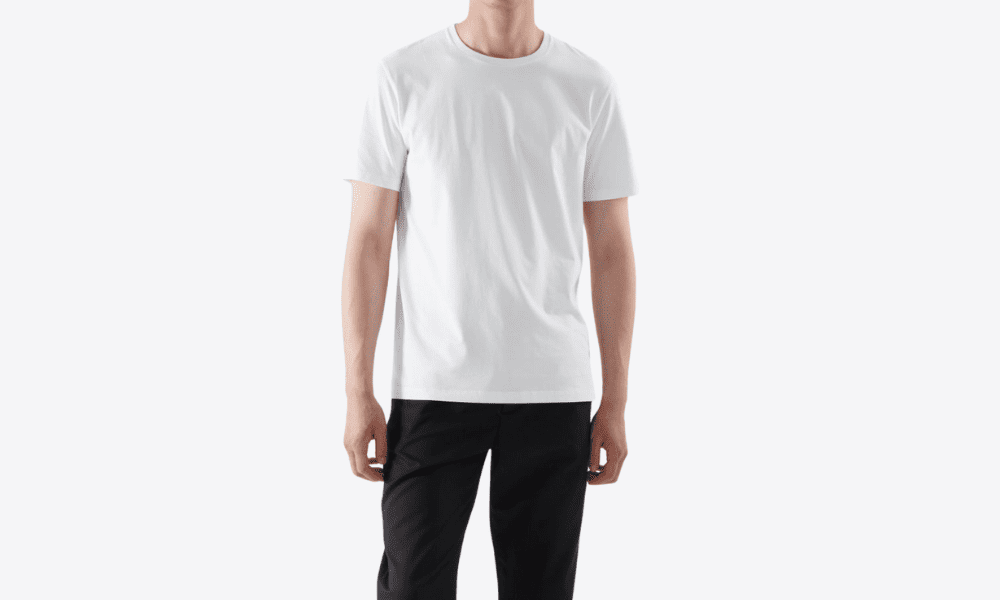 COS Regular Lightweight T-Shirt
Coming in a regular fit, COS has produced a t-shirt in soft organic cotton. The classic shape allows for movement in the chest and arm area and is great for the warmer. You can then always add a thin cotton jacket or thicker cardigan to ride the transitional periods of the seasons in comfort.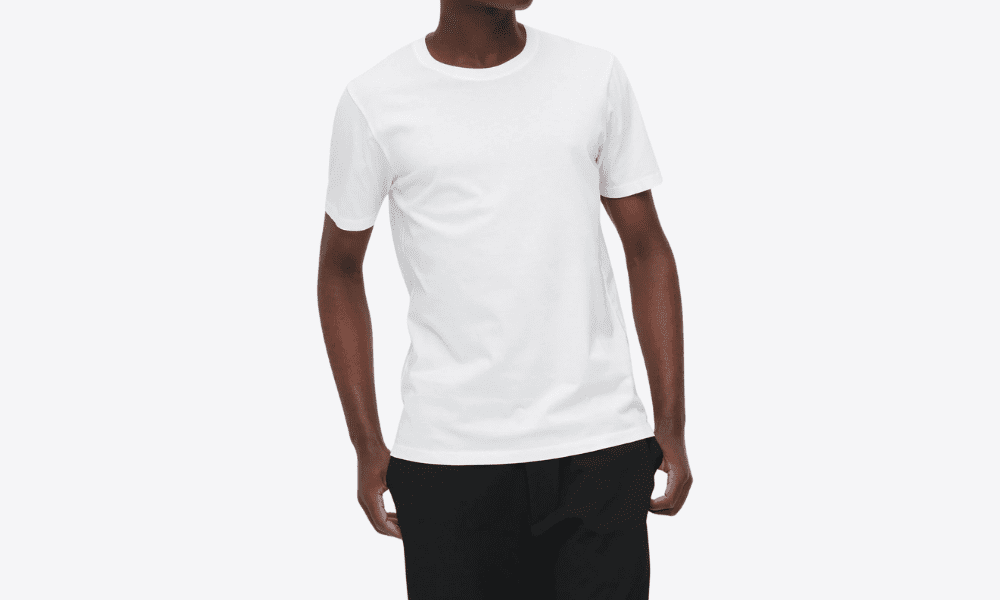 Uniqlo Supima Cotton Tee
Made from silky smooth, family-farmed Supima cotton, this t-shirt from the Japanese brand Uniqlo has you covered at a wallet-friendly price. State-of-the-art technology enables farmers to cultivate high-quality cotton. It results in super-soft cotton that can withstand the rigours of daily life without a reduction in quality.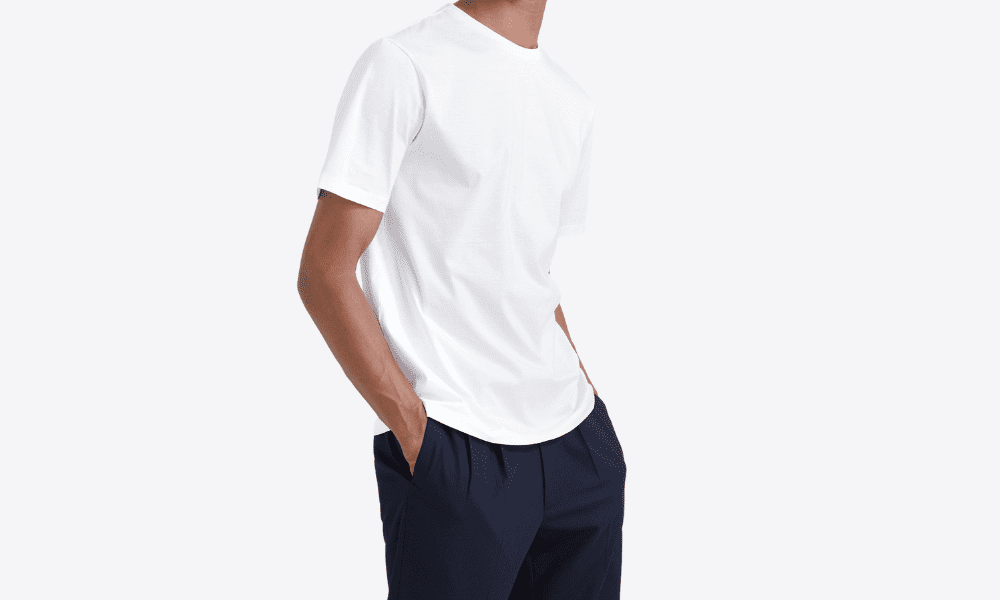 M&S Pure Supima Cotton T-shirt
Cut in slim-fitting, responsibly-sourced Supima cotton, it's hard to beat the value in this menswear staple choice. Wear it beneath a blazer for a summer take on relaxed tailoring, or wear it as a part of an athleisure look to nail that ongoing trend. Either way, this M&S t-shirt will not let you down.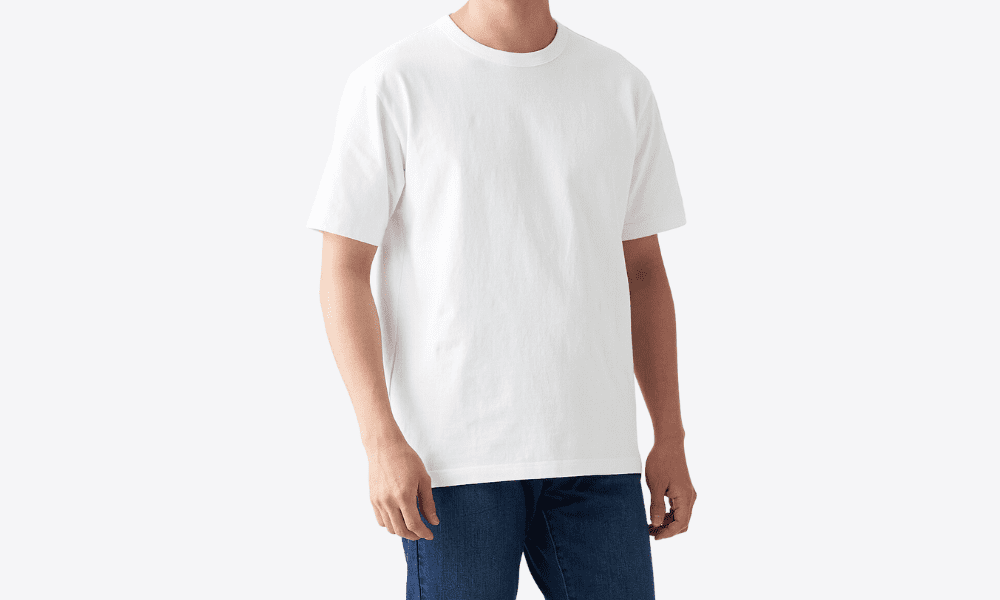 Muji
This Muji t-shirt comes in a thicker material, though it has been crafted with a textured yarm to reduce the surface in contact with the skin. Which means it is still ok for the summer months. We recommend just wearing it as is with a pair of jeans or chinos for a paired-back, effortless look.
Best White T-Shirt Under £50
If you have a bit more spending power, then upgrading your basics can be an ideal way to create a wardrobe you can rely on year after year. Whereby trends come and go, a handpicked range of menswear staples will always have your back. The picks below might not all be available on the high street, but that added investment could prove fruitful for the garment's lifespan.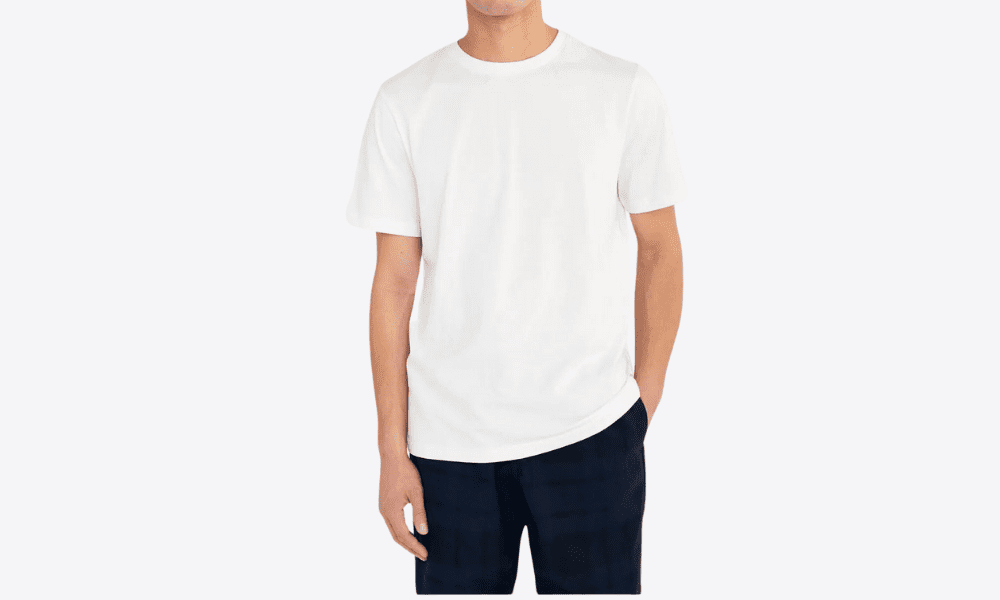 Wax London
Wax London creates premium products with sustainability at its core. This organic cotton t-shirt is crafted with a topstitch on the collar to ensure that the shape won't falter as a garment that will get a lot of wear, the shape won't falter. A good shape leads to a great fit, so there is a big tick in the box for this pick.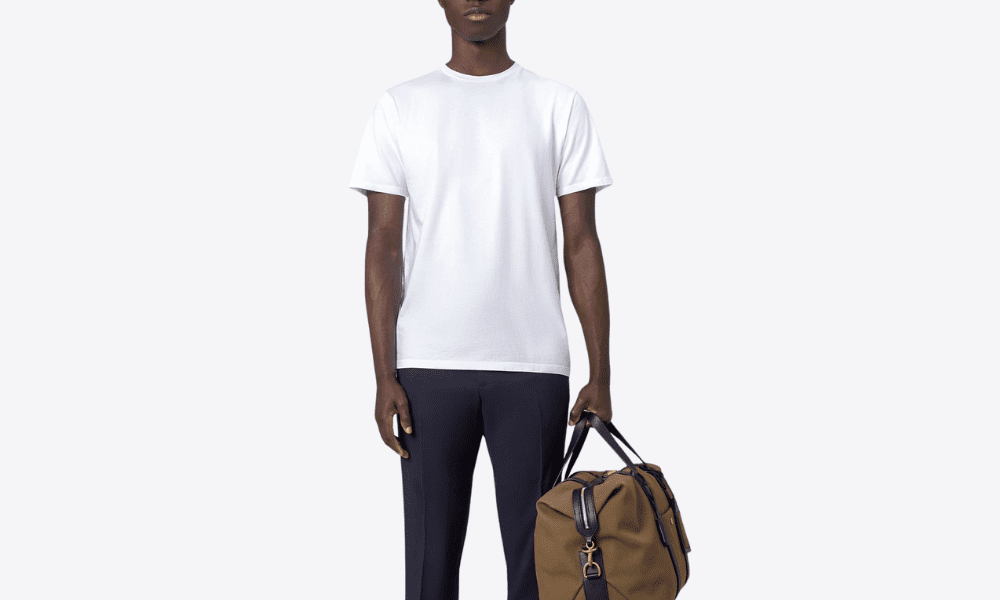 Colourful Standard
This Portuguese brand has been carving out a niche for years by perfecting the humble basic. Once they had that down, they introduced a myriad of colourways to keep their t-shirts fresh. What we're after, though, is their pure white version. Made with 180g PETA-approved vegan organic cotton and environmentally friendly dye Oeko-Tex, its finish is whiter than Bobby Firmino's teeth.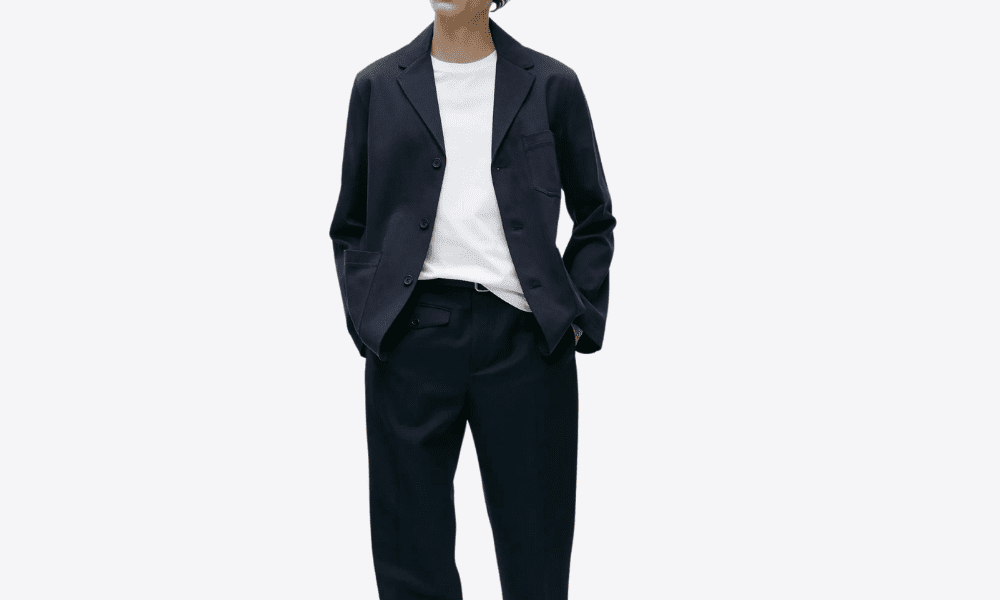 Arket
Making great clothes for the everyday man is what Arket is all about. As an essential menswear staple, their white tee is no different. In a regular fit, the 170 GSM single jersey is slightly heavier than other options, but this weight allows it to retain its shape and drape over time.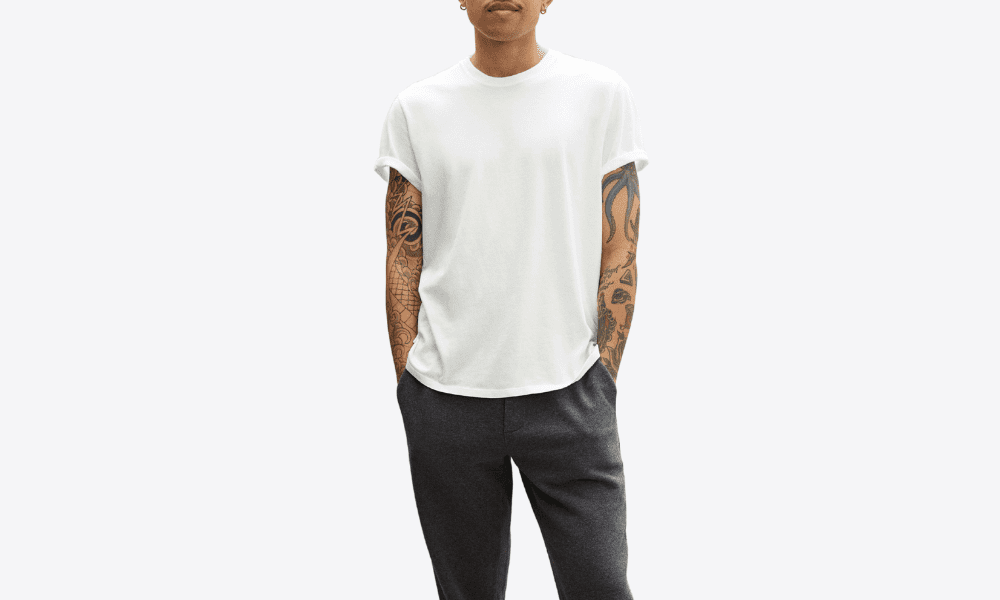 Everlane
Part of their Uniform range, this option from Everlane fits in with their ethos of creating menswear staples by not jeopardising our future planet. To boot, this t-shirt has now achieved a (GOTS) certification which applauds its use of materials and production to create a truly organic garment.
Best Oversized White T-Shirt
We understand we might be preaching to the choir when it comes to having an arsenal of menswear items that include the humble white t-shirt. If you want to freshen it up then why not introduce an oversized version. With a longer hemline, this boxier alternative could add a new dimension to your wardrobe this summer.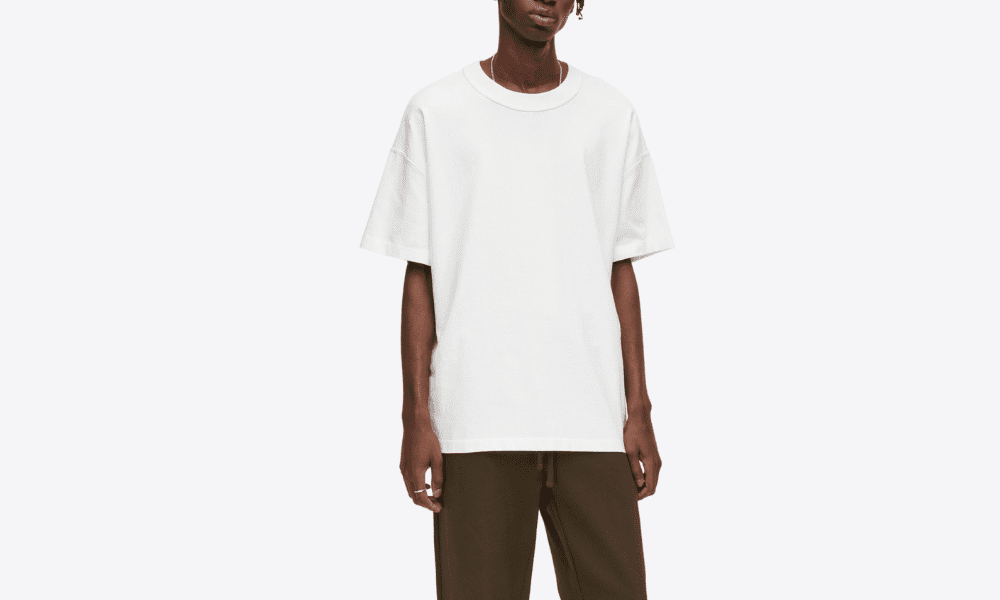 All Saints
Yes, All Saints do the basic white t-shirt. But, to do the rock-inspired brand justice we have picked out their oversized white tee. With overlock seams on the neck and sleeves, additional details can make all the difference. Subtle so as to not take away from the t-shirt's core function, although enough to add more interest to catch the eye.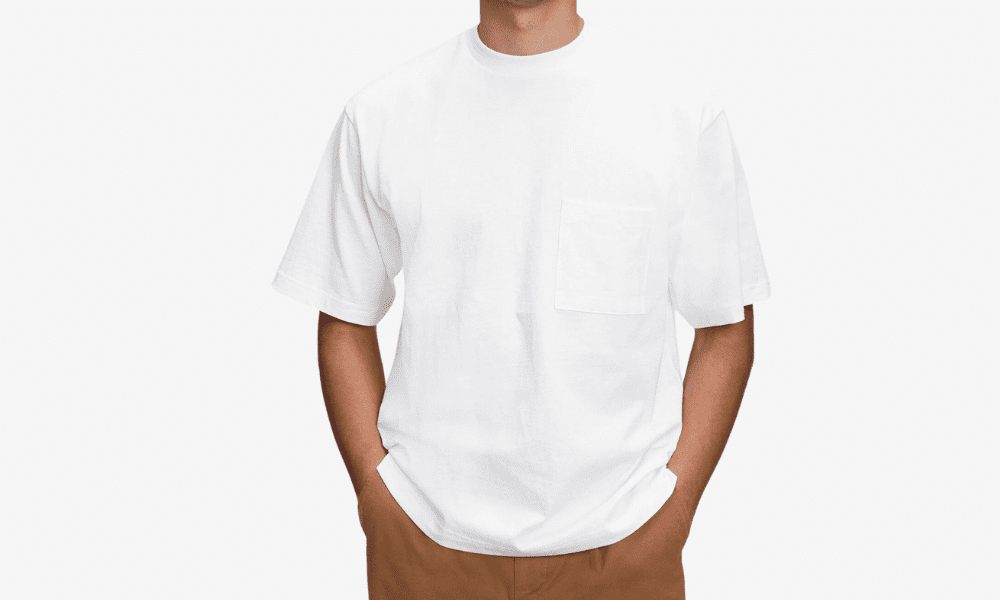 GAP
A roomy tee, this pick will nail the oversized look without hitting the wallet. Currently, on sale, it comes with an added pocket that moves it from support act to mainstage. With all the no-thrills benefits you have come to expect from GAP, we will be snapping this one up as soon as possible.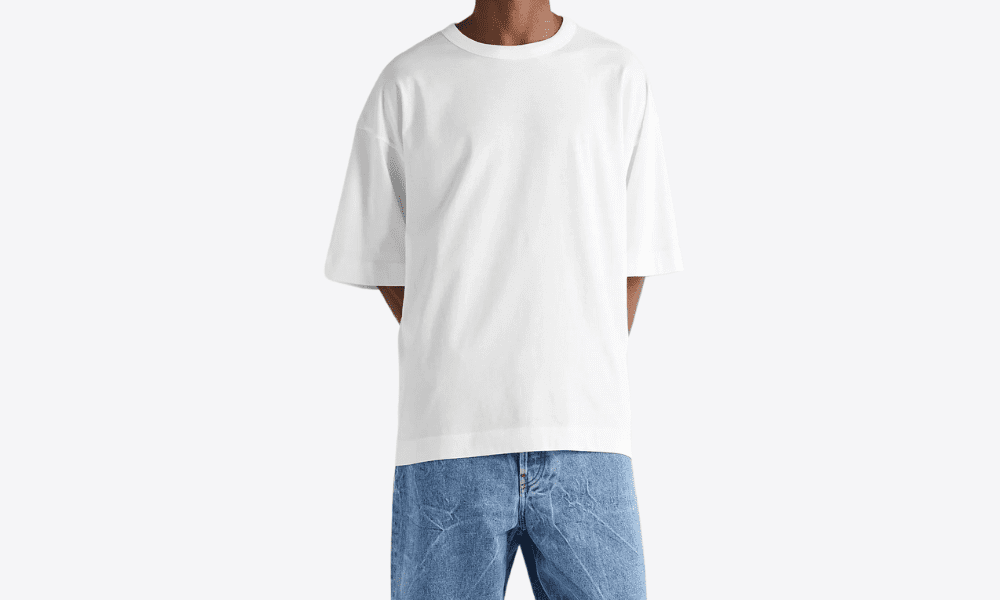 DRIES VAN NOTEN
This is an item from Belgian designer Dries Van Noten, which, although it doesn't have the pageantry of his normal pieces, doesn't mean he has skimped on the quality. The garment is lightweight in a stretchy fabric, and although loose in fit, there is also a refinement to match its price tag.
NINETY PERCENT
Not the most oversized t-shirt by any stretch of the imagination. But, the box-fit tee from Ninety Percent allows a nice drape due to the larger silhouette. Another GOTS-certified pick, this organic t-shirt can integrate into your outfit no matter where your style mood takes you.