Summer is well and truly in the rearview mirror. Gone are the long balmy days when all men needed to do was throw on a T-shirt and shorts. Now, during colder days we can often go down a polar opposite direction, piling on clothes in a panic.
Men should be taking a more considered approach to their winter wardrobes. Wearing too many garments will create unrefined outfits that won't allow the individual pieces to look good or be able to do their job. Understanding how different items work well together and which can offer better insulation against the cold than others is key to artfully layering.
Fluidity throughout our wardrobe can both expand the lifetime of our clothes as well as offer more combinations to freshen up our daily outfit choices. In order to get the most out of our clothes, we need to invest in quality clothing expertly crafted from quality materials. This will lessen the reliance on having to buy a new wardrobe every season.
Layering is a menswear styling technique that involves adding individual pieces on top of themselves to build an outfit. Dependent on the level of cold this might be as simple as just a jumper, at other times it will need more items. Either way, there is a list of layering essentials that any man can rely on to see him through winter.
This is our pick of the best layering pieces that you should have in your wardrobe for the forthcoming cold season.
The Gilet
Put thoughts of toffs on country walks to the back of your mind. The gilet has moved forward from these dated and unhelpful connotations. It is now packed full of heat warming technology in a slim-lined aesthetic., thus making it great to be worn beneath other layers or as an alternative to heavier outerwear.
Fundamentally, to include a gilet into your outfit and make it look great, you need to pay close attention to the weight. A puffy down-filled option is not going to excel itself under a suit jacket. Whereby, slim ultra-light down versions, like those from Uniqlo don't have too much padding and will fit seamlessly underneath the jacket.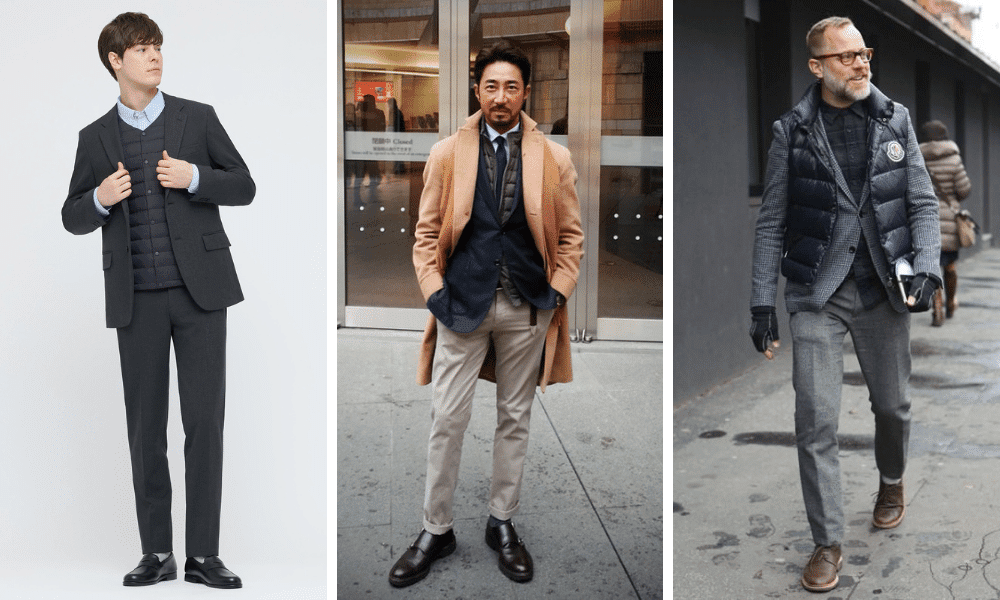 If you are running some errands or experiencing different temperatures, say when commuting. The gilet can also remove the need to lug around a cumbersome coat. When replacing a coat altogether it is best to try a heavier weight gilet as there is no top layer to consequently bulk out.
As the gilet in most situations is being worn beneath a layer such as a coat or a suit jacket, it offers a chance to play with fabrics and colours. We can often retreat to dark muted tones during winter. Why not try a splash of burnt orange or burgundy to complement the rest of your ensemble.
The Blazer
Sounds a little obvious, especially to those that work in a formal environment. But, a blazer can be a crucial way to layer against the biting cold.
To hit all the style notes, we need to focus on the structure of the blazer. We aren't talking about your suit jacket here. We need a blazer cut slightly looser to give more movement and allow itself to be worn separately. This removal of some of the restrictiveness will let it to play nicely with other pieces in your wardrobe. For example, an argyle jumper, roll neck or the aforementioned gilet.
Now you have decided that the blazer can play a big part in your wardrobe for winter, don't always feel you have to stay to with the familiar greys and navy. Mixing the jacket and trousers opens the door to play further with colours and patterns. Pick out greens and browns in the blazer and flirt with patterns like houndstooth or even a full-on tweed version.
The Denim Jacket
A denim jacket is a great transitional piece that will take you from summer to winter. Its robust construction from a thick material means that it can protect you against the wind, while its slim silhouette allows it to fit snugly under clothing.
It is very easy to integrate a denim jacket into your outfits. On its own during warmer months, a denim jacket works great with a simple white tee underneath. For winter, take it one further and add an overcoat as the top layer and as straightforward as that you have the perfect mid-layer piece.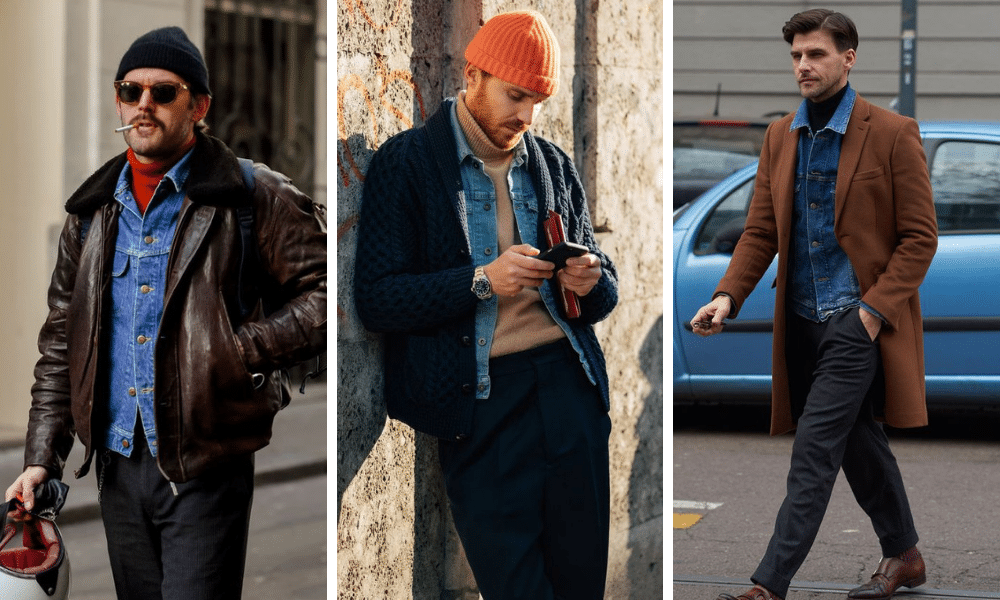 To get the best results, opt for a light blue jacket and keep the top two buttons undone. The blue will work well with grey, navy or even a camel coloured coat and undoing buttons can remove the stiffness you can sometimes get from a denim jacket.
Yet again, this is another way to utilise the clothing in your wardrobe for longer periods of the year. That way you can be confident that if you spend a little more to get a better quality product then you will get a lot of wear from it.
The Cardigan
A key technique when it comes to expertly layering is playing with textures. The humble cardigan if chosen correctly can add much-needed warmth while allowing us to include a different texture like wool or cashmere into our outfit.
When it comes to cardigans we do favour a chunkier knit to give us some retro vibes, but we know the occasion does not always account for their slightly more casual format. As an alternative, try a lighter gauge cardigan in merino wool or cashmere.
Merino wool is fantastic at regulating body temperature due to the properties of the material. Without being too thick it lends itself well to being worn over anything from a simple t-shirt to a formal shirt without making you too hot.
To hit the right style notes, we recommend wearing with a shirt and tie combination under a suit jacket. You want to opt for a neutral colour block that won't clash with the shirt, jacket or tie. If in doubt, a nice grey, blue or brown palette will layer nicely with most options in your wardrobe.
The Overshirt
A thicker alternative to the shacket, an overshirt could be vital to your cold-weather wardrobe.
Although at first appearance it may just look like a shirt. The heavy-duty construction and mixing of materials like wool and cotton make it more equipped at keeping you warm. On milder days, a wool overshirt can be worn on its own with a basic t-shirt or light cotton roll neck underneath. But, as the temperature drops, you can combine with a coat to beat the chill.
If you find an overshirt is proving to be a little robust, then you can always switch to the shacket as a thinner take to gain the same overall look.
The Hoodie
The hoodie has come along way since its sporting roots and it can now sit comfortably in a mix of menswear outfits. From streetwear to smart casual, the hoodies ability to move chameleon-like through different genres make it a wardrobe staple.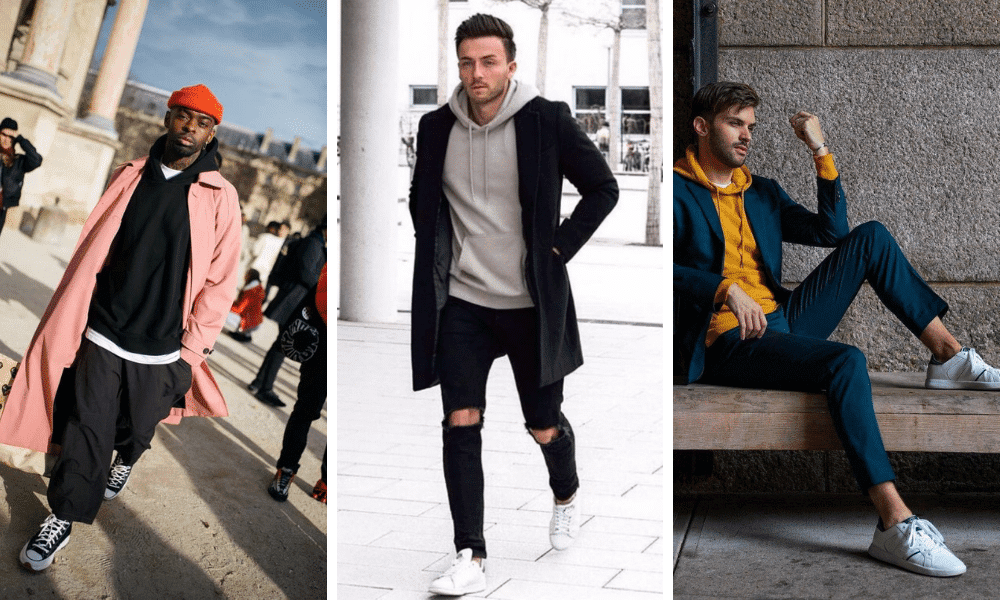 One of our top layering pieces it works wonders as a mid-layer piece under a coat, leather jacket or even blazer. And to stop things from getting too hot, you just need nothing more than basic t-shirt below the hoodie.
Because it has become so mainstream, there is a wealth of hoodie choice out there for men. But, you can't go wrong with a simple, loopback cotton hoodie in grey. It will be versatile enough to be worn with a host of colours in top-layer options while adding cushion-soft comfort.
The Roll Neck
We are big fans of the roll neck due to its ability to look incredibly smart and refined while serving its core functionality of keeping us warm.
Dependent on the style and fit of the roll neck, it's easy to introduce it to both formal and more casual attire. A roll neck in place of a shirt and tie can keep the nuances of formality but deliver a slightly more relaxed look, perfect for a date night. For this situation, we recommend a lighter gauge knit like merino wool or cashmere.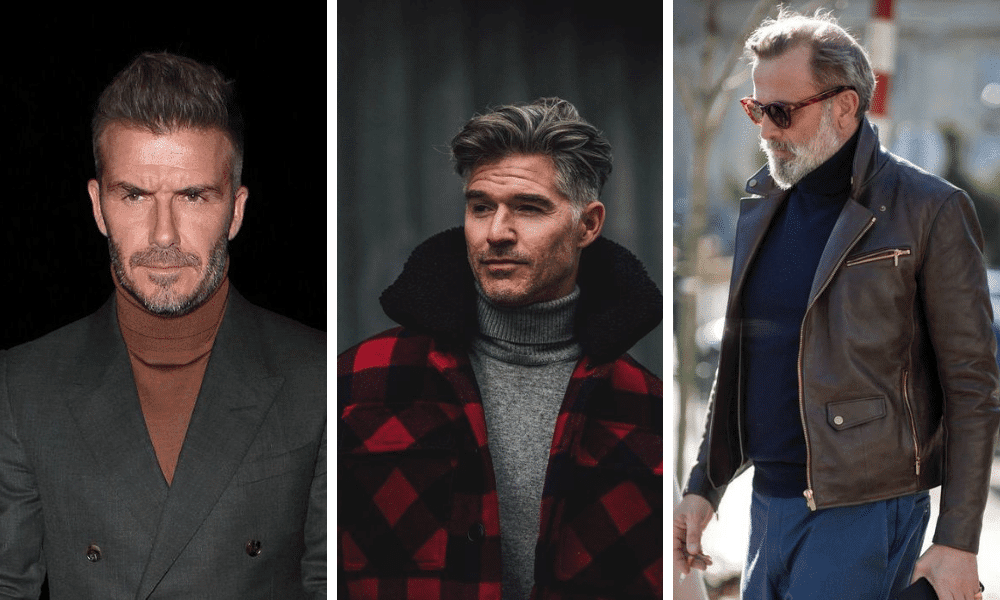 If you aren't constrained by a work suit, then the roll neck options expand considerably. Why not try, for example, a chunky cable-knit roll neck. Worn with selvedge denim and hiking boots. It will make you battle-ready for any winter weather.
Whether you choose smart or formal, there is no doubting that the all-round nature of the roll neck makes it a layering winner.
The Undershirt
Don't overlook the basics when it comes to layering. Sometimes you need to be building from a strong foundation and that can mean pieces that aren't always visible.
Using your normal go-to t-shirt as the bedrock of your outfit is not recommended. Basic types of t-shirts are made to be seen and can have subtleties like ribbed collars or loose-fitting sleeves. These elements when worn underneath other clothing can become uncomfortable or worse, show through.
To maximise the invisible nature you need to look for a specialised undershirt. Constructed to eliminate contrast between the t-shirt and shirt on top, the stretch-fit material and long-line length enable them to silently be tucked into trousers. In addition, you can colour match to your skin tone to increase their transparency when worn.
Because of the hidden nature of the item, you can wear an undershirt beneath any piece, be it knitwear, casual, or formal tops. The result is it's a great base for building a layered winter ensemble.
The Zip Neck Jumper
A nice alternative to the roll neck, a zip neck jumper superbly bridges the gap between smart and casual attire.
For those that partake in a dress-down Friday initiative, the zipped collar jumper can be a nice way to remove the suit jacket and add a casual touch. Once layered on top a formal shirt it can tie together a smart upper body with more laid-back items like denim jeans below. Then all you need to do is sling on a coat and you are ready to go.
To style it, we recommend a plain white or blue shirt underneath so the jumper can become more of a focal point and a way to introduce bolder colours or patterns. No matter whether you wear it in a plain colour or a more striking version, the zip neck jumper is a contemporary take on a classic look.
The Waistcoat
To embrace layering in a more formal than casual way, look to include a waistcoat. It's in the upper echelons of smart and will still serve the functionality of keeping you warm.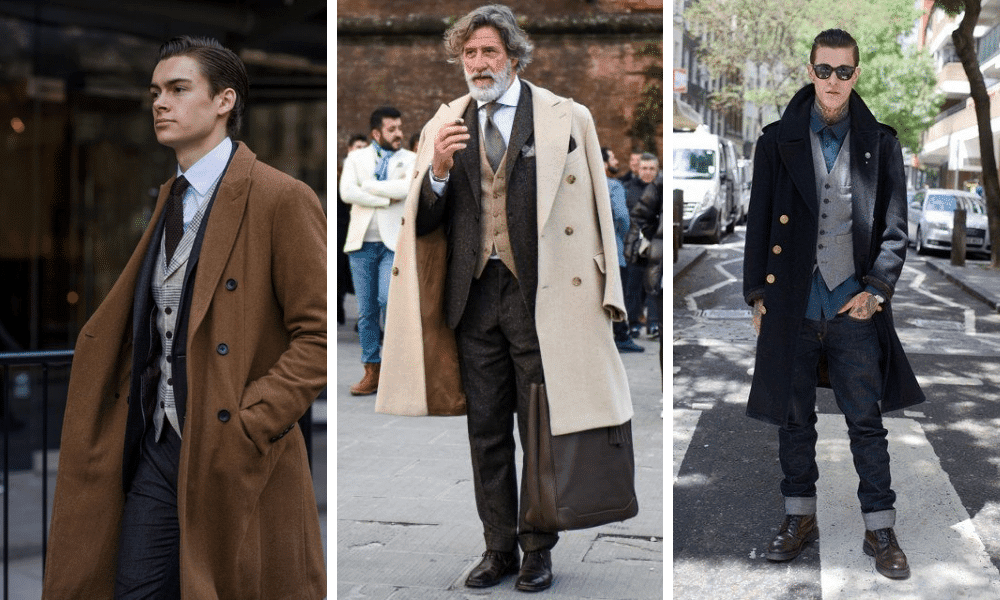 Yes, of course, you can look at buying a three-piece matching suit that will include the waistcoat as standard. But, why not take this opportunity to include a visually distinctive item. A complementary waistcoat in a different colour or pattern to the suit will offer a nice juxtaposition of styles. Most suits during winter will be of a dark hue, so a lighter waistcoat can offset the deeper tone nicely.