The traditional swim short has now become an essential piece of summer menswear and is no longer just an afterthought. Embrace this by choosing an elevated pair that will look great in and out of the water.
Whether you're heading to the beach, poolside party, or tropical getaway, finding the perfect swim shorts is essential for a stylish and enjoyable summer experience. To help you we have brought you a a mix of vibrant patterns and timeless, classic designs. Which means, whether you like short shorts, or head-turning patterns we have something for everyone. All with the typical focus on quality you can expect from all our buying guides. So, you can dive into the summer season with style and comfort.
What to wear with your swim shorts
Should you be heading on a sunny holiday or enjoying the summer vibes in your local area, pairing your swim shorts with the right ensemble will elevate your style and ensure you're ready for any occasion. For a casual beach look, consider pairing your swim shorts with a lightweight linen shirt and a pair of stylish loafers. This combination exudes laid-back sophistication and is perfect for strolling along the shore or grabbing a refreshing drink at a beachside bar.
If you're heading out for a daytime adventure, opt for a more confortable outfit. Team your swim shorts with a vibrant t-shirt and a pair of comfortable trainers. Add a baseball cap and some sunglasses for a cool and casual vibe that's perfect for exploring the city or joining outdoor activities.
Fit-wise, every man might require something different, but a more tailored finish which sits around mid-thigh will flatter most men. Those with greater confidence can take the hemline higher, though approach with caution. Essentially, go with what you makes you feel the most comfortable and confident.
1. Ripa Ripa Paraggi Blu
Made from a quick-drying, brushed soft fabric, these Rip Ripa shorts are a dependable summer staple. The tailored fit and bold stripe are bringing all the Italian-style pazazz we need during the warmer months.
2. Che Studios Sunseeker Swim Shorts
Giving men a British take on resortwear, Che Studio's familiar striped clothing is starting to turn heads within the sartorial elite. These shorts take inspiration from 70s basketball styles with a retro stripe and boxy feel. Nonchalantly bridging the gap between swimwear and casualwear.
3. Mr Marvis Nautics Seersucker Shorts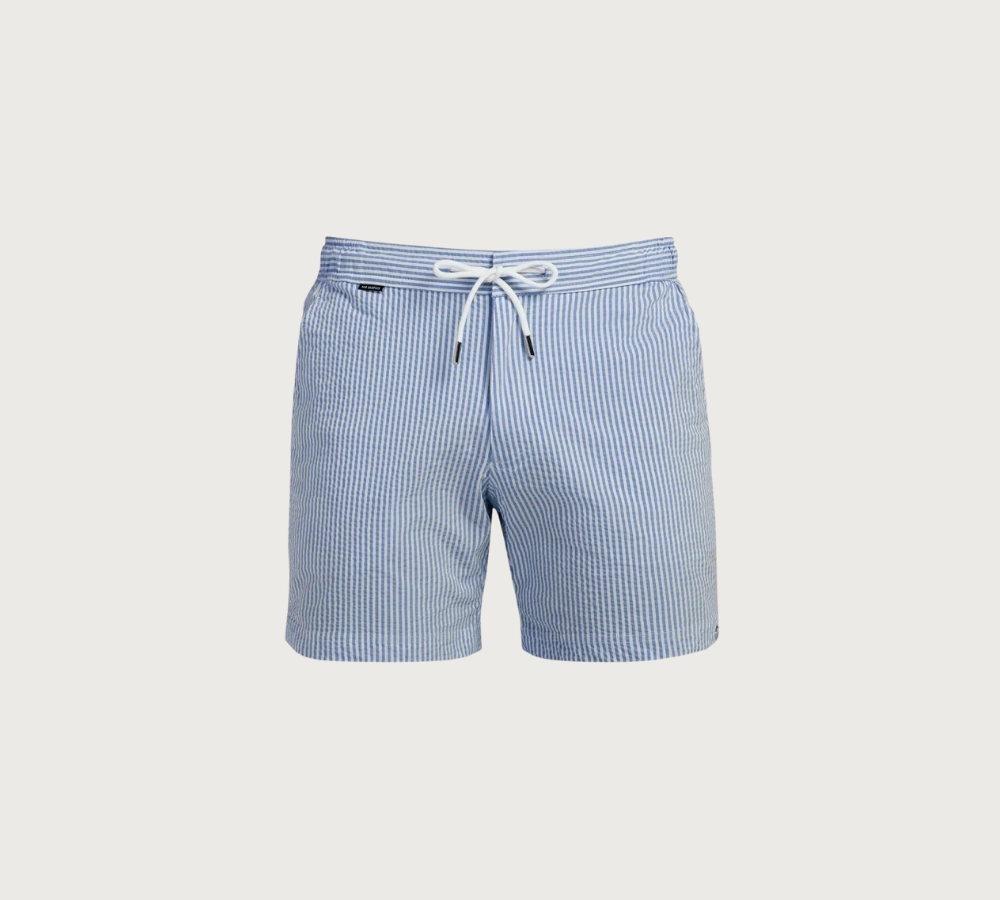 Made from a sustainable, high-quality 4-way stretch fabric these shorts deliver comfort and sophistication. Handmade in Portugal, men only need now find a boat to wear these nautical stripe shorts aboard.
4. Reiss Side Adjuster Swim Shorts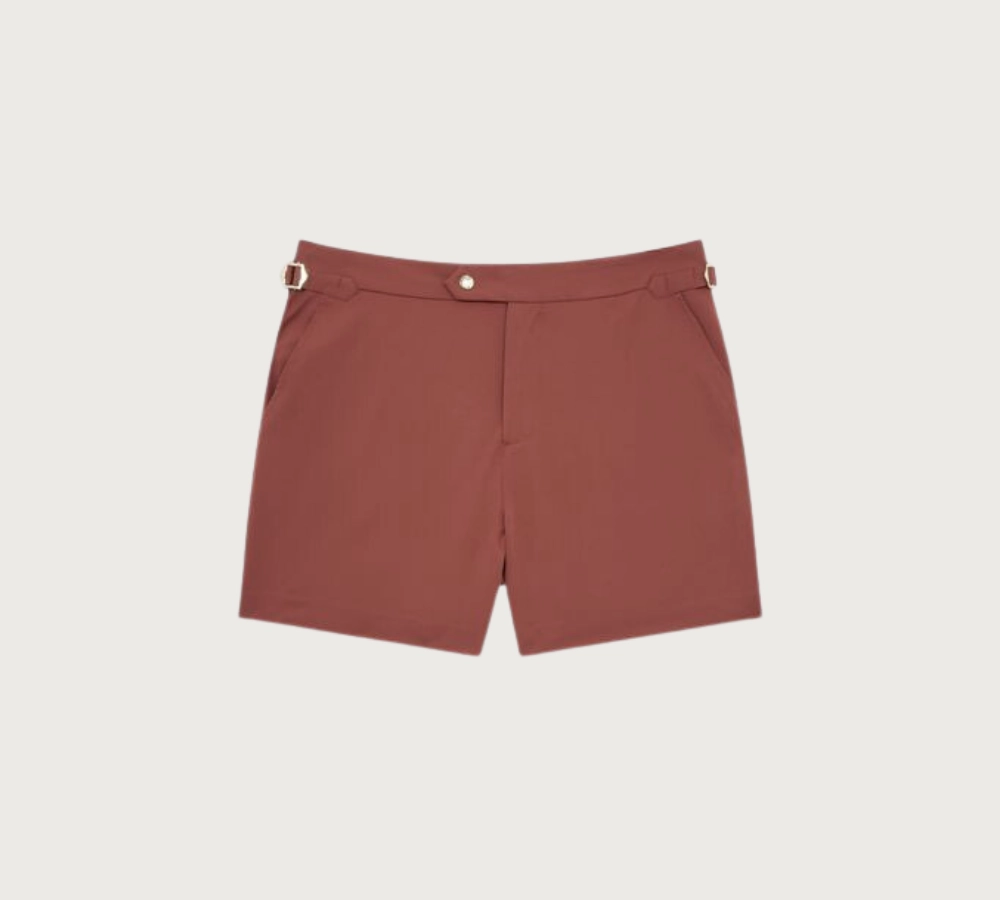 Ideal for going from beach to bar, these Reiss shorts give men a formal take on the traditional swim short. Easily worn with summer footwear and a polo shirt, they will be your summer favourites both here and abroad.
5. M&S Quick Dry Seersucker Swim Shorts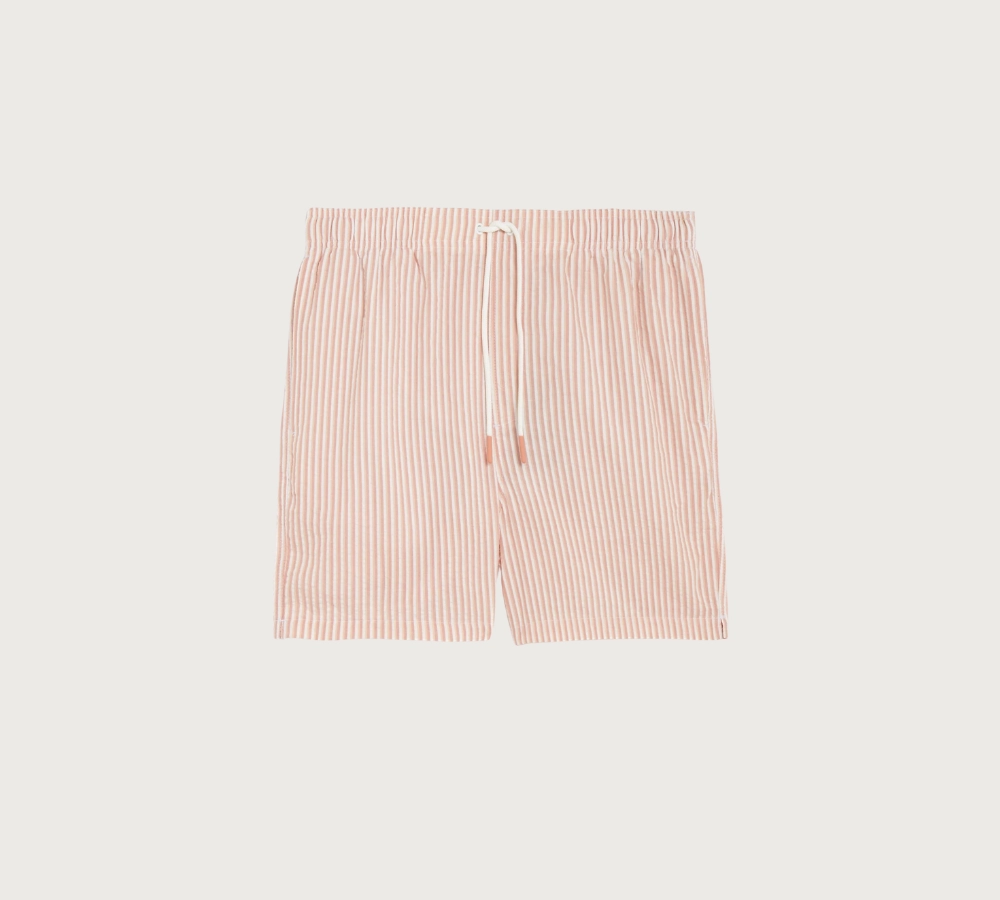 Another affordable pick from British high-street stalwarts, M&S. If you can comb through the sheer number of options, there is always something great for summer from this brand. These quick-drying swim shorts have a contemporary feel that makes them an essential summer choice.
6. GANT USA Short Cut Swim Shorts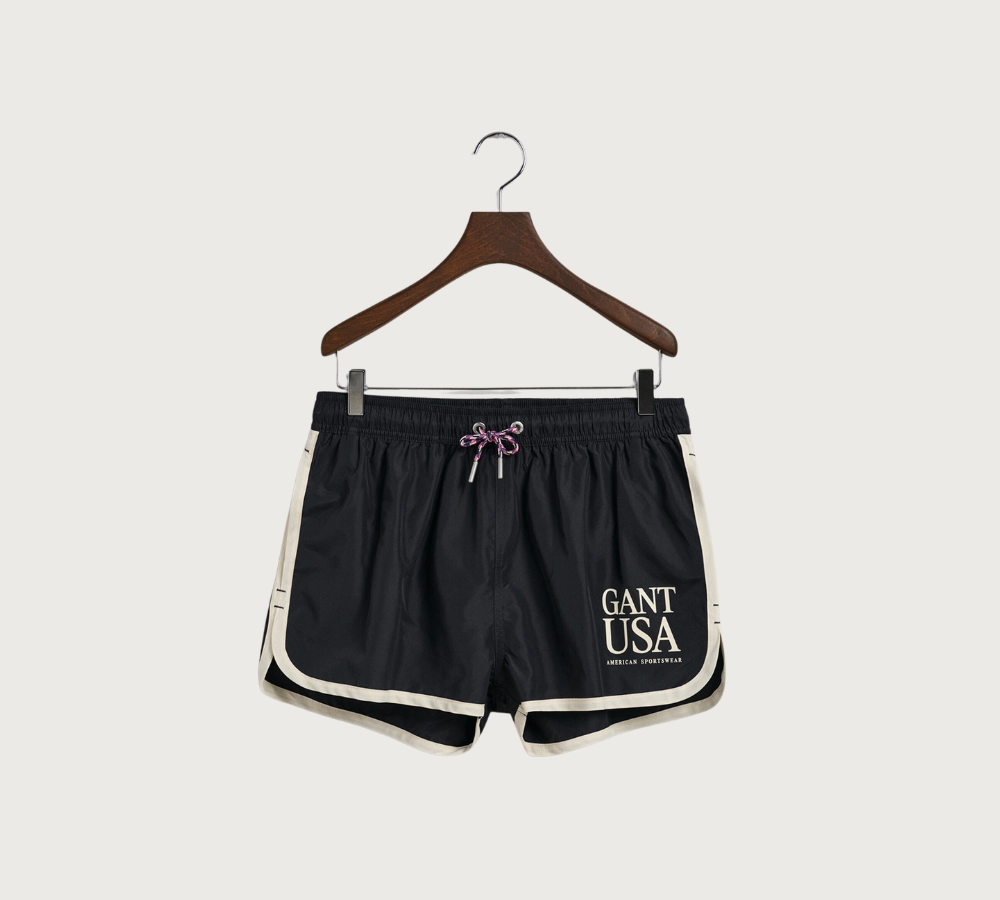 For men that like their swim shorts a little more retro, look no further then GANT. The purveyors of preppy have nailed the vintage aesthetic with this logo-branded swimwear. All you need now are your flip-flops and a cold drink.
7. Sunspel Tailored Swim Shorts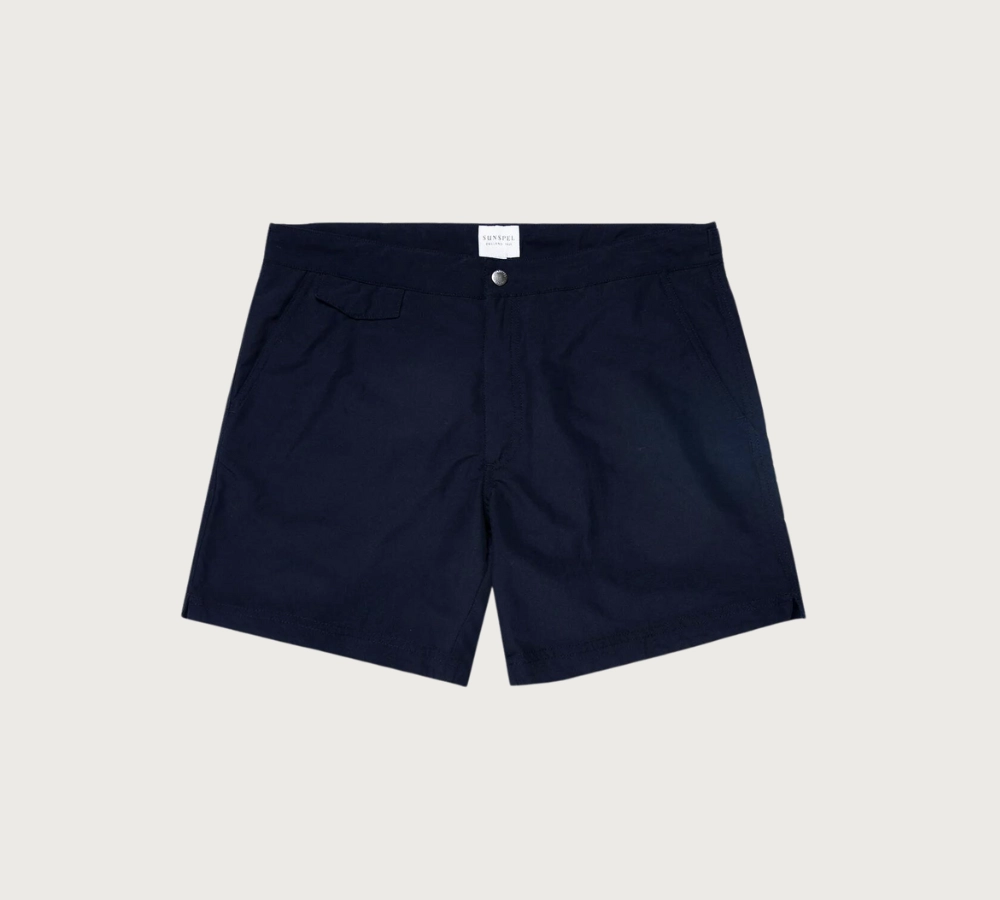 If you want something a little more everyday but don't want to scrimp on quality? Then head over to Sunpel. Based on the shorts worn by Sean Connery in Thunderball, these are a classic piece of menswear kit. They will effotlessly partner with nearly everything in your wardrobe. So, slap on your espadrilles and we'll meet you at the pool.
8. Orlebar Brown Bulldog Geo Swim Shorts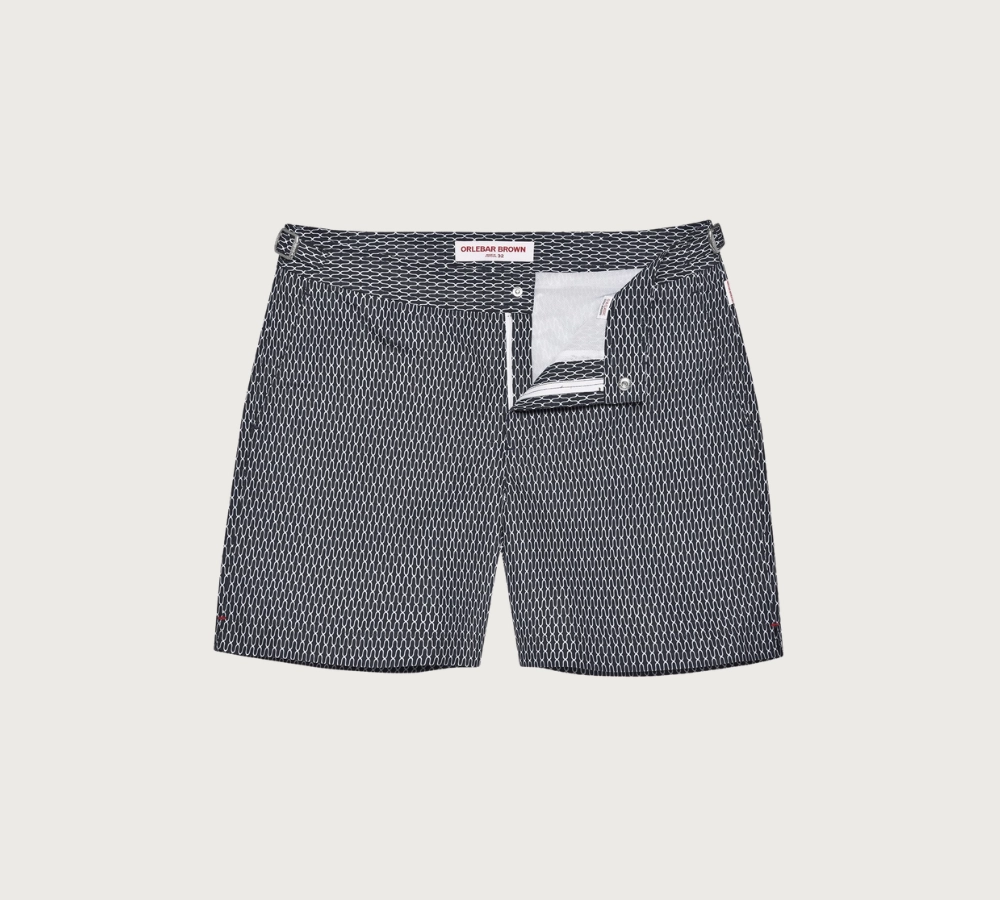 Channel your inner James Bond with the British spies favoured swimwear brand. The geo-print of the Bulldog shorts is an ageless choice for men that prefer a shrewd investment. Side adjusters are an added touch to help create a more flattering silhouette.
9. Frescobol Carioca Printed Swim Shorts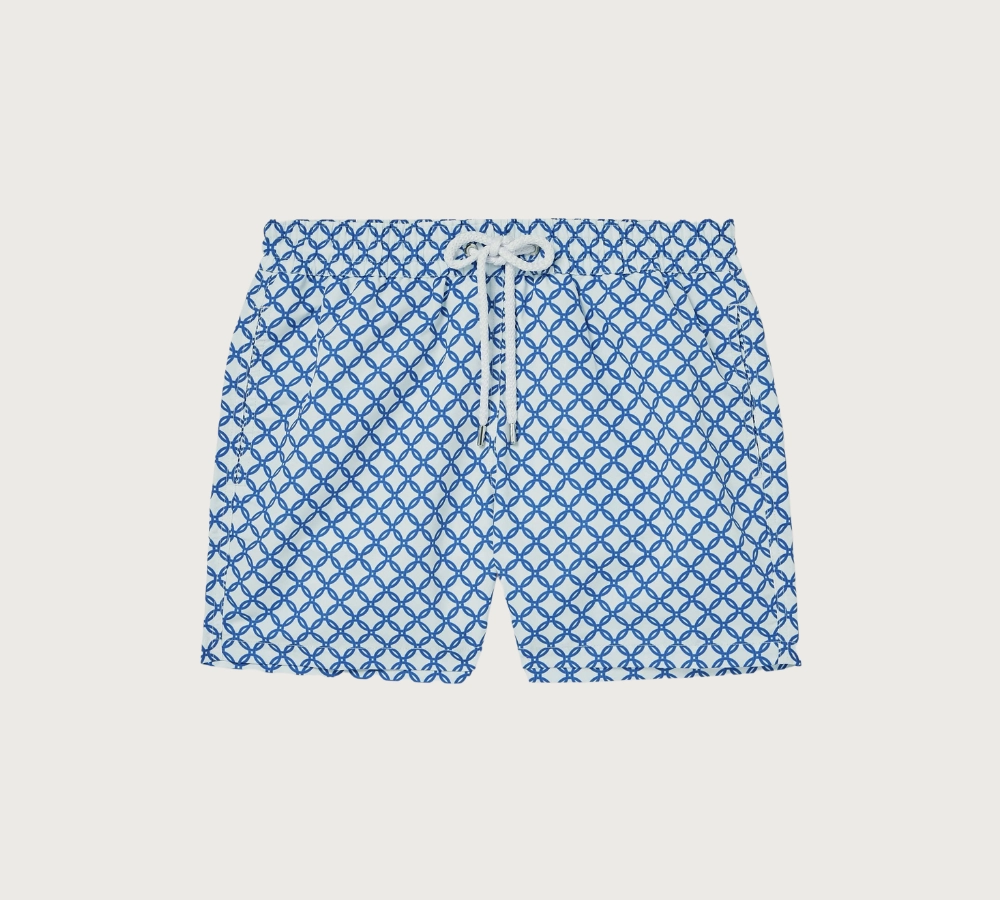 Full of Italian vibes, these shorts from Frescobol Carioca feature a stunning tiled print. In a relaxed fit, they are made from a quick-drying material in a mid-weight shell. Making them comfortable and stylish.
10. Next Printed Swim Shorts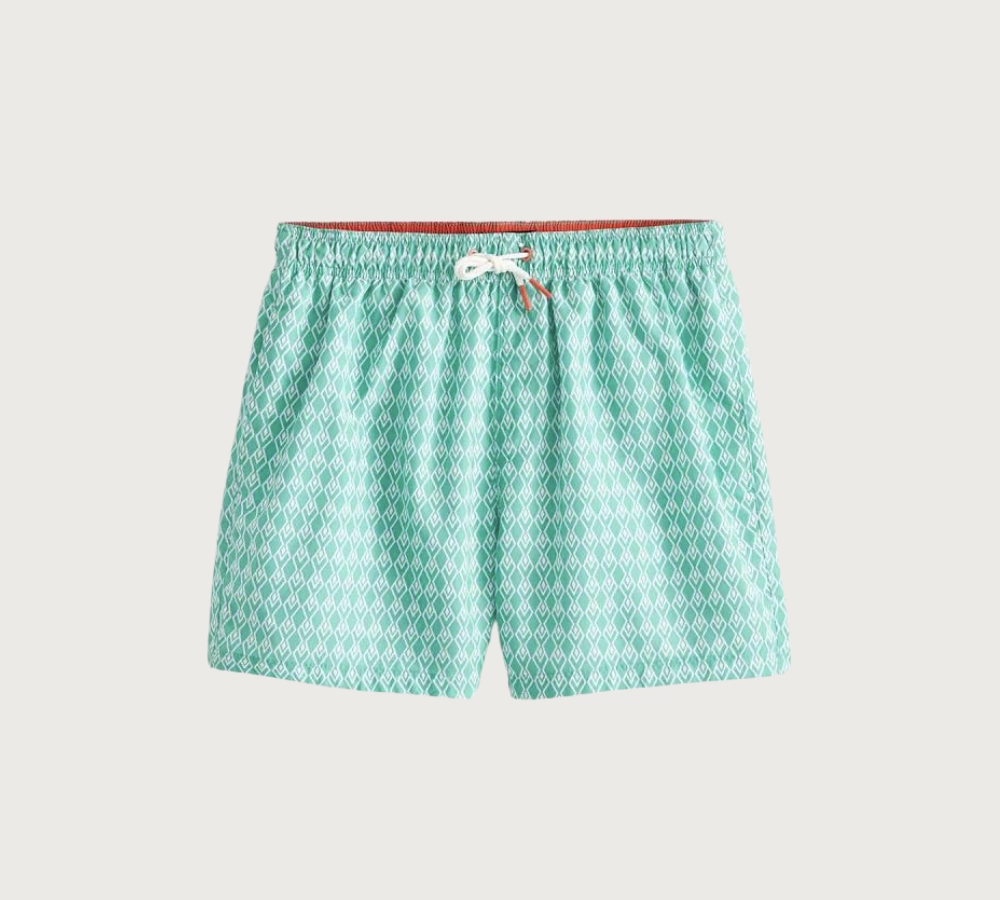 If you don't want to break the bank for your swimwear this summer, then look no further than Next. With a range of swim shorts at a wallet-friendly price, there is something for every guy. We especially like these coral shorts made from recycled polyester that could easily pass for a pair double the price.
11. John Lewis Seersucker Swim Shorts
It's hard to imagine this pick from John Lewis is actually a piece of swimwear. They are expertly delivered in seersucker with a tailored fit that combines a shorter length. The result is an incredibly flattering pair of shorts that have been crafted from the sartorial secret weapon of fabrics for summer. Now you just have to find a reason not to wear them.
12. Finisterre Walker Hybrid Shorts
Born amongst surfers, Finisterre prides itself on multi-functional menswear. Just as comfortable in the water as they are out of it, these shorts are lightweight and quick-drying. Perfect for when you are heading from one adventure to another.
13. Mr P. Straight Leg Swim Shorts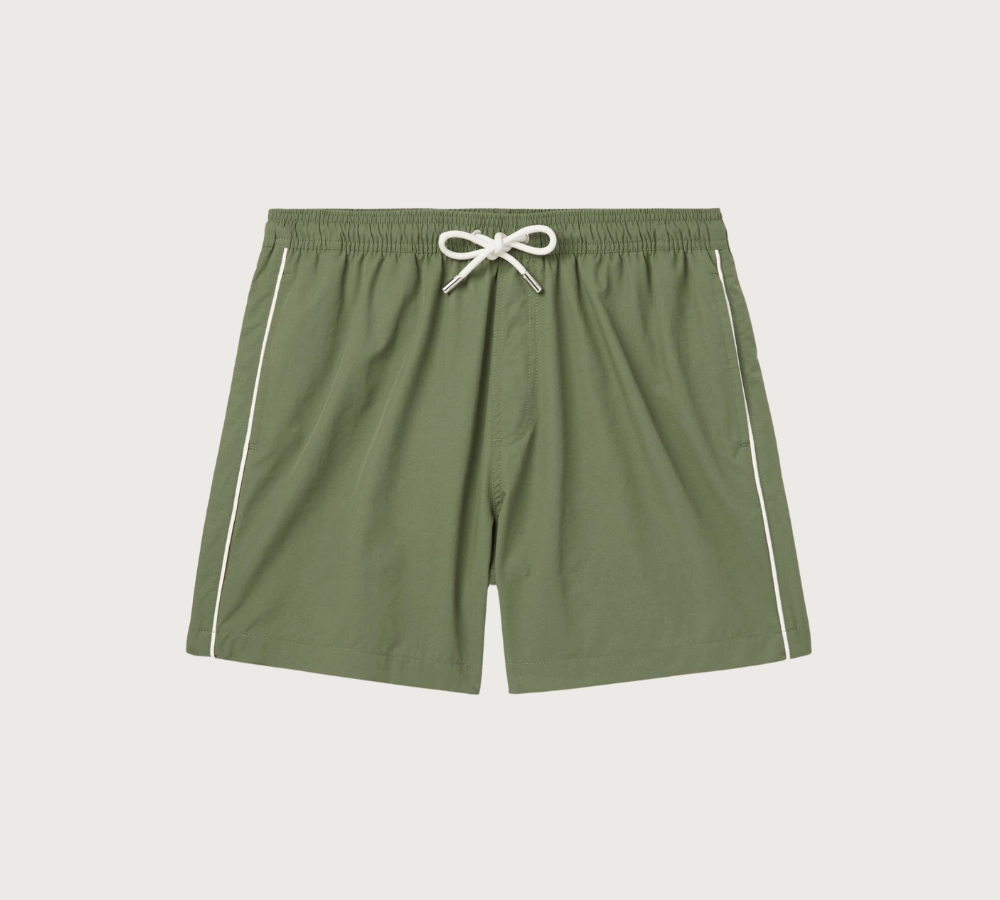 Simple, and understated, Mr Porter delivers another timeless classic from its own-brand label, Mr P. With a focus on the cut and fit, these are a comfortable pair of swim shorts that can easily be partnered with a linen shirt post-pool.
14. Represent Logo Drawstring Shorts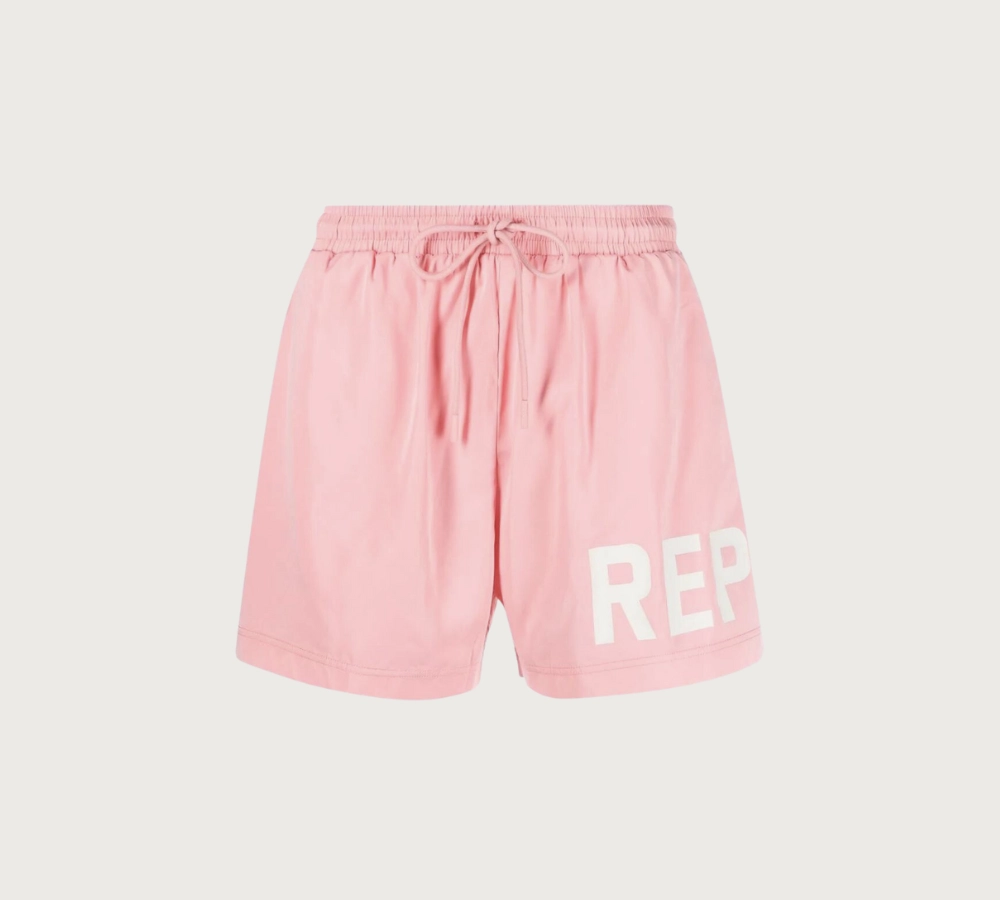 Make a statement by the pool with these flamingo pink shorts from Represent. For those brave enough to try, you'll get thigh-length swimwear that is sure to turn heads.
15. OAS Company Rytma Swim Shorts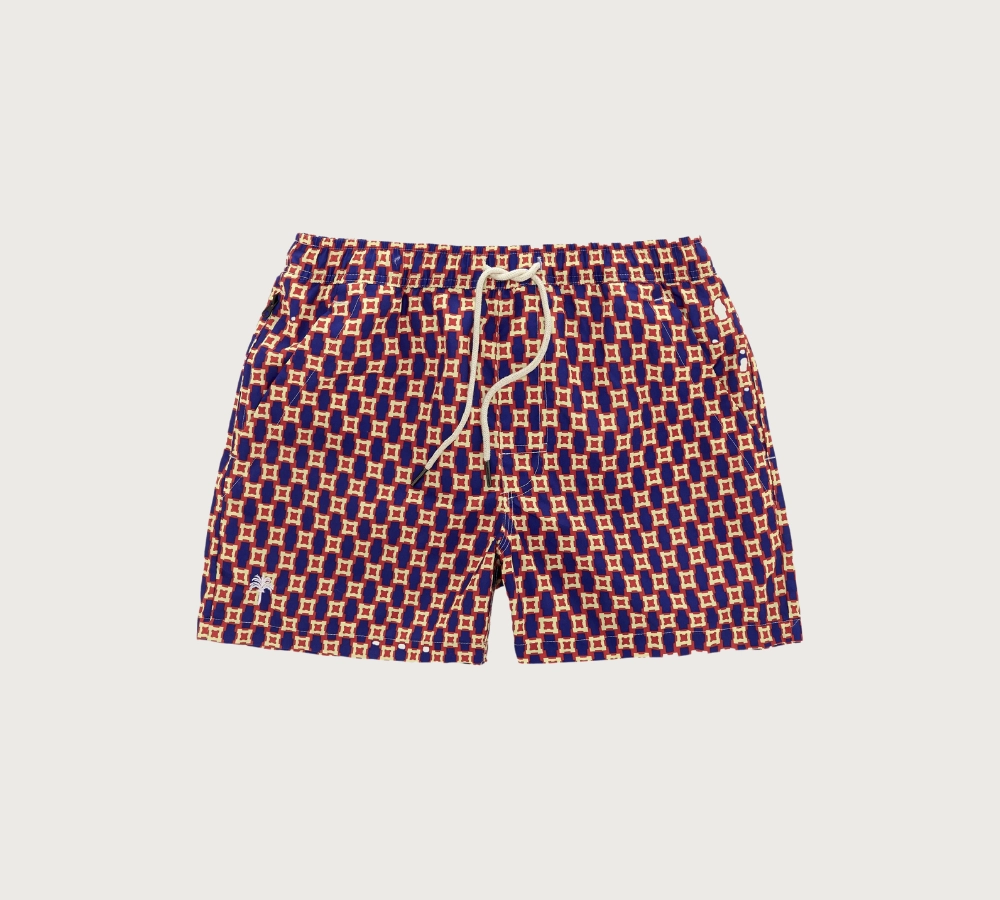 In a flattering, tailored fit, OAS has crafted a pair of swim shorts ideal for this summer and beyond. A resort brand that combines the Scandinavian aesthetic with a mix of the Mediterranean that inspired the brand's inception, its a winning combo for us.