Every year, we see white jeans bubble to the surface of menswear. Inspired by the stylish gents of Pittt or menswear heroes like Steve McQueen, they are inevitably in the mix when the weather gets warmer. But yet, most men wouldn't give them a second thought. Though, their hesitancy with wearing might just be stopping them from effortlessly nailing summer dressing.
White Jeans Outfit Ideas
On the face of it, white jeans are a neutral piece that should be simple to dress. Versatile enough to absorb many colours, they should be a no-brainer in summer. But, if we approach it haphazardly, it can quickly leave even the savviest of dressers quaking in their deck shoes.
To deliver that style masterclass of our European peers, we are on hand to help men feel confident enough to slip into their white jeans this summer. These failsafe outfits border both smart and casual, ensuring whatever the dress code, we'll have you covered.
All-White
An all-white outfit might seem scary but don't take it so literally. Sure, some guys will be confident to wear all white and be able to dodge every rogue spillage or stain the whole day. For us mere mortals, we recommend a tonal palette of complimenting colours.
For our tonal hues, men should be looking to partner their white jeans with off-white, beige or cream colours. It is a step down from the pristine all-white version, though it can still become a staple summer outfit.
To adjust this look somewhat, men can introduce colour and contrast in their accessories or with a light jacket. This will help ground the outfit and add some additional interest.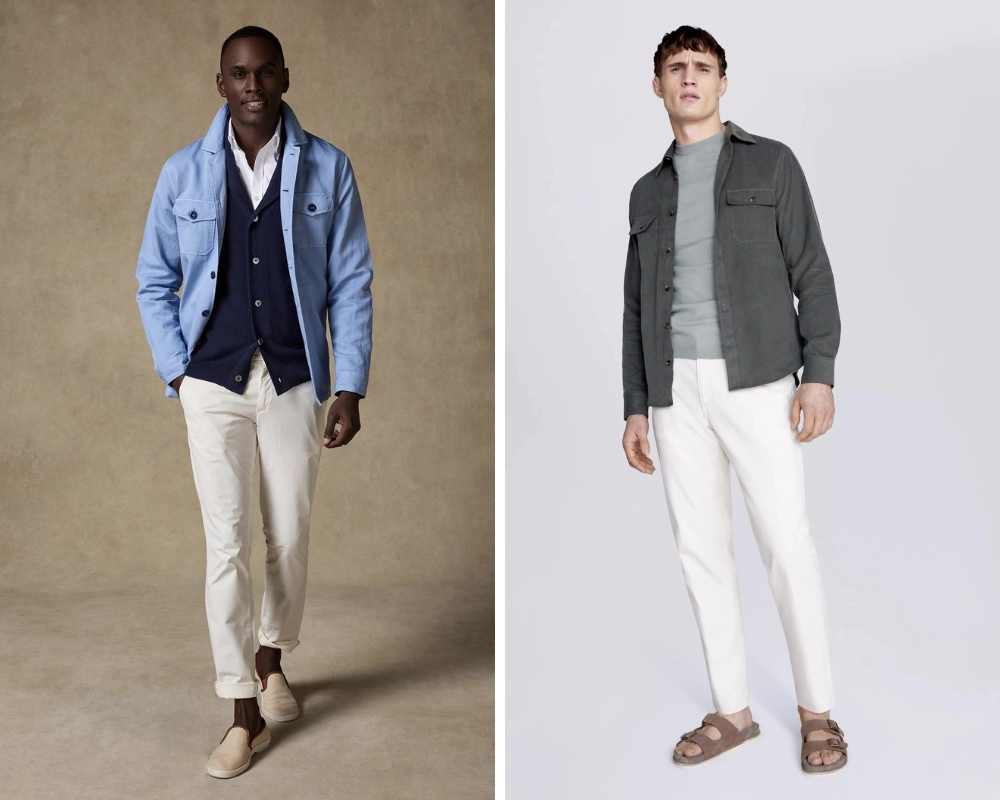 White Jeans and Pastels
White is a perfect accompaniment to pastels for a chic summer look. And when golden summer days are on the horizon, menswear explodes into a myriad of pastel tones. So, there are plenty of men's pieces to choose from.
Make white jeans your base layer with this look, and choose a pastel t-shirt, polo or even shacket to support. The white jeans will draw the eye, even softening the pastel colour, creating an overall polished outfit.
Keep that centring when considering shoes to wear with your jeans. We want pastels to be the standout colour so we can stay neutral with white trainers, for example. Or, offer some contrast with brown sandals or loafers as long as the tone remains lighter to not jar with the rest of the look.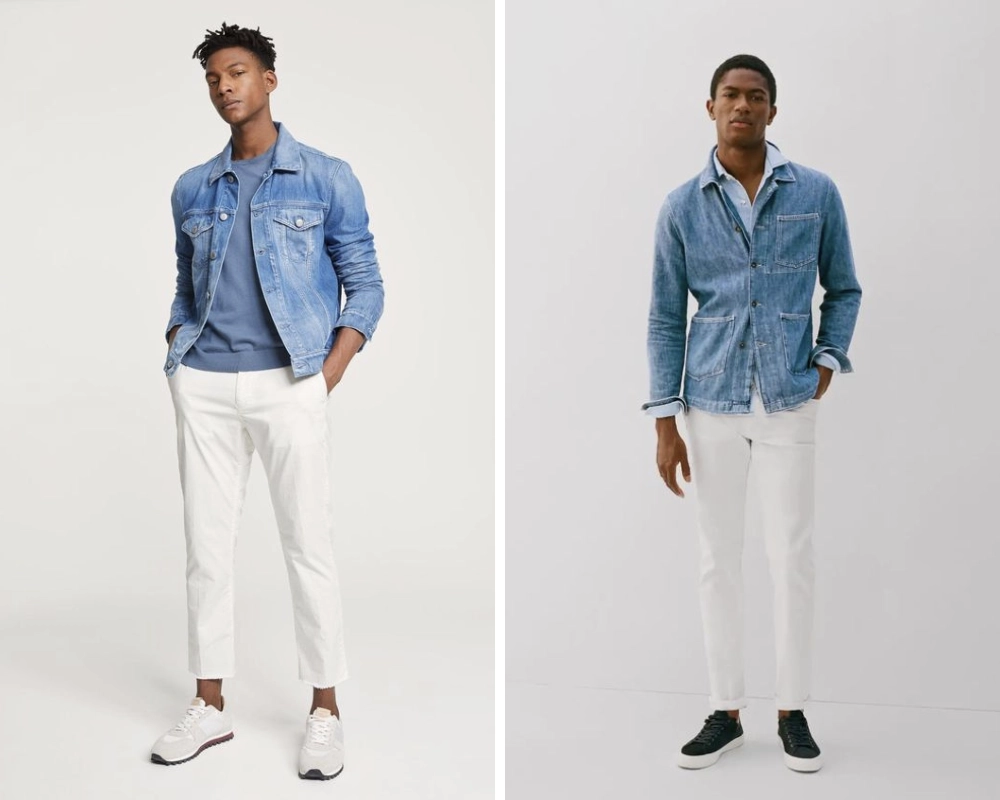 White Jeans and Blue Denim
White and blue denim is a simple, laidback hookup. Of course, you could opt for grey or black on top, but we find it hard to see past the more popular blue.
You can incorporate blue denim within a jacket, worn over a t-shirt or as the main player itself in shirt form. Both will give men a spring/summer look, making your weekend dressing fuss-free.
To perfect the look, focus on the fit. You might be a guy that prefers a regular fit over slim-fit jeans, and that is entirely fine. We draw the line at the polar opposites (skinny and baggy). Neither would work in this look or most of those other potential ones in your wardrobe.
White Jeans and Statement Shirt
There is no end of statement shirts for men to choose from come summer. From Cuban collar prints to Hawaiian-inspired palm trees, this time of year is a sublime opportunity to let your creativity shine.
Unleashing such boldness in summer can often lead to a conflicting array of colours and patterns that struggle to work together. White jeans can offer a welcome respite to this assault on your senses. They happily do the legwork of absorbing the noise from your top half, ensuring your look remains palatable.
With the hard work completed, men can focus on exploring their new found clothing confidence knowing their white jeans have their back.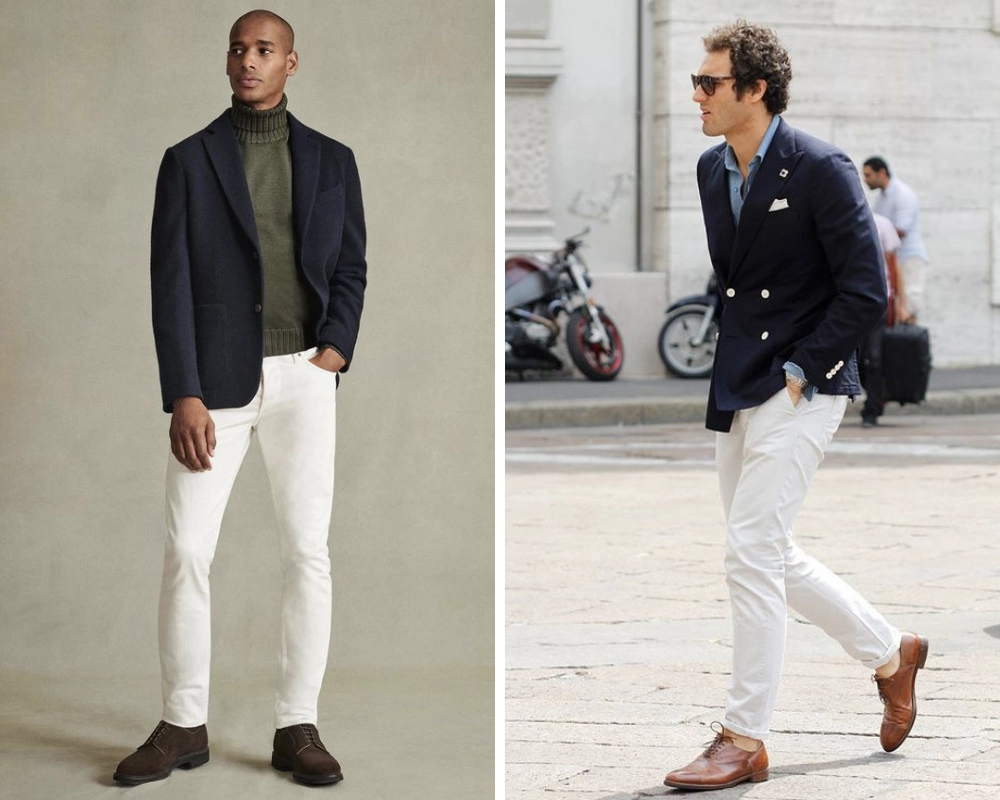 White Jeans and Navy Blazer
These two menswear pieces are a lighthearted combination of nautical attire. This partnership has been adorning the most stylish gents for decades. A clear contrast between the top and bottom half plays into a cohesive look that is perfect for summer.
You could take the ensemble further to its naval roots with a Breton stripe top for added French vibes, or keep it simple with a blue shirt or plain tee. Either way, you'll have an ideal combo for the summer garden party or an early evening date.
Feel free to accessorise with a patterned pocket square; just make sure you aren't seen without your sunglasses.
Ivy League Style
Take your style notes from the campuses of North America's finest colleges. The explosion of this smart casual attire from the 1920s onwards is still much revered worldwide. White jeans were an integral part of this movement in the 50s and 60s, routinely matched with an Oxford button-down shirt and a college logo sweatshirt.
These days, you don't need a Harvard degree to dip your toe into this approach. Any sweatshirt will be enough, and you can even add a Harrington jacket for an additional nod to this era.
The Ivy League style is open to interpretation in our modern world, though its core elements are as timeless today as they were back then.