Originally the uniform of labourers, the humble denim jacket has come a long way in menswear. Yet, with little change to its winning construction. Hardwearing, cotton twill material is sculpted into a fit that tapers from the chest to the waist. The resulting cut is flattering for most guys, hence the denim jacket's popularity as a menswear staple.
Are you looking to upgrade your current transitional jacket options or want to get your hands on a denim jacket for the first time? It is an investment worth making. The durable material won't let you down over time. Through wearing, it will develop a unique patina as creases and surfaces rub together. It's an evolving choice that becomes more individual the longer you own it.
How to style a denim jacket
The rugged denim fabric sits well within a workwear-inspired look. But, the denim jacket's secret weapon is its ability to easily move through the layers of a men's outfit.
In itself, this jacket is not inundated with insulation. Though, men can utilise this by introducing it as a mid-layer piece. Choosing to wear it with knitwear under an overcoat for a fresh take on winter layers.
As the weather starts to warm up, we can embrace the denim jacket in its natural state. Including it in a simple, masculine aesthetic, men can update the Canadian tux by introducing a contrasting denim colour in their jeans and using a humble white t-shirt as their foundational base layer. The overall look will have a casual vibe that can easily be worn to work or on the weekends.
1. A.P.C Denim Jacket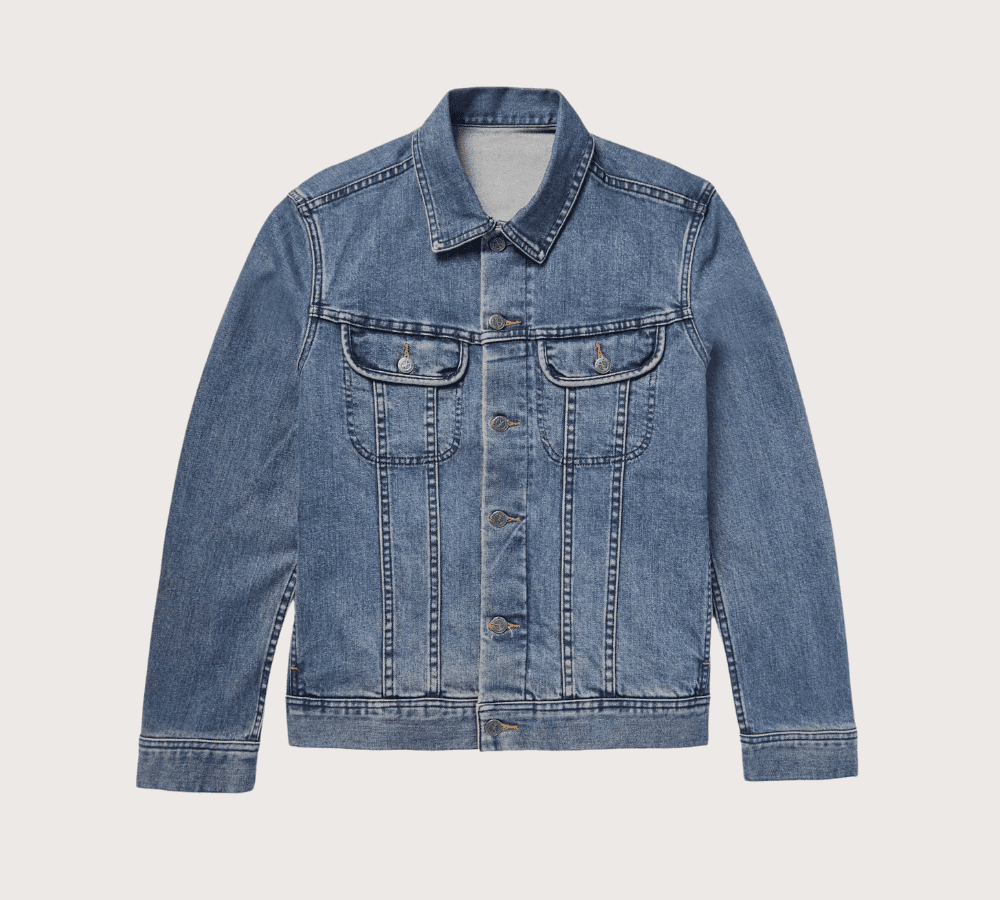 The home of laidback, Parisian style, A.P.C has a particular nonchalance when it comes to their denim. This jacket is cut from flexible 12.75oz Japanese denim and finished with contrasting marigold topstitching. It is everything a guy needs from his denim and will be a dependable option for years to come.
2. Rag & Bone Eli Lined Trucker Jacket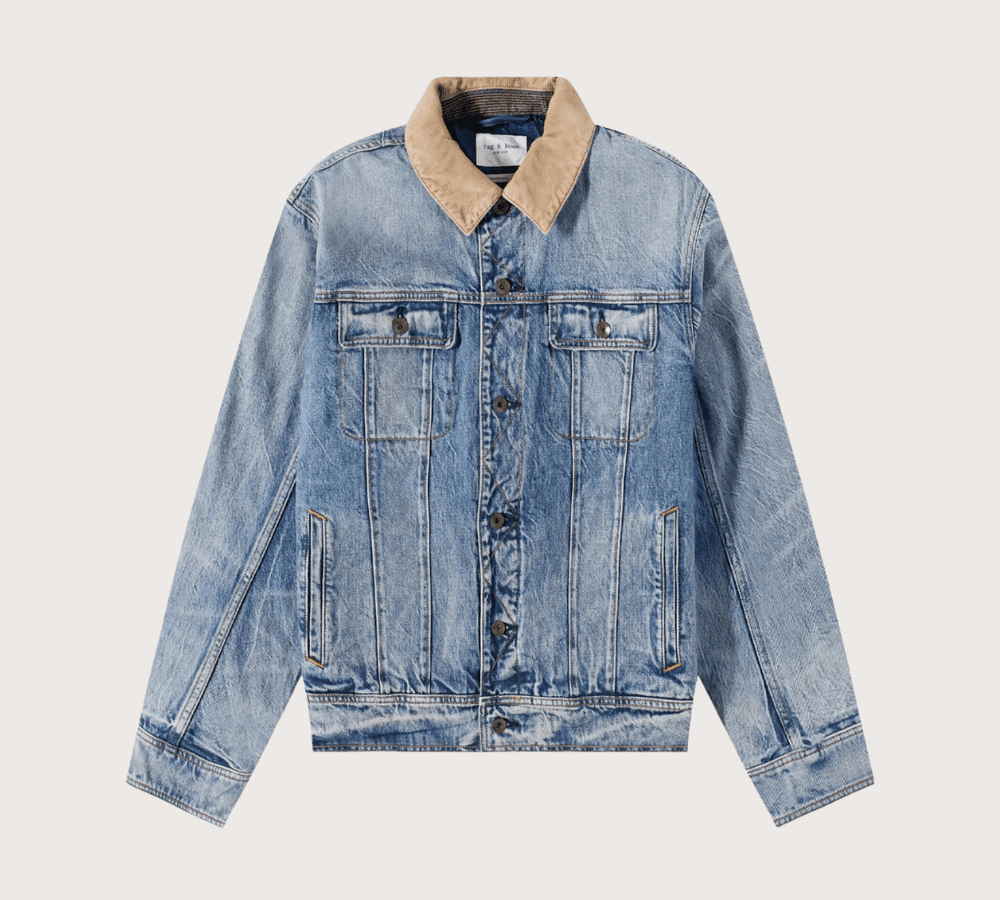 Take that denim jacket to the next level by experimenting with contrast collars. Rag & Bone has taken their inspo from Americana and workwear with an item that sits nicely in this popular aesthetic. Men get added insulation with a quilted interior as the brand brings you its warmest denim jacket to date. Ticking all the practicality and style boxes, this is a surefire hit.
3. Alex Mill Garment-Dyed Recycled Denim Jacket
Who says your denim jacket has to be cut in the familiar tried and tested mould? Alex Mills has brought a contemporary twist to the party. This jacket would look at home with your tailored clothing as it would the more familiar casual pairings. The recycled denim delivers extra sustainable points as well as being soft. A winning combo in our eyes.
4. Levi's Type III Sherpa Trucker Jacket
We couldn't create a list of the best denim jackets without including the OG of denim, Levi's. This American brand's infallible sherpa-lined trucker jacket never seems to get old. It's a timeless classic that won't let you down. Chock-full of rugged masculinity it will fade over time to create a unique patina, individual to the wearer.
5. Arket Utility Denim Jacket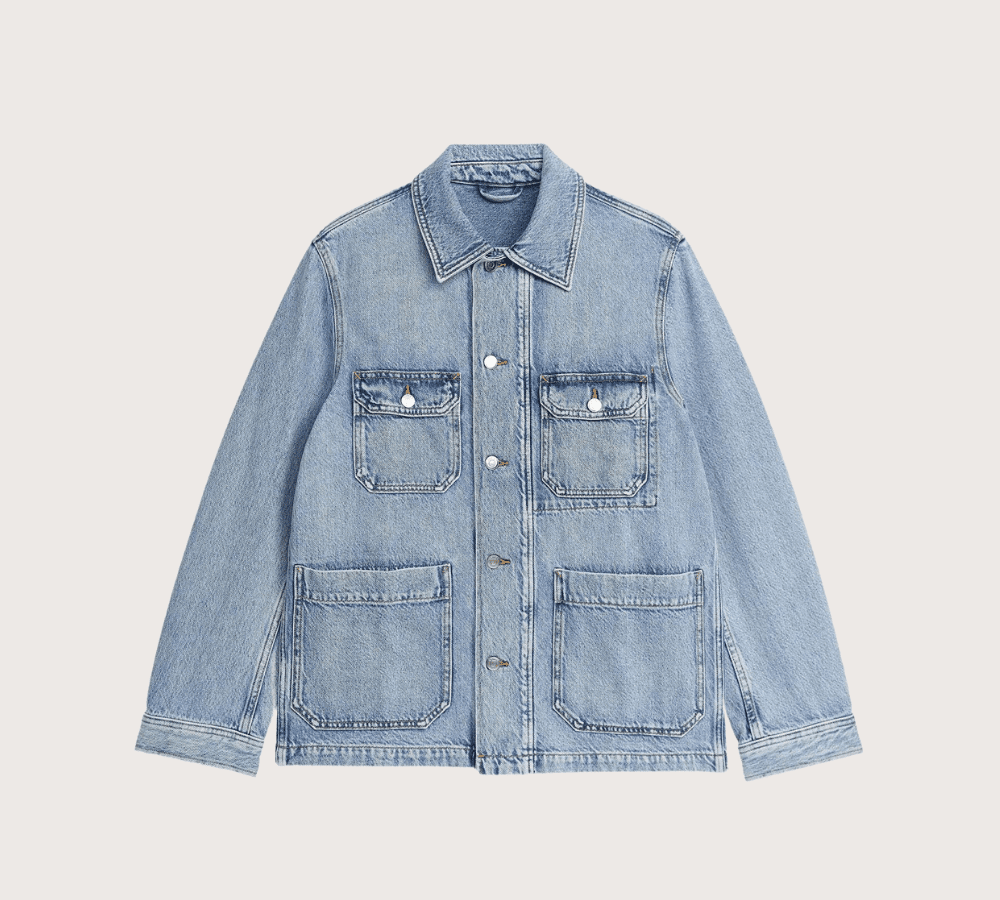 Reinventing a classic item like the denim jacket isn't easy. But we applaud Arket's take on this menswear staple. The pronounced double front pockets bring a touch of prison jacket alongside some additional intrigue. This would look great with some wide-fit chinos and a pair of fresh white trainers.
6. GANT Denim Jacket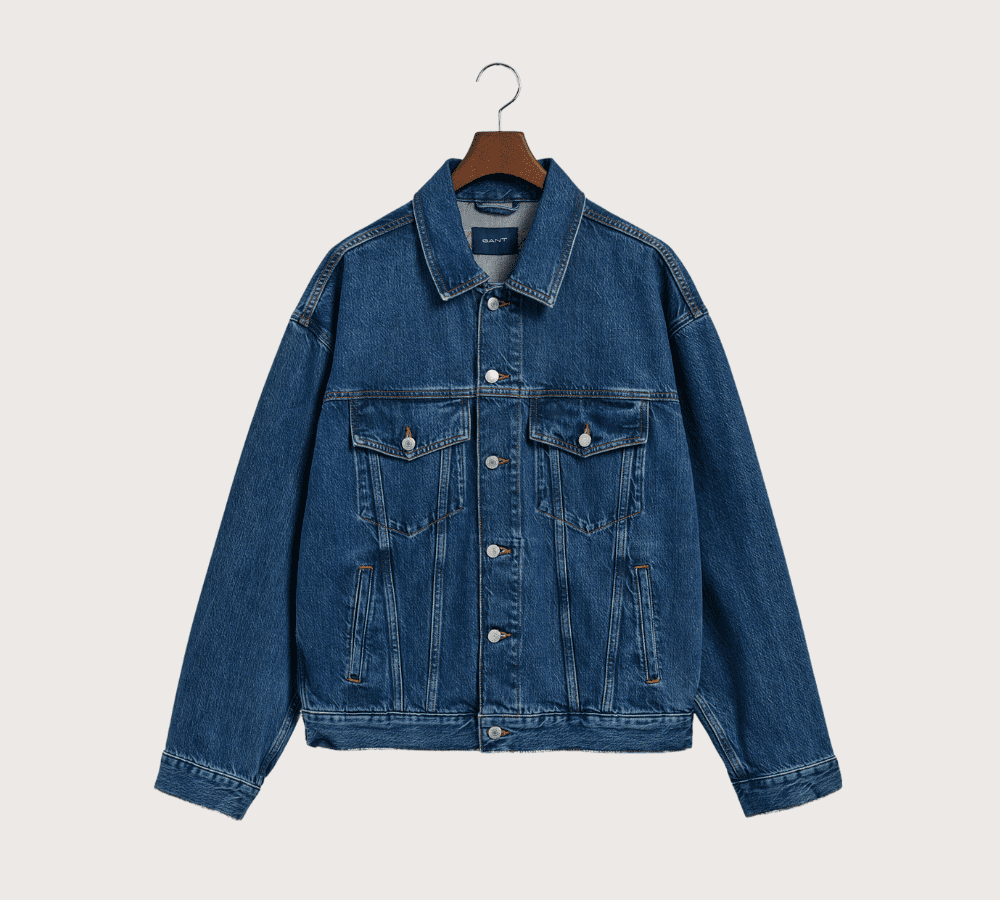 A nice, richer blue like this GANT pick can add some nice contrast. Finishing just above the hip, it comes in a relaxed fit. Go for double denim if you feel confident. If not, there are plenty of options that would look great with this one.
7. Asket The Washed Denim Jacket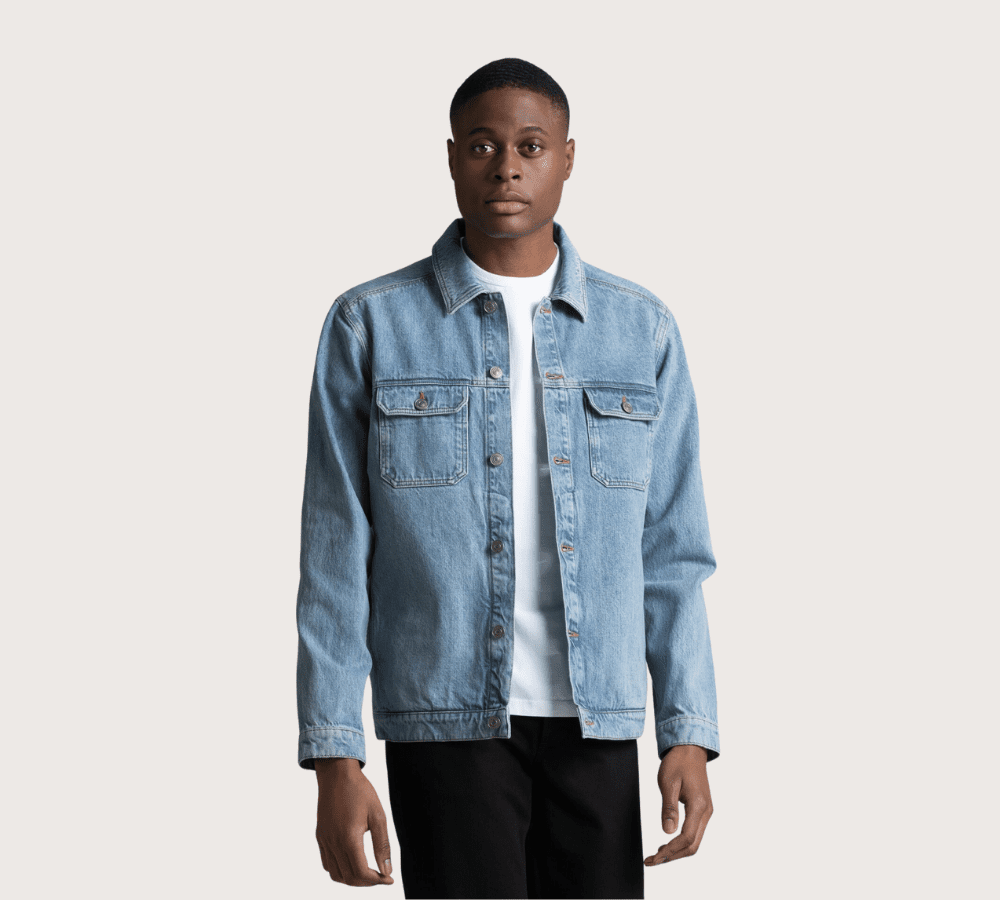 Covering the basics from a sustainable standpoint, Asket would always be wise to include a popular jacket like this in its offering. They've opted for a simple fit in a light blue to give men a style they can wear day after day. As shown, a simple white t-shirt is a great jumping-off point. But you can also include smart casual pieces like an OBD (Oxford Button Down) into the look to bring something slightly different.
8. Nudie Jeans Jerry Dusty Days Denim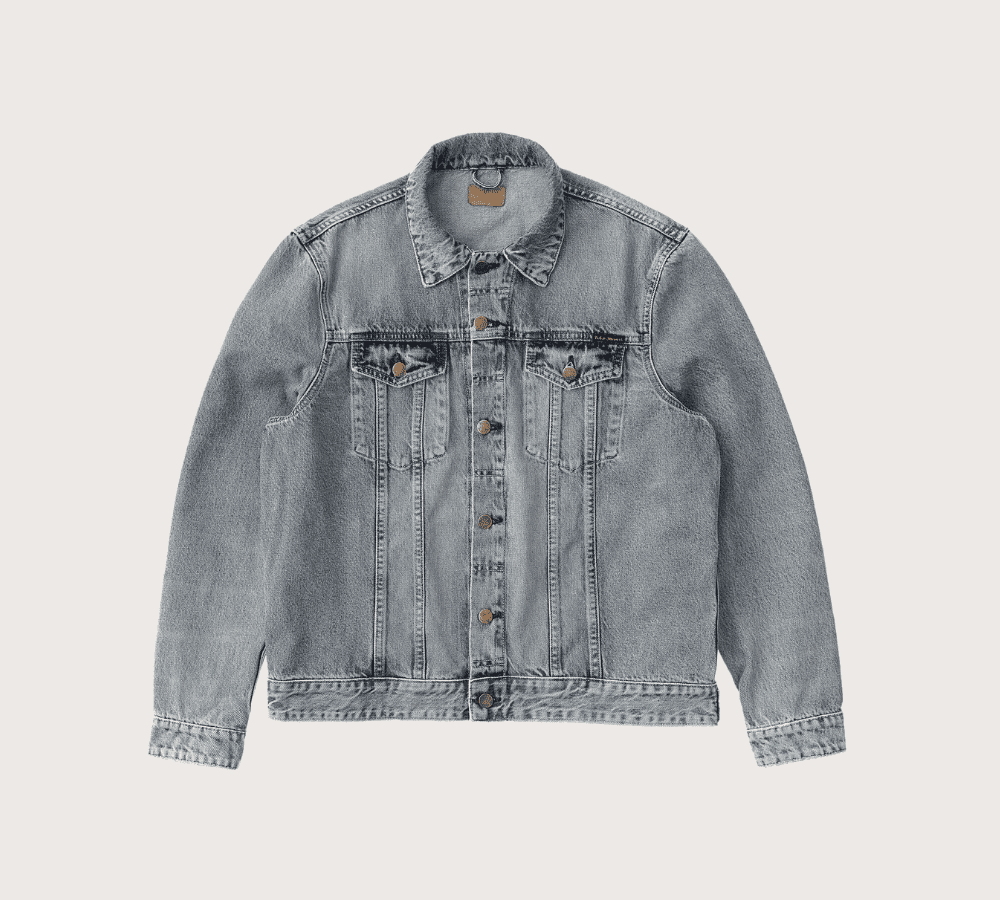 This dusty blue denim jacket from Nudie Jeans is giving us a 90s vibe. Something about that twist of grunge in the faded material is making us all nostalgic. Lean into this with a more rocky style with slim-fitting black jeans and Chelsea boots. A perfect look for sinking a few beers with friends.
9. Blackhorse Lane Ateliers NW6 Trucker Jacket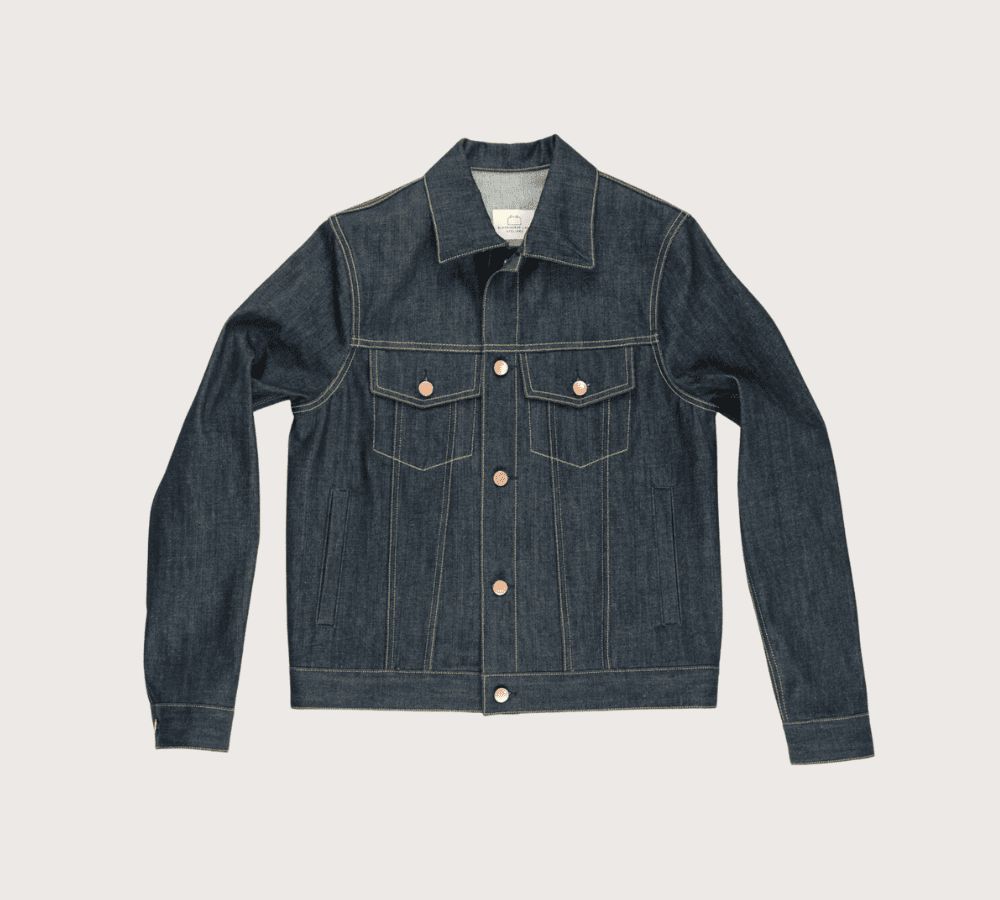 Not so much of a secret among the stylish elite anymore. London-born, Blackhorse Ateliers has won over many denim aficionados with its attention to detail and true craftsmanship. They use the best materials to create multiple fits (modern and classic) from their home on Blackhorse Rd in E17. A brand and hero jacket that should be championed.
10. GAP Classic Icon Jacket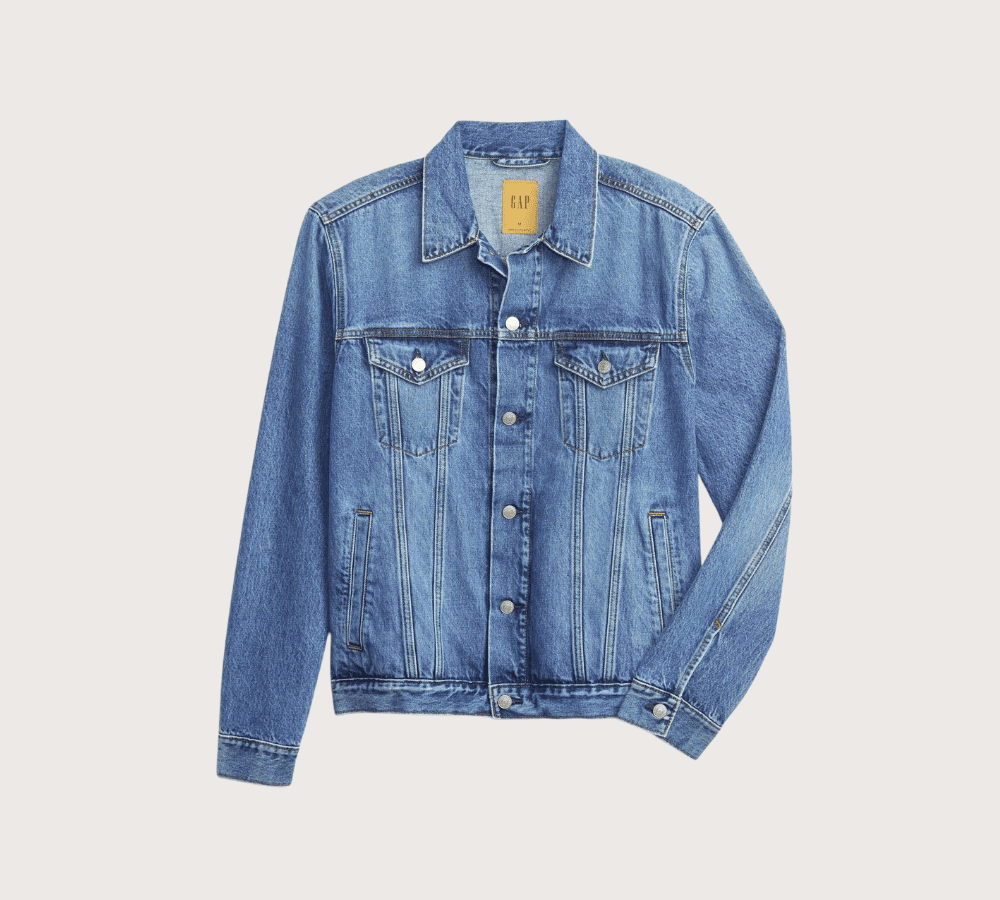 If your search for a denim jacket comes with a limited budget. Look no further than the all-American brand, GAP. The front detailing and easy-on-the-eye blue colourway make this a piece that will see you through spring days and beyond. Just partner with simple, muted tones for a relaxed look.
11. RRL Leeland Trucker Jacket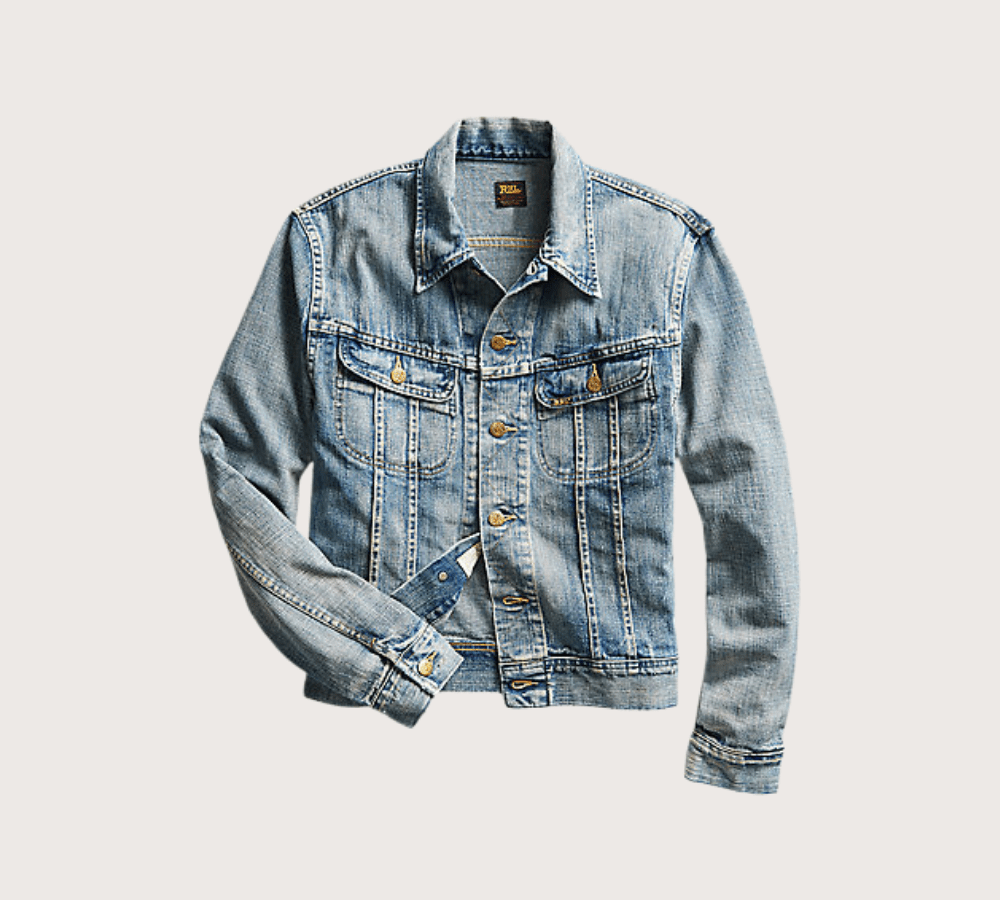 The birth of the denim jacket as an influential menswear pick was in the 1950s. Ralph Lauren has taken inspiration from this period for their RRL Leeland Trucker Jacket. It has a fitted silhouette through the chest and has been made from 12.75 oz. Japanese denim with a turquoise-indigo cast. As a bonus, it has been Sanforized® to minimise shrinkage.
12. Wrangler Icons 124MJ Western Jacket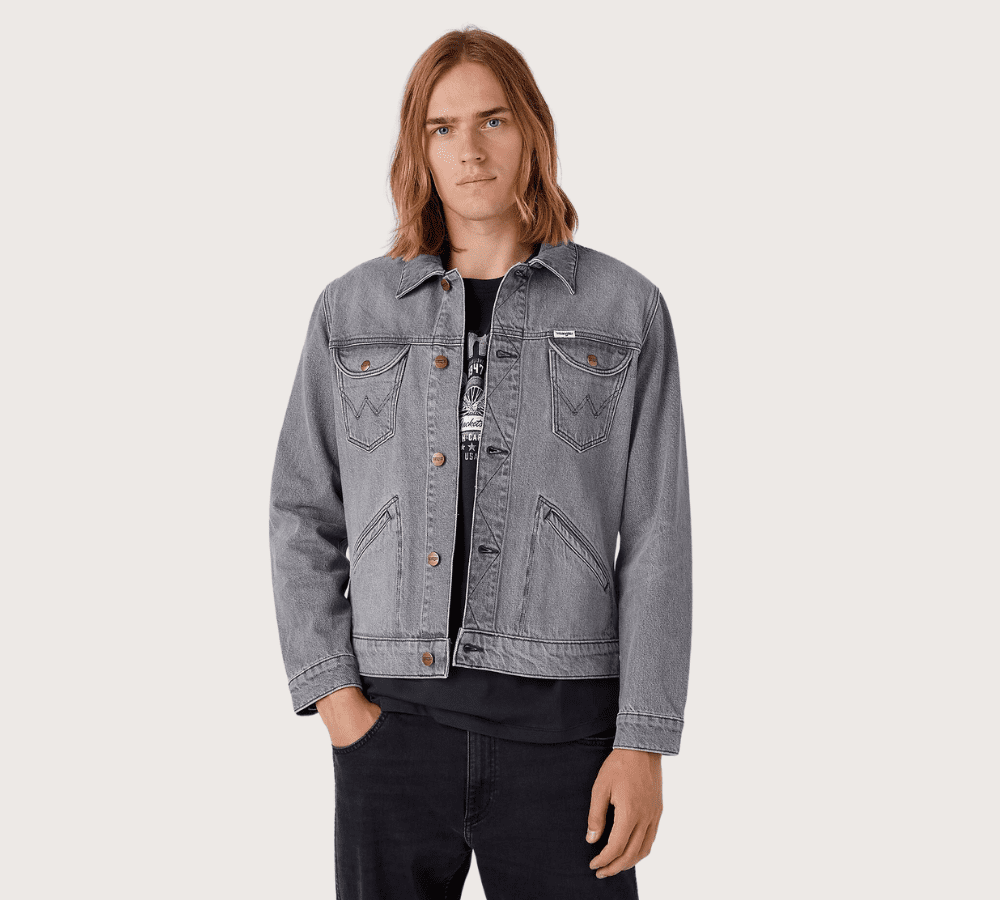 Wrangler has been producing top-notch denim since 1947, so know a thing or two about using this material to create great jackets. This outerwear piece comes with patch chest pockets and slanted side ones. We recommend keeping things clean and simple when styling. Tone down what you wear with the jacket and let it be the standout star.
13. EDWIN Light Used Denim Jacket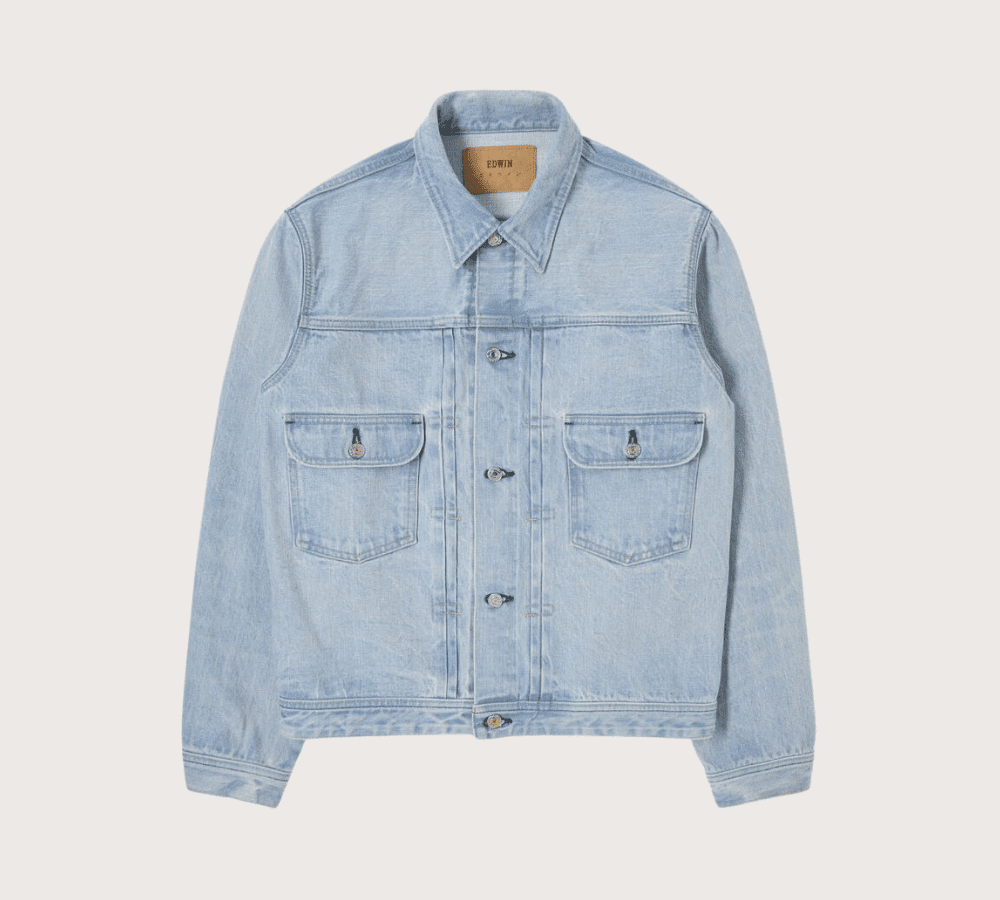 Part of their 'Made in Japan' collection, Edwin has delivered a unique proposition. The jacket is made from 13.5oz pure indigo rainbow selvedge denim. A fabric that elevates this from its competitors due to being one of the finest materials available from the Japanese mills it was created in. The washed effect makes it a palatable piece that can seamlessly integrate with your wider wardrobe choices.
14. Pangaia Nettle Denim Jacket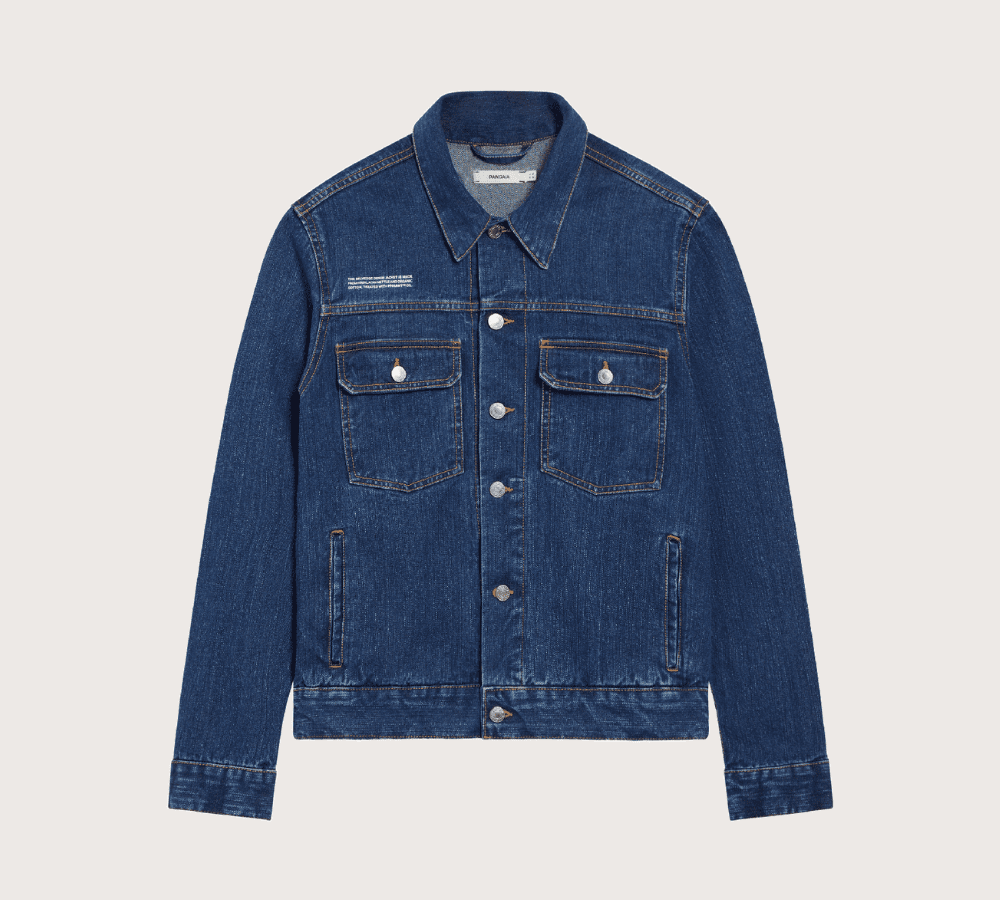 As the name might suggest, this jacket has been made using wild Himalayan nettle and organic cotton. The advancements in sustainability don't stop there. Every element of this denim jacket can be fully recycled at the end of its wear lifecycle. It's an investment piece that notes our potential impact on the world through every seam.
15. TWC 13oz Japanese Selvedge Denim Jacket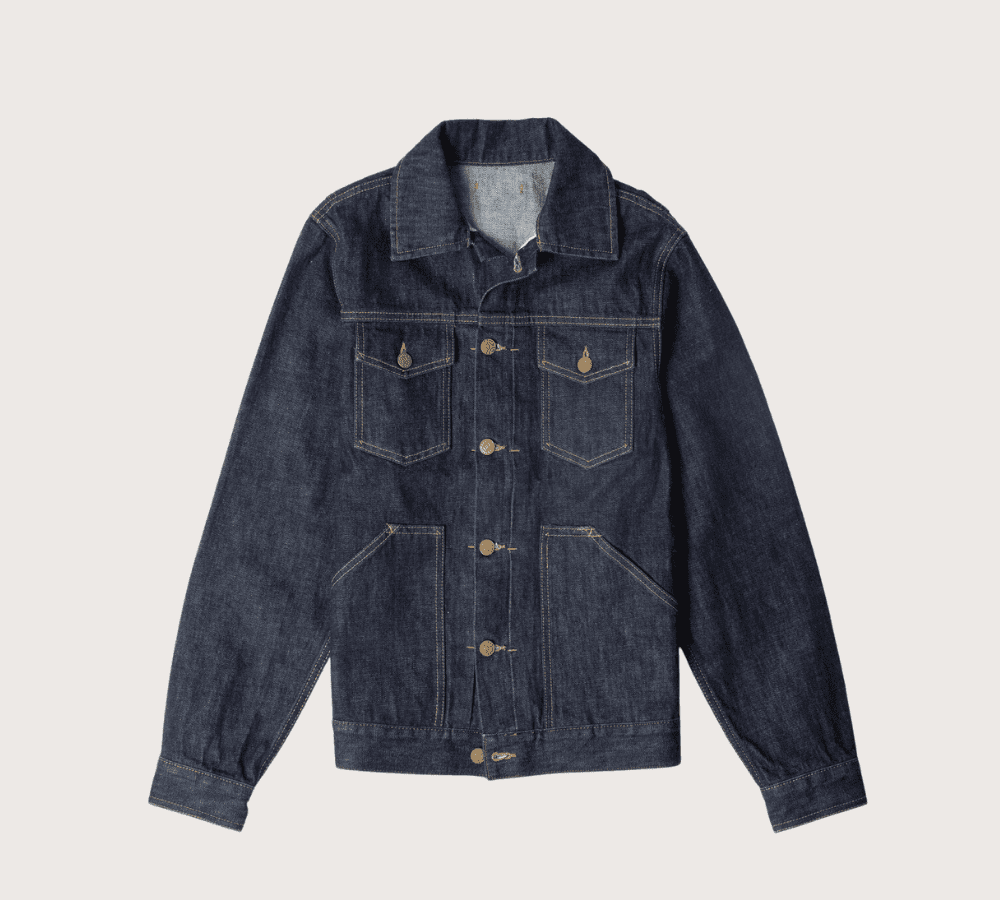 If you know your denim, you'll know that Japan is the place for superior jeans. TWC has harnessed Japanese mills to sumptuously craft a relaxed fit jacket. Given a 45-minute rinse to soften the notoriously unyielding selvedge material, the result is a worn-in feel that won't leave your arms covered in dye.