As the temperature rises and the sun shines brighter, it's time to update your wardrobe for the summer season. It definitely isn't all sunshine and rainbows on these shores. So, while the thought of men's jackets may seem counterintuitive in hot weather, it might just be a valuable style get-out-of-jail-free card when the weather changes. Protecting you from an inevitable shower or keeping the chill off once the sun goes down could be vital. In this blog post, we'll explore five essential summer jackets for men that effortlessly combine timeless style and functionality.

The plan when it comes to summer jackets, is to bridge the gap between lightweight and breathable options that can still be depended on for British weather. Through careful use of summer-focused fabrics we can pick jackets that are designed to keep you cool while delivering a pared-back aesthetic. This combination will ensure you're prepared for any occasion, whether it's a casual weekend outing or a normal day at the office.

So, if you're ready to upgrade your summer wardrobe and ensure you're prepared for whatever the season brings, join us as we explore the five must-have summer jackets for men. Get ready to stay cool, stylish, and comfortable all summer long!
Harrington Jacket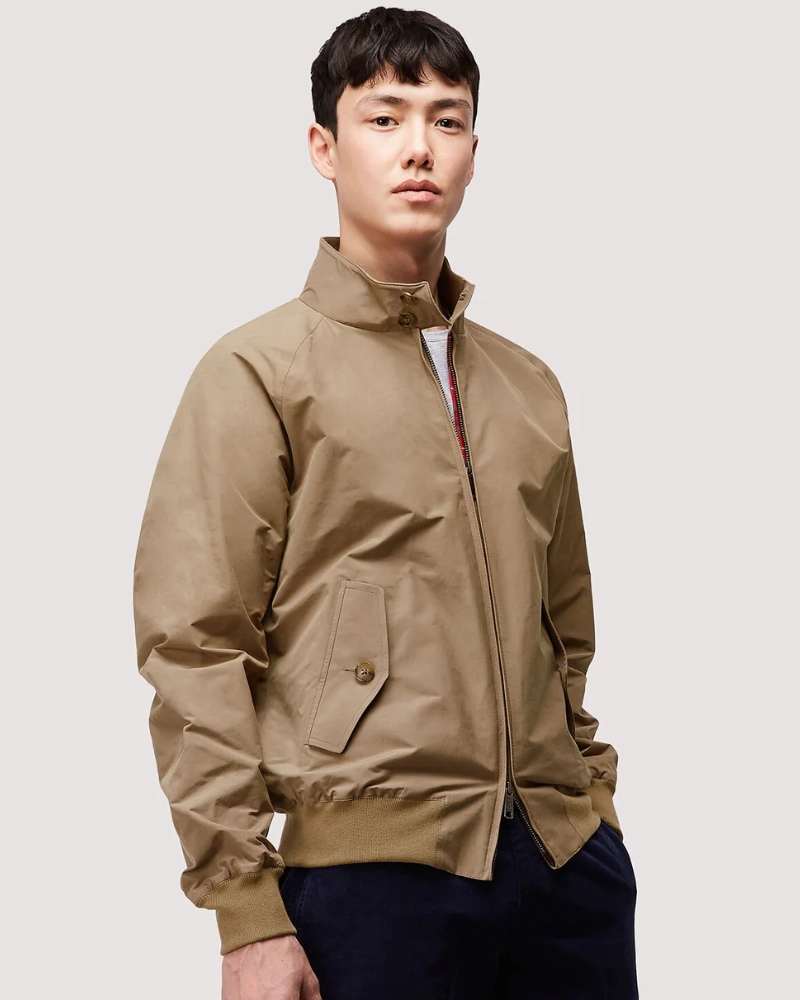 The iconic Harrington jacket boasts a classic and enduring style that has stood the test of time. From its origins in the 1930s to the association with figures like Steve McQueen and James Dean, Harrington jackets have remained a menswear mainstay, transcending passing trends.
Part of the allure of this jacket is its lightweight construction. Harrington jackets are typically made from breathable materials, such as cotton or polyester blends. This make-up allows the jacket to remain comfortable while its overall style delivers a structured aesthetic. It also makes it ideal for being worn through more than just summer, as it can be expertly layered during those tricky transitional months without feeling too warm.
How to style a Harrington jacket
As a versatile piece of outerwear, the Harrington jacket can lend itself to be worn as an element within a variety of outfits without looking out of place.
With a cropped finish, men can easily incorporate this jacket as part of a smart casual look. As such, we might choose to partner it with tailored trousers and loafers for a contemporary office outfit. While at weekends, we can bring the bar down towards a more casual finish. Pairing our Harrington with chinos and Chelsea boots if the weather is looking tumultuous. Or trainers if the sun looks like showing its face. For a nod towards our stylish ancestors, do as James Dean would do and keep the foundation layer a simple plain t-shirt to let the jacket draw the eye.
Whichever way men wear it, there is a wide range of colours to pick from. So, men can be sure there is a Harrington jacket to suit any occasion.
Denim Jacket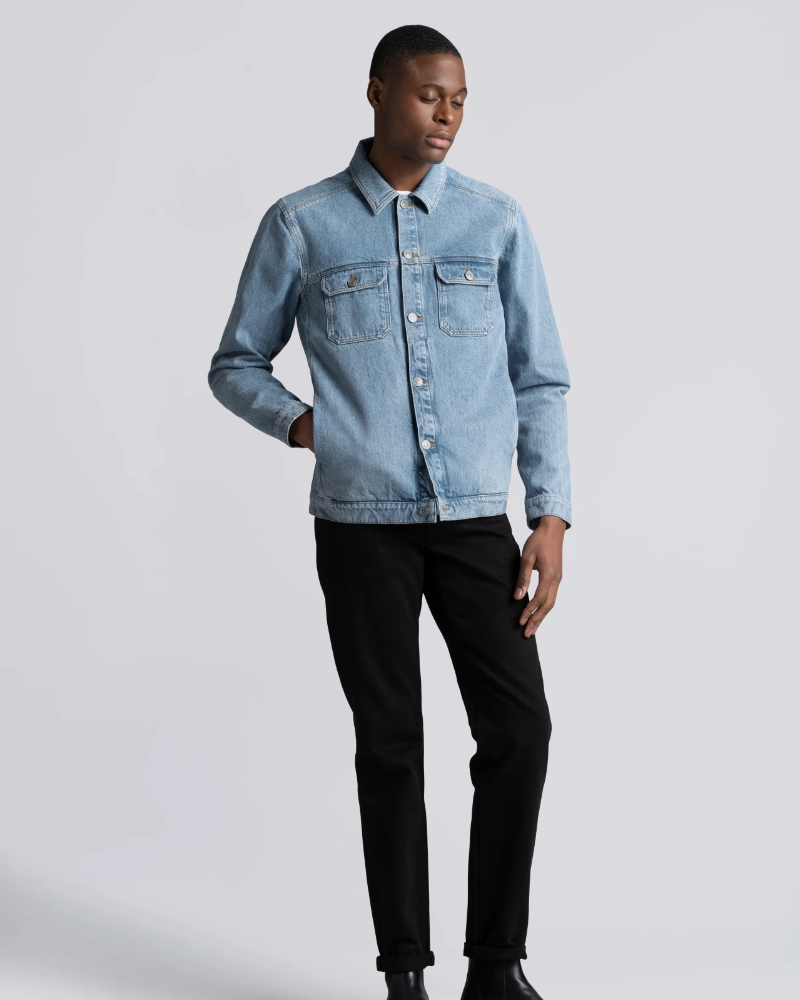 Denim jackets exude a sense of cool, rugged style, making them a great choice for the summer months. It feels like every sub-culture over the years has taken a stab at owning this jacket. Though, it shrugs off the notion that this isn't a jacket that any guy can wear.
Men don't need to seek out anything creative with this jacket. The original and those designs that stay true to this are all you need. By its very nature, denim is a robust fabric. That means if men shop wisely, they can get a jacket that will last a lifetime while developing its own personal patina the more it's worn. This characteristic is a key element of its wide appeal. Knowing that a jacket will not only hold its timeless appeal but look better over time is a unique trait in modern menswear.
How to style a denim jacket
In isolation, it can be easy to pigeonhole the denim jacket within a workwear-inspired look. Obviously, it seamlessly pairs nicely with a t-shirt and contrasting jeans. But that would be doing a disservice to the versatility of the jacket.
Tailored trousers, chinos, and even linen trousers can be effortlessly worn with a denim jacket for a sophisticated summer look. Just make sure the footwear stays in this realm. Something like a suede loafer, for example, would be our top choice. Underneath the jacket, take the opportunity to give your patterned shirt another summer outing or switch for a polo shirt for a take on elevated casual.
Also, as we move into the cold months, we have waxed lyrical previously on how a denim jacket is an underutilised piece of layering. Wear beneath your overcoat for a textured approach to winter dressing.
Bomber Jacket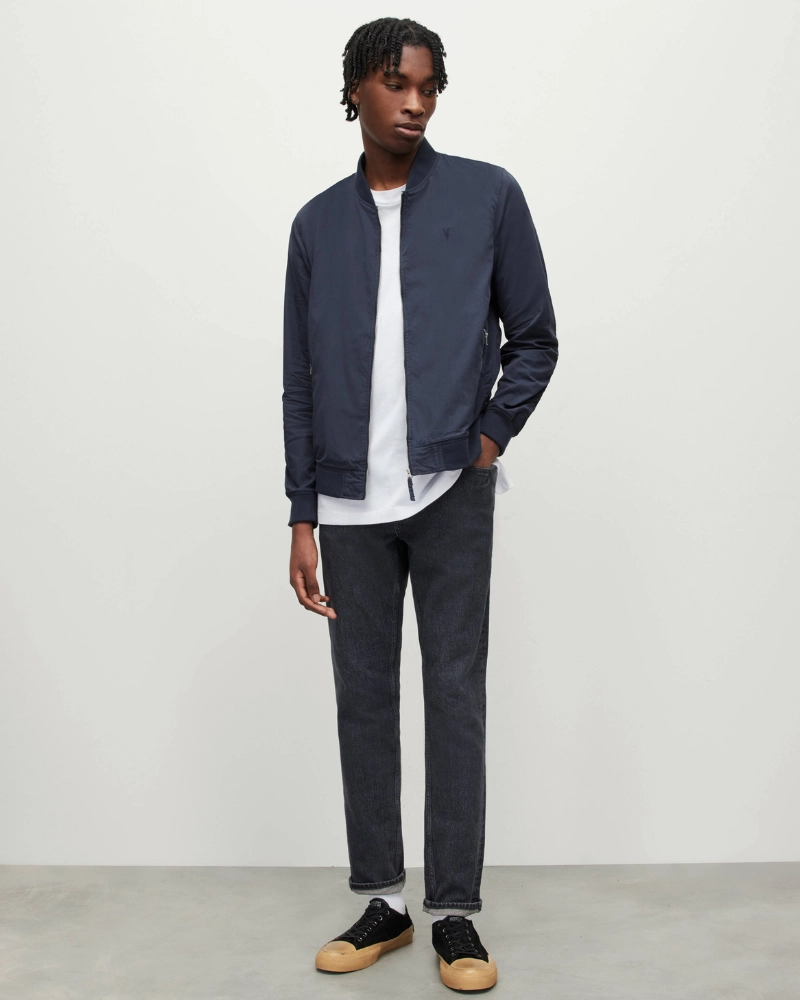 Pilots used the OG bomber jackets to keep them warm in the cockpit. So, to stop us from sweating heavily on the morning commute, men need to get their hands on a bomber jacket that hasn't got the insulation of its predecessors. Stripping out this unwanted warmth will leave us with the celebrated jacket construction but better prepared for the hotter months.
The lack of padding should also do all the hard work of presenting a more refined look. Leaving you appearing less like a member of the National Front and closer to the stylish gent you desire to be.
How to style a bomber jacket
As a jacket that has a wider connotation of being more casual than others on the list, we can lean into this with our outfits.
Simplicity can be our hero here. Wearing our bomber jacket with a t-shirt and slim-fit jeans can present a polished look without appearing too smart. However, men can elevate this slightly and choose to wear their bomber with a chambray shirt and darker denim for an evening out.
Linen Blazer
Ok, this might not technically be a jacket. But the linen blazer gets a ton of time as the last layer of an outfit in summer, so I'm throwing it into the mix. Why does it get so much wear? Because linen is a fabric sent from the gods just for summer. It is light, breathable and can absorb 20% of its weight in moisture before feeling wet, allowing sweat to evaporate quickly.
If you have put together a polished look, men don't want it ruined by becoming a sweaty mess. Harness the attributes of this fabric by using it in blazer form for that important business meeting or while waiting for the bride at those summer nuptials. You can thank me later.
How to style a linen blazer
Naturally, as we have picked a linen blazer, we recommend wearing it with smarter attire. It might be part of a suit or considered separates; either way, men will get the tailored aesthetic they would get from a wool alternative. Just accessorised with less perspiration.
A crisp white shirt is a favourite choice for summer. It would also provide a nice backdrop for a linen blazer should you choose a colour aside from the traditional navy or beige. Hues like green or pastel blue can bring an updated twist to your warm-weather tailoring.
Technical Jacket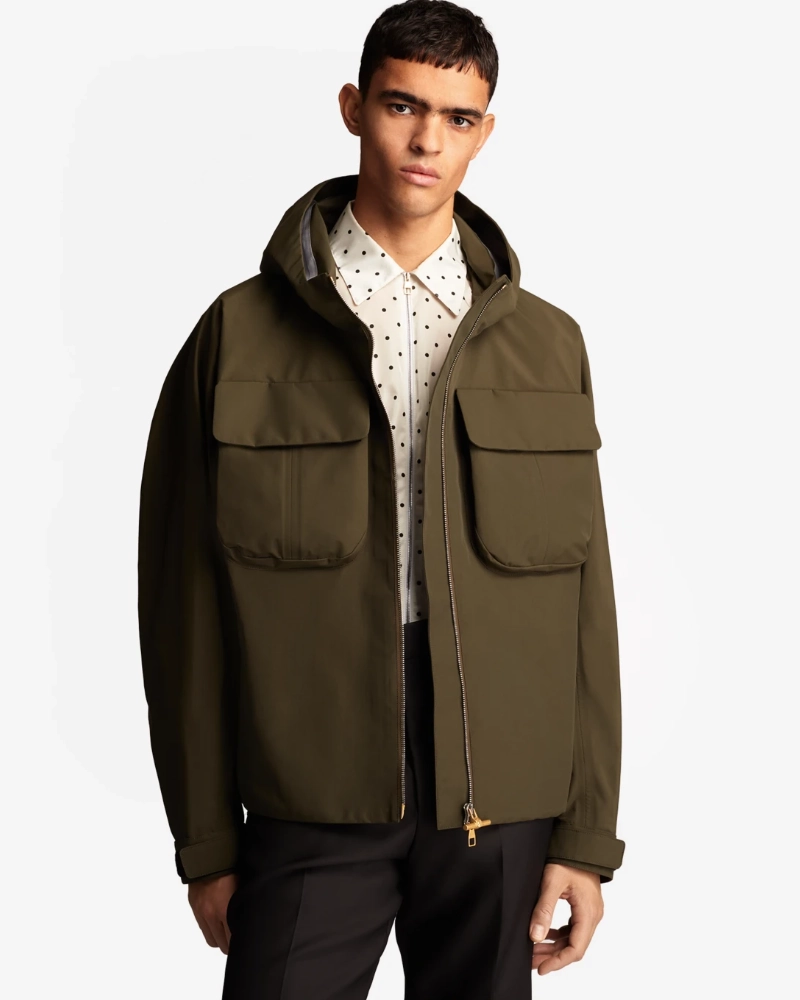 As we alluded to at the beginning of the post, it will rain at points during the summer period. You might want not to heed this warning and eventually get caught out. Or, we can look at how we can prepare ourselves for the inevitable. One way is to get our hands on a technical jacket that is loaded with waterproof and wind-resistant qualities. Packaged in a lightweight summer version, we will refer to this as a technical jacket.
Brands such as Patagonia have ridden the wave of popularity in functional but stylish outdoor clothing. The technical jacket nestles neatly in this space operating as an understated piece of essential kit whenever you are outside. Granted, not the smartest choice, it wouldn't be seen necessarily alongside your suit. But, it is crucial to protect you when the storm clouds start circulating.
How to style a technical jacket
Sure, we could wear our technical jackets like we are heading for a weekend walking the Peak District. Though, we could be enshrining ourselves too much in the hiking stereotype and end up looking ridiculous.
Try to work your technical jacket into your everyday wardrobe. Understand how the pared-back, even sporty vibe could play out when worn with jeans or chinos. Try to choose a technical jacket that has less bells and whistles and more refinement. We want the swathes of technicalities without the multiple pockets and garish colourways.
Darker tones will integrate easier with your current crop of menswear while being a solid pick for the unexpected. Remember, we might only be carrying this jacket in our bag 'just in case', So, we need a colourway that won't clash.
Conclusion
Hopefully, after reading this post, you will better understand the best summer jackets men can wear in these warmer months. The key takeaway is that we are focusing on jackets crafted specifically for this time of year. That means the fit is slightly more relaxed, and the materials have cooling properties.
As always, when recommending what to buy. We would always ask men to pay close attention to the quality of the fabrics and construction. Not only will this give you a better fit, but it will ensure your money is better spent. By investing in higher quality pieces, men can build a wardrobe that caters to a wider range of events while being dependent on year after year.
Ultimately, the choice of summer jackets should align with personal preferences and style while prioritising practicality and adaptability. By selecting weather-appropriate jackets that suit various occasions, men can confidently navigate the summer months whilst always staying prepared for whatever the weather brings.