Denim is a staple within men's casual wardrobes. The denim jacket though doesn't always get the same plaudits that jeans do. But, it can be equally as versatile without having you looking like a trucker at a gas station or a lost cowboy. It is all about how you style it.
Denim jackets have been absorbed by a wealth of subculture movements in the past such as punks, rock stars and hip-hop favourites. It's because the jacket is lightweight, functional and can be worn with a wealth of other menswear pieces.
To inspire and motivate we have brought together our top 10 different ways for men to wear a denim jacket.
Let's start with the basics.
How To Pick A Denim Jacket
Wider silhouettes or oversized lengths might fall nicely into seasonal trends, but we want our jacket to be more timeless. That's why we are focusing on a classic fit as it will be easier to integrate with our current wardrobe offering.
The same goes for colour. White for example is a great lightweight jacket colour option during the summer. Though, the chance of you being able to pull off this look or have enough bottoms to partner with it might be tough.
Denim Jacket Fit
As we have decided on a classic look, we want our denim jacket to fit snugly but not too close. That means no tightness when the buttons are fully done up and no restrictiveness when moving our arms.
Just to caveat, with selvedge denim there is typically some tightness that loosens up the more you wear it.
The overall silhouette is a fitted one, so ensure your jacket doesn't bellow out around the waist or on the sleeves. Denim jackets look their best when the hem sits on the hips just covering the bottom of the belt. There is some margin to go an inch or so lower, but any hemline creeping up is going to appear like a cropped top. Definitely not the style we are going for.
As with any outerwear piece, the weather can change and we might need to put on a jumper. If you want to keep wearing your denim jacket longer than just the summer months make sure it fits nicely over a jumper so you can layer through transitional weather days.
Denim Colour
We mentioned previously that there isn't just your basic blue to choose from. Brands, especially in summer unveil a wealth of different hues to entice customers to part with their money. Stone, white and even a pastel blue can all be great ways to update a summer wardrobe. But, when we focus on versatility, they aren't the colours we would pick first.
If this is your first time reaching for a denim jacket, you can't go wrong with your traditional blue. It is functional, adaptable and inherently inspired by the original colourway of the denim jacket we see throughout history.
Whether you have opted for double denim or not, a rule of thumb for outfit building is to ensure your denim jacket is a lighter colour than your bottoms. So, blue denim jackets in medium washes give you the option to wear them with darker coloured denim jeans or other trouser styles.
The Embellishments
Adorning your denim jacket with rips, motifs or badges can be a core way of presenting your own personal style or taste. But, for the most part, they can seriously reduce the amount of wear you get from your jacket.
If you buy a denim jacket in its truest form, it allows you to integrate it within a vast mix of looks. Should you be looking to add a second denim jacket to your wardrobe then you can look at ways to push the boundaries a little. For beginners, keep it simple and watch how this menswear piece can seamlessly work its way into multiple different ensembles.
Look 1 - Double Denim
The Canadian tuxedo is not a look any man wants to be associated with. But double denim, when done right can look fantastic, just hurridly avoid having the jeans and jacket in similar light washes of blue.
If you want to approach cautiously, then contrasting the top and bottom half is the way to go. Dark grey or black jeans will pair nicely with a blue denim jacket.
Go a step further and break up the top and bottom half by introducing a simple neutral palette like a white t-shirt. The t-shirt offers a solid foundation for absorbing colours like blue or black and will help stop denim clashes.
Finish the outfit with Chelsea boots and a nice pair of sunglasses for a spring-ready outfit.
Look 2 - Paint Covered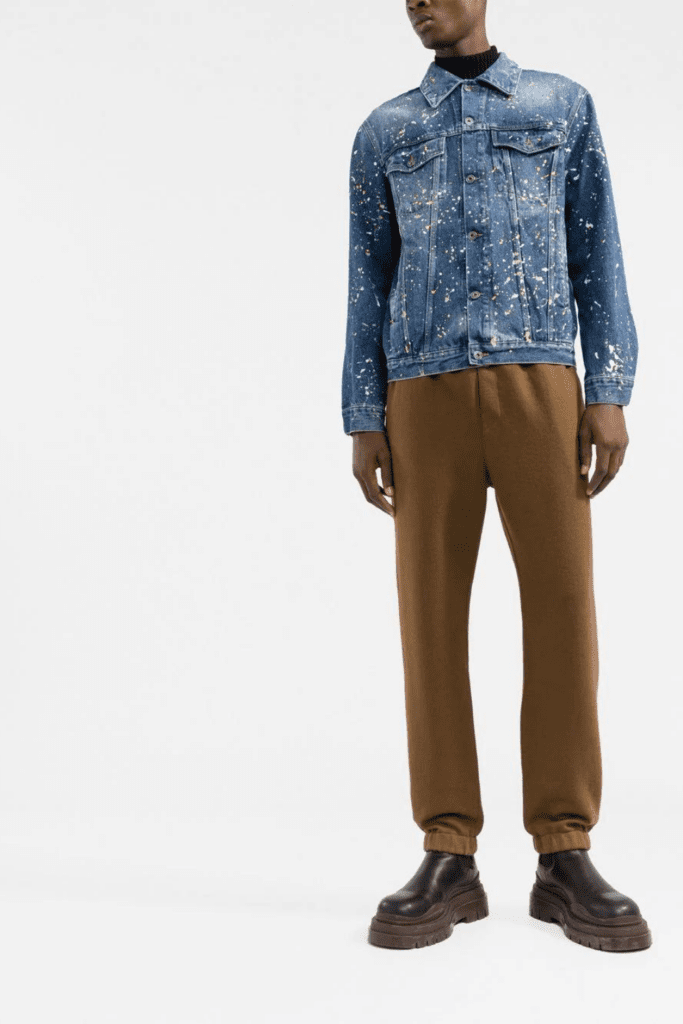 Take your inspiration from the likes of Jackson Pollock who wore his paint-splattered denim as an unofficial uniform for this one.
Although we do advise not attacking your denim with a paintbrush full of emulsion. Grabbing a jacket with some carefully considered paint splashes can do wonders at giving a tried and tested look a new dimension.
Make sure the paint does not take the form of some artsy mural on your back and try to keep the overall effect subtle if you can.
Look 3 - Workwear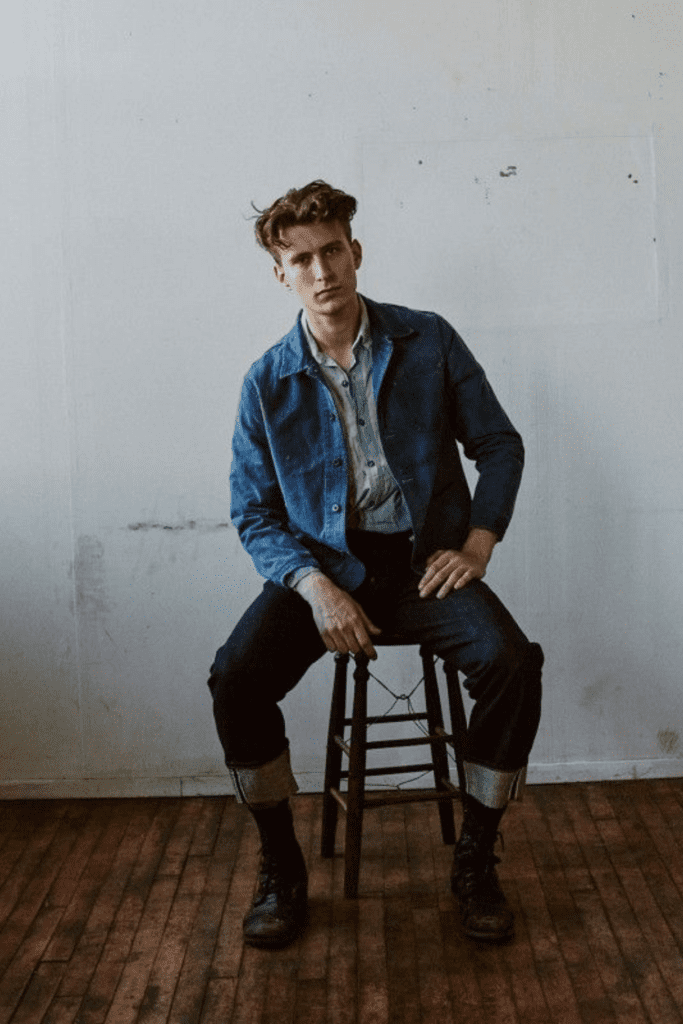 The original pair of jeans were essentially workwear uniforms and much of their early adaption was from manual workers such as miners, railroad workers and lumberjacks.
Take your cue from these skilled workers and their working environments to harness the spirit of denim. At its core, it is a rugged, low maintenance fabric that offers a masculine silhouette.
Mix up the denim jacket by adding some sheepskin lining or collar and underneath wear a flannel shirt or henley tee. Combined, it will deliver a hardy, natural aesthetic ideal for chopping trees or more likely heading to the pub.
Look 4 - Preppy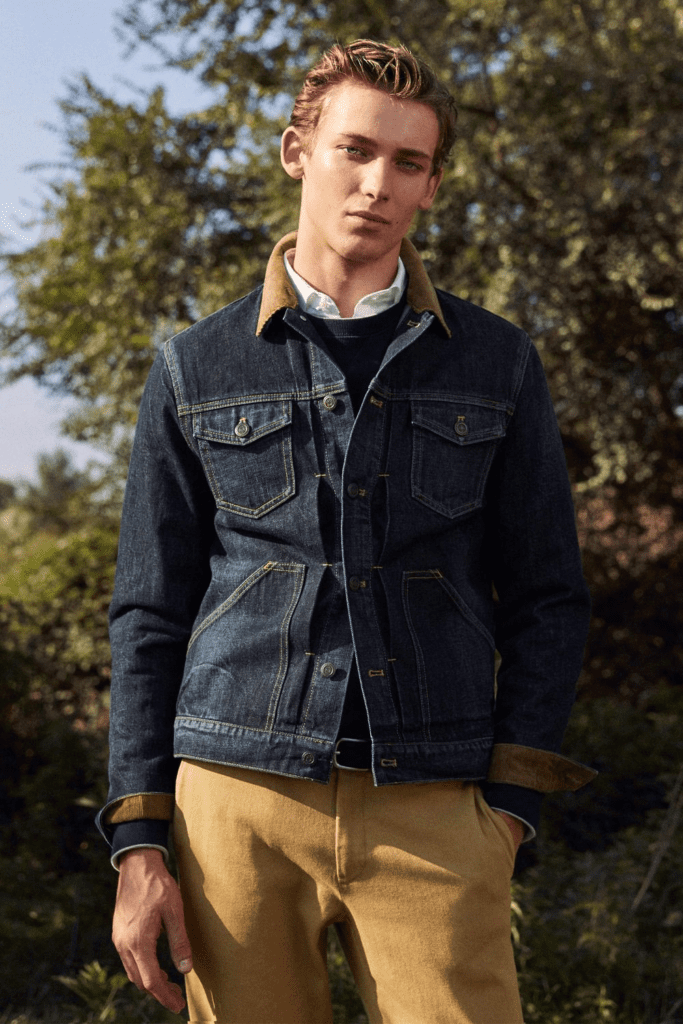 To nail this, men need to tone down elements that would make the outfit too formal and contradict each other. The button down Oxford shirt for example is a mainstay of the preppy style. It also offers a less formal alternative to a stiff collar shirt. With regards to ties, choose a knitted version that will complement the Oxford shirt.
Want to remove the shirt altogether, then pick out a rugby shirt. They have seen a resurgence of late and are now being stocked by a plethora of brands like Kent & Curwen and Marks & Spencers.
Look 5 - Nautical
Envisage sipping champagne on a yacht in Monaco with a maritime influenced outfit. Partner your denim jacket with a Breton stripe t-shirt and a pair of chinos in beige or white and make sure to round off the look with a versatile pair of boat shoes.
Take note, with such light-coloured trousers, you will need a mid or light wash blue jacket. It is an ensemble made for the summertime. But, as denim can be a lightweight and breathable material, it makes sense to empower it with a nautical look.
If you can't make it to the French coast, don't worry. This is a compatible look not only for the Riviera but for a weekend stroll in the UK.
Look 6 - Smart Casual
To elevate the denim jacket from its comfort zone of casual, add some carefully chosen pieces beneath. Adding layers allows the jacket to be less of the focal point and more of a complementary team player.
A button-down shirt like an Oxford can work as the base layer with a simple, tonal knitwear choice above. For trousers, chinos work wonders as they deliver all the much-needed style points without falling too far in the smart or casual camp.
If you want to pick smarter trousers then tone down the top half. Remove the shirt and stick with knitwear that has some pattern or texture as it won't look too formal.
Look 7 - Relaxed Weekend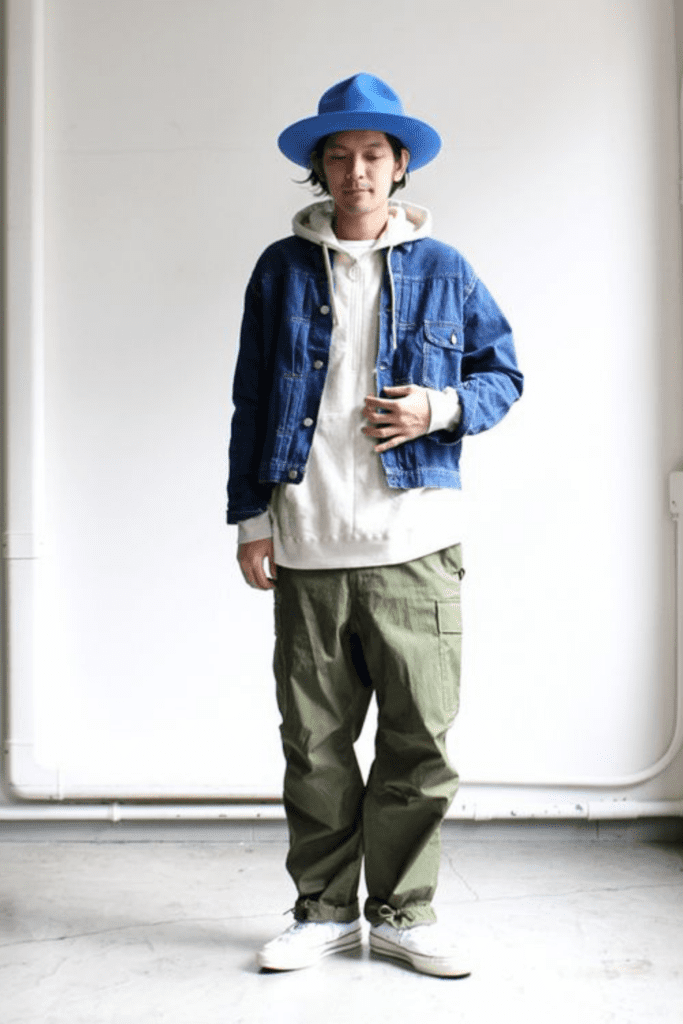 At the weekend much of the time men want go-to outfits that look good but have minimum effort. When you spend your weekdays dressing smartly, sometimes you want to break off the sartorial shackles for your days off.
For those relaxed days, you want pieces that are comfortable. The hoodie is probably the comfiest item you could own. Stick a denim jacket over the top of a fitted hoodie and instantly you get a low-key look.
Look 8 - Tailored
The versatile, functional roll neck can make a welcome appearance in nearly all formal outfits. So to, can a pair of tailored trousers. Bringing them together is what holds the key to nailing a more tailored look that involves a denim jacket.
A smart shirt in its purest form is too formal for a denim jacket. But, any outfit that has a smart shirt can also have it swapped for a roll neck. The silhouette remains fitted and tailored but gives men the option to try a different style of jacket. Hence where a denim jacket can come into play.
The issue with introducing tailored trousers and a denim jacket would have always been how far apart they are on the smart to casual scale. A roll neck though can bridge the gap and offer a solid base from which both can stay synchronised.
As you can see, on their own each element might not work together. But, combining tailored trousers and a roll neck enables men to inject a new jacket style, like denim.
Look 9 - Layered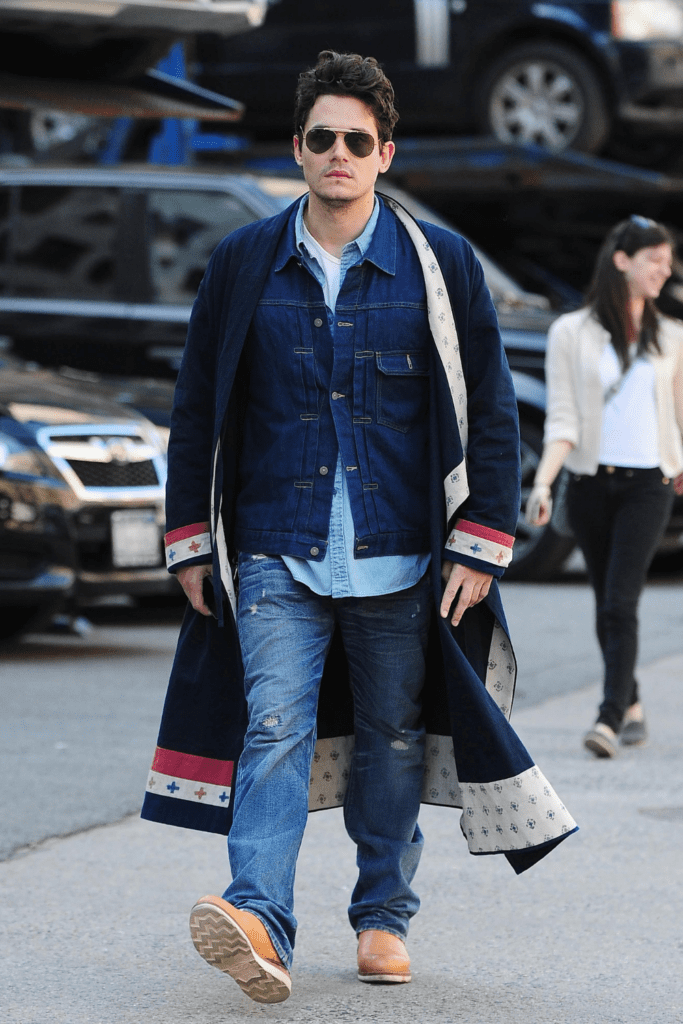 Getting this right is about following our initial pointers on fit. If your denim jacket is fitting correctly without being too snug, it will make a great mid-layer piece included in a layered outfit.
As with all our clothes, we don't want to regret not being able to wear the items we buy enough. Solve this by finding ways to introduce seasonal garments into different looks.
Adding a denim jacket under a topcoat or overcoat is a great way to add vigour to your winter outfits. A winning combination is a mid-wash denim jacket in blue worn beneath a camel coat. The juxtaposition of style harmonises while popping the collar of the underlying jacket will add some additional sprezzatura points.
Look 10 - Keep It Simple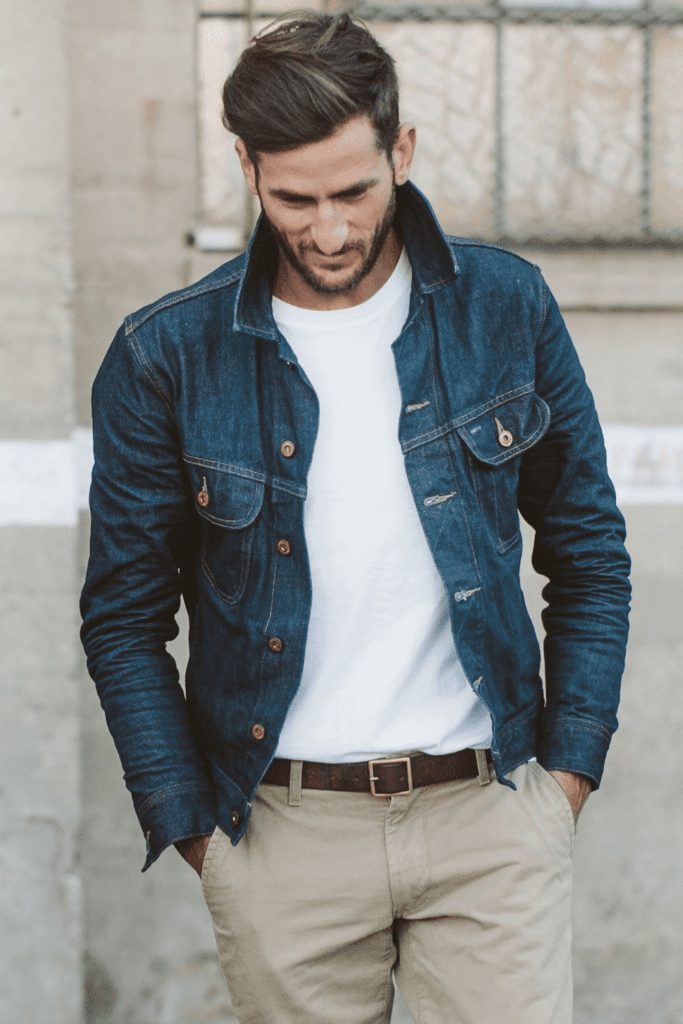 From James Dean to Robert Redford, the style icons of the past have often taught us that sometimes just keeping it simple is all we need.
Pairing things back and going back to basics can often lead to a greater result. The classic combination of a white t-shirt and denim jacket has been seen on screen for generations. It evokes memories of rugged masculinity, worn by handsome leading actors portraying cowboys and the like.
Like the white tee, the denim jacket in its rawest form is unfussy and low maintenance. Maybe that is why they both look so good together.
Nail the fit and you'll have a timeless combination that is hard to beat.
Where To Shop For Denim Jackets
There are a lot of brands selling denim jackets at both the designer and high street price points. For denim aficionados, you might seek out those companies abiding by old production techniques that only use the finest raw materials. Just be prepared to be confronted by limited supply and a price tag justified for this expert craftsmanship. Other men might be more focused on the overall look, such as the colour or even wash.
If you fall into the latter category then check out a few of our favourite denim jacket choices below.
Blue Denim Jackets
Black Denim Jackets