For any products purchased through the links on this site we may earn a small commission
How to Wear Chelsea Boots | 10 Great Looks For Men
The Chelsea boot is a fashionable and versatile piece of footwear for men that lends itself well to a range of outfits. Not all men are blessed with a room full of clothes and accessories, so the necessity to be able to wear items more than once is crucial. To the extreme, this is a core practice for anyone looking to build a minimalist wardrobe. But, in the simplest of terms, it just makes sense for us to spend our hard-earned cash on footwear that works well with different outfits. Which is the reason we love to wear Chelsea boots.
If you are looking for boots that aren't just billed for casual weekends and can be dressed up or down at a whim, then Chelsea boots have your back. To give yourself the greatest chance of wear, we recommend a black or dark brown Chelsea boot in leather. But, we also hold a suede version of the same colours in similar regard when it comes to sartorial versatility.
What Are Chelsea Boots?
If you are new to the game, Chelsea boots are a stylish and unique piece of footwear constructed with an elastic or vulcanised rubber attachment at the sides. They come constructed without laces and can easily slide on and off your foot. They typically extend to the ankle and have a small tab at the back to make pulling them on easier.
The name "Chelsea" is rumoured to come from the Chelsea region of London where the style was trendy among men and women in the 50's and 60's
How To Wear Chelsea Boots
To make sure your Chelsea boots are working well within your outfit there are few sartorial guidelines we recommend you follow.
Leather Chelsea boots are preferred as they work with both suits and jeans
Dark brown or black is a versatile and timeless colour choice
Never tuck your trousers into your boots
Your trouser length should fall over the top of your boots
Keep the boot leather polished if wearing with a suit
Use suede protector before you wear suede boots for the first time
Style Tips For Chelsea Boots
Despite the Chelsea boot being a mainstay of men's fashion for decades, it is still not fully embraced. We can only put this down to the lack of understanding when styling this type of footwear. With just a few pointers in the right direction, I'm sure more men will be confident enough to wear Chelsea boots more often.
Leather Chelsea Boots
Leather Chelsea boots are the most popular type of Chelsea boots available. They have a sophisticated, slim silhouette and work well with smart and casual attire.
Think of your leather Chelsea boots as you would any other dress shoe. Style your leather boots with formal trousers either as a part of a suit or as a smart casual outfit. But, pay attention to the fit. The Chelsea boot looks its best when the trouser is not too loose. You want a slim silhouette from the trouser through the boot, with the trouser length sitting around two inches over the ankle of the boot.
Suede Chelsea Boots
The other option is a suede Chelsea boot. They are much the same as leather Chelsea boots regarding fit but appear slightly more casual/smart casual than their leather counterparts.
It is incredibly important whenever you buy suede footwear that you protect it. Due to the nature of the material, it is very easy to stain. Therefore a spray protector should be applied before you wear them for the first time.
We would recommend styling a brown pair with an untucked slim-fit shirt and charcoal jeans. For a black suede Chelsea boot, partner with black jeans.
10 Ways To Wear Chelsea Boots
Navy Suit
Some men might be a stickler for the outdated style rule that blue and black shouldn't be worn together. But we believe that if you get the tones right then they can be an ideal style match. As you can see, a darker shade like navy blue works well with black Chelsea boots.
Grey Suit
Although Daniel Craig might be a wearing a modern take on a traditional double-breasted suit jacket that most men won't be wearing, the theme is clear. The colour palette of grey and black is a tried and tested combination. Feel confident enough to switch your black oxfords or brogues for a pair of Chelsea boots.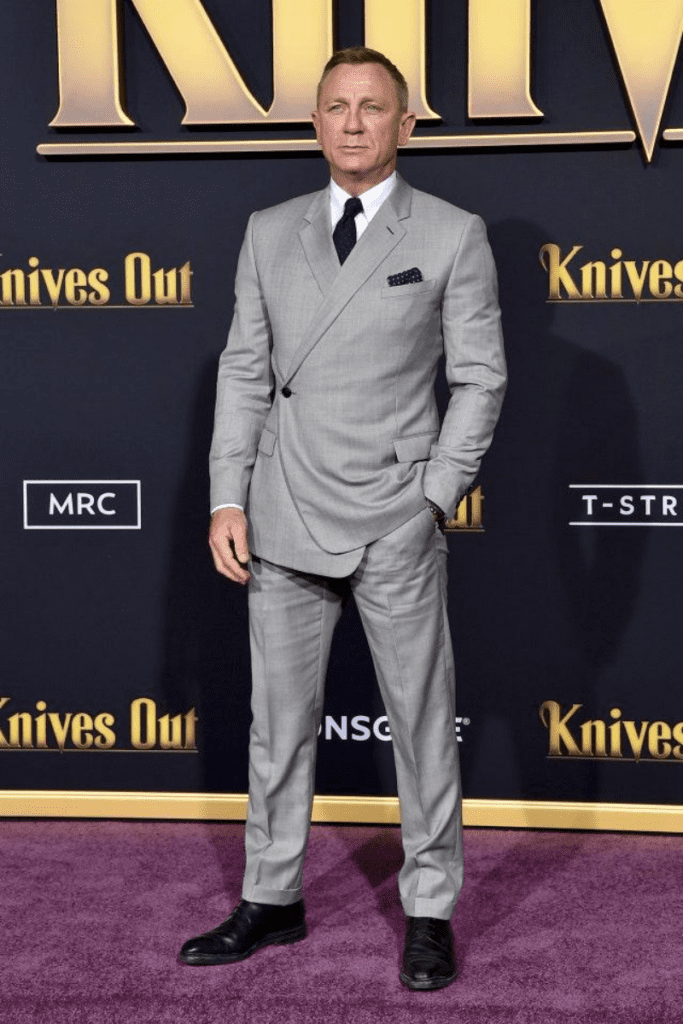 Business Casual
The smart silhouette of the Chelsea boot can transcend through both smart and casual outfits. The picture below shows how you can remove the tie and even add chinos if you like and still get that smart business casual look. Perfect for a date night.
Smart Casual
Take the idea of the smart casual look further by working with different combinations of tops or bottoms make it lean towards either smart or casual. Below the blazer and shirt from above have been removed. But, the overall aesthetic of the image still has the clean lines you see with smarter looks. This comes from the muted darker colour tones used and the fit of the trousers combined with Chelsea boots.
All Black
Taking our colours all the way back to black, we can see how this dark colour is one of the few that can be worn head to toe and still look great. This makes it a core foundation colour in a man's wardrobe and is why we recommend black leather Chelsea boots as a top footwear pick.
Double Denim
In order to make this outfit as effective as it can be, play around with the colour. Not every denim jacket will work well with every jean. So, this might take some trial and error to get right. Look for black or dark grey on top and navy blue, even selvedge for the bottom half. We also like how adding a cuff to the jeans (provided the length is right) can add a nice touch of contrast above the Chelsea boots.
Roll Neck Jumper
Considering its versatile place within the wardrobe of men, its no surprise that the roll neck works so well with Chelsea boots. Include it in a casual look with jeans and a jacket, or style it with formal trousers for a smarter outfit. Playing with patterns can function nicely within a dapper ensemble. Choose a single colour for the roll neck and introduce patterns like houndstooth or windowpane to the trousers.
Denim Jeans
No matter whether they are black, grey, blue or white, the humble jean dovetails nicely with a pair of Chelsea boots. Men just need to follow the rule that the denim fit is slim to create a seamless silhouette with the boot. Secondly, remember that lighter washes of jeans combine better with browns. For black, or dark grey denim wear a black or dark brown pair of Chelsea boots dependent on the overall look you are going for.
Leather Jacket
The Chelsea boot was embraced by the rock 'n' roll scene of the '60s and '70s and outfits inspired by that time can still work in the present day. Take the leather jacket look from below and you can imagine it being worn by Sid Vicious or The Ramones. Again, it shows how all black is a safe haven for men, just as long as the fit is right.
Cuban Collar Shirt
If you have perfected the denim fit / Chelsea boot combo, then you have the underpinning of a great look. It also means you can play around with what you wear on top. For men looking for a less smart and structured silhouette then a Cuban collar shirt works brilliantly. It is bang on trend and the outfit delivers wholly on nonchalant rock 'n' roll attitude.
Final Note
It doesn't matter what type of clothes you plan to wear, if you feel comfortable and confident in them then there is always a Chelsea boot to match. Chelsea boots work well throughout the different seasons, have a timeless aesthetic and will remain in trend for a long time to come. So, we recommend investing in a pair, paying close attention to and caring for, the quality of the leather and suede material. 
Please follow and like us: