Summer is here, and it's time for men to shed their layers and embrace the refreshing vibes of the season. Finding the perfect summer shirt is essential when dressing for the sweltering heat. It should keep you cool and comfortable and make a style statement. To help you navigate the plethora of options, we have curated a list of men's hottest summer shirt styles. From classic staples to modern twists, these shirts will keep you looking suave and sophisticated while beating the heat.
The Breathable Linen Shirt
When it comes to summer shirts, linen is the epitome of breathability. This lightweight fabric allows air circulation and wicks away moisture, ensuring you stay cool even on the hottest days. Linen shirts come in various colours and styles, ranging from button-down to mandarin collars, offering versatility for any occasion.
In this warmer period, we tend to gravitate towards lighter shades of blue and green, even pastels. But don't turn a blind eye towards deeper tones like brown or navy. You might find they compliment other lighter areas of your wardrobe whilst partnering nicely with suiting for a wedding outfit.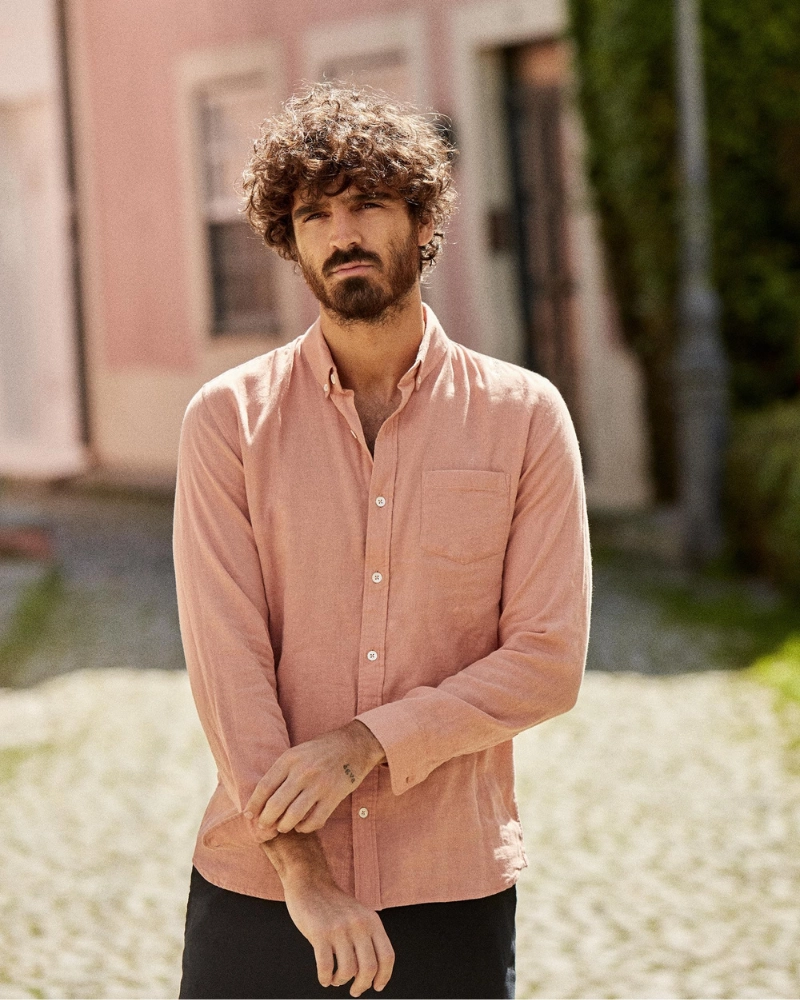 The Classic Oxford Shirt
A timeless staple all year long, the Oxford shirt is a must-have in every man's wardrobe. Crafted from durable and breathable cotton, it effortlessly combines style and comfort. During summer, we know we aren't always basking in the heat, which is where the Oxford shirt's versatility comes into play. Sitting within the realm of smart casual, it brings structure without being too suffocating. And enables guys to dress it up it or down.
As you can go a few different ways with this shirt, it makes it a great pick for both casual outings and semi-formal events. When choosing what to wear with it, stick to lighter shades such as white, or neutral beiges for a fresh summer vibe.
It seems like every brand has an Oxford shirt offering. Try to hone in on the menswear brands that offer a better quality fabric and fit. Considering how much wear you could get out of this garment, it would be worth the investment.
The Hawaiian Shirt
Embrace a tropical flair with the iconic Hawaiian shirt. This relaxed and colourful garment is synonymous with summer and instantly adds a touch of vacation vibes to your wardrobe. With its vibrant floral or geometric prints, the Hawaiian shirt is perfect for a raft of summer dates.
When styling this shirt, try to balance the boldness by pairing it with neutral shorts or trousers. Shorts for that holiday-inspired look or tailored trousers for a contemporary take on tailoring. Either way, men can add some rolled-up sleeves and a few buttons undone for a laid-back, effortless style.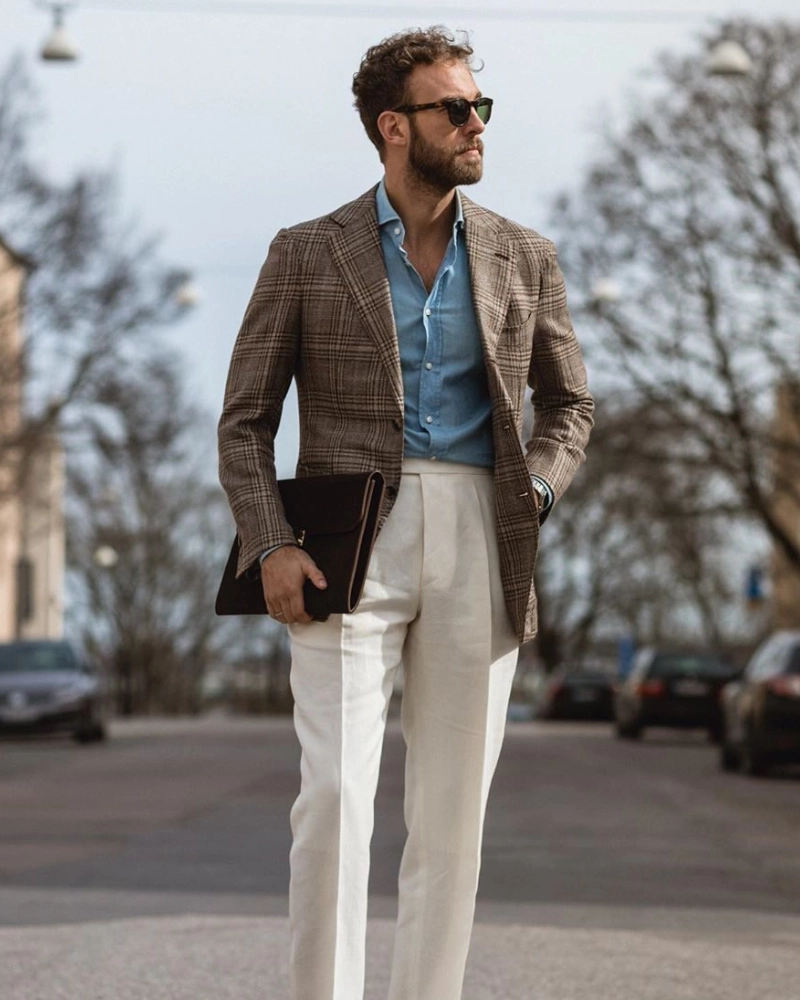 The Chambray Shirt
The Chambray shirt is an underrated top in a man's arsenal. It offers a more casual appearance than a formal shirt but still delivers a refined look. Adept enough to be worn within many of the same outfits that a formal shirt would be present.
Chambray is a lightweight fabric, similar to denim but softer, and offers a versatile option that transitions seamlessly from day to night. The subtle texture and understated colour make it a piece that can be dressed up with chinos and a blazer or worn with a more casual shorts and trainers look.
A slightly more relaxed aesthetic while still giving us that much-needed breathability makes this shirt a key summer piece. And it will add a touch of rugged sophistication to your summer attire.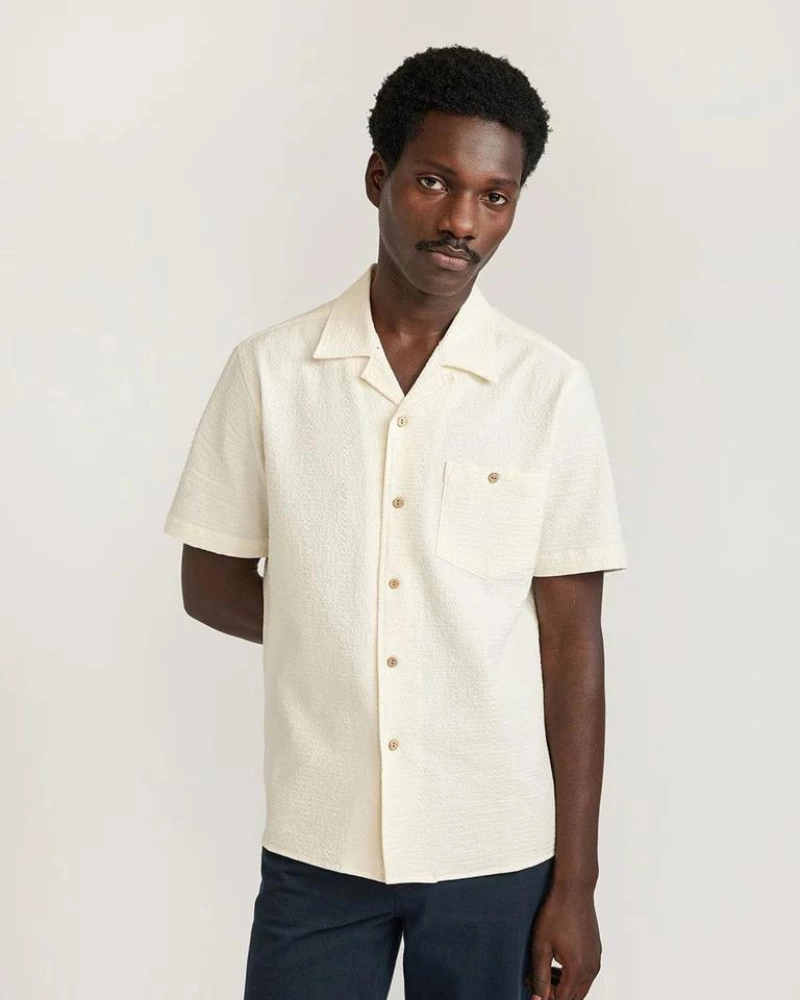 The Short-Sleeve Cuban Collar Shirt
The resurgence of retro fashion has brought the short-sleeve Cuban collar shirt back into the limelight. This shirt (similar to a Hawaiian) features an open, notch-like collar that exudes a vintage vibe with a contemporary twist.
Typically, the Cuban collar shirt has a boxier, more relaxed fit. Made from a lightweight fabric that makes it ideal for warm summer days. A plain option is a dependable staple. But, why not embrace bold prints, stripes, or floral patterns to add a playful touch to your summer outfit?
Dependent on your choice, the Cuban collar shirt will pair nicely with tailored shorts or slim-fit trousers for a modern take on classic summer style.
Conclusion
As the temperature rises, your wardrobe should adapt accordingly. Men's best summer shirt styles prioritise breathability, comfort, and style. From the Oxford shirt's timeless elegance to the Hawaiian shirt's carefree tropical vibes, there's a perfect option for every occasion. Embrace the lightness of linen, the versatility of chambray, or the retro charm of the Cuban collar shirt. Whichever style you choose, remember to stay cool, confident, and effortlessly stylish throughout the summer season.