When the temperature is rising, and you are trying to resist the temptation of wearing a vest in public, or worse, no top at all. Then you can do worse than stocking up on linen. Due to its low thread count, its breathability makes it one of our favourite fabrics for warmer months.
Put images of cheesy beach weddings and ridiculously crinkled monstrosities to the back of your mind. Although we can't avoid the fact that linen creases are worn right, you can style these inevitable crinkles into a relaxed, worn-in feel. Look wider, and you will find some fantastic linen blend combinations that offer more breathability than pure cotton with fewer crinkles. The overall end goal is fewer grass skirts and more of a refined smart-casual wardrobe for the summer.
With more choice than ever for men looking to buy linen this summer, to make things easier, we are going to bring you our best linen outfit inspirations.
1. Linen shirt with shorts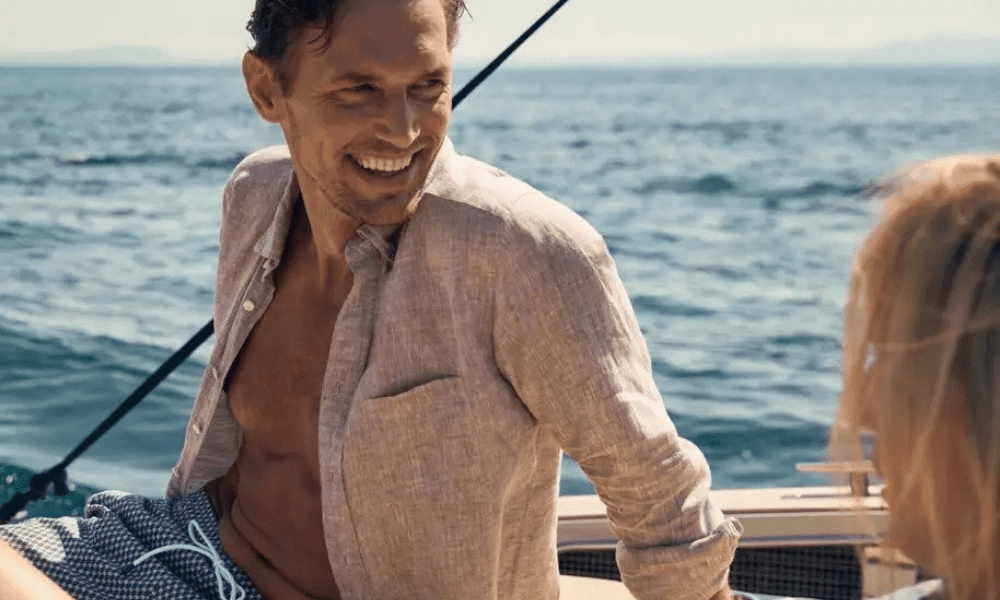 A winning menswear combo with the ability to withstand the heat like no other, this has beach-front drinks written all over it. Just because you are trying to keep as cool as possible doesn't mean you should fall into the trap of losing your fit too much. Neither your linen shirt nor shorts should be baggy. The key is breathability and a relaxed fit, not oversized. That means the shorts sit above the knee, and the shirt is one step looser than the dress shirt you might wear for work.
The style of linen shirt is open to your taste and occasion. If you aren't sure, we recommend a button-down collar, which sits nicely between smart and casual.
2. Linen trousers with a polo shirt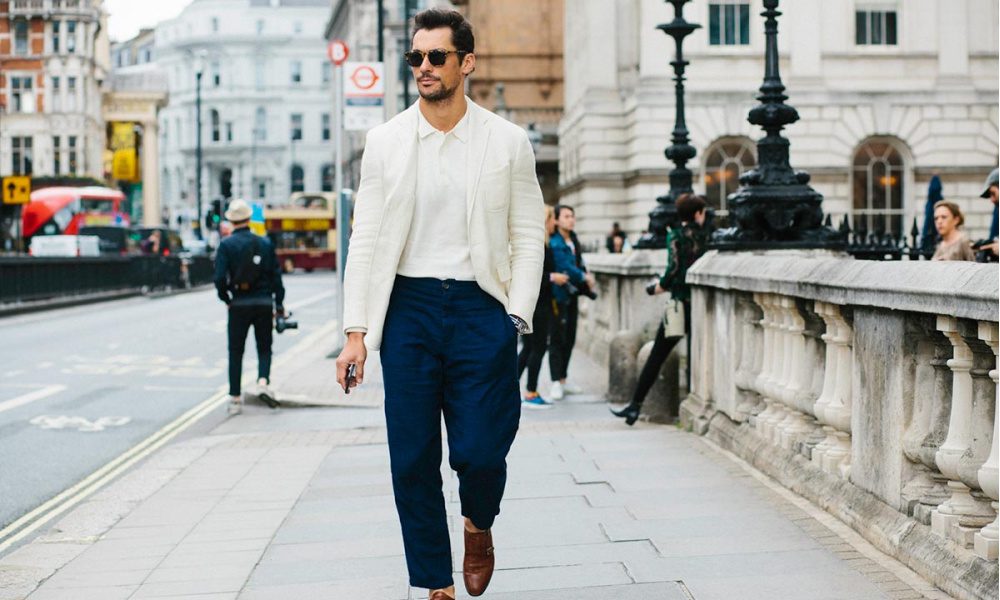 Linen trousers can be a sartorial minefield for men. This item is probably the most susceptible to creasing, as we sit for long periods whether that be when travelling or working. If you are more likely to be walking along the beach than sitting for any given time, then feel free to look for a 100% linen option.
For men that are more urban-based, then the key is to look for a linen blend that will maintain your look while offering greater breathability than a typical chino or smart trouser.
The polo shirt is the smart casual favourite of many men for summer. This is why it works so well in this look. You are still getting the element of smartness from the bottoms you would with your normal trouser, just with an added cooling effect. That means you can grab your favourite polo and partner it with a nice pair of linen trousers, maintaining your overall desired look.
3. Linen trousers with a shirt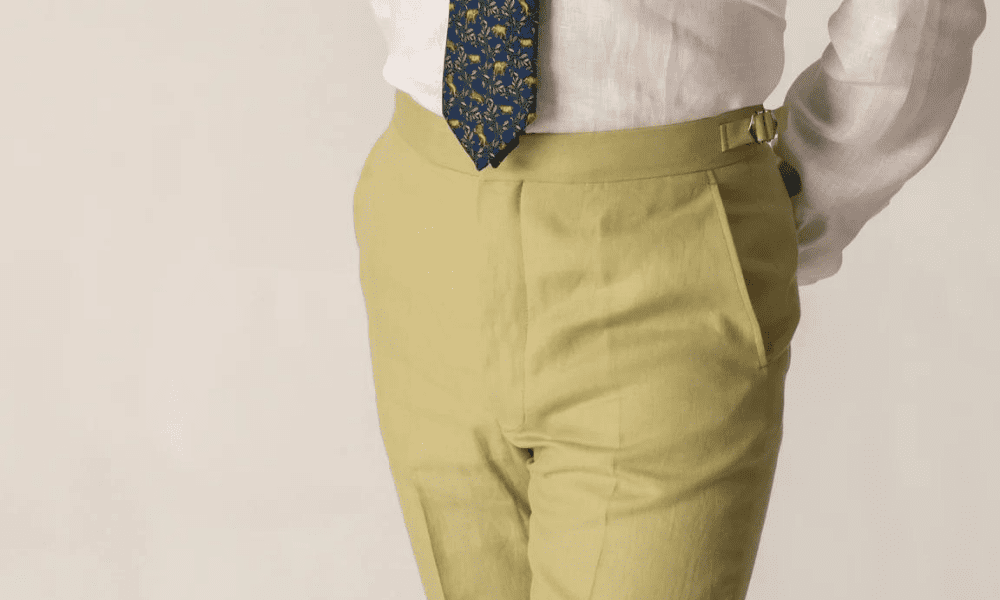 This look will be a great option for the office in the summer. We would insist that you choose a linen blend mix though for this. The mix of linen and say cotton, can deliver the refined silhouette of a smarter look while minimising creasing.
We suggest partnering your linen trousers with your normal dress shirts or even a linen blend shirt as well. The menswear market is awash will smart linen mixes that are ideal as office shirts when things get hot.
4. Linen shirt with chinos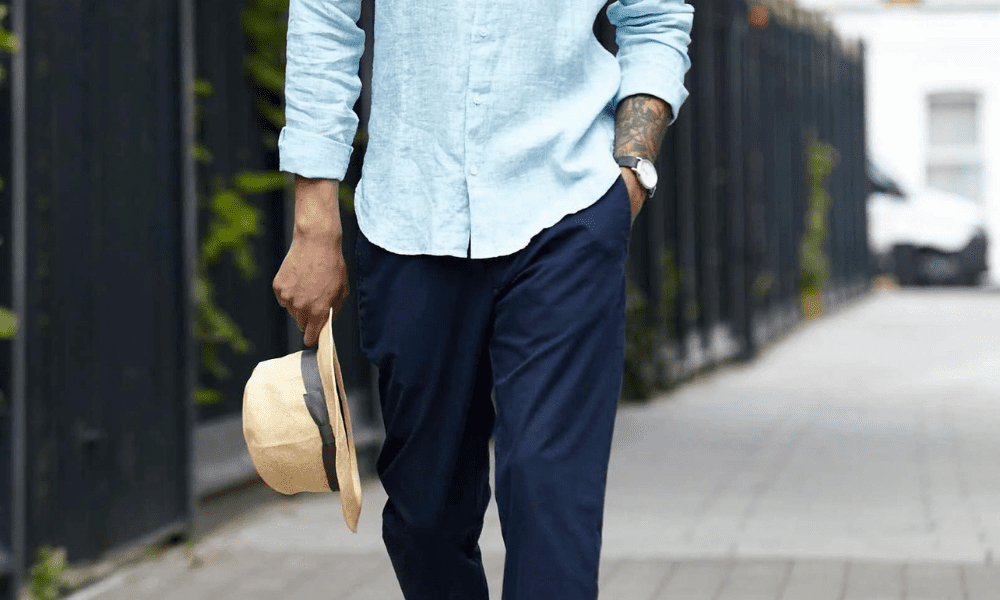 The classic combination of shirt and chinos still works beautifully when you bring in different materials like linen or even chambray.
A linen shirt will offer a bit more movement and is known to reduce perspiration. So, could be the ideal outfit idea for a weekend date. Summer allows us a wider range of colours, although the classic white shirt and tan chinos are hard to beat.
Again, whether you opt for 100% linen or a linen blend shirt, the fit is always a man's best friend. Not to sound repetitive, but the fabric will do the cooling. So, keep it relaxed with a nice silhouette that suits your body shape.
5. Linen shirt with smart trousers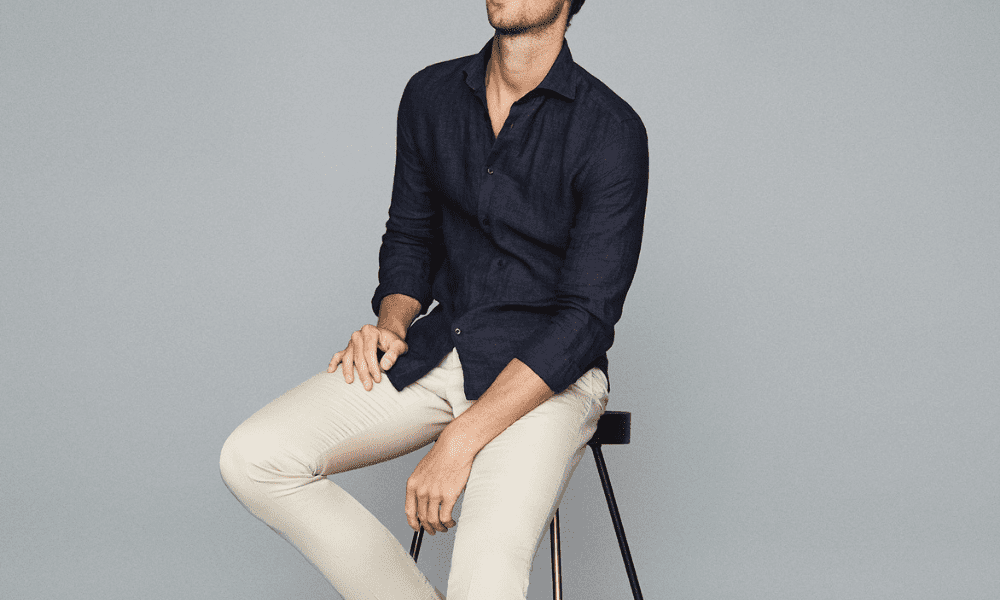 How do the style peacocks of Pitti remain so cool in the Italian heat? They wear linen shirts. Either worn under a suit or just partnered with smart trousers, the linen shirt keeps that smart sartorial look while keeping you cool.
Many men overlook smart linen shirts because they fear that they will be faced with a ton of creases. In situations where you are keeping your blazer on, then a linen shirt could be imperative in lowering your body heat. Think summer weddings or corporate working environments.
If you still need convincing, explore the middle ground of a linen blend shirt as your entry into formal linen clothing.
6. Linen polo shirt with smart trousers
Yes, it isn't just shirts and trousers that linen has got its wonderful cooling hands on. A linen blend polo shirt could be a great addition to your summer wardrobe.
We know that polo shirts offer a great alternative to the dress shirt for less formal occasions when partnered with a suit. So, why not help keep the heat at bay and look at a linen blend polo. Removing the blazer in a more relaxed surrounding would prevent your body heat from rising even more.
7. Linen polo shirt with shorts
For occasions when you don't need to be wearing formal trousers, then a linen polo shirt and shorts are a great choice. Add a pair of driving shoes or suede loafers and you will have a Riviera-ready look perfect for a city break.
Whereas you might keep the buttons done up if you were in colder months, unbutton a couple of the buttons on a polo shirt to add a touch of debonair. This will play nicely into your Riviera vibes. The only thing missing now is your yacht in St Tropez.
8. Linen overshirt and t-shirt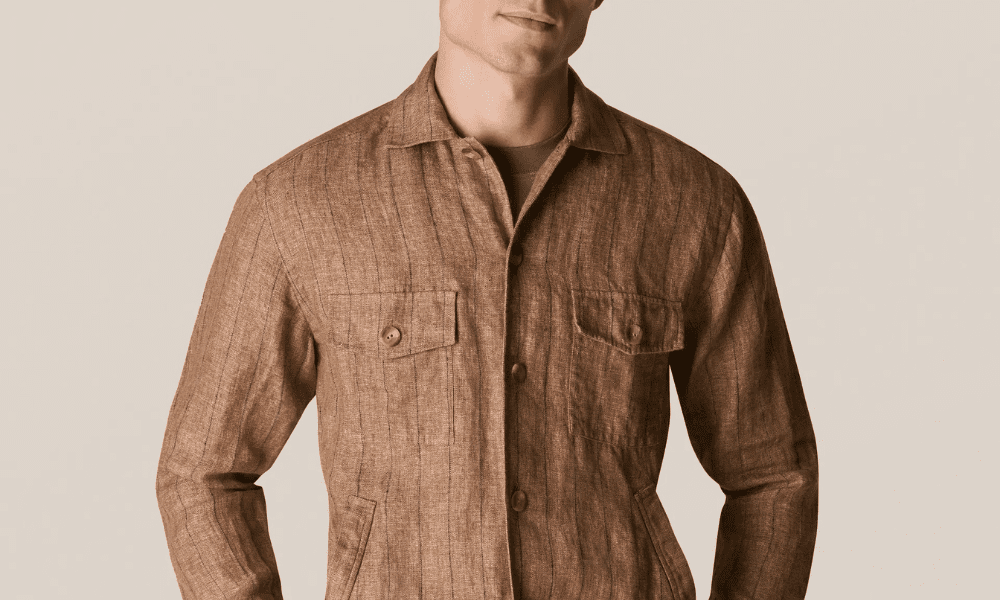 Even the breakout piece of menswear over the past few years has not been excluded from the linen magic. Is it a shacket? Is it an overshirt? Who cares when it looks so good?
A simple tee underneath an overshirt and your choice of shorts or trousers will do just nicely. A masterful take on summer layering that will still be wearable when the mercury drops a bit.
9. Linen blazer and t-shirt
There will always be occasions which call for a blazer. Rather than sweating it out at the baby shower or garden drinks in your wool blazer, grab a linen version.
Choosing linen allows you to maintain your sartorial elegance without causing too much of a sweat. Of course, you can always partner with a shirt, but a t-shirt will add a more casual but also cooler alternative.
10. The linen suit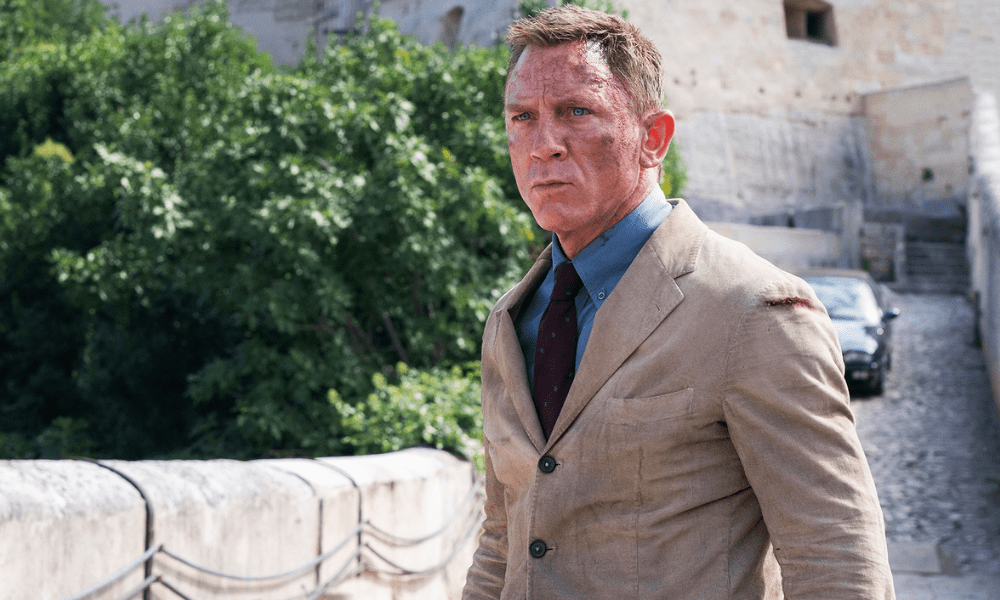 Bill Nighly once said he would never trust a man in a linen suit. And although it does conjure up images of overweight, red-cheeked posh men guzzling red wine in Mayfair, there is hope.
You need to embrace the creases to hit the right style note for a linen suit. Follow the same style rules for the fit as any other suit in your wardrobe. Then add a formal shirt (with a couple of buttons undone), and you've got the look just right. You might get a few creases, but Italian brands like Boglioli or Canali create fantastic linen suits that minimise creasing. So, if your budget can stretch to it, help is at hand.