We are fast approaching summer wedding season which means men of a certain age suddenly have a busy calendar. Attending other people's nuptials is part of growing up. Though in the heat it can be difficult to know how to dress.
If you have been lucky enough to have been provided with a dress code on your invitation, then this has taken some of the guesswork away. But, for those that haven't, it is time to seek some advice from the experts.
The balance is in nailing the right look without passing out before the speeches. Summer may be the most popular time to get married especially after the postponements of the past few years. But, it can be a nightmare for the heat, only made worse with our current heatwave.
Summer Wedding Basics
Dress Code
A dress code will inherently impact your summer wedding outfit. It is there to be adhered to out of respect for the bride and groom. So, where possible, men should stick as close to it as possible.
Thankfully, there is nearly always a dress code on the invite. Thus giving you a barometer of expectation of where on the scale of smart your ensemble should fall.
Location
The venue for the wedding can give a strong foothold for outfit choices. A beach wedding has a very different vibe to the Marriott Hotel in the city. Making a note of where the wedding will take place allows you to rule out unnecessary decisions.
For instance, the aforementioned beach wedding would immediately make wearing a tie superfluous. That could then impact the shirt style or jacket choice now the tie has been removed from the overall look.
Time
I'm not here to give you a crash course in the rotation of the sun. But, the time of day the wedding is taking place will impact how hot it will be.
Late afternoon to the early evening will see the mercury drop and offer more chances to wear a jacket without feeling like you are sitting next to a volcano.
Understanding Wedding Dress Codes
As we mentioned, the dress code is the most important part of the invitation to take heed of when selecting what to wear.
Smart casual does not imply a tux in the same way a black tie will not give consideration to a brightly coloured tie. Understanding the expectations of individual dress codes will ensure you don't turn up over or underdressed.
No one wants to upstage the happy couple and turn heads for all the wrong reasons. As such, here are some of the most popular wedding dress codes to consider.
Black Tie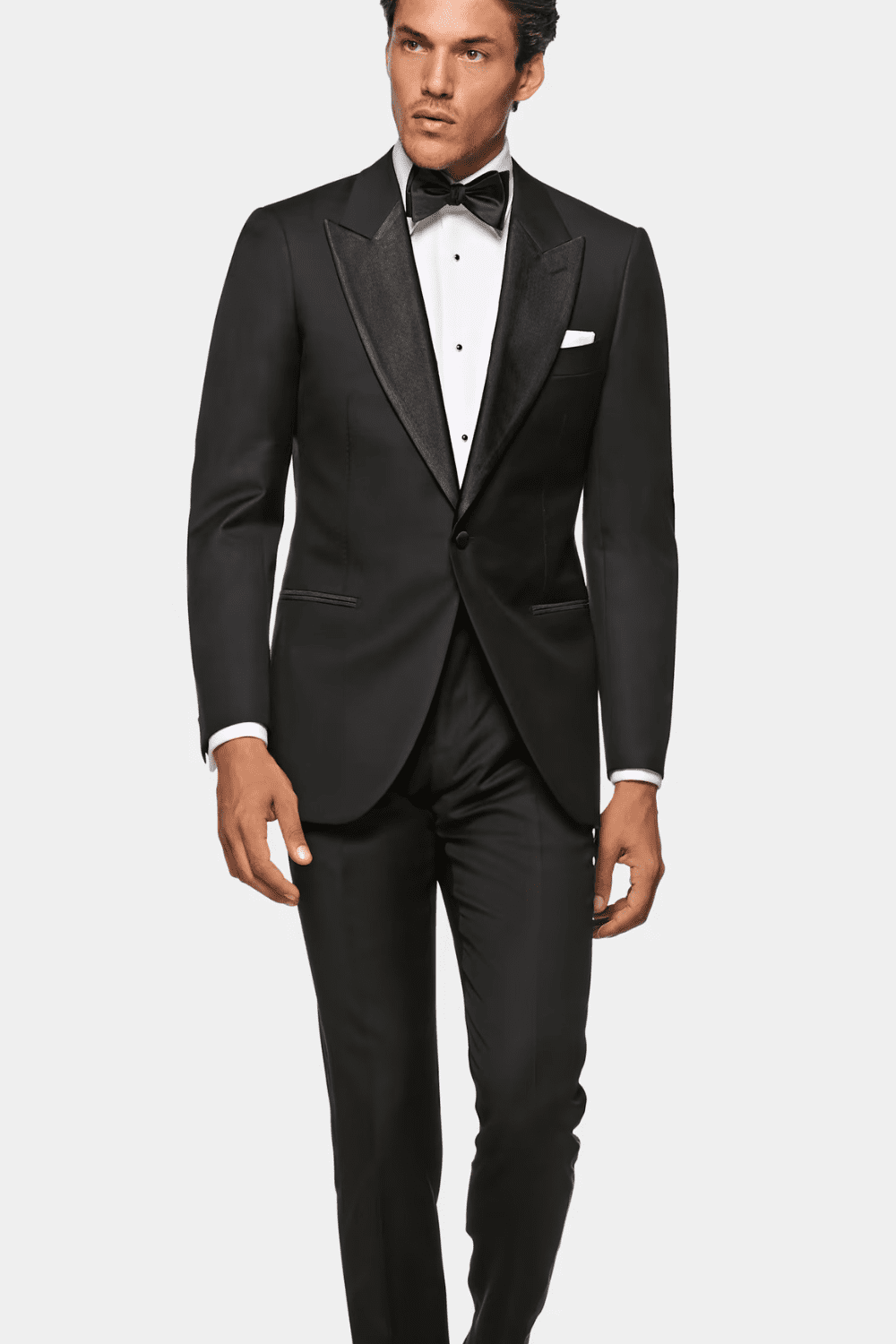 Up there as the most formal dress code for men, it comes with some stringent rules. This starts with a tuxedo (dinner suit) and it must be this alone. The contrast lapels will typically be silk and matching trousers will be adorned with braiding down the side.
To partner with your tux, opt for a white shirt with concealed buttons or studs. Making do with your work shirt will ruin the overall look. Tuxedo "dress shirts" complement nicer with the black bow tie, so don't overlook these small details.
On your feet, keep it simple. A pair of polished black Oxfords bring understated style and will round the outfit off nicely.
Cocktail Attire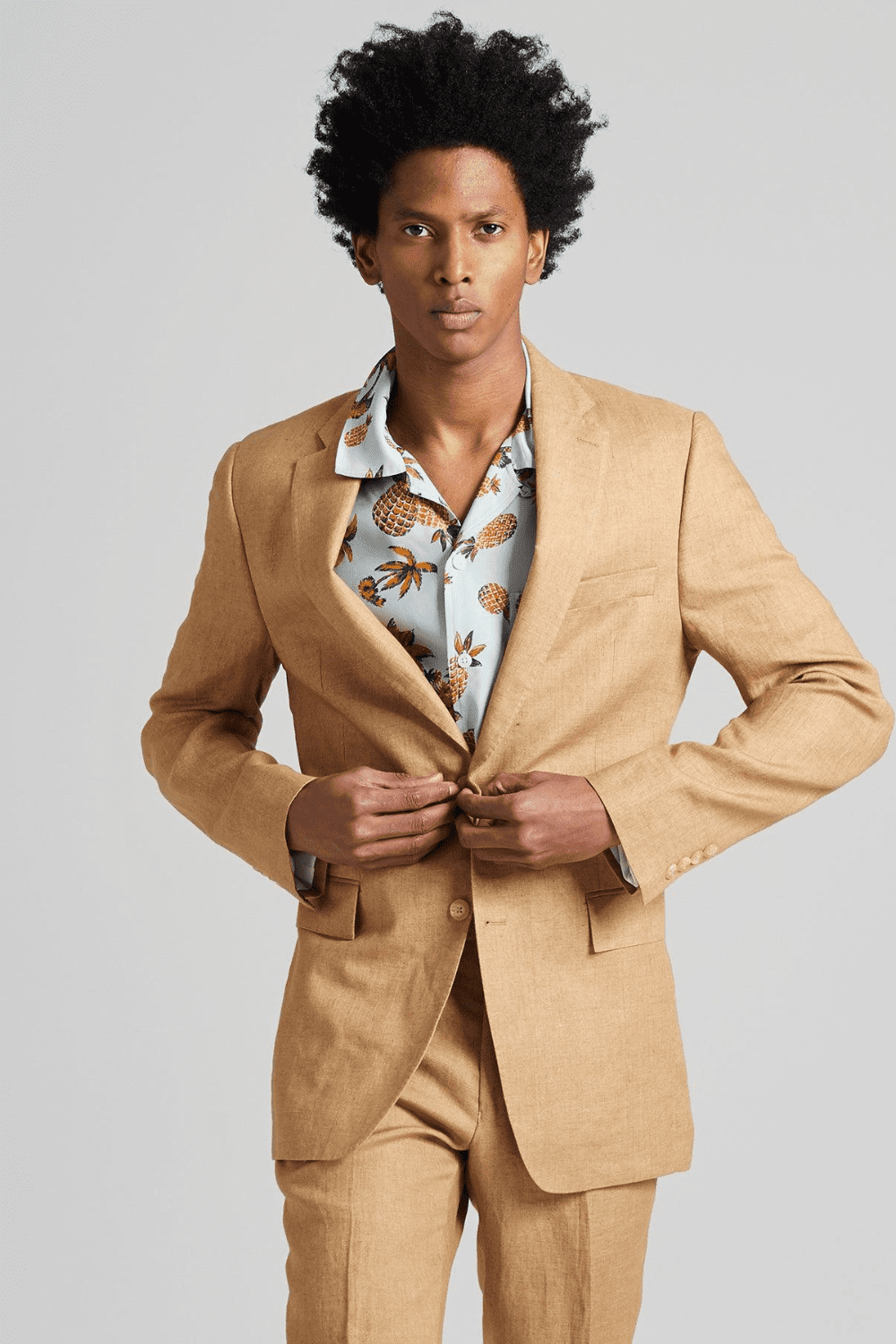 This dress code offers men a chance to mix things up a little. It allows you to push the boundaries of your tailoring by opting for bolder prints or colours.
Suits in windowpane or herringbone can bring personality when worn with a simple white shirt, t-shirt or even polo shirt.
You might even opt for separates and go for a bold jacket over contrasting trousers. Just remember to keep the bottom half neutral, say navy, cream or brown to allow the top half to sing whilst complimenting.
Smart Casual
Smart casual is the perfect chance to introduce differing menswear picks as this dress code has much more leniency.
All elements of a typical formal wedding look can be switched for a smart casual alternative as long they still maintain a well-presented finish.
That means the jacket can be removed, permanently. While the formal shirt can become an Oxford and suit trousers switched for chinos.
Lastly, footwear is less restrictive. We suggest introducing a loafer or suede monk to create a pared-back look without straying too far from casual.
Semi Formal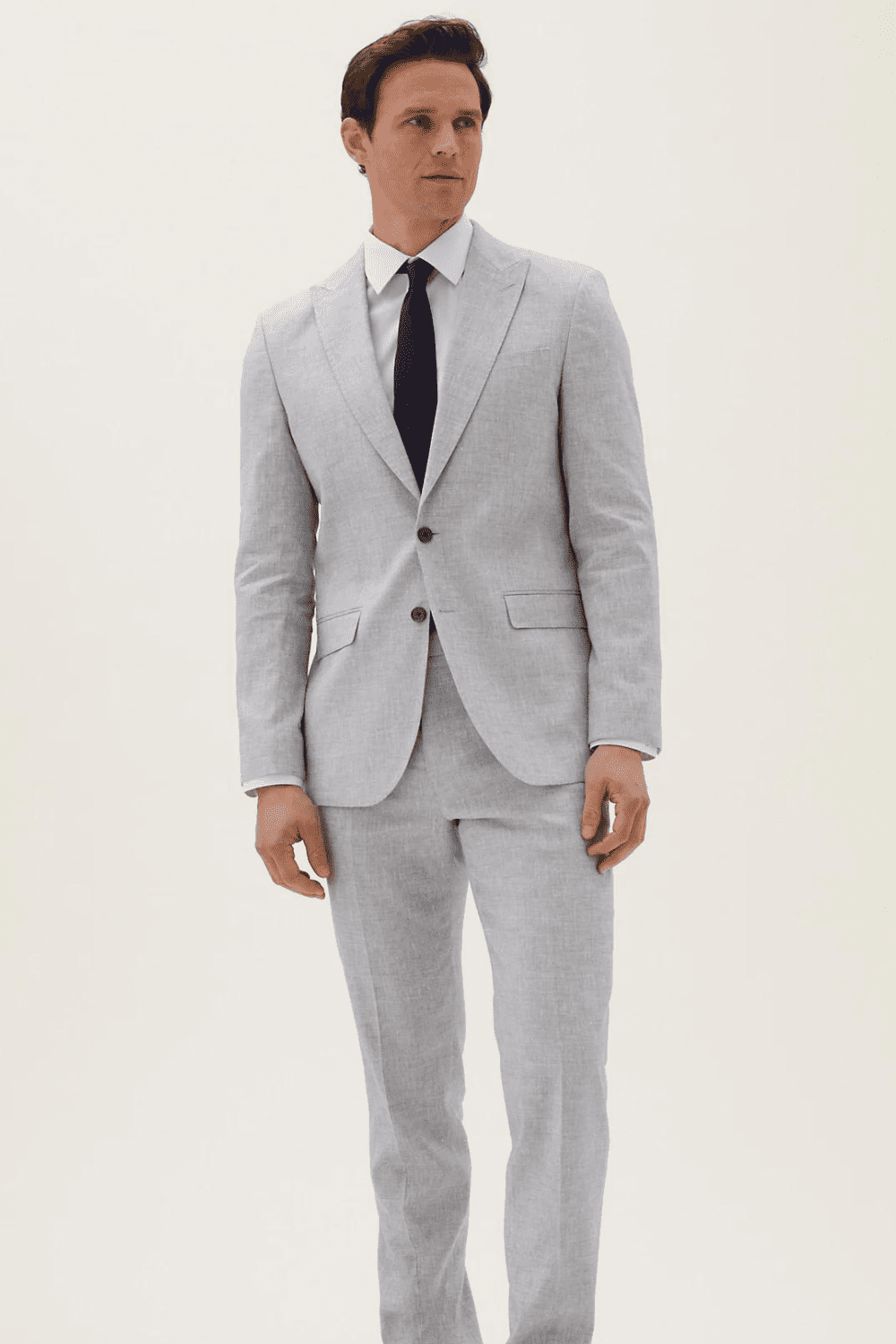 The semi-formal dress code is the one men will be most familiar with. It is the de facto wedding choice up and down the land. Think suit, shirt, complimentary tie and a nice pair of shoes.
Though, don't associate this with boring. It is only boring if men make it so. Play with fabrics, colour palettes and accessories to incorporate your own personality while also adding elements to combat the heat.
Best Summer Wedding Materials
Nothing will ruin a man's well-presented wedding look than unsightly sweat patches and a bright red face. We can't change the weather, but we can choose the right clothing materials to help combat the rising temperatures.
Picking the right fabrics will allow air to circulate through the body and keep you cool on hotter days. So, plan ahead and take note of these materials to keep you cooler for longer
Linen
The saviour of summer for style-conscious men. A slim-fitting linen suit will do wonders at ticking all the sartorial boxes whilst helping to beat the heat.
Granted, a 100% linen suit is going to succumb to creases, which is inevitable due to the nature of the fabric. Should you want to minimise this, you can always look at a linen/cotton mix that has greater structure without losing all of the fabrics cooling abilities.
Seersucker
Not as popular as linen, seersucker should be equally held in high regard for its cooling properties.
Presented in a striped or checked pattern, a seersucker suit is a great way to mix up your wedding tailoring without going too casual. Its puckered fabric traps air, keeping the wearer cool and it won't crease as linen does.
Best Summer Wedding Looks
Now you have a better understanding of the different dress codes and what materials to look out for. It is time to bring that knowledge together to detail some great picks when shopping for that summer wedding outfit.
The Classic Two-Piece
Mr Familiar, the go-to pick for weddings that covers nearly all dress codes. If you work in an office then you probably have a wardrobe full of these suits. Which is one of the reasons most men wear them to weddings, as it means not having to go out and shop for something new.
If you want to stick with what you have, then make note of the materials. Typically, our work suits consist of wool or a wool mix. Not the best partner for a sunny day.
We like using a summer wedding as the chance to break out lighter colours that might not work for the office. This means beiges, pastel blues and even pinks.
The Summer Separates
Should you not have the budget to buy a brand new suit that might only get a few wears a year, then why not opt for separates. You may be able to use trousers or jackets from one of the suits you own and just replace the top or the bottom, whichever works best.
Whether mixing up a suit you own or dipping your toe in fresh. Separates are a great way to bring your wedding suit to life. Granted, it might not be fitting for the more formal dress codes, but where there is room for a sartorial manoeuvre, tailored separates are a nice choice.
The golden rule is to keep the upper and lower pieces in a contrasting hue. In the summer we would advise lighter trousers in white, beige or grey with a darker jacket.
The Linen Suit
Available in a raft of colours, the linen suit will always be on hand to offer sartorial flair and breathability. The perfect combo for a wedding in stifling heat. Dress code-dependent, you could choose a lighter colour hue or play safe with a darker navy or brown.
Under the suit, you can't go wrong with a crisp white shirt as it will hide any sweat patches should the inevitable happen. But, we would say a light blue or even Chambray can offer a contemporary twist on the traditional.