Matching the right suit colour to the right shirt is not as easy as it should be. But, if men can nail the best combinations it will elevate their overall look, making the outfit instantly more presentable. No matter whether you are wearing your suit and shirt for work or to an event, the colours will typically be the first things people notice before honing in on the finer details. So, it is important to make that first impression a great one.
To ensure your outfit looks more cohesive we need to learn the basics of colour matching. This foundation lesson in styling is an important skill for outfit building. Once mastered, men can easily apply it to other combinations like your shirt and tie or add a dash of colour to a muted look.
Understanding The Colour Wheel
You can throw as much money as you like at a wardrobe of clothes, but unless they can match effectively to create daily looks, they are useless. Alongside fit, aligning complementary colours together can be a crucial foundation lesson to learn, enabling men to look their best every day.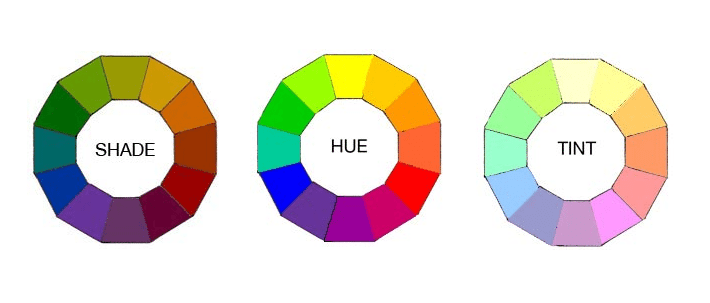 Once you have the basics of colour matching down, you can feel more confident pairing items together, whether that be a suit and shirt or a shirt and jeans.
The principles of the colour wheel are three-fold:
Similar colours sit closer together on the wheel. Choose one colour as the base and add a neighbouring hue to easily match.
Complementary colours are opposite each other. Getting this right will come from practice. In theory, they complement but they can often be quite jarring within an outfit.
Contrasting colours have three colours between them. If in doubt use a familiar darker tone as the foundation hue, like dark grey or navy for example. Then partner with a contrasting colour in a lighter hue.
It is important to remember though that the principles of the colour wheel are open to interpretation. Through active implementation, you will gain a better understanding of what works well together. That is why we have brought you our list of top colour partners for formal outfits.
In this list, we have opted for plain colour shirts and suit combinations. This is not to say you can't include checked or striped versions of both, but we wanted to offer a simplified understanding of the basics of colour matching. Those men with more experience can use these foundations to build on and experiment with patterns and textures.
Navy Suit and White Shirt Combination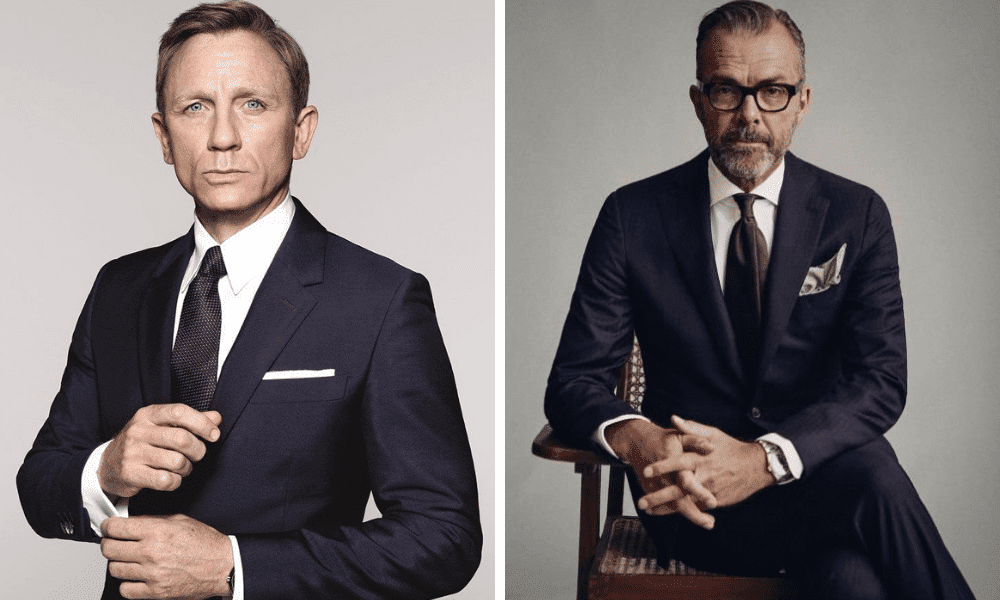 If we had to recommend one suit colour, it would be hands-down be a navy one. For men, it offers a fantastic baseline for absorbing a wealth of colours and textures.
The combo of white and navy is great for all guys. A crisp white shirt helps to lighten the darker navy hue and is a perfect backdrop for introducing colour through a tie or pocket square.
Black Suit and White Shirt Combination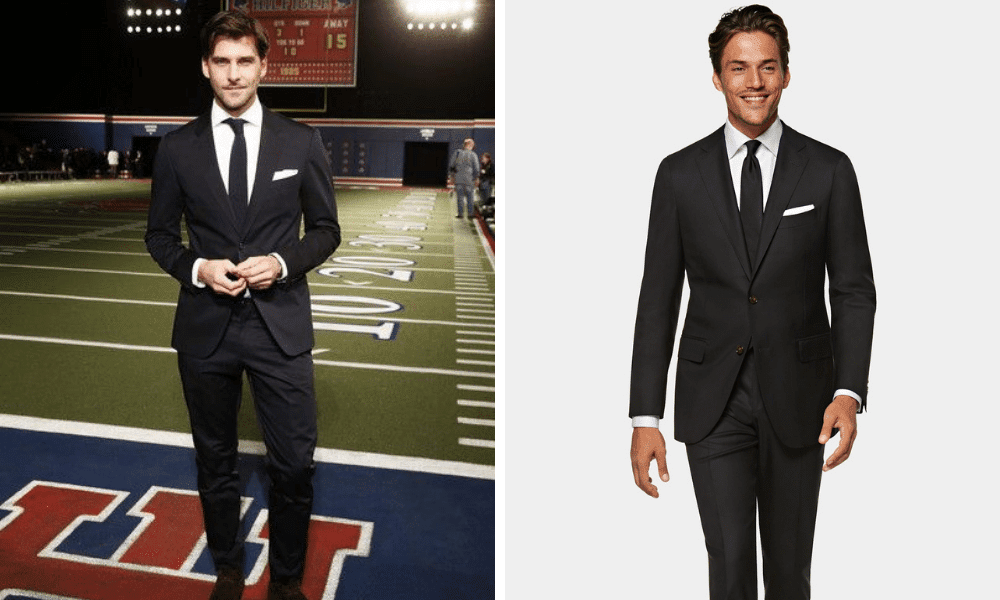 The classic black suit is timeless and contemporary. Often getting a bad rep as the uniform of hospitality staff, it delivers a slimming and streamlined silhouette.
For a piece so iconic, it is hard to look past a refined monochromatic finish. Not only are the two colours (black and white) the mainstay of the former's very own dress code, they look damn good together.
To get the black suit, white shirt combination looking its refined best, don't try and add colour. Keep it simple by accessorising with a black tie to really complete the outfit.
Navy Suit and Blue Shirt Combination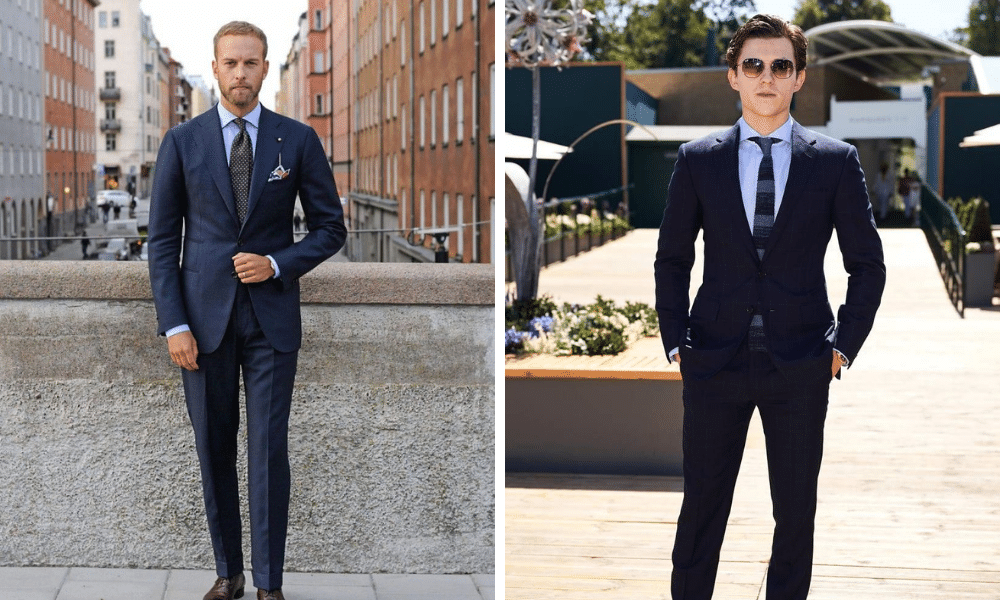 Now back to our versatile favourite, the navy suit. With this partnership, we are complementing the dark navy suit by adding a lighter blue tone underneath. This subtle harmony of colour is keeping the overall look formal but offers a nice change to the classic white shirt.
Remember with this outfit to keep the blue shirt light. If it starts getting too dark it will get too close to the colour of navy and not deliver a nice juxtaposition of hues.
When accessorising there are two ways you can take it for maximum effect. Firstly, stick with the blue theme and add a navy tie. But, in order to add interest, choose a knitted version. Secondly, pick a contrasting colour from the wheel like burgundy which would deliver a nice point of difference to the blue base.
Tan Suit and Blue Shirt Combination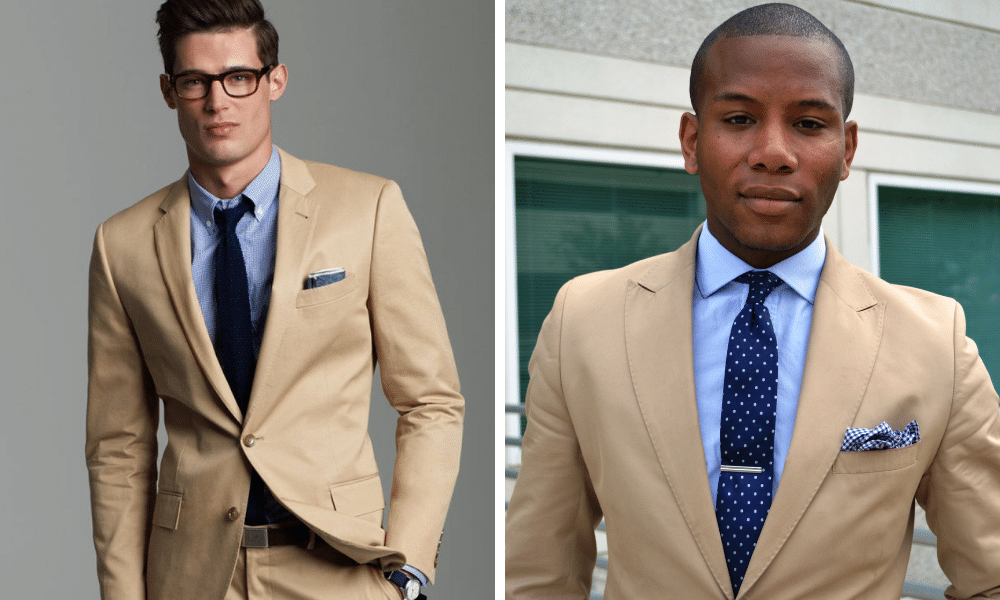 A tan suit can be a great way to update your formal wear during the summer months. It is a light brown hue that lends itself to a myriad of colours, one of those being blue.
Adding a blue shirt under a tan suit can offer a softening element to the somewhat striking tone of the latter. For men who might see a tan suit as a bold step too far, toning things down with a blue shirt can offer a more palatable summer suit option.
More than likely you will be wearing this colour suit in the summer and therefore might not require or want to wear a tie. So, a splash of colour with a pocket square might be preferred. If a tie is still needed, then you can go safe with a plain navy, or experiment more with polka dots and vertical stripes to draw the eye.
Navy Suit and Pink Shirt Combination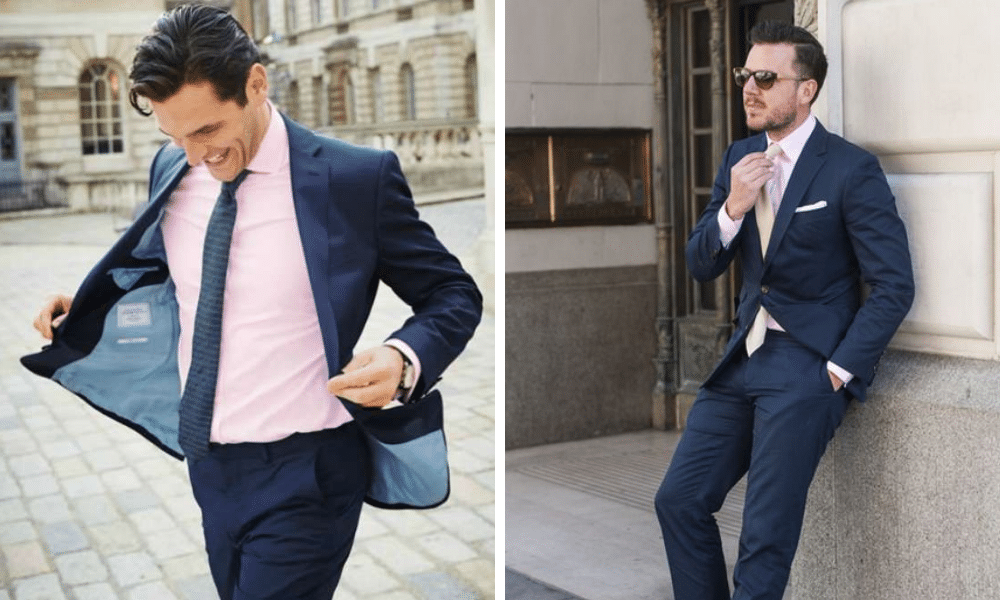 Adding a darker hue like navy over a pink shirt can help to tone down the more vibrant colour. That being said you can always opt for a pastel pink if you are still slightly hesitant. The outcome is the same, but it is a little easier on the eye.
If you have chosen a lighter pink then your outfit will allow for a deeper, richer colour of the tie. A red or burgundy is similar to pink on the wheel so will work nicely.
Tan Suit and White Shirt Combination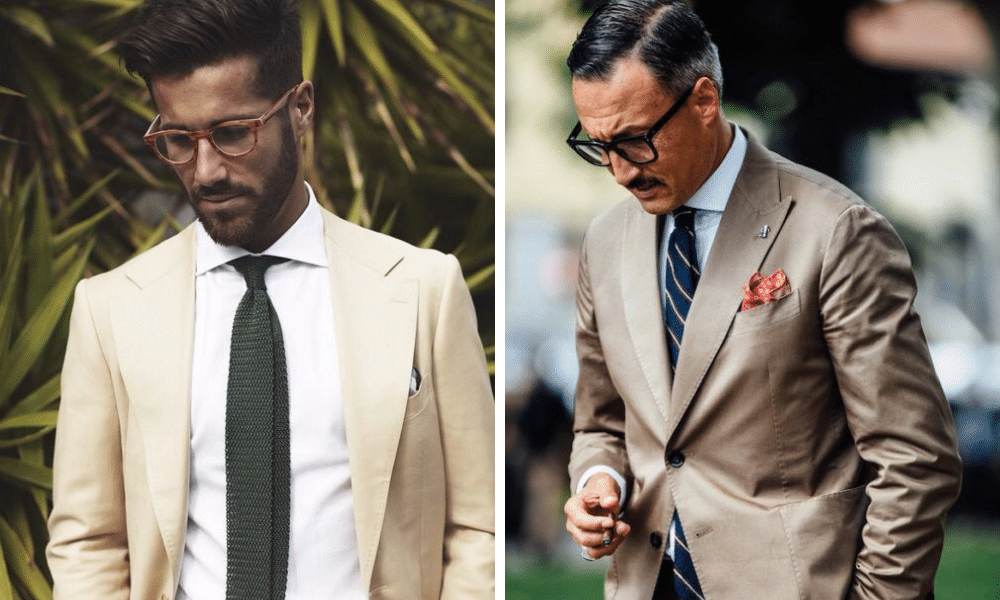 White and tan harmonise perfectly and can really compliment a tanned or darker skin tone. Ideal if you have managed to get some summer rays.
Again, like with pretty much any suit, the white dress shirt offers a surefire way to add contrast while delivering a blank canvas for additional colour. So, try to be more confident with your accessory choices. Rich browns or greens can make a nice change. But, if in doubt, men should stick to navy which rarely lets you down.
Grey Suit and Pink Shirt Combination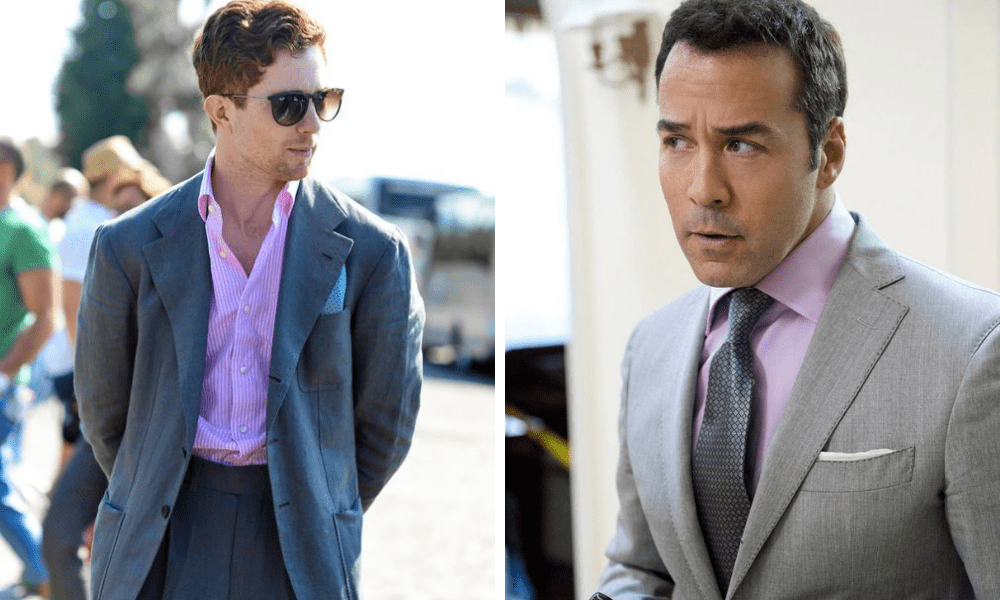 A welcome contrast, pink and grey will help to rejuvenate corporate or wedding suits that can often lack creative inspiration. Pink can effectively lighten a darker grey or charcoal suit, while lighter greys together with pink notes will complement to hit all the right style notes.
The grey suit can over time becomes a little stale, so a pink/red combination will bring it back to life. Use your shirt colour as the ideal base for adding a burgundy or maroon tie, as the shades balance nicely with pink.
Grey Suit and Blue Shirt Combination
The key point to remember when pairing grey and blue colours are to concentrate on the shades. If you have a light grey suit and add a comparable tone of blue with your shirt, it will need a darker shade of tie to break up the palette.
This combination of colours done right is a great way to transcend through the seasons. Men can choose lighter versions for the summer months and deeper tones for the colder days.
Brown Suit and Blue Shirt Combination
I understand not many guys will have a brown suit hanging in their wardrobe. Those that do, know that it can be a fantastic alternative suit colour, especially on the chillier days, offering a nice warming tone.
Due to its scarcity among men, it is typically looked upon as a slightly more casual hue. But, we think partnering the deep brown tones with a blue dress shirt in a similar hue will definitely elevate your suit game.
A favourite among the street style elite, it is only a matter of time before more men start embracing this distinctive suit colour.
Brown Suit and Grey Shirt Combination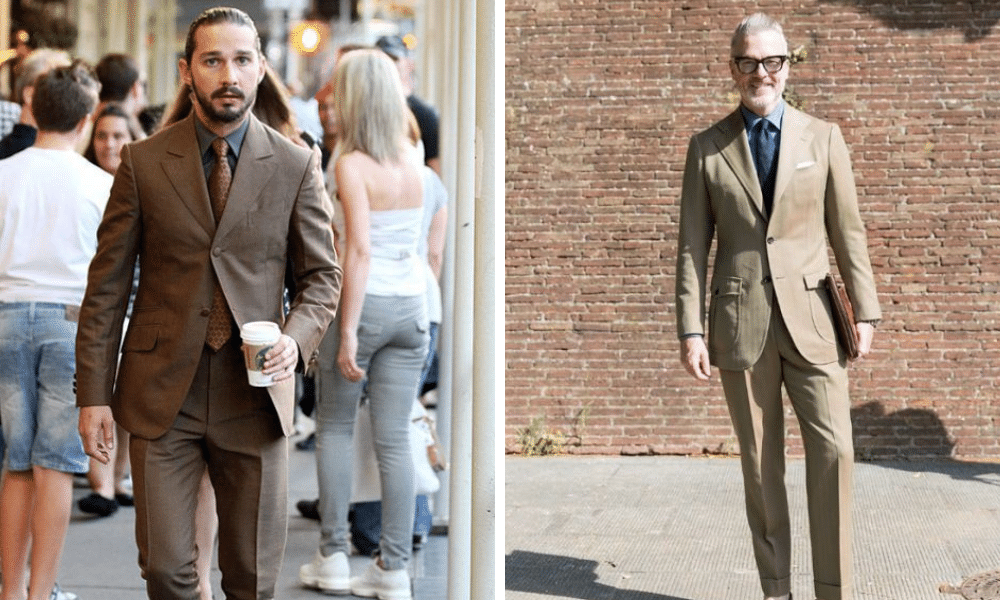 Last but not least we have opted for another combination including a brown suit. We convinced you with the brown suit/blue shirt combo and now you are ready for more.
As we mentioned previously, the brown suit, with its autumnal palette is ideal for the colder months. So, why not push that idea further by sliding a grey shirt underneath. The similar colours will deliver a rich and warming outfit that is perfect for that time of year.
While everyone around you is falling back to navy or charcoal suits in autumn and winter, your new brown suit/grey shirt partnership is going to showcase how well you now combine colours.