With summer in full swing, there has never been a better time for men to embrace some colour. Stripping off the layers of previous seasons allows men to introduce colour and pattern in a more tactful way. The summer suit might be the last place you think about adding this. But, it can be an ideal way to upgrade your formalwear and brighten those daily rotations.
Adding colour within our summer tailoring doesn't have to mean reaching for the cerise pink suit. Think lighter rather than brighter. Tonal hues of beige, cream or even light brown can all be used to soften our tailoring on hot days.
Leave it to us to expand your sartorial horizons and show you our picks of the best summer suit colours. Styled right, it will enable men to draw the right kind of attention at all those seasonal events.
How to Style a Coloured Suit
Many men might find switching their safe navy suit for something more summery a daunting task. So, why make the whole affair more difficult than it needs to be?
The safest way to introduce a different coloured suit is to keep the rest of your outfit within a neutral palette. A plain white shirt with a charcoal suit might feel a little conservative. But, with a pastel green suit, it provides a backdrop for the bolder colour to sing. Even subtly absorbing a piece of the vibrancy to make it more palatable.
In a similar vein, men shouldn't try to over-accessorise. We want an understated, nuanced look. Bold pocket squares or sunglasses will distract the eye and make the outfit convoluted. Keep it pared-back and uncomplicated.
Key Summer Suit Colours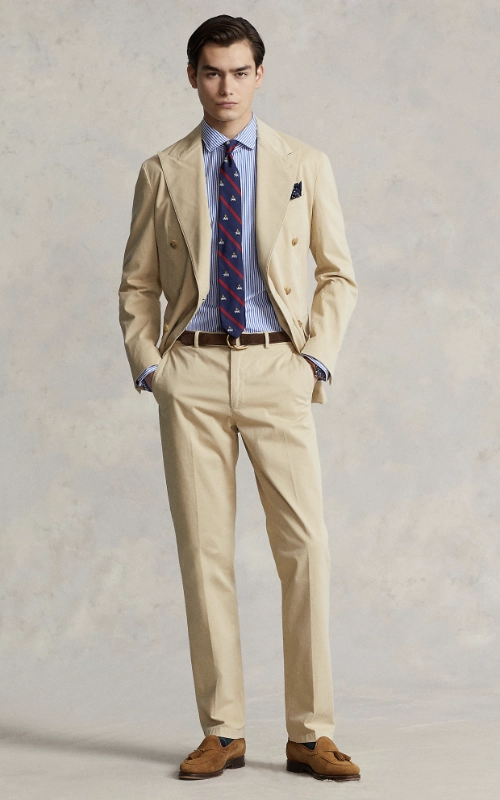 Beige Suit
Easing you in gently, a beige suit should make the summer suit transition a pretty seamless experience. The colour is great for some warm-weather nuptials and blends perfectly with browns and whites. So, that daily white work shirt and brown brogues will save you from buying anything new.
We recommend a suede loafer on foot if you are in the market for new wares. It is less restrictive than a traditional shoe (like a brogue) and offers some continental flair.
Accessorise a beige suit with a plain white pocket square. And ensure your sunglasses and belt (if needed) follow the same tonal brown palette for maximum effect.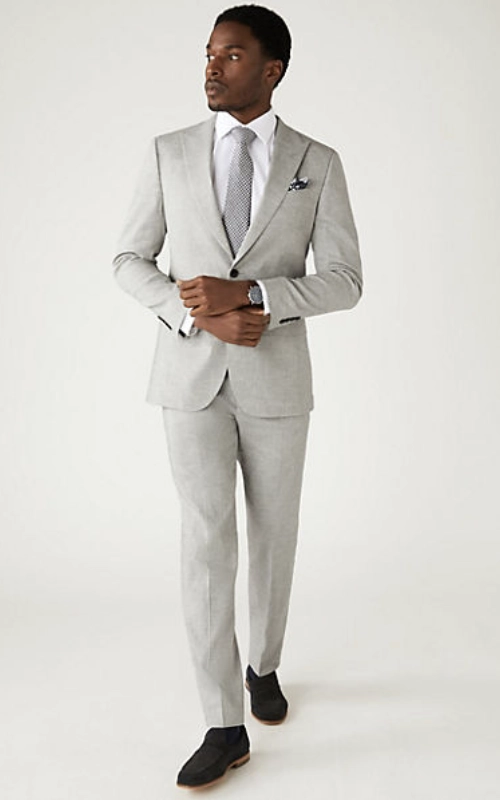 Grey Suit
Another suit that can serve a myriad of dress codes is grey. Not your richer charcoal colour, something further along the other end of the scale.
A light grey hue is, as always, a notable partner to white. But why not refresh your tailoring a little and introduce some tonal blues? This lighter shade of blue for a shirt would be a welcome refresh that instantly elevates your daily work outfit.
To get greater wear from this colour, play with how mixing it within an outfit of tailored separates might breathe new life into it. Light grey trousers pair nicely with navy, or a light brown checked blazer.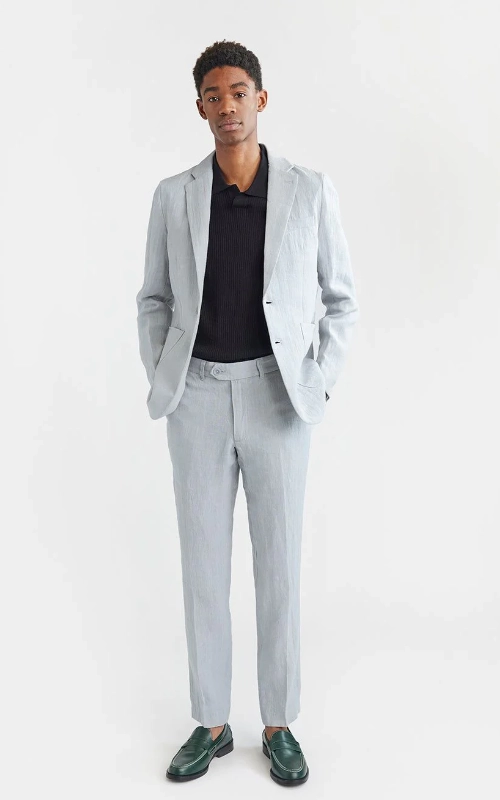 Mid-Blue Suit
Moving our tonal blues from our shirts to the entire suit is a surefire way to make a tailored statement this summer.
Incorporating a mid-blue colourway into our suits is a contemporary example of modern suiting. It shows a carefree spirit that should follow through to our chosen fabrics. Linen or a linen/cotton mix will bring a relaxed formality and movement to our suit that is ideal for this palette.
As we go deeper into the colour wheel of summer, it is important to stay grounded with our complimenting colours. We can always wear a beige or white shirt underneath but pick a Cuban collar for refined drama.
White Suit
An all-white ensemble is a growing trend among stylish guys. In warmer climates, this white-on-white combination has a cooling effect, with the colour reflecting the sun's rays. Men need to pay heed to this inspiration to nail the look.
The white suit will jar with the formality of a traditional dress shirt and tie. Evoke the spirit of the tropics by opting for a relaxed-fit shirt and summer footwear. A grandad or camp collar shirt would give us a breezy alternative for more formal events. The latter leaves scope to acquaint ourselves with a patterned shirt to invert the contrast.
If the dress code isn't as strict, why not stick a t-shirt underneath and leather sandals on foot for a real laidback vibe?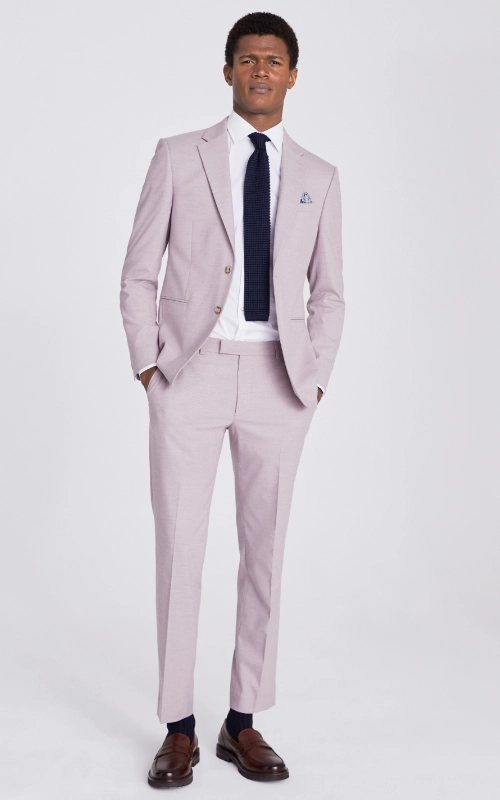 Pink Suit
Naysayers might laugh at the idea of men wearing pink suits. However, it wasn't until the 20th century that the colour pink became known as a more feminine choice. Before that, all manner of men would wear the colour as a sign of masculinity.
To start wearing pink, make sure the palette is softer and less impactful. Peach or rose-pink will deliver a less striking effect while being delicate enough to be worn with other pieces in your wardrobe.
We like choosing a solid base note such as black shoes or a navy tie. This touch can hone the overall outfit and ensure it doesn't stray too far into Ken and Barbie land.
Green Suit
Lastly, we have chosen the green suit as one of our top picks for a summer suit colour. It has grown in popularity over the past few years and is now a firm favourite among some of the best menswear brands again this summer.
You might be more familiar with using green at other times of the year. And men can use the same principles in this lighter version. Colours like brown will complement without distraction within footwear, and a white shirt will be your safe haven on top. But why not experiment a little with beige or light grey alternatives? Heck, if you can't do it in summer, when can you?
Depending on the shade, men can transition to cooler days, still wearing this colour. Make sure it isn't too light, and use darker trousers and shoes to create a fuller, deeper palette mix.