We all know men's sunglasses are an essential summer accessory. They come to the fore during the warmer months, of course, but the UV protection shades offer to our eyes all year round should be key no matter the temperature.
As a menswear staple, it means there is expectedly a myriad of styles to choose from. You can stick to classic frames that offer modern men as much timeless style as they did to Steve McQueen or Cary Grant in the past. Think wayfarers or aviators. Or, for the more adventurous gent, sunglasses can transform an outfit through a careful choice of colour or frame design.
Whichever way you are swinging when it comes to sunglasses, some basics need to be covered first.
The UV protection that your new frames deliver on is paramount. Cheap sunglasses or those that are all style and have no substance could have a detrimental effect on your eyes. Always choose shades that offer maximum protection against UV rays no matter whether it is winter or summer.
Next, is making sure that your new sunglasses look good on you.
What Sunglasses For My Face Shape?
The key thing to remember when selecting sunglasses is to seek out those that compliment your face shape. Distinctive elements of our faces should lead us towards the correct frame colours or shape.
With a plethora of online shops to choose from, understanding more about what suits your face type will lead to less buyer regret and wasted trips to the Post Office. Here is a brief overview of what to look out for dependent on your face shape.
Square Face
For this face shape defined possibly by a strong jawline, you want to soften features. Men can do this by opting for sunglasses with soft curves like round frames.
Think about materials as well. A thinner construction made with metal will help to reduce the impact of a broad forehead or cheekbones.
Heart-Shaped Face
A heart-shaped face has the look of being broader at the top and more narrow at the chin. Choose frames that can add a balance to the width of the chin, so avoid top-bar sunglasses which will draw the eye to the top half of the face.
A tear-shaped lens will only mimic the face shape, but rectangular frames with curved edges could look great.
Oval Shaped Face
Oval shaped faces are longer than they are wide. In this case, men need frames that won't elongate or narrow the face. Larger frames like aviators should be avoided as should rectangular sunglasses.
Our pick for this face shape would be to go for more of a tear-shaped lens option.
Round Face
Those men with prominent circular features, need to add some structure and definition. To do this, pick frames in a square or rectangular shape.
Thicker frames will help to deliver that sharpness but you can soften slightly by choosing dark brown or tortoiseshell options. Lenses or frames that are too dark could add harshness and the opposite effect to the required subtle definition. A dark brown frame with a gradient lens could be a winning combination.
Helping you navigate the choppy waters of sunglasses shopping, we have pulled together our favourite eyewear choices for 2022. This list will cover different frame shapes and varied colourways and designs, so there is bound to be a style that fits the bill.
Read on to find your next pair of frames.
Rounded Sunglasses
If you are a man who owns more than one pair of sunglasses, then round sunglasses are a great way to mix up your summer eyewear options. They suit square and even diamond-shaped faces softening jawlines or striking cheekbones nicely.
This style was popular for men in spectacle form in the 30s and 40s. But, round sunglasses hit the mainstream when they were adopted by the music stars of the 60s and 70s.
Get your hands on a metal or acetate version and get ready for a summer of love.
Ace & Tate
Acetate frames in a bold cashew colour accentuate these retro-looking sunglasses. Composing a wider frame style, these shades are distinctive, yet with a minimalist feel. Ideal for lazy summer days in the sun.
Cutler & Gross
Handmade in Italy, these sunglasses are an updated take on a classic round frame. Be prepared for an oversized fit when wearing as the wide temples will swallow the face of those with a smaller head shape.
Taylor Morris
This brand has blazed a trail in the men's eyewear game. These sunglasses have an oversized round frame with a classic keyhole bridge and are sure to be your go-to pair for everyday use.
Ray-Ban
This is a statement pair from the iconic eyewear brand. These shades have a double bridge and flat flash gradient lense helping to create a new classic Ray-Ban design with contemporary appeal.
Coloured Sunglasses
During summer our clothing hues become lighter and we are more inclined to reach for a bit of colour in our outfits. Now there is no reason not to brighten up our eyewear as well.
Protecting the longevity of the products we buy is a very important factor. The kneejerk reaction to colour is that it will soon end up at the back of the closet, never to be worn again. A carefully considered option though could just be the revamp your sunglasses collection needs.
Bold, in-your-face colours can be jarring, not to mention difficult to match clothing with. Try and find similar palettes to stronger primary colours instead. For example, to replace yellow, you might choose honey, or burgundy instead of red. This way you get colour without making too much of a statement.
The Bespoke Dudes
Taking their roots in bespoke clothing and applying them to accessories has enabled TBD to create exquisitely made frames with an Italian flair. Handcrafted by artisans in Cadore, Italy, they offer 100% UV protection and come in a beautiful honey and blue colourway.
Monc
Inspired by the Helsinki arts district, these rounded bio-acetate frames have scratch-resistant lenses. Made in Italy they are the perfect blend of contemporary Scandinavian minimalism with the expert craftsmanship we expect of Italian manufacturing. The dash of green makes them a standout summer pick.
Mango
Made from sustainable materials, these 100% UV protected sunglasses have a frame manufactured from 98% recycled polycarbonate. Lightweight and stylish, Mango's blue shades are bound to be head-turning for all the right reasons.
Garrett Leight
For those familiar with the P3 silhouette, this is a fresh update for 2022's spring-summer collection. A cured cellulose acetate frame houses semi-flat mineral glass lenses with UV protection and AR coating in semi-flat pure Rosewood.
Aviator Sunglasses
The classic aviator style sunglasses have been around for donkey's years. Also known as pilot's glasses they have endured an up and down relationship with fashion. Seemingly in or out of style depending on the year, they still offer men a timeless option if done right.
Modernised tweaks to the classic shape are key to keeping the style contemporary. Play with frames or lens colours to wrestle these sunglasses from Top Gun connotations. Brands have been showcasing aviators in gold or even patterned acetate frames with blue lense tints to freshen things up.
If you want trendier versions, then an additional brow bar can help nail this season's fashions.
Tom Ford
To reduce glare, these Tom Ford shades come with polarized lenses. This improves vision and clarity without succumbing to potentially harmful UV rays. Made in Italy, a rose gold frame juxtaposes nicely with the darker lenses to create a contemporary aesthetic that we have come to expect from Mr Ford.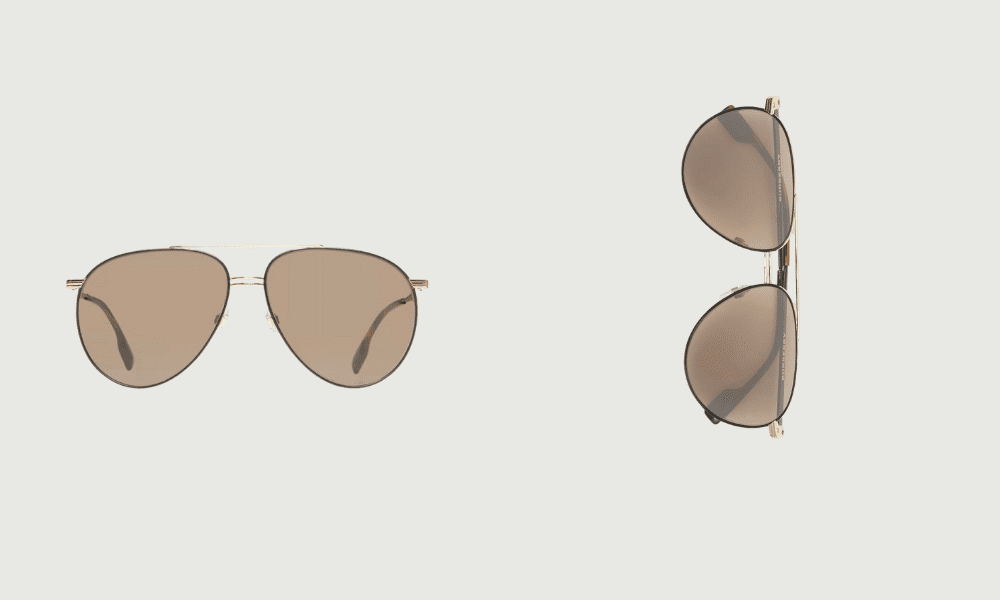 Burberry
With gold tones and handpainted enamel, these Burberry shades aim to refresh the typical pilot frame. The tortoiseshell acetate flows nicely with the metal frames allowing for a comfortable and stylish presentation.
Ray-Ban
The original and iconic manufacturer of pilot sunglasses, Ray-Ban aviators are still as timeless as they were back in 1937. A narrow fit means these frames will fit a wider range of men while the gold metal and black lense ensure these remain modern and fresh.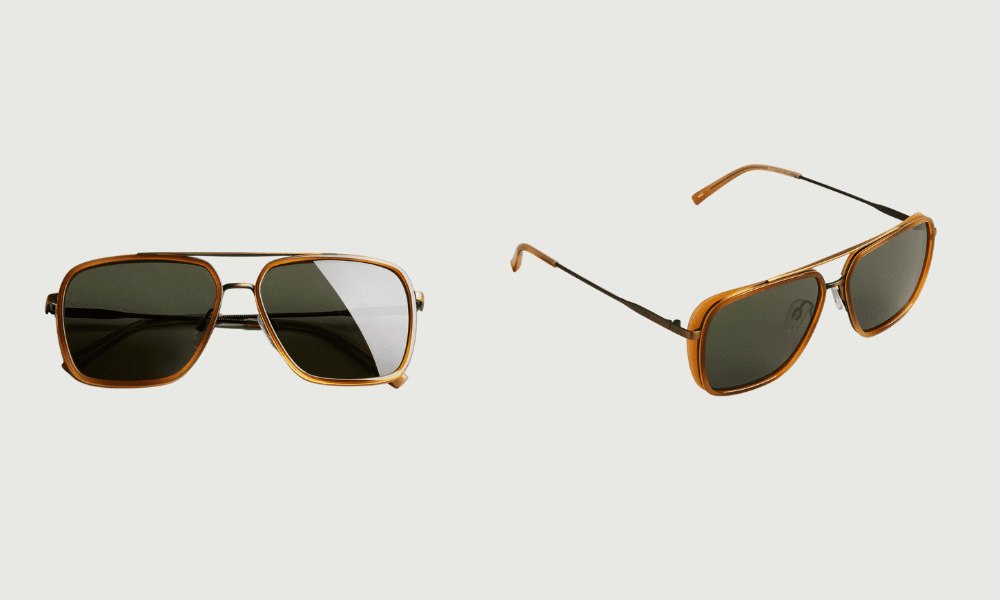 Ted Baker
A nice alternative to the traditional pilot frame shape with a squarer aesthetic, these make for a more streamlined look that would suit those men with slightly rounder faces. Tortoiseshell is always a great colour pick for summer and has us dreaming of lazy sunny days already.
Top Bar Sunglasses
Men who like their eyewear to be a bit different could do worse than look at a top bar pair of sunglasses. Incredibly distinctive they won't suit all guys, but those that can pull it off will give themselves a bold summer choice.
Originally, top bar or brow bar sunglasses were typically all acetate and therefore a daring choice. Now though, brands have softened the look by mixing acetate with metal to create a more palpable pair.
We recommend sunglasses that have a metal temple arm (on the side) and a brow bar with acetate rims. That way you are picking sunglasses that you are more likely to wear with a mix of outfits. But, if bold is your middle name, then smash this look with an all acetate frame for some vintage vibes.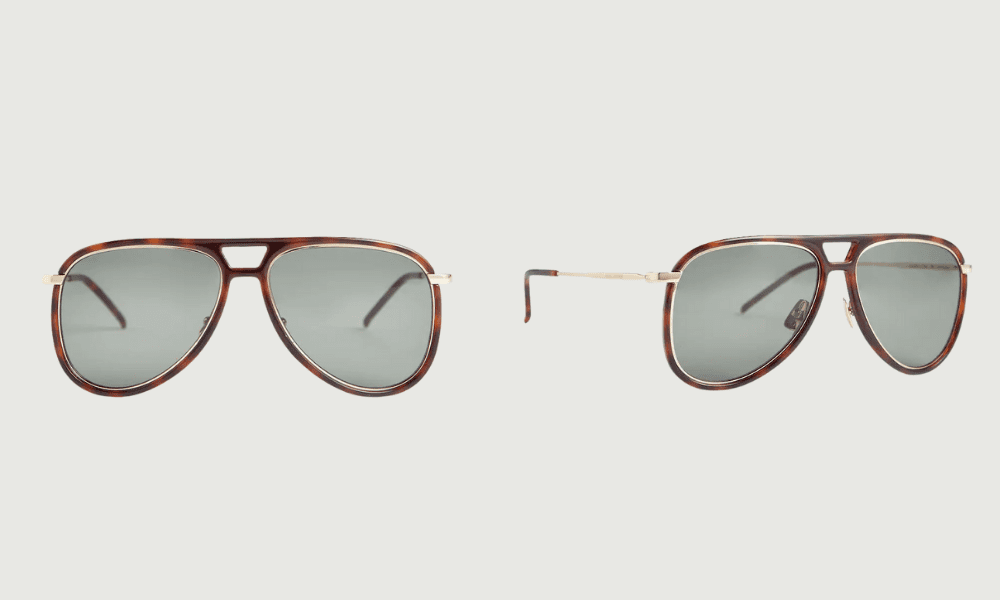 Saint Laurent
The double bar detail of these Havanna brown frames are finished with metal arms. Made in Japan, the green tint of the lenses add a nice contrast to the tortoiseshell and will have you living your best 70s inspired life in no time.
Kirk Originals
With teardrop lenses, Kirk Originals have brought to the fore a statement pair of sunglasses. A raised top brow adds definition while the triangle double-bridge elevates the design and will have your mates asking where you bought them. These are frames that are bold and confident. From a London brand to boot, we salute!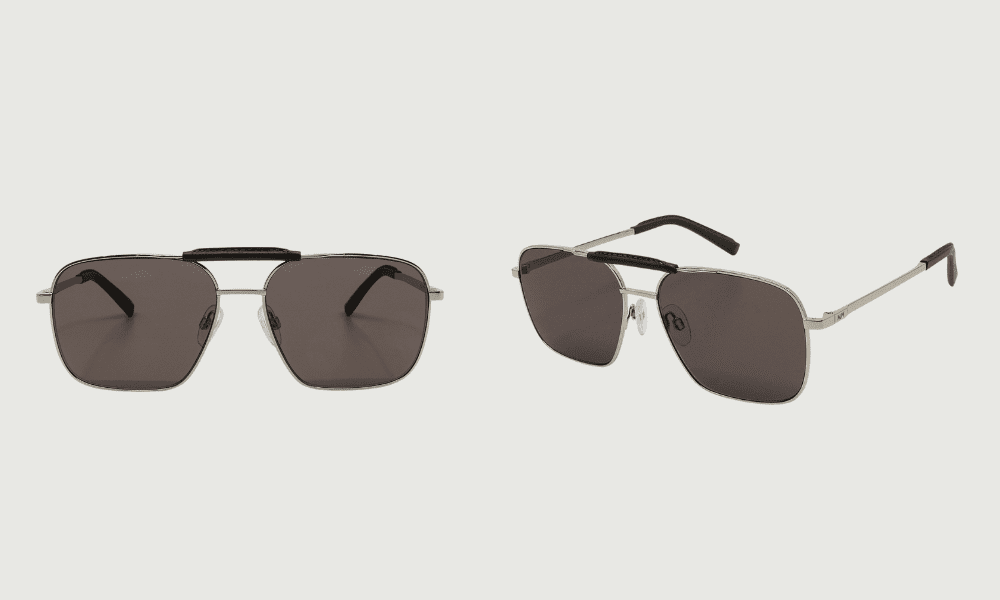 Messy Weekend
Adorned with a brown stitched top bar, the Ari frame from the Danish brand Messy Weekend adds an eye-catching touch to these oversized lenses. A twist on a classic design, they are not too far removed that men would find it difficult to approach.
Bask in the Sun
With the use of ethical materials and production, this casual menswear brand is able to back up its laidback vibe with sustainable pieces. Crafted in premium Italian acetate, the Karma sunglasses have us dreaming of coastal walks in the sun.
Geometric Sunglasses
The angular shape of geometric sunglasses is ideal for men with circular faces. So, if your face is on the round side, you can stand out from the crowd with a bold new pair of eyewear.
To make sure the look doesn't appear too fancy dress, choose thinner frames and keep the colours subtle. Also, don't get carried away with anything oversized as this could add too much juxtaposition with your face shape.
Geometric sunglasses are a fearless choice for 2022. For any men looking to make a statement this summer, these are the frames for you.
Dolce & Gabbana
Ideal for those men with an oval face shape, these Dolce & Gabbana shades are not for the faint-hearted. These though are not a case of style over substance. They featured polycarbonate lenses that are impact-resistant and lightweight while being durable enough to repel water and dust. All while keeping a high clarity.
Ahlem
With a nod to a 1970s style, Ahlem aims to create products that have a timeless connection with the era that inspired them. Made with gold plated frames, the angular shape makes them modern but close enough to an aviator style that men can still wear them season after season.
Oliver Peoples
Manufactured in Japan, we love the vintage feel to these geometric sunglasses. The frame is crafted from titanium for a robust but minimalist look and partnered with photochromic brown colour lenses. Adding a further nod to the past is the adjustable pearl or crystal nose pads that will create a luxurious comfort when wearing.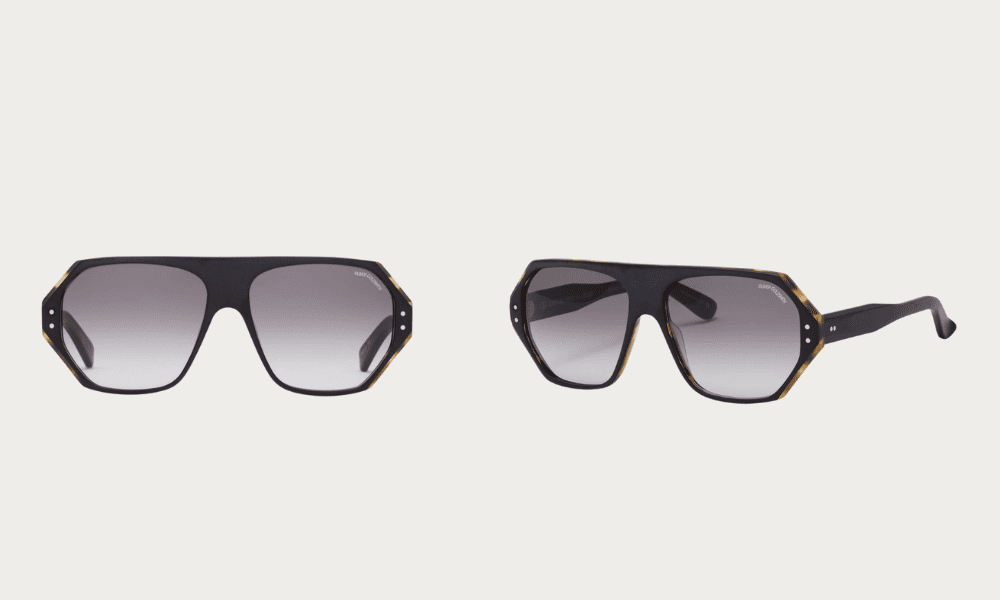 Wolf & Badger
Handmade by artisans in Italy using premium acetate, these sunglasses have all the swagger of 70s celebrity style. The angular frames are accentuated by the linear top line making them a formidable option for the summer months.