We've all been there when it's been done well – your mind races because it seems so familiar, so enduring: sailor, painter, movie star, fisherman, riviera playboy, artisan… Jean Paul Gaultier advert. None of the above is bad. Who is this guy? We're talking about Breton. A stripe that's become synonymous with cosmopolitan men's summer style – an easy-to-wear piece that every man should own. The first iteration of Breton ("from Brittany") sweaters was created with tightly woven local wool to protect fishermen from biting winds and water. Typically characterised as a cotton top with blue nautical stripes, they were adapted and introduced to the French Navy uniform in 1858. Its historical journey from essential utility piece to modern wardrobe mainstay is well worth a read.
Traditional smocks, sweaters, and t-shirts in long and short sleeves - if you don't possess one or two in your repertoire, then 2023 is the time.
An icon of elegance, it has the kind of laissez-faire appeal that makes the wearer feel like he can conjure all of its connotations with glee. Chosen well, it's almost guaranteed to look good, especially during the warmer months. As with all timeless pieces, it has a cultural history that's rich and inspiring. A quick Google search of "famous men wearing Breton stripes" reveals a gorgeous, aspirational mix. Pablo Picasso, Coco Chanel, Paul Newman, James Dean – take a look for yourself.
What's great is that it hasn't evolved too much in style, fit and detail, but it still feels completely relevant. Today, there are many brands fighting for your Breton stripe affections, so we thought we'd do some of the leg work for you.
1. Sirplus Navy & White Breton Top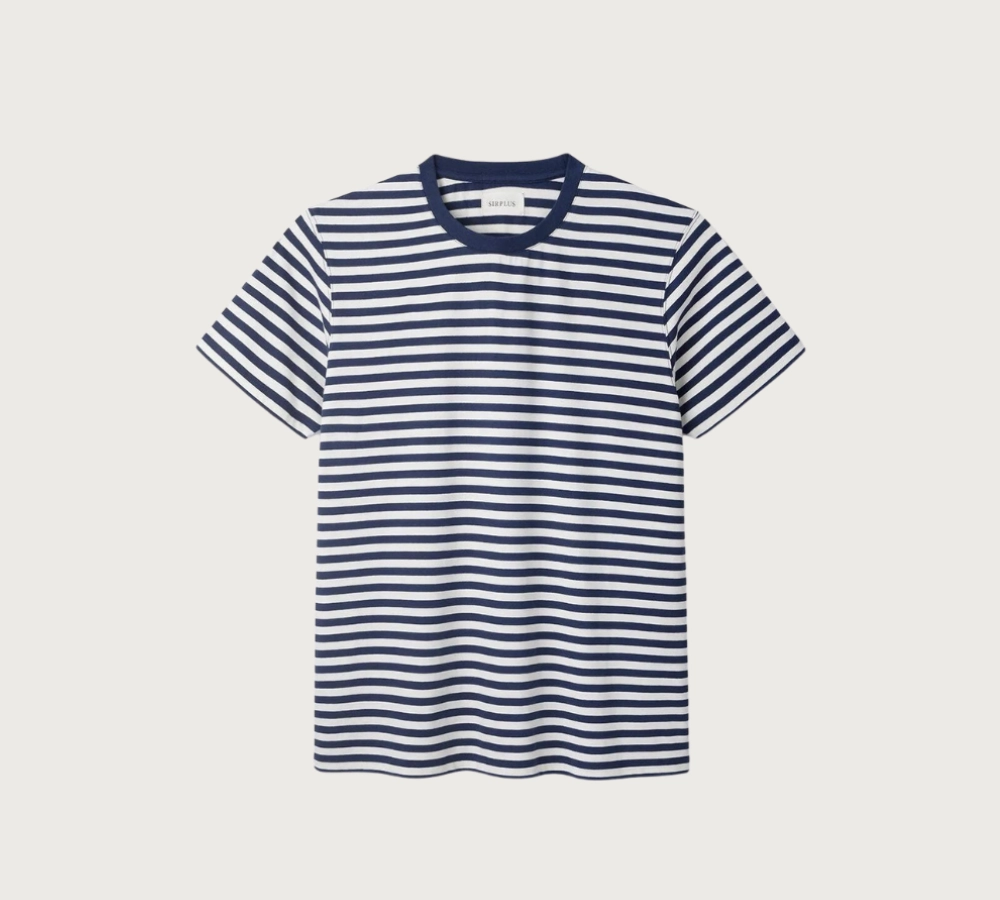 Sirplus do simple, modern elegance very well. This simple wardrobe staple in navy and white striped organic cotton is cut to a regular fit with a classic crew neck. It's also set to a very accessible price point which gives it everyday wearability without scrimping on the style factor. It can easily be worn solo with some jeans or shorts or dressed up with an easy unlined navy blazer.
2. Charles Tyrwhitt Smart Jersey T-Shirt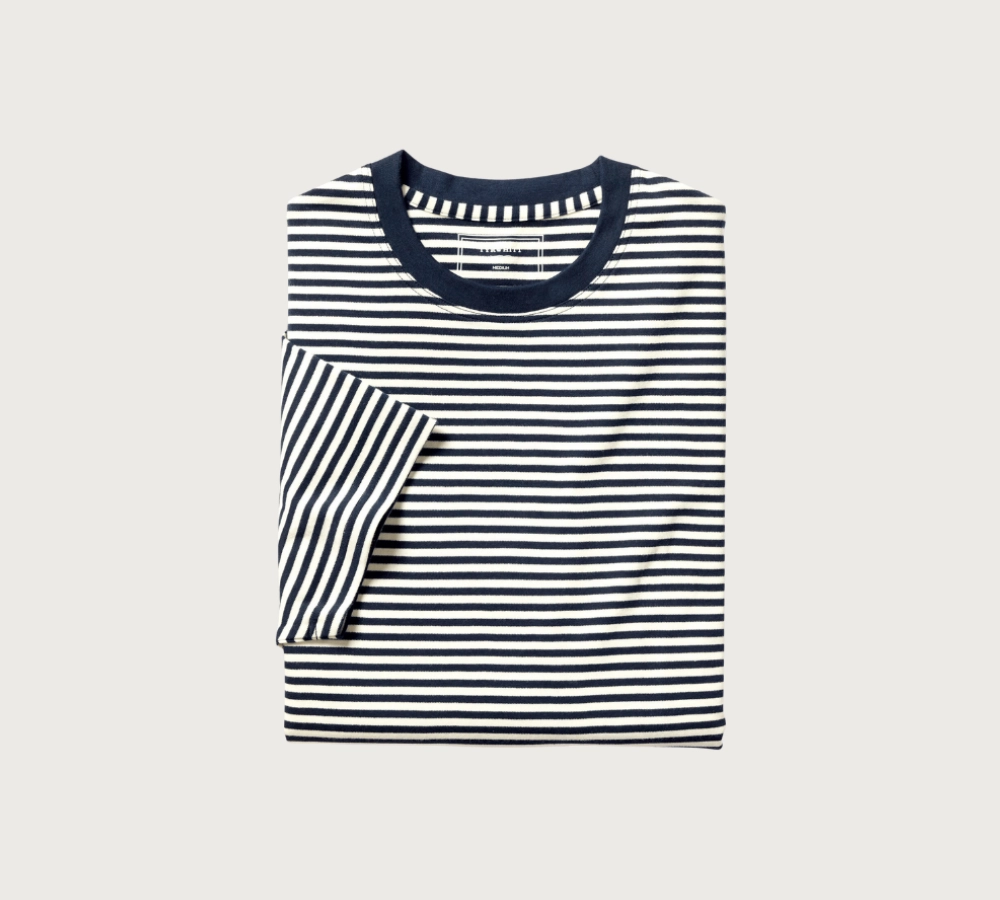 Another crisp, effortless offering, this time from Charles Tyrwhitt of Jermyn Street. Usually known for the quality of their shirt-making and suits, you can see the dedication to quality here. Made from a mercerised soft cotton jersey, it has a beautiful, breathable hand feel. Similar to the previous Breton top, this one has dress-up, dress-down versatility that makes it an excellent addition to any man's wardrobe.
3. Paul James 100% Cotton Breton Sweater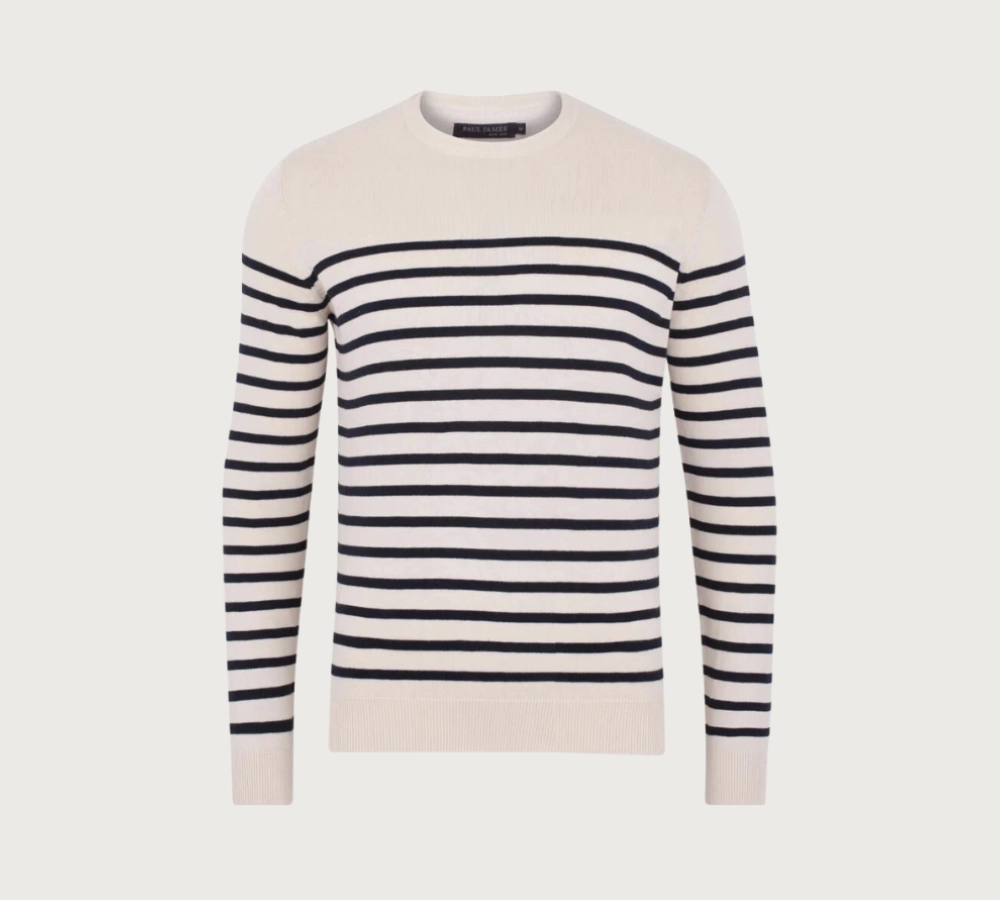 A piece of timeless, engineered knitwear in nautical-inspired stripes. Perfect as an elegant summer throw-over for those cooler moments. A sophisticated slim silhouette, this jumper is constructed from a fine jersey knit in 100% cotton. It also has performance qualities that make it a wearable, versatile item – breathable, wicking and itch-free. As the Paul James website states, it's ideal for layering. As a luxury Leicestershire-based knitwear manufacturer, we'll definitely bow to their expertise on this one.
4. Seasalt Cornwall Sailor Shirt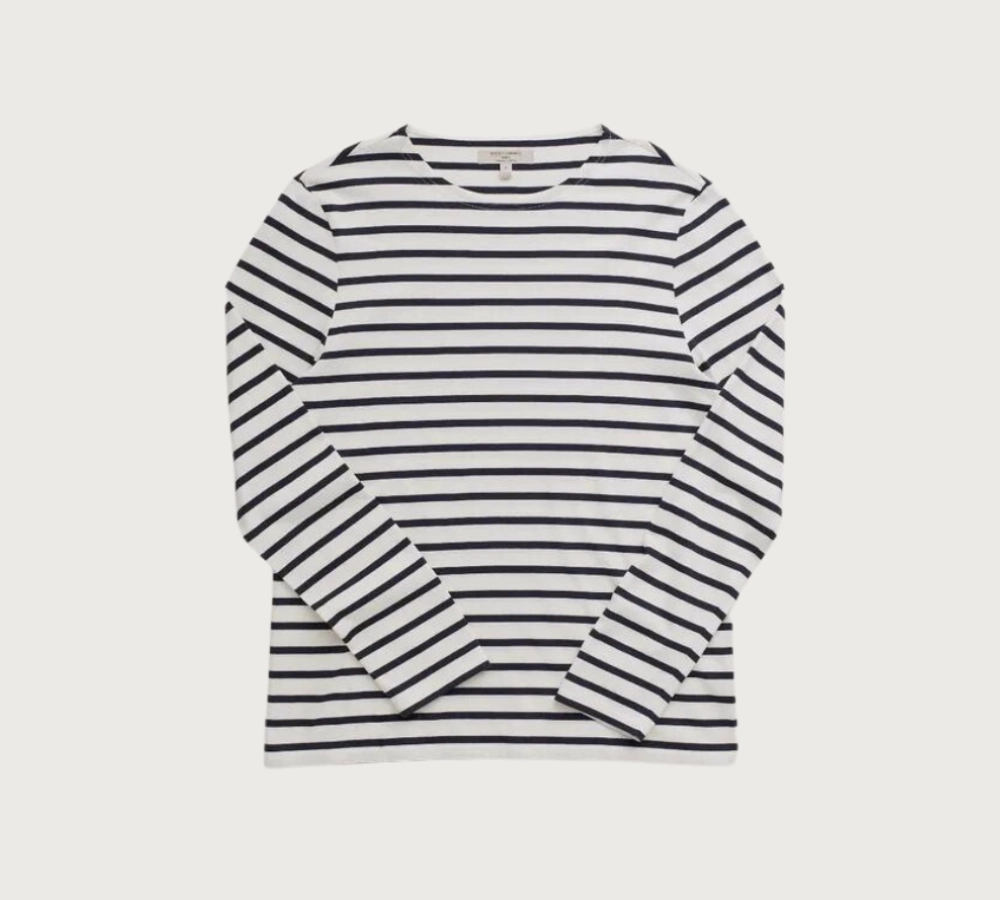 As the name of this item suggests, there are waves of nautical style to this boat neck long-sleeve shirt from Seasalt Cornwall. It feels like a traditional Breton top and definitely has that timeless iconic sensibility that I mentioned in my introduction. Cut to a relaxed fit in organic cotton, it's offered in two other colour iterations too – mid-blue with white stripes or dark navy blue with white stripes.
5. The Wool Co Guernsey Sweater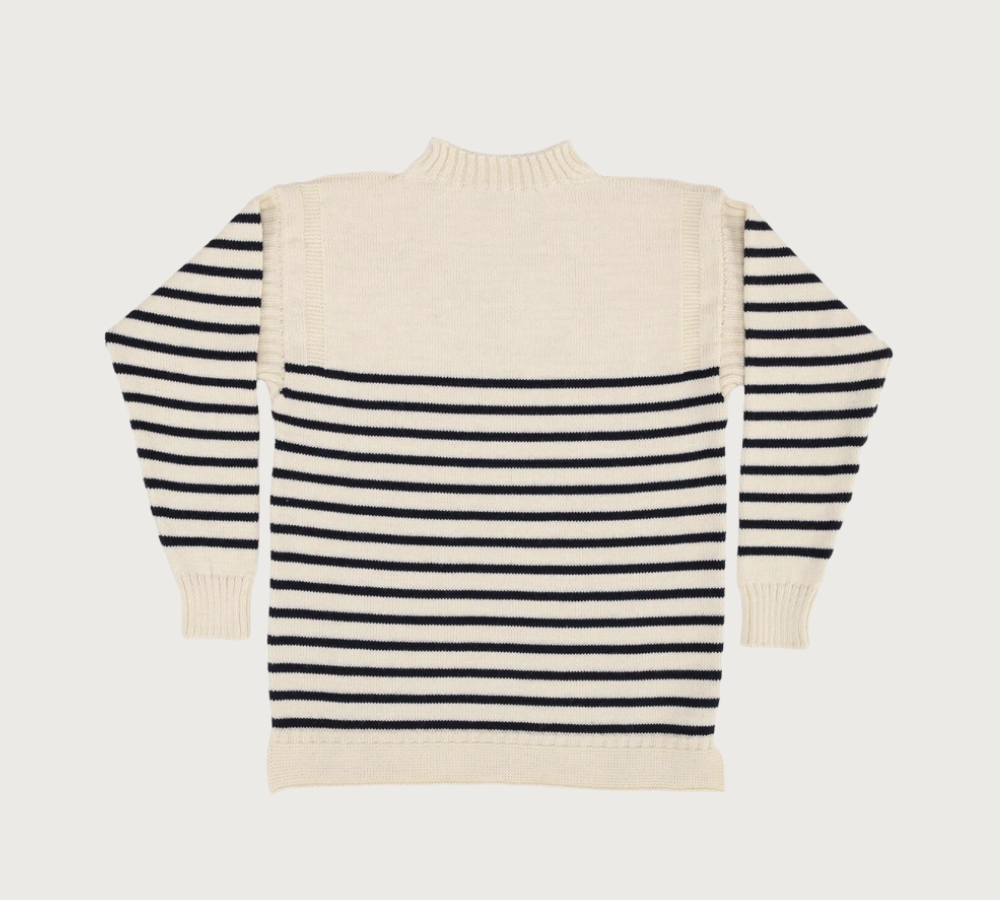 Something for the cooler conditions here from The Wool Company. Knitted in 3-ply ecru British wool. Made in England, this vintage-influenced layering piece offers elegance as well as durability. Form and function that's best thrown on casually for that rugged aesthetic. Despite its sophisticated finish and contemporary wardrobe relevance, it's clearly inspired by the traditional seafaring Guernsey jumper.
6. Finisterre Channel Stripe T-Shirt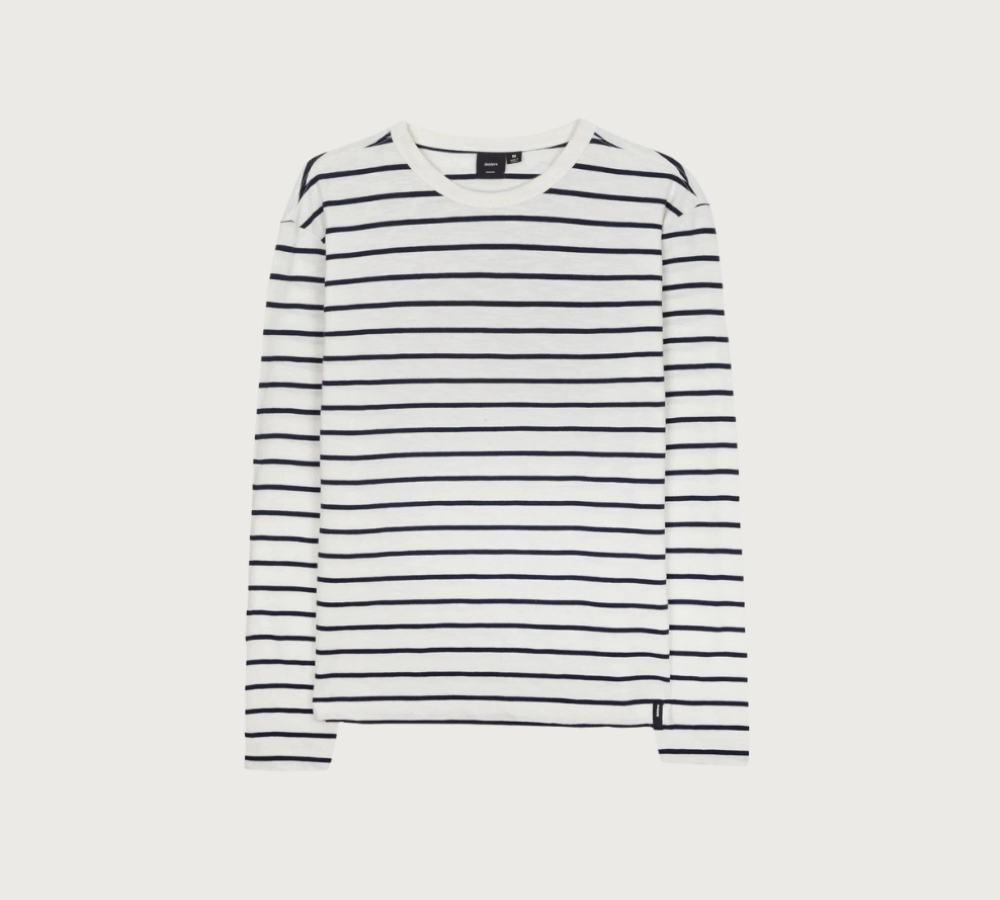 "Born in 2003 from the needs of hardy British surfers, Finisterre designs functional and sustainable products for those that share a love of the sea." It doesn't feel more authentically nautical and on point than that. This long sleeve Breton top in organic slub cotton is offered in a restrained 3-option colour palette. In terms of styling, we'd say stay true to the brand and keep it very off-duty with a pair of chino shorts in navy or ecru.
7. Sunspel Cotton Long Sleeve T-Shirt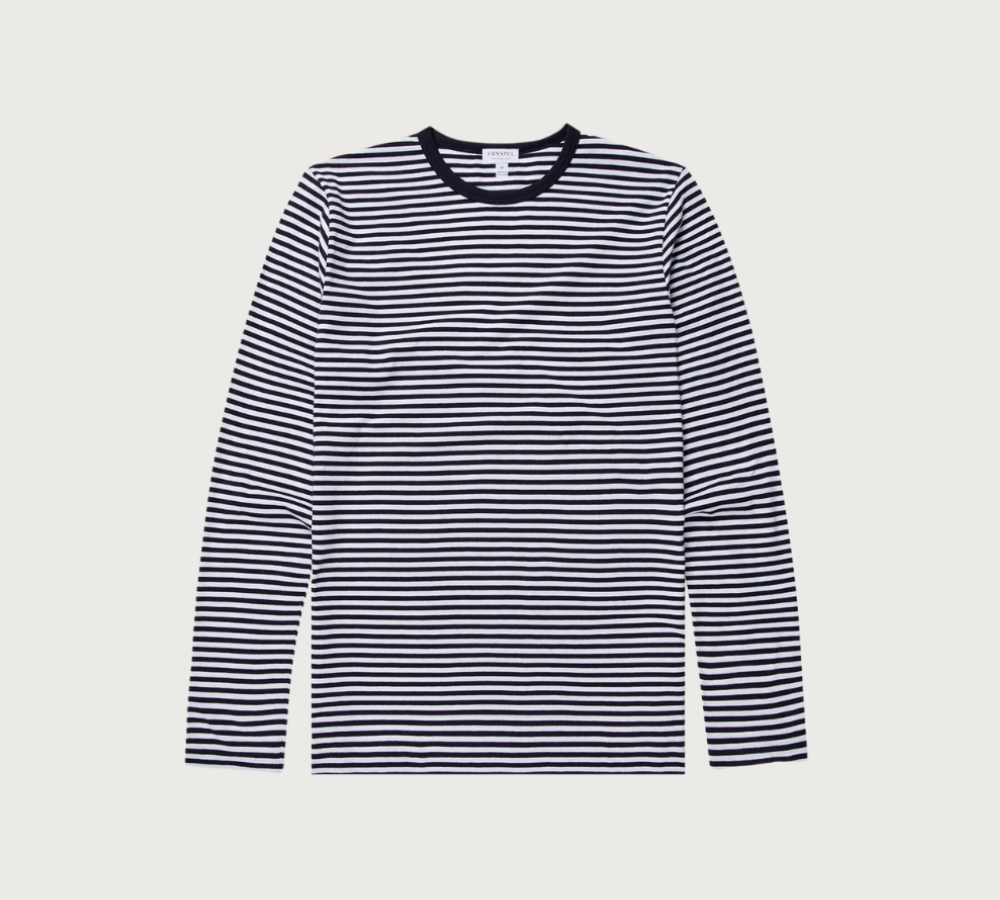 Sunspel does the classics very well, having made the finest men's t-shirts since 1908. This particular style, an understated nod to the Breton top, is handmade at the brand's factory in Long Eaton, England, using the finest, extra-long staple Supima cotton – supplied by a farm in California. This is one of those essential items that's as stylish with chinos or jeans as it is with a navy suit.
8. Nudie Jeans Charles Sailor Stripe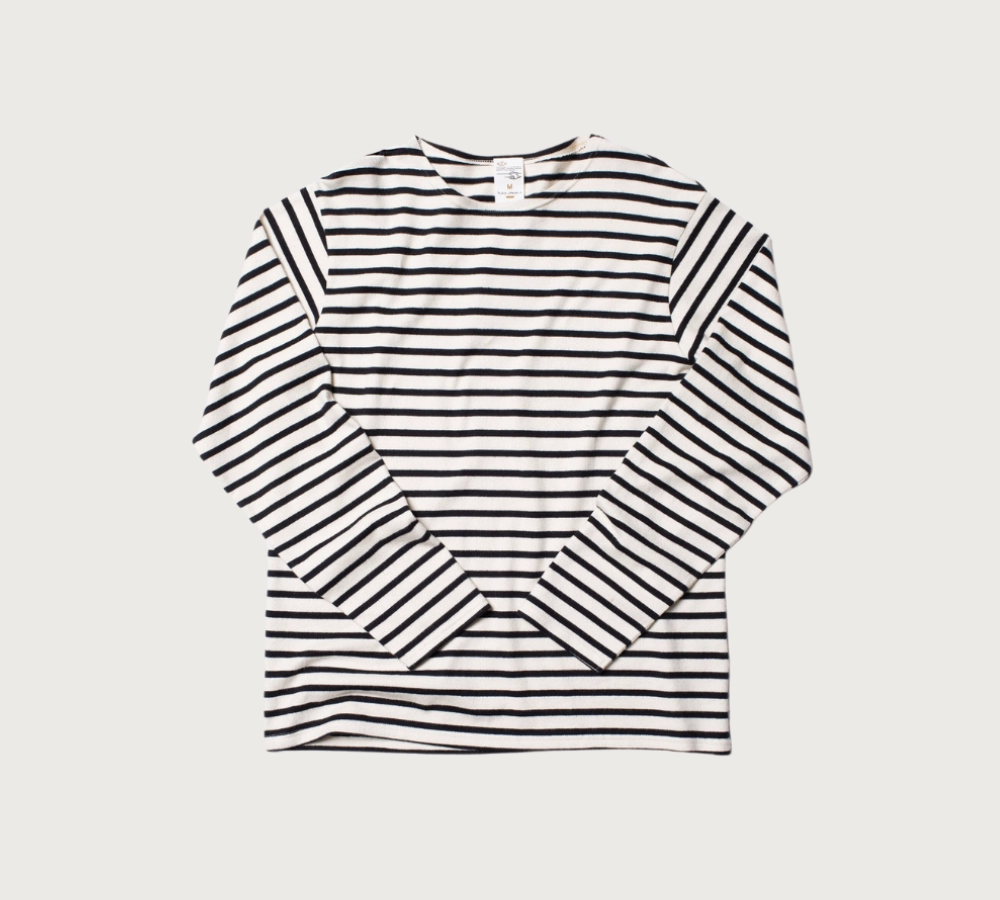 More of a modern, laid-back silhouette from Nudie Jeans here, as we observe a relaxed fit with a hint of a boat neck. The stripe placement and construction feel very in keeping with the traditional Breton top. We'd suggest styling low-key but elevated – this time of year, that's your finest indigo denim or a wide long casual trouser. Made from organic fairtrade cotton, you're guaranteeing yourself a little piece of mind too.
9. Armor Lux Breton Striped Top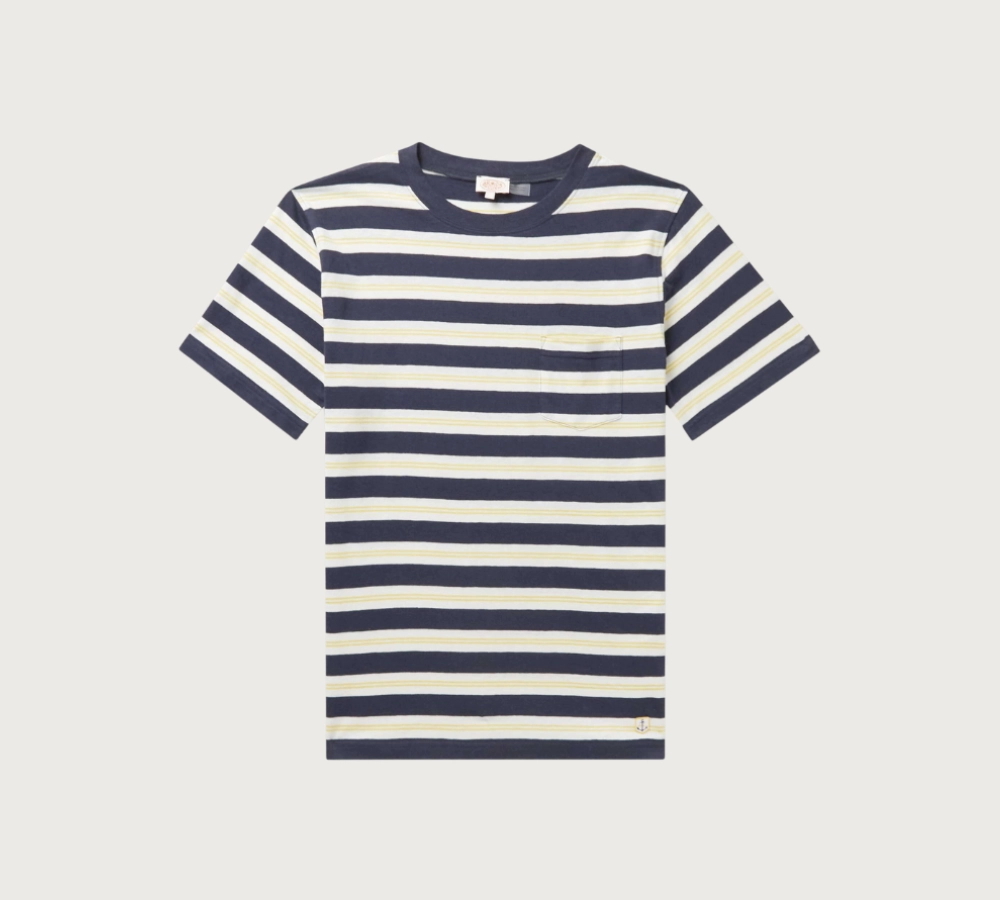 Known the world over in menswear circles for their Breton tops, this is a clean contemporary take on a brand classic – offered here on Mr. Porter. There's yellow stitching and the embroidered Armor-Lux logo, which also brings a touch of distinctive character to this timeless tee. It's perfect for summer, a great pick for holiday packing lists and balmy evenings in the beer garden – if you are that way inclined.
10. AMI Long Sleeve Breton Tee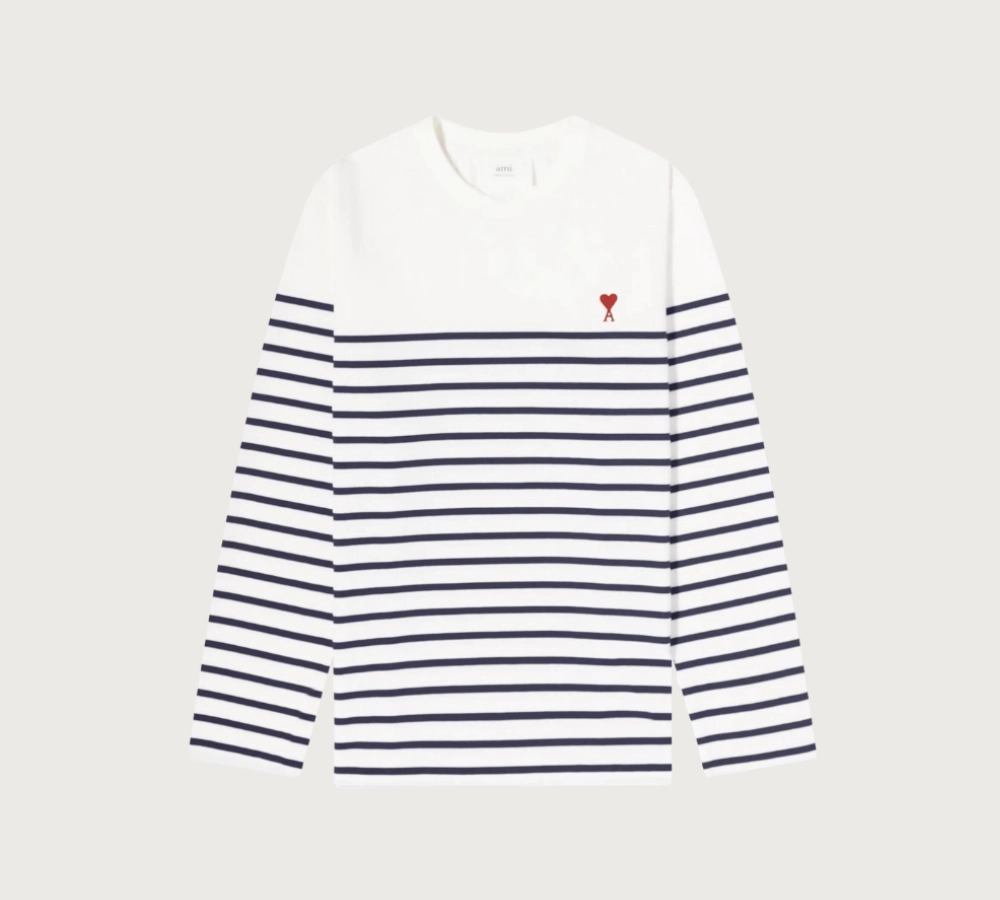 Modern French luxury meets traditional French seafaring style with this Breton long-sleeve tee from AMI. Soft, lightweight cotton construction featuring the Gallic House's signature logo in red stitching and those iconic horizontal blue stripes. An elevated take on a classic that we'd recommend for elegant casual styling: cocktails in the city, contemporary office dress codes, date night – all sartorially applicable.
11. GANT Breton Top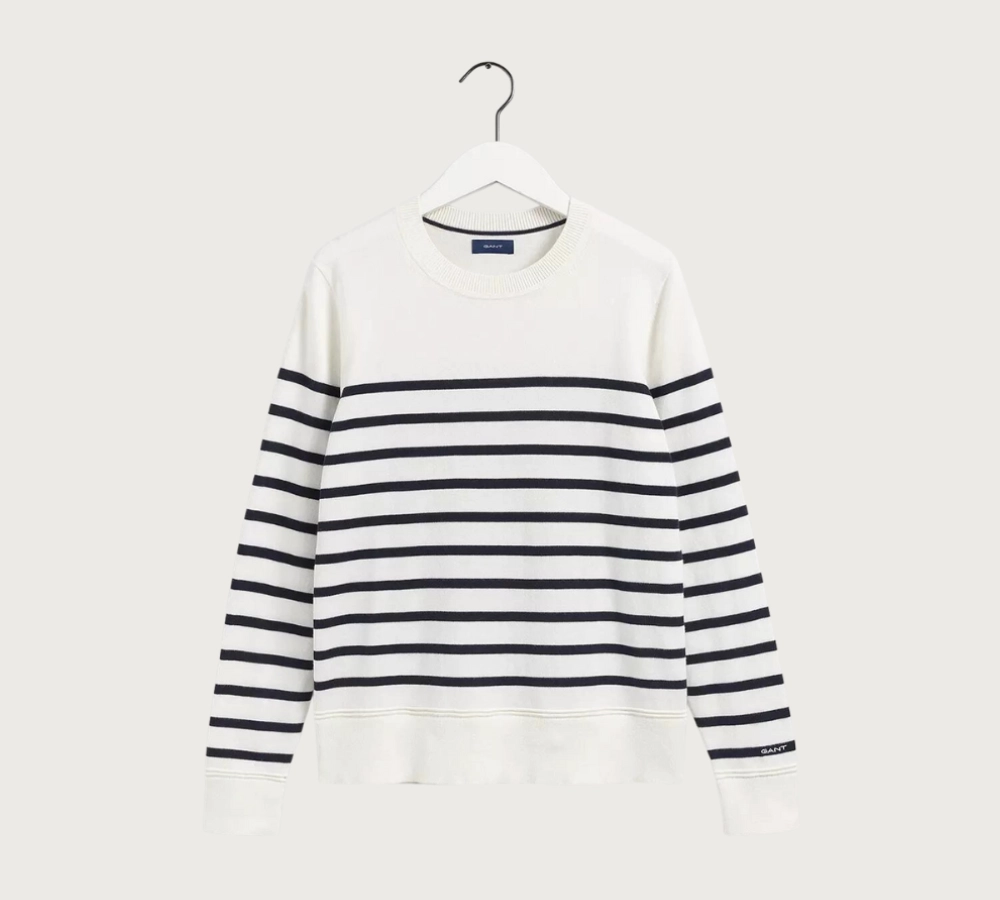 Beautifully light and breezy knit from Gant constructed in extra fine 100% cotton yarn. Nautical elegance, without a doubt, we'd recommend this as an essential layering piece for a modern masculine wardrobe. This writer could imagine throwing this on of a summer's evening as the cooler, after-dark temperatures kick in. It keeps things relaxed, comfortable and elegant.
12. Arket Heavyweight T-Shirt
Cut to a regular, slightly relaxed silhouette, this crew neck tee from Arket comes in engineered organic cotton with all-over Breton stripes. It has that clean, Scandi-infused style that makes it perfectly adaptable across all levels of your wardrobe. You could easily see this t-shirt being worn as a stand-alone off-duty piece with tailored chino shorts or paired with an ecru or navy blazer.
13. Uniqlo Striped Long Sleeve T-Shirt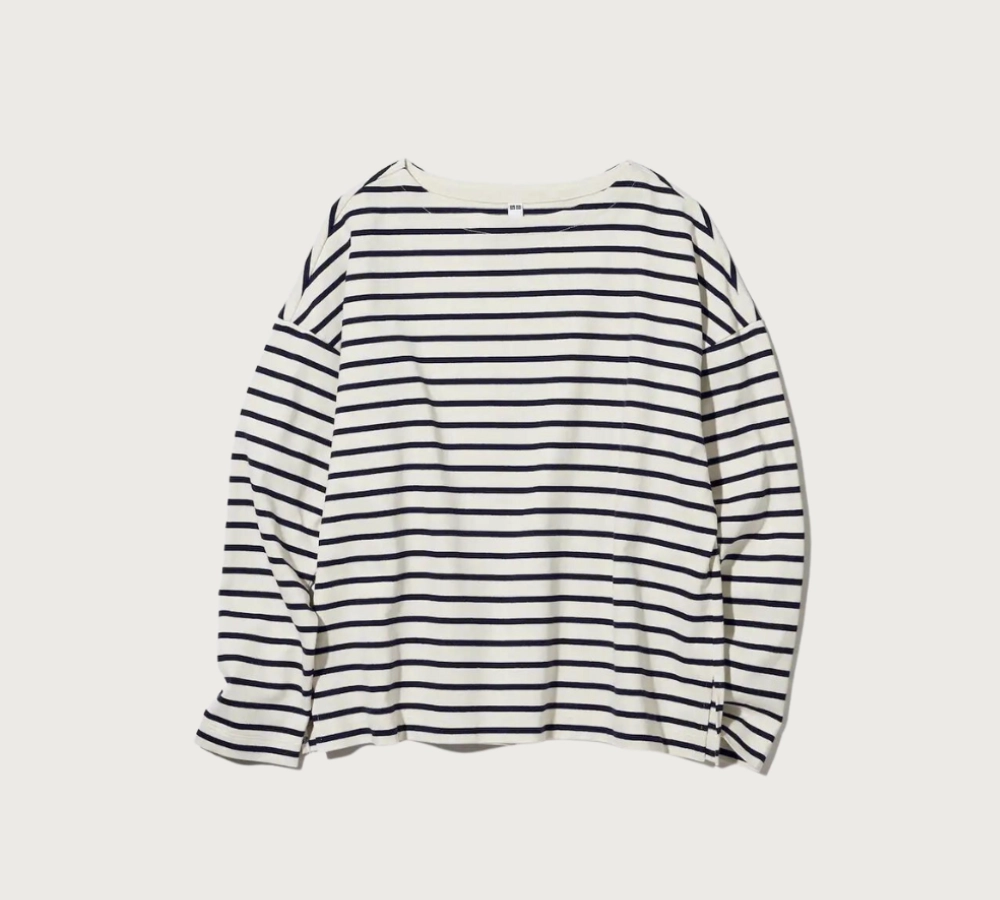 Crafted in off-white and navy striped cotton, this is typical modern classicism from Uniqlo. The boxy cut, construction and traditional boat neck offer up louche elegance as well as resilience for everyday wear. We'd agree with the brand in terms of styling, that it's great with a high rise or wide leg trouser. Box fresh trainers would finish a contemporary, relaxed look.
14. Community Clothing Navy Breton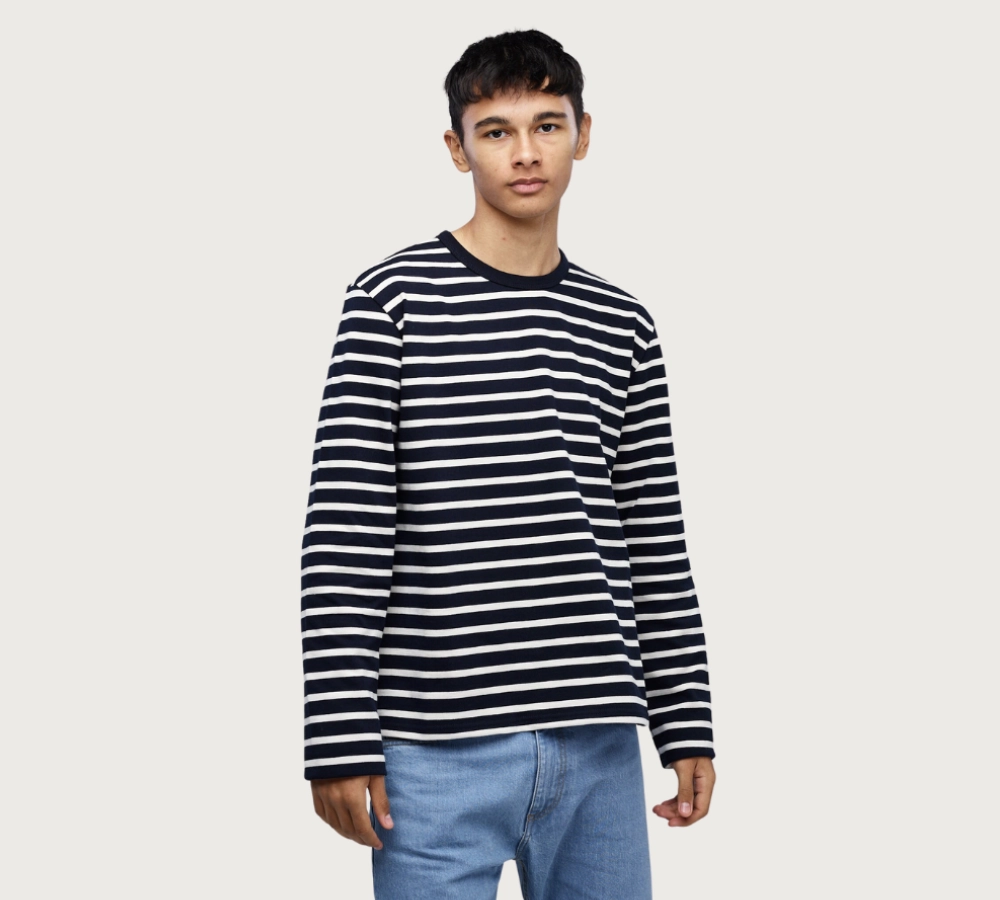 An established House classic from Community Clothing, their Breton top is made from 100% cotton, knitted in Leicester, then cut and sewn in Blackburn. A real homegrown British piece that honours a French classic. It's beautifully soft but with a substantial weight to the fabrication, giving it a nicely structured, masculine drape that should suit any wearer. They've paired it with a relaxed fit jeans, which works well, but you could easily see it worn with khaki or ecru chino in the summer.
15. Rapanui Striped Long Top
Rapanui offer a more sustainable, renewable option when it comes to menswear, all from their factory on the Isle of Wight. This navy Breton top is offered up in long sleeves with a neatly constructed crew neck. The fabrication has a soft hand feel and a lightweight movement across the body, making it perfect for the summer season ahead.
In conclusion, a Breton top is a stone-cold classic. Whether you're looking for a lightweight knitted sweater or an easy short sleeve tee for the warmer conditions, there's an iteration to suit your requirements. It's rare to find an unassuming yet distinct icon of style with a specific, storied heritage at such an accessible price point.