Is there a look that epitomises smart casual for men more than the blazer and jeans combination? This tried and tested partnership is a firm favourite of the stylishly elite as it works so well for a myriad of different social and work events. Whether it is an informal business meeting, drinks after work or a casual date, it is versatile enough to be tweaked to suit both formal or relaxed settings.
Despite its effortless suave exterior, the jeans and jacket, if not handled correctly, can become incoherent and mismatched. We want you to look more like Jeremy Renner and less like Jeremy Clarkson. This guide will help you master some failsafe looks to get this alliance of menswear styles working its magic for you.
What To Consider When Wearing a Blazer and Jeans
Before we get straight into the coolest looks for you to try, we need to start with the basics. That means getting the silhouette right. Once a man masters this, their look goes up a notch.
When we talk about the silhouette of an outfit, this is the bare bones of what you are wearing. That means not the colour, the fabric, nothing! Put simply, it is how the clothing looks and drapes on your body.
The key for finessing this is picking the size that complements you the most. A size that offers movement but isn't too baggy or looks fitted without being too tight. This applies to both the jeans and the blazer.
Take some time to look at men you would consider stylish. Focus on the drape of the clothing and the individual details. Do their jeans sit nicely above their shoe? Does the blazer follow the natural shape of the body?
What Jeans to Wear?
When deciding which jeans to wear with your blazer then, always approach with a less is more philosophy. That means toning down any distress effect on the denim and no rips or embellishments. If in doubt, opt for simple straight-cut navy blue jeans.
For those men that are a bit more confident, you can look at light-wash denim for summer months. If you want to go full sprezzatura, unleash your inner Italian with white jeans for warmer days.
Whether you choose a lighter or darker wash, try and line it up with the blazer. By that we mean, if there are darker tones in the blazer, than look for those in the denim and repeat for lighter washes of jeans which go well with light beige blazers.
Just remember, it is never appropriate to wear bootcut jeans unless you live on a ranch. So, let's skip right over them as a viable option.
What Blazer to Wear?
With the blazer, don't pick out a suit from your wardrobe, discard the trousers and wear with your favourite denim jeans. There are very few men in the world that can pull off such a slapdash approach to dressing.
Buy or pick a blazer that is not part of a suit, as it will give you more styling options. It will allow you to experiment more with the nuances that come from changing elements of the blazer. This could be as subtle as a shoulder roll or maybe a thinner lapel than you pick for your suits.
Fabrics will also be a key consideration. In summer you might look to linen or linen/cotton mix blazers while wool or tweed is a great companion on colder days.
A great foundation of any men's wardrobe is a two-button navy blue blazer. It is a versatile menswear essential and if you aren't sure which blazer to buy, then this would be our number one choice.
Different Coloured Men's Blazers
Starting with the blazer can give you the point from which to build your look. As we mentioned before the jeans should be simple and well-fitting, typically blue or black (sometimes white). So, the blazer is where we can look at a wider range of colours, patterns and textures. Below are some of our favourite blazer colours to choose from.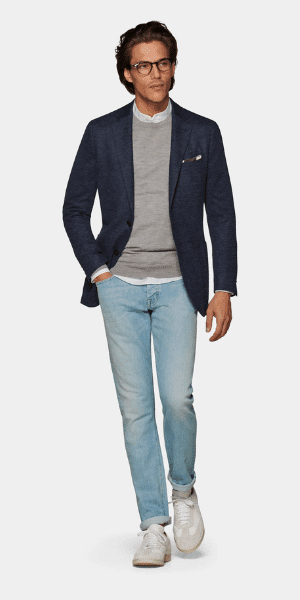 Navy Blazer
Let's start with the daddy of all men's blazer. It can hold its own when paired with different light and dark washes of denim making it a superb choice. The navy colour dark and slimming for the wearer, but is also the ideal foundation for the different shirt, t-shirt or knitwear colours that you choose to wear beneath it.
For an all-blue affair, wear your navy blazer with dark wash blue jeans and a light blue shirt. If you want to step out of your comfort zone a little, burgundy and brown can also work well with this blazer option.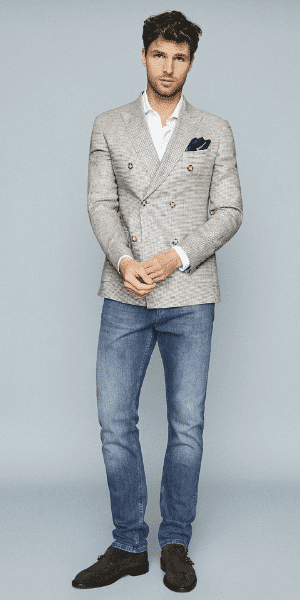 Grey Blazer
With a grey blazer, the key for us is texture. A simple grey blazer can look uninspiring and somewhat mundane. Adding a textured weave, or a pattern like a houndstooth will elevate the humble grey blazer and be more presentable.
If you have chosen a grey blazer then blue denim is always an option. But, we prefer matching the grey with black denim for a more contemporary look.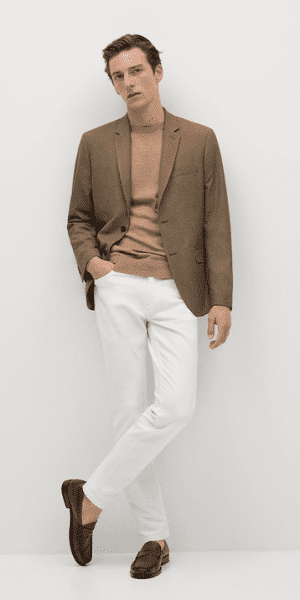 Brown Blazer
A brown blazer evokes a sense of autumn and as such, materials like tweed are a good choice for brown. They will deliver texture, and pattern but also additional warmth on cooler days.
During the colder months, you can build on the base of a brown blazer by working with additional textures through layering. Knitwear is the obvious choice, and styles like a cable knit jumper can work well.
Tweed jackets were absorbed into popular culture through the American prep style of colleges. So, when laying out the items for your outfit, the look to this era for inspiration.
Black Blazer
Probably one of the more difficult colours to pull off without looking like you work in a restaurant. The key to a black blazer is to include it within a monochrome outfit. That means partnering with slim-fit black jeans, black Chelsea boots and a white shirt or t-shirt underneath the jacket.
A simple monochromatic aesthetic will enable you to perfect the black blazer, as additional colours can be tricky. Black tends to swallow up bright colours, meaning they can look a little tacky. Keep the overall look minimalist, and you can't go wrong.
6 Stylish Blazer and Jeans Outfits
There are countless options when pairing a blazer and jeans, which means there are a wealth of pitfalls. Stick to the colour guides of our favourite combinations below to ensure you can apply them to your wardrobe choices. It is sure to have an outfit that will apply to you.
Just remember that fit (and overall silhouette) is the key.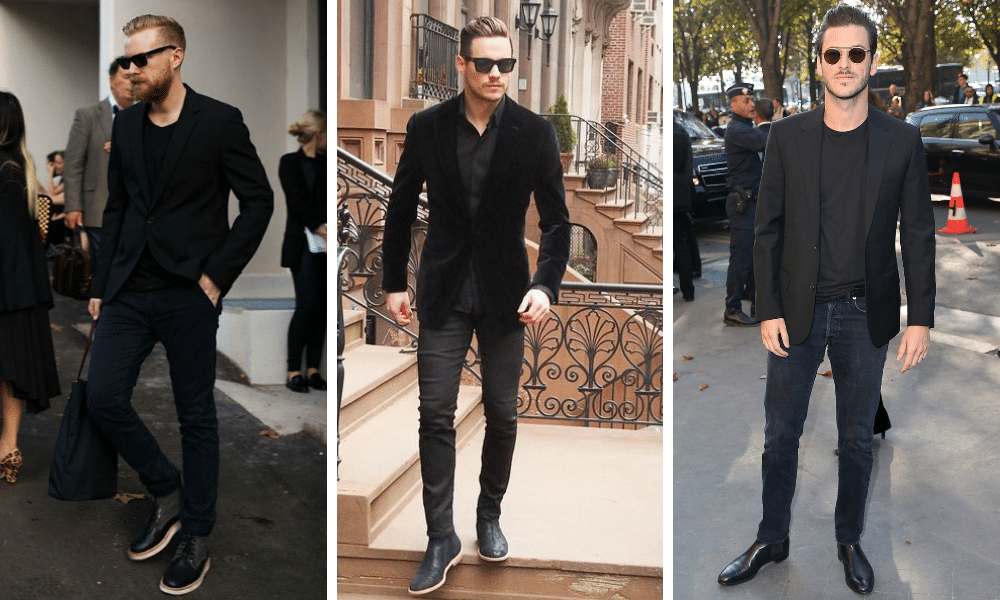 Black Blazer With Black Jeans
A slick, sophisticated outfit choice is a black jeans and blazer combination. Black has a slimming quality for the wearer, so don't undo the good work by wearing baggy jeans. It has to slim-fit denim to maximise its appeal.
During the Christmas party season, you might want to look a little less formal, and jeans instead of tailored trousers are a good way to mix things up. This outfit would be a great party look, and you can update it nicely with a roll-neck replacing the shirt to create a modern, masculine aesthetic.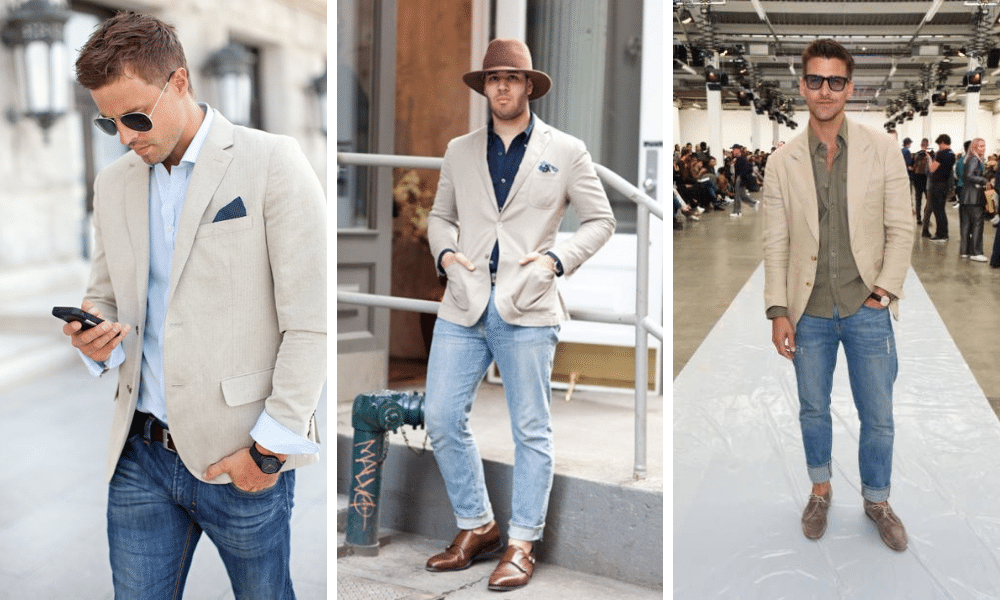 Beige Blazer With Light Blue Jeans
When you use blue jeans as the foundation of your outfit, then you have a wealth of choices when it comes to the blazer. If you want a change from a navy blazer, then try out brown.
If you have blue jeans as your base colour, then you can go pretty much the full length of the brown colour spectrum. For this example, we have turned to light blue with a light brown blazer which is a great look for summer.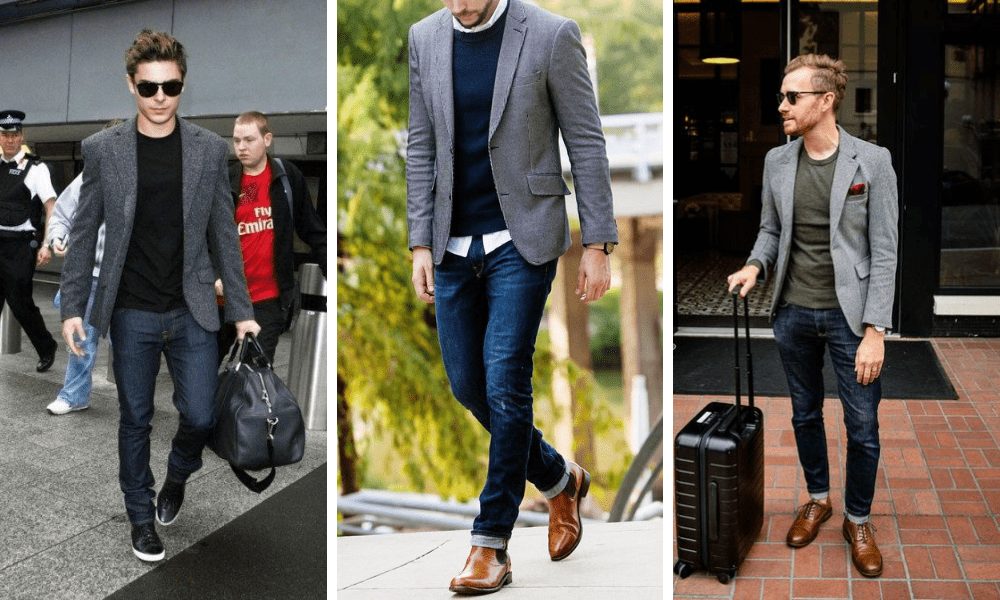 Grey Blazer With Blue Jeans
It is easy for a grey blazer to look dated and unstylish, and a lot of that comes down to the material.
Your suit jacket might have a slight sheen to it due to its quality and the material used. This is not a good look for a standalone blazer. Individually choose a blazer that has more of a matte effect. That could come from investing more money in the piece itself or opting for a pattern like a houndstooth or even a slightly textured weave. Then you are adding a strong base, like some blue jeans, to an already great item.
Why not add texture during autumn or winter by layering a shirt and knitwear below your grey blazer?
Beige Blazer With White Jeans
Take some inspiration from the attendees of one of the world's most stylish events Pitti Immagine for this one. The Italian-based fashion fair brings with it an onslaught of dapper gents from the world of menswear.
Held twice a year, the summer event is awash with white jeans and a great source of street-style inspiration. If you are confident enough to wear white jeans, their neutral colour palette aligns nicely with different colour blazers. We like the combination of white jeans and a beige blazer worn with a nice pair of monk shoes for warmer formal occasions.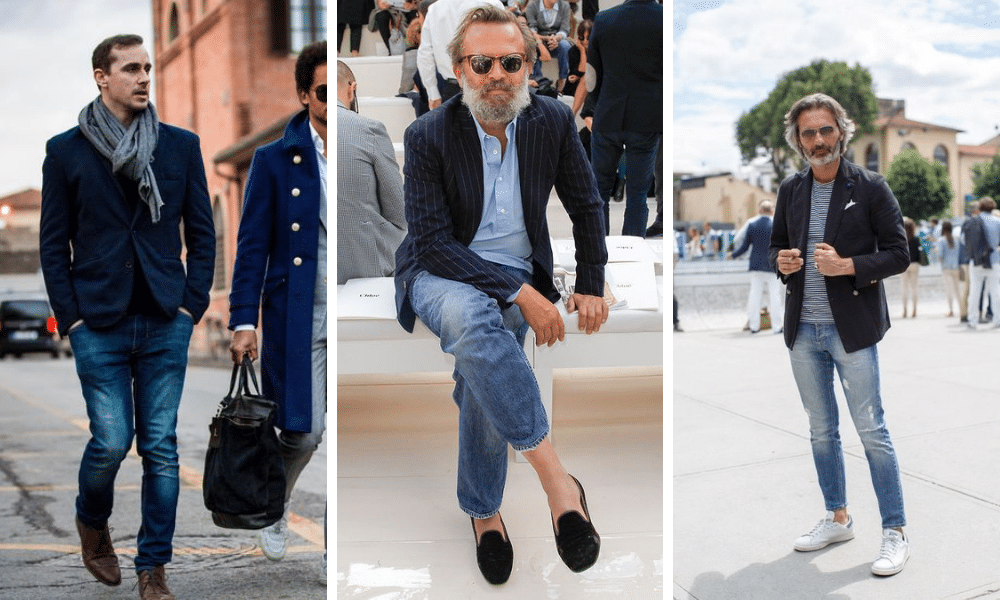 Navy Blazer With Blue Jeans
This is the 'old faithful' of blazer and jean combinations and probably because most men have both items already in their wardrobe. That doesn't mean though, that have been doing it right, must we refer to Jeremy Clarkson for a second time.
Firstly, get the fit of both the blazer and jeans right, and you are steaming ahead of the competition already. Secondly, the colours of both can't be too similar. So, if you have a dark blue on top, go lighter with the denim and vice versa.
Want something a bit different? Invest in a head-turning double-breasted blazer. Worn buttoned or unbuttoned as the Italians have recently been doing, it will definitely give this tried and tested partnership a new lease of life.
Blue Blazer With White Jeans
Freshen up your navy blazer with white jeans to re-work the look this summer. White jeans should only be worn during spring or summer, so you could wear a t-shirt under the blazer or opt for a white or light-blue formal shirt instead.
Want to go more casual? A blazer and jeans can become more casual by choosing differently when outfit building. With white jeans, you might like to try a Breton stripe t-shirt and a pair of crisp white trainers to hit a slightly more casual than a smarter note.