For any products purchased through the links on this site we may earn a small commission
Where To Buy Your WFH Basic Sweaters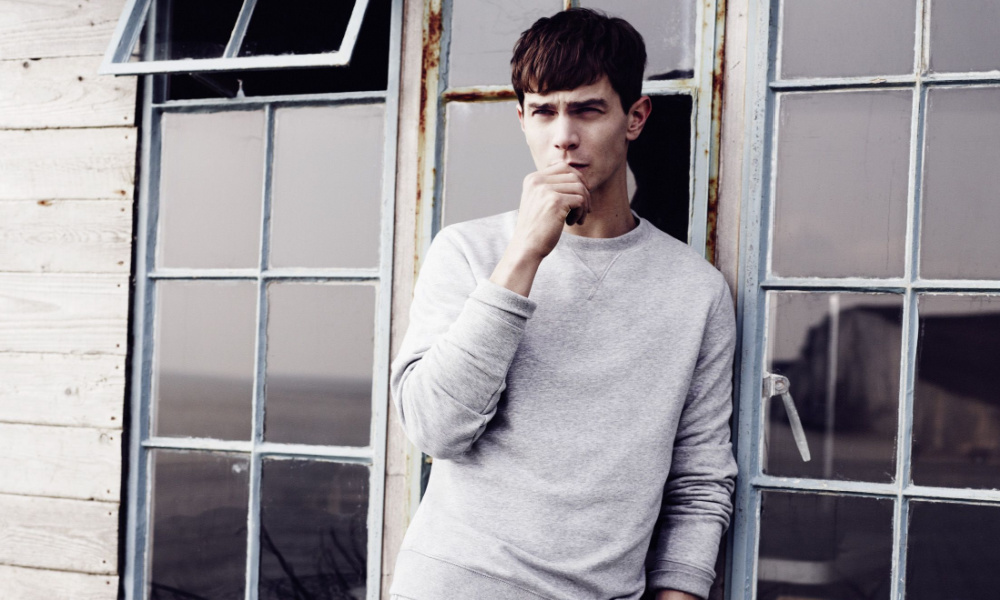 Now the comfort blanket of the office environment has been removed, men are desperately trying to find the balance between practicality and formality in how we dress. We don't want the boss to think we just rolled out of bed (even if we did), but we also don't want to be unnecessarily sitting in front of a zoom call in our finest suit.
If your work is largely solitary and you aren't someone that has to partake in a lot of video calls, it can be easy when working from home to fall into a style rut. You start choosing whatever is comfortable each day, which is inevitably worn-out joggers and a t-shirt. If we invest in some key 'work from home' pieces, not only will we look more presentable daily. But, the routine of actively getting ready in the morning (like we would for work) can switch our mindset and improve productivity and mental health.
One of our core items for home working is the basic sweater. Initially, this might seem a tad too casual, but this unassuming jumper offers a versatile, yet functional option. Dress it up easily by pairing with formal trousers and shirt or go more casual with a basic t-shirt and denim jeans. Either way, it will become a reliable favourite.
When we talk about our basic requirements, we are narrowing our search to a cotton sweater in grey, navy or black.
So, where is the best place to get one?
The below list is our definitive pick of the best places to shop for this kind of sweater. Remember, by paying a little more, you are guaranteeing better quality materials that in a lot of cases are sustainably sourced. Looked after correctly, these choices will last a lot longer than their cheaper counterparts.
The Real McCoy
Manufactured in Japan their sweatshirts have raglan sleeves and come in 100% cotton. Due to the tighter neckline and double V, it is recommended to go one size up when buying.
Sunspel
Sweatshirts from British brand, Sunspel are crafted from a soft loopback cotton. They have a neat silhouette with subtle detailing on the collar and cuffs.
Deus Ex Machina
Meaning "god from the machine" Deus produces culture-leading clothing. Their heavyweight 350gm cotton tops are in a standard raglan fit adorned with a Deus Tokyo Address print on the front and back.
Arket
The classic French terry sweatshirts from Arket are manufactured from a midweight 340gm cotton with ribbed trimmings. Available in five different colours the looped interior enables it to remain soft and airy.
Good Measure
A robust and heavyweight 480g loopback jersey cotton. Good Measure manufacture in the UK with items produced on a limited run. This traditional fit sweatshirt has double thickness rib inserts and has been strengthened internally on the shoulders to last longer.
Everlane
Part of the brand's foundation pieces collection, Uniform it comes with a 365-day guarantee. To stand up to their claims of unrivalled durability, Everlane worked with a fabric expert to produce this deluxe French terry sweatshirt.
Community Clothing
Sustainably made in the UK, Community Clothing was founded by Patrick Grant of Savile Row tailors Norton & Sons. The sweatshirts they sell are 470g premium thickness in 100% loopback cotton and are definitely built to last.
Buzz Rickson
Expertly crafted on original 1920s 4-needle loop-wheel looms, this garment type is somewhat of a rarity in modern menswear. The classic sweater is made from 440gsm cotton and has contrasting white seams throughout.
Levis Vintage
An exact replica of an archival garment from the 1930s, this sweatshirt is made from ultra-soft fleece cotton. With a standard V neck detail and ribbed edges, it is as classic as they come.
Our Legacy
The basic crewneck sweatshirt was made in Portugal from 100% fleece back jersey cotton. It has a washed vintage feel to it and a woven brand patch on the front.
Blacksmith
The brand has used vintage American loopback machines to create this everyday grey sweatshirt. In a lighter weight French terry weave cotton, it is reasonably priced at the sub £30 mark.
TSPTR
The brand's name is an acronym of Truth, Symmetry, Pleasure, Taste and Recognition. This sweatshirt features a reproduction of the US Navy Seabees print and is premium weight jumper, crafted from 100% Portuguese cotton.
Sunray
When creating their sweatshirts, Sunray uses a loopwheel technique in their Japanese factory. It means every item takes 1 1/2 hours to be made, but the seamless finish on the torso will ensure it lasts longer than other jumpers.
Albam
Priding itself on crafting modern menswear essentials, this French terry sweat falls firmly into that camp. The brand works with some of the finest UK and European factories. This is an Italian cotton sweatshirt completed with their signature ottoman rib detail.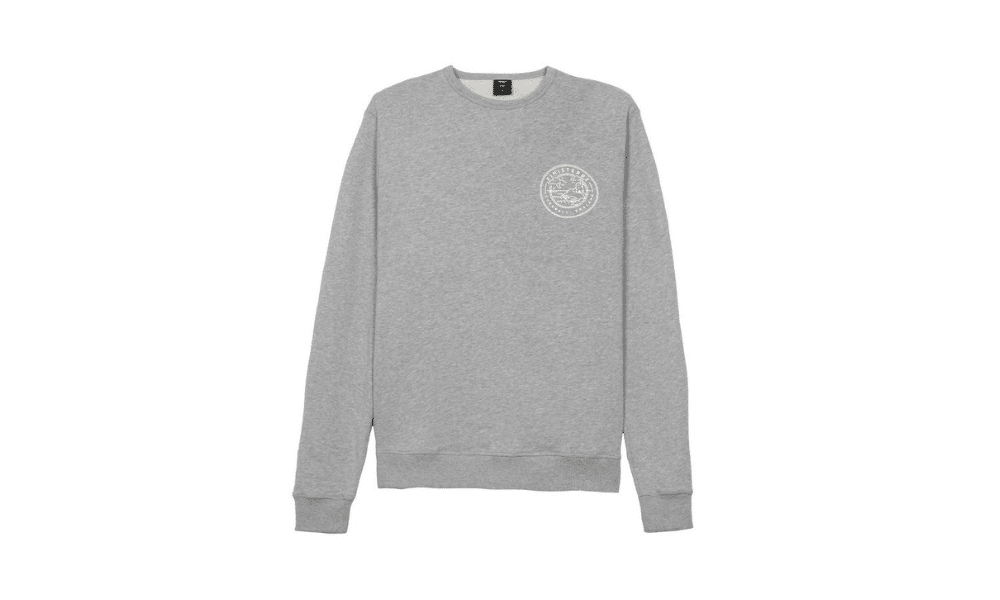 Finisterre
This is a lightweight sweatshirt made from sustainably sourced 100% organic cotton. The print design is a nod to the home of Finisterre and it would make an ideal mid-level layer.
Asket
Asket has produced this sweatshirt from a custom-developed, unbrushed loopback fabric made of 100% Egyptian cotton fibres. For the neckline, cuffs and bottom, they've personally developed a lycra-reinforced rib-knit that provides stretch without losing the garments shape.
Form & Thread
Taking a slightly different approach, Form & Thread use a diagonal fleece as opposed to the traditional loopback fleece other brands might. The result is a cleaner and softer fabric crafted from a tightly knitted, long-staple yarn made from cotton farmed in the US.
Sanvt
Described by the brand as 'the perfect sweatshirt', it is handmade in Portugal from a heavyweight 400gsm cotton. The custom-made fabric has a classic unbrushed feel to the inside, while overall diagonal knit production makes the garment last longer. To get the ideal fit you can personalise the size and length for true work from home comfort.
Carharrt
A mix of cotton and polyester, this isn't the most sustainable sweatshirt on the list. But the heavyweight gauge and robust construction you come to expect from workwear specialist Carharrt mean it won't let you down.
Please follow and like us: