The classic grey trouser is a staple of any guy's wardrobe. A timeless colour choice, it is a step up from black in terms of versatility. Able to be finetuned to the greater breadth of men's colour palettes due to its abundance of shades, patterns and tones.
With its subtle finishes, men sometimes feel overwhelmed when choosing what to wear with their grey trousers. So, in this guide, we have brought together some of our favourite colour combinations. These matches will cover the basic principles of a great look before moving on to something more experimental. The result will be a greater knowledge of what colours pair nicely with grey and how to incorporate them into a look for various occasions.
How to colour match grey
When approaching what to wear with your grey trousers, it is important to consider the tone and pattern of your chosen pair, as some colours will only complement certain shades of grey.
Light to mid-grey trousers is your most versatile option. They will partner with more colours while not being as restrictive to a particular season. Charcoal, for example, has a richer, darker tone that lends itself to fewer colours and is considered a more autumn/winter palette.
An excellent rule of thumb is to keep the top and bottom in a similar tone. That means a lighter grey would pair nicely with a lighter top colour, with the alternate being true of a darker shade of grey.
What to wear with grey trousers
To deliver that desired look of presentability, then men will often turn to a shirt. In the smart or smart casual realm, a shirt with grey trousers can have a polished finish. This is a considered choice that can cover a mix of events. But men can push the boundaries further with grey due to its adaptability.
In a casual setting, men can pick a more relaxed trouser option such as a chino or jeans. The result won't be as smart as with formal trousers, but it allows us to integrate more understated elements easier. T-shirts, hoodies or workwear-inspired jackets. All are considered less formal, though if men can ensure the fit is right, the overall finish is practical and stylish.
Naturally, our preference always sways towards a smarter look. Though, we don't always have to stay as restrictive as suits. Grey trousers give men a chance to introduce textured knits, printed shirts or smart casual polo shirts, all while playing with separates to bring a contemporary feel to smart dressing.
Discover some of our favourite looks, including the timeless grey trouser.
White Shirt with Grey Trousers
As safe as it comes, a white shirt is the first top in a man's wardrobe because it goes with literally anything. The white shirt can take whatever you throw at it, and grey trousers are no exception.
Whether it is a dark or light tone of trousers, it doesn't matter. This failsafe combination is the ultimate jumping-off point. It can sometimes look a little stale, but thankfully there is enough space to add interest. This could come in the form of a shawl cardigan in winter or a more lightweight shacket in spring. Either way, there is enough room to add some personality.
Navy Blazer and Grey Trousers
Another tried and tested pairing, grey trousers and a navy blazer, can be a default tailored look that offers a nice alternative to a full suit.
The tones for this look are best suited to something a little darker on the bottom half, as it will sit nicer with the navy hue. Underneath the blazer feel free to be as formal or casual as you like. Men can get away with polo shirts and even t-shirts as long as there is harmony with the drape of the blazer and the footwear choice. A suede penny loafer for example perfectly strikes the balance between smart and casual.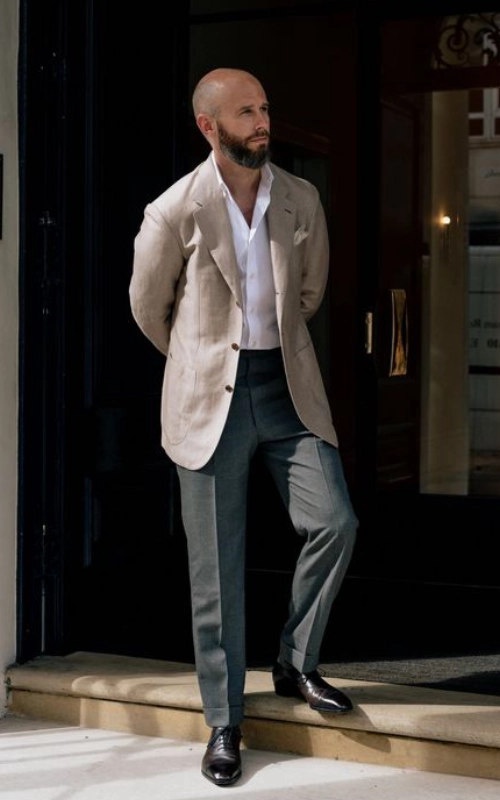 Light Blazer and Grey Trousers
In the warmer months, men might feel the need to lighten their tailoring and switch muted tones for a lighter colour palette. Grey trousers can be your rock in this situation.
Not every guy wants to go full-pastel or beige in the summer. So, a darker shade of grey trousers can ground the lighter jacket option to keep the outfit elevated and more formal. Just make sure to balance out the two contrasting shades with a white or light blue shirt to bridge the gap between them.
White T-Shirt and Grey Trousers
Switching a formal shirt for a casual alternative can still create an appealing look. The key is in nailing the fit, Both on top and below, we need the pieces to be fitted without being too tight. So, no matter if you have chosen a grey pair of jeans or grey chinos, the overall aesthetic is still a considered one.
With changes in opinions to formal wear in the office environment and less need for suits due to working from home. This could strike a nice balance for those men that don't want to become too slobbish while presenting a relaxed version of themselves.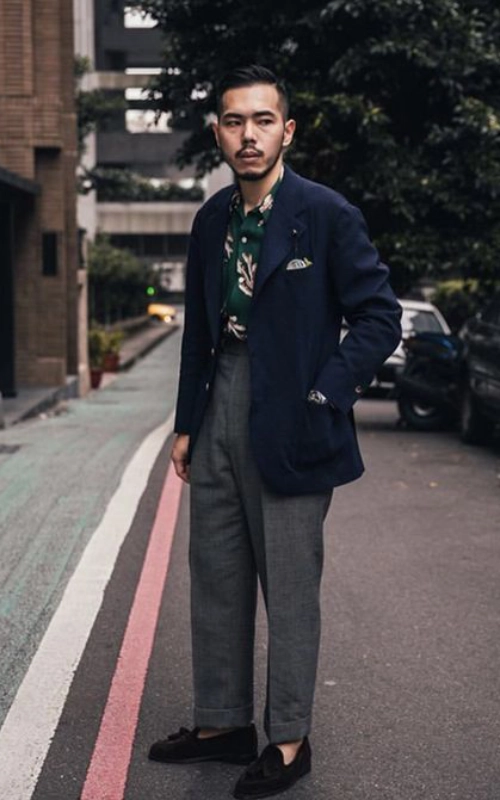 Grey Trousers and Printed Shirt
A printed shirt is a great way to introduce a bit of fun and colour to our wardrobes during the summer months. Men often revert to a default holiday mode of shirt and shorts to carry it off. There is another way.
By utilising the layered appeal of grey trousers, men can absorb the impact of the bolder shirt choice without straying too far into casual. The image above is a perfect example of how we can include a printed shirt into a contemporary tailored look without becoming too cliched. The navy blazer further accentuates the smarter approach while dragging the printed shirt up the formality scale.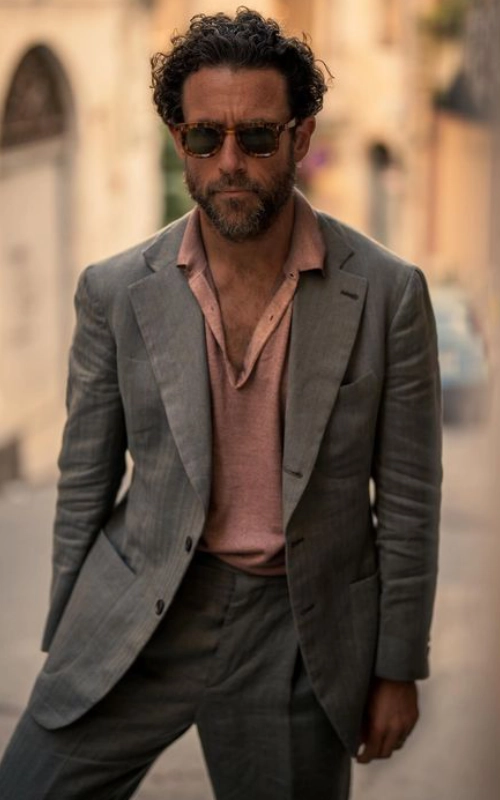 Grey Trousers and Pastel Polo Shirt
Worn as part of a suit or on its own, a pastel polo shirt with grey trousers is the ideal spring-summer combination. The pastel colour softens the grey trousers while offering a nice change to the safe choice of navy.
What colour of pastel you choose is up to you. For those brave enough, a nice pink hue will bring some nonchalant Italian flair, while blues and greens might be more palatable to those men wanting a refined pick.
Grey Trousers and Grey Knitwear
A tricky ensemble to get right. Blocking the same colour on top and bottom will always throw up some issues with the finished look. That is if we forget the basics of giving some definition between the two elements.
One way guys can create contrast is through darker and lighter greys. This is the easiest and surefooted way to produce the desired outfit. Another way is to play with texture. In cooler months, the look and feel of knitwear within our tops can show an expert touch in styling.
Grey Trousers and Navy Shirt
We have already presented how navy and grey are a match made in heaven. So, why not play with the tones? Rather than the darker grey as before, we have picked a lighter shade of grey for the trousers, keeping the richer navy on top. This creates contrast, the second proven method for styling these trousers.
This combination can be won as part of both smart or casual looks as long as men stick to the clear definition between upstairs and downstairs.
Green Shirt with Grey Trousers
This might be pushing some men out of their comfort zone, but it can be an absolute hit if you can master it. I would caveat that more vibrant colours compliment those with a darker complexion, so maybe avoid them if you are a pasty white bloke like me.
If you are lucky enough to have the skin tone to pull this off, then lean into it and embrace it. Like the stylish man in the picture, you could always layer with a white vest as an artful way to counteract the vibrancy. But, in the summer, why not take your foot off the brake?
Navy Polo Shirt with Grey Trousers
The navy polo shirt is a staple of the most stylish wardrobes, a nice fallback and a great way to breathe new life into more formal outfits. Unabrasive, the standard fit can replace a shirt and still provide an elevated look.
Play with the style and fabrics of your navy polo shirt to see how you can produce slightly mixed results. For example, a polo shirt with the buttons removed would be more summer-focused and can bring a pinch of Rivieira-chic to the city. Alternatively, a long-sleeved polo shirt in merino wool or cashmere will have your back as we move into the colder periods of the year. Whichever way you choose, grey trousers and a navy polo shirt will never disappoint.