On the face of it, the suede jacket does not seem the most practical of outerwear choices. Especially when you live on an island with as much rain as Britain does, but don't let that deter you. The suede jacket is an effortlessly stylish pick for men looking to elevate their top layer.
A great transitional piece. Suede has the laidback nature of a leather jacket encased in a soft material that adds visual texture to a gent's outfit. Its matte finish makes it an ideal pick against a simple base layer, and this ease of styling makes it so versatile.
All this understated menswear piece needs is a bit of care to keep it looking its best. Read on to find out how to tend this unique fabric and who has the best options on the market.
How to Care for a Suede Jacket
If we want to buy a jacket crafted from quality suede, we must be prepared to pay the price. Subsequently, men don't want that outlay wasted after a few wears.
Suede, in essence, is leather with the top cut off. The resulting exposed nape is delicate and susceptible to scuffing and staining. Before you throw on your new suede jacket, ensure it has been given a barrier of protection to wick away any rain or spilt drinks. We use a spray suitable for nubuck and suede in a well-ventilated space. Get into all the nooks and crevices, topping up once a year to keep it fresh. Any stains post-spray should now disappear after being left to dry naturally.
Secondly, men want to remove debris while keeping those fibres silky smooth. A suede brush isn't as abrasive as other models, so when used regularly will present a more polished finish.
After each wear, hang your suede jacket with a sturdy hanger and store away carefully. And voila, your new favourite jacket is ready when you need it.
1. Nudie Jeans Suede Cognac Jacket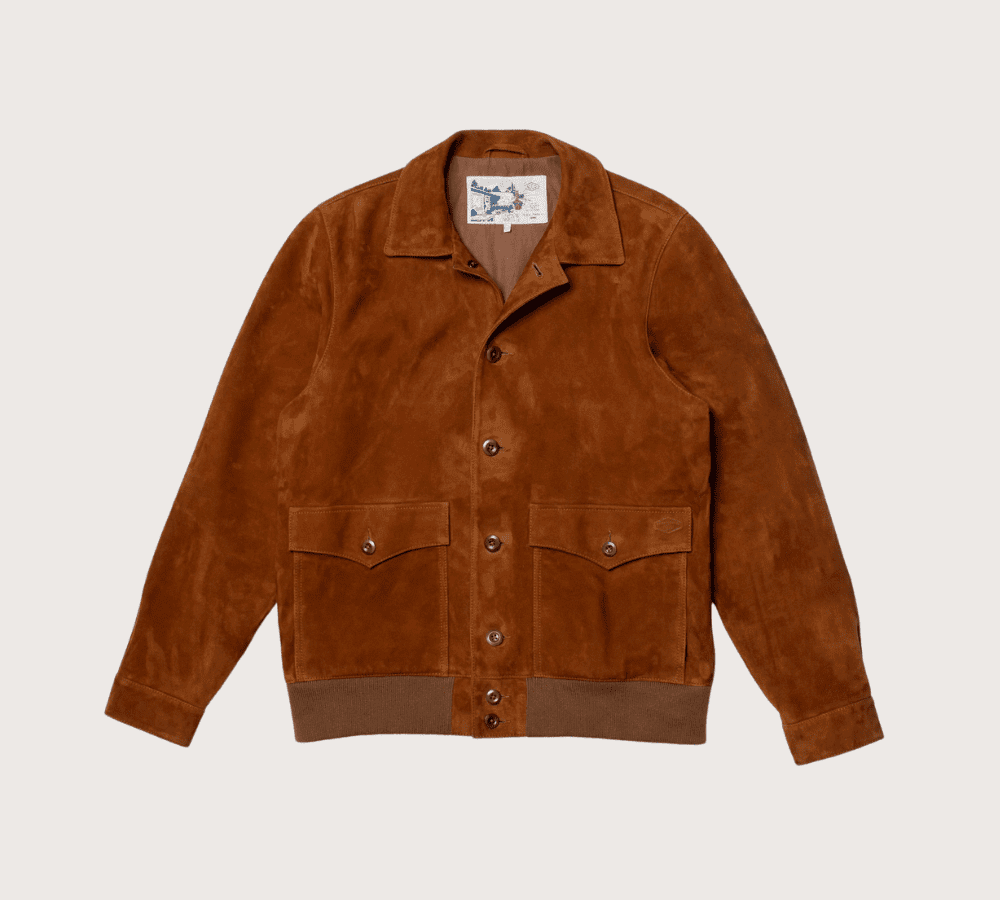 This jacket is crafted from supple, soft goat leather in a distinctive cognac colour. A classic cut, the ribbed waistline nips in the silhouette to contrast what you wear on the bottom half. Finished with front-patch pockets and slip-inside side ones, it is an understated, relaxed choice.
2. Club Monaco Suede Bomber Jacket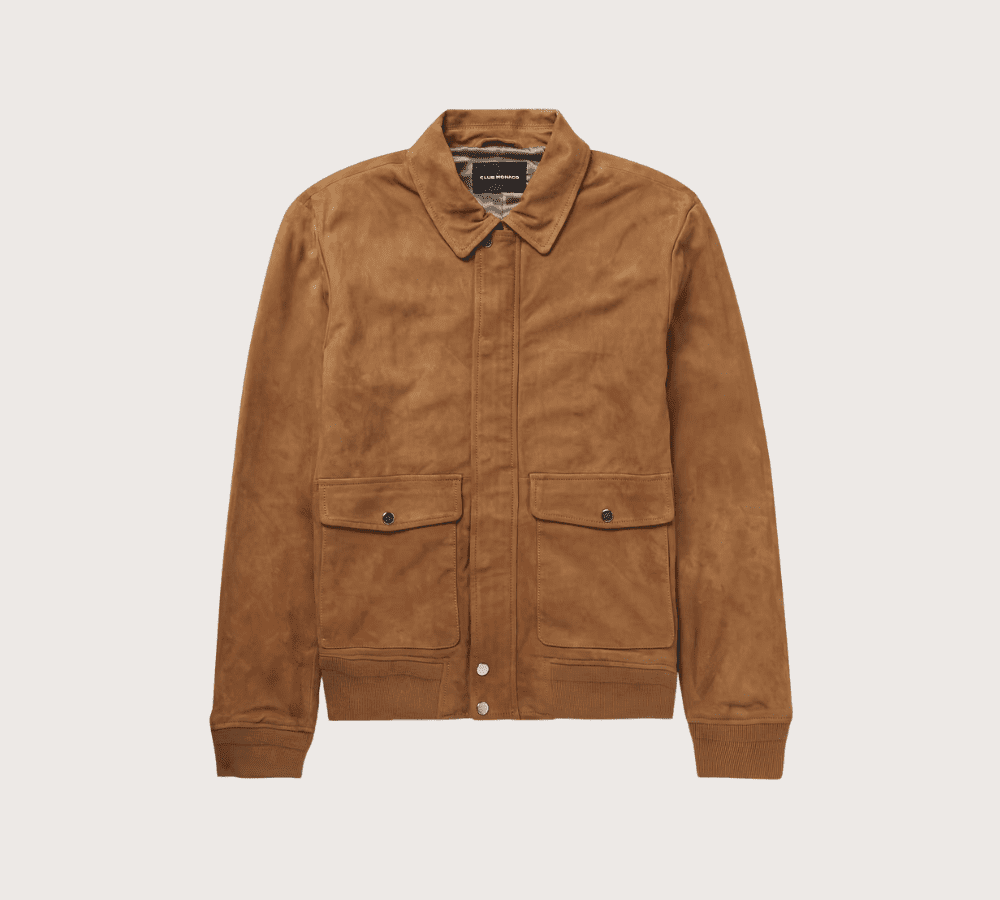 Club Monaco has created a suede jacket in a timeless design that will easily become a staple piece. The streamlined bomber comes with the added luxury of being silk-lined inside. We recommend wearing with white jeans for a smart causal spring-summer look.
3. M&S Suede Bomber Jacket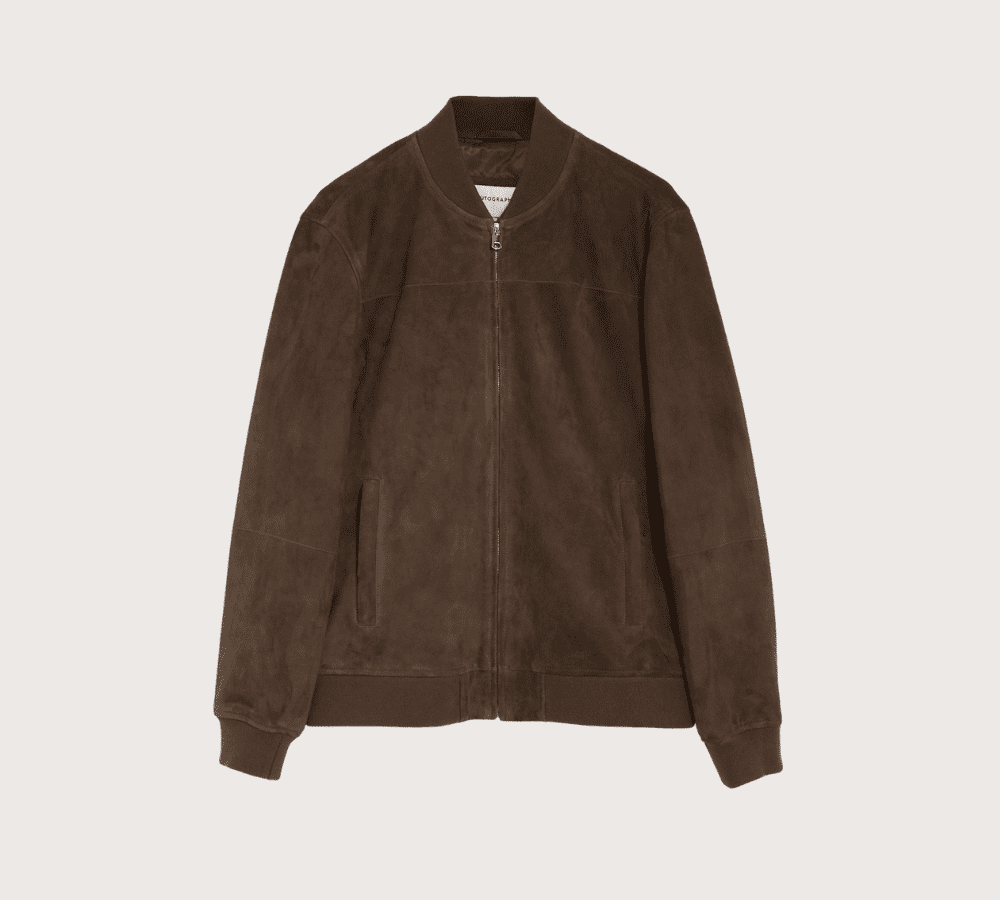 Getting your hands on premium suede can be expensive. M&S allows men to try the material without taking out a second mortgage. Butter-soft suede has been engineered into a regular fit bomber with a baseball collar. A simple, but impactful pick.
4. Hackett Suede Harrington Jacket
Updating a classic, British brand Hackett has opted for a mandarin collar and forward shoulder seam drop to finish off their Harrington jacket. Small details like the two-way zipper and snap fastening all add extra finesse to an effortless design.
5. Private White VC Mechanic Jacket
Utilising the exquisite goat suede, the brand has left this jacket unlined for a relaxed fit. Ingenious construction notes like an internal smartphone pocket all help to keep the humble suede jacket relevant. While durable fastenings and military-grade copper hardware make it resilient against wear and tear.
6. Massimo Dutti Suede Overshirt
Technically an overshirt, this is still a nice alternative menswear piece to see you through transitional months and beyond. Wear with a simple tee underneath or layer with knitwear on chillier days. It's versatile with a laidback edge.
7. Reiss Trucker Jacket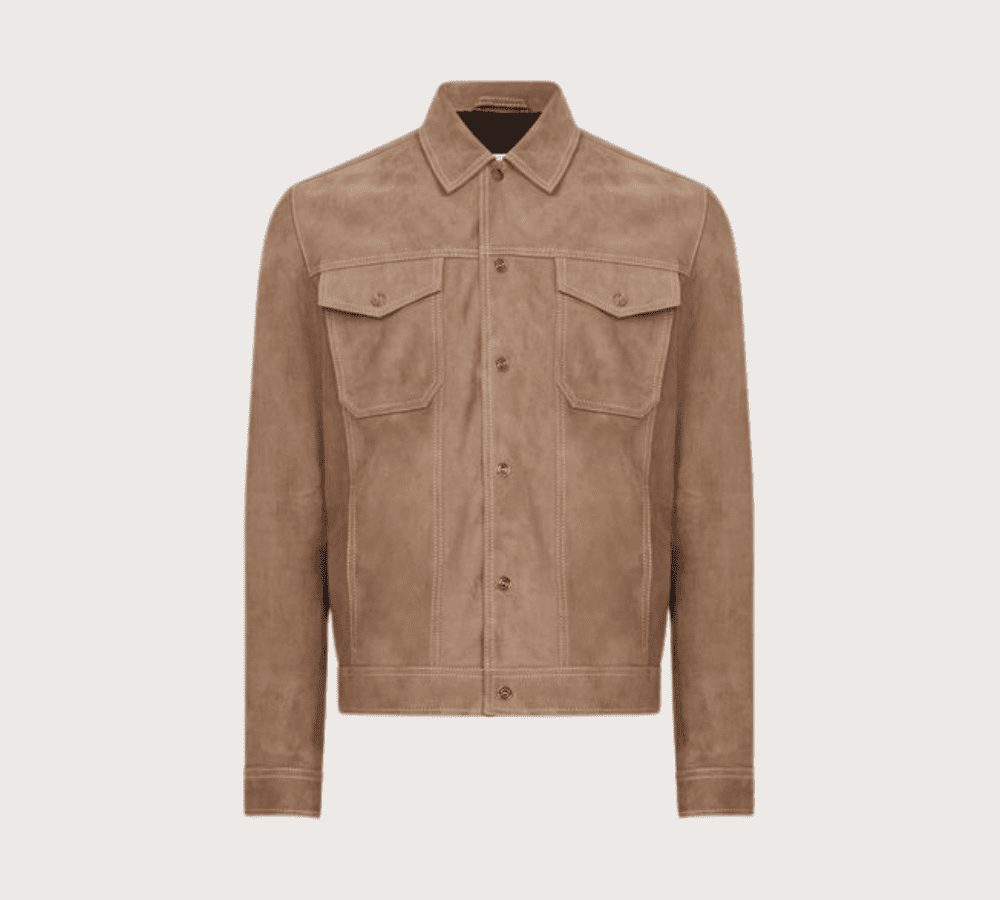 Reiss has got the memo and nailed it by delivering durability in an elevated aesthetic. The collar and chest pockets add interest, while the minimalist design makes partnering with the rest of your wardrobe a breeze. Why not try pairing it with formal trousers for an updated business look?
8. Percival Suede Western Jacket
Time to saddle up. This hardwearing pick will become a favourite year after year. The boxy fit and clean, dark colour palette mean you can ride off into the sunset knowing this won't go out of style soon.
9. Paul Smith Suede Trucker Jacket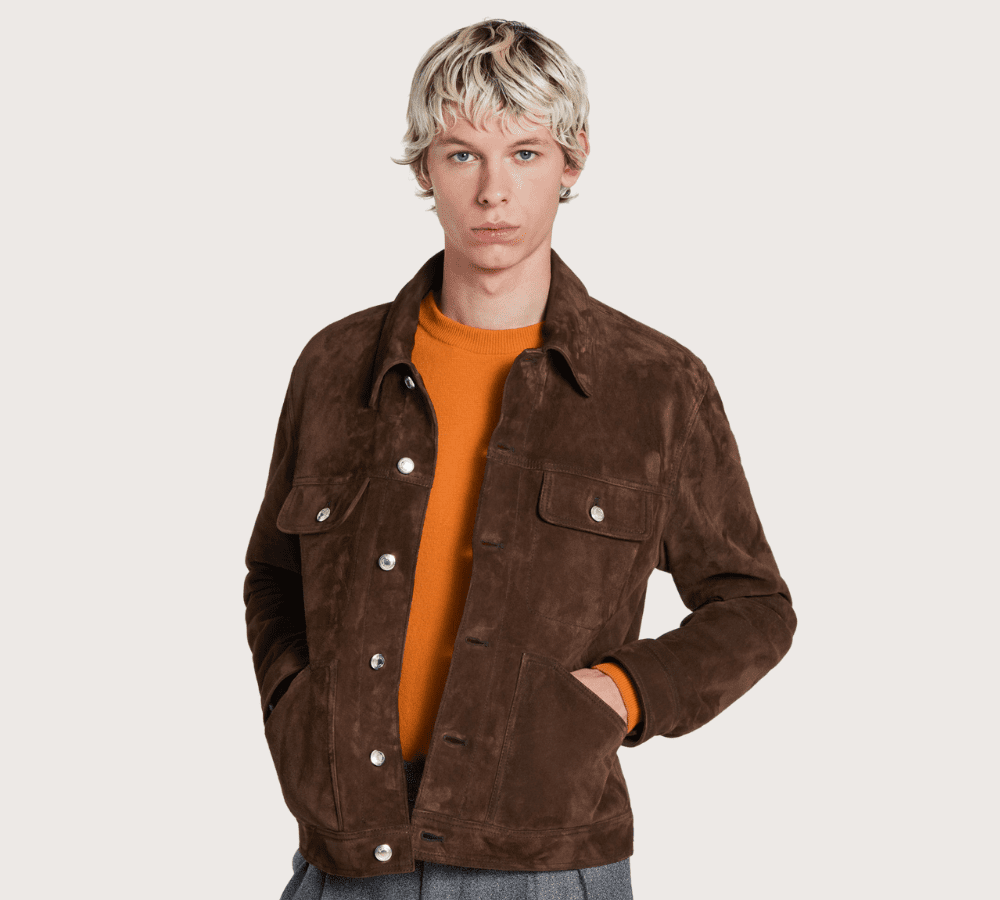 Paul Smith has done a stellar job crafting this jacket in Italy from premium lamb suede. Cut in a trucker style. There is a lot to like about this elevated classic. Simple, timeless creations made from the finest materials, is something we can get on board with.
10. Tom Ford Shearling Suede Jacket
Made in Italy from super-soft cashmere suede, this jacket shows that by enriching pieces with key materials, we can get more use from them. Utilising warming shearling and an additional lining ensures this can still be worn when the temperatures drop.
11. Eleventy Funnel Neck Suede Bomber
Not made entirely from suede, Eleventy has combined the fabric with cotton sleeves to create a minimalist, refined jacket. An instant winner, this pick will be adept enough to be worn with both formal or casual pieces.
12. Mango Suede-Effect Bomber Jacket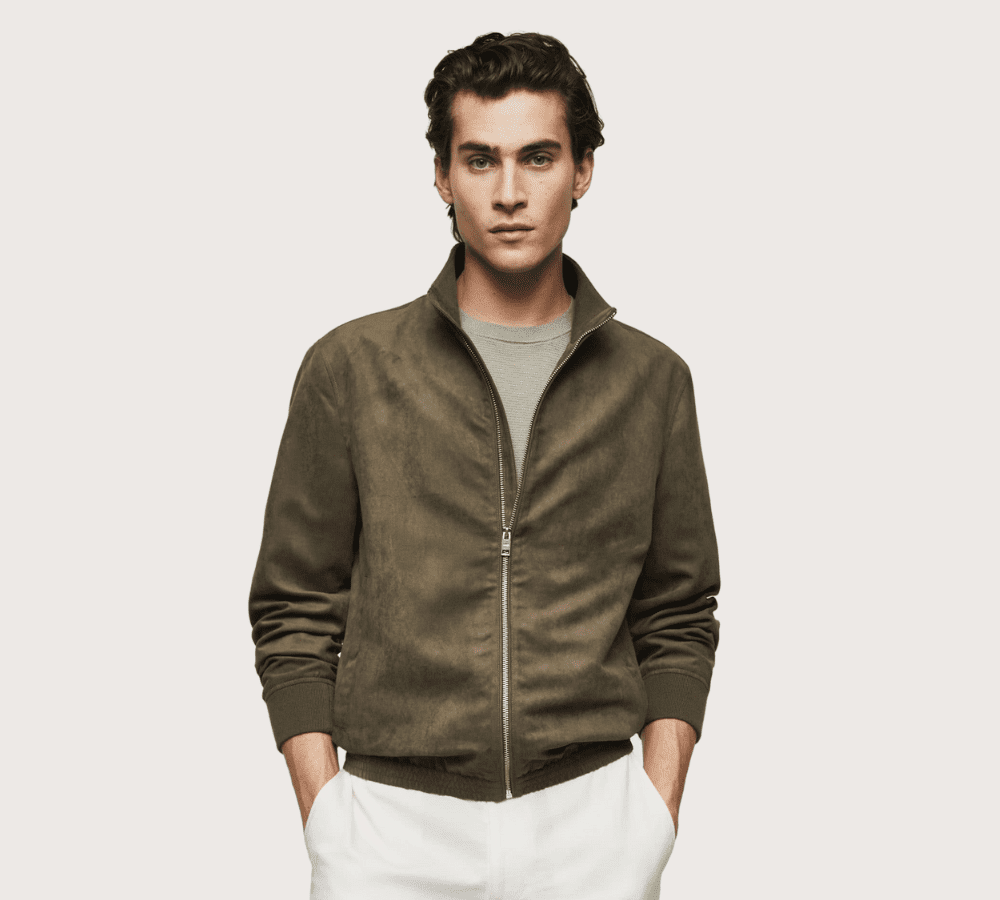 Ok, we might be cheating a little here. But, we believe the nonchalant, balanced proposition on offer was hard to beat. This suede-effect jacket is a timeless classic that, combined with the wallet-friendly price, had us reaching for our credit cards.
13. Saint Laurent MA-1 Bomber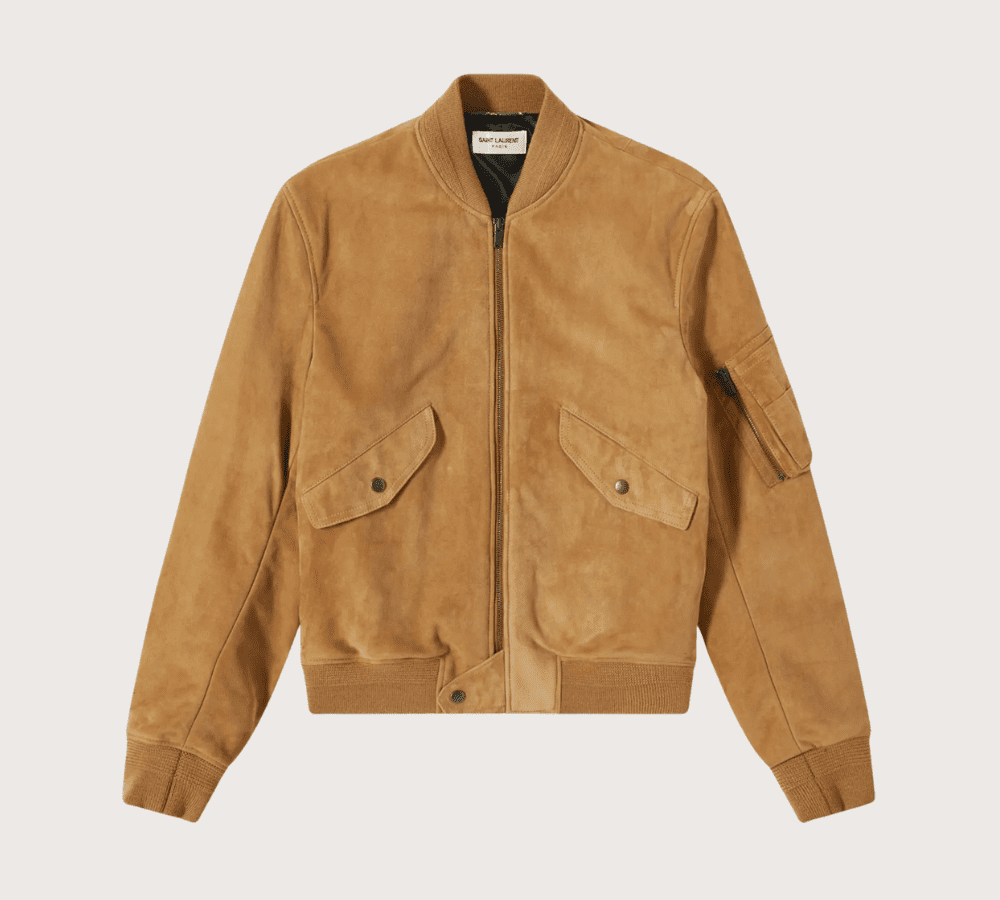 An easy way to instantly update your outfit is by enveloping yourself in the tobacco hues of this Saint Laurent bomber. Crafted from supple lambskin suede, the design is a nod to the historic MA-1 military jacket with a ribbed waist and collar.
14. Ralph Lauren Belted Jacket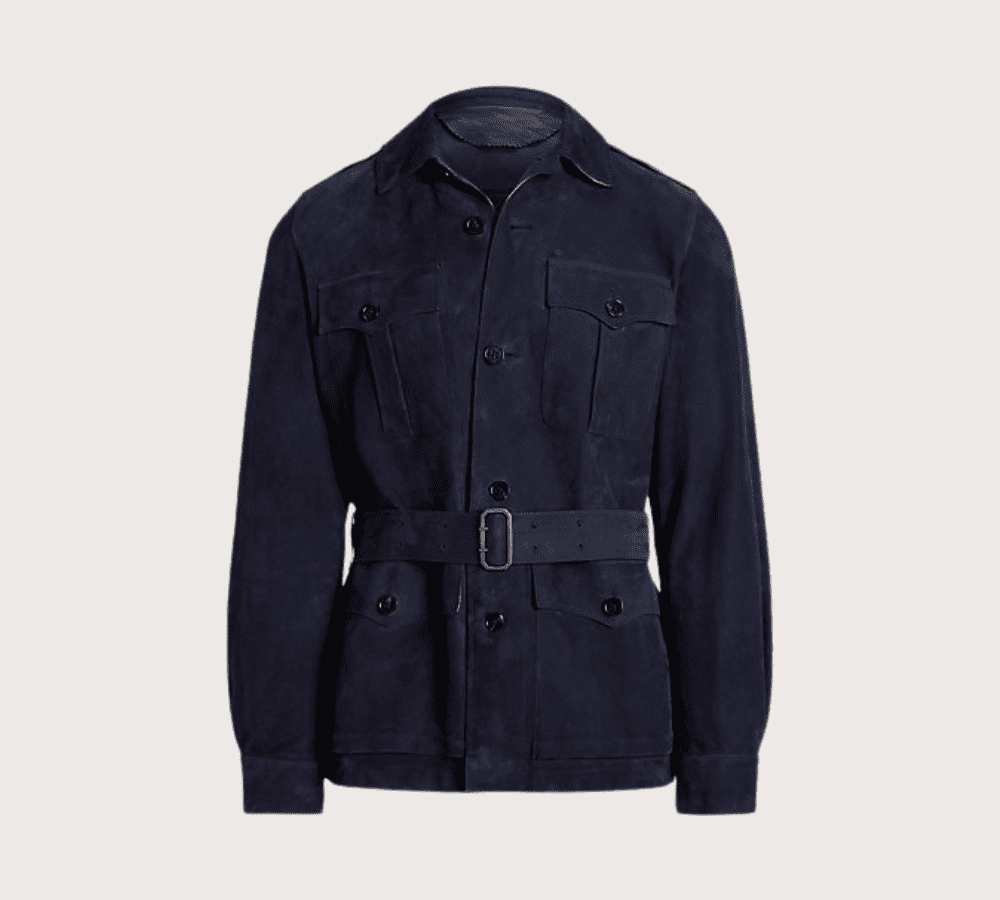 Delivering a utilitarian style, this Ralph Lauren suede jacket has been custom-dyed for a unique look. A modern take on a menswear staple, the dropped shoulder and belted waist create an individual drape that makes this a remarkable piece of outerwear.
15. Mr P. Nubuck Jacket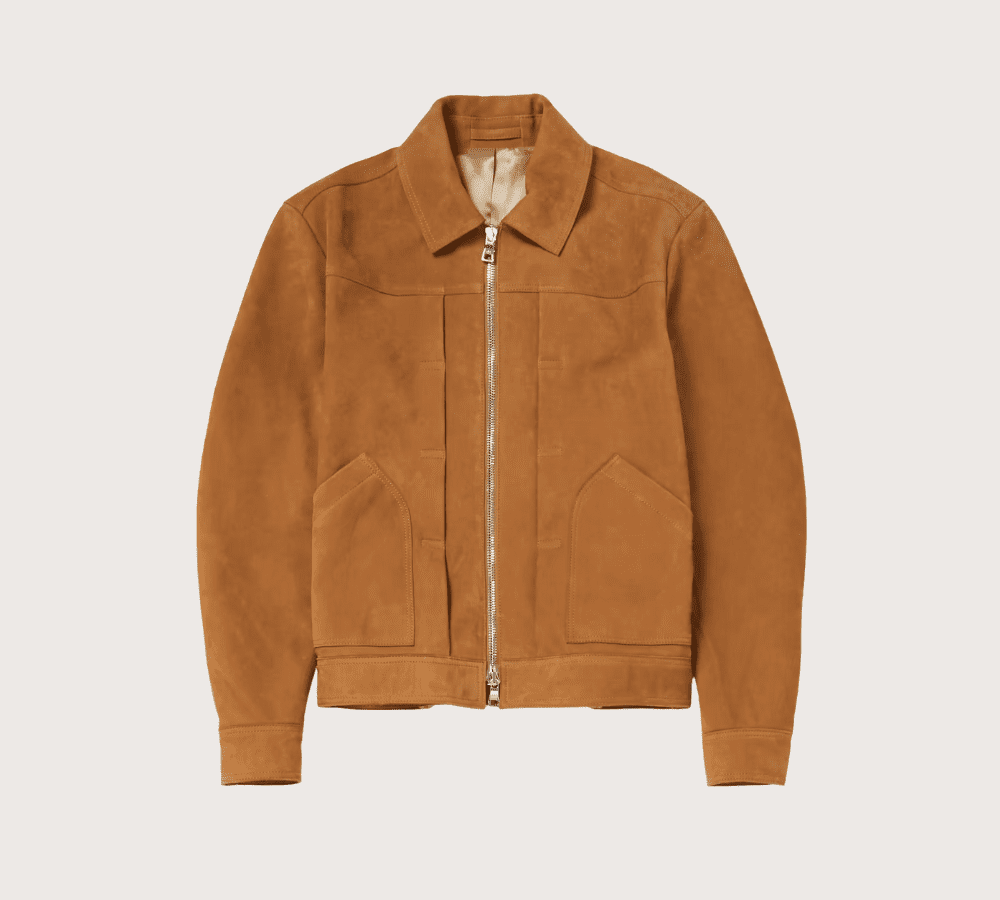 Taking inspiration from the past to create foundational menswear pieces makes the Mr P. range from Mr Porter timeless. Nubuck has been used in a rich chestnut tone matched with tonal stitching to great effect. Layer with knitwear or a statement shirt for maximum style points.