Printed shirts are an easy way to introduce colour and pattern into our summer wardrobes. Previously, printed shirts like Hawaiian or Cuban collars would be unheard of aside from featuring in the holiday pics. Now even the more reserved men have full license to add some playful fun when the sun shines. And the world of menswear has followed suit with an abundance of patterned shirts to peruse.
Though all that explosion of sensory decoration brings with it some issues. In a more urban setting, we don't have the tropical backdrop to let down our style guard. Men must be careful with what shirt they choose and how they style it.
Fear not. We are on hand to give men an eclectic choice of outfits where a printed shirt wouldn't look out of place. Read on to discover your new favourite summer outfit.
How to Pick a Printed Shirt
Let's get the hardest part over quickly. When men shop for a new printed shirt, they must be mindful of the clothes they already own.
If you are a guy who typically steers clear of colour the rest of the year, pick a shirt with a stronger base colour that you are more comfortable with. Think of a white or navy shirt with a printed design on top. It will be easier for you to digest and will work with more of the pieces you have in your wardrobe already.
With any printed shirt, we want stylish over tacky. The design on the shirt should feature something tropical or timeless rather than lollipops or ice creams. You aren't five years old.
We always recommend the readers of these pages go with quality over quantity. A rail full of cheap high street shirts might seem like money well spent, but they won't have the look or feel of something slightly more expensive. Fabric will be a big difference, with high street stores favouring the cheaper polyester over cotton or silk. The latter will do far better to keep you cool without smelling or falling apart after the first wear.
How to Wear Your Printed Shirt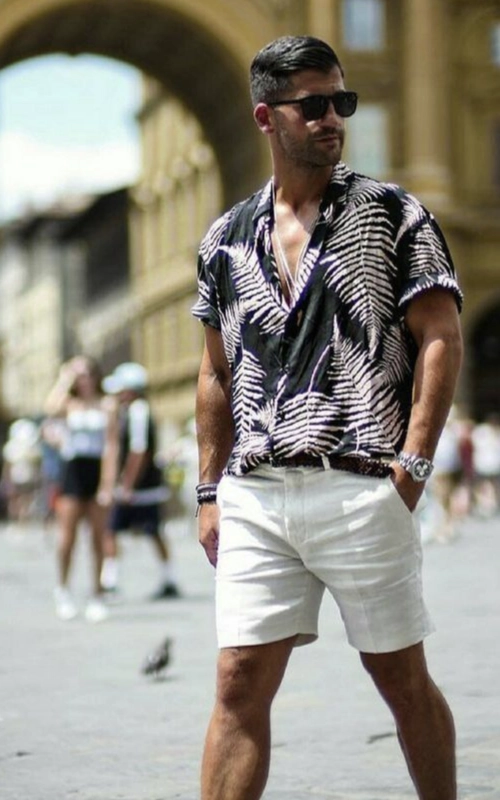 Printed Shirt and Shorts
A printed shirt can elevate where a polo shirt might have sufficed in the past. Combining these two power players in summer dressing allows men to create an ensemble ready for the day ahead.
Choosing white shorts is a nice base colour for this look. They have a hidden ability to absorb the impact of bold designs on the top half while bing a frankly underrated colour choice for the bottom half.
Accessorise with a belt if you feel that the look needs that separation. At the same time, this kind of accessory can also soften the print by drawing the eye to the waist.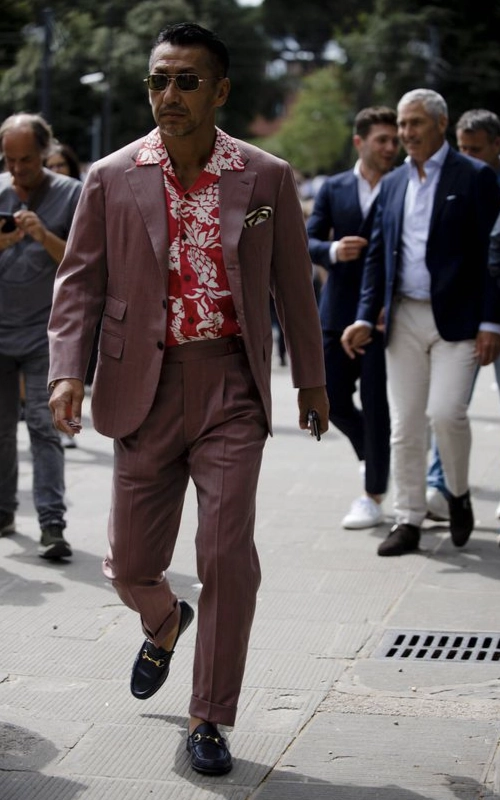 Printed Shirt and Suit
Deliver a masterclass in contemporary tailoring by switching the safe plain shirt for a printed one. This has its greatest success in the warmer months and is an ideal way to update your summer rotations.
Remember, we are going for understated brilliance with this look. Nothing too crazy, and make sure there is still harmony between the shirt and suit. This means typically opting for a suit with no pattern and choosing a shirt that has a smaller design.
Partnering a distinctive shirt with a suit will definitely take it a touch towards casual. So, maybe keep this one for a drinks event or date night to showcase how you can stand out from the crowd with confidence.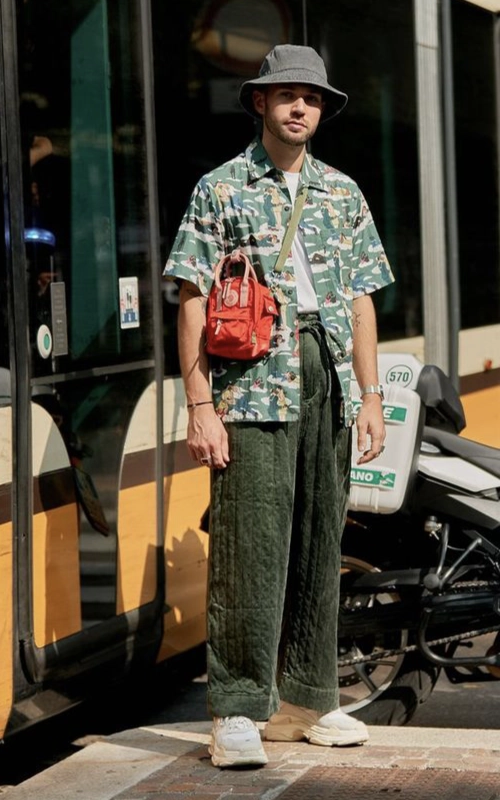 Printed Shirt and Wide-Leg Trousers
Wide-leg trousers came to the fore a few years ago and are not retreating without a fight. They offer a vintage twist to an outfit, and we should lean into this when layering a printed shirt on top.
Modern-day inspiration might come from Harry Styles, but we much prefer looking at those from the past. Frank Sinatra and Marlon Brando were all in favour of this trouser fit. Pick a shirt with a Hawaiian vibe, worn over a vest and tucked in for added retro points.
If wearing it for a more casual date, then men should find trainers a suitable addition. Alternatively, look again at that bygone era of classic menswear with penny loafers. They will offer a nod to the past while keeping the overall look coordinated.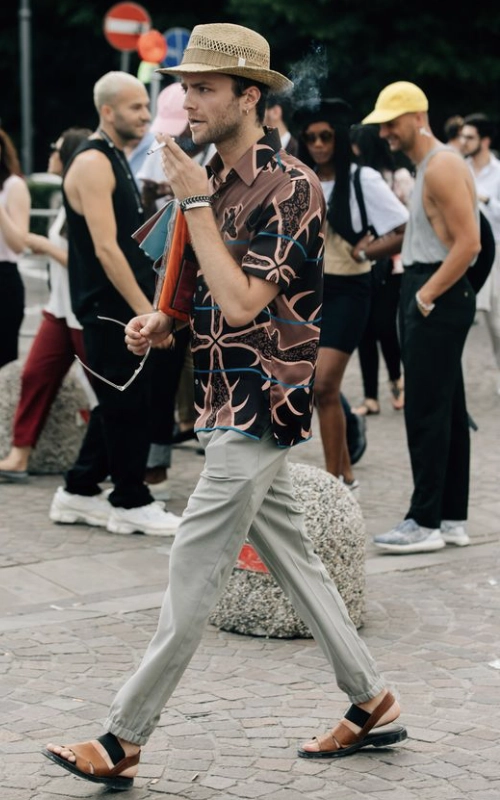 Printed Shirt with Sandals
Bring the holiday vibes back with you by using sandals within a summer outfit. No, your decrepit flip-flops won't do for this one. We are looking for elevated dressing, so leather sandals should fit the bill.
There is a lot of freedom in printed shirts for this look. We can push the boundaries because we are taking our cues from our far-flung travels. The bolder, the better here. Though, keep the bottoms neutral. By using a solid colour for trousers, we can let the shirt be the hero piece and draw the eye upwards towards it.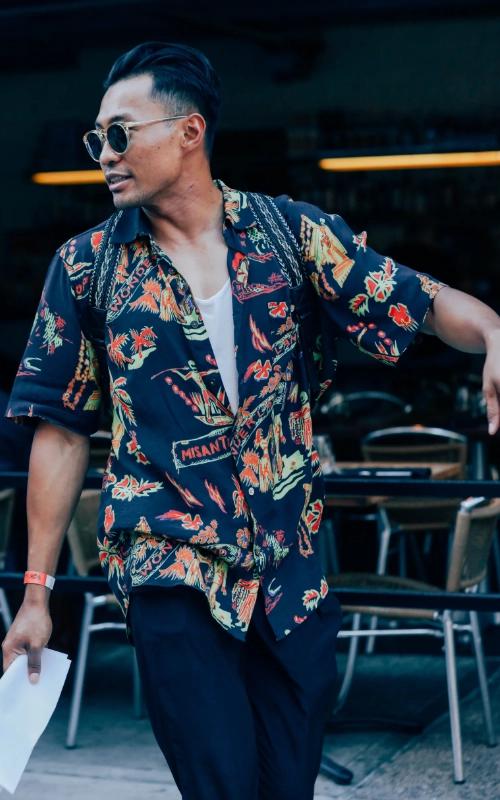 Printed Shirt and Vest
We love to artfully use layering to add detail and interest. In summer, a white vest can neatly be worn beneath your patterned shirt.
Historically, vests have been worn as undergarments. Keeping us warm in the cold and adding a barrier to soak up sweat on hot days. Without our shirts buttoned to the collar, there isn't much need for the latter's attribute. We can still use the vest to contrast with our printed shirt to add a new dimension.
This outfit has to be done with a white vest, and we recommend a darker base colour for the printed shirt. But, to an extent, the same concept will work for a lighter-coloured, even white-printed shirt. The contrast between colours just won't be as prevalent.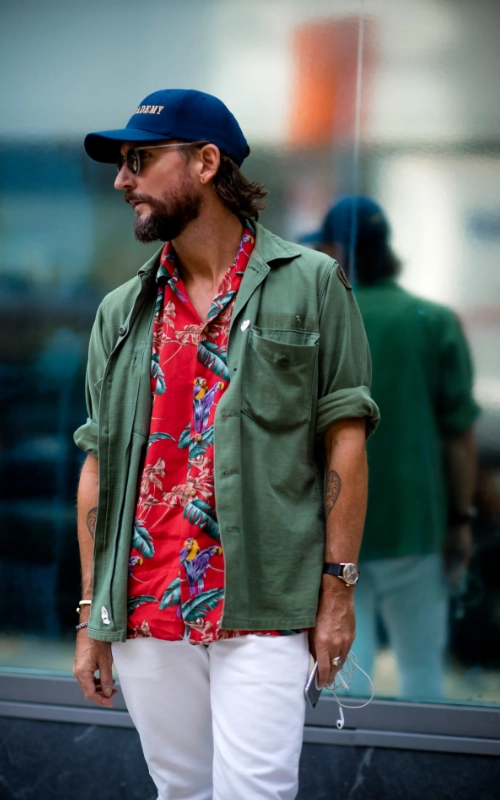 Printed Shirt and Military Jacket
The popularity of Hawaiian shirts was partly due to the American military stationed on the island during WW2. After the war, the laidback, open-collared nature of the shirt followed them home. Now they are everywhere.
Khaki and military-inspired jackets are a subtle way to remember that past and a notable partner to a printed shirt. Keep the jacket lightweight but with a utilitarian feel. That way, you'll get more use from it over the coming months.