A versatile and comfortable choice, opting to wear a hoodie has become almost mandatory in a year full of lockdowns and working from home. Until recently though there were still preconceived ideas associated with the simple menswear basic. If you were wearing a hoodie you were pigeon-holed into a range of different sub-cultures, some with better reputations than others.
With its rich history though, there was always a place for the hoodie in our wardrobes. It just happened to be more casual, worn on the sofa rather than in the pub.
The History of The Hoodie
Like with many of the items in our wardrobes, the origins of the hoodie were not typically as a fashion piece. The hoodie came from the world of sport, first manufactured around the 1930s as a way to keep athletes dry when training outside. Champion USA (called Champion Products at the time) lay claim to being the first to add a hood onto one of their sweatshirts and thus create the hoodie.
Whoever created it though could never have envisaged how popular it would have become. The hoodie has been embraced by a myriad of popular culture movements including hip-hop, skaters and even punks. Although each sub-culture adds its twist to the hoodie, it has never swayed too far from its humble beginnings.
Throughout its time both inside and outside sporting environments, the fabric and fit of a hoodie have rarely changed. It is nearly always cotton and worn with a slightly slouchy feel, definitely making it more casual than smart.
But, all that has changed.
A Basic Reborn
Although it never really went away, the recent birth in popularity of athleisure has elevated the humble hoodie. From here, it has vaulted its way into the collections of designers and premium streetwear brands alike.
Athleisure has been incorporated by seemingly every brand, from high street to designers. This coupled with us all being forced to spend more time at home has meant the hoodie has become a firm menswear staple. But, that doesn't mean you have to make do with an oversized sporting cast-off that makes you look like a full-time gamer.
Brands have embraced premium fabrics and tweaked the structure of the hoodie to create an item with a more contemporary silhouette. So, now with options for a more tailored fit or relaxed alternative, it has seemingly opened up more ways to wear your hoodie.
To help inspire you with different outfits that include a hoodie, we have brought together some of our favourite looks.
The Tailored Look
Nothing defines the rebirth of a sporting icon such as the hoodie like it being worn with suiting. Years ago it would have been unheard of, but now it is socially and stylistically acceptable.
If you wear your hood hanging out the back of a suit jacket it is a perfect way to update your tailored look by introducing layered pieces. This can be perfect for a more relaxed working environment or a weekend activity. To get it right though, it needs careful consideration.
When putting this outfit together, focus on a hoodie in a mid-weight such as merino or cashmere. This will produce a slimmer silhouette without bulking out underneath the suit jacket. Also, a double zip design can help less material to gather around the waistline.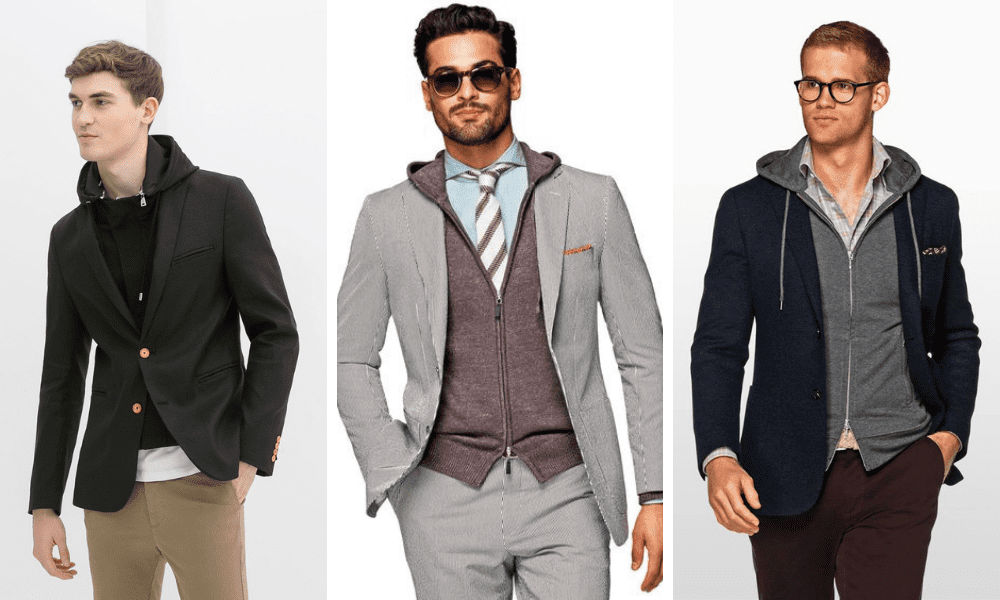 The Leather Jacket Look
If you are looking for something more relaxed then a hoodie can fit seamlessly under a leather jacket. On its own, the leather jacket can be quite an intense piece, so layering a hoodie underneath can mellow the harsh rock n roll vibe.
When it comes to styling, we want the leather jacket to be the statement piece. The hoodie needs to be in a neutral colour and offer a base for the jacket to jump off from. Partner with slim-fitting black or navy jeans and Chelsea boots to complete the look. Just remember, the leather jacket must come with a flat collar for the hood to sit nicely on top.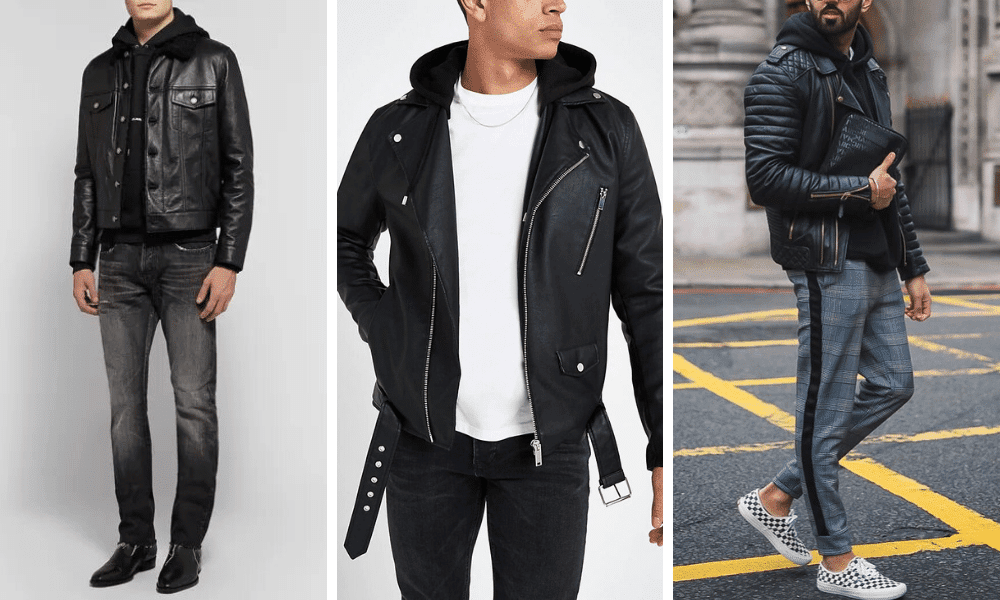 The Athleisure Look
If you are someone who wouldn't be seen dead in joggers outside of the house, then skip ahead to the next look. Athleisure is the movement that started the hoodie resurgence and it is comfort personified.
With these outfits we want the items to be a bit more refined than sporty. That means to wear a hoodie that isn't too oversized and slimmer fit trousers. Ideally, we want everything to be matching and a lot of brands sell athleisure sets like this to make life easier. We like to partner a hoodie with a tapered jogger on the bottom half finished off with some box-fresh trainers.
There is a fine line between athleisure and just plain old gym gear. So, focus on the fit more than the material for this one. Cotton on top and bottom is fine and you are open to trying a zip or pullover hoodie.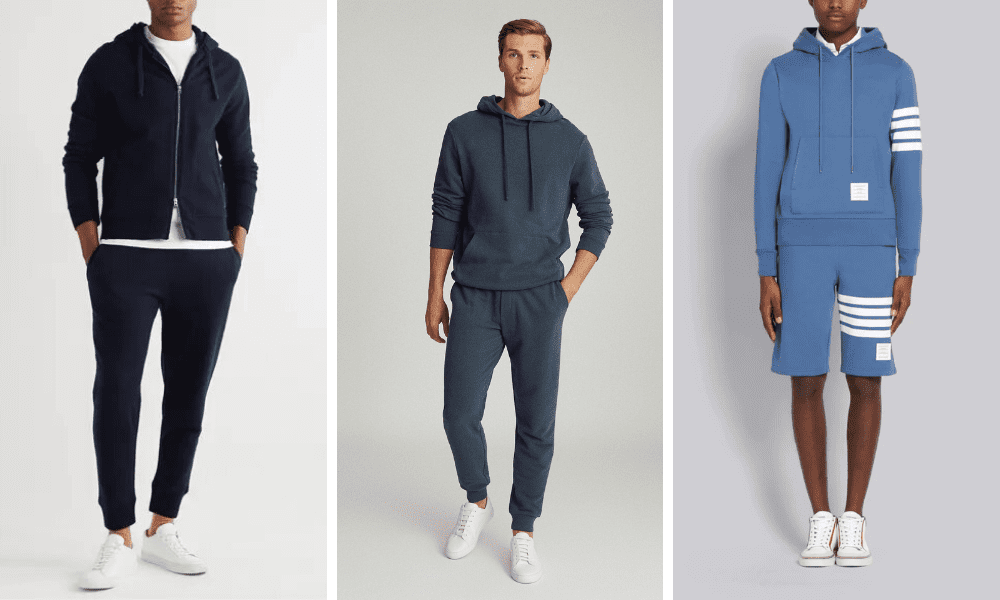 The Winter Look
At this time of year, colder days inevitably lead to us wanting to wrap up warm. Mastering layering is going to be crucial for enabling you to look your daily best and if you wear a hoodie it can become an integral part of this.
The key to layering a hoodie correctly in winter will be defined by the materials. Natural fabrics like cotton allow air to circulate ensuring you don't get too hot while providing insulation from the cold. On top of this, cotton is incredibly soft, so you get warmth and comfort at the same time.
As you can see from the other looks on this list, the hoodie has the ability as a mid-layer to work with a lot of menswear pieces. If you have chosen to pair it with an overcoat, then the hoodie could easily be your pop of colour on a drab winter's day.
The Smart Casual Look
One step removed from the tailored look, a hoodie can competently be worn within smart casual attire.
Like with the smarter outfit a slimmer fitted hoodie applies, but as you don't have a blazer to worry about you can go for a slightly looser fit if you'd like. Just remember the more voluminous hoodie the more casual the look. On the bottom half, tailored trousers would work great and allow you the option of wearing smart shoes or trainers. Though the hoodie can be worn with smart chinos or selvedge denim and still hit the smart-casual style notes. To finish the outfit, pop on a trench or Epsom coat which will smartly protect against the elements.
This overall combination because it doesn't stray too far into the smart or casual environment, is ideal for a less-formal office or some wintery evening drinks.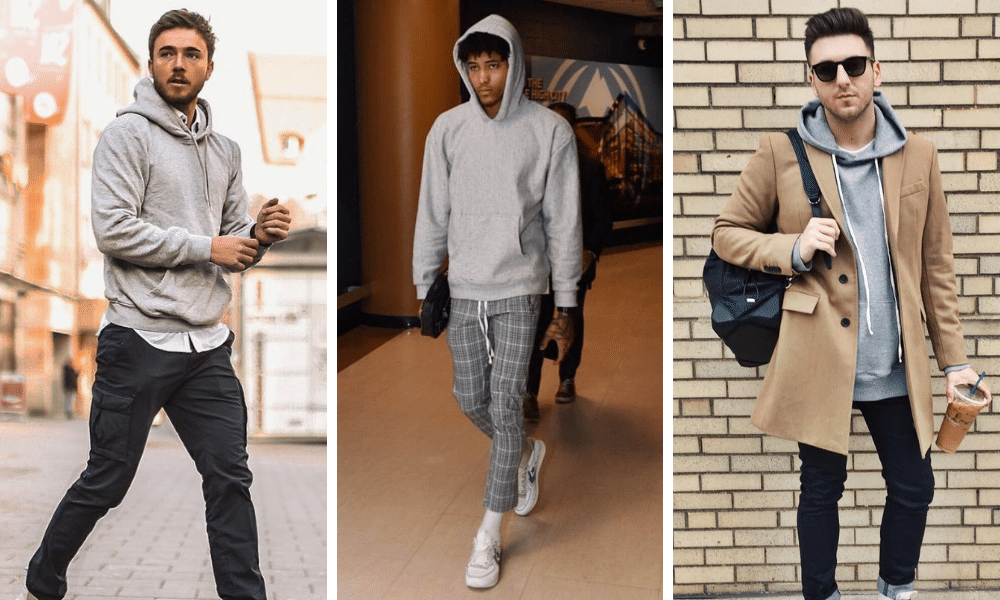 Hoodie Guidelines
Cotton is your go-to material for affordability and comfort. We highly recommend loopback construction.
The stitching needs to lay flat against the garment. If it does, it is a sign of a superior made hoodie.
Try to steer clear of large logos or imagery. It can quickly become outdated and not prove long-term value for money.
Looking for something more refined, then a fitted hoodie would be best. Lose a lot of the bulkier material by choosing merino wool or cashmere options.
Shop quality, not price. Don't be swayed by designer prices unless there is real quality in the hoodie's construction and materials.
Neutral, timeless colours like grey, navy or black will integrate better with your wardrobe and give you more longevity from your hoodie.
AGR Hoodie Picks