While trainers and smarter leather shoes are all well and good, sometimes, in the heart of summer, only sandals will do. One of the oldest shoe styles, dating back thousands of years, sandals have long been loved for their light, breezy, slip-on designs. Whether you go for a sports-inspired pair or a smarter, more luxurious take, sandals are an essential purchase for the warmer months. Ideal for wearing on the weekend with a simple pair of shorts and a polo shirt combination or for slipping into your suitcase for a weekend away, sandals are comfortable and easy to style with a wide range of looks. From how to wear them to the best sandals on the market, here's everything you need to know.
How to wear sandals
There's no real trick to wearing sandals. But there are a couple of pointers to consider. The first is with the style of sandals. Go for a sporty pair that's primarily made from plastic or rubber, and they'll look best when worn with similarly sports-inspired gear. A lightweight pair of plastic sliders work well for wearing to and from the gym, around the house or in the garden, with athletic wear, including tracksuit bottoms, tees and hoodies.
For slightly smarter sandals made with more luxurious materials like leather and suede, things get slightly more fun. A pair of leather fisherman sandals, for example, is way more versatile than you might first think. You might typically wear them with chino shorts and a knitted polo instead of loafers or trainers. Leather sandals are a far more breathable option and one that instantly injects a Riviera-inspired feel into a smart casual look.
On that note, leather sandals can totally work as part of a sharper outfit. Whether you're on holiday, at a beach wedding or strolling the city in the height of summer, leather sandals are an effortlessly cool option. Try a brown minimal leather pair with a pair of tapered chinos, a regular cut linen shirt and tortoiseshell sunglasses, and you've got an easy, stylish look that would work for a variety of occasions.
1. Birkenstock Arizona Birko-Flor
If you're going to buy just one pair of sandals, Birkenstocks should be right up there among your top choices. The German brand has been making its distinctive style for over a hundred years. But the brand goes back further than that - it was founded in 1774 with the goal of making supportive shoes designed for comfort above all else. The Arizona model is arguably the most famous model of the lot, with its twin strap upper and cork footbed. This particular pair is made with the brand's sustainable leather alternative, while the made-in-Germany construction ensures they're built to last.
2. Massimo Dutti Black Leather Sandals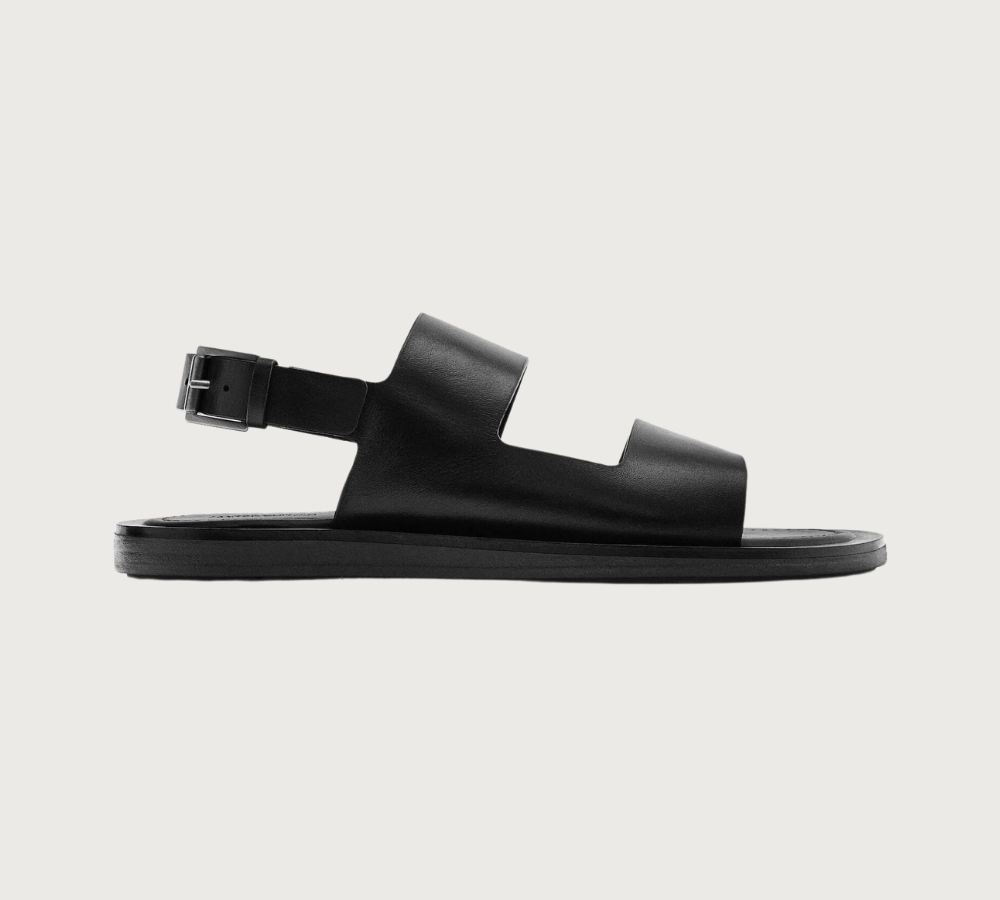 With their simple, minimal design, these Massimo Dutti sandals are a sleek alternative to other, more comfort focussed pairs. They boast a black cowhide leather upper, with two support straps up front and a single ankle strap at the rear for added support. Made with a subtly chunky double sole and tonal black footbed, this is a pair you can dress up with tailored trousers and Oxford shirts.
3. Bottega Veneta Matt Rubber Sandals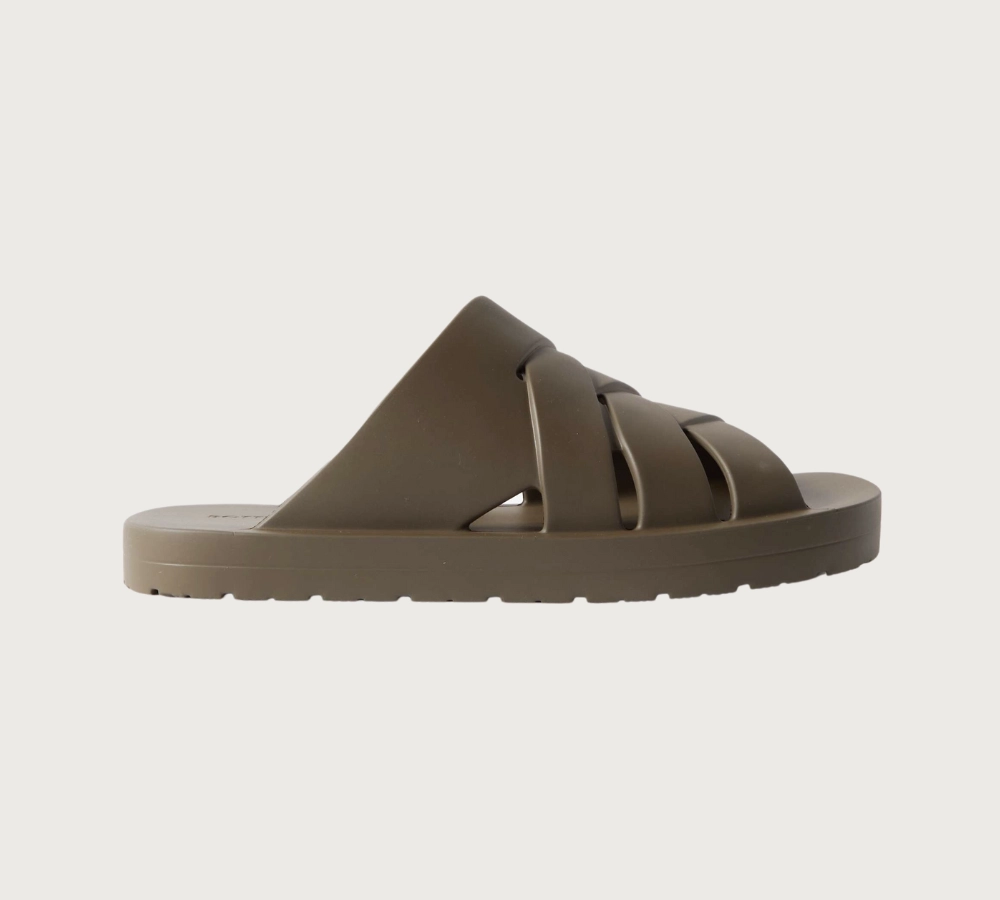 A sporty version of Bottega Veneta's signature sandals, this all-rubber pair offers a luxurious take on the classic slider. Made with integrated rubber uppers and chunky cushioned soles, the light brown shade is surprisingly versatile and will work well with neutral shades and darker navy and green. Note the woven straps of this Matt design, which are a subtle reference to Bottega's intrecciato woven leather.
4. Mango Split Leather Sandal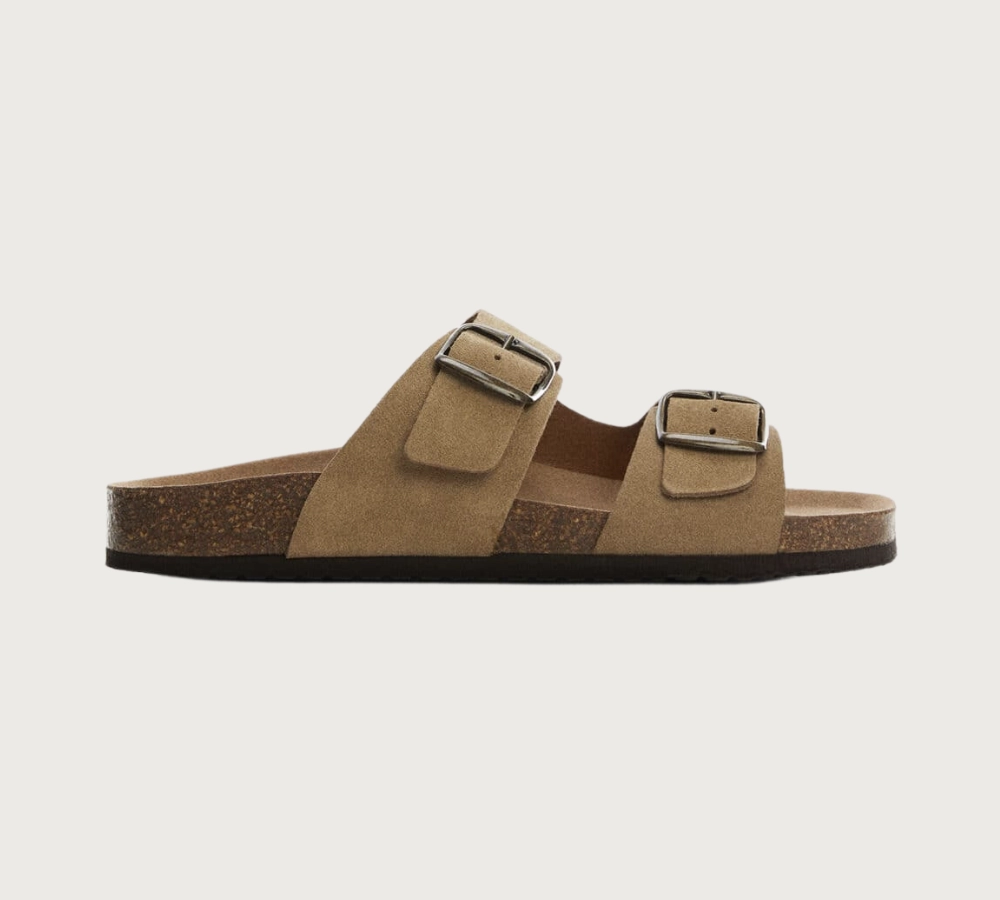 Easy to wear and offering all-day support, Mango's split leather sandals offer good quality at an accessible price point. Made from textured bovine leather, they come with a cork footbed that's designed to conform to the wearer's feet, while the straps themselves are adjustable for the perfect fit. Available in olive or dark sand, the classic design and impressive build promise long-lasting comfort and style.
5. Aurelien Navy Beachside Sandal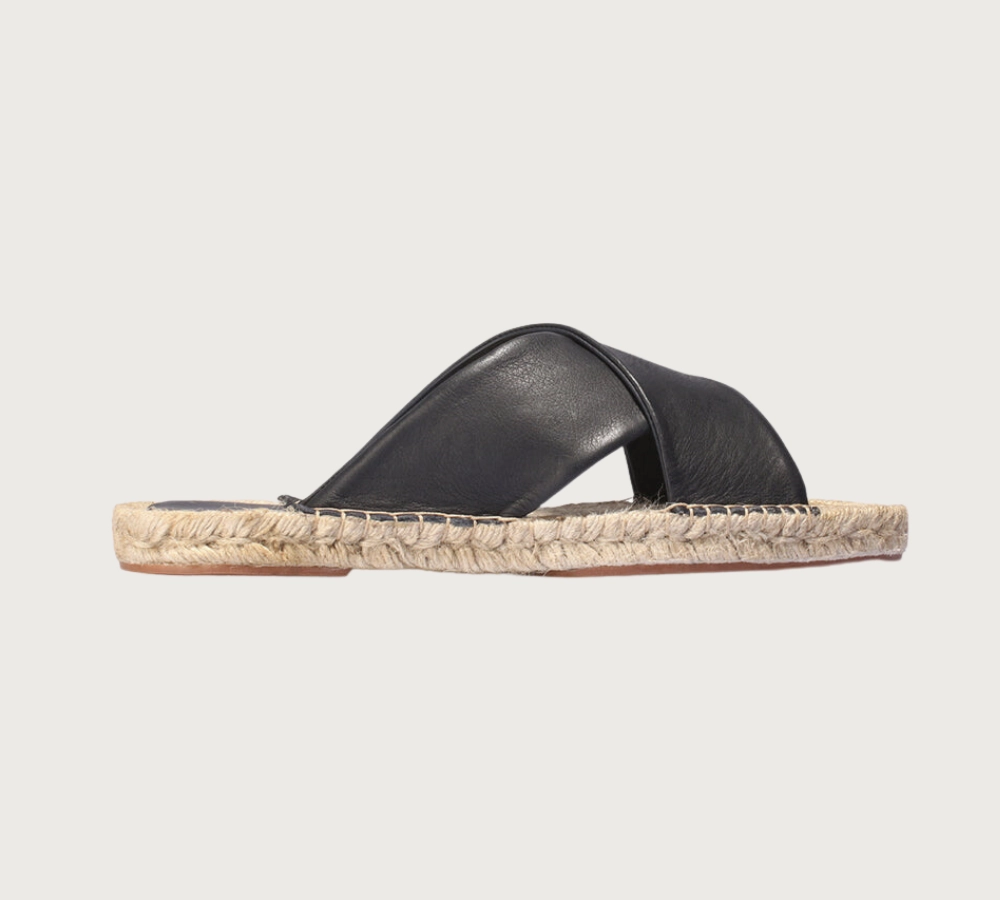 Aurelien's Mediterranean inspired designs appeal throughout summer and beyond, whether in the form of its perfectly tailored shirts, comfortable trousers or indeed, its beautifully crafted sandals. This pair is half sandal, half espadrille, and comes with a traditionally made jute sole, offering a subtle point of difference over the other styles on this list. The soft leather straps are designed to bed in with time, giving impressive comfort and an effortless look that'll work with tailoring or casualwear alike.
6. Russell & Bromley Weave Sandal
Russell and Bromley is well known for its high quality leather shoes and boots. Whether you need a sharp pair for the office or a laid back style for the weekend, you can rely on the British high street staple. This is true of its sandal range as well. This pair's woven leather uppers a particularly standout design, and come complete with a cushioned sole and made in Italy construction. Simple and easy to style, they're as well made as they are sleek and sophisticated.
7. Scarosso Costantino Sandals
Scarosso's leather shoes are renowned for their made-in-Italy build quality and classic styling, whether in the form of penny loafers, Chelsea boots or derbies. These Constantino sandals slot seamlessly into the brand's lineup, with their luxurious materials and timeless leather styling. The elegant design is made up of a monk strap style upper, complete with two buckles for an adjustable fit.
8. Arket Buckle Leather Sandals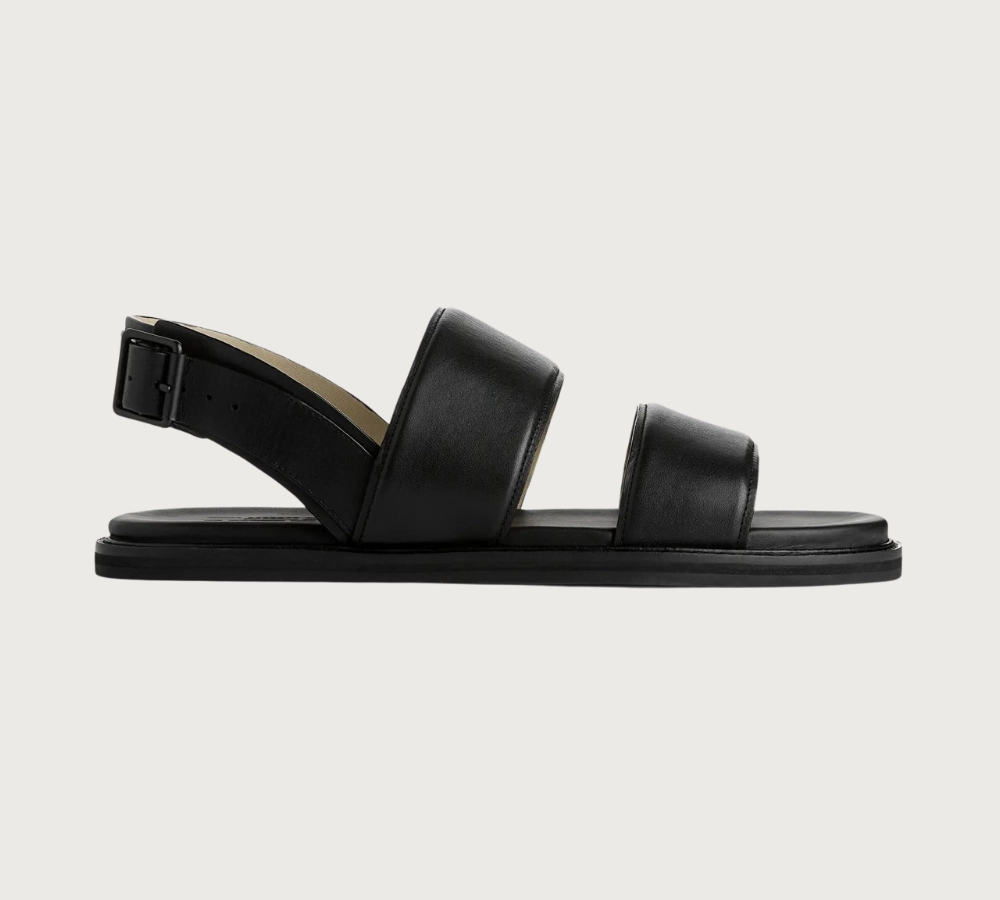 Arket has become known for its contemporary updates on classic, easy to wear styles. This pair is no different, with its chunky double and oversized leather straps up top. Designed for versatility whether you plan to dress them up with an unstructured blazer and trousers, or down with drawstring shorts and T-shirts, they will serve you well through summer and beyond.
9. Timberland Malfi Vibes Sandals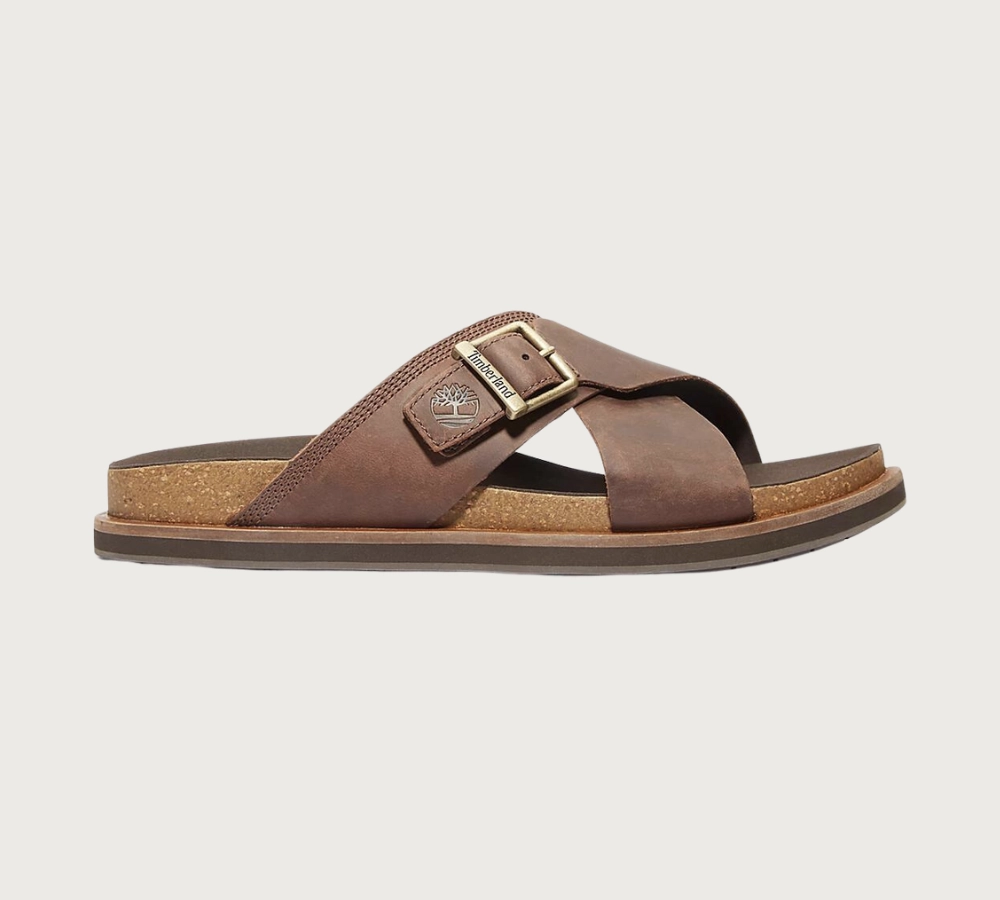 For ultimate comfort though, it's worth checking out Timberland. The US brand specialises in its iconic work boots, with their durable leather and comfortable soles that conform to the wearer's feet. It's applied this same approach to these sandals, which come with a full grain leather upper as well as an EVA midsole for impressive shock absorption and all-day comfort.
10. Officine Creative Agora 002' Sandals
A luxury interpretation on the familiar twin strap sandal, this Officine Creative pair is handmade in Italy from the finest leather. With a black rubber sole and a soft leather insole, try this pair with tailored trousers and a knitted polo for an adaptable summer look.
11. Oliver Sweeney Whitestone Sandals
Easy to wear both smart or casually, these cross over sandals by Oliver Sweeney come with an antiqued calf leather upper, with subtle branding embossed on the side. The vintage feel of the leather contrasts with the sole, which boasts a two tone white centre and burgundy heel for a modern, sporty feel.
12. Dries Van Noten Leather Slides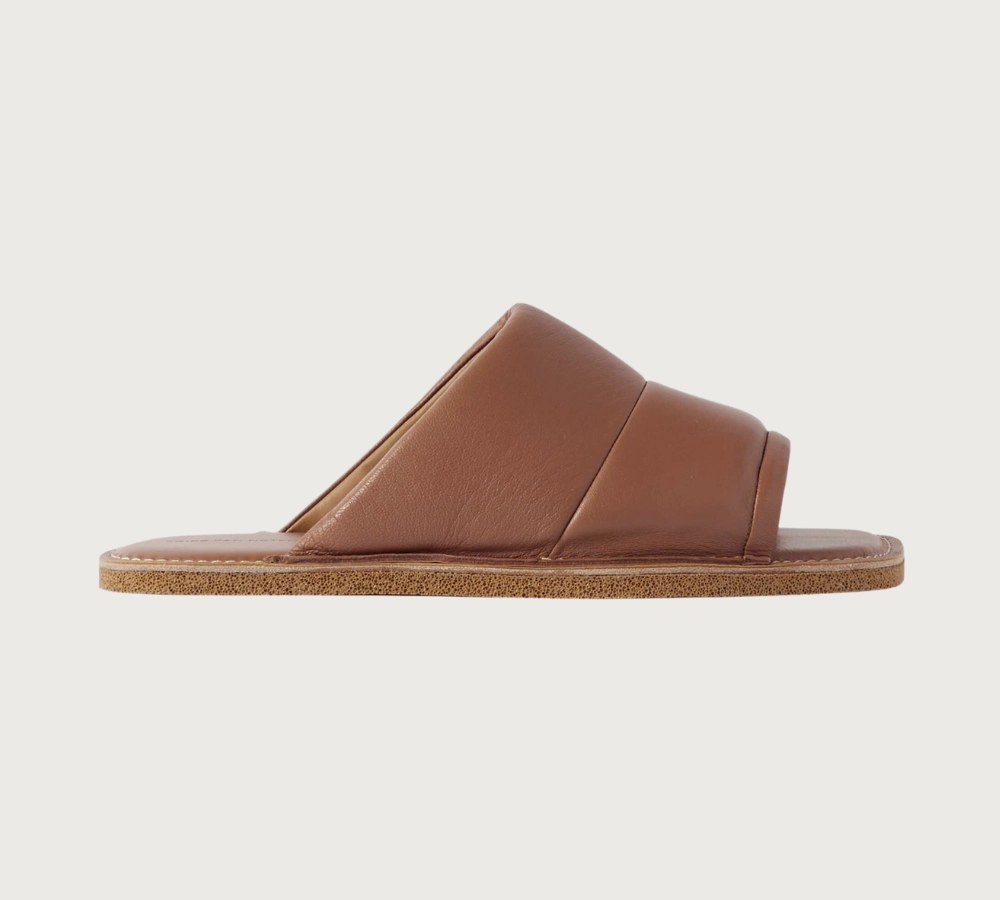 Slightly padded for a more contemporary feel, these leather sandals work just as well around the house as they do with a pair of tapered cotton trousers. The simple design comes with a squared off rubber sole and a stitched down, cushioned leather sole, offering an opulent way of staying comfy.
13. Clarks Sunder Wave Leather Sandals
Grenson's shoe-making prowess extends beyond brogues, Chelsea boots and derbies. The British brand's sandal collection has been expanding year after year, with a selection of traditionally made designs consistently impressive. This pair comes in a fisherman-inspired design, made from soft suede for a comfortable finish that will be kind to the feet. Best of all is the leather sole though, which has been borrowed from Grenson's smarter shoes. It gives the sandals a sleek look and one that is easy to smarten up with tailored trousers and unstructured blazers.
14. Tommy Leather Strap Sandals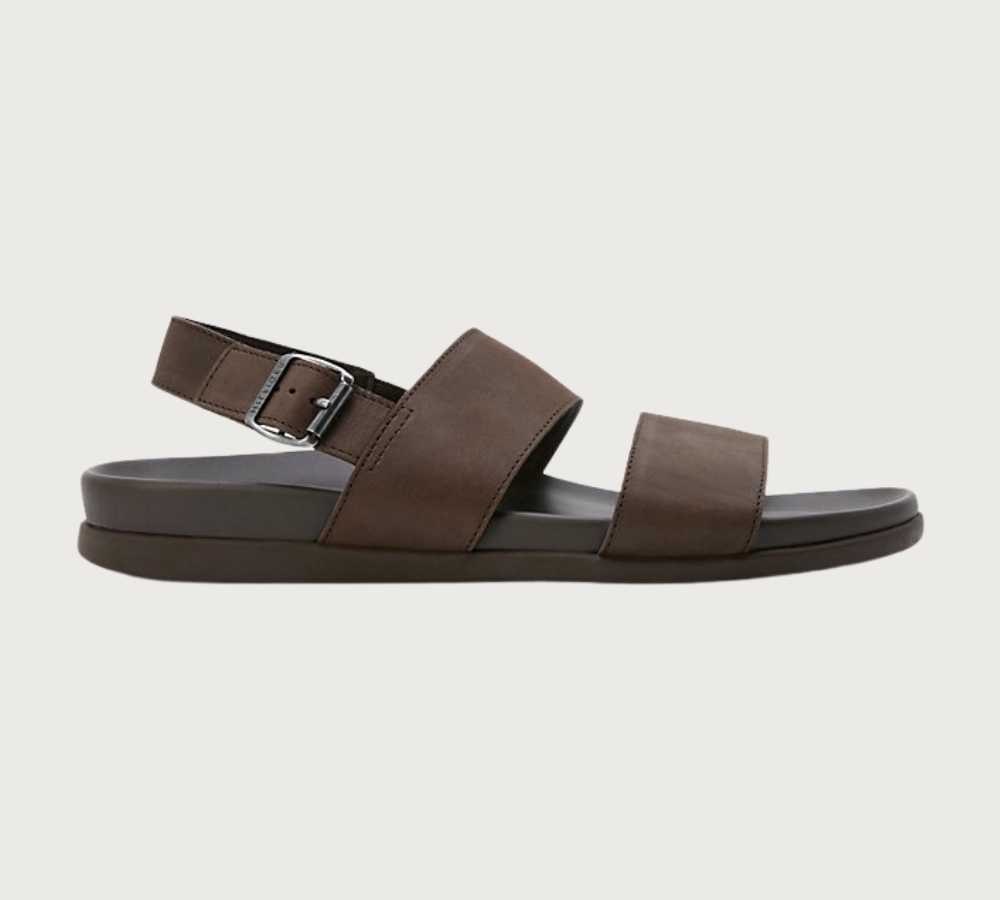 Tommy Hilfiger's preppy designs have long been staples of the smart casual wardrobe. These leather sandals sum up what the brand does best, with their high-quality leather uppers, classic buckle closure and ability to be dressed up or down with ease. Try them with a pair of pleated shorts and finish with a linen Cuban collar shirt.
15. Octobre Editions Anderson Sandales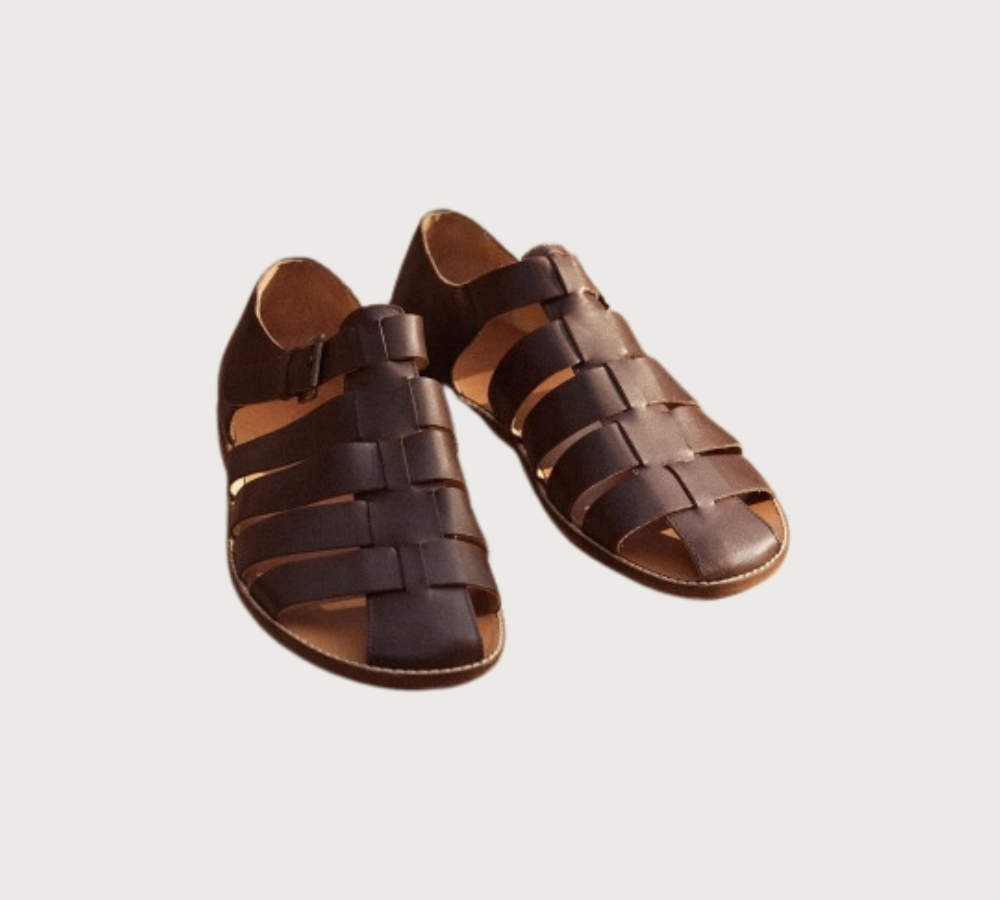 A modern rendition of the traditional Roman sandal, this Octobre Editions pair is made from soft brown leather, woven for a flexible, comfortable feel against the feet. Made in Portugal by expert artisans, they come with a sturdy leather sole and a tonal embossed insole. This is the kind of pair you can throw on with shorts and a T-shirt, yet will look equally stylish with a soft, unstructured summer suit for a beachside wedding.