You don't have to own a classic Porsche to own a pair of driving shoes. With their sleek silhouette and versatile design, they've long been appreciated by those who value comfort as much as style. Instantly evoking a slice of Riviera cool, whether you're strolling down the beachside promenade or the city, driving shoes are an excellent alternative to lace-up derbies or loafers.
Starting life in the '60s, when brands such as Tod's and Car Shoe pioneered the style, it didn't take long for driving shoes to take off. The idea behind the hybrid design was to combine the formality of traditional loafers with the softness and comfort of slippers, all the while offering plenty of grip and traction on the pedals. Driving shoes were designed to be incredibly flexible while offering unparalleled comfort when behind the wheel. They would quickly become associated with the lifestyle of the Jet Set - their release coinciding with international travel becoming a thing. But regardless of whether you owned a sports car or travelled the globe or not, driving shoes were aspirational shoes, evoking a relaxed elegance that few other shoes could.
This is no different today. If you're after a smart casual shoe you can wear with jeans and a T-shirt as easily as summer tailoring, they could be for you. From outfit suggestions and how to wear them through to the best driving shoes on the market, here's all you need to know about the '60s classic.
How to wear driving shoes
As mentioned previously, when it comes to smart casual wear, driving shoes are an exceptionally versatile option. Given they're usually made from high-quality leather or suede, driving shoes are a step or two above trainers and summer sandals when it comes to formality. Go too casual with them then, and things might look a little strange. That means you should avoid wearing them with hoodies, sweatshirts and baggy jeans. Instead, look to keep things relatively sharp. You can wear them with jeans and a tee, for example - just ensure the jeans are relatively slim or straight cut, and roll the hem so it finishes around an inch above the shoes.
Where driving shoes excel, though, is with chinos and tailored trousers. Go with a pair of stone chinos, for example, and finish with a blue and white striped Oxford or linen shirt. This classic Riviera-inspired look is ideal for spring and summer, especially for times when you want to look put together but not stuffy. Alternatively, when it's really hot, try driving shoes with a pair of drawstring cotton shorts. Skip the socks (or go with no-show socks), and complete the look with a boxy-cut Cuban collar shirt.
1. M&S Suede Driving Shoes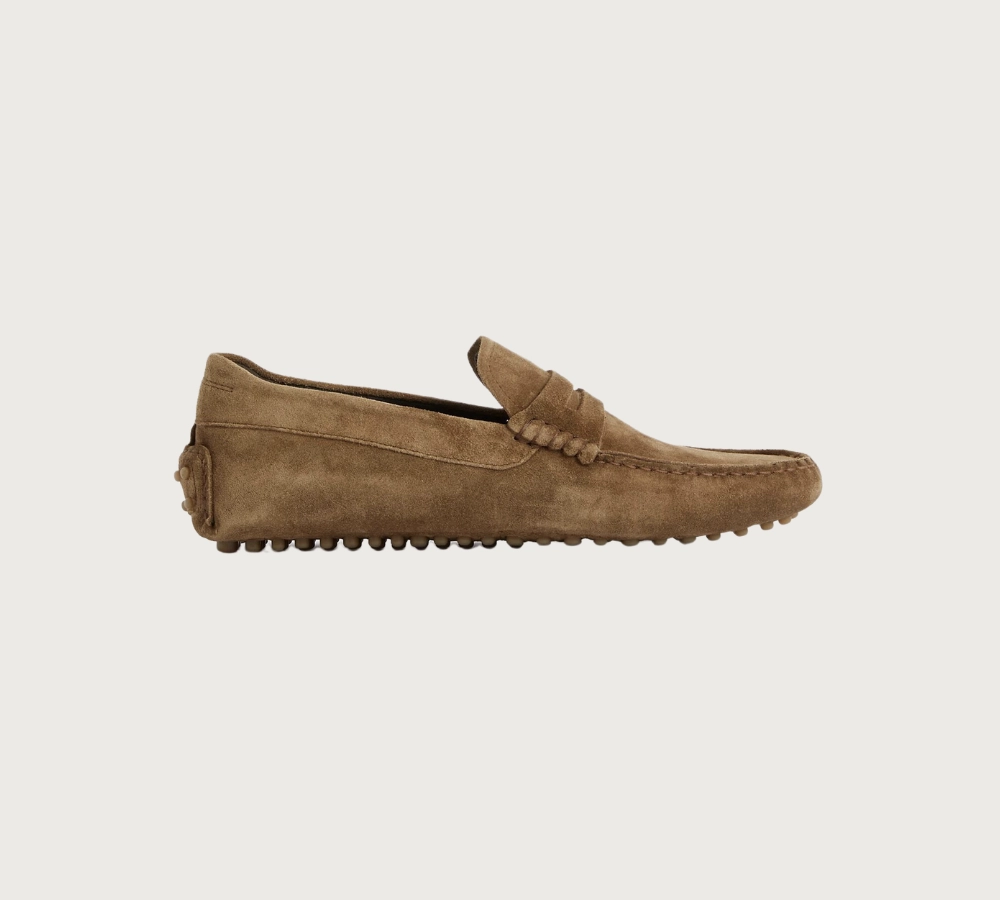 For driving shoes on a budget, this M&S pair is hard to beat. Boasting a classic silhouette that looks far more expensive than it is, they're made from soft suede and feature distinctive rubber studs across the sole and heel, ensuring they look virtually identical to luxury branded pairs.
2. Velasca Spesie Driving Shoe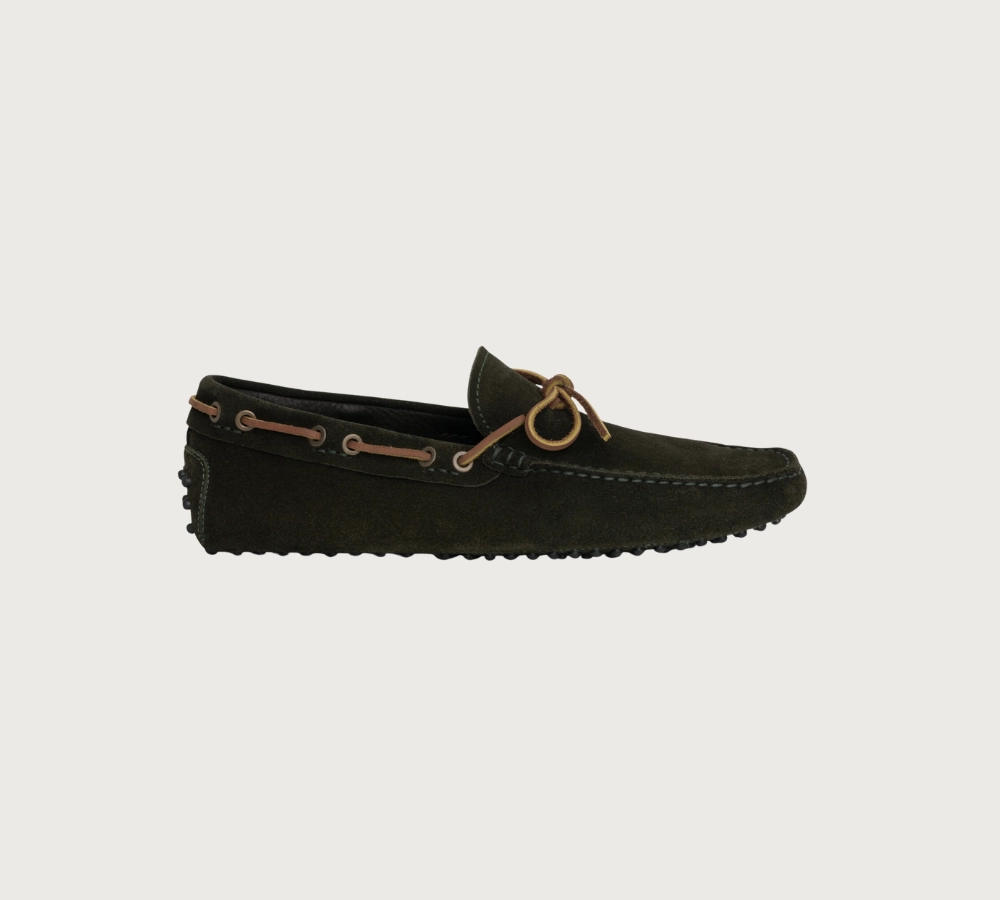 Velasca Milano has applied all of its traditional shoemaking knowledge to this pair. Crafted from soft waterproof suede, they come with contrasting leather laces for a subtle twist. Unstructured for ultimate comfort and with rubber studded soles, they're every bit the classic driving shoes.
3. Loake Donnington Nubuck Leather
The aptly named Donnington is Loake's classic driving shoe, which has been a staple of its range for years. The British brand has streamlined the original '60s design, giving it a minimal vamp, a soft leather upper and a durable studded rubber sole, which promises plenty of grip when behind the wheel.
4. ALDO Scuderia Slip On Shoe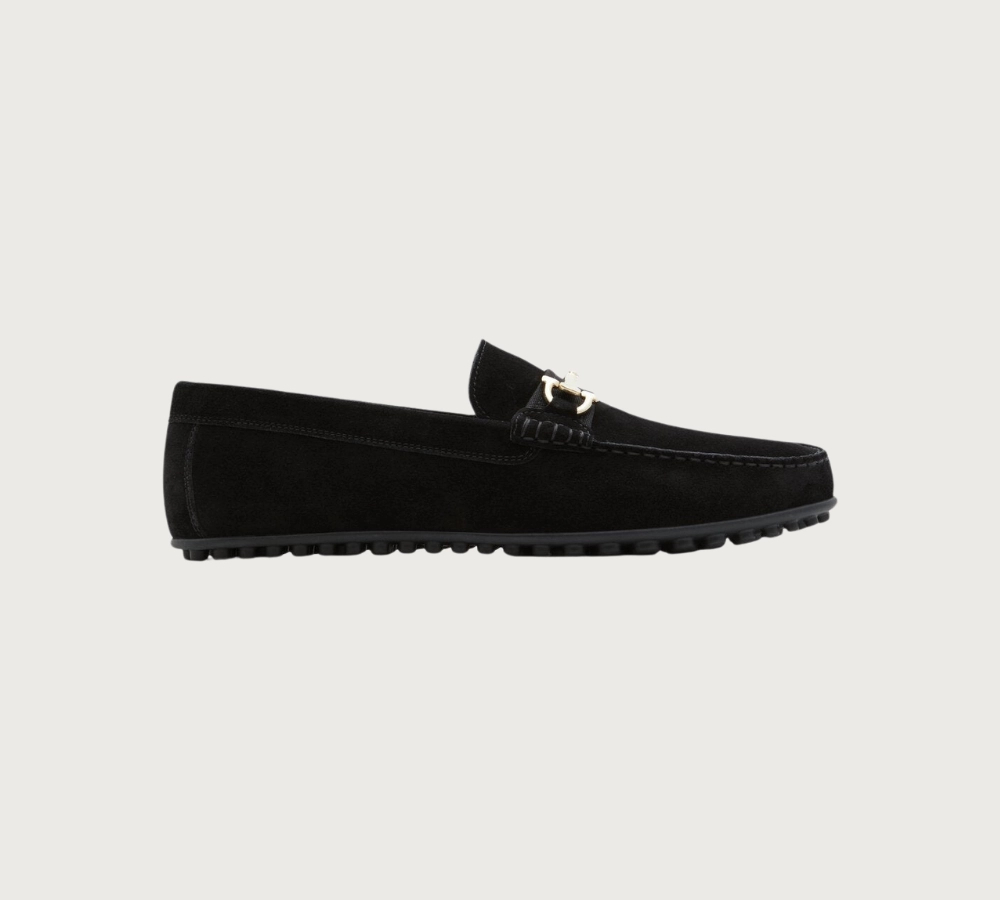 Aldo has turned to the mid-century for inspiration here, with its driving shoes boasting a crisp black suede upper and a subtle bit of bling in the form of the metal buckle. A clean, pared-back take on the driving shoe, these are perfect if you're looking for an evening-appropriate pair you can wear out to an alfresco dinner.
5. Crockett & Jones Napoli Earth Green Shoes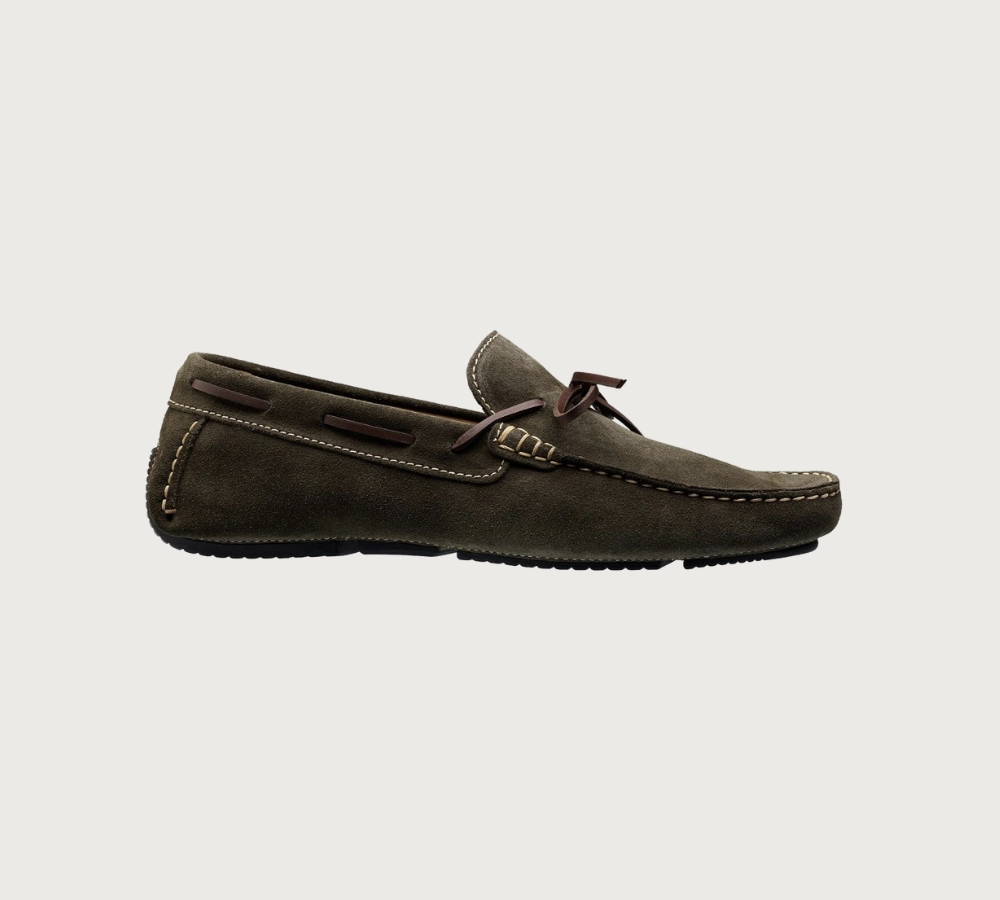 All of Crockett & Jones' shoes are handmade in its red brick factory residing in the heart of Britain's shoemaking mecca, Northampton. The brand's driving shoes are among the most well-made you're likely to find anywhere, with their deep green suede and full leather lining. The contrast stitching is a nice touch, as is the brown leather tie, which is subtly woven through the top of the shoe and finished in a stylish bow at the front.
6. Aurelien Beige Driving Shoes
Aurelien is renowned for its luxurious, Italian-inspired staples, from its cashmere knitwear to its lightweight linen shirts. The brand's driving shoes fit right into its Riviera-appropriate collection with their sleek, slipper-like silhouette and soft beige suede. They also boast a tie-up front, which offers a slightly more rakish look versus the more minimal penny vamp.
7. Scarosso Michael Beige Driving Shoes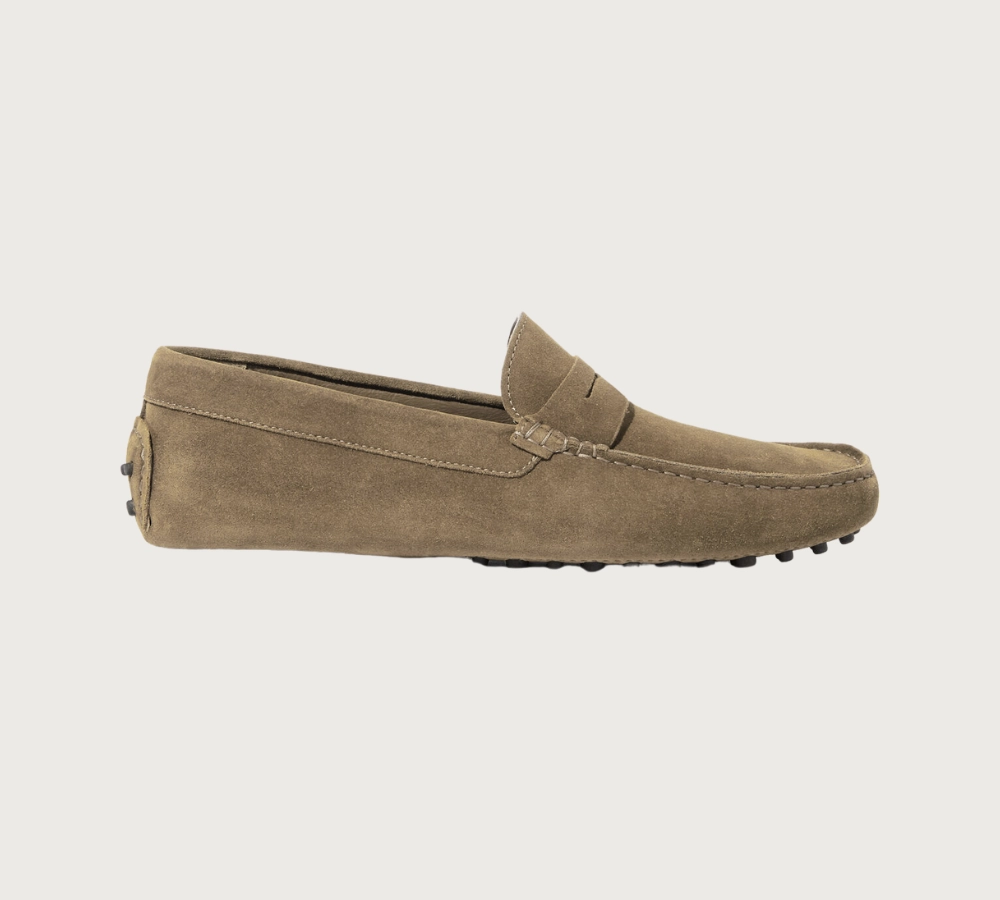 Featuring a classic penny loafer upper, with a simple, minimally styled vamp, this Scarosso pair is all the driving shoe you'll ever need. They come with the distinctive rubber studs, while the soft beige suede covers the entire shoe, including the sole, for an added touch of luxury. Notice the contrast stitching and expertly crafted lining, which ensures this pair is a cut above most.
8. Charles Tyrwhitt Suede Driving Loafers
Charles Tyrwhitt is well known for its shirts, and for good reason. The British brand makes some of the best quality ready-to-wear shirts anywhere and produces everything from formal business shirts to casual linen designs. But its footwear deserves attention too. The quintessential driving shoe, this pair is made from light brown suede and comes with a full leather lining for long-lasting comfort.
9. Oliver Sweeney Lastres Navy
When it comes to value to quality ratio, Oliver Sweeney is up there with the best. The brand specialises in classic footwear made with luxurious materials, all the while offering them at incredibly reasonable price points. This pair of driving shoes are no different, with their classic silhouette and soft suede uppers, which have been sewn together by hand in Spain.
10. Hugs & Co Penny Driving Loafers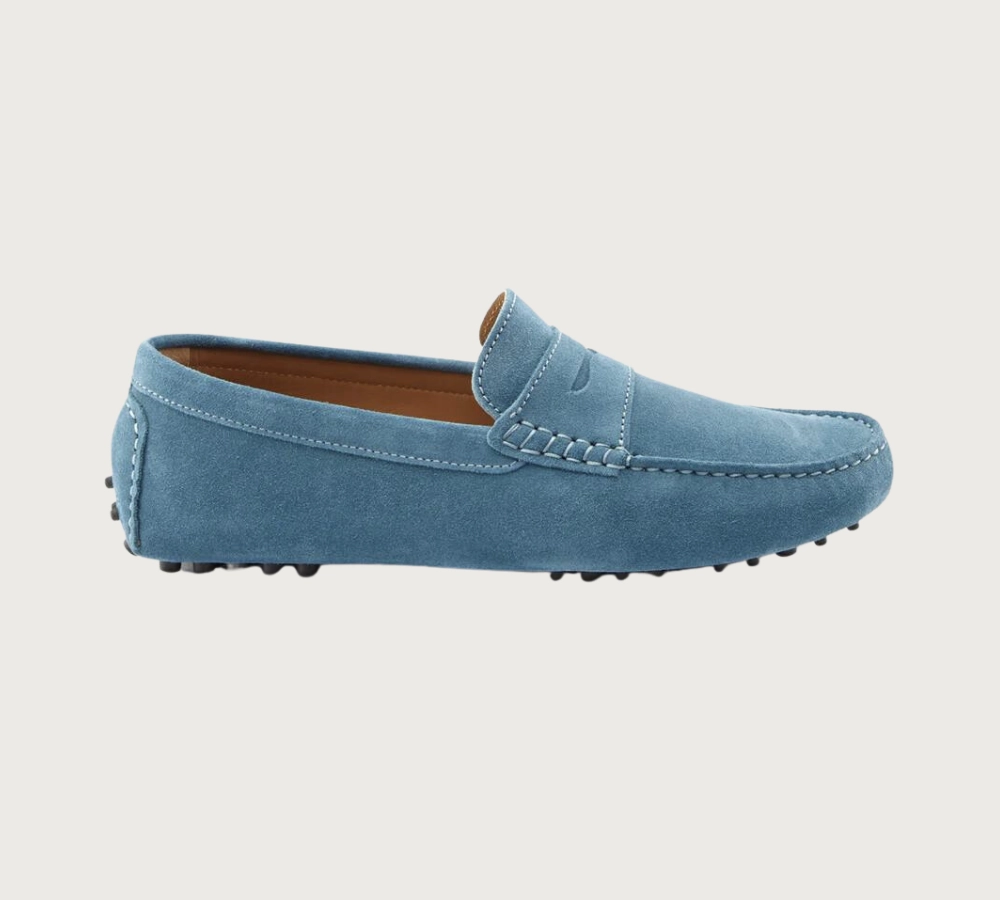 It's hard to go wrong with brown or beige driving shoes, but for a bolder look, consider going for a bit of colour. This Hugs & Co pair comes in a vibrant petrol blue shade, which transforms them from a low key smart casual shoe into more of a statement. Handmade in Portugal from 100% suede, try wearing them with navy tailored trousers and a white Oxford shirt for a playful summer look.
11. Russell & Bromley Soft Wear Driving Loafer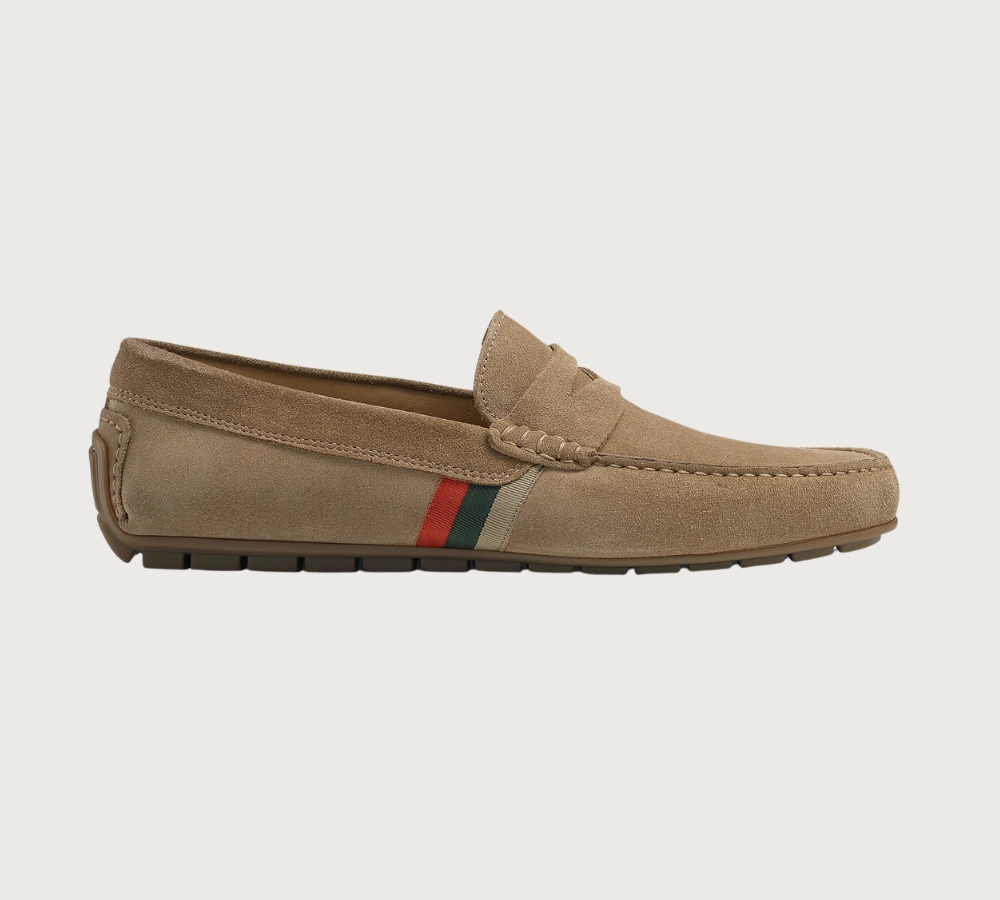 Russel & Bromley's driving shoes have been handmade in Italy from the softest sand suede. Their low profile silhouette features a point of difference though: a colourful green, red and beige grosgrain trim stitched to the outside. The subtle punch of colour combines with the otherwise minimal design for a quirky, contemporary update on the 1960s inspired silhouette.
12. Duke + Dexter Navy Driving Shoe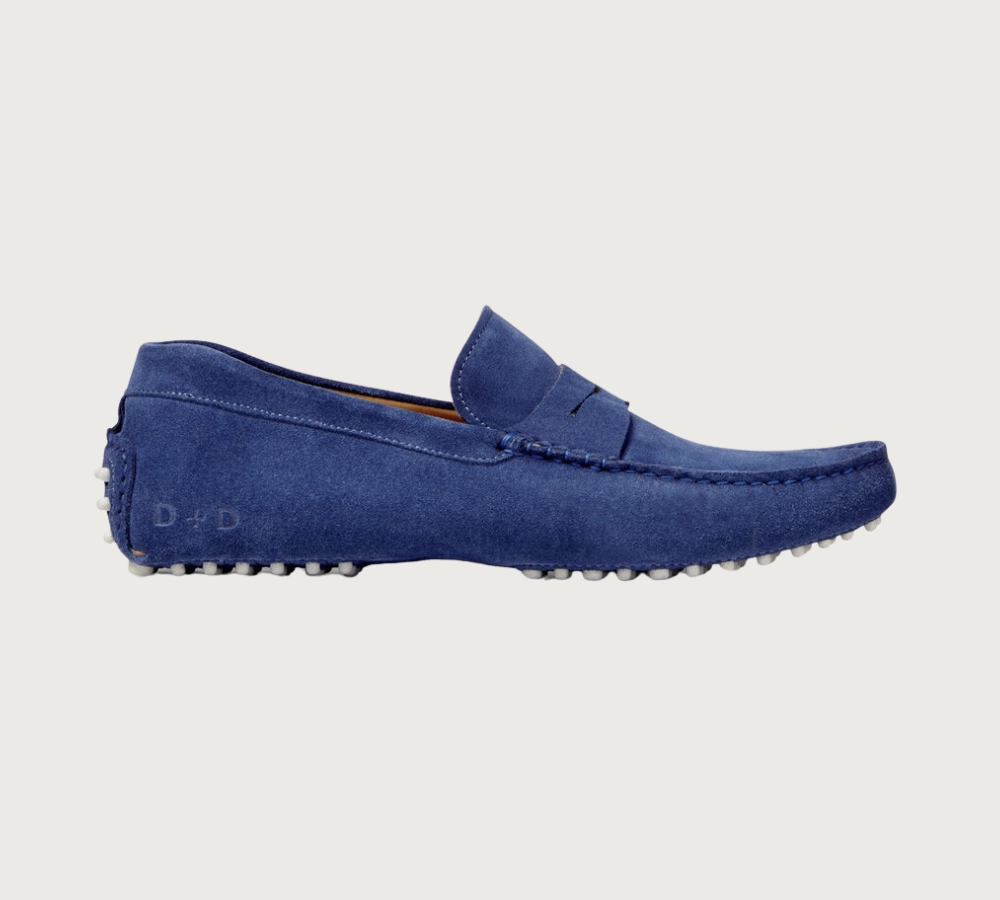 With a squared-off heel and all-over studded soles, this pair really is made for driving. Duke & Dexter has embossed its logo onto the sides, while the rich, bright blue suede ensures they'll stand out for all the right reasons. Try them with light-wash jeans and finish with a printed Cuban collar shirt for a confident summer holiday fit.
13. TOD's Gommino Bubble in Suede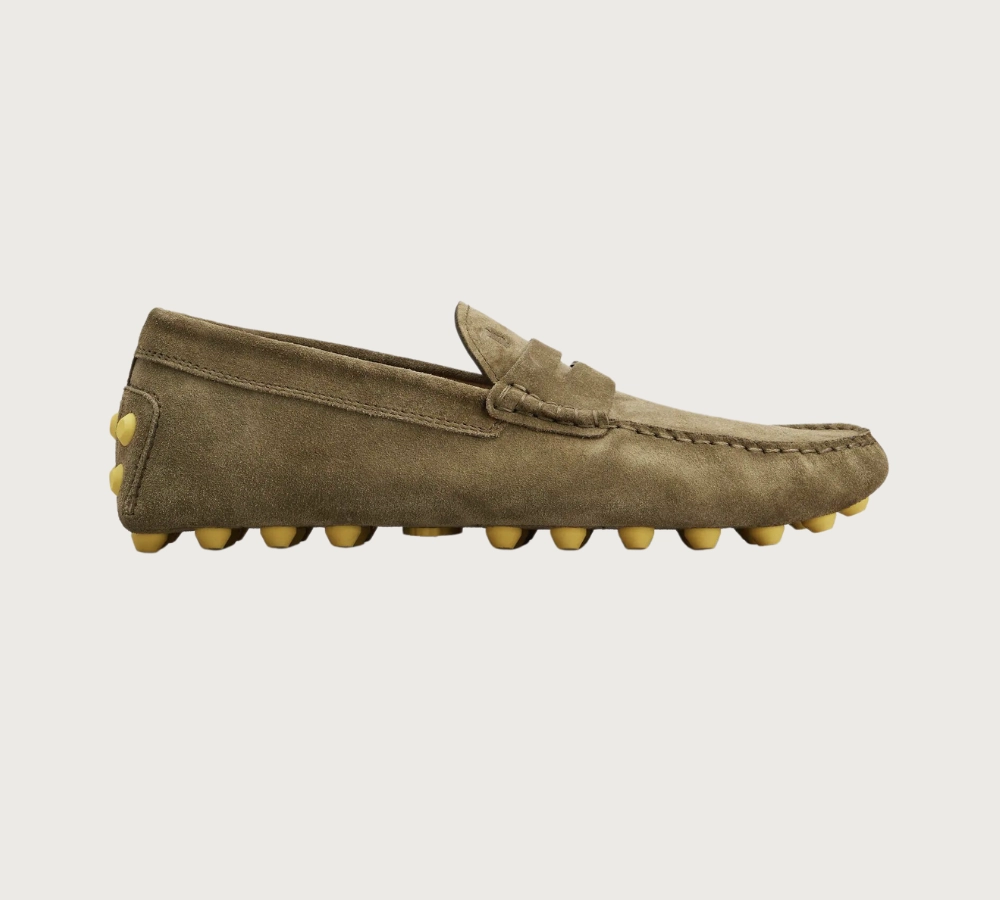 Tod's was one of the first companies to produce driving shoes in the '60s, and today its Gommino model is widely considered to be among the best. Handmade in Italy, each pair is stitched together with unmatched attention to detail, and crafted using the very best suede and leather fabrics. This pair has been given a modern overhaul, with its oversized rubber pebbles finished in a striking yellow shade, contrasting with the green suede of the shoe's uppers.
14. Dune Bound Driver Shoe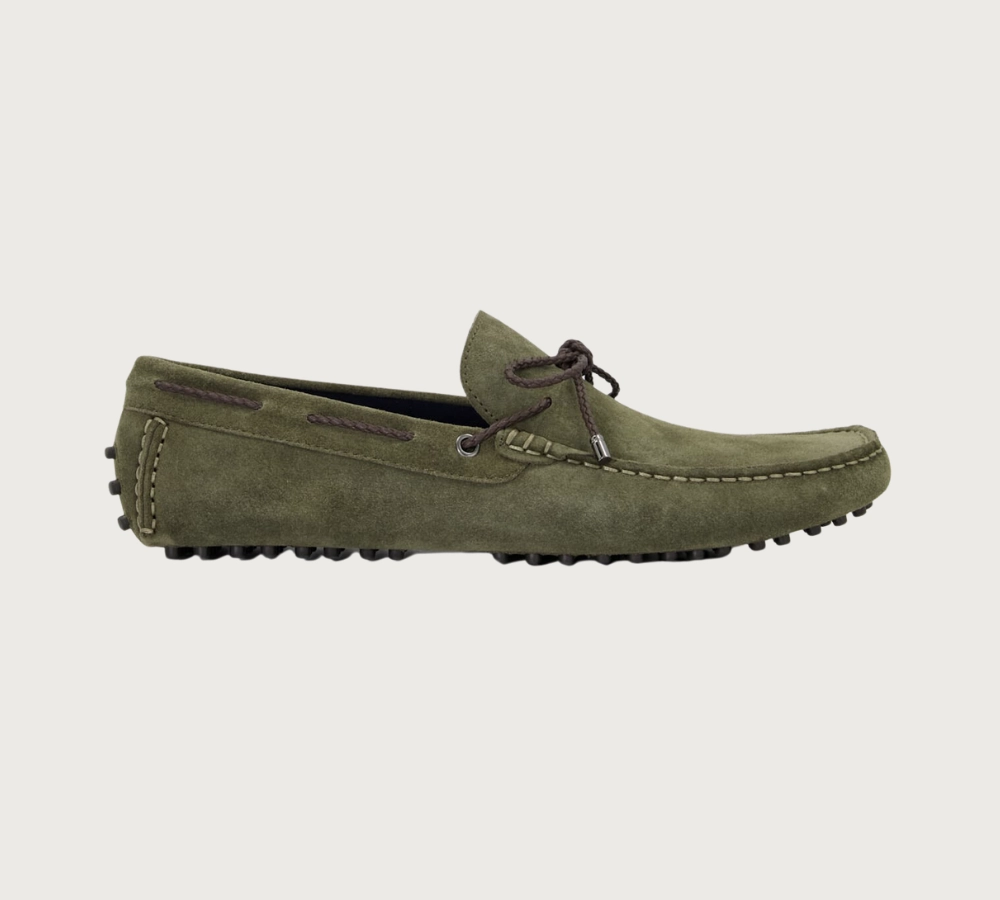 The khaki green colourway of these Dune driving shoes makes them different from the standard brown. It will add greater interest to your summer look while versatile enough to be worn with richer tones when the weather gets cooler.
15. Salvatore Ferragamo Grenoble Loafers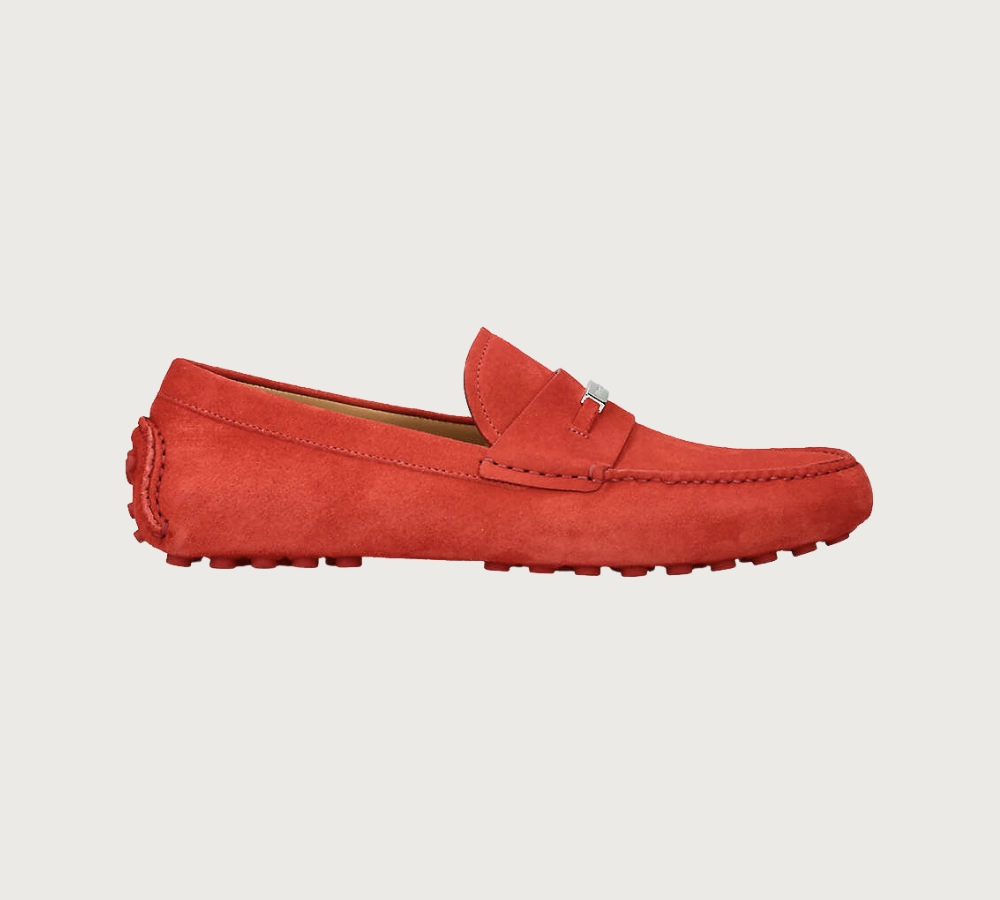 When it comes to Italian heritage brands, Ferragamo is one of the most iconic, and was founded nearly 100 years ago in 1927. It's produced handmade driving shoes for decades, with its signature metal plaque adorning the vamp. This pair comes in a striking red suede, and with matching red rubber studs, which will surely appeal to owners of a certain Italian car brand. Whether you match it to your 458 Italia, or you wear them for jaunts to the Italian coast, they're bound to make a statement.