A minimalist wardrobe also referred to as a capsule wardrobe, is not about starving yourself of choice or restricting your spending habits completely. In essence, it is about having a greater understanding of our own personal style and the quality of the clothing we buy. When we have that, we can effectively become more minimalist and have a wardrobe of a carefully edited selection of products.
It sounds crazy, but a minimalist wardrobe will give you more outfit choices, not fewer. When we have a wardrobe full of clothes, we often can't see what is really there, how things can be put together, and so think we don't have what we need. This is where we fall into the purchase cycle of buying new clothes because we can't appreciate the ones we have.
I know it can be overwhelming to think about minimalising and removing a lot of the clothing from your closet. If it makes it easier, focus on the money saved from less frequent (regrettable) purchases. Other men might like to think of the more positive effect they will have on the planet.
As we like to say on AGR, trends are temporary, style is permanent. The latest fashions and fads will come and go, but a capsule wardrobe will be the foundation for any stylish man.
Below we have some useful tips for building a minimalist wardrobe.
Clear Out Your Closet
For this, the best way is to pull everything, and we mean everything, out of your closet. Lay it on the bed or the floor and take stock of all the clothes you have. This can help to hit home the mountain of clothing some men have. You never wear suits to work anymore, shirts you have been keeping 'just in case' and battered old trainers that should never be worn in public.
Start pulling out the items you want to keep and create a new pile for your new minimalist ethos.
Note that at this point, it isn't above removing particularly 'unethical' brands. When deciding what to keep, think about what you wear regularly or if a piece can be worked into a few different outfits. A nice polo shirt, for example, can be great for the weekend and can also be worn with a blazer for a slightly more relaxed look for the office. Versatility is critical when it comes to a minimalist wardrobe.
It can feel cathartic to start cleansing your closet; who knows, you might find a great item you had forgotten.
When you have a clear pile of items to keep, start sorting your 'get rid' mountain into what is sellable. Some clothing and accessories will go straight to recycling, others to charity, and some might be in good condition to sell. If you are starting a new capsule wardrobe, why not start with some money in your back pocket?
Understand What Looks Good
I don't expect all men to instantly have a great understanding of what looks best on them. If you are struggling, then reading blogs like this or looking for inspiration on Pinterest can help. Seek out men that have a similar build to you or stylish men that you aspire to dress like. To begin with, it is about focusing on the basics. What consistent themes do you see in the images you've found? Look at coat collars, tie widths, short lengths, and colours.
Don't be afraid to ask for advice.
Choose someone you trust and ask them to critique your clothing choices honestly. It might hurt your feelings at first, but you'll thank me in the long run. Often, friends and family exchange pleasantries without giving their honest views. Asking for advice can give you vital constructive feedback for your new wardrobe.
Fit is everything
If you can master getting the fit of your clothes right, you are already halfway there. This can occur when you buy or post-purchase through alterations. Getting your clothing to fit your body shape in the most flattering way is how you can elevate even the simplest of outfits. Just look at the likes of James Dean or Ryan Gosling. They have mastered how the proper fit of a plain white t-shirt, for example, can be fantastic.
I know we can't all be James Dean or Ryan Gosling, and ultimately, I want you to feel comfortable in whatever you wear. So, please do your research, and your wardrobe will thank you for it.
Look After Your Garments
There is no point in elevating your wardrobe, and investing in a less is more approach only to care for your garments wrong. Storing your clothing in your closet wrong can lead to stretching or, even worse, moths. Washing or drying your clothing wrong can lead to shrinkage. Remember you are trying to reduce clothing waste, not add to it further.
Take a measured approach. Read the care label like the gospel, and even get it dry-cleaned if you don't feel confident.
As you have got rid of the large quantity of your closet, there will be more space. This means each item can be given the room it needs to be stored correctly. For example, if you don't like folding, there are plenty of innovative tools to make it less painful.
Don't Shop Fast Fashion
Ok, we can't remove all blame from ourselves. But fast fashion brands have a lot to answer for. Their giant product catalogues and low price points encourage an unhealthy need to have 'more'. I have lost count of the number of times I have been sucked in and bought clothes that don't fit right, are made from cheap materials, or I have just never really worn them. Thankfully as I have got older, I have been able to see through the lies and align myself with brands that fit my ethos.
A capsule wardrobe should be filled with pieces from brands that are dedicated to sourcing the best materials ethically. I know this might mean the price creeps up, but remember, this is about buying less and buying smarter.
Ignore Fashion Trends
This can be tricky for many men to ignore and can be made more difficult by the company we surround ourselves with. If your friends are constantly showing off their latest designer label buy or getting in the queue for a significant trainer drop, it can be hard to not fall into those same habits. By nature, men mirror the behaviours and interests of those around them to fit in and be accepted. I'm not saying to go the other way but think about the price you pay for trend-led designer pieces with their small shelf life. Your mates will still be your mates whether you have the latest Yeezy's in your closet.
Style is permanent. Think about why the likes of Steve Mcqueen, James Dean and others from a bygone era are still heralded as fashion inspiration for men. It is because they weren't draped in labels and following overhyped trends. They opted for the subtle approach to dressing. It was about quality and fit. Let your clothes do the talking for you.
Versatile Menswear Classics
Here is where we talk in a little more detail about the products you should have in your capsule wardrobe. We are looking for menswear staples that can interchange different looks and outfits whilst still looking great.
You can always layer these foundation pieces with something a bit more impactful with the use of prints or colours. Just make sure that around 80% of your wardrobe consists of versatile classics.
Here are some examples of classics:
Plain T-Shirts
Printed tees are typically more trend-led. A plain t-shirt is simple and timeless and can go with anything. Try a more casual Friday work look by replacing your formal shirt with a t-shirt.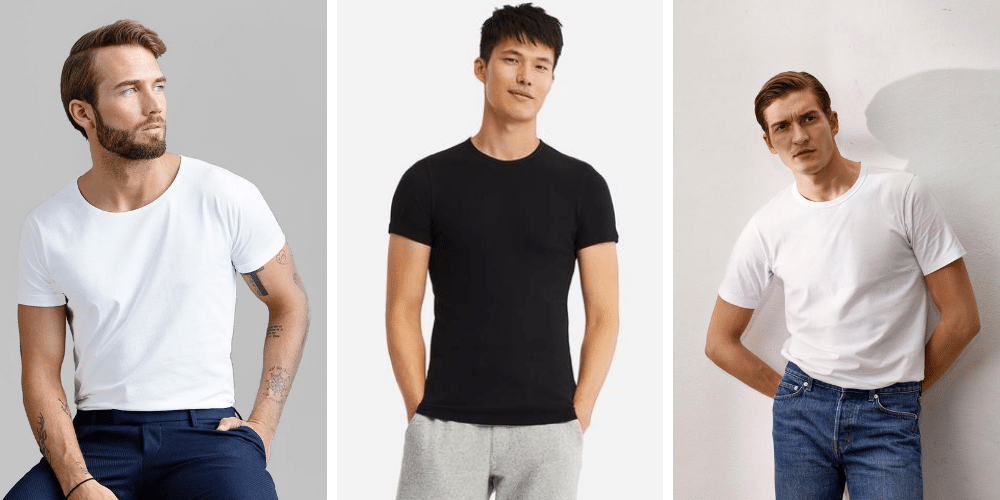 Suits
If you don't have to wear a suit every day for work, you can get away with a navy blue and grey option. The key with these is you can wear a navy blazer nicely with jeans or even mix them with grey suit trousers.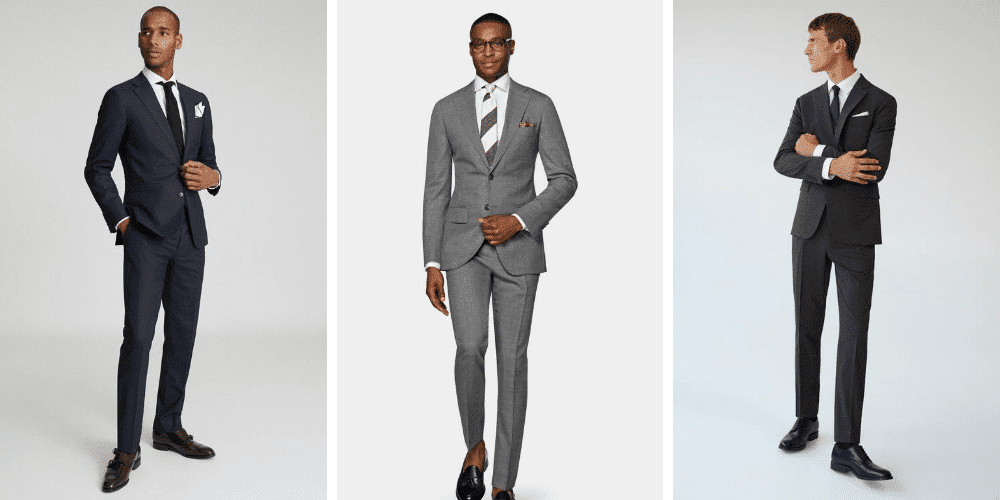 Jeans
A strong capsule wardrobe piece would be versatile denim jeans. They can be dressed up or down depending on the occasion. Choose from dark blue, black or dark grey in a slim or straight cut.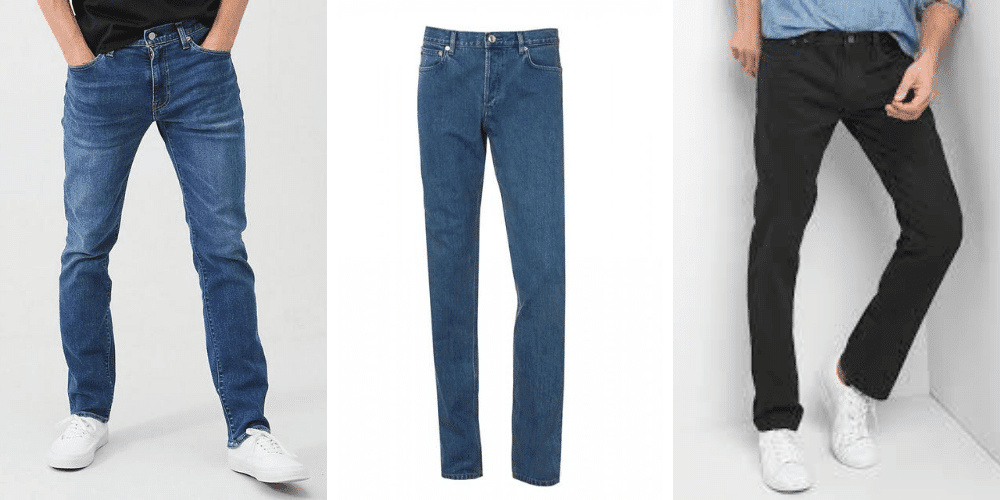 Chinos
A staple of the minimal wardrobe, they are the epitome of smart casual. They can be worn to suit the occasion like most items in your new wardrobe.
White Trainers
As office wear becomes more relaxed, you can partner with a navy blue suit or jeans for a more weekend casual look.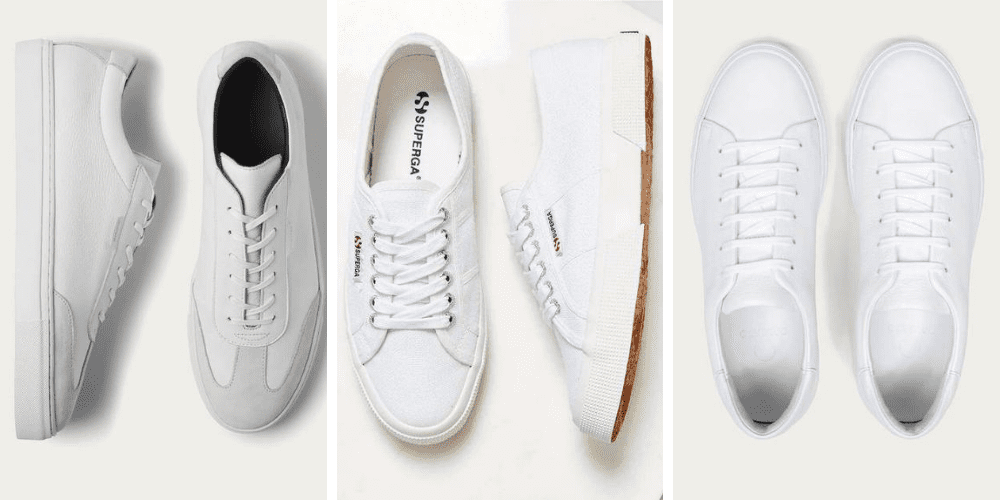 Knitwear
You only need a couple of pieces of knitwear. Mainly because most of us work in offices that have the heating on, or even at home as remote working comes to the fore. If you have the budget, look at cashmere for a premium, luxurious material. Uniqlo is known to have a well-priced range.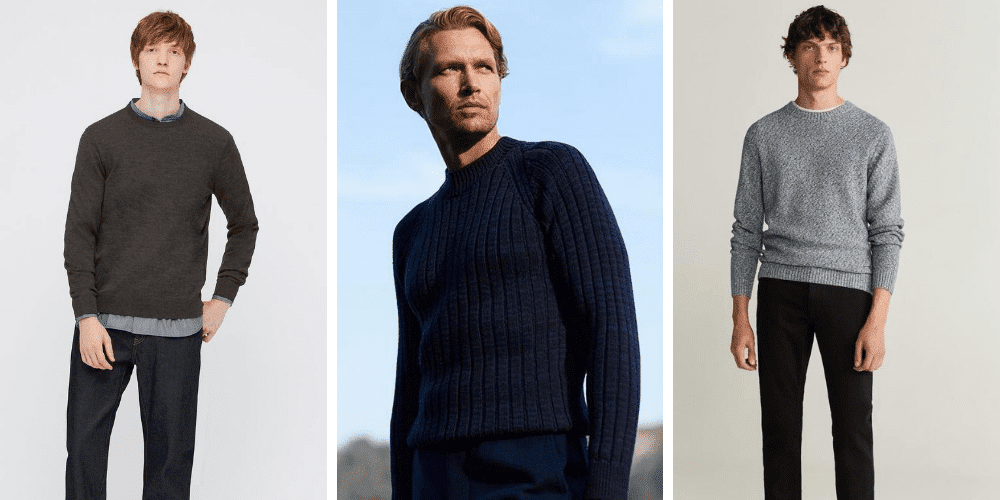 Polo Shirts
These are one of my heralded core pieces for a capsule wardrobe. Get the fit right, and you won't be able to get out of them. They are smarter than t-shirts but not too formal as a shirt. Versatility is at their core, and they can be worn with suits, chinos, smart trousers and shorts.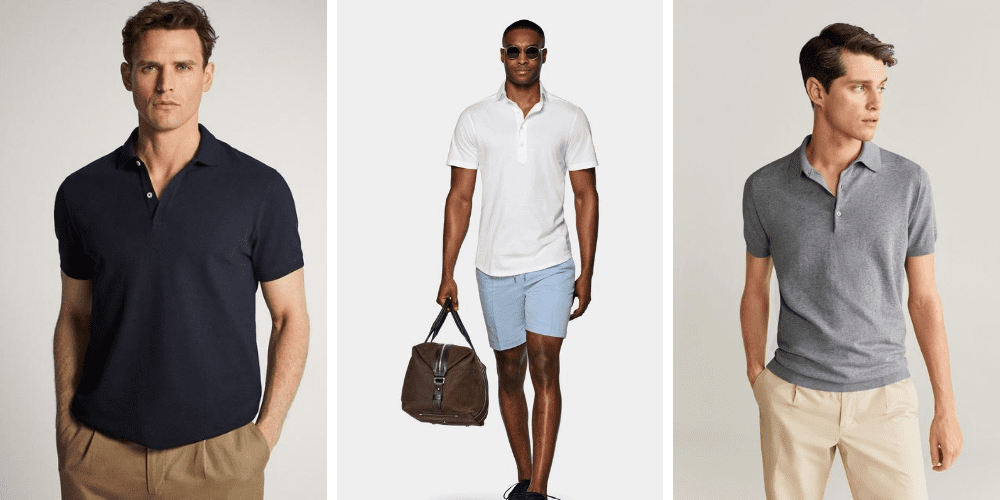 Minimalist Wardrobe Colours
Fashion brands do a very good job convincing men they need one of the above foundation pieces, but a neutral colour is boring. It has to be bold and impactful. As you can imagine, this leads to many men with buyers' regret, and another piece heads to the back of the wardrobe. This is because they don't have the pieces to complement that purchase.
First, stick to neutral colours when building your new minimalist wardrobe. What are neutral colours? A few examples are blacks, navy, greys, beiges and browns. They have fluidity and create a strong base for not only your wardrobe but individual outfits. It allows you to add a bit of colour to a top when you have navy chinos, for example, or wear a partner a bolder shirt with your grey suit. The neutral colour will absorb much of the vivacity of more vibrant colours. So, if you don't have a minimalist selection of neutral colour pieces, then hold back on colour, to begin with.
Neutral colours don't have to be boring, look at our inspiration board below.
How Many Minimalist Wardrobe Pieces
Now you have started building your minimalist wardrobe and focusing more on how and what to buy, including the clothing and accessories left from your original clear-out. I believe you should be looking for a wardrobe that consists of around 30-40 key pieces.
A helpful product guide for your wardrobe you can follow is below. Be aware that you can alter it based on your circumstances to suit your needs.
Trousers (Casual/Smart): 8
Shirts (Casual/Smart): 8
T-Shirts: 3
Polo Shirts: 2
Knitwear: 3
Trainers/Casual Shoes: 3
Smart Shoes: 2
Shorts: 2
Suits: 2
Jackets/Coats: 2
In conclusion, you can now understand that your closet doesn't have to be stocked full of clothes to wear the best outfits. We all want to look great daily. Creating a foundation wardrobe using this minimalist approach will help you better understand your own personal style.
Try and enjoy yourself when you get rid of your old clothes. It can be a cleansing experience. The result is a clean, organised wardrobe. It can create a healthier connection with your clothes, and you will enjoy caring for and storing every item you buy.
Minimalist Wardrobe Key Points
Don't shop with fast fashion brands
Take note of the product materials you are buying
Stick to sizes and shapes that give the best fit
Don't be swayed by trends or fashionable pieces
Purchase neutral colours to be a strong foundation