The winter season brings with it a slew of fashion challenges for men. We have all been caught short when that inevitable cold snap rolls in. At the same time, many guys go too far the other way and wear half their wardrobe to keep warm. The answer this year could be the humble puffer jacket. Chock-full of technological advancements, from water-repellent outer layers to recycled, ultra-warm fillings. It is the Robocop of cold-weather menswear.
So, why do they look so bad?
A quick peruse of what's on offer for men can leave us a little underwhelmed. Functionality does not have to come at the expense of style; we can prove it.
Never fear; we are here to tell you that it is possible to get your hands on puffer jackets with less shiny monstrosities and more elevated classics. Our puffer jacket doesn't need to roll into a handy carry bag; it needs to showcase our personality while still being practical in the depths of winter.
Below is our list of the best men's puffer jackets to get your hands on to hit both the functional and style notes this winter.
1. All Saints Quilted Jacket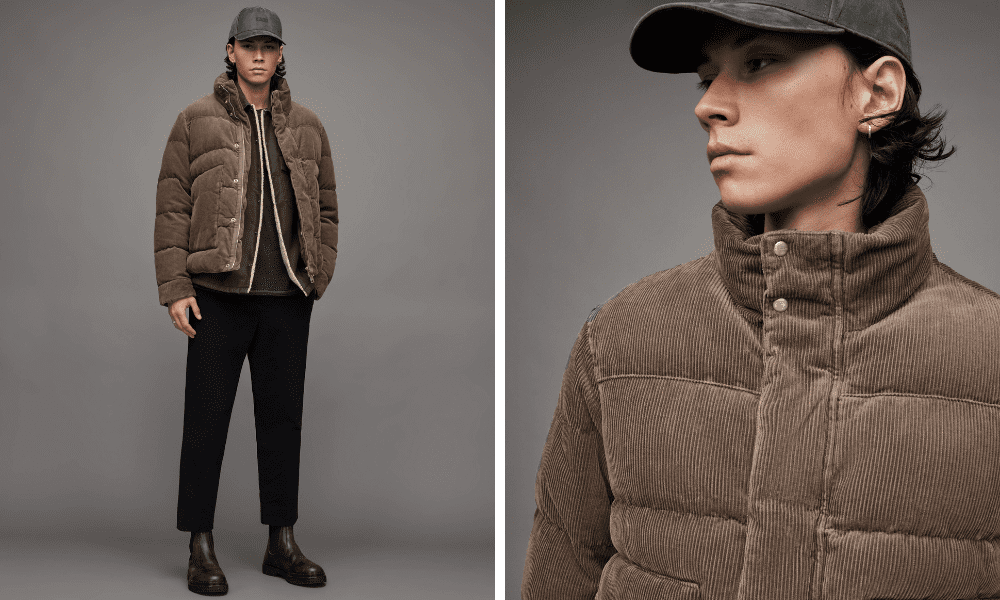 Adding a great winter fabric like corduroy can really elevate your outerwear. This All Saints quilted jacket is crafted from a soft corduroy fabric with an additional water-repellent finish. Lightweight, yet cosy it features a funnel neck and zip closure, as well as placket snap fastenings.
2. Columbia Hooded Down Jacket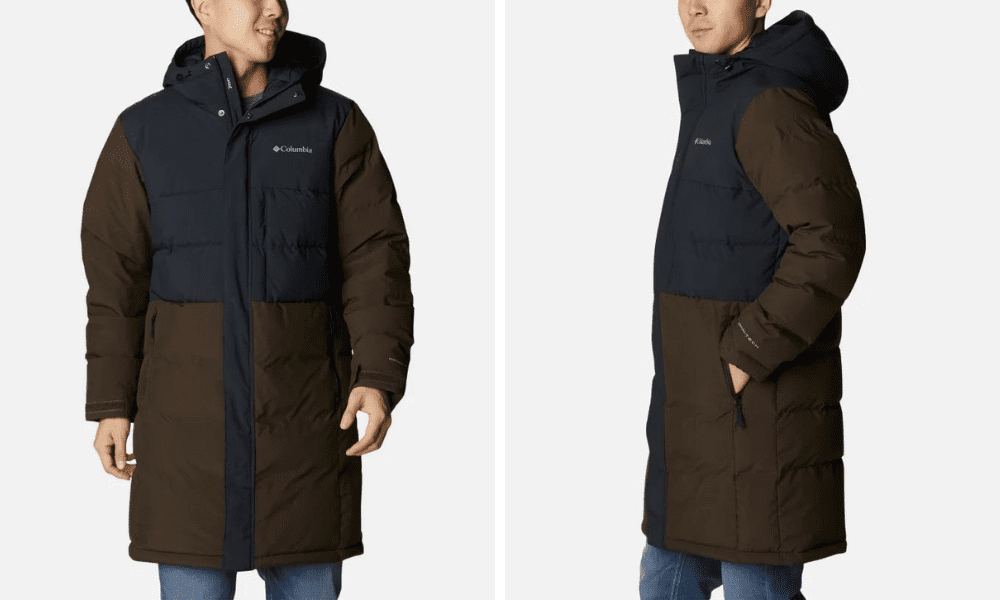 The Columbia Hooded Puffer is a must-have for men looking to stay warm and stylish this winter season. This lightweight, water-resistant jacket features a thermal reflective lining and insulation that helps to keep you warm in the coldest temperatures. The zip-up pockets and interior security pockets are great for stashing valuables.
3. Sandro Oversized Puffer
Refreshing the humble puffer jacket by introducing an on-trend colourway is a great way to keep this staple piece looking contemporary. Combine that with an oversized fit and you have a surefire winner. The insulating duck down and feather padding will ensure men nail style and warmth, no matter the temperature.
4. Merely Made Puffer Coat
The cropped nature of this padded-down jacket from Merely Made makes it ideal for adding additional longer layers underneath. Colder months are all about effectively building layers and with this pick, you can easily finish off your outfit without compromising on style.
5. Suit Supply Long Puffer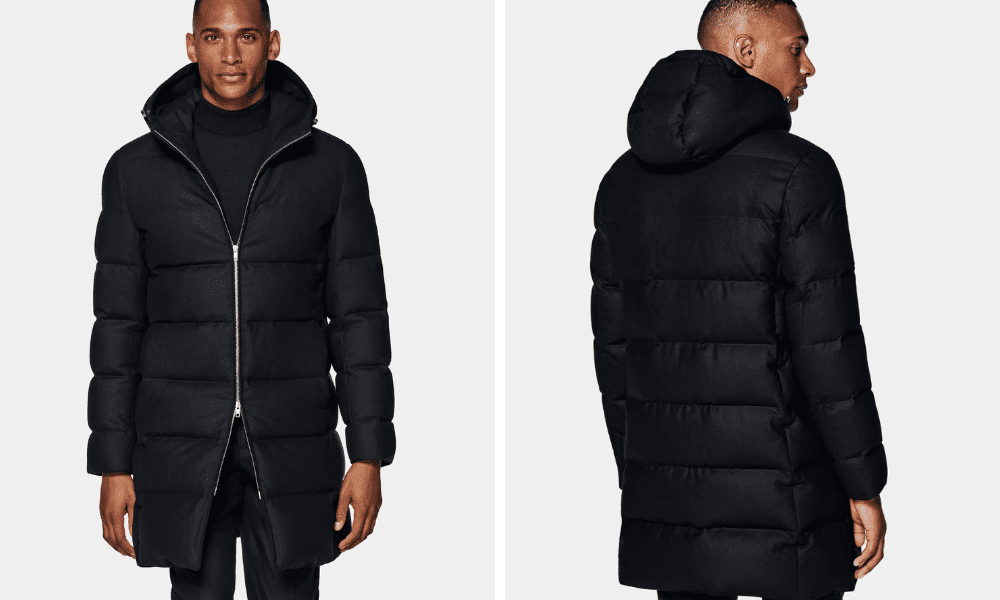 There always seems to be a spot in our top lists for Suit Supply, the Dutch brand that continues to reinvigorate formal dressing impeccably. The double zip on this longer puffer jacket still allows for movement, which is ideal if you wear it over your more tailored wardrobe pieces. Manufactured in Italy by Vitale Barberis, the world's oldest fabric mill, this is a sophisticated and refined choice for any man.
6. Axel Arigato Puffer Jacket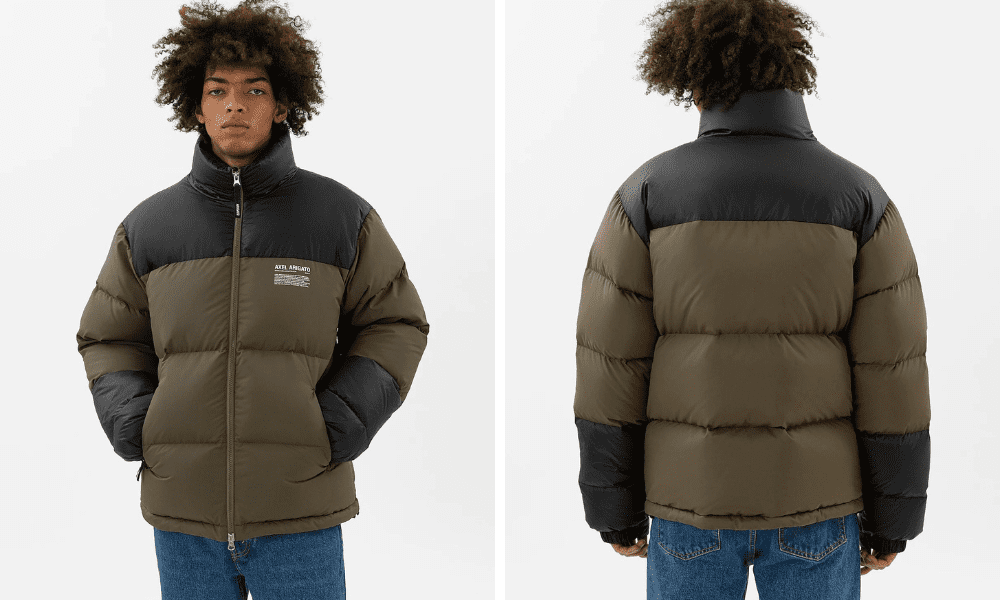 Making sure their products are kinder to the world, the new range of puffer jackets from Swedish brand Axel Arigato was created in partnership with the Seaqual Initiative. A program to take waste from the seas and oceans and recycle them into materials like yarn that can be used in the fashion industry. Expanding its product lines aside from just footwear, Axel Arigato still manages to keep its classic silhouette looking modern.
7. Wax London Malmo Puffer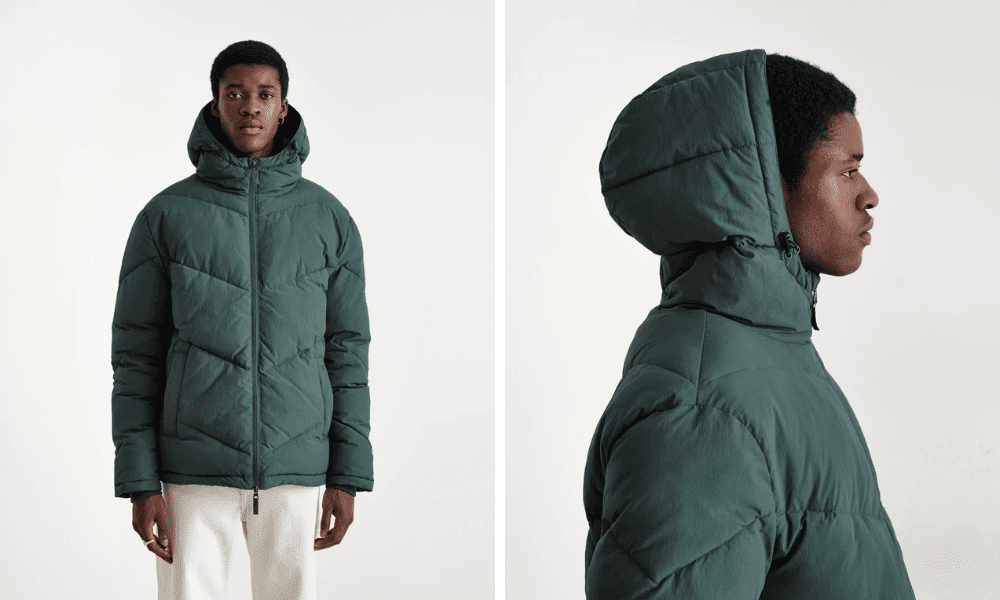 We are loving this pine green colour choice from Wax London's puffer jacket. Subtle but different enough to give us a break from darker shades, it can be paired with multiple other colours to give us welcomed options during winter. Why not partner with jeans and boots for that new year's walk?
8. Canada Goose Everett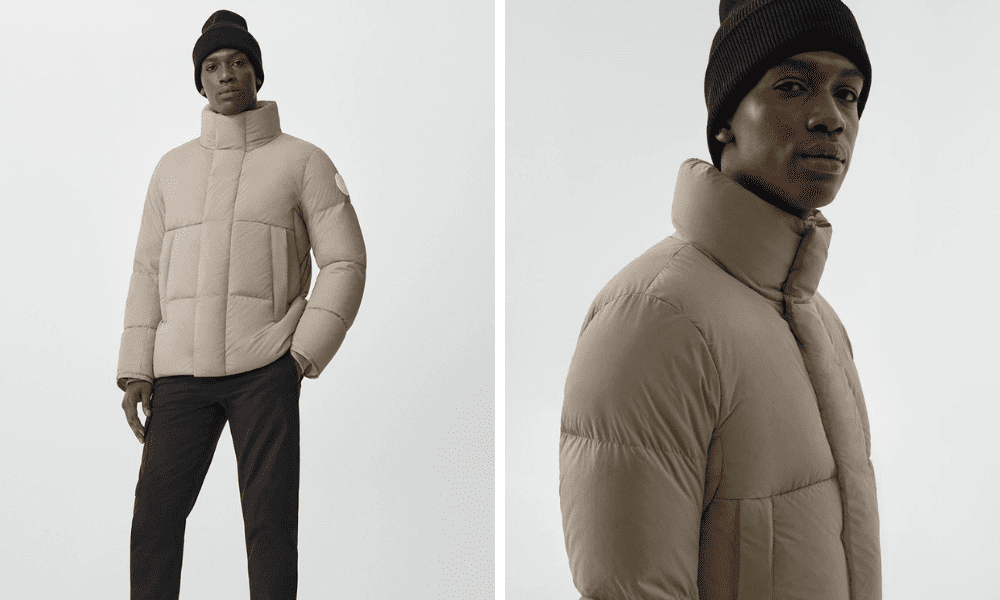 The daddy of cold-weather clothing, Canada Goose is much imitated but rarely beaten. Fresh for this season is a breadth of pastel shades that reinvigorate their offering. Hitting the sweet spot between fundamental warmth within a lightweight body, the Everrett jacket delivers on all fronts. You won't be disappointed if the purse strings stretch this far.
9. Diesel W-ROLF-NW
Notably, this Diesel puffer is a bold, brassy, no-nonsense jacket, not the most streamlined of silhouettes. Delivering exactly what it says on the tin, it is down-filled with an additional lining. You wanted a jacket to keep you warm, well this is in-your-face warm.
10. Pangaia Collarless Jacket
Not all men's winter jackets need to be bulky and overtly cold-repelling. Within expert layering, men need a jacket that can be versatile enough to be worn under an overcoat for example without being too restrictive. This is where this Pangaia pick comes into the fore. Made from their innovative wildflower down material, it ticks a lot of the boxes we look for when considering sustainability showing 'good for the planet' doesn't have to mean boring.
11. Uniqlo Seamless Down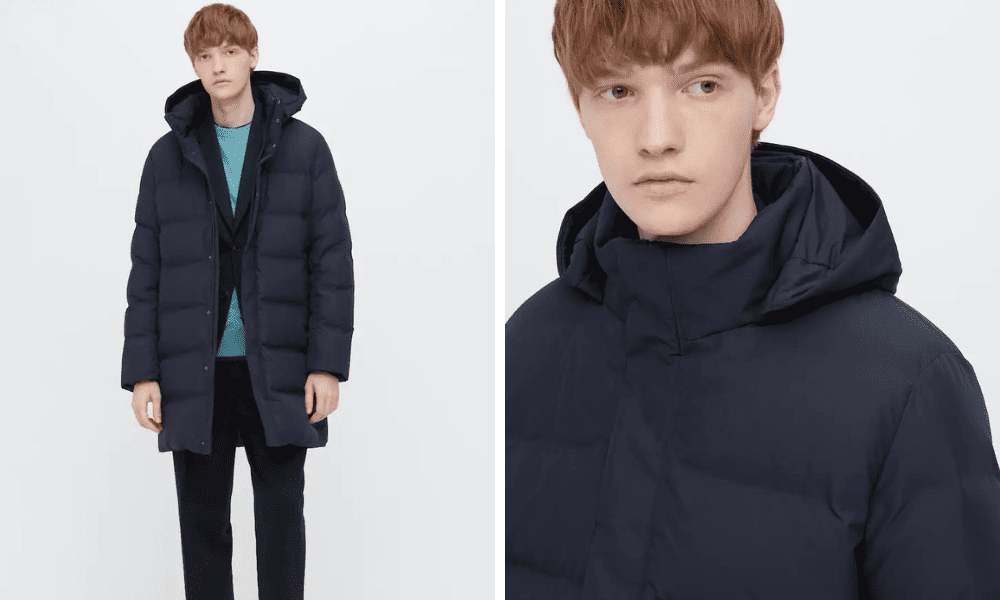 When making with a seamless down the purpose is to ensure no warmth is lost throughout the jacket. The focus on movement in the shoulders during manufacturing also creates an outerwear piece that isn't too suffocating whilst maintaining an overall smarter look. Perfect for those seeking a piece that can be worn on workdays.
12. Gant Flight Puffer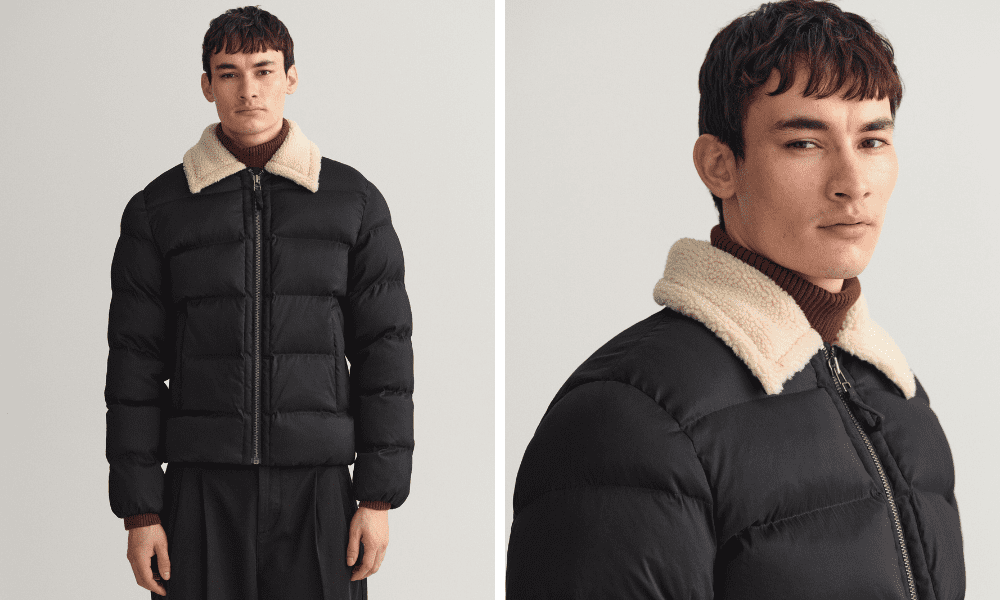 I'm enjoying the aviation-style twist on this puffer jacket from GANT. The faux shearling collar brings a point of interest and has its own warming benefits. So, if you are a guy looking for something different from your puffer jacket, then we might have found the answer.
13. Abercrombie Ultra Puffer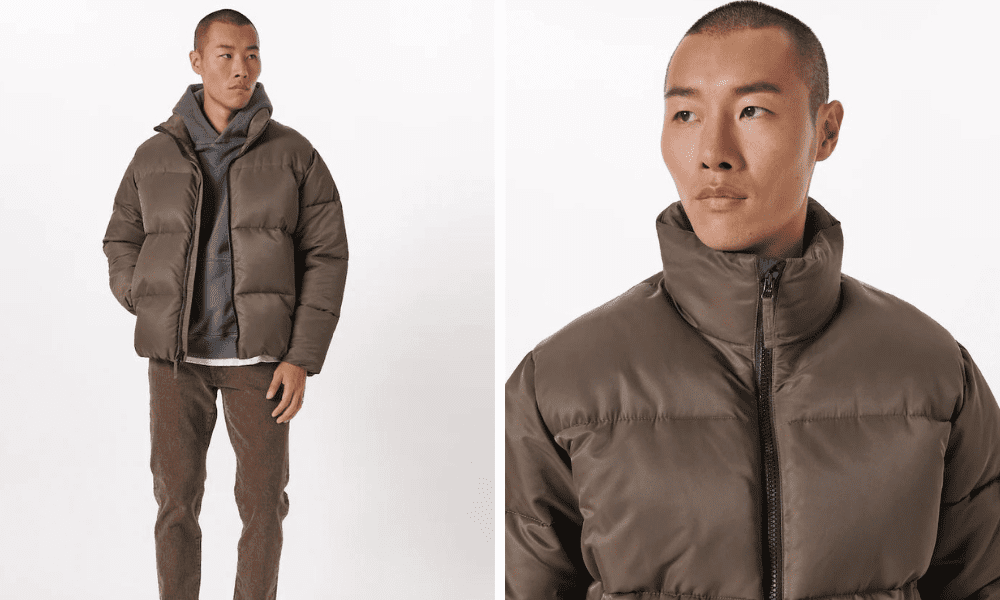 Cut in a simple, understated design; the colourway has our heads turned. Often we can retreat to black or navy during winter, while this brown puffer can change that, giving a nice update to our winter looks. For added kudos, its padding has a recycled filling, and the exterior comes with heavyweight protection against wind and rain.
14. Arket Cord Jacket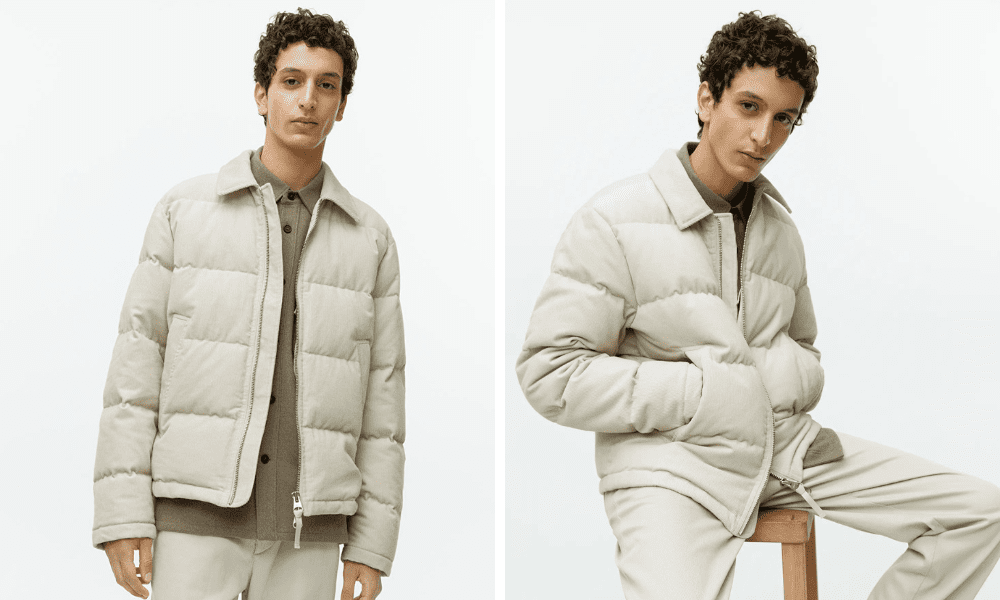 The added shirt collar gets this pick from Arket onto our list. As we expect from Arket, it comes full of minimalist Scandi charm though its lightweight make-up is what creates an incredibly versatile coat. Worn as a layer on the chillier days, it will come into its own come Spring. This interchangeable nature makes it a fine investment for any gents wardrobe.
15. Superdry Longline Jacket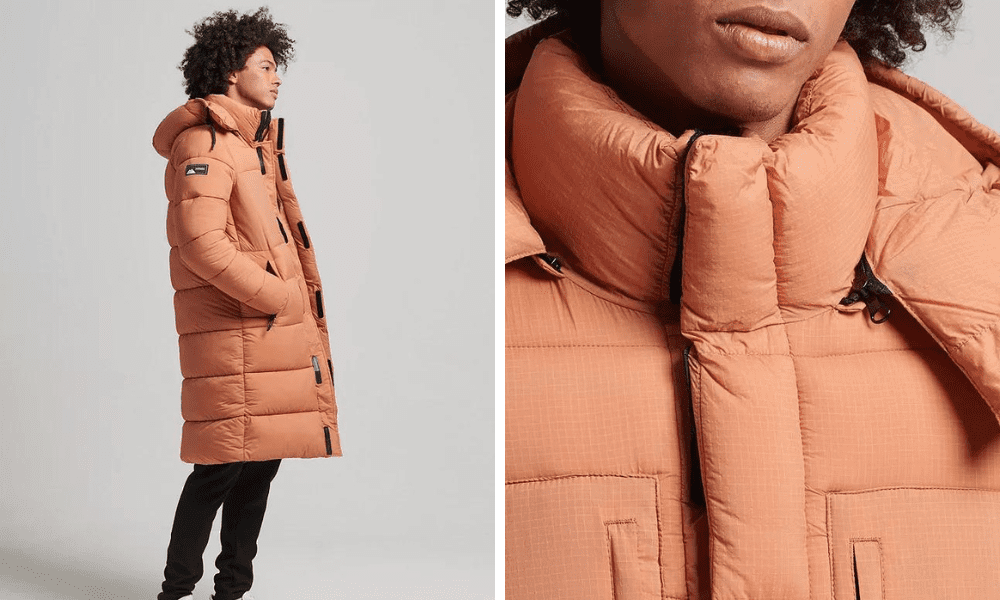 A longline jacket is fantastic at giving you those extra inches of insulation. Finishing at the knee we receive additional warmth when wearing, which is ideal if we are someone having to spend time outdoors. If this has taken your fancy, get it while you can, as it is at a knock-down price currently on the John Lewis website.