They say the first thing someone notices about you is your shoes. And if your shoe colour doesn't match your suit, this could be unwanted attention.
Smart shoes are an investment, so we must approach them cautiously. Getting it wrong could leave men with a hole in their pockets and badly put-together outfits. Mastering which of your current crop of menswear goes best with each shoe colour. You'll wear your new shoes more often, and your money will be better spent.
Smart shoes and suits go hand-in-hand. So, it is the ideal place to start. This article will run you through the best suit and shoe colour combinations to refresh your daily rotations. Subsequently, through understanding the basics of what colours work better with others, men can use that as a starting point to start applying their own personality.
What colour shoes match a black suit?
The formality of a black suit lends itself to only a single shoe colour. Look no further than black. A sleek black-on-black combination should be your go-to. Anything else is a risk we don't recommend you take.
Black shoes with a black suit are uniform for black-tie events, and the no-frills Oxford shoe is preferred for this occasion. Outside of this, men can test loafers and brogues dependent on their mood.
For instance, a suede loafer is a great pick for an evening date where you might be switching the shirt out for a piece of knitwear. Suede and knitwear will create a refined look that has elements of texture.
What colour shoes match a navy suit?
A modern man's wardrobe staple, a navy suit is a chameleon of formalwear. Able to be dressed up or down on a whim, the colour is versatile enough to be worn with a few different shoe colours.
Black shoes with a navy suit
There is an outdated style rule that black and blue shouldn't be worn together. This is a misguided accusation due to men struggling to match the tones of these two colours.
The colour palette of navy and black is an underrated classic that should be in a guy's tailored arsenal. These darker shades complement each other due to their deeper tones and are ideal for smarter occasions.
Brown shoes with a navy suit
A tried and tested combination, brown and navy, is a failsafe option with nuances. In colder months, brown leather shoes will see you through any event. While in summer, we can switch the leather for suede to offer a warm-weather alternative. Both are interchangeable, and this one has no hard and fast rule.
As the Switzerland of suiting, navy delivers a neutrality that is hard to beat. We can go for rich chocolatey brown tones or light, almost beige shades for footwear. The navy colour can absorb both and still come out looking great.
Burgundy shoes with a navy suit
To switch it up a little, men can look to burgundy or oxblood for a nice alternative. It is not as popular as brown or black, but it will showcase an astute understanding of colour matching.
This colourway really comes into play if you wear a lot of suiting. In this position, suits can become stale and uninspiring. So why not introduce this variant of colour shoe? It is perfect for an Autumn/Winter ensemble.
What colour shoes match a light/mid-grey suit?
As we step into summer, men can use lighter grey tones to brighten their suits without striding too far out of their comfort zone. It is more palatable than light blue or green but gives us more options than beige for our footwear.
Black shoes with a grey suit
Pairing black shoes with our light grey suit is an ideal way to ground it and add some contrast. Black shoes are a tad smarter than brown, so make a nice choice for those that work in a formal environment.
Keep your shoe style classic with a brogue or Oxford toe to deliver a pared-back approach to business power dressing.
Brown shoes with a grey suit
Brown shoes partnered with a grey suit are an easy way to add a twist to your tailoring. To nail this, reach for pastel shades that bring a fresher approach. Sure, the standard brown formal shoe won't let you down. But, a suede derby would bring a harmonious dash of modernity that could be your summer nuptials favourite.
Aside from wedding events, the more casual pastel shade of brown would play into a deconstructed suit outfit. Consider switching the formal shirt for a polo or plain tee to create a contemporary summer work outfit.
What colour shoes match a charcoal suit?
In the depths of winter, a charcoal suit is a great way to bring texture to those chillier days. Compared to black, men get a greater chance to add interest through fabric choices and won't look like funeral guests.
Black shoes with a charcoal suit
These two colours are a timeless example of how men don't need to mess with what works. Sometimes just doing the basics, well, is all we need. Don't overcomplicate, and keep the dark tones of charcoal and black on par. They have your back.
Dark brown shoes with a charcoal suit
Again, we don't need to stray too far from conformity. Brown shoes, in this example, need to be kept in a similar colour tone. The darker, the better to match the richness of the charcoal suit.
In the light of the day, brown shoes and a charcoal suit will create an elevated look perfect for winter days.
What colour shoes match a green suit?
Green suits are a quick way to update our suits for a seasonal refresh. In autumn, we can tap into the earthy tones of a darker shade of green, while in spring and summer, a lighter tone is preferred. Whichever way you wear it, there is a shoe colour to match.
Black shoes with a green suit
Let the boldness of your suit colour do all the talking and keep the rest of the look simple yet effective. Black shoes are one way we can do this as long as men stay refined and sleek with leather. It won't draw the eye, ensuring the suit gets all the admiration.
Brown shoes with a green suit
Men can lean into the earthy tones of nature for our next combination. Green and brown evokes a sense of the outdoors and complement each other nicely.
An understated classic, a green suit with brown shoes has been a firm favourite of preppy-inspired brands like Polo Ralph Lauren and Drake's. Both are popular with the AGR team, and this is a partnership we are eager to try.
What colour shoes match a brown suit?
A brown suit might conjure images of stuffy geography teachers with patches on their elbows. The most revered tailoring companies have breathed new life into the previously unloved suit colour. Now we have options in a range of fits and fabrics to make this a menswear staple all year round.
Brown shoes with a brown suit
The art of wearing a brown suit with brown shoes is that the outfit needs contrast. This could come from the tonal colour change between the suit and footwear or in the fabric of the components. Either way, it is important it comes from somewhere. A sea of brown in the same tone will not sit well. We need to define both elements clearly.
What colour shoes match a beige suit?
In the warmer months especially, beige is a brilliant way to show a clear change between our formal wear as the seasons change. During this period of longer days with more sunshine, our suiting should reflect this shift in the weather.
Brown shoes with a beige suit
The ability to constantly reinvent a beige suit is part of its appeal. It can be your formal partner for work or a wedding in the summer or flipped for a smart casual vibe by introducing a t-shirt or printed shirt.
Contrast has been an important factor throughout this guide on colour matching. Again, we recommend having a distinct difference between the lighter suit colour and darker brown shoes for maximum synchronicity.
Types of shoes to wear with a suit
Loafers
Some men only consider loafers as their suit companion when the weather gets warm. Yes, they are incredibly beneficial during this period, but a leather loafer can equally look great any time of the year.
From penny loafers to suede tasselled slip-ons, there is a loafer style for every guy. Whereas a penny loafer might help finish a preppy look, a suede loafer might see us touch down in Italy for our inspiration. The latter is a great example of how we can relax our tailoring through our choice of footwear.
Not as smart as a leather alternative, the suede loafer also has the ability to transition from smart to casual attire. Why not use it as a change to how your trainers with slim-fit denim for a retro smart casual look?
Oxford Shoes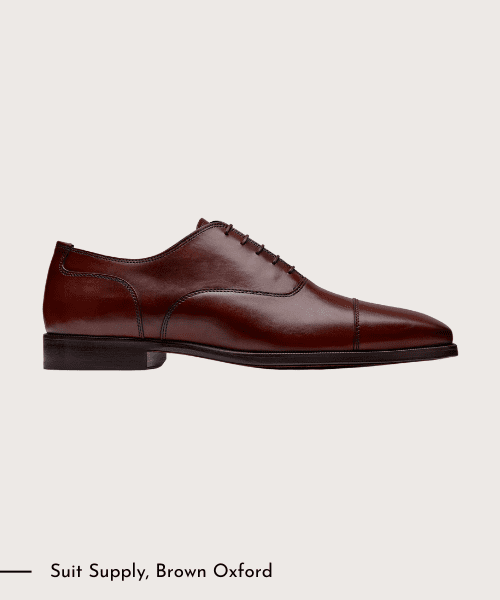 The staple of formal dressing, an Oxford is the go-to footwear pick for nearly every suit and shoe combination. Its unassuming nature makes it a timeless option, typically the smartest style you can own. With that in mind, they are at their finest within a more formal ensemble.
A formal outfit with its refined silhouette means there is nowhere to hide with the Oxford shoe. So, ensure you maintain their structure with shoe trees, and polish them before use.
Brogues
Most men will alternate between a brogue and their Oxfords for tailoring footwear. Both will give a polished finish, though the visible eyelets of the brogue shoe bring it a step down the formal ladder. Though just a touch.
In its natural environment of smart wear, the brogue is a dependable substitute for the Oxford with the ability to offer more personality than its formal cousin. However, there is also room to partner with jeans in the correct context. So, if you are looking for more bang for your buck, the brogue could just be the ticket.
Monk Straps
To break with formality, a monk strap does a stellar job at giving your footwear a twist, and every guy should have at least one pair in his wardrobe.
In either a single or double strap replacing the traditional laces, this shoe style is a touch more casual than a brogue. But don't let that stop you from trying a monk strap shoe out as you pair it with a suit.
Incorporate a monk shoe in suede with a super-soft linen suit for your own take on Italian dressing, especially if we replace the shirt with a relaxed polo shirt for a touch of Neopolitan dapper.
Minimalist Trainers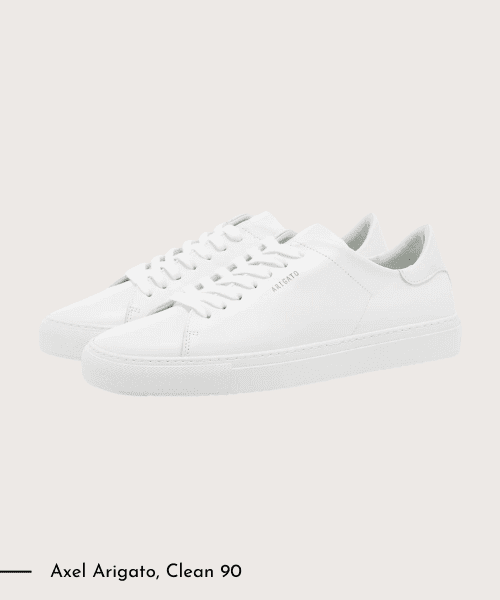 The changing attitudes around suits in the office have enabled men to embrace a more laid-back silhouette. Bringing to the fore the suit and trainers debate.
Ultimately, unless your dress code calls for smart, a minimalist trainer can easily be worn with your suit. Though, remember that the relaxed nature needs to follow through the entire outfit to really deliver. That means no restrictive shirt and tie on top. Keep it deconstructed by including a softer shoulder silhouette, and a knitwear, or t-shirt under the blazer.