With holidays now front of mind after the travel restrictions of recent years. Being organised is the secret weapon to packing effectively and ensuring you remember everything. Aside from your suitcase or weekend bag, a wash bag could be your hidden gem for travelling nirvana.
Why Men Need A Wash Bag?
Any notable grooming regime shouldn't hit the skids once you hit 'Out Of Office'. Our skin won't stop needing that tailored approach. In warmer or colder climates, that attention might even increase. So, a wash bag is essential for securing everything your body needs in one helpful place.
Aside from travel, a wash bag has a ton of added value. Living in shared accommodation or regularly heading to the gym can all be reasons to keep your body wash, aftershave and body spray easily accessible.
Which Wash Bag Material To Pick?
The wash bag market comes in various colours and materials—some with added embellishments or organisational compartments. What you want from this style of bag can depend on your requirements.
At its core, men should choose a wash bag that can seamlessly support different trips. No matter whether it is a short city break or a more extended summer holiday. Luggage space is at a premium these days, and we don't want to waste allowance on a bulky wash bag that is only half full.
Canvas is a material that can easily be reduced in size to fit in a carry-on case. Just be mindful that water could play havoc with it. Showering, face washing, and even shaving can leave our products wet. If you don't separate them from other dry elements, they will stay damp and start to smell. Find a wash bag with separate compartments if you foresee this problem.
At the other end of the scale, it can be hard to beat the alluring presence of supple leather encasing your favoured products. Should your budget stretch, we would always recommend this route. Leather is excellent at wicking away water, leaving any contents nicely dry. Plus, it just looks damn good doing it!
1. John Henric Baratti Toiletry Bag
Are you looking for a low-profile wash bag that doesn't waver regarding its dependable good looks? Then this John Henric item is just for you. With contrasting gold fastenings, the brown leather toiletries bag is a cabin-friendly size containing ample room for all your travel needs.
2. Reiss Ethan Wash Bag
Elevate your bathroom essentials at home or when travelling with this pick from Reiss. Currently, on sale, the black leather wash bag delivers a minimalist aesthetic to aplomb. Engineered from premium materials it is finished with metal zips for handy accessibility.
3. R.M.Williams City Wash Bag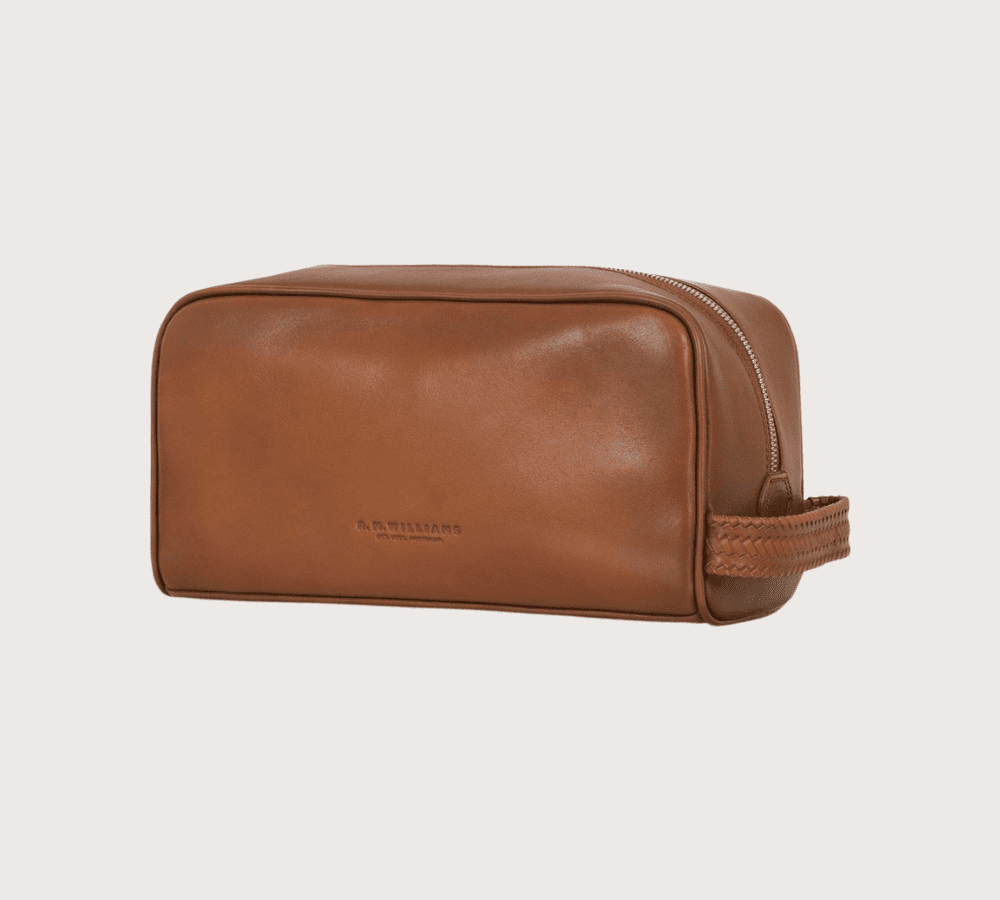 The perfect accompaniment for any kind of trip away from home. This wash bag has been expertly made and has used superior full-grain leather to great effect. A subtly embossed branding adds to the overall refined nature.
4. Mr P. Leather Wash Bag
Silky smooth and supple leather has been crafted into this travelling companion from the eponymous Mr Porter brand. Over time the leather will develop a unique patina, while the wash bag is big enough for all your grooming essentials.
5. Bellroy Toiletry Kit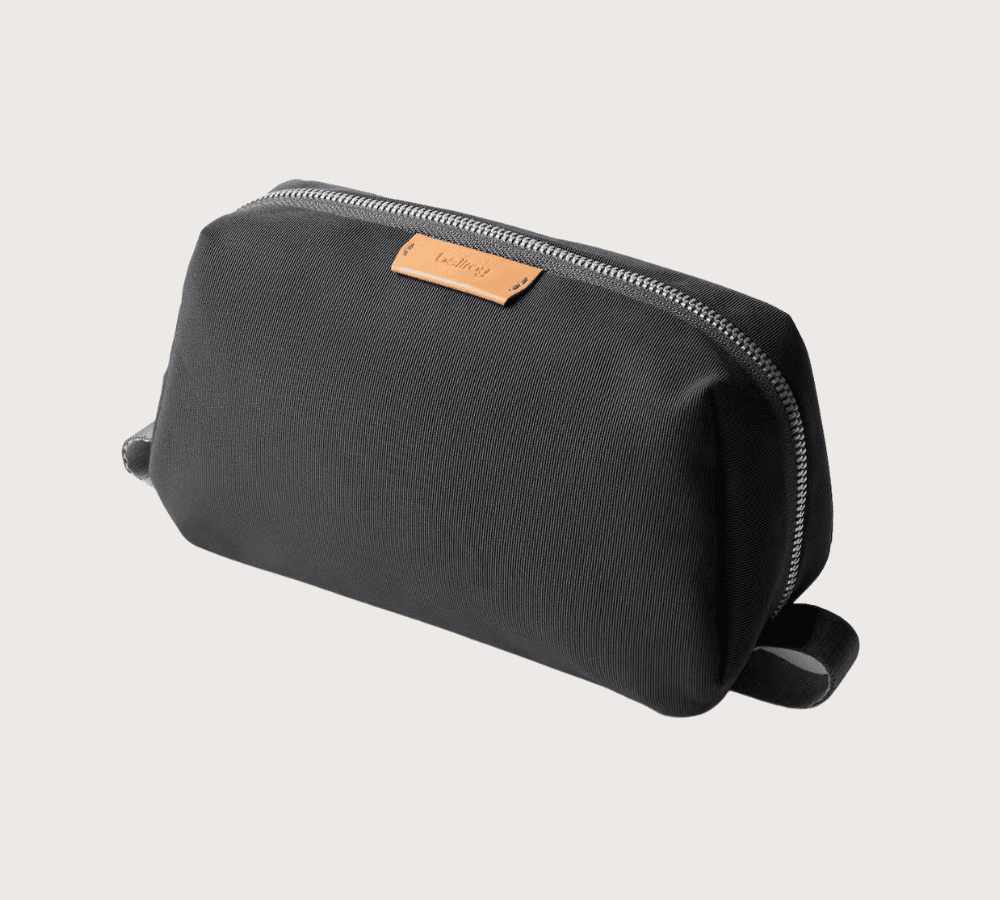 Developed for everyday travel, Bellroy has built its reputation on redesigning the traditional men's accessories market. Added details come from a magnetic compartment to keep your toothbrush separate, and easy carrying handles. Backed by a three-year warranty, this is the swiss army knife for wash bags.
6. Rains Evergreen Small Bag
Rains are known for its robust, waterproof backpacks. But, did you know you can get all their heralded reliability in a smaller form? This toiletry bag is made from their signature water-repellent fabric and comes with a protective coated zip to keep your grooming kit safe and secure.
7. Away Small Toiletry Bag
Applying the same careful thought process they did to their larger version. This smaller toiletry bag is perfect for short trips. It still has a warren of compartments to deliver a masterclass in packing. The added touch of a grab-and-go pocket on the exterior makes easy access for tissues or wipes a dream.
8. Arket Leather Trimmed Toiletry Bag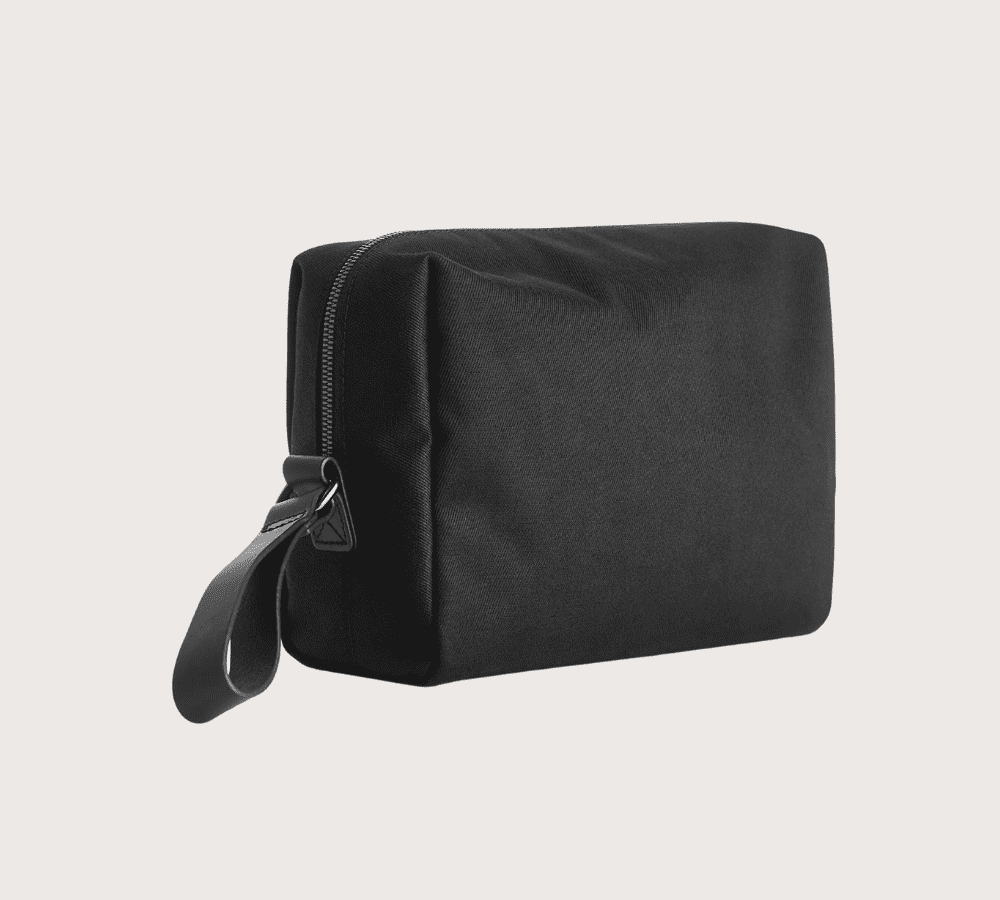 A simple, minimalist design is what we can expect from this Scandinavian brand. Arket have created this toiletries bag out of a durable outer fabric, leaving enough room inside for all your grooming needs. The material is made from plastic waste, such as used PET bottles, so you can go a little way towards offsetting some of that carbon footprint from travelling.
9. Mulberry Scotch Grain Wash Bag
Featuring Mulberry's signature scotch grain leather, this luxury pick is sure to showcase your toiletries in style. Durable and water-resistance, it won't disappoint men when they need it most. The classic, timeless colourway integrates nicely into the brand's wider travel department.
10. Mango Leather Cosmetic Bag
If you are a man that can't travel with all his skincare and shower products, this is the wash bag for you. Plenty of room and a slick brown leather construction. Why not personalise with additional embroidery options available for you or a loved one?
11. Hackett Waxed Wash Bag
Hackett has somewhat updated the classic wash bag by introducing a traditional British pure cotton millerain cloth crafted with diamond-shaped stitching. Inside is a generous space for travel shampoo, toothbrush and beyond. Currently half-price, be sure to get this before it inevitably sells out.
12. GANT Contrast Wash Bag
Simple but effective. This GANT wash bag is technically astute, delivering everything a weary traveller would need in a pared-back aesthetic.
13. Carhartt Legacy Wash Bag
The all-American brand, Carhartt, has blended durable, water-repellent fabric into this stylish storage. Trademark branding makes it undeniable who has created this understated winner.
14. Grüum Reise Wash Bag
A planet-friendly choice, this toiletries bag has been created from 100% recycled material. Available in various colours, our favourite is this bold and beautiful cobalt blue. Adept at repelling water and durable enough to be taken anywhere your globetrotting takes you. It's a win-win.
15. Aspinal Luxury Travel Bag
This is a luxurious and masculine option that is handcrafted from the finest full-grain leather. In an elevated black colourway with classic branding, it is finished with a sturdy rubber foundation for added grip. A signature monogrammed silk-lined interior is the added finesse needed to carry our grooming products in style.