Modern life for men can involve a range of tech and lifestyle gear that we take with us daily and our work bags need to support functionality while remaining stylish. There is no doubt our generation is carrying a wealth of accessories. More than our less-digital fathers did. As a result, we need work bags that are practical enough to hold everything. The problem is, that functionality tends not to be stylish.
To decide on what bag to pick you must step back and look at the individual demands. That means segregating our options based on the necessity and the occasion. Men for example should not be rushing around with a work bag full of gym gear. They also shouldn't be wearing a beaten-up old backpack to a corporate meeting.
Which bag we choose for work is typically dictated to us by our varied commutes. Men travelling to work on a bike need a very different bag than those that catch the train.
The perfect synergy of style and function is not easy to find. But, thankfully we are here to help. We have broken down the most stylish work bags for men to get you through your morning commute and the day beyond.
The Backpack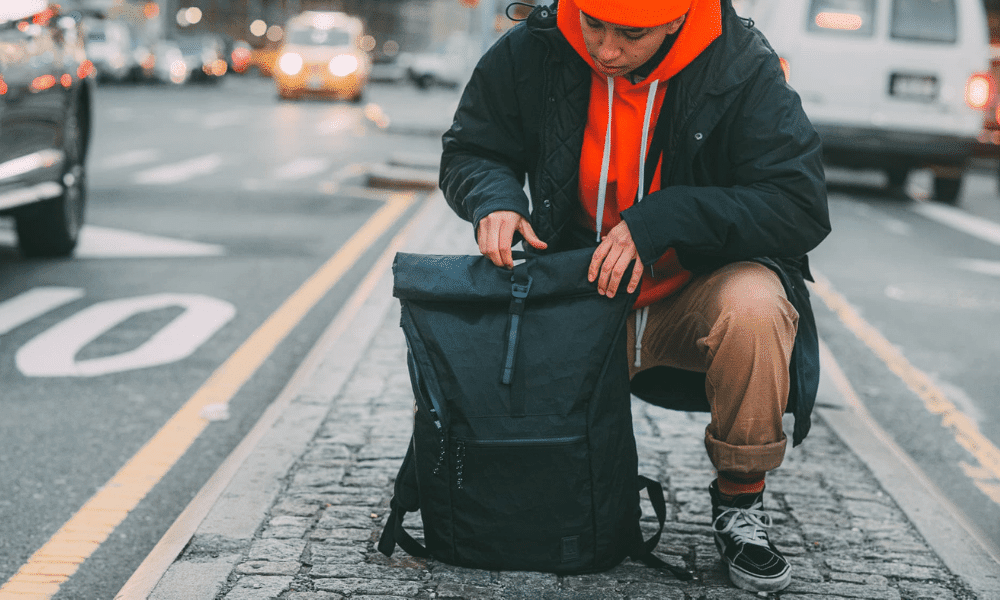 Once a careless afterthought, the backpack has grown in stature due to the emergence of innovative styles embracing a range of materials. There is a reason why it is still the most favoured bag among men. It is versatile, functional and if you pick the right one, it is stylish.
For men who have some heavy gear to carry like a laptop, then the backpack worn on two shoulders evenly distributes the weight, reducing back pain over time. This ergonomic design makes it a good choice whether you are cycling to work or grabbing the bus.
Because of its popularity, there is a wide range of different men's backpacks. Take time to think about how and where you will be using yours. Chosen correctly, it will be a trusted friend from Spring through to Winter.
Materials
If you are exposed to the elements when commuting or even during work, then look for waterproof materials (basically anything but canvas).
Styles
If your work is formal, a backpack can sometimes look casual in appearance. Try and stick with non-sports brands and focus on leather as the key material. This will elevate the bag, making it look more expensive, but also smarter.
Support
Although a backpack does wonders at evenly distributing heavy loads and relieving strain on your lower back and shoulders. If you don't have one with additional padding on the back, it may be uncomfortable to wear. Thicker support will stop items in the bag from jabbing into your back and increase overall comfort.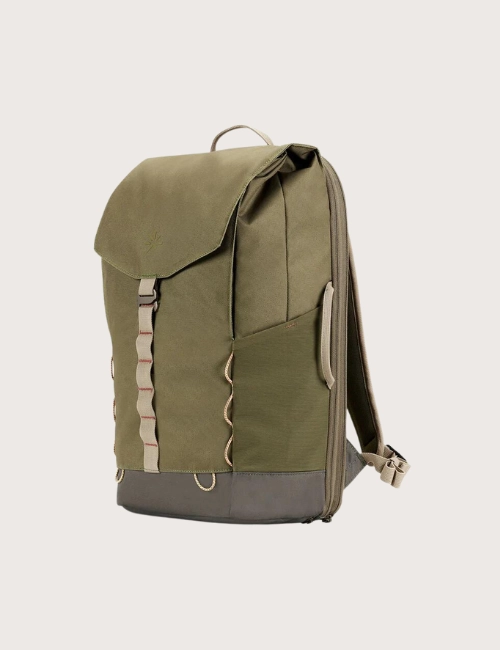 The Briefcase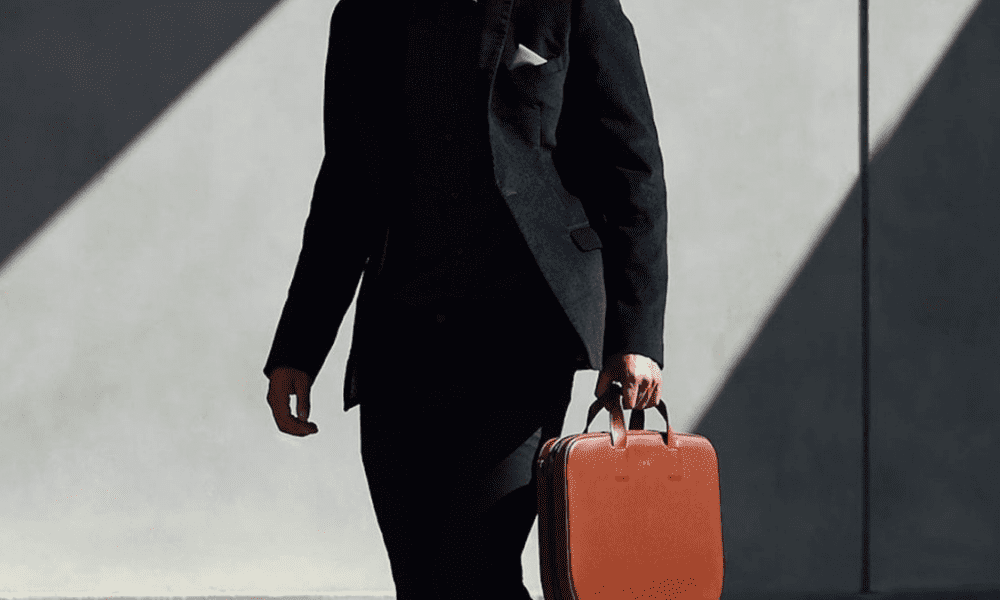 Blow away the stuffy preconceptions of bankers in striped suits carrying a briefcase to the office. Contemporary versions of the briefcase have removed the unnecessary boxy format to account for the modern man's work accessories.
Materials
The updated briefcase is now made from soft and luxurious leather that will patina nicely over time. If looked after correctly, there is no reason a briefcase can't be your chosen work bag for years to come.
Styles
A briefcase is a smart companion for any man who needs to look his presentable best for work. A backpack or crossover will crumple your suit jacket while a briefcase can remove this sartorial issue. With helpful compartments for storing laptops and documents, it is as practical as it is stylish. Definitely the bag of choice for city workers and those donning a suit daily.
Like with other accessories, when wearing a suit it is important to understand how they will match. That is why we suggest pairing your briefcase colour to the colour of footwear you wear most often with your suits.
Support
There are options to get a briefcase with an additional crossover strap. If your briefcase is getting heavy, then this will help ease the burden on your carrying arm. But a crossover can look a little dated. Instead, take a closer look at what is in the bag. Could a matching iPad cover or document holder reduce some of the bag's contents?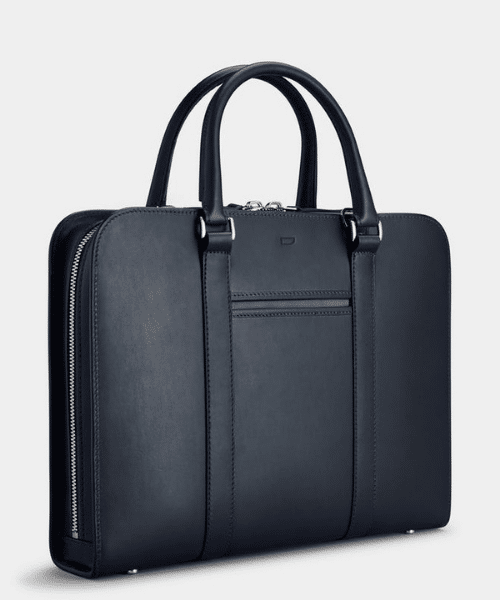 The Tote Bag
If you work in a less corporate environment, then a tote bag could be a great alternative to leather bags. With masses of room, they can hold a lot whether that be gym gear or work bits.
Materials
A tote bag looks its best when crafted from a material like a hard-wearing canvas (thicker than your typical shopper). Canvas is very adept at withstanding the rigours of daily life while maintaining its shape and minimalist design. Other options do include nylon which will come at a cheaper price than the sturdier canvas.
Styles
The style of a tote bag can be deemed as slightly effeminate to the untrained eye. Being worn on the shoulder and sitting in your armpit, there are definitely handbag vibes about it. But, we like to use ours as we would a briefcase, carried in hand.
With a robust, vintage feel about it, there is a place for the tote bag within the current utilitarian trend in menswear. Choose a simple colour like cream or navy and pair with jeans and a workers jacket to perfect the trend everyone is wearing.
As the tote bag can be a somewhat cavernous space, take care of precious technology like laptops by slipping them inside a separate laptop case.
Support
Combining its ample storage space and how it is carried on the shoulder, there is a tendency for it to get heavy, creating back pain.
But, if you manage your bag contents and don't let it get too heavy, then this a great bag for those that want something a bit more trend-led than a briefcase or backpack.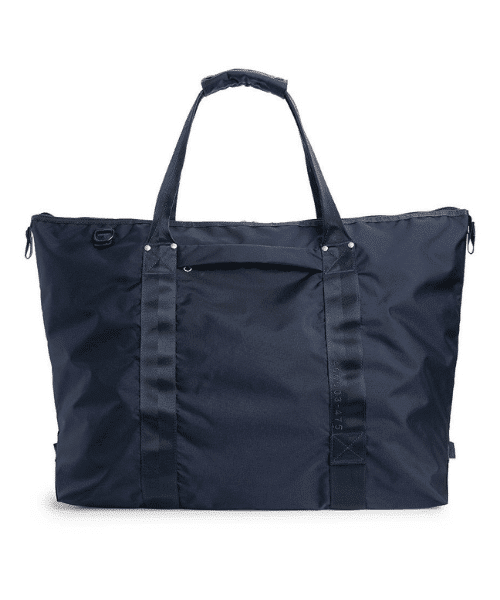 The Weekend Bag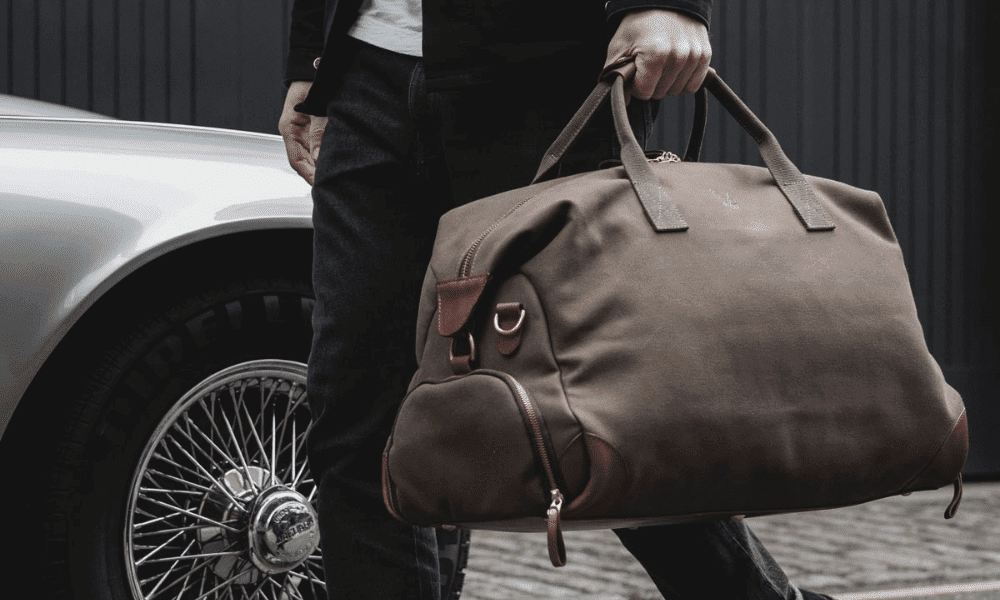 If your working Friday culminates in a trip away for the weekend, then opt for a bag that can handle those additional requirements. Don't try and stuff everything into smaller or multiple bags. A weekend bag will easily allow you to keep folded clothing, accessories and footwear tidy while still having room for work items.
The weekend bag done right will showcase a man that takes his leisure time as serious as his work. A man of taste who wants to looks his best at every occasion.
Material
The material choice is really down to individual preference. Some men might have another bag they will be taking with them so would like to match their luggage accordingly.
As a weekend away will typically involve travelling via car, train or plane, there might be less reliance on waterproof materials. We have picked a few options below available in different materials.
Styles
The key point of consideration with the weekend bag is how much you can fit in it. That means carefully storing your clothing to keep them clean and tidy.
If your weekend away takes in an airport, then in advance to travelling take note of your baggage allowance. Your weekend bag will need to abide by these rules or the cost of your weekend could quickly increase with added chargers.
Inside your weekend bag, you will find additional pockets which are great for storing a laptop charger, phone charger or a notebook from work.
Again, like with material, the colour you choose will be based on personal choice and whether you need to consider the colour of additional luggage.
Support
As a weekend away will involve travel of some sort. There is less need to focus on support unless you are carrying it for long periods of time. Getting to your destination by train or car, for example, can allow you to store the bag away from sight and remove the obligation to carry.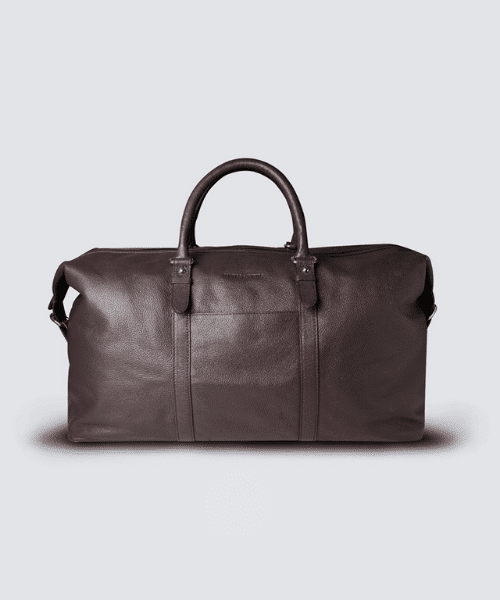 The Gym Bag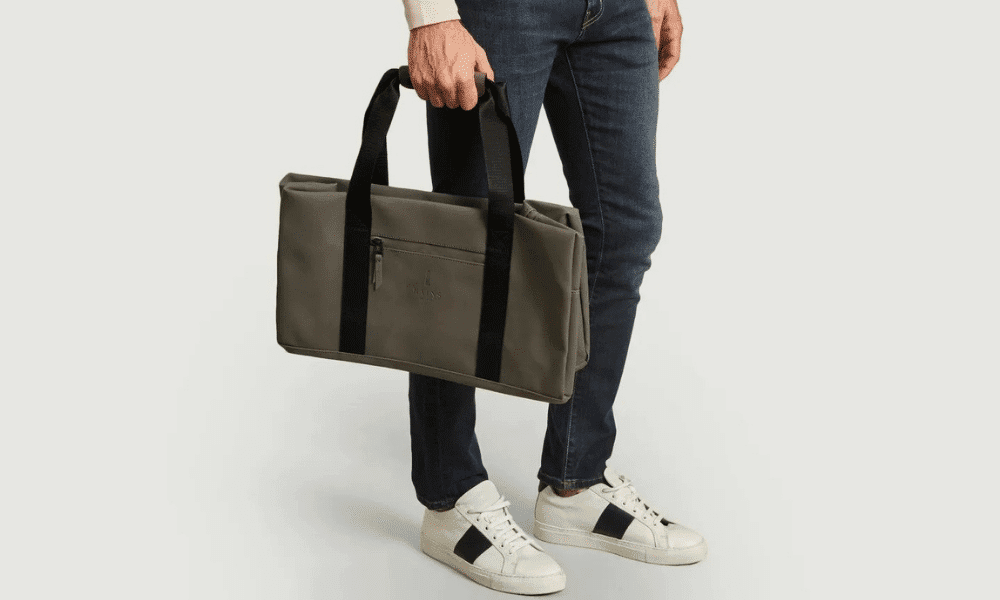 As men who care about your appearance, there is no doubt a necessity to visit the gym once in a while. Without the luxury of a home workout, this might entail bringing your gym kit to work.
What you don't want to be doing is mixing work and gym gear together. There are bags that innovatively have compartments for trainers or sweaty gym gear, but we recommend keeping things separate.
Material
With its core job of carrying both clean and sweaty gym gear, your bag needs to absorb the smells that come with that post-workout clobber. That means if not a nylon exterior at least a nylon interior. It will wick away any residue and won't consume the bad smells.
Styles
Heading to the gym can mean bringing with you additional accessories to just your workout clothing. Save yourself time by fiddling around in a bag for headphones or a water bottle by choosing a style that has separate departments for both.
For those men, that like a post-workout shower then make sure you stick a toiletry bag in your gym sack. Not only will it help you stay organised, keeping everything in easy reach, but it will also be a time saver if your workout is pre-work or during your lunch break.
Support
With workout gear, there is not much need to look for a bag that can carry a lot of weight. We are assuming you aren't taking your own dumbbells to the gym, so trainers and clothing won't be too heavy.
Because of the lack of weight in your gym bag, you can choose a traditional backpack style, holdall or even tote as support shouldn't be a key focus.
The Toiletries Bag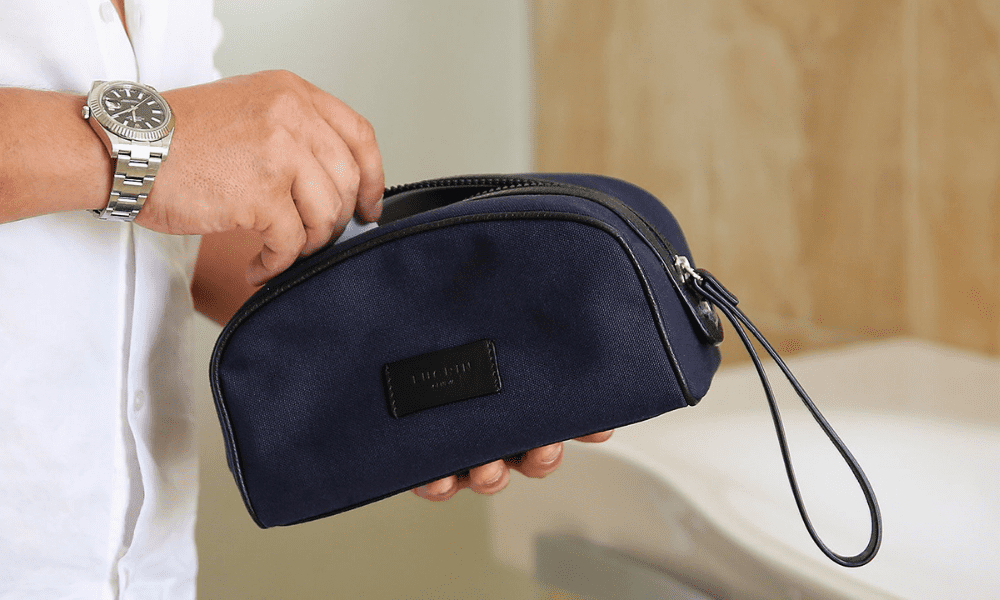 At first reading, this might sound an odd one, but hear us out. For men that run or cycle to work there may be a need to take a quick shower before they sit at your desk. Even if you feel a shower is a step too far, your co-workers will thank you for removing any sweat and preventing bad smells.
A toiletries bag, either taken with you daily or kept at work is a neat way to keep some grooming essentials nearby. So, whether you need to look good for an important meeting, heading to the gym at lunch or just want a freshen up. Having mouthwash, body spray, cologne and other useful items could be a gamechanger for maintaining that stylish exterior throughout the day.
Material
As it typically won't be exposed to a lot of water, it is ok to choose either a canvas, nylon or leather version. Bear in mind if you are sticking this in your gym bag, then canvas could have a tendency to absorb any bad smells.
Should you choose to store this in an office locker or desk drawer then you might opt to go for stylish leather. It will impress any prying eyes and showcase your attention to detail.
Styles
The key with your toiletry bag is that it can neatly store away all your essentials. Take note of the individual compartments available and work out whether what you need will fit snugly away. Larger items like deodorant might be better suited to be carried loose in your bag rather than in a small toiletry bag.
Support
Surely you don't need to be thinking about support with this one. No one has that many grooming requirements. But, if you find it getting too heavy, then take a look at purchasing travel versions of your favourite grooming products to reduce the weight.