The popularity of minimalist watches has skyrocketed over recent years. Men are shying away from loud and bold timepieces, opting for a watch that complements, rather than overpowers their outfits.
Direct to consumer brands have been at the forefront of this movement. By removing the middlemen they are able to keep costs low. That means customers get access to watches with excellent craftsmanship under the hood but without the lofty price tag. This is accentuated by removing ostentatious design elements that add cost with no added value to the wearer.
What is a Minimalist watch?
Minimalism is not about stripping your wardrobe and accessories of everything you love. It is about reflecting on what you own and how each piece interacts with the other. The lure of minimalist watches whether that be quartz or automatic movement is the beauty of their simplicity. Without all the often unnecessary adornments that luxury watches come with, they become more multi-functional. Their stylish exterior and paired back looks, mean they can seamlessly be worn with both smart or casual outfits.
Simplicity is the keynote of all true elegance.

Coco chanel
Related Post: The Best Minimalist Watches Under £200 | 2023
Don't get me wrong, the luxury watch market is still a booming business and I wouldn't turn my nose up at a Breitling or Rolex. But for those looking for watches that won't consume a month (or more) of wages, then minimalist watches deliver great value alongside their stylish credentials.
Before you rush out and pick up the first watch you see, read our breakdown of the best minimalist watches for men to buy right now.
1. Uniform Wares - M37 PreciDrive
By their own statement, Uniform Wares does not conform to the general standard of branding within fashion. Their core focus is on meticulous design and development. By not hiding behind a brand name or showing unnecessary features they have let their designs do the talking. To their credit, they have now become a key player in the watch market. This Swiss-made, three-hand watch comes is partnered with an Italian nitrile rubber strap. A stunning minimalist watch to kick off the list.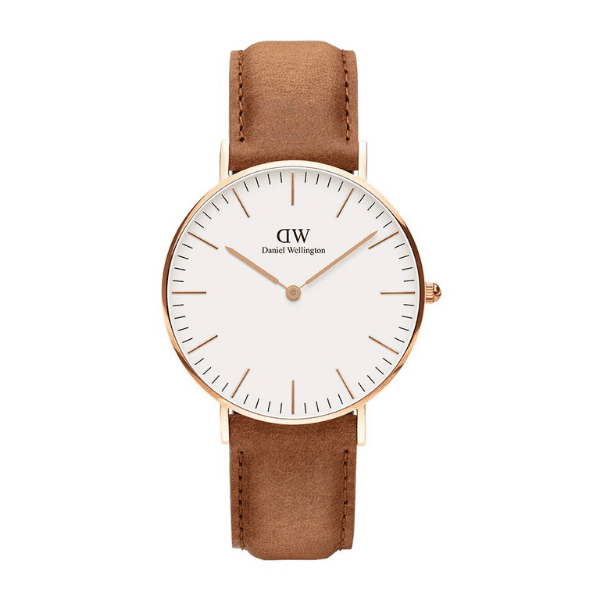 2. Daniel Wellington - Durham
A classic style, the Daniel Wellington Durham watch is understated with a clean, timeless face. The American leather strap creates its own petunia over time due to its treatment with vegetable oil. This allows the strap to lighten in areas of bending to create a unique effect, individual to the wearer.
3. Skagen - Signatur
The Scandinavians are the kings of minimalism, so it will come as no surprise that we see their designs throughout this list. The first is Skagen which delivers great design at an amazing price. The 40mm Signatur shows the hours with distinctive linear and dot indexes on a head-turning blue dial face.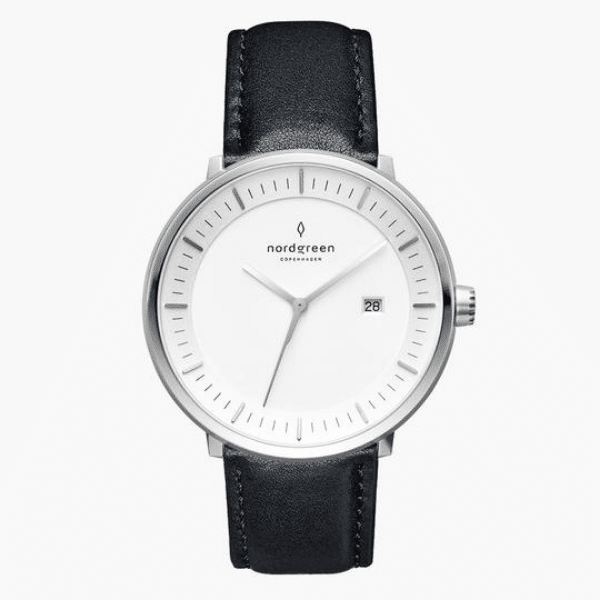 4. Nordgreen - Philosopher
Danish brand, Nordgreen is a fairly new player in the watch market. Their point of difference is their watches come from the mind of famed designer Jakob Wagner. Nordgreen fuses aesthetics and functionality to produce some great looking watches. Our favourite is the Philosopher, made with an asymmetric second hand to give the illusion of slicing through time.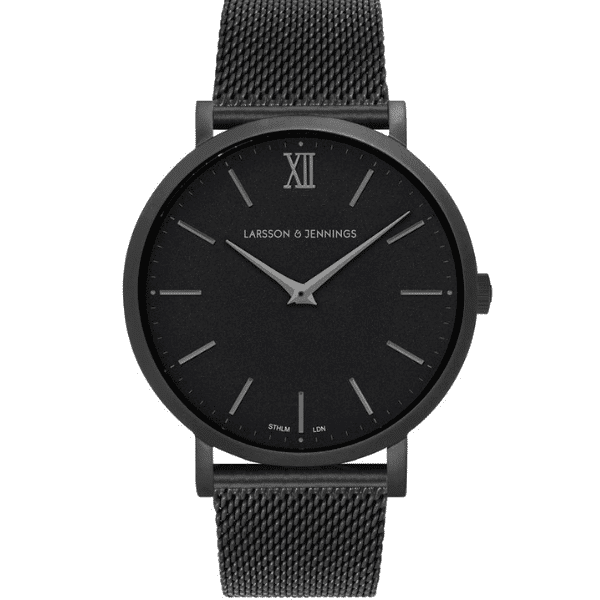 5. Larsson and Jennings - Lugano Milanese
An Anglo Swedish brand they are combining classic British aesthetic and Swedish minimalist design using a mix of materials to offer a dynamic edge to their timepieces. Available in a range of dial colours, with a Japanese Quartz movement, we picked out the black version of the Lugano Milanese. We can see this looking great as part of a smart, date night outfit.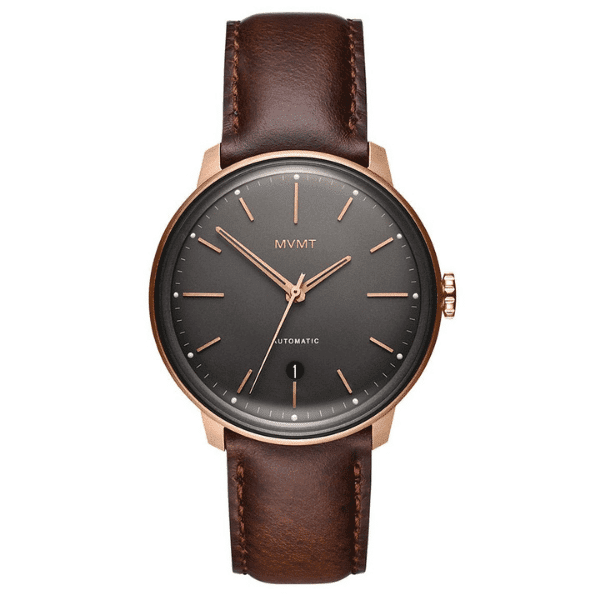 6. MVMT - Bourbon Rose
MVMT pronounced 'movement' was initially a crowdfunded concept that has since become a global phenomenon. The reasonably priced brand believes that quality products shouldn't break the bank. Designed in LA, the rich, indulgent colourway of the Bourbon Rose is constructed with up to three times the working parts of their traditional analogue quartz watches.
7. MOVADO - Men's Bold Watch
Can you get any more minimalist than no numbers on the watch dial? Movado has stripped everything back for this timepiece and it looks incredibly modern. The brown leather strap is set off by the gorgeous charcoal grey dial face.
8. Brathwait - Classic Slim Wrist Watch
This super stylish watch is powered by a Swiss Made Ronda Cal. 785. Using a domed sapphire crystal, Brathwait doesn't hold back on its materials. The focus of the brand is premium minimalist watches without the luxury price tag. Brathwait lays out the costs of every watch made and the typical markup you would see from another retailer. This transparency is a clear indication of the value you get when buying from Brathwait.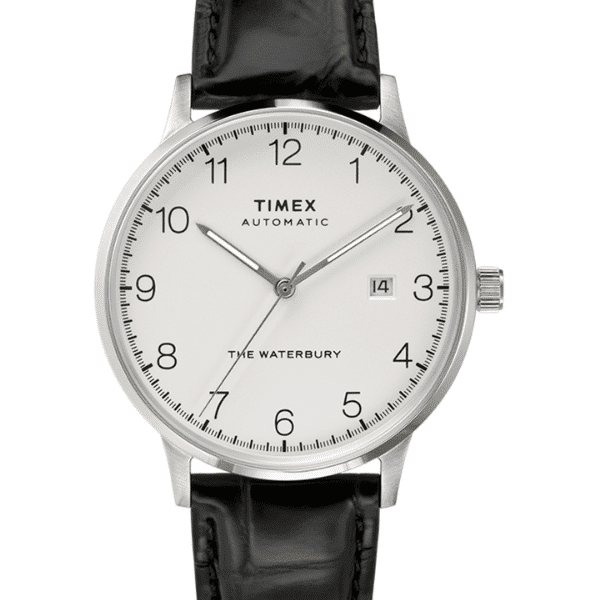 9. Timex - Waterbury Classic Automatic
The Waterbury collection is a staple line from Timex. They have updated this classic by adding an automatic movement for a more accurate and longer-lasting timepiece. This new version is powered by your movement and can store a maximum of 40 hours of energy. If still for longer than 40 hours you can still wind the watch the old fashioned way. Established in 1854, Timex (formerly the Waterbury Clock Company) focus on its heritage and commitment to expert craftsmanship with every watch they produce.
10. Defakto - Transit Standard
Defakto are independent German watchmakers. They manufacture and design minimalist watches in Pforzheim, an area of Germany famous for watch and jewellery making. Under the hood are Japanese and Swiss movements encased in Bauhaus inspired designer timepieces. Winner of the 2020 German Design Awards, the Transit Standard delivers unique, modern aesthetics with high-quality components.
11. Shore Projects - Newquay
Uk based Shore Projects create watches inspired by the British seaside, hence the name. Their watches are only available directly from their website and they believe in offering the best price every day so you won't find a discount insight. We like Newquay's contrasting silver mesh strap and deep blue face, plus 10% of profits go to the Marine Conservation Society.
12. Shinola - The Canfield
Each of Shinola's watches is hand-assembled in their Detroit factory. The Canfield uses a high accuracy quartz movement with an elevated design courtesy of the open alabaster dial. Shinola watches are built to last making the minimalism of this watch a core part of its timeless style.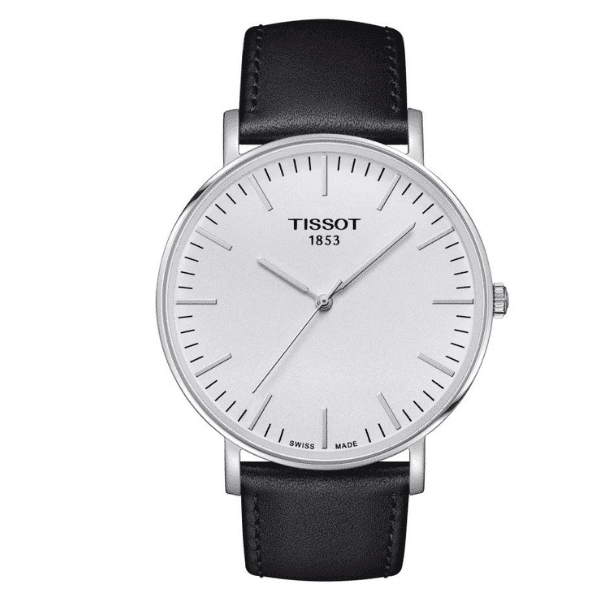 13. Tissot - Everytime Large
A classic Swiss-made watch from Tissot. This timepiece is undeniably minimalist. But, with Tissot, you know that although the exterior might be simple, what's inside is of the highest quality. A refined choice, this watch will seamlessly integrate with the outfits you choose to wear on a daily basis.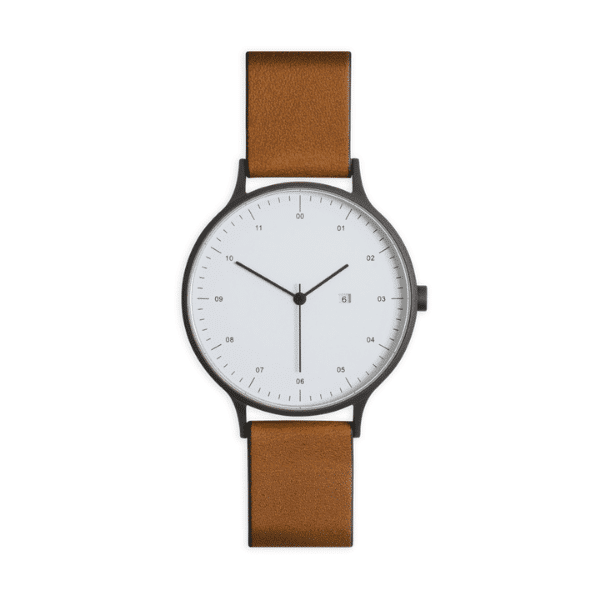 14. Instrmnt - Everyday
As the name suggests, this is your go-to watch for the daily rigours of modern life. With a large, bold dial it's encased in steel to withstand any inevitable bumps and scratches. Inspired by the industrial design of the mid 20th century this is a utilitarian design that ticks all the current trend boxes.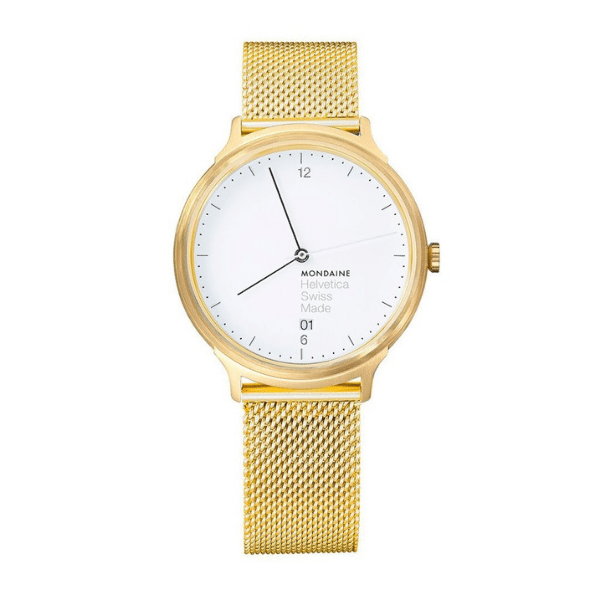 15. Mondaine - Helvetica Light
Encapsulating one of the world's most famous fonts in watch design is no mean feat. This impressive timepiece has all the hallmarks of exquisite minimalist design, down to the removal of dial numbers and moderate branding. The white dial and tone-on-tone second hand give this watch its light design.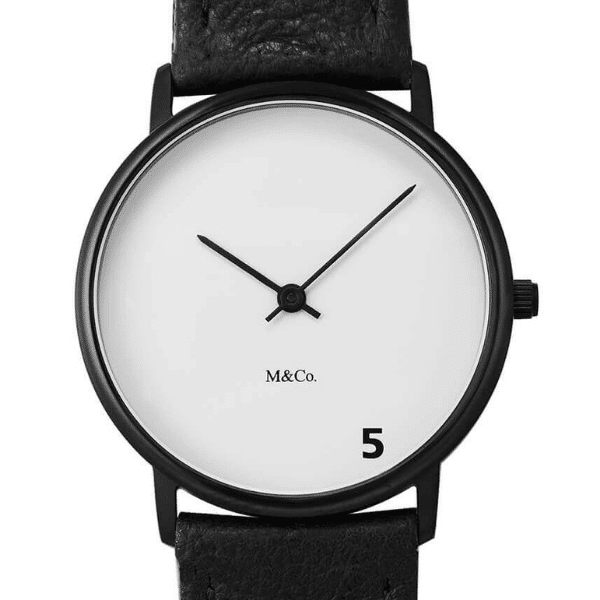 16. Projects Watches - 5 o'Clock
Creating affordable, wearable, works of art is what Projects are all about and the 5 o'clock watch is no different. A lot of their collections have a whimsical use of colour and playful artistic direction to make them unique. With the 5 o'clock it is about stripping away unnecessary and adding some fun. For a lot of us, 5 o'clock is the time we clock off from work.
17. Junghans - Max Bill Mega Solar
Germany is known as a purveyor of expert engineering and this follows through with the Junghans collection of watches. The power to run this minimalist watch is provided naturally by the sun. Made from titanium, the watch is light and has a state-of-the-art radio-controlled movement. This is next-level watchmaking, built today but with tomorrow in mind. It will stay timeless for years to come.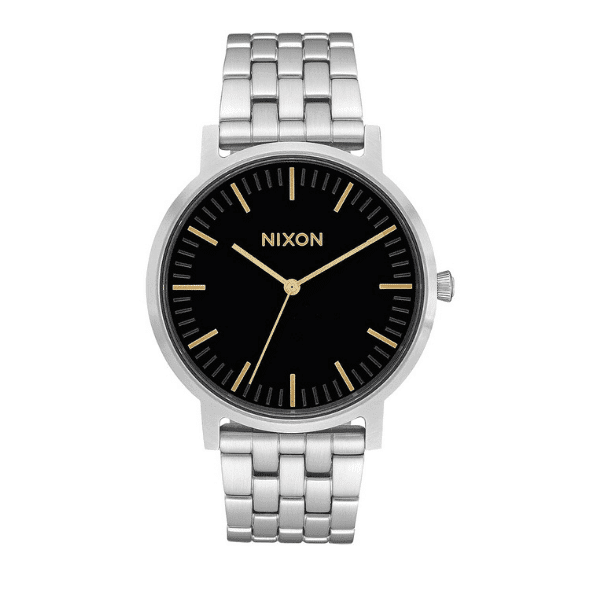 18. Nixon - Porter
An ultra-light, thin case provides the perfect foundation for this watch. The Porter's sleek and sophisticated design allows it to fit perfectly into our list of minimalist watches. A distinctive gold and black combination dial colourway will grab the attention of watch enthusiasts and amateurs alike.
19. Komono - Winston Double Subs Black
You can never call Komono watches overpriced. Cheap is a subjective word. Komono delivers great value for men looking for a smart minimalist watch but doesn't have a lot of money to spend. The double black colourway is sleek and modern and inside you'll find a Japanese Quartz movement, the same as others on this list.
20. Rossling & Co - Continental 40mm
The Continental watch from Canadian brand Rossling & Co was built to be subtle, versatile and adaptable. This ethos not only represents this watch but the movement of minimalism. Removing distractions, this watch has a classic design that has an interchangeable watch strap. We like the tweed strap (developed in-house) as a dapper alternative to others on the market. The movement inside is assembled in Switzerland where the founding fathers of watchmaking come from.