When it comes to the world of luxury swimwear for men, thankfully, there isn't a budgie smuggler or board short in sight. Resort wear has come on leaps and bounds in recent years, and now men can choose from a wide range of sophisticated pieces. With superior fabrics and fits that aim to flatter rather than just cover. Swimwear is now a key piece of your holiday luggage and no longer an afterthought.
With this explosion in refined swimwear, we want to hone in on those who specialise in the field, or should we say water. Sure, you can pay over the odds for a designer pair of swim shorts. But, for us, it is all about investing in luxury pieces expertly crafted by dedicated brands.
Swimwear isn't confined to the pool these days. It is a statement item that can be integrated into various outfits. Here are our picks of the brands that fulfil the brief of providing luxury swimwear that combines style and quality.
Peninsula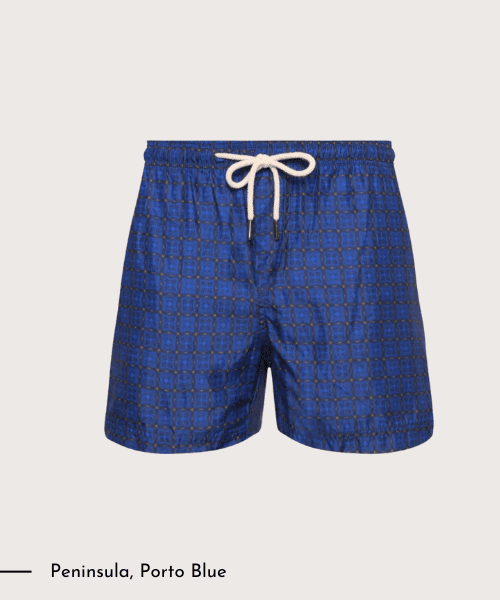 Peninsula realises it is contradictory for a swimwear brand not to care for the oceans and seas their products experience when being worn. That's why they actively support charities like WWF and Marevivo to protect the earth's waters.
Founder Edoardo Pasolini has always had a strong connection to the sea, particularly the Maremma coast in Italy. As a homage, Peninsula swimwear features vibrant Majolica prints throughout much of its range.
The brand's environmental concious follows right through the manufacturing process, using an eco-friendly printing process combined with recycled polyester for many products.
Aurelien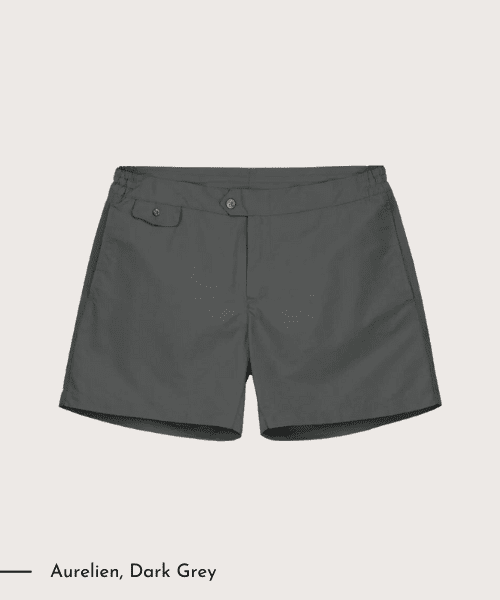 Those men familiar with the pages of AGR will know we are big fans of Aurelien. Yes, they are typically known for their footwear, but they have stretched beyond that to touch on premium resort wear, including these stunning tailored shorts.
Aurélien was founded in 2015 by Dutch brothers Joris and Philip Hetterschijt. With a considered approach to timeless design made using artisanal craftsmanship, the brand is known for its Mediterranean-style menswear thoughtfully created for a discerning customer base.
OAS Company
Founder Oliver Lundgren conceived the idea for a new resort brand after trips from where he lived in Sweden to his holiday home in Barcelona during the winter.
He started with espadrilles that couldn't be found locally back home, and buoyed by their popularity, expanded his offering. The OAS product range now includes a raft of swimwear and accessories. All are delivering Scandinavian aesthetics with a dash of Spanish influence.
The Resort Co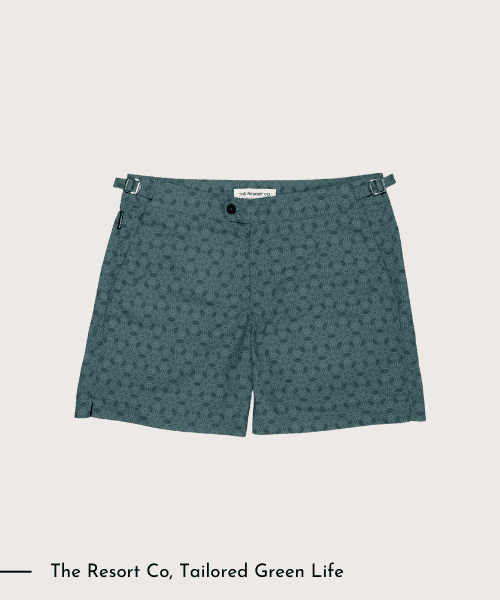 It does exactly what it says on the tin. The Resort Co is a brand on a mission to deliver everything you need for your summer vacation. With a strong focus on artisanal techniques using sustainable materials, the brand has an ethos we are on board with.
The key selling point for The Resort Co is their luxury products aren't restricted to the pool. Men will love their tailored shorts in a range of designs. They are perfect for transitioning from the pool to a restaurant or bar, with a linen shirt thrown on top.
Founded in 2019, the brand has a modern approach to everything they do, nodding to its Scandinavian heritage. We are definitely a fan of their mindset for a never-ending holiday.
Frescobol Carioca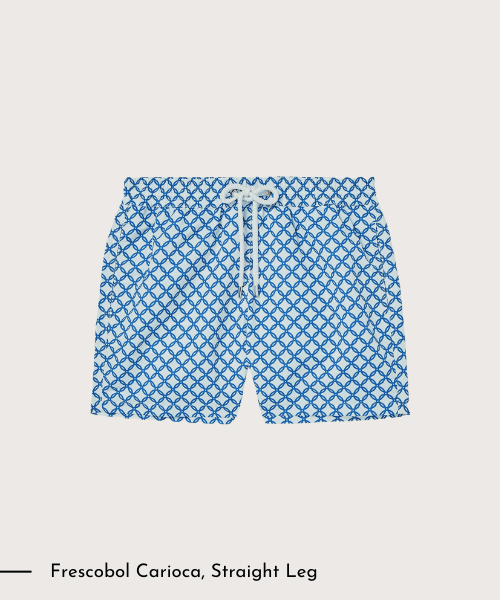 Two friends, Harry Brantly and Max Leese, were inspired by the beaches of Brazil and launched a brand selling the bat and ball used for the game "frescobol".
The company has now evolved to become a swimwear brand famed for its elevated masculine designs. Throughout their products is woven a strong use of patterns and colours to transport men to the beaches of the South American country.
Notably, the brand also uses 'Eco Luna'. The fabric is manufactured from 100% recycled plastic, and this combination of sustainability and bold swimwear makes Frescobol Carioca a winning resort brand for us.
Derek Rose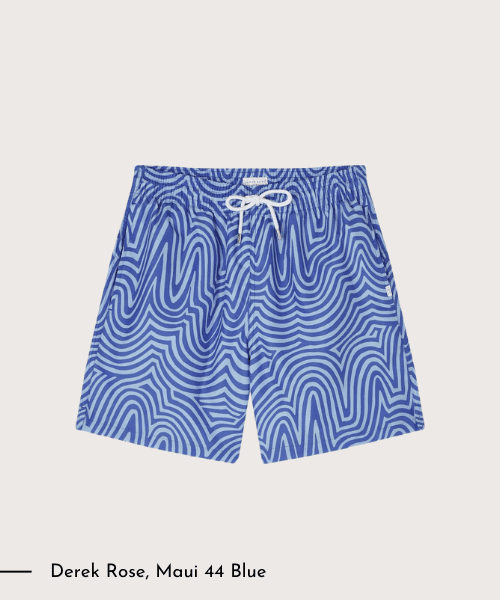 British brand Derek Rose is a family-run business three generations in the making.
The brand's premium swimwear is designed to be both stylish in and out of the water. Backed by an in-house pattern and design team, men can be sure that these pieces are worth the investment. The products are crafted from quick-drying, super-soft fabrics, and the shorts are built with a comfortable waistline and seamless inner linings.
Orlebar Brown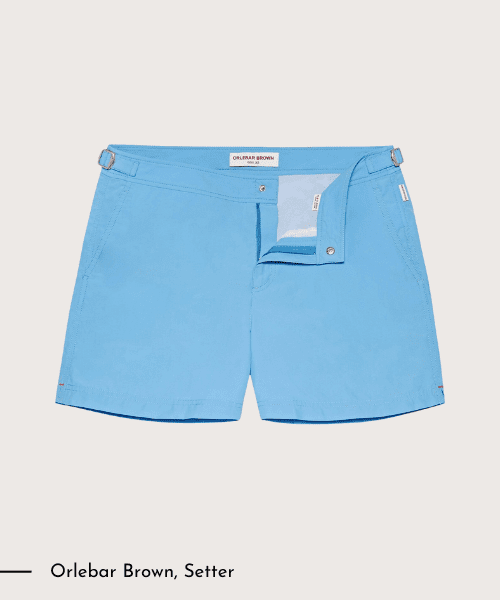 Orlebar Brown was launched in 2007 by Adam Brown. The brand has a focus on pared-back, elegant swimwear that takes inspiration from styles of the past. They almost single-handled drove the tailored short phenomenon in summer menswear. Something I think we can all applaud them for.
All swim shorts from the brand comes with a five-year guarantee. Meaning men can feel secure that they are spending astutely. So, what are you waiting for? Upgrade your holiday gear today.
CDLP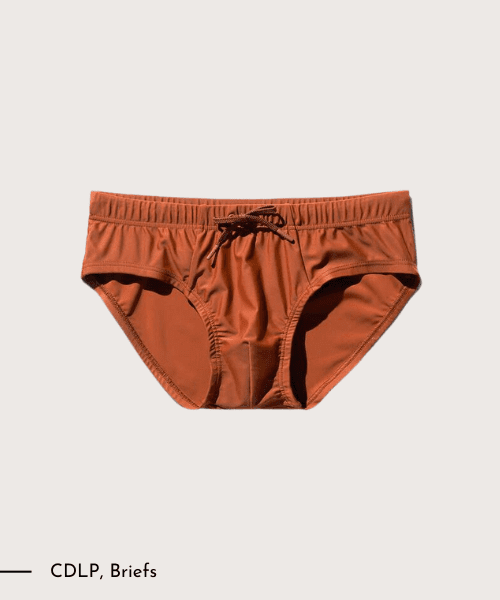 This Stockholm brand has a strong vision for creating consciously made garments. Designed in Sweden and manufactured in Europe, sustainability is a thread woven throughout the brand's pieces, and their luxury swimwear is no different. Each item is future-orientated, using environmentally friendly materials and processes.
Founded in 2016, CDLP started attempting to revolutionise the underwear market before branching out into swimwear with a range of monochromatic shorts using Econyl. This nylon fibre made in Italy comes from ocean and landfill waste.
Now men can shop a wider range of swimwear, including briefs and trunks in holiday-ready hues of coral, all with the knowledge that they are buying from an ethically-focused brand.
Benibeca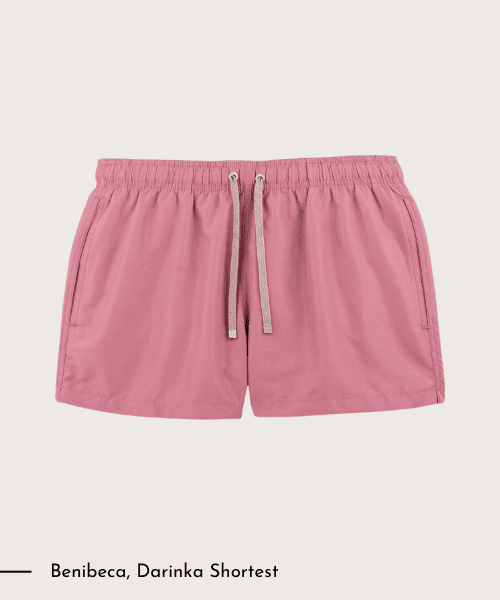 New York brand, Benibeca, was created to provide men with a destination for contemporary luxury, focusing on resort wear.
Inspired by art and culture, the founder, Anjara García, uses a career spanning over 20 years in fashion to create a brand worthy of her nomadic spirit. The name, Benibeca, is taken from a small fishing village in the Mediterranean, and the area's rich history in Menorca translates through the brand's designs.
Another brand that plucks plastics from the sea and transforms them into garments. For Benibeca, preserving the waters of the Mediterranean and beyond is an important ethos for the company.
Vilebrequin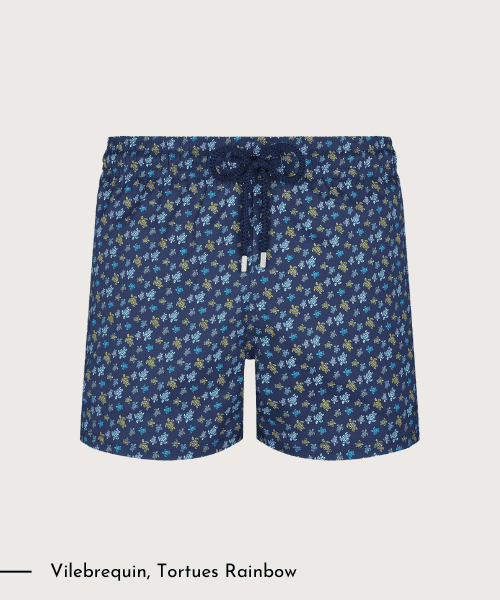 Originally from St Tropez, the brand was founded by Fred Prysquel in 1971. And true to its home, it has all the vibrant, over-the-top designs you would expect from its hub in the South of France.
The luxury swimwear brand's shorts typically have a longer surfer style. Though the sheer volume of the brand's options means there is a raft of shorts with the shorter, more flattering fit, we would prefer.