Winter has it easy when it comes to helping men look good. Super-soft knits, multiple outwear picks, and not to mention endless shoe options. In summer, men can feel exposed without that layering comfort zone, yet we probably do more in these warmer months. And therefore depend more on the clothing we own. Holiday getaways, weekly wedding invites and outdoor adventures mean guys need a well-curated wardrobe that combines comfort, versatility and style.
However simple on paper, summer might seem for dressing. Less clothing can often lead to more problems. Men will reset to a t-shirt and shorts outfit almost daily. But there is another way, and it is just about preparation.
Men need to take the time to pick the right clothes and accessories best suited for summer. That means materials with cooling properties and fits that will complement without suffocating. From lightweight shirts to versatile swimwear and breathable footwear, the key pieces on our list will ensure you're prepared for any occasion. Nailing great style whilst staying cool in the sun.
Lightweight Shirt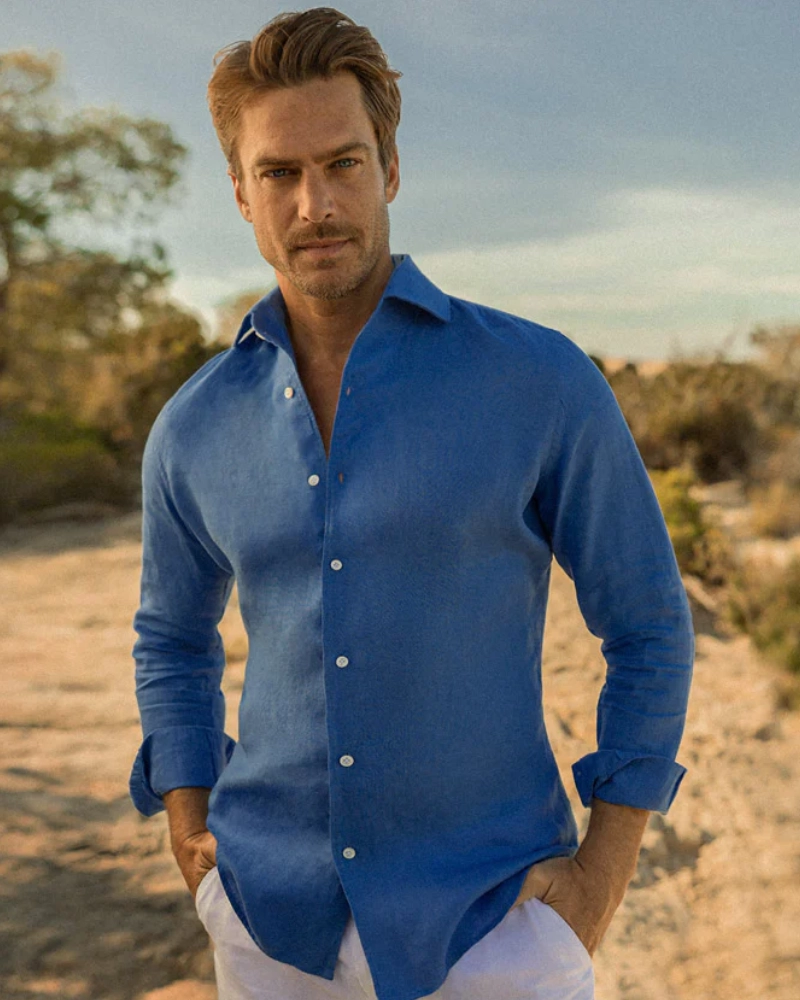 Lightweight shirts are key in a man's summer wardrobe due to their practicality and comfort. They hit the sweet spot in the menswear hot weather Venn diagram of style and breathability. Cooling fabrics like cotton or linen crafted into a semi-formal shirt will become a dependable staple.
Linen, in particular, can hold 20% of its weight in moisture before feeling wet, making it ideal for partnering with a suit if the occasion calls for it. If you fear the creases that come with linen, a cotton-linen blend would be our next port of call. You'll get the refinement of cotton but the breathability of linen.
Choosing a lightweight shirt will pull up a myriad of choices. Further down the casual scale, men can select a Cuban or camp collar short-sleeve option. Perfect for an evening date or weekend stroll. Should you need something slightly more elevated, we recommend introducing your typical Oxford or dress shirt to summer-ready fabrics. Men will still look presentable with the added cooling attributes under the hood—a secret weapon for summer tailoring.
Chino Shorts
It is important to remember that not all shorts are created equal. As men age, they should move away from the youthful long board-short look towards a mid-thigh choice. Mid-thigh is the most flattering of lengths regardless of your age, though it becomes more prevalent to guys who are 30 plus. We can no longer get away with the abandonment of youth when it comes to our wardrobes. The time for experimenting is over, and men must heed what will look best on them.
Shorts are now a crucial component of your summer outfit, not an afterthought. Resort wear has shown us that if we pick the right pair of shorts, they can serve various purposes. Even pool shorts have become so cultivated that men can wear them to the bar and beyond. More on that later. For now, let's focus on the chino short.
The chino shorts will offer the most versatility while holding their own on different occasions. Their clean and simple aesthetic allows them to absorb a mix of pieces on the top half. These shorts are integral to summer dressing, from partnering with a plain t-shirt for a weekend coffee to Oxford shirts for a smart-casual look. Chino shorts are comfort and style personified.
Drawstring Trousers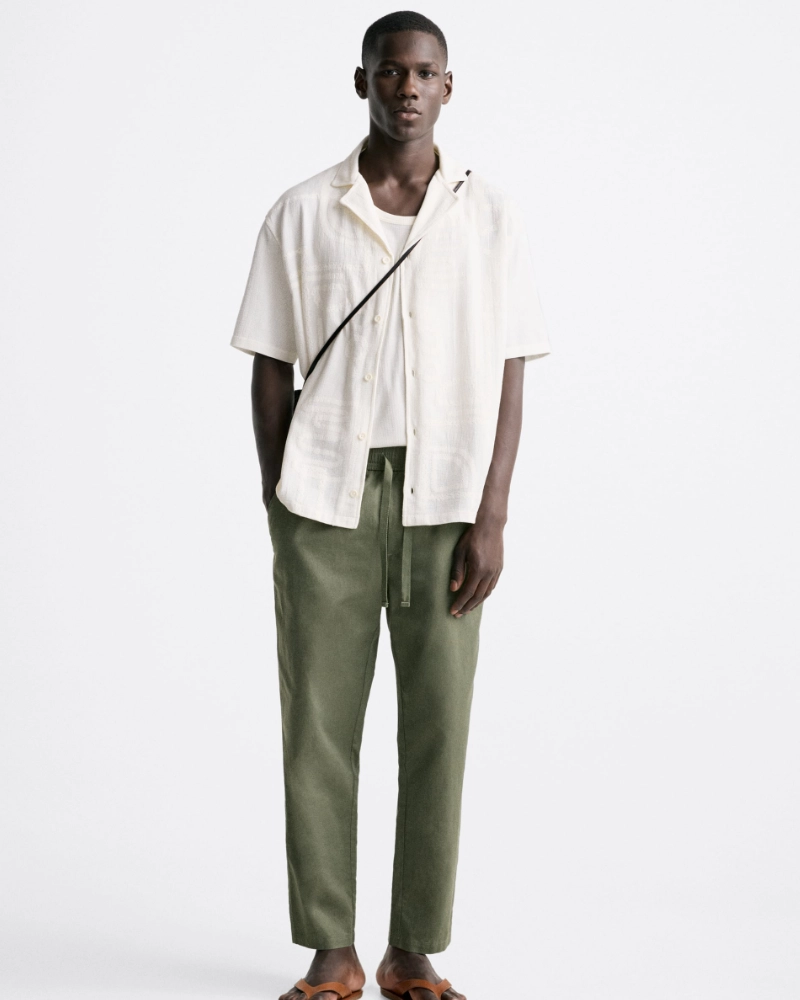 A step down from formal trousers, but a step up from shorts, lightweight trousers with a drawstring waist are a relaxed alternative to chinos. Ensuring you get a fit that isn't too flowy, you'll still get that more fitted silhouette that your top half deserves.
By drawstring trousers, we aren't referring to jogging bottoms. Instead, we are preferably picking out a linen pair that allows the air to circulate. Even in high temperatures, they'll keep their breathability, making them a solid choice for daily rotations.
Some men might fall back on beach inspiration when styling their drawstring trousers. And yes, sandals and a camp collar shirt will deliver a solid outfit made for summer. But, we like to bring our trousers up a notch by partnering with a smart linen shirt and espadrilles. This way, men will get maximum comfort without looking too casual.
Suede Loafers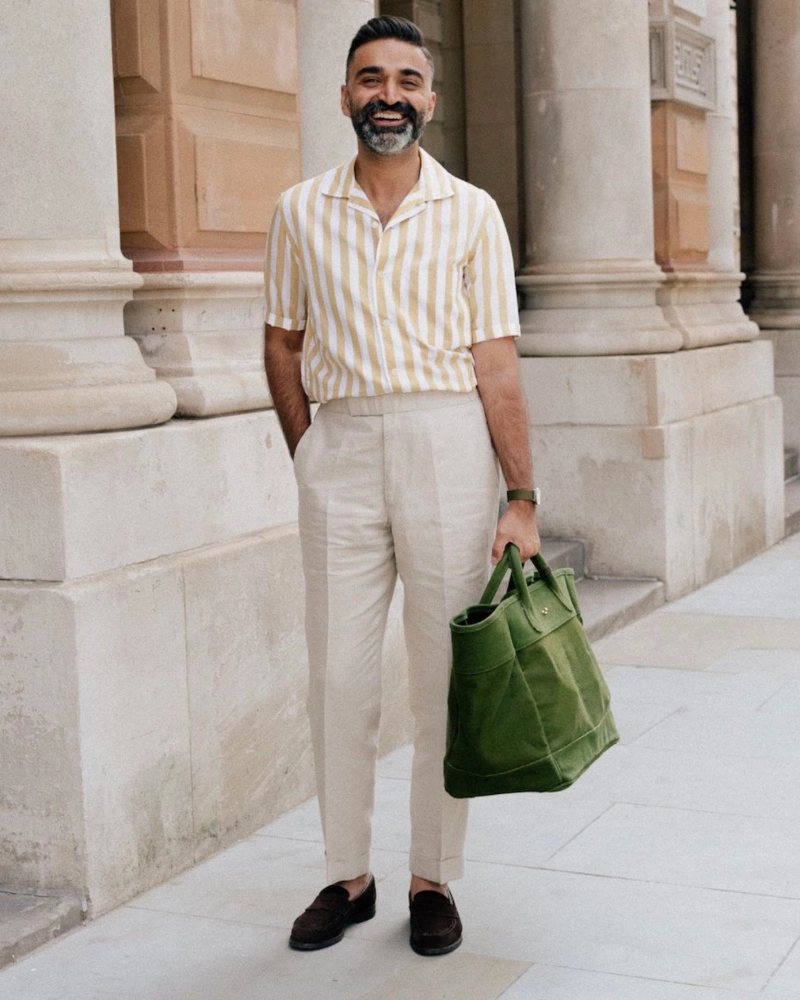 Without getting too deep into the gory details, men's feet have a high concentration of sweat glands. So, if we enclose them in non-breathable footwear, they can quickly become hot and sweaty. Making it important for us to find breathable footwear primed for summer that will avoid unwanted air sniffs in the office.
If you are a guy that wants to bridge the smart casual void, stick to a pair of faithful loafers. Worn with or without socks based on personal preference, this footwear is a favourite for those who need to remain tailored even in summer. However, you can seamlessly rotate your trousers to something a little less formal and still create a finessed finish.
We always like suede as a fabric for warmer periods. Men gain the same aesthetic as a leather alternative but with added texture and interest. Just remember to care for this material before and after wearing them to ensure their longevity and value for money.
Tailored Swim Shorts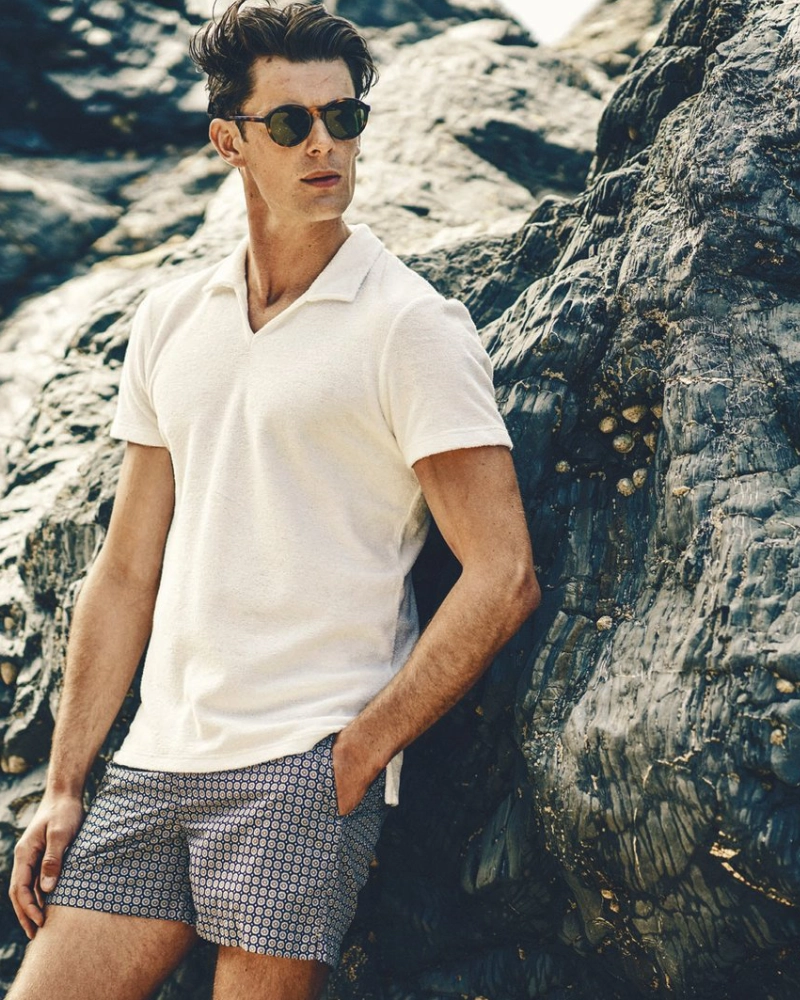 It's time to throw away those budgie smugglers and board shorts. Swimwear has gained a prime position in your suitcase due to an updated focus on its fit and versatility. Brands understand that we want to avoid bringing a stack of clothes in our luggage on holiday. Swim shorts that dry quicker while having a tailored design allow men to wear them throughout the day. Saving valuable travel space and enabling us to partner with a mix of tops.
Unlike a drawstring waist, tailored shorts have a fixed waist, often with side adjustors. This fit creates a less relaxed silhouette reminiscent of chino shorts. As such, men can throw on linen shirts, polo shirts or even an Oxford for post-pool duties.
Brands like Orlebar Brown have led the way in boosting the popularity of this style of swimwear. But now menswear is awash with designer and high street options. Making it even easier for guys to get their hands on a pair.
Summer Suit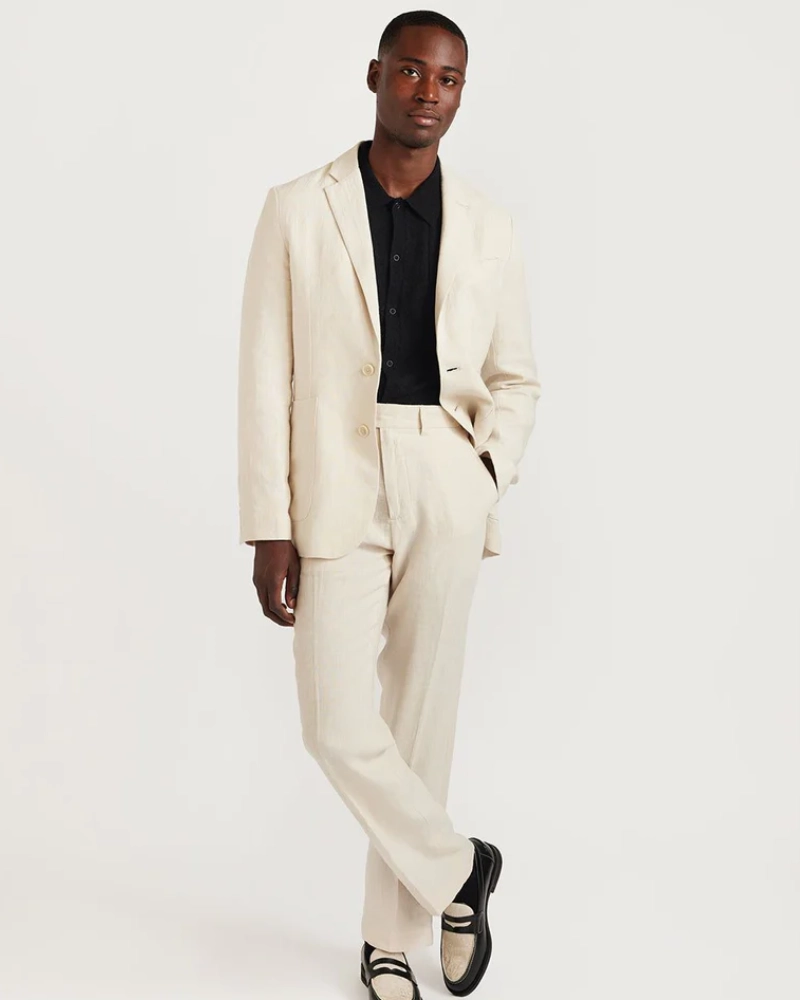 Summer is a time to refresh and rethink your tailoring, as by their nature, suits, with their canvas construction and weighty fabrics, are prone to creating a formal sweatbox.
Picking a suit in a lighter colour will help reflect the sun's rays, helping to keep the wearer a touch cooler. For example, we like to use beige or light blue to update our office wardrobe from colder months. Stepping out of the safe space of navy or charcoal brings a stylish twist to your tailoring alongside the added cooling properties.
Fabrics at any time of year are crucial. Thicker choices in the winter keep out the cold. In summer, we are moving towards linen, seersucker and cotton blends. Like with our other menswear picks, they will allow the air to circulate better with the optimum goal of stopping guys from sweating. Combine these fabrics with suits that have less canvas crafted in them to create a more relaxed but summer-appropriate approach to formal wear.
Sunglasses
Some men might only think of their sunglasses as a warm-weather accessory. Though, beholding them as a daily essential can help to protect your eyes from harmful UV rays throughout the year.
Nothing is more important than our health. So, if we can shield our retinas while providing the right stylish gravitas, surely, this is a win-win. To do this, men must understand how different face shapes determine what sunglasses will complement them. The wrong frame shape and size can make faces appear longer or contrast angular features and jawlines.
There is no one-size-fits-all approach to picking the right pair. Hit the shops and try on as many different styles as possible. Once you find the right shape, you can experiment with frame hues and lens colours to find something that will work nicely with key pieces in your wardrobe.
Lightweight Knitwear
We aren't fortunate enough to live in the tropics. When summer arrives, the sun isn't always beating down from dawn to dusk. Not to mention the surprising downfall we inevitably get. Both points only heighten the reliance on ample preparation at this time and are where a piece of lightweight knitwear can play an important role.
Knitwear doesn't always have to suggest a chunky roll neck. In summer, a cotton version can provide enough warmth to take the chill off without weighing us down. It can also be easily carried and packed away until the sun sets or the air conditioning goes into overdrive.
Much like in colder months, we can use our lightweight knitwear as our final layer, partnering it with a simple tee and shorts for a laidback outfit. Alternatively, wear it over a shirt with formal trousers to keep us warm during those after-work drinks.
Not to sound like a broken record, but the fabric is crucial to delivering an effortless summer layering item that won't overheat us. Cotton, as mentioned, is a stellar choice, or men could go for a linen blend of cashmere for a luxurious touch. Both should do the trick.
Plain T-Shirt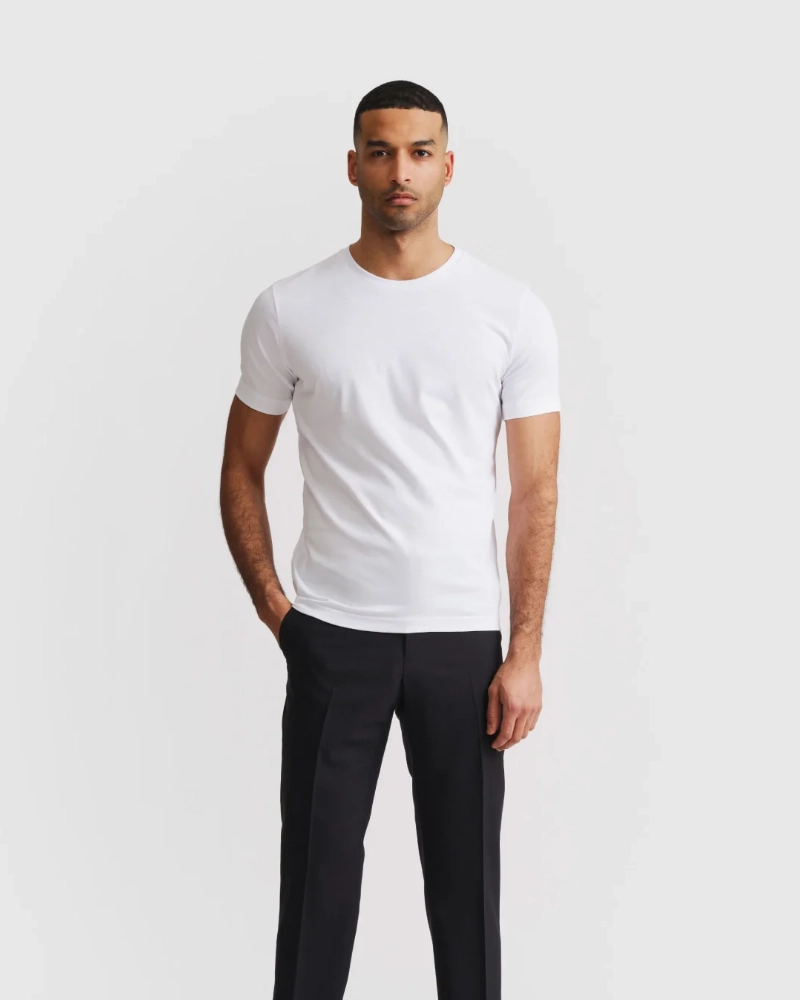 The humble t-shirt might feel a little basic in a list of style essentials. But that is what it is, an absolute necessity. A key layering piece, it serves a noble service in colder times. But we can also bring this former undergarment to the fore while elevating it in summer. By choosing super-soft Supima cotton and focusing on the fit, we can ensure it gets the same love as any other warm-weather piece.
In white, style icons like James Dean and Paul Newman showed how the t-shirt can be a core element in a laidback, rugged look. Its simplicity was able to be the backdrop to a denim jacket or leather jacket. Now we can use that minimalist aesthetic in our summer looks to partner a t-shirt with 5" or 6" shorts for a flattering silhouette.
Stepping away from white, men can introduce softer coloured hues to give us greater options at a lower price than other tops. Then taking our breadth of t-shirts as our base, we can incorporate them under a suit for a contemporary take on tailoring or keep it simple with chinos and trainers.
Polo Shirt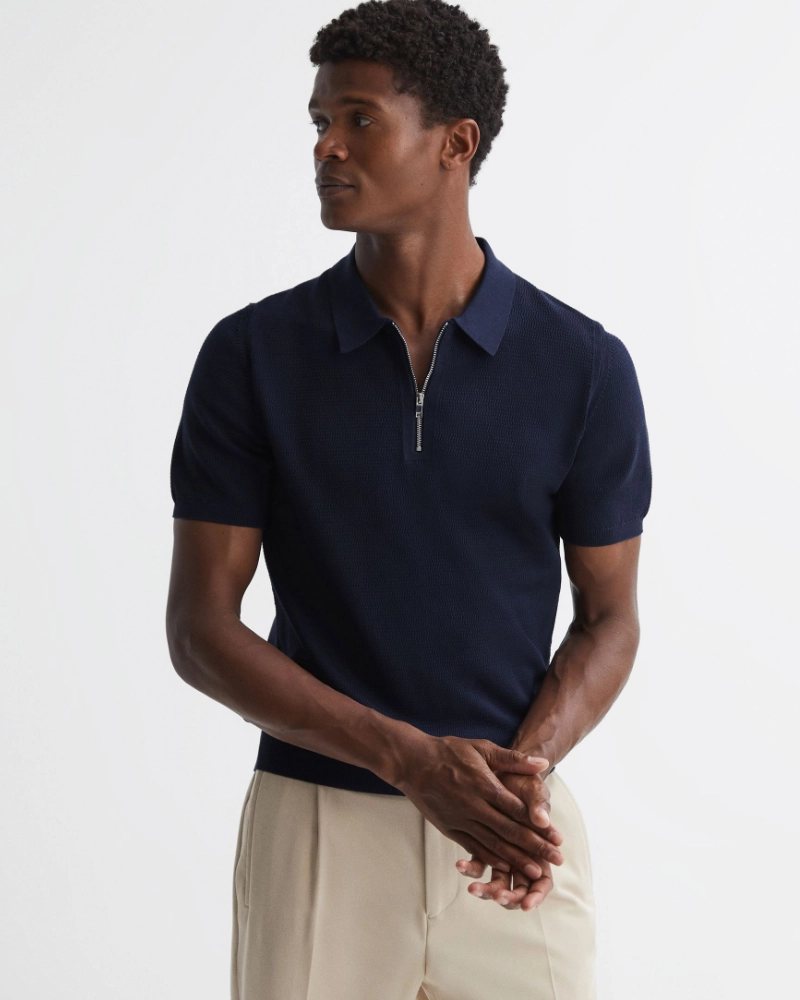 There are always those hot days when we can't face putting on a shirt for fear of the impending wall of heat that will come later. On these days, why not take some style notes from our Italian cousins and reinvigorate our tailoring by adding a polo shirt?
A polo shirt is a great way to add texture and interest in the months when we retreat to basic white shirts daily. Men can wear it within a suited look or as part of a formal separates ensemble. Both ways can switch up your tailoring without becoming too casual.
Aside from the tailored look, a polo shirt can seamlessly be a slightly smarter alternative to a t-shirt. The collar ascends the top into the realms of smart casual attire, a position it excels in. So, if you haven't already, make sure there is a polo shirt in your summer arsenal.