The Best Minimalist Watches Under £100
Buying a minimalist watch is high up the accessory shopping list for men. The immense popularity comes from the styles ability to easily partner with a broad selection of outfits both smart or casual meaning it is a watch you can rely on daily.
Your typical luxury watch adorned with large pushers, dials and multiple face elements comes at a greater price. Buying into that 'look' with a sub £200-£500 watch can come across as a little tacky. We recommend sticking with a timeless style like a minimalist watch to get you an affordable but classic watch that will never go out of fashion.
Related Post: The Best Minimalist Watches Under £200
For men that don't have a large budget to invest in a new watch, we have brought together a list of our favourite minimalist watches for under £100. What you will get from these picks, are sleek design, functionality and reliability from some of the worlds best watch brands.
1. Timex Weekender Farfield
This American brand has a vast history of watchmaking dating back to 1854. Pioneering the likes of the sports watch in the '80s and the night-light in the '90s they have always pushed the boundaries of innovation. The result is great watches that are robust, functional and sprinkled with a simplistic design. The Farfield is your perfect weekend watch and is a welcome addition to any outfit.
Price: £89.99
Movement: Quartz
Water Resistance: 30 metres
Case Diameter: 41mm
2. Skagen Signatur
One of the masters of minimalist design is the Danish brand, Skagen. On their 'Signatur' timepiece, there is an off-white colour dial with some distinctive design elements including contrasting colour hand dials. With stainless case and a Japanese quartz movement under the hood, this is a fantastic price-conscious option for men.
Price: £89
Movement: Quartz
Water Resistance: 50 metres
Case Diameter: 40mm
3. Lacoste Blue Sports Watch
A minimalist watch can have all the refined elegance of a paired back aesthetic but no one says you can't add some colour. Available in a few different colours we have picked out the vibrant blue for a sporty addition to our list.
Price: £75
Movement: Quartz
Water Resistance: 50 metres
Case Diameter: 42mm
4. MVMT
From their fairly recent inception, MVMT has been catapulted to the forefront of well-priced minimalist watches. Many other brands see MVMT as heralding the start of the recent love of minimalism as a watch style. Their marketing team got the brand in front of the masses and their timepieces delivered on functionality and dependability within their price range.
5. TIMEX
On the list for a second time, Timex keeps hitting it out the park with their astutely-priced watches. This black dial has a great contrast to the tan leather strap, giving an overall sophisticated aesthetic. Timex has built its reputation on dependability and reliability, something that is present in every watch they build. We could probably make an entire list just for the brand, but you will have to make do with just this black minimalist watch.
Price: £69.99
Movement: Quartz
Water Resistance: 30 metres
Case Diameter: 42mm
6. Zara Minimalist Watch
The stalwarts of the British high street have now applied their affordable design touch to men's watches. This timepiece has all the minimalist charm of its more expensive counterparts in the traditional watch market but without the price. Inclusive of a leather black strap and mineral crystal glass for scratch-resistance this is a great pick for men watching the pennies. Why not pick yourself up a few of the latest menswear pieces while you are at it.
Price: £89.99
Movement: Quartz
Water Resistance: 50 metres
Case Diameter: 40mm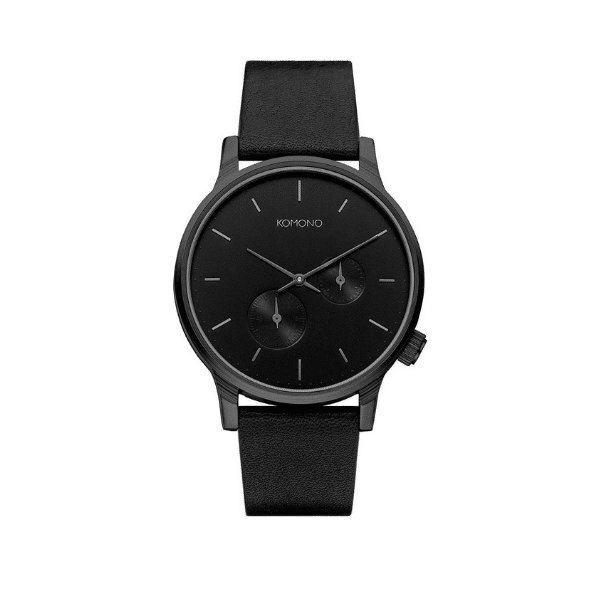 7. Komono Winston Double Subs Black
The Winston Double from Komono features two minimalist subdials. It's modern, contemporary, an instant classic. The price like all those on the list is budget-friendly without scrimping on the details. A Japanese quartz movement is the motor keeping this timepiece ticking, with an alloy case to protect it. The strap is black leather but it can be easily switched out dependent on taste.
Price: €99
Movement: Quartz
Water Resistance: 3 ATM
Case Diameter: 42mm
8. Tommy Hilfiger Cooper
Adorned with a rose gold case this watch secures to your wrist with a blue crocodile leather strap. Coming from one of the world's best-known brands, this piece is a sleek and smart design. It adds a touch of luxury to an outfit and would be a great choice for a formal occasion.
Price: £99
Movement: Quartz
Water Resistance: Up to 30m
Case Diameter: 40mm
9. Accurist Watch
This British brand has been producing affordable watches since 1946. Known for precision timing, by the early '90s, Accurist had become the UK's largest watch brand. The focus for the brand since its inception has been to deliver watches that are full of British design, style and represent great value for money. This classic watch is a timeless favourite, ideal for men that favour minimalist design.
Price: £64.99
Movement: Quartz
Water Resistance: Up to 30m
Case Diameter: 40mm
10. Armani Exchange Cayde Watch
Armani Exchange watches evoke the idea of stylish, urban living. Taking you from day to night, this watch is an ideal choice for men that prefer a relaxed strap on their timepiece. Whether it is during the warmer months or it is just your overall preference, removing a leather strap from your watch can add greater comfort and reduce sweat buildup went it gets hot.
Price: £99
Movement: Quartz
Water Resistance: Up to 50m
Case Diameter: 42mm
Please follow and like us: