Buying a minimalist watch is high up the accessory shopping list for men. The immense popularity comes from the style's understated ability to easily partner with a broad selection of smart or casual outfits, meaning it is a watch you can rely on daily.
Your typical luxury watch adorned with large pushers, dials and multiple face elements comes at a greater price. Buying into that 'look' with a sub £200-£500 watch can be a little tacky. We recommend sticking with a timeless style like a minimalist watch to get you an affordable but classic timepiece that will never go out of fashion.
Related Post: The Best Minimalist Watches Under £200
For men that don't have a large budget to invest in a new watch, we have brought together a list of our favourite minimalist watches for under £100. You will get sleek design, functionality and reliability from some of the world's best watch brands included in the price.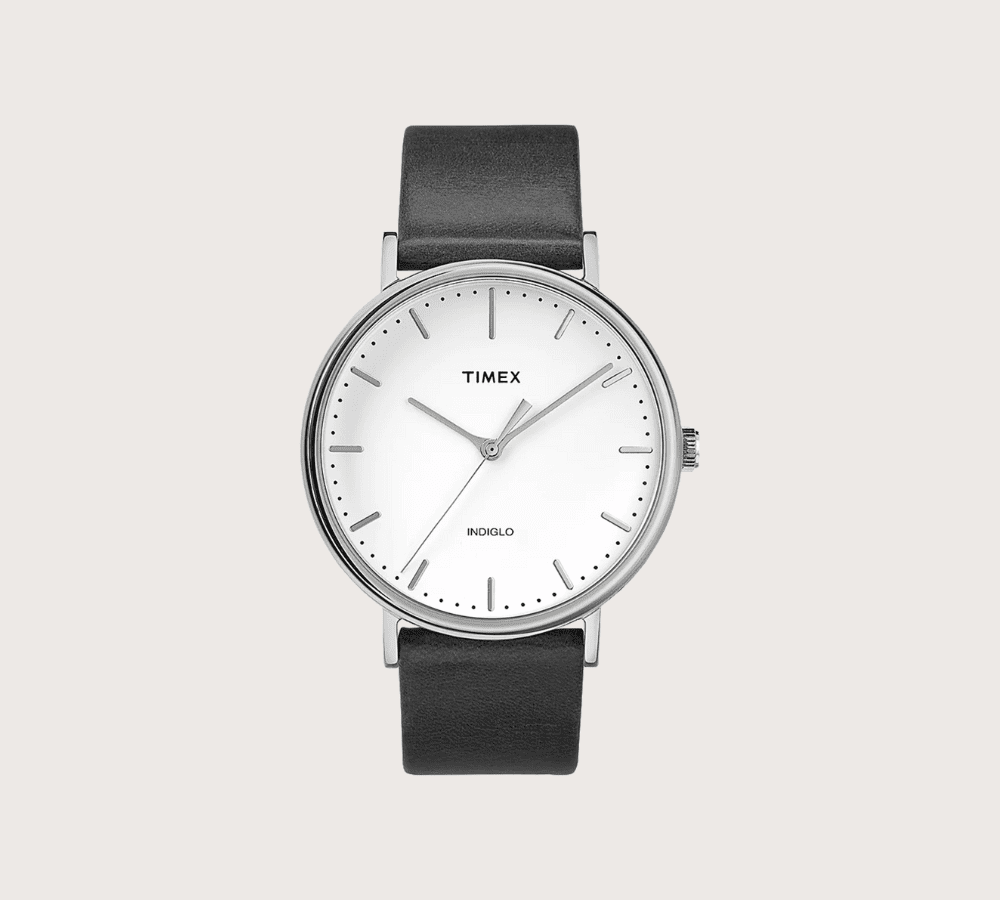 1. Timex Weekender Farfield
This American brand has a vast history of watchmaking dating back to 1854. Pioneering the likes of the sports watch in the '80s and the night-light in the '90s, they have always pushed the boundaries of innovation. The result is great watches that are robust, functional and sprinkled with a simplistic design. The Farfield is your perfect weekend watch and is a welcome addition to any outfit.
Price: £89.99
Movement: Quartz
Water Resistance: 30 metres
Case Diameter: 41mm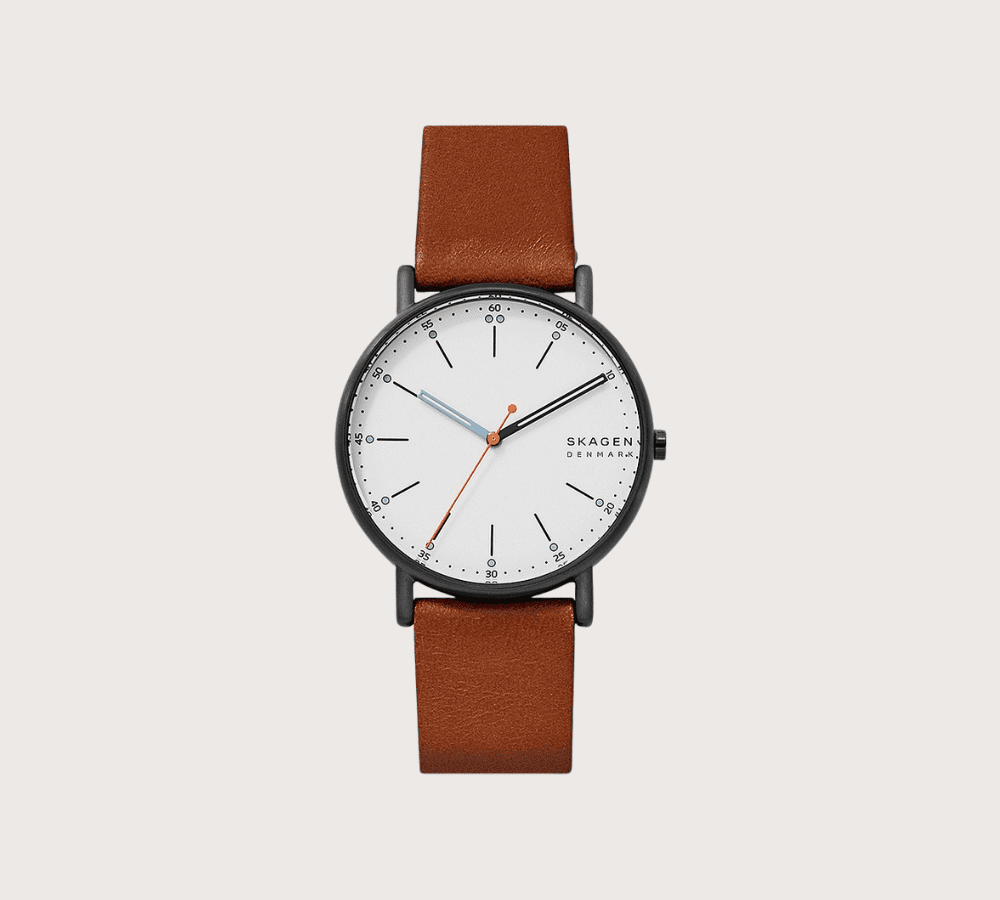 2. Skagen Signatur Timepiece
One of the masters of minimalist design is the Danish brand Skagen. On their 'Signatur' timepiece, there is an off-white colour dial with some distinctive design elements, including contrasting hand dials. With a stainless case and a Japanese quartz movement under the hood, this is a fantastic price-conscious option for men.
Price: £89
Movement: Quartz
Water Resistance: 50 metres
Case Diameter: 40mm
3. Lacoste White Sports Watch
A minimalist watch can have all the refined elegance of a paired-back aesthetic, but no one says you can't add some colour. Available in a few different colours, we have picked out crystal white for a sporty addition to our list.
Price: £75
Movement: Quartz
Water Resistance: 50 metres
Case Diameter: 42mm
4. MVMT Classic Watch
MVMT has been catapulted to the forefront of well-priced minimalist watches since their fairly recent inception. Many other brands see MVMT as heralding the start of the recent love of minimalism as a watch style. Their marketing team got the brand in front of the masses, and their timepieces delivered functionality and dependability within their price range.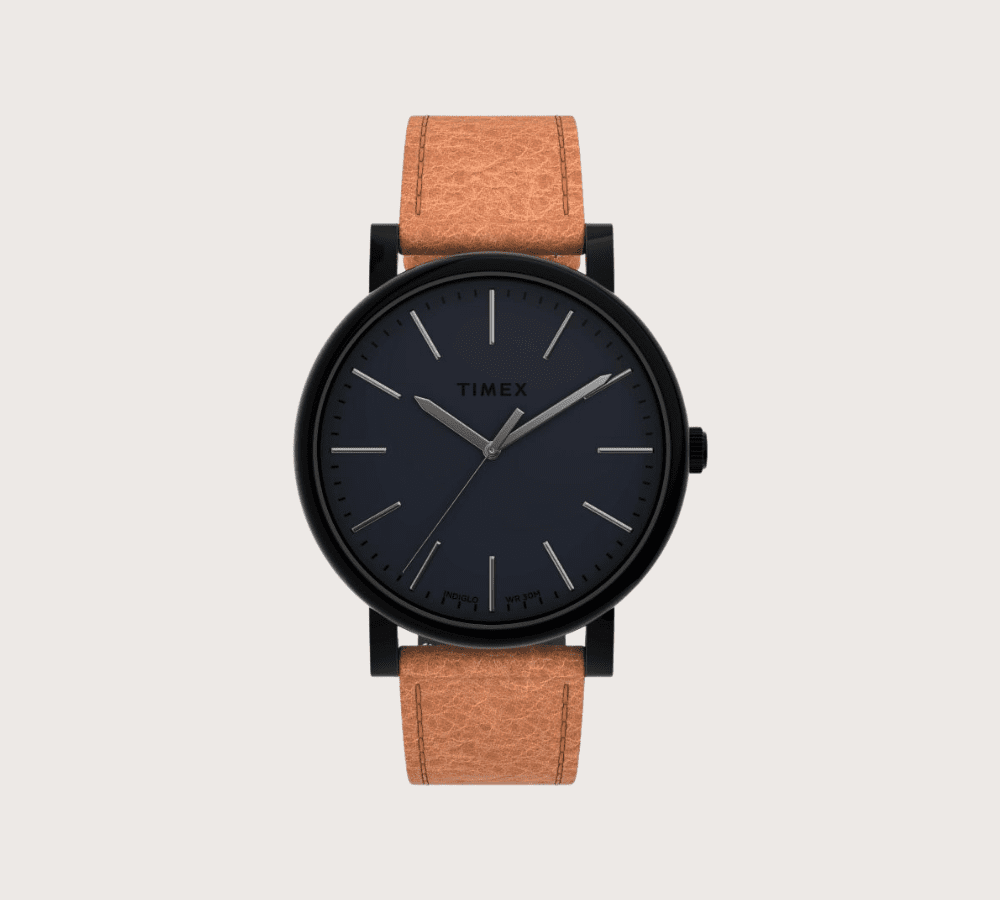 5. TIMEX Watch
On the list for a second time, Timex keeps hitting it out of the park with their astutely-priced watches. This black dial has a great contrast to the tan leather strap, giving an overall sophisticated aesthetic. Timex has built its reputation on dependability and reliability, which is present in every watch they build. We could probably make an entire list just for the brand, but you will have to make do with this black minimalist watch.
Price: £69.99
Movement: Quartz
Water Resistance: 30 metres
Case Diameter: 42mm
6. Architect London Watch
Architect London believes in the mantra that sometimes "less is more". High-quality stainless steel sits on the back of this minimalist dial that screams minimalism. A precise quartz movement keeps things ticking over so you can focus on the day ahead without worrying about running out of sync.
Price: £79
Movement: Quartz
Water Resistance: 3 ATM
Case Diameter: 41mm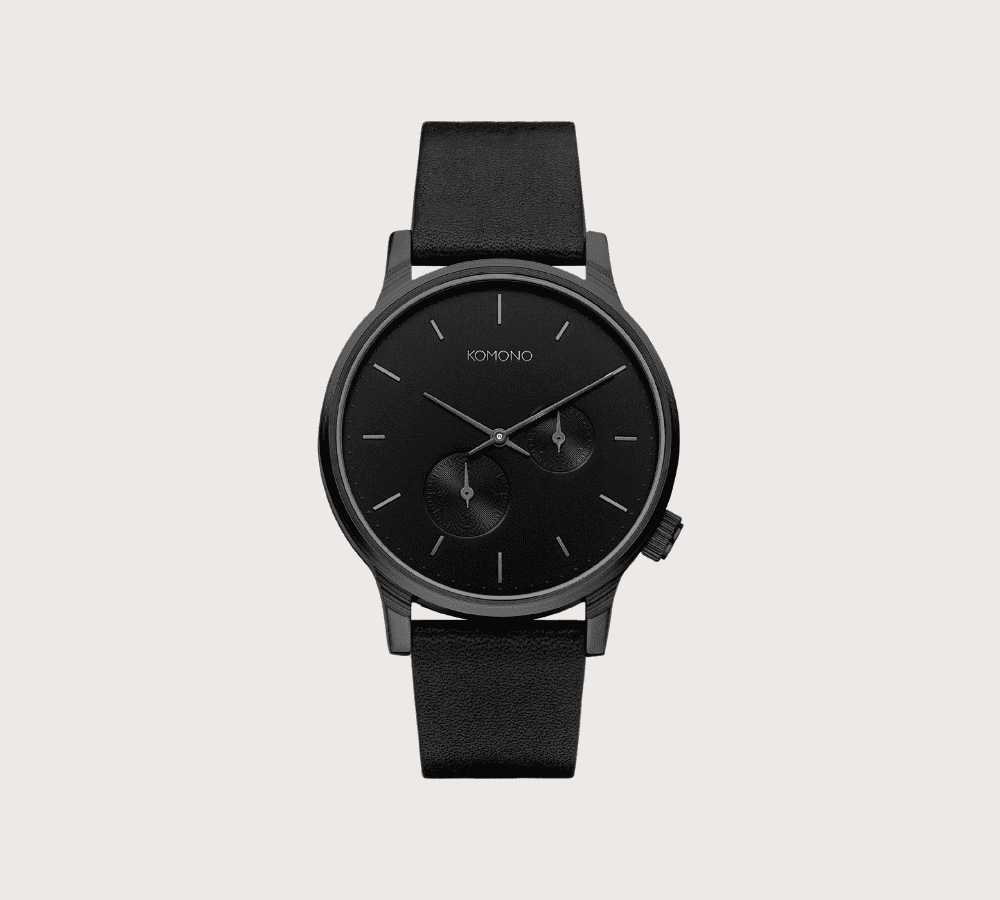 7. Komono Winston Double Subs Black
The Winston Double from Komono features two minimalist subdials. It's modern, contemporary, and an instant classic. Like all those on the list, the price is budget-friendly without scrimping on the details. A Japanese quartz movement is a motor keeping this timepiece ticking, with an alloy case to protect it. The strap is black leather but can be easily switched out depending on taste.
Price: €99
Movement: Quartz
Water Resistance: 3 ATM
Case Diameter: 42mm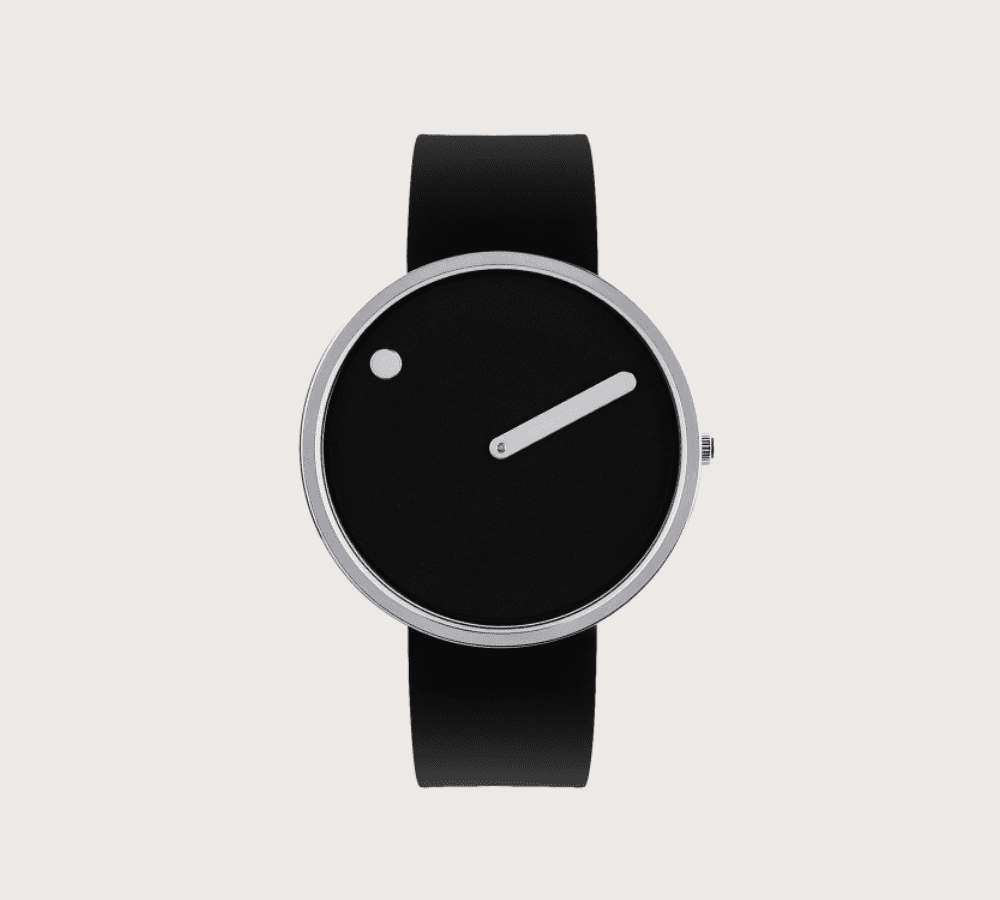 8. Picto Black Dial Watch
What is minimalism, if not an aesthetic of stripping back to the bare essentials? This Picto Watch takes that to the extreme removing everything but a dot and a line. The brand wants you to create your own agenda and not be bound by time. Are you ready to join them?
Price: €99
Movement: Quartz
Water Resistance: 5 ATM
Case Diameter: 40mm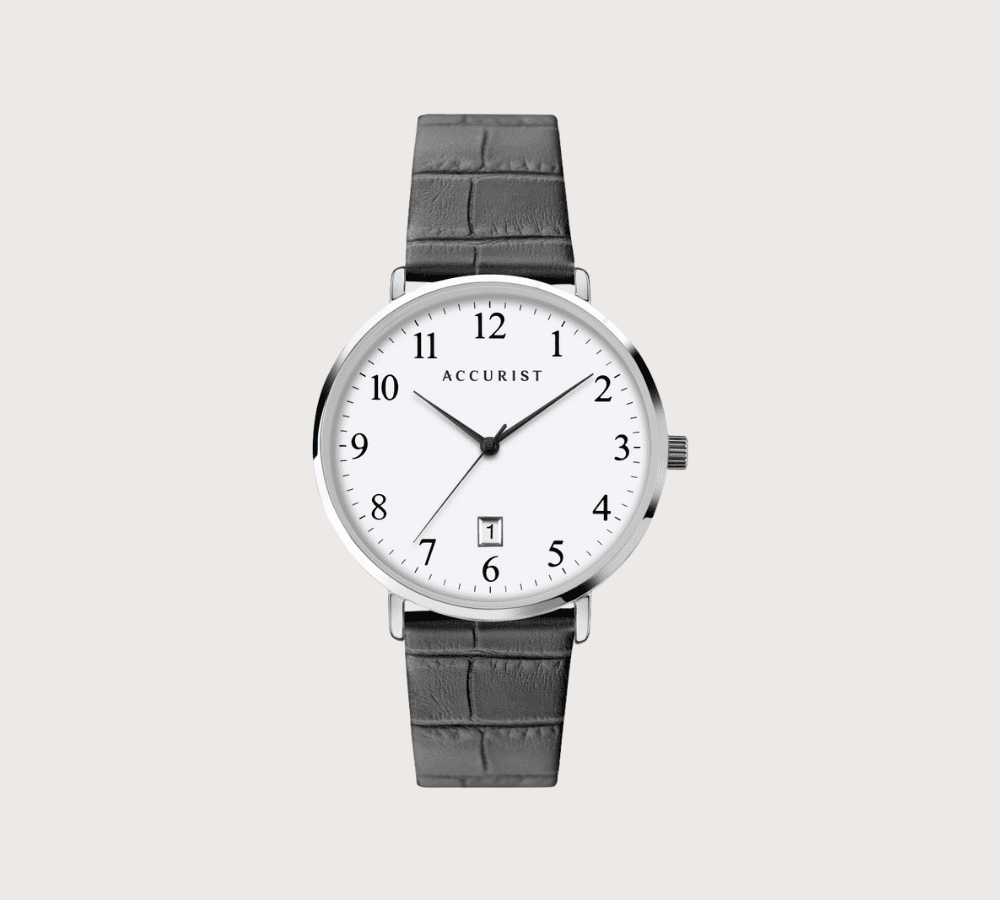 9. Accurist Watch
This British brand has been producing affordable watches since 1946. Known for precision timing, by the early '90s, Accurist had become the UK's largest watch brand. Since its inception, the brand's focus has been to deliver watches full of British design and style and represent great value for money. This classic watch is a timeless favourite, ideal for men who favour minimalist design.
Price: £64.99
Movement: Quartz
Water Resistance: Up to 30m
Case Diameter: 40mm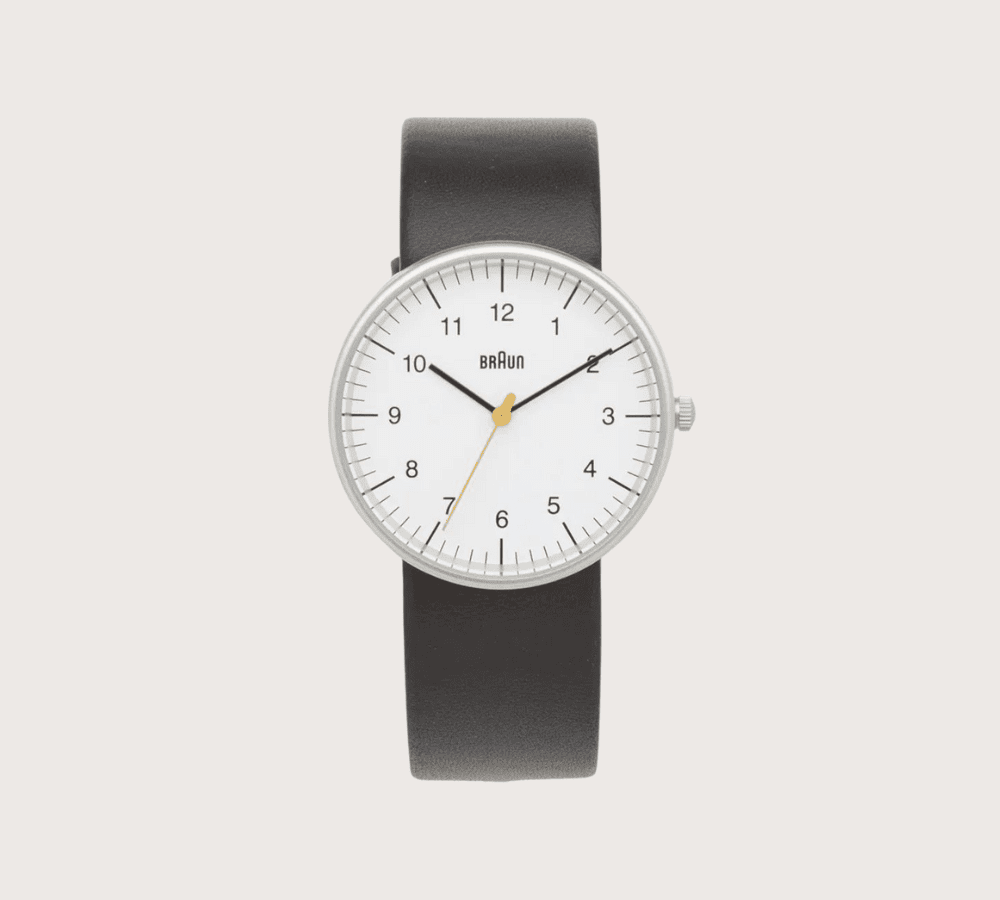 10. Braun BN0021 Watch
Delivering on fuss-free, utilitarian design is our last selection on the list. This Braun watch has a sleek, slim-lined case of scratch-resistant mineral glass. Ideal for the rigours of daily life. The case houses a quartz movement, making this timepiece functional alongside its stylish, minimalist nature.
Price: £99
Movement: Quartz
Water Resistance: Up to 50m
Case Diameter: 38mm