Although we don't see many options when we are shopping, there are a host of different dress shirt collars for men available. Your limited awareness could be because many well-known fashion brands stick to a very narrow range of shirt collars. They, as you can imagine cater for the masses, only introducing other types of collars when they enter popular culture. For example, TV shows like Boardwalk Empire and Peaky Blinders saw demand for pin collar or tie bar collar shirts rise.
The most popular dress shirt collar we see in stores is the spread collar. It is the 'catch-all' of shirt collars. It is very unobtrusive, it suits nearly all face shapes and is most peoples standard entry into wearing dress shirts. But, if you are looking to develop your sartorial nouse and explore the wider range of shirt collars then you have come to the right place.
In this guide, we will hopefully answer some of your questions around shirt collars. You'll learn how different styles suit different face shapes, and on what occasion to wear a certain collar.
A brief history of the shirt collar
Originally a shirt collar as we perceive it would have been a large piece of fabric (probably linen) loosely worn around the neck in the 16th century. As tastes changed the collars became more elaborate with ruffles and ornamental jewellery added.
Leading into the Victorian age, the more familiar dress shirt collar was worn. Its tall height was starched rigid. and sold separately to the shirt. The collar was attached with a pin on the front of the neck.
The shape of this detachable collar was nearly always rounded and is where our modern-day club collar originates from. Post-war in the 1920's we do see the pointed shirt collar becoming more popular, and we start to see collars being sold attached to the shirt. It is also the period where we see the introduction of softer fabrics as men embrace a slightly more relaxed 'day shirt'. This new wave of dress shirt fabrics and less-conservative view of the shirt collar allowed men to embrace different collar styles. One of those was the originally scorned button-down collar that was being worn in America at the time.
Fast-forward to present day and we have an eclectic mix of shirt collars that can align with your style or occasion. But, are they all right for you?
Collar style versus face shape
Like your face shape making a good haircut look bad, the same can be said for collar styles. Below are some tips on matching your shirt collar with your face shape.
Round face shape – What you don't want to do is make your face look wider. The worst shirt collar you could choose would be a spread collar for this. We recommend a forward point collar.
Oval face shape – As you have a long face then a spread collar would be a good choice to open up the neckline. This style applies to men with tall or thin necks.
Square face shape – As it suits most faces we would opt for a button-down collar. Made famous by American Ivy Leaguers it is still a great, versatile shirt collar.
The Spread Collar
The vanilla of men's shirt collars is the spread collar. As mentioned before, it is the style you will see most presented in shops and online. A neutral collar, it neither breaks any style boundaries but also doesn't look to formalised and stuffy.
If it is your choice, take note of the width of the spread as it were and wear with a wider tie knot. A spread collar can sit nicely on the edge of your suit jacket but in its style can leave space in between. We recommend a Windsor or half-Windsor tie knot. There is, of course, the Windsor spread collar that partners perfectly with the said knot.
What is a semi-spread collar
Generally speaking, if the distance between the collar points is 4″, then, in theory, this is a semi-spread. The normal collar point distance for a spread collar is 5-6″.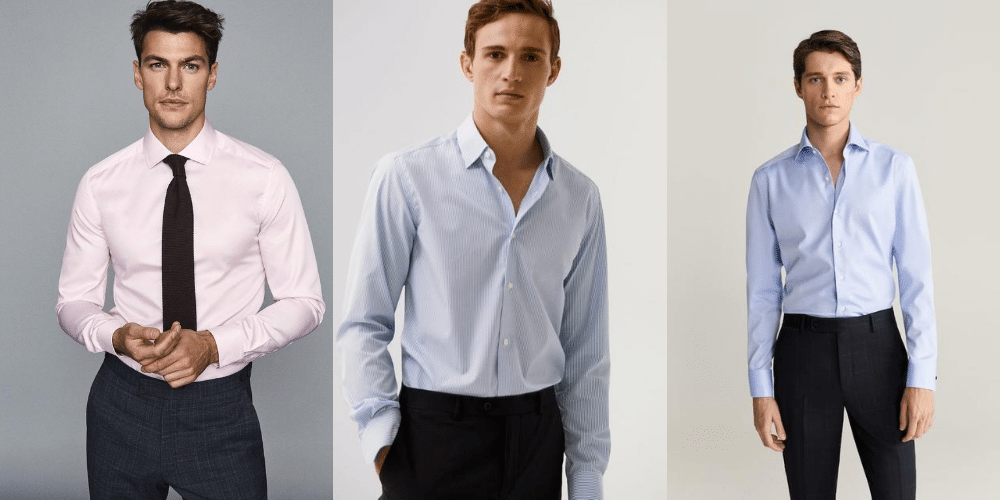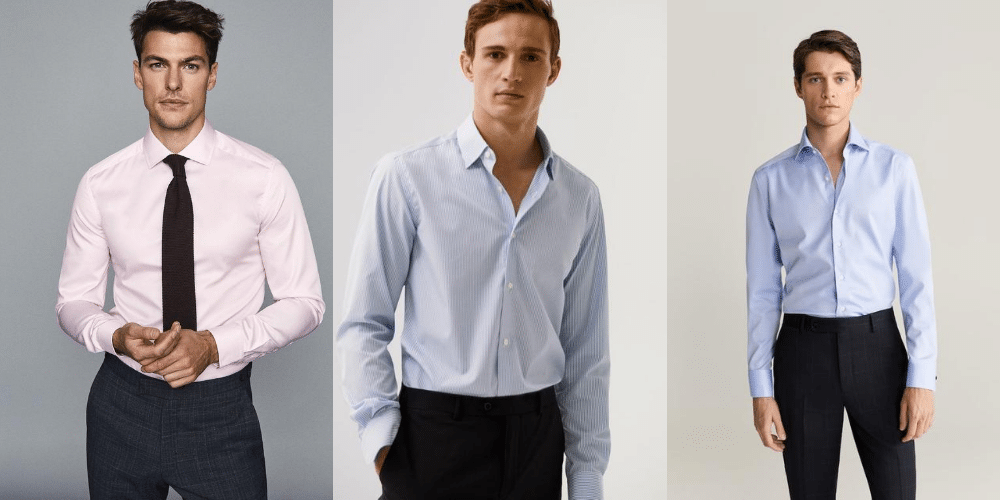 The Point Collar
Also known as the forward point collar or the straight collar, it is a sartorial step-up from the spread collar. It is a versatile classic that will look nice worn with or without a tie.
Understandably, the point collar gets its name from the pointed collar tips. Unlike the spread collar, the overall style is more narrow so can adapt to a thinner tie knot. The collar won't sit nicely on the suit jacket lapels like with a spread collar, so make sure the shirt is a good fit on the chest.
The Button-Down Collar
Brought to the general public's eye by the American Brooks Brothers family, the style had originally been a mainstay of polo players shirts. It helped to keep the players' shirt collars in place, so they remained to look smart throughout the match. John E.Brooks of the aforementioned family witnessed the shirts while attending a match on a trip to England in 1896. The Brook Brothers started making the button-down shirt collar and it was picked up by the students of Ivy League colleges across America.
This firm American favourite still has an air of preppy style to it, while remaining a great choice for men looking to be smart but not wear a tie. The buttons sit either on show or can be hidden beneath the collar. Either way, it will keep the shirt collar nicely in place.
Why not bring a button-down collar into the mix when it comes to your more casual men's shirts. The button-down collar can look great in materials like broadcloth, flannel, linen, or denim. It could become your perfect business-casual shirt worn with a blazer and jeans.
The Cutaway Collar
This shirt collar takes the spread collar to new heights. Its full name is the cutaway spread collar but it is generally referred to as the cutaway. It takes the idea of the Windsor spread and cuts the collar points away further. The wider spread sees the collar sit at a 45-degree angle.
As you can imagine, like with the spread collar, there is a need for a larger tie knot. Due to the sizeable gap in collar points, it might be a good time to start expanding your knowledge of tie knots to see which you prefer to do the job.
Want to take it even further? Then the extreme cutaway collar sees the shirt collar points completely horizontal.
The Wing Collar
This is our most formal shirt collar on the list. We reserve this for formal occasions like a white tie event. The wing collar has small collar tips that stand up and direct outwards like the wings of a bird.
A wing collar is not to be worn traditionally with a tie. Men should only be wearing a bow tie as a partner for this collar.
The Club Collar
It is said that Eton college in England created the club collar by curving the originally pointed dress shirt collar. It was to differentiate Eton students from those of other private colleges.
Men who find their style inspiration from TV shows like Boardwalk Empire would notice the club collar as a staple in Nucky Thompson's wardrobe.
Due to the history of the collar, it has a notable vintage style to it and not one that all men will instantly be drawn to. If it doesn't fit in with your general style choices, this could feel a little forced. We recommend leaving this to the style experts if you are unsure.
Like a lot of the older collar styles, it offers a narrow gap for the tie and requires a small tie knot.
The Band Collar
By habit, I have always referred to this style as the grandad collar. Other names can include band collar or even Mandarin/Mao collar. In essence, it is the shirt with no collar, leaving the band.
As style perceptions change, what would have been faux-pas in times gone, is now an acceptable smart choice. The smart dress shirt is still there, just without the collar. So, it can happily replace your typical work dress shirt and still be effective. It is a great choice in the warmer months as you want to remove the restrictive collar to keep cool.
Do we even have to mention this is to be worn without a tie?
The Tab Collar
This is a double-pronged dress shirt collar. The tab fastens both collar leafs together at the point of the first shirt button. This ensures that the collar stays tight, while also raising the tie knot up.
On the outside, to the untrained eye, this might look like your typical forward point collar. So, if that is the collar you are most comfortable wearing, the tab collar will add some sartorial brownie points without pushing you out of your comfort zone.
A tab collar can only be worn with a tie.
The Pin Collar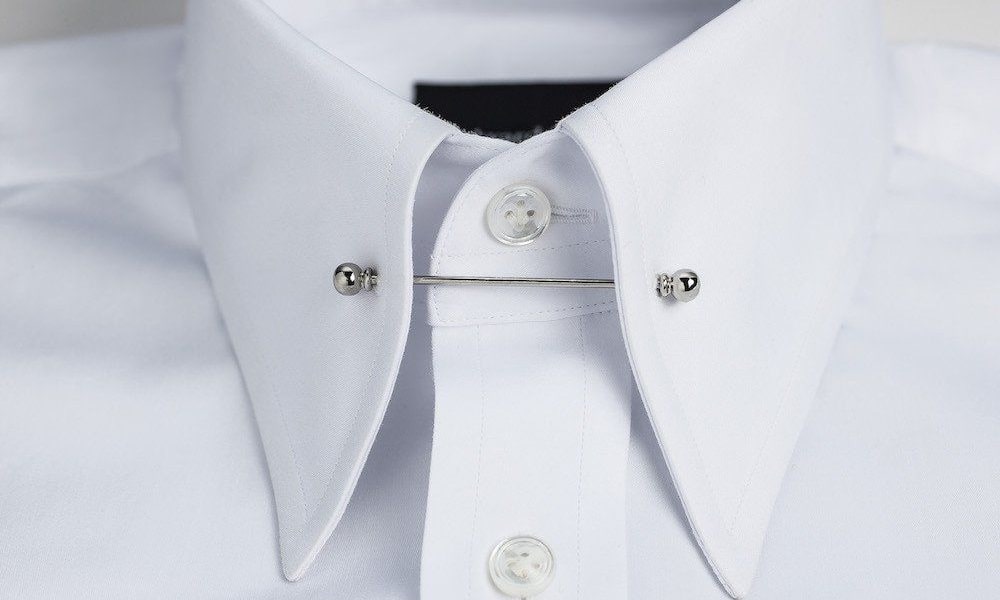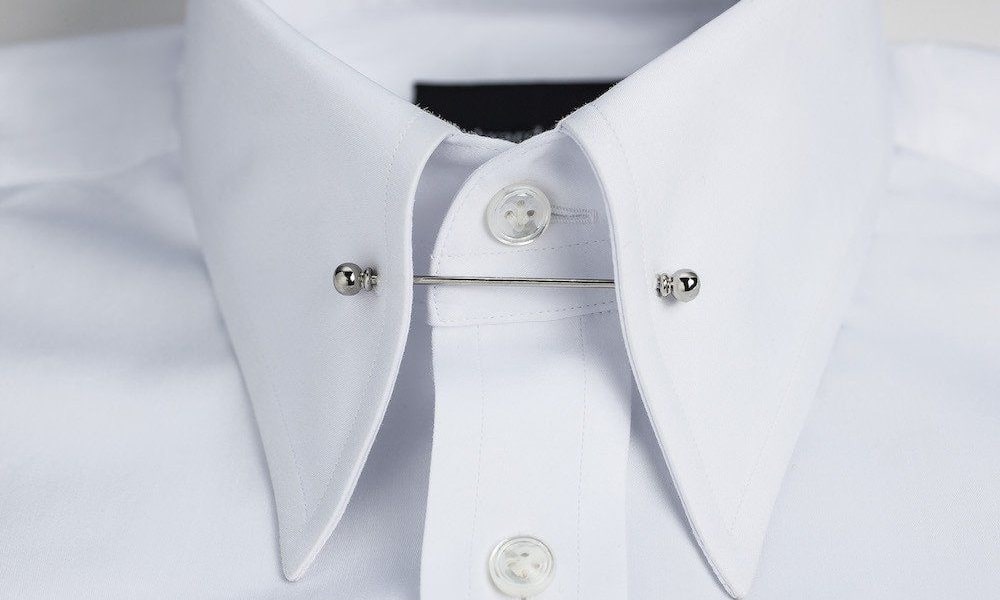 The pin collar is like an alternative version of the tab collar. Whereby the tab collar uses a 'tab' to keep the collar tight, this is replaced with a collar pin. We saw this become more mainstream when the likes of Boardwalk Empire were on TV. As a result, more men felt socially accepted to wear this collar. These days, it will suit a man who is known to embrace the sprezzatura style of menswear, as all eyes will be on his collar.
When you wear a tie with a pin collar, the tie sits on the pin, elevating both the tie and your sartorial stature.
Conclusion
As dress shirt collars can come in many names and styles we hope this article has helped you approach the subject with more knowledge. The first step is to understand your face shape and what collar style is the best fit, then decide how far you want to take it. Remember, your shirt collar choices should fit nicely into your existing wardrobe. Take note of what you currently wear and consider whether a new collar will still abide by company dress rules for example.
If in doubt go for the more conservative approach if you are new to wearing dress shirts. Then as your confidence builds start experimenting with new collars and gauge the reaction. It might be as trends change, or your style evolves, different collar styles will take prevalence. Just embrace it.