The idea of working from home before 2020, probably seemed like a luxury to most men. But, now it has become a necessity to protect yourself and those around you.
After your initial buzz of home workouts, DIY and bread-making. Time has passed and you may well have fallen into bad habits as you crave an end to your new isolated existence. These bad habits nearly always morph themselves into clothing form, whereby you have resorted to joggers and crumpled t-shirts to get you through the day.
Making a greater effort with our daily attire is a surefire way to lift moods and increase productivity. We shouldn't be 'dressing up' just for a zoom call. Our work from home choices if picked correctly can easily have us looking our best no matter what the day holds. So, that means if the morning coffee with friends is followed by a surprise zoom call with the boss, you are ready for it.
Having a routine can help focus the mind into work-mode. Like you would if you were commuting, the morning ritual of breakfast, shower, teeth and dressing should still be adhered to. When you tick these parts off your list you are preparing your mind and body for daily work exploits.
But, what should you be looking for in the clothes you wear when working from home?
The Details
When you work in an office your day is broken-up by commuting, coffee breaks or popping out for lunch. At home, these can cease to exist. The result is you can spend longer sat in your chair.
To make your new seated longevity more bearable, men need to choose clothing that is comfortable and non-restrictive. No, this doesn't mean sweatpants and a hoodie. We want to separate work and free time. So, leave the athleisure for your weekend Netflix binge.
Pay attention to the details of your pieces to see how they can be more comfortable than others.
Waistbands
This is typically a hidden element of trousers, so pick a brand like Uniqlo or L'Estrange that factor in stretch technology to the waistbands of their semi-formal chinos. It will allow more room for those big homecooked lunches.
Materials
You want to focus on materials that have some give in them. That means a lighter more forgiving fabric that won't restrict movement or pinch the waist or legs. Cotton chinos would be a preferred choice over denim because of this.
Fit
Even on a zoom call, your colleagues are not going to be seeing the bottom half of your outfit. That doesn't mean you can forget your trousers altogether, but rather opt for a looser fit. Wearing skinny fit trousers are only going to become more uncomfortable the longer you sit wearing them.
Key Considerations
To make your life easier when cultivating your work from home wardrobe, we need to set some boundaries. It is very easy for our work and personal life to merge into one as we operate job duties from our living quarters. Clearly defining professional attire will not only help you stay in a more focused mindset during work hours but also help you clock-off.
It can be easy to still be answering emails at home long after we would normally have been in the office. By separating work and personal clothing you will notice your mindset change come 5 pm and you unwind into joggers and hoodies. You will start to switch off from work and start to give yourself some much-needed decompression time.
Working From Home Essentials
Below are some of our essential items for men when working from home. Granted, there will be refinements based upon if you work alone or part of a team and need to be more smartly dressed. Also, varying climates will determine how warm or cool you need your clothing to be.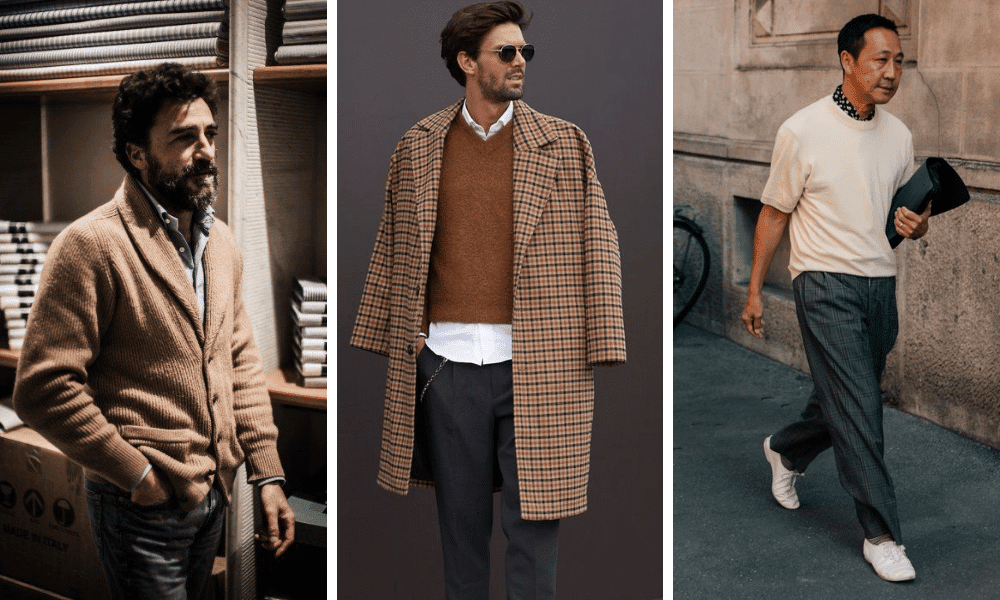 Knitwear
Perfect for when the heating wars are in full force with the other half. The best materials to use are natural fibres that allow air to circulate. A cashmere or merino wool option would be ideal.
In terms of styles, you can go to town here. Crew neck knitwear can be worn over either a shirt or t-shirt, but for v-neck variants try to keep only to shirts. A t-shirt under a v-neck jumper can have you quickly looking like a mid-2000s boyband member.
An understated choice from us is the shawl cardigan. It can be partnered with both smart or casual shirts and isn't restrictive when choosing bottoms either.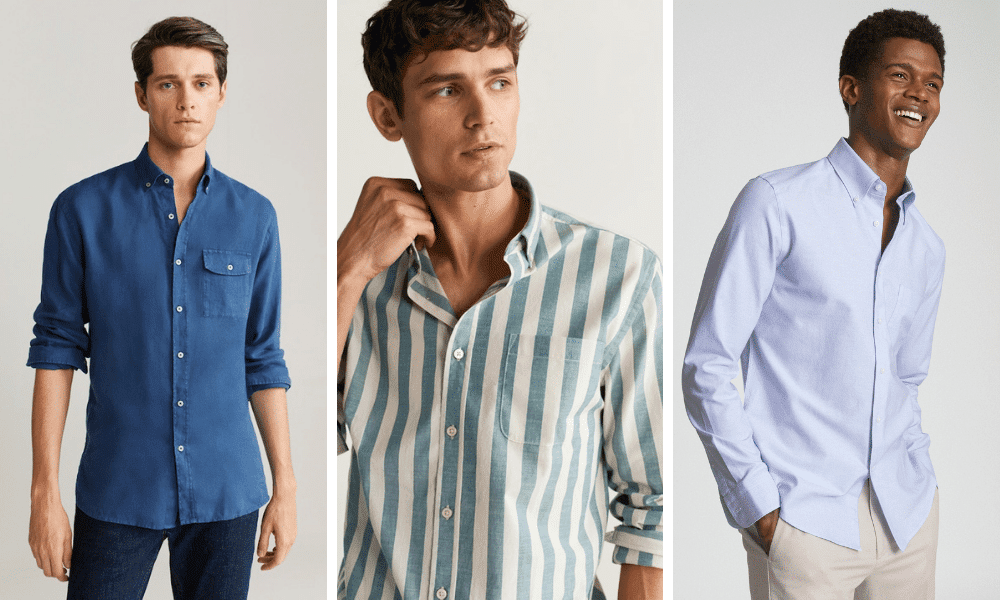 Shirts
To get it right when picking shirts to wear while working, you are looking to place yourself squarely in the smart casual zone. This means shirts that look good without needing a suit jacket.
Traditional dress shirts can be put back in the wardrobe. At home, we favour an Oxford shirt or even a button-down collar on smarter selections to bring the formality down a touch.
Material-wise a simple cotton shirt is a top choice. But, if you are looking for something a little different we recommend chambray denim as a nice twist.
If you don't normally wear shirts for work, trust us, it can be a great way to change working mindsets. Putting on a shirt in the morning feels like you are making a concerted effort to get ready for the start of the working day. Watch your mood and productivity rise when you wear it.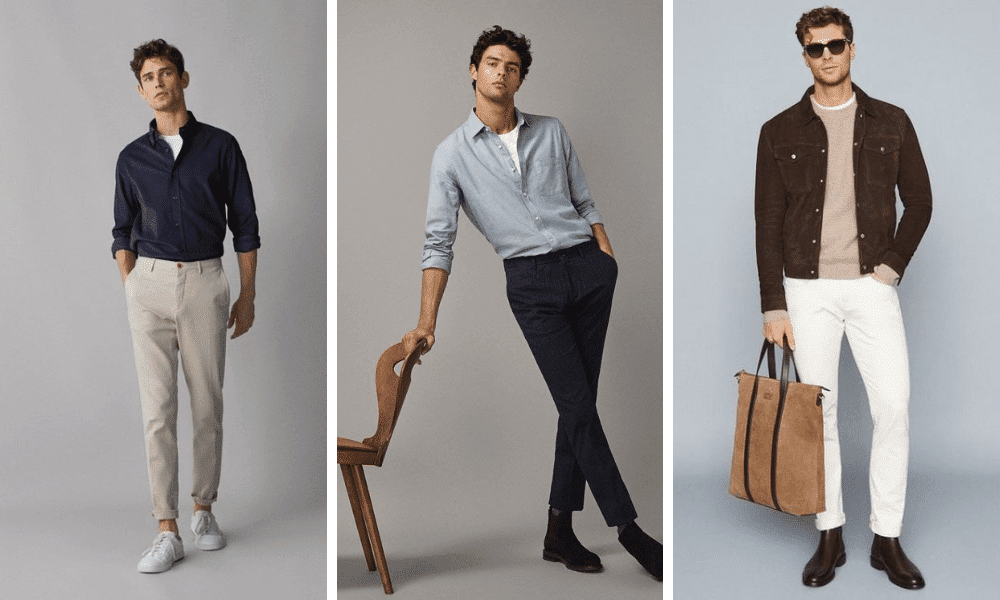 T-Shirts
The causal nature of a t-shirt means it can find itself being worn with joggers for a slouched look.
We can adapt a t-shirt into an elevated, smarter look though by using it as a layering piece. A button-down shirt might look a tad formal to those that normally don't wear them. By adding a plain tee underneath we are making it more accessible, bringing the smart level down whilst remaining stylish.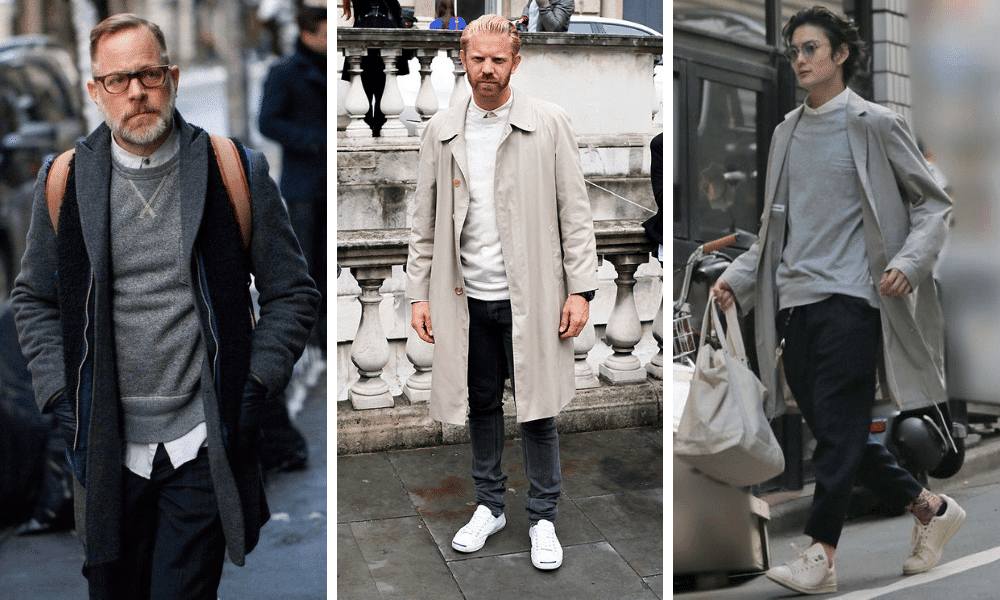 Sweatshirts
We may have dismissed the sportier, athleisure items from our home working looks. But, let's not disregard the sweatshirt completely. When worn with the correct trousers and layered pieces it can offer a more comfortable alternative to knitwear.
The key is channelling in on sweatshirts without large motifs in neutral colours like navy or grey. This will enable them to be worn with more options and seamlessly slot into your daily wardrobe.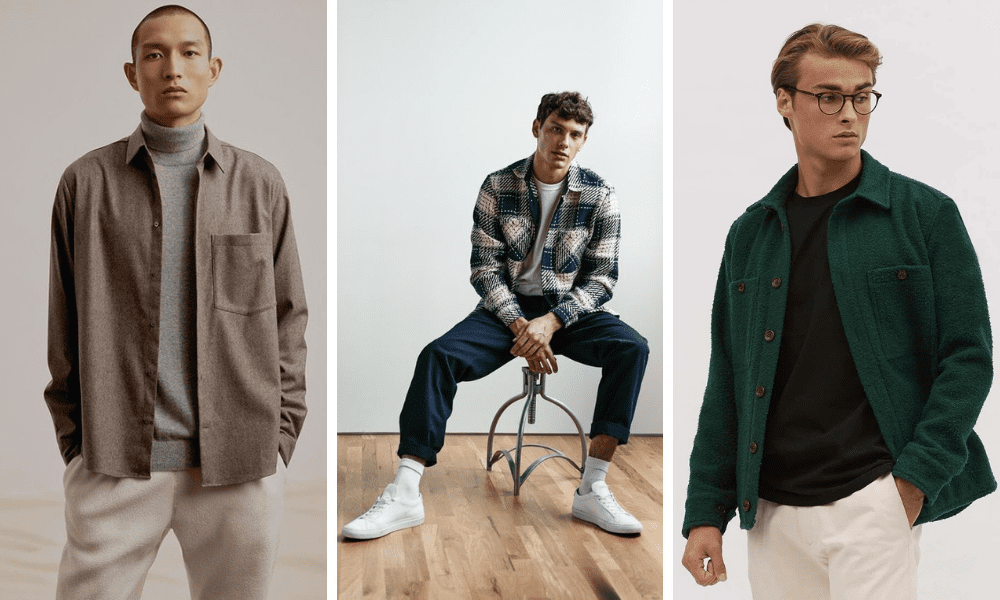 Overshirt
This could become your work from home secret weapon. We are putting it separately to your normal shirts as an overshirt is made of thicker material in both cotton or wool variations.
We style this thrown over a basic tee. It will elevate a simple outfit but while being worn undone means it won't suffocate and restrict.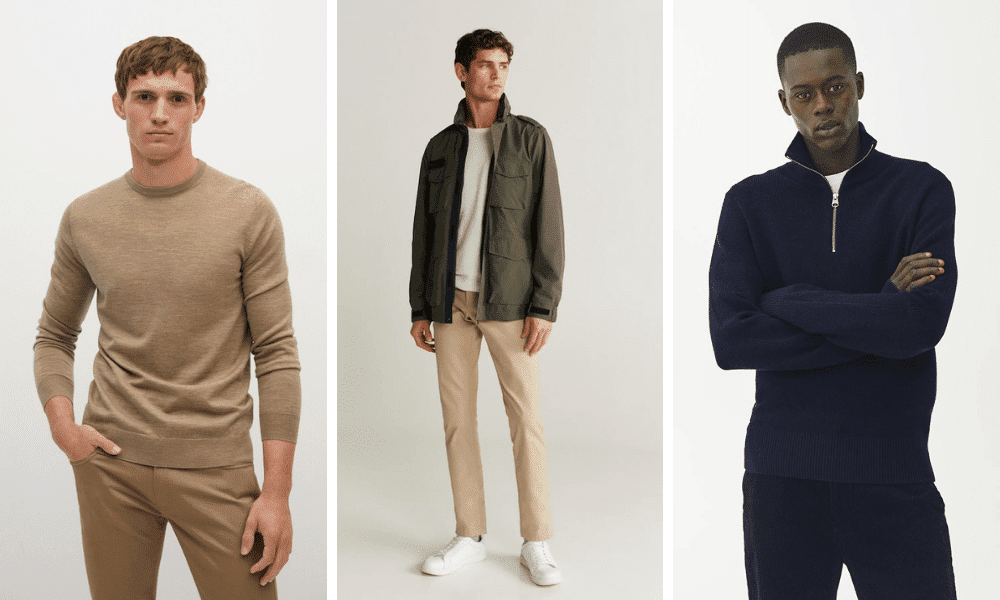 Chinos
The mainstay of dress-down Friday's in the office they are manufactured from softer variants of cotton than the typical more relaxed choice of denim.
When you have to sit down for large periods, we need trousers we can rely on. Men naturally shift from joggers to denim when they start to think more about smartening their home working looks. But, denim could potentially be the wrong choice. It is a stubborn material that isn't very supple. So, sitting in it jeans for a long time can become uncomfortable.
The aesthetic of chinos remains semi-formal while delivering much-needed comfort. They are also very easy to dress up or down depending on the occasion and simple colours like navy, beige or black will go with most colourways on top.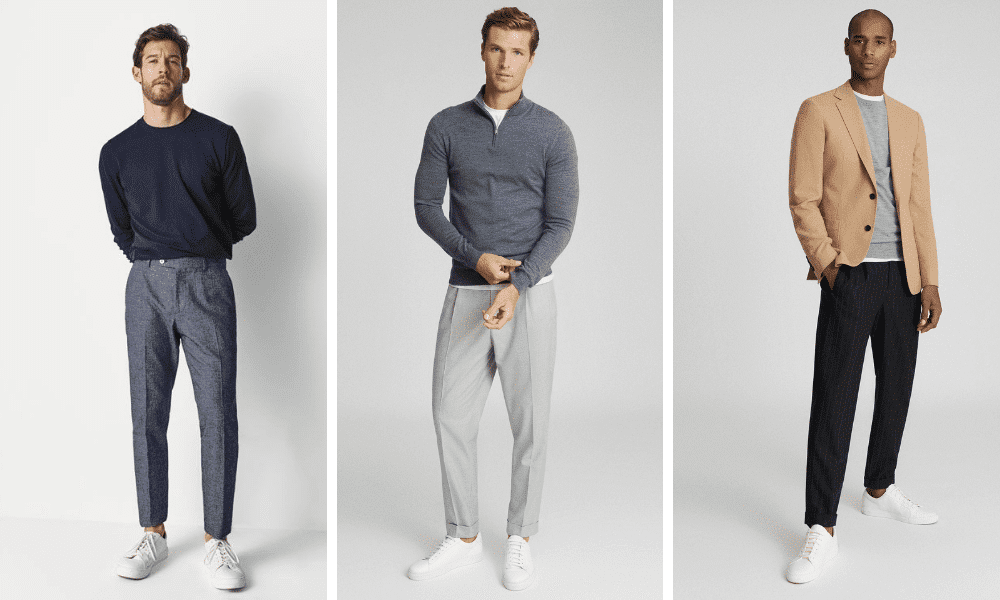 Smart Trousers
You may have dismissed these as being more office-friendly than home working. But, like with our other choices, we are focusing on materials and fit. The natural drape of smarter trousers can be more relaxed than chinos. As long as you have the right style (and not the dreaded 'skinny-fit') they shouldn't be too confining, allowing them to comfortably envelop our legs.
Smart trousers are also incredibly versatile. They look great with polos as a less-formal alternative to shirts, while a simple knit will give a refined silhouette.