The post-purchase costs of buying quality menswear can be eye-watering, from dry cleaners bills to the cobblers. There are expenses at every corner. Though, if we take better care of the items we buy, we can help to alleviate some of these. Prolonging the life of your treasured garments while keeping them presentable by using a clothes brush is one way to do it. This humble tool gives a deeper, more effective clean than a lint roller. Thus, removing dust and debris that negates the need to visit the dry cleaners.
Using a clothes brush effectively on your favourite suit takes a few minutes. And yes, this is an additional step before you step out the door or put the suit back in the evening. But, it can be invaluable care when compared to dry cleaners. No matter how eco-friendly a dry cleaner claims, chemicals are still at play. These chemicals will reduce a wool suit's colour vibrancy and fabric structure. An extra couple of minutes of clothes brushing doesn't sound too much to protect your wallet and garments.
What Is A Clothes Brush?
Crafted with natural or synthetic bristles, the clothes brush or "suit brush" typically has a wooden handle. Similar to something you might find in a shoe shine kit.
Natural fibres like boar or horse hair are the optimum choice. They have a greater bristle movement resulting in a softer brush than a synthetic bristle alternative. We aren't doing the washing up here. Our tools should be gentle but effective. Boar and horse hair also have antibacterial qualities that help keep your clothing cleaner and fresher in between washes by inhibiting bacteria growth.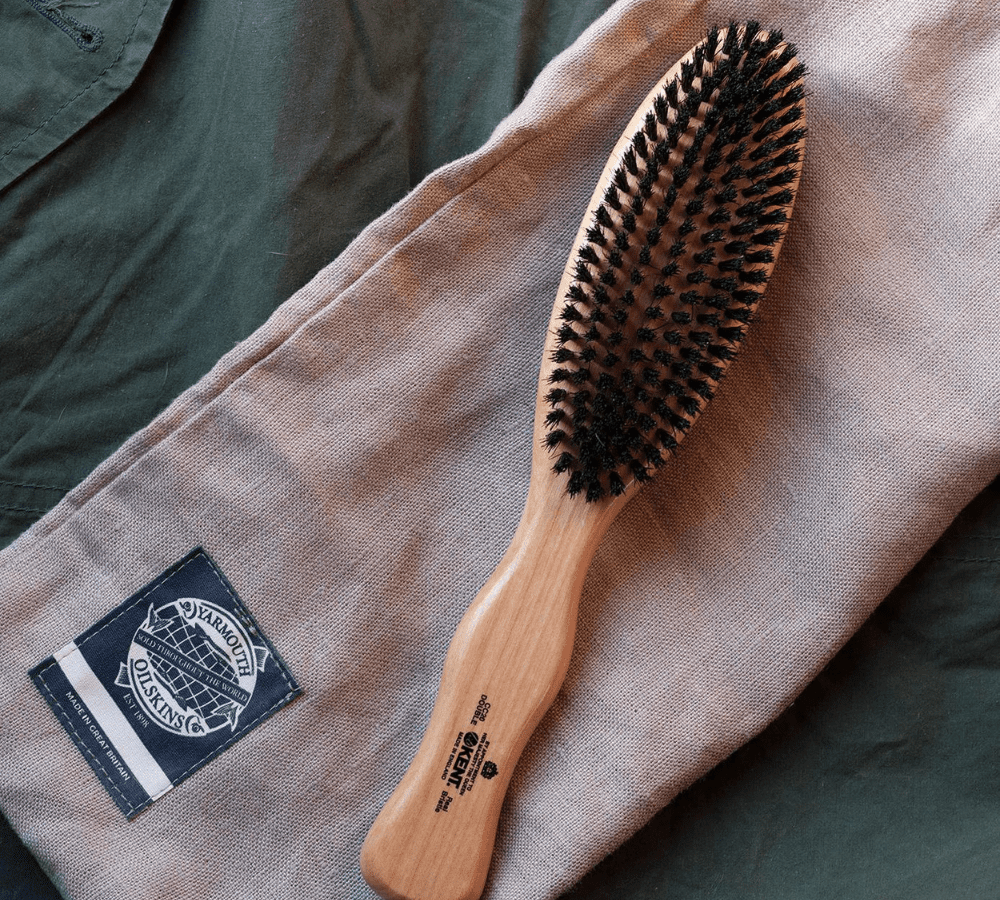 Remember, better quality clothing can be expensive. Spending a little more on a natural bristle brush will ensure it last longer while offering greater protection to your garments. Well-made metal rivets won't rust over time, and a solid wood handle is less likely to splinter. Combined, we are getting more bang for our buck while delivering a superior clean.
A clothes brush is adept at being used on a variety of fabrics. However, should you have anything velvet or notably delicate, it might be better to seek a product specifically for this material to avoid being too abrasive.
Brushing A Suit
Unless you are lucky enough to have a butler, you must learn the steps below to brush your suit efficiently. The technique of using a clothes brush is on par with the quality of the one you buy. Any bad methods will damage clothing even if you have chosen a superior brush.
A flat surface, like a table, is an ideal backdrop for your jacket. Keep the garment unbuttoned and brush with a firm sweeping motion against the lie of the fabric to remove any dust. Then brush with the nap (the lie) of the fabric to finish. If you don't, the material will appear ruffled when the light catches it. For suit jackets and outerwear, we want to start underneath the lapels before moving on top and working outwards from here.
On trousers, turn down any cuff as a lot of dirt collects in them. Then, like with the jacket we brush against, before going with the lie. Begin with the waist of the trousers and work your way down.
For any deep marks, short, quick strokes should be adequate. While a damp brush dipped in a little water can eliminate particularly severe layers of dust on both the jacket and trousers.
When To Brush Your Suit
Regular maintenance and care of suits or blazers only require a little brushing before and after you wear them. If gents keep on top of this activity, we should only need to put our suits into a dry cleaner once or twice a year.
Introduce this small act into your morning and evening routine. It might take a little longer at the beginning while you learn the ropes. Subsequently, it will become a swift, measured operation that will take minutes.
Best Clothes Brushes
Clothes Doctor Natural Bristle Brush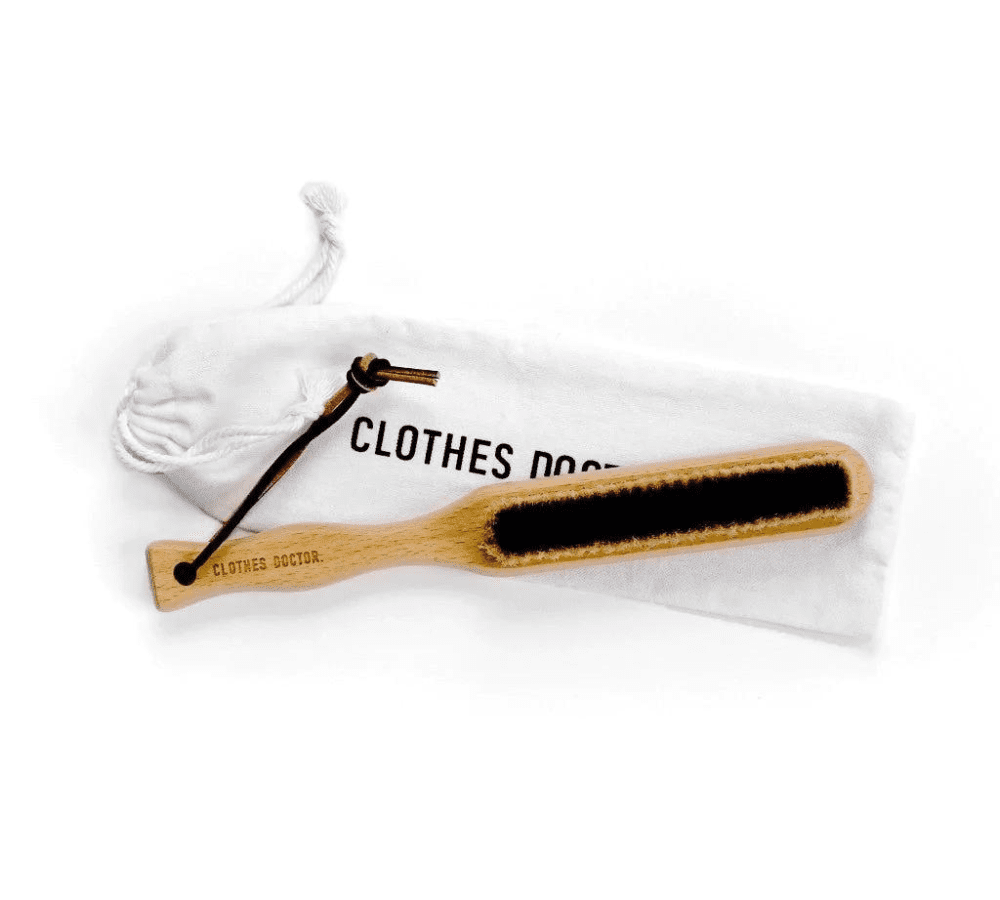 This clothes brush from the experts in home laundry; Clothes Doctor is handcrafted from beechwood. The natural bristles are hardwearing but supple enough not to damage your suits. It is a clothes brush men can rely on for years to come.
Steamery Pocket Brush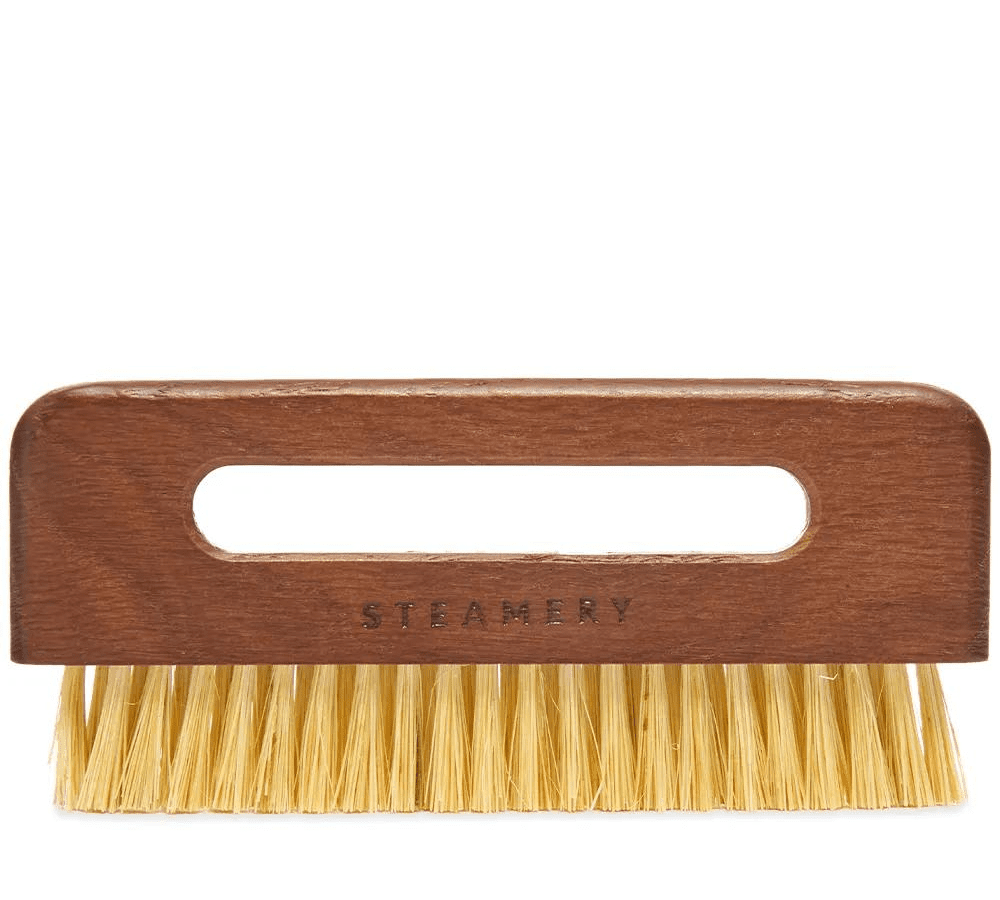 You still want to look your dapper best when travelling, but there isn't always space to take all your sartorial odds and end. This handy Steamery travel brush is ideal for storing in your luggage and is made from sturdy oak with sisal bristles. Small in diameter, it will still do a great job of removing dirt and dust from your holiday wares.
Steamery Pocket Brush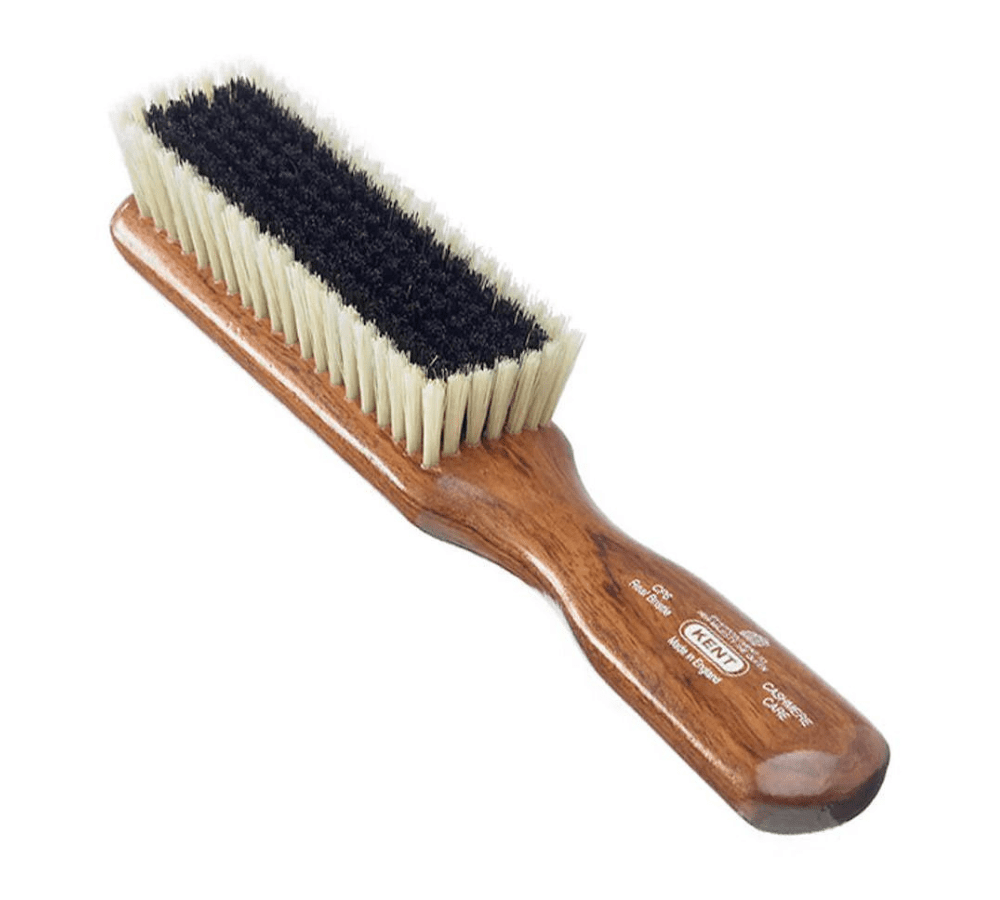 As we mentioned earlier in this article, some materials will benefit from a tool tailored to their makeup. This cashmere brush from Kent is that kind of product. It is specifically designed for this fabric, along with wool and silk. The black and white bristles are perfect for more delicate materials, and you can rely on the grandaddy of clothes brushes, Kent, for quality craftsmanship.