Not every interview is created equal, depending on the job you are applying for, dress codes at can differ dramatically. Now though, we are in the midst of a global pandemic with all face-to-face meetings outlawed. The result is the interview outfit has become decidedly harder to get right.
We know your current default daily uniform probably includes sweatpants, but remember, it wasn't so long ago that the interviewer was conducting meetings in their office surroundings. His or her expectations of applicants won't have changed that much. In essence, you are still doing the same role, just remotely and at some point back in the office so make the right first impression.
Why Zoom Interviews?
Even before the pandemic took hold of everything we knew, online interviews were still a great way to make a first impression. Zoom, like Google Hangouts or Skype, offers the interviewer a chance to talk via a video call. This is more personal than a phone call and can offer greater insight into the person being interviewed. As an interviewer, you get a more rounded perspective on their demeanour, eye contact and presentation skills for example, that you wouldn't if you were just calling them.
As an interviewer, if you have a list of applicants to get through then booking a meeting room and all the formalities that go with it can become tiresome. With a video call, all you need is a good wifi connection and the applicant's details in front of you.
Some men may have applied for a job that included a relocation element and therefore a video interview would have previously been involved. To most, this is unchartered waters.
Why Is It Important To Dress Well
It is said that people create a lasting impression of you after 30 seconds of meeting. So, that doesn't give you much time to state your case. Dressing well will mean you have already done 50% of the work before you open your mouth.
Like if you were meeting in-person, to nail any interview you need to be prepared. We would always recommend taking the time to learn about the company, the role and its requirements in advance - as well as carefully planning your outfit to look at your very best for the interview. Nothing in that respect has changed, even though it is via Zoom.
The only difference is that the expectations of the interviewer will have changed when it comes to dressing. I don't believe every interviewer would be expecting men to be sitting there in their best suit and tie day in, day out. This art of formality is assigned to work environments like offices or meetings. Not for sitting at your kitchen table.
But, this doesn't mean you should be kicking off the Oxford's and presenting a nonchalant demeanour. Finding the right balance is key to making the best first impression.
The Corporate Job Interview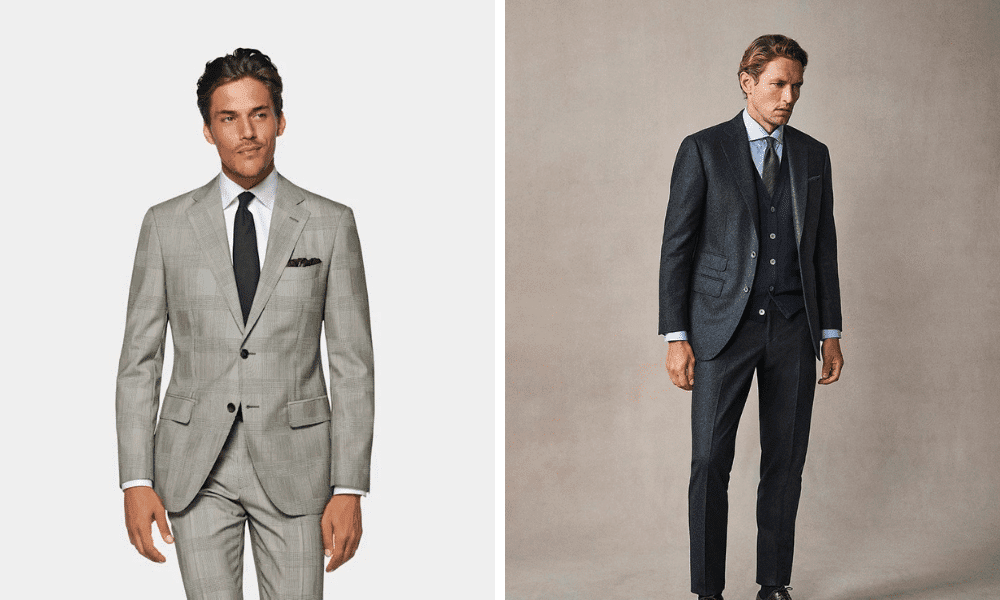 In the bygone days of early 2020, the corporate world would immediately mean dressing to the nines. But, times they are a-changing and so are company dress codes.
The onset of working from home due to COVID-19 has accelerated the changing views of office dress codes. What started with casual Friday's has led to companies ripping up their somewhat outdated rulebooks on employee dress codes.
A study in 2018 prior to the current need to work from home said that only one in 10 men wore a suit to work. This comes as no surprise to this writer who rarely ever saw a man in a suit in any of my work locations despite my interest in more formal dressing.
This study was applying to a range of work environments, with corporate there are still some rules to follow. So, let's not go too extreme here and stick to what we know works well. A nice grey flannel or navy two-button suit partnered with a crisp white shirt should have you looking your presentable best. I don't think a tie is a necessity unless you were meeting face-to-face. But, if you insist, stay neutral and try a black, navy or burgundy dependent on your suit colour.
Corporate Interview Key Pieces
The Standard Office Job Interview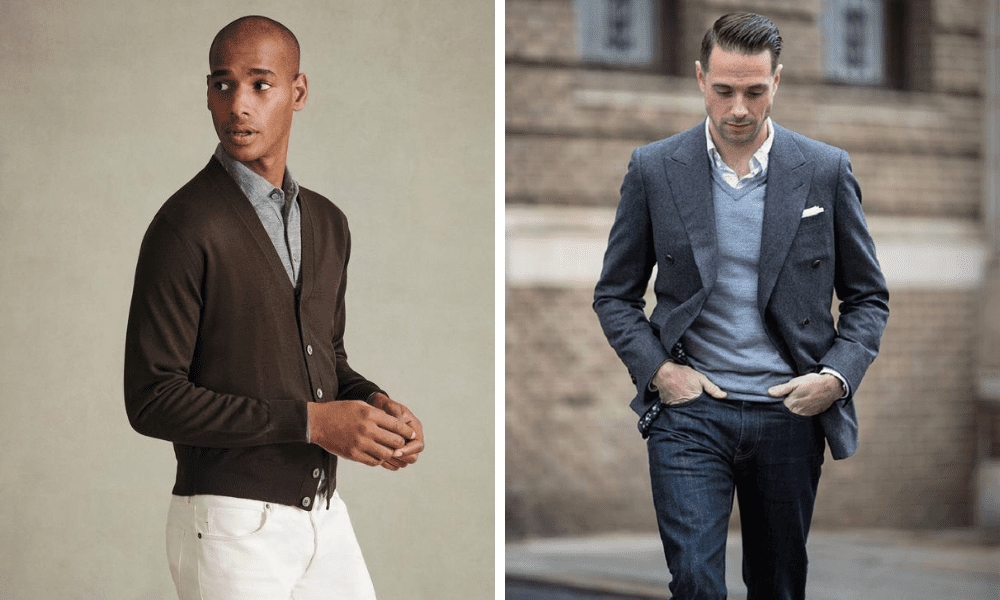 This is a catch-all rundown for anyone looking for work in what we would call your 'typical' British office. The boss is more David Brent than Harvey Spector and it houses a collection of people who all look like they would rather be anywhere else but at work. There isn't a beanbag, table football or beer tap in sight, but you've got to pay the bills.
In these surroundings, we are still leaning towards more formal than casual, but there is enough scope to embrace a smart casual dress code.
With this interview, a suit will do the trick as it is typically always going to be smart. You can mix this up a little though, embrace separates to break up the suits somewhat formal exterior. Additionally, look for knitwear to add some different colourways or subtle prints to the look.
Start by wearing a suit jacket, formal shirt and your chosen knitwear. It will look smart but allows you the chance to remove the blazer. Looking too overdressed can lead to you becoming uncomfortable or nervous, which is the last thing you want in an interview. If the interviewer is slightly more casual than smart you can take off your blazer without dampening your overall look.
Office Interview Key Pieces
The Creative or Agency Job Interview
Creativity is about 'out-of-the-box' thinking and can come from not conforming to what is expected. The same can be said for your work uniform. A suit (in its traditional format) might be what is expected in other working environments, not this one.
Once you are bedded into the company then hoodies and chinos might be the regular uniform. For the interview though, we still want to look smart, just not too polished.
A suit is the smartest form of dress available for men but can also be the stuffiest. Look at how you can dissect the suit to make it more contemporary. This could mean embracing lighter colourways like beige or pale blue to show your confidence with different tones. Or, why not go further by pairing it with knitwear (no shirt) or a plain t-shirt. You could even try a standalone blazer or jacket, something more relaxed but with an air of formality. Whichever you choose, you will still portray a smart image without the chastising formal shirt and tie.
Agency Interview Key Pieces
Conclusion
No matter what job you are going for, a suit for generations has and will continue to be the most presentable item of clothing a man owns. That being said, there are changing attitudes to dress codes that allow us to embrace a more smart-casual approach.
The interview is normally the first chance a potential new manager or business owner has to see you in person. So, make those first impressions count. A suit is a fail-safe choice, but get a greater sense of the company's culture and opinion on dress code by scanning social media. It can help you tweak things in the right way.
Showing you care about your appearance is a great way to portray your commitment to everything in life. Managers will assume that as you have made an effort for the interview you will be dedicated to your new role if he hires you.
Lastly, when planning your interview outfit, don't overlook the small things. That is, ensuring that all your clothing is laundered and presentable, getting a haircut about a week before the video call and making sure that your facial hair is trimmed (or shaved).
Good luck with the new job!