It is hard to beat the suede jacket as one of the coolest jackets around for men. A suede jacket has all the swagger that you might expect from a leather jacket without the sometimes restrictive and uncomfortable material. This means it is better suited as a transitional piece for men than its stylish leather cousin.
A suede jacket is a bit like taking the top layer of leather off and being left with that soft, but delicate material underneath. The process of making and the delicacy of the final item mean it will be a more significant investment than other jackets of a similar style or weight.
We implore any men reading to not fall foul of the number one basic rule of wearing a suede jacket. Before it even sees the light of day it needs to be protected. If you don't, knowing you have parted with a small fortune to buy is going to bring tears to your eyes when the rain starts falling.
How to protect a suede jacket
Water, ie. rain, is going to leave stains on suede if it isn't protected and that's before we even mention inevitably becoming a beacon for spilt drinks in the beer garden. The delicacy of the suede material makes it very absorbent to things like water. Adding a barrier of protection will wick away fluid from the soft, porous fibres underneath. We do this with a suede protector spray.
To apply a suede protector to your jacket, first hang the jacket on a hanger, preferably outside in the dry. Spray the protector, roughly six inches away from the jacket trying to completely cover all areas, then leave it to dry. Repeat the process for maximum effect.
What style suede jacket to choose
Western Jacket
A western-style suede jacket is the type of piece you can throw on when the summer days get a little cooler. The western jacket has an ability to be worn with a shirt, t-shirt or layered with knitwear meaning you will get your fair share of wear from it.
We recommend dressing a suede western jacket up with a statement patterned shirt and formal trousers, alternatively, add a chunky knit and jeans for a relaxed look.
Field Jacket
Manufactured by the military in the 1940s, a field jacket has over time become a prominent fashion piece. Utilitarian trends have been prevalent in menswear for a couple of years now and this falls firmly into that territory.
The original multiple pocket layout was to aid soldiers in carrying multiple supplies. Now it is more decorative. Portrayed on-screen by numerous leading men it evokes a masculine vibe. Despite its military origins, the suede field jacket remains a contemporary choice.
Bomber Jacket
Another jacket inspired by the military, the bomber jacket has been more prominent through fashion than its counterparts over the years.
Originally conceived to help airmen flying in higher altitudes stay warm when the air was much colder, the first bomber jackets had a fur collar. As modern aircraft became more streamlined and insulated there was less need for the collar. An elasticated cuff and waistband made it easier for airmen to operate in smaller spaces. That design note makes this jacket a very comfortable choice for men.
There has been wave after wave of cultural movements that have embraced military clothing. The result means the bomber jacket remains a firm fashion favourite.
Safari Jacket
A staple among rakish gentleman, the safari jacket is as versatile as it is stylish.
Not always provided but this style of jacket can be worn belted at the waist for statement flair. A safari jackets sleeves are able to be rolled up or down dependent on the occasion. The reason for its versatility is because of its hunting origins that required functionality in warmer climates.
We suggest wearing it with white jeans and loafers for an air of Riviera chic or with a simple tee and trainers for a more relaxed feel.
Our Top Suede Jacket Picks
Reiss
This Reiss western jacket is crafted from super-soft suede. A timeless and contemporary teal colour will make it a jacket you can wear year after year.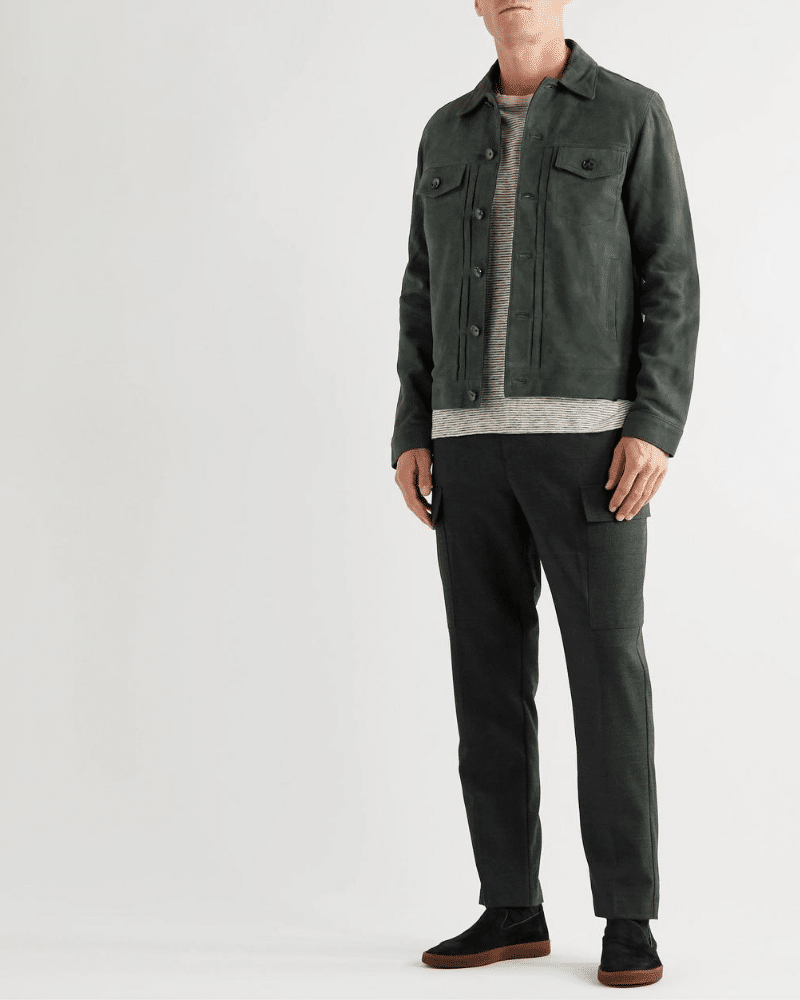 Officine Generale
The purveyors of effortlessly cool French garments have done it again. Officine Generale doesn't focus on trends, which makes the suede jacket a perfect style to have in their collection. Focusing on details there is an added twist of a smooth satin lining giving it a touch of luxury.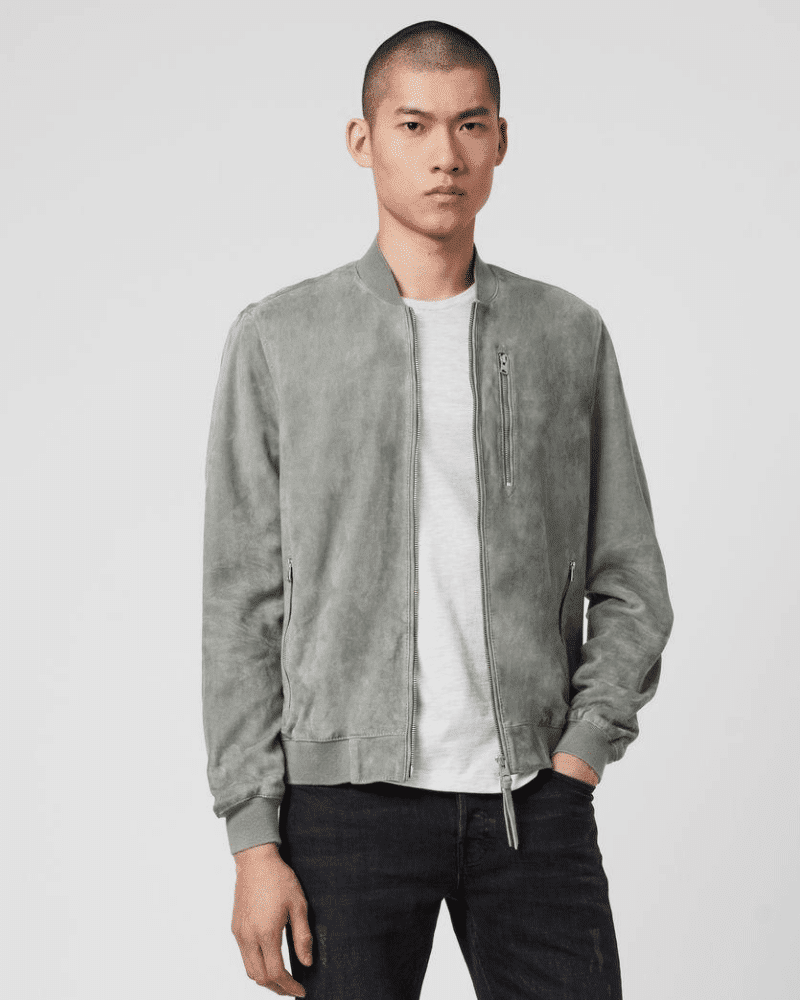 All Saints
Not only producers of great leather jackets, All Saints has a strong lineup of suede jackets. We have chosen this bomber version for its 90s grungy attitude.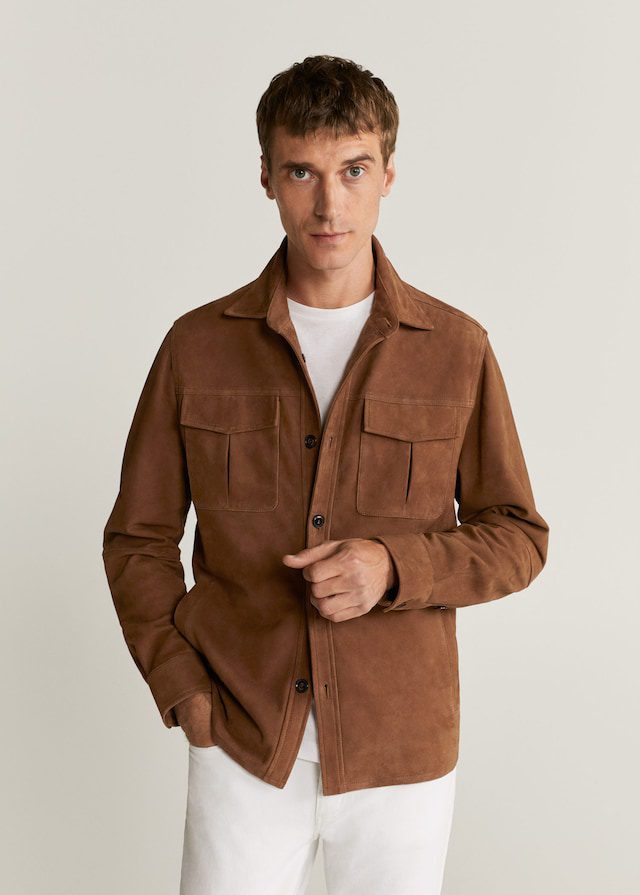 Mango
This 100% suede jacket comes in at a fantastic price considering those around it. As we have come to expect from Mango it oozes a cool continental vibe.
Massimo Dutti
A limited-edition suede jacket by Massimo Dutti, it is made from high-quality Spanish leather. The straight fit and comfortable feel make it an ideal transitional piece for men.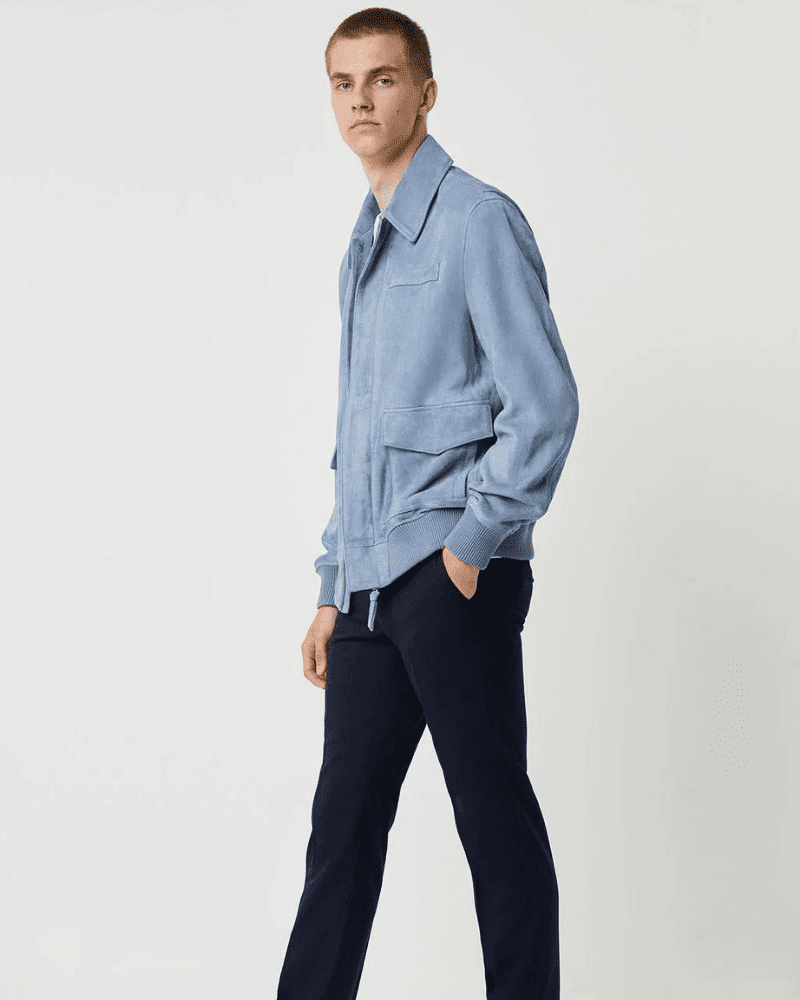 French Connection
We were struck by the light blue colour of this suede jacket from French Connection. A similar style to a bomber with elasticated cuffs and waistband, it has been reinterpreted with large utilitarian front pockets.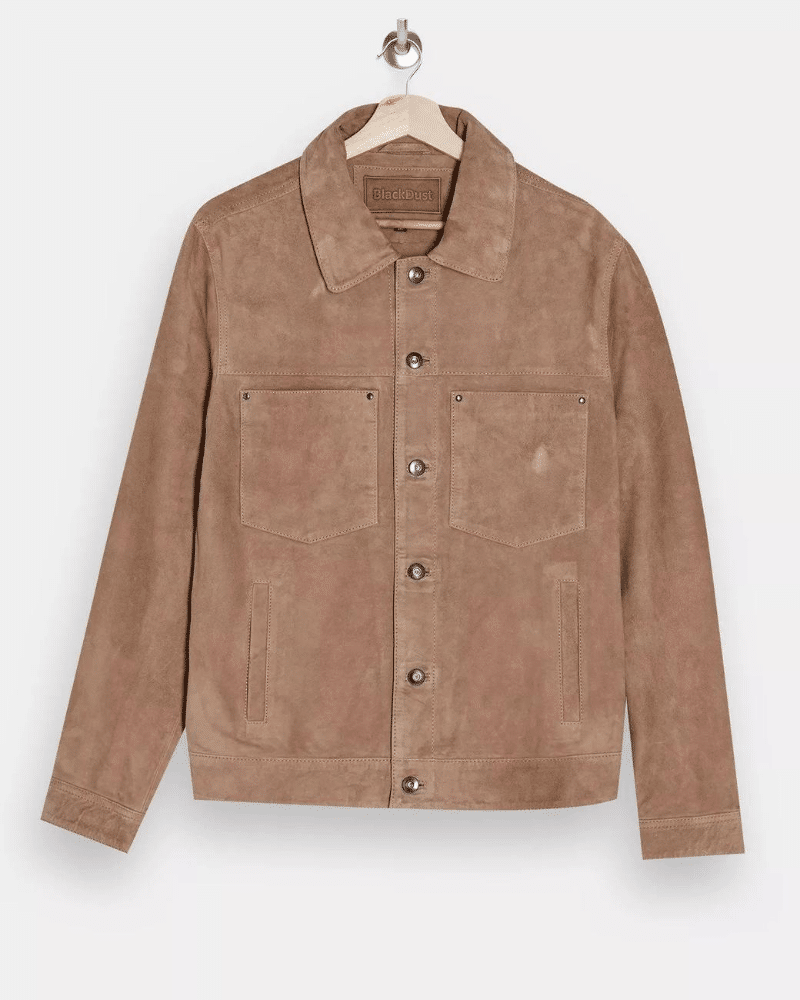 Topman
Great price and great style are both covered by high street stalwarts, Topman. This shacket is 100% suede and comes in a classic fit. For the price-conscious among you, it is a choice you would find hard to beat.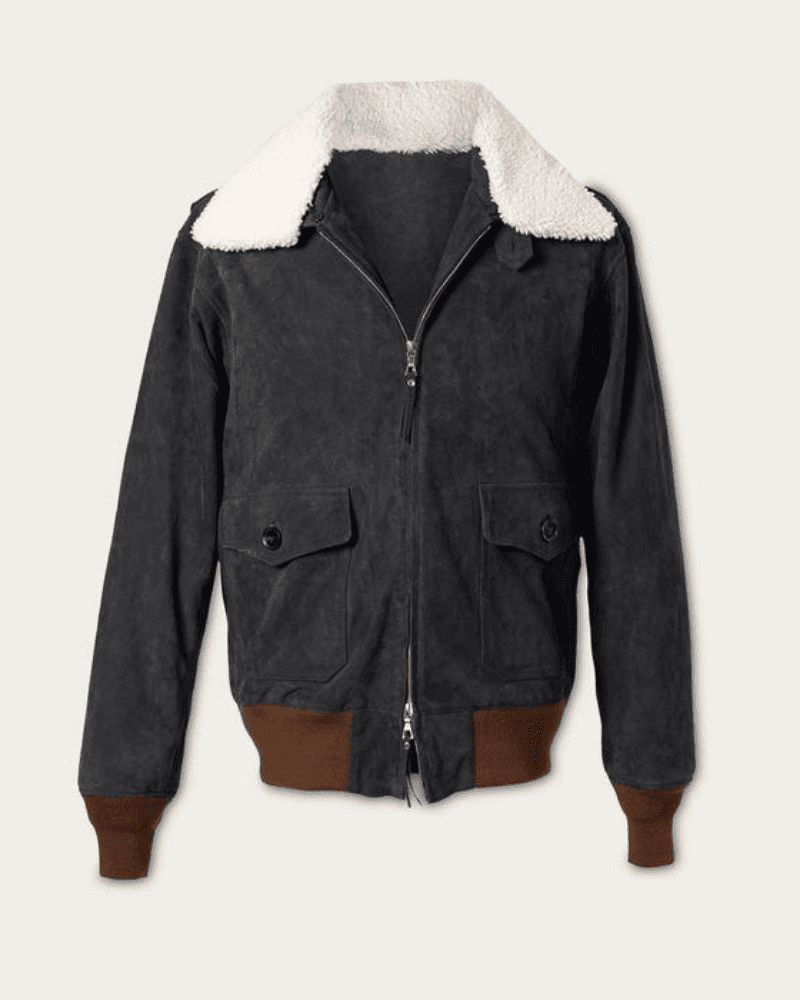 Craftsman
This stunning G-1 suede bomber jacket is made from lamb suede and is completed with an airforce style fur collar and contrast elasticated cuffs and waist. It is made to order by visiting menswear destination site, Bombinate.
Ted Baker
With a zip fastening, this Ted Baker jacket is made from 100% Caprine suede. It comes with vibrant patterned lining for men that like a subtle touch of panache from their clothing.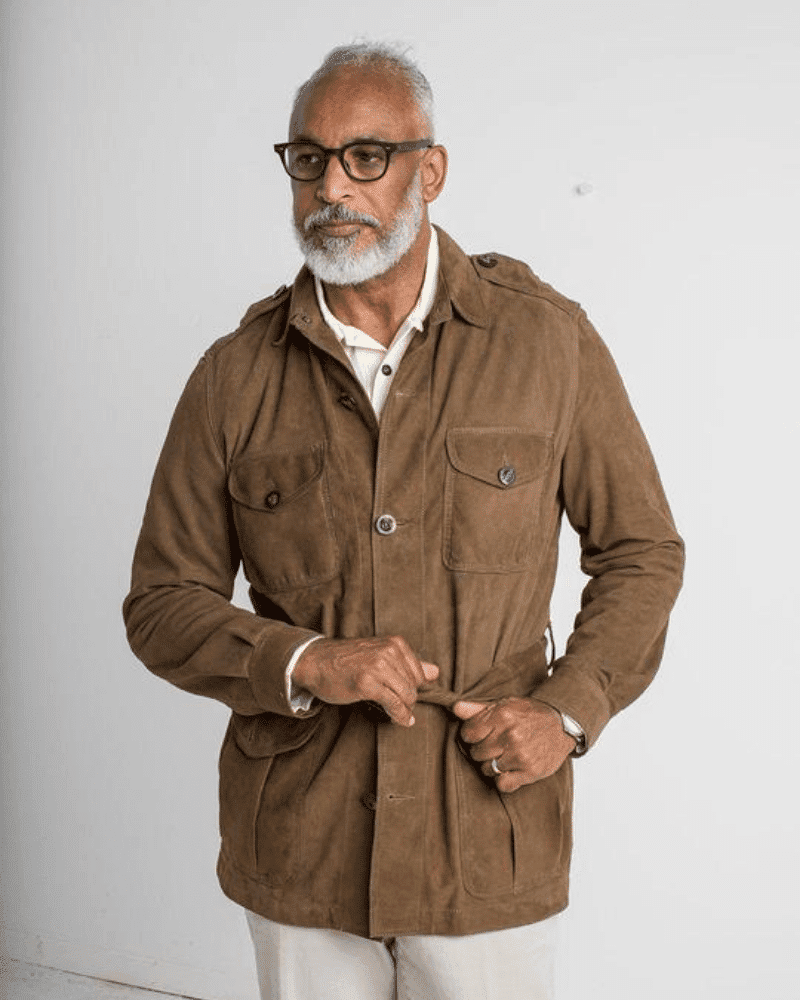 Private White VC
Made in Manchester, this suede jacket is made from goat leather and has a waisted belt for added rakishness. This unlined safari jacket is the pinnacle of menswear craftsmanship.