In the past, our choice of workout clothing for men was limited to the main sports conglomerates. Now we have startup unicorns, pursuit specialists and fashion brands all vying for attention in the activewear space.
Although a turbulent 2020 may have shelved any plans for a beach holiday. There is still plenty of reasons to maintain your exercise routine and fit in a few workouts every week.
In this 'new normal' world, our time-sapping commutes have been removed and have thus left us with more available time. Used wisely, we can maximise this to our advantage. Take it as an opportunity to improve your mental and physical wellbeing. Listening to podcasts, reading, meditating or partaking in some exercise can all help to lift our mood and develop longlasting benefits.
We have pulled together the ultimate list of brands providing the best workout clothing for men. No matter whether it is some living room yoga, a run in the park or a trip to the gym, this range of sports specialists will have something for everyone.
Nike
Where else to start but with the globally-renowned US sports giant. They are the largest supplier of sports clothing and accessories in the world and dominate the market.
Since its inception in 1964, the famous Nike swoosh logo has become a symbol of style as much as it has sports. The explosion in athleisure over recent years has only benefitted the brand further with social perceptions changing towards sportswear.
There probably isn't a sport that Nike can't dress you for. The brand focuses on functionality throughout their ranges making sure their clothing and footwear won't let you down.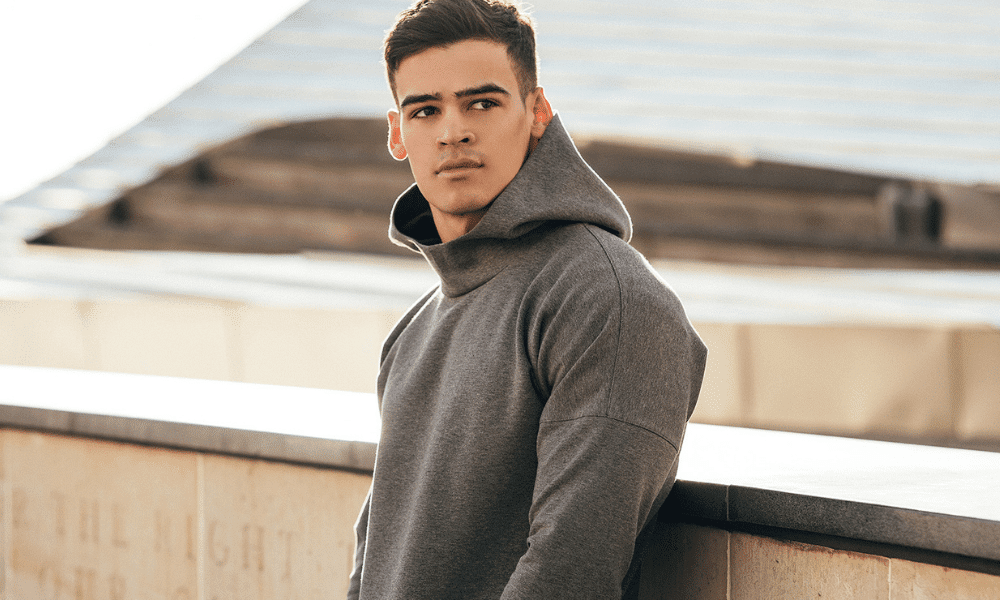 Gymshark
It started by him making gym clothing in his parent's garage at the age of 19, but now Gymshark founder Ben Francis has taken the brand to a billion-pound valuation.
Harnessing the power of influencers the brand quickly found fame among a community of likeminded individuals. Ben is the visionary but also the target market and it is that combination that makes them so successful.
The Gymshark range utilises high-quality material offering fit and function from clothing engineered to be worn in the gym.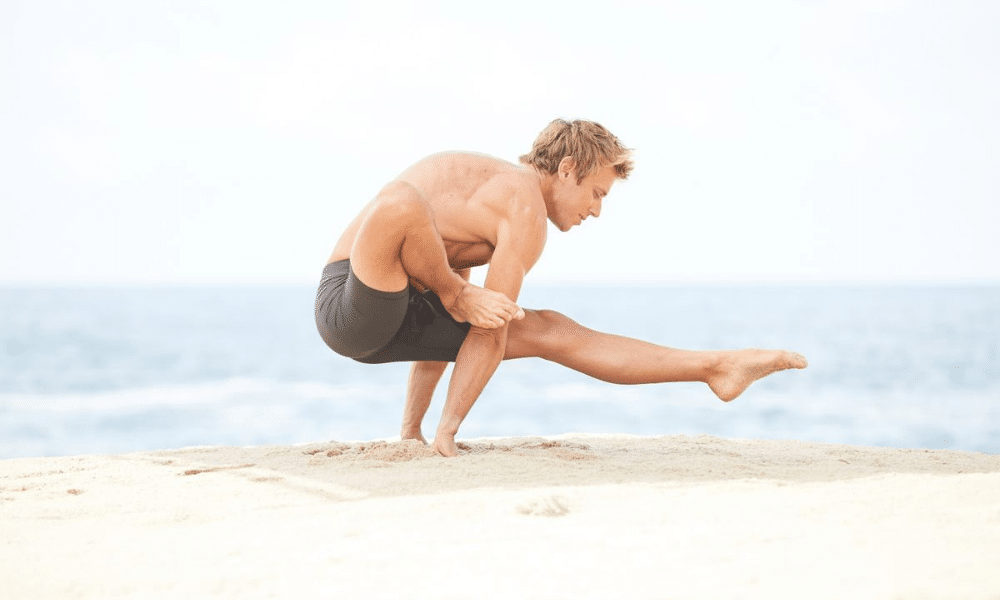 Alo Yoga
As the name suggests, Alo Yoga made its name by developing yoga specific clothing. With yoga, mobility is key. That is why Alo Yoga creates products that can help you reach that figure of enlightenment easier.
Removing restriction and allowing the body to move the way it should is not only a yoga theme though. That is why this brand has become a favourite of celebs and commoners like us. It is comfortable enough to be worn outside the gym as well as in it.
Asics
If you are a man that includes a lot of cardio in their workouts, then Asics is a brand you need to be familiar with.
Performance is paramount in any sport. With running, footwear could be the reason you hit those personal bests or not. Asics technology like their FLYTEFOAM™ will offer comfort and stability with every step.
Over recent years their running shoes have been ranked as the best in class. But, you can shop for a range of different sports from the brand all with performance as a core function.
New Balance
Not as famous as some of its American counterparts, the reputation of New Balance has come along leaps and bounds of recent. Largely, due to creating a greater presence in the European market through partnerships like their previous link-up with Liverpool FC.
Blending function and fashion the New Balance collections are crafted to help athletes and amateurs achieve their personal bests.
One of the oldest brands on our list, they stay true their 1906 roots and manufacture their products in the US. This can make them slightly more expensive than other brands but this is outweighed by the technological advancements that go into everything they make.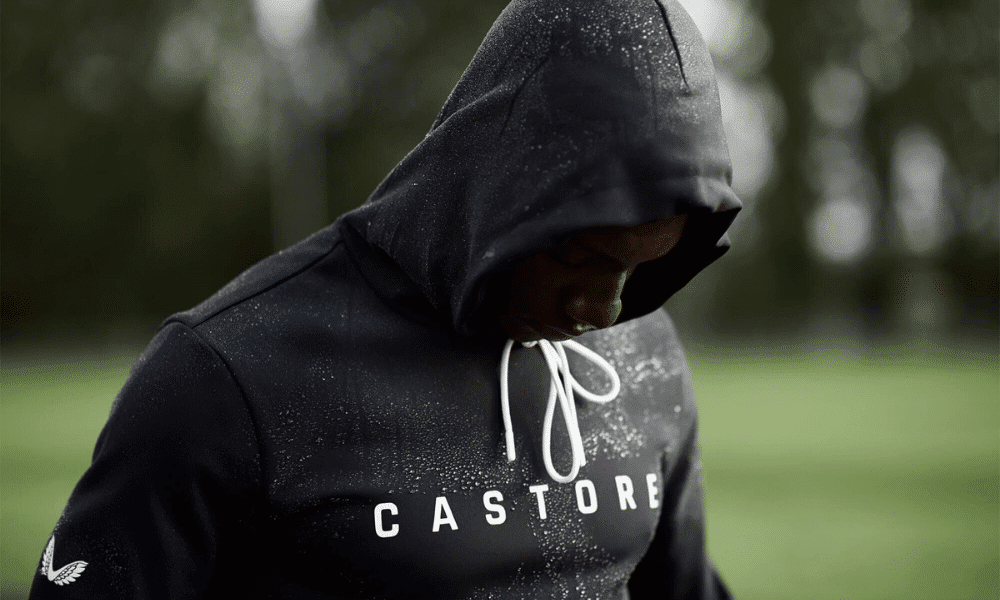 Castore
Premium performance sportswear brand Castore is built on the ethos of 'Better Never Stops'. This drives them to create clothing that helps athletes achieve greater performance from every sport they participate in.
Cultivated from unique performance fabrics and rigorously tested by elite athletes. Clothing is worn every day for 100 days to ensure it can pass the company's high standards.
On the back of a new partnership with Rangers FC, adding to their sponsorship of tennis star, Andy Murray. Castore is a rising star in the sportswear market.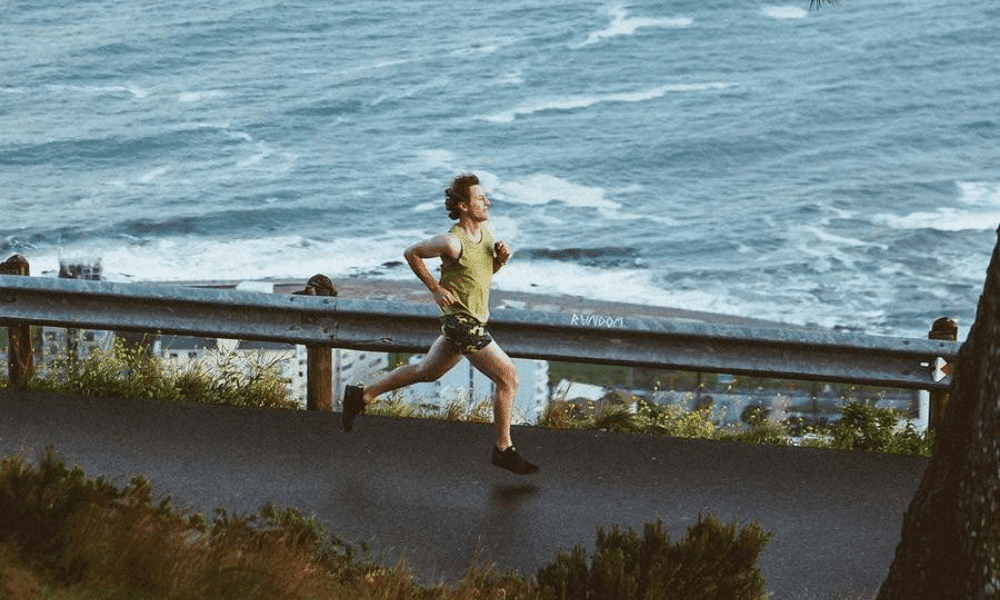 Janji
Specialising in performance gear, Janji is designed by runners, for runners.
With running, comfort is a top requirement for both footwear and clothing. The Janji AFO (AirFlatOut) material for example is ultra-light and fast-drying, delivering a dynamic and weightless feel. Part of a wider range of lightweight and durable pieces AFO is just one of the reasons this brand has become a firm-favourite among professional and amateur runners.
When using a chosen country as inspiration for every collection, the connection doesn't stop in the design room. Janji is committed to meeting people and testing the products there. Then they give a percentage of sales from that collection to a charity focused on delivering safe water to the country.
Every range is a limited run, so get your hands on them before they fly off the shelves.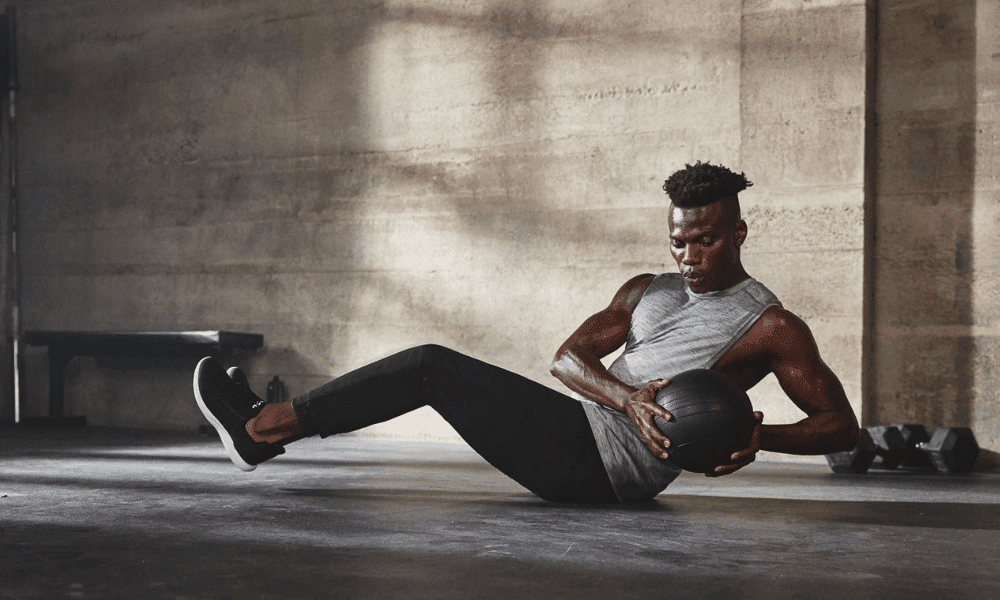 Lululemon
More familiar with having a female focus, one of the secrets of their growing success has been the adoption from the male community.
Lululemon is built on a foundation of world-class fabrics, innovative design concepts and functional technology through a variety of materials. Warpstreme™ is a sweat-wicking material that has a four-way stretch, while Swift delivers on strength and weightlessness in equal measures.
No matter which fabric or product you decide on. Lululemon taps into a culture of a sporting/life balance. Their collections are designed to be worn not just during a workout but throughout the day.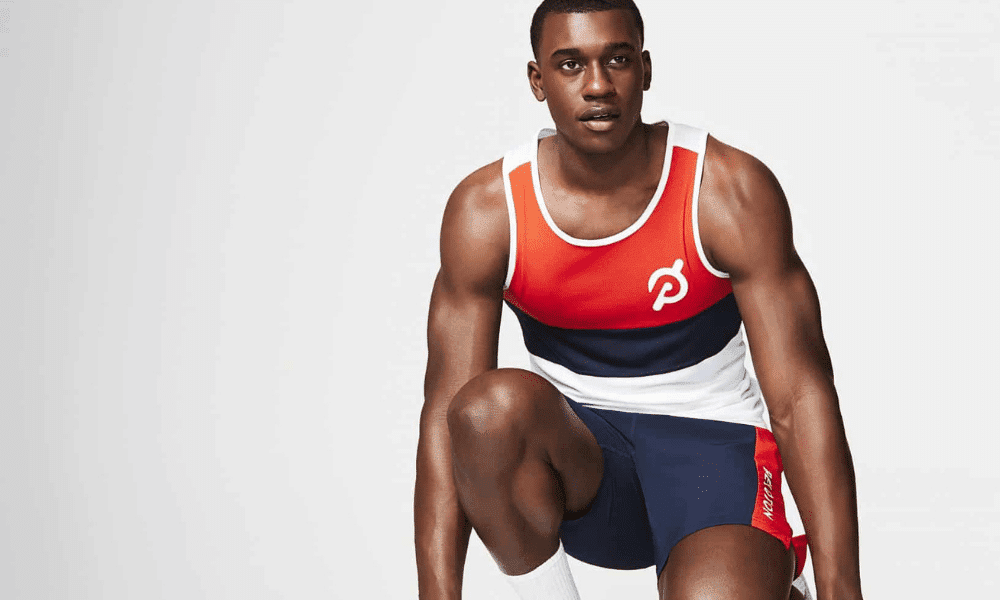 Fourlaps
Producers of high performance, premium workout gear for men, Fourlaps is a New York brand with stylish credentials.
The brand believes that you shouldn't compromise on the style of your workout gear any more than you would the performance. Using cutting edge fabrics, the collections are crafted with the wearer in mind. Body temperature is regulated and odour is engineered to not make an appearance.
With a lot of brands on this list, it doesn't start or stop with the workout. Fourlaps has created a range that you can integrate into everyday life.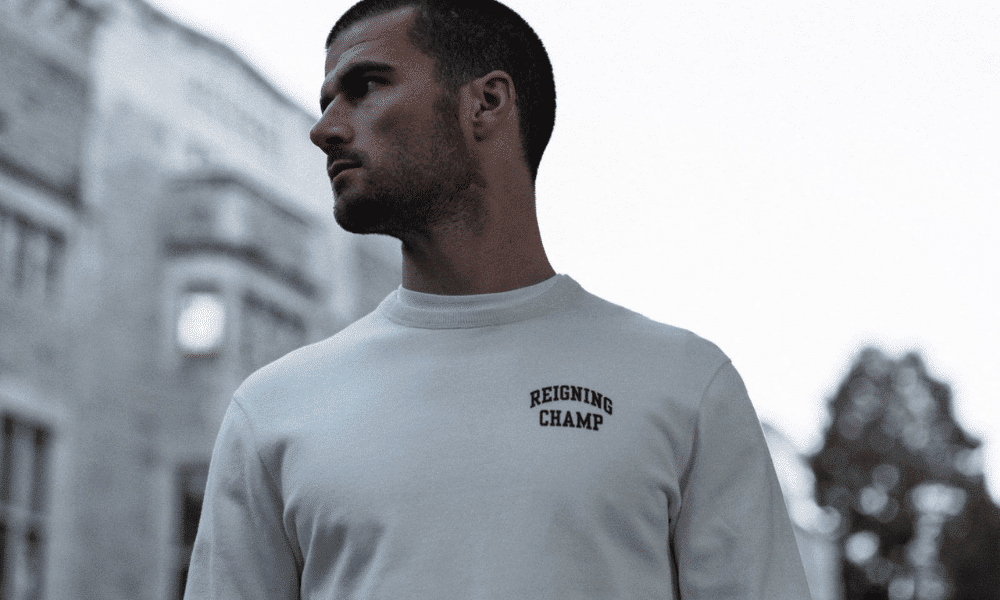 Reigning Champ
With a firm foot in the streetwear camp, Reigning Champ still excels in performance wear.
A simple aesthetic is paramount through the designs of every garment. But, don't be fooled by the uncomplicated clean lines on show. Behind this facade are premium fabrics.
Master the simplicity is their mantra and that can be seen in the details with flat-locked seams, durable cotton ribs and heavyweight fleece all helping to support sporting excellence.
Check out their range of Muhammad Ali inspired pieces dedicated to arguably the greatest boxer ever.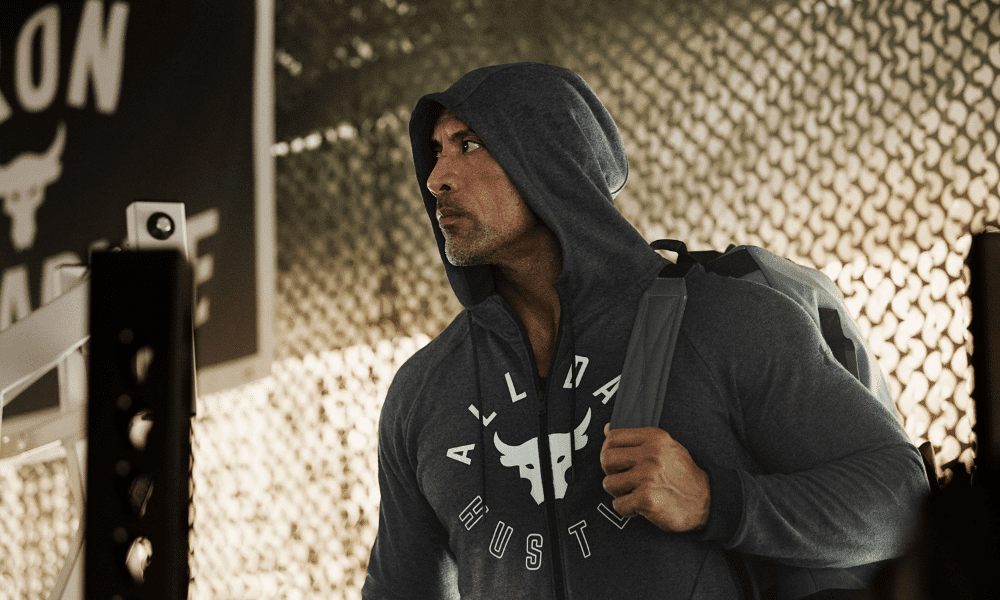 Under Armour
Established in 1996, Under Armour has made a name for itself in the activewear market through innovative design.
While the majority of sports brands were still using cotton in their manufacturing. Under Armour developed UA TECH™ a sweat-wicking,
light and durable material ideal for workouts and sporting endeavours.
They never looked back.
Supported by collaborations with the likes of Tom Brady and The Rock, the brands focus on groundbreaking technology has seen them expand into footwear. The first-ever running shoe manufactured in an apparel factory was launched back in 2014. Newer innovations come from the Hovr, a cushioned trainer that absorbs impact and pushes you back up.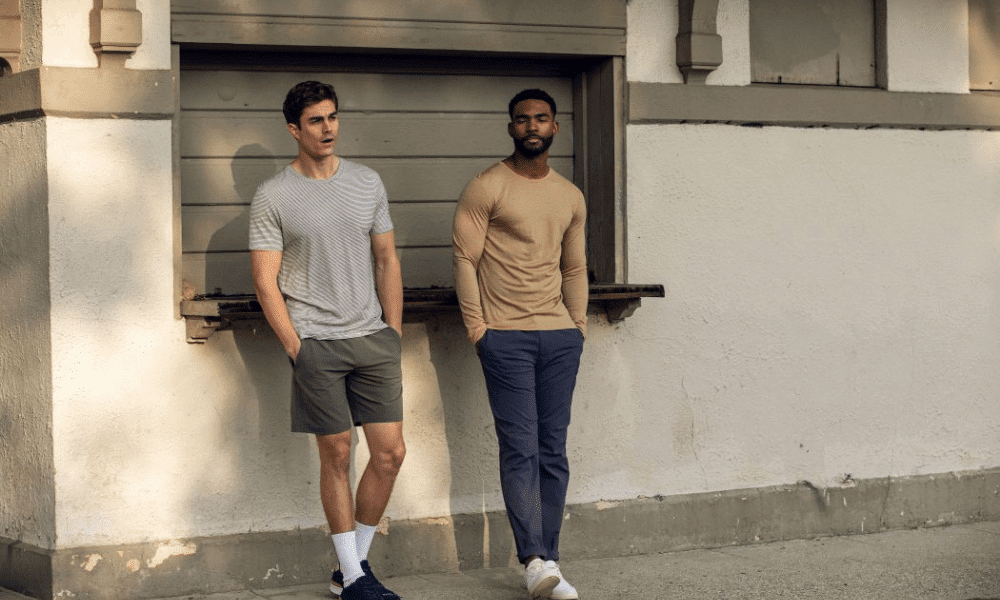 Olivers Apparel
Harnessing the spirit of California, Olivers Apparel gives us a modern take on classic athletic clothing.
The premium athletic staples the brand sells are extensively researched to see how fabrics and innovative construction methods can enhance the wearer's experience.
Designed in LA, they have tapped into that relaxed way of living. From the beach to mountain hikes via a coffee, Olivers Apparel is clothing that is built for life, not just a workout.
Adidas
Covering pretty much every sport imaginable, Adidas is vying with Nike for top sport in the activewear market.
The foundations of the brand have always been in the sporting arena, originally creating running shoes. But, now you will see them manufacturing everything from football shirts to climbing gear.
Adidas transcends sport and popular culture though, more recently recruiting the likes of Kanye West and Beyonce to design the hysterically successful Yeezy and Ivy Park ranges.
Sustainability and the impact of manufacturing on climate change has been brought to the fore over recent years and the brand is steaming ahead with its innovative implementation of new materials. It now uses more than 50% recycled polyester in its products for the first time.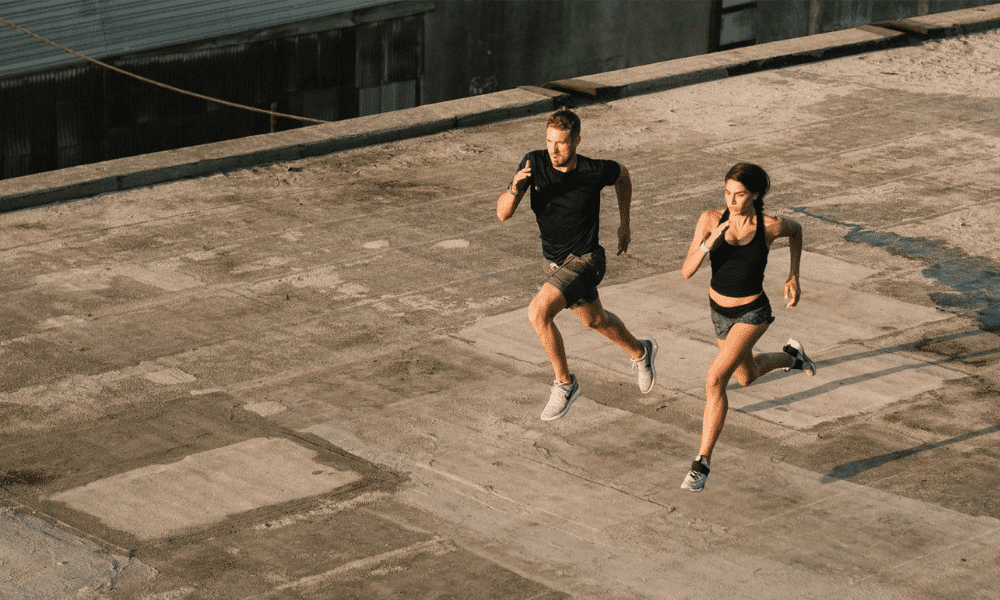 Vuori
The West Coast of America is a hedonistic lifestyle of sport and personal wellbeing. Whether your sport is surfing or basketball, Vuori aims to breakdown the barriers of traditional activewear.
Through ethical manufacturing, sustainable materials and a focus on community, the brand aims to encourage positive and meaningful experiences.
Every garment they produce is functional and durable, able to withstand whatever a workout throws at it. Transitioning into everyday life, the clothing is designed with next-level comfort in mind with a casual aesthetic.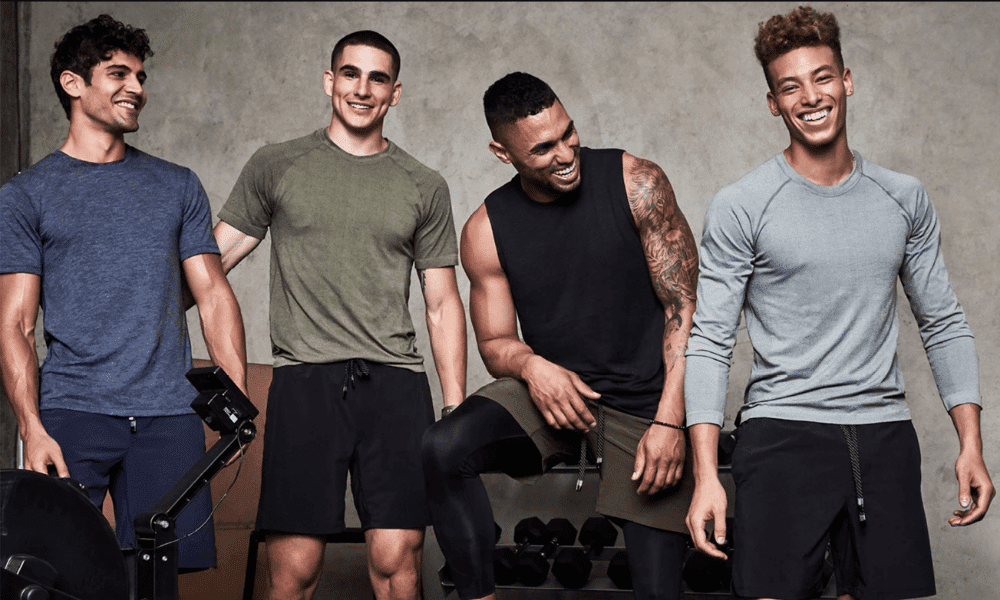 Fabletics
Providing affordable, high-quality workout clothes, Fabletics aims to have you covered no matter your fitness level.
The brainchild of actress Kate Hudson, initially the brand was purely womenswear. A menswear range was launched in 2015 to apply the same focus on high-quality, stylish workout clothing to a wider consumer base.
What sets it apart from other activewear brands is its membership business model. Instead of encouraging a one-off purchase, members pay a monthly fee to receive credits applicable on a new outfit each month.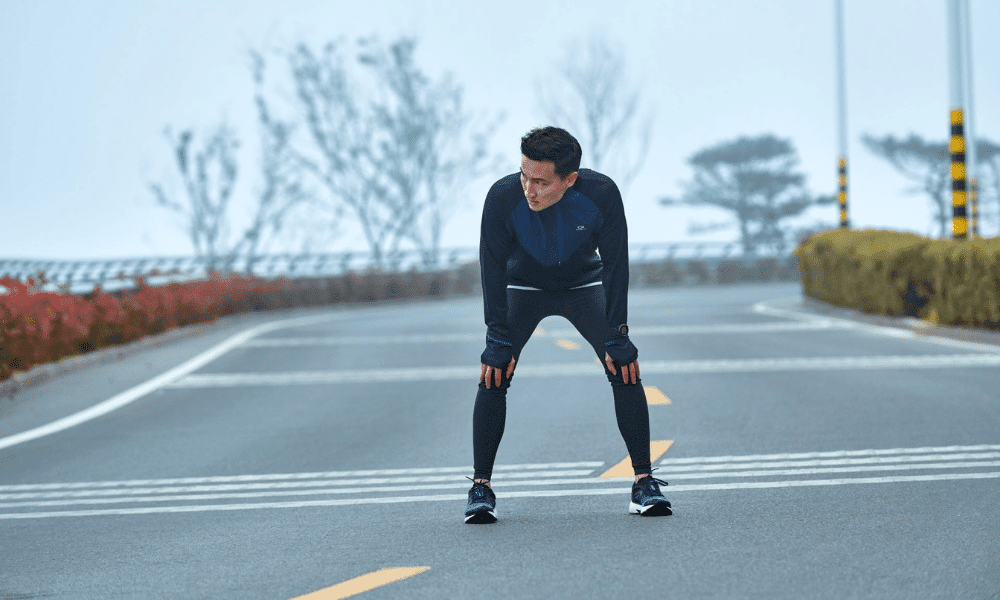 Decathlon
Although largely a retailer of a range of sportswear brands, Decathlon also has a host of in-house labels specialising in individual sports.
The breadth of collections focuses on individual pursuits like road running or trail running rather than throwing everything under one umbrella. This way you can feel confident that the products fit the workout instead of the other way around.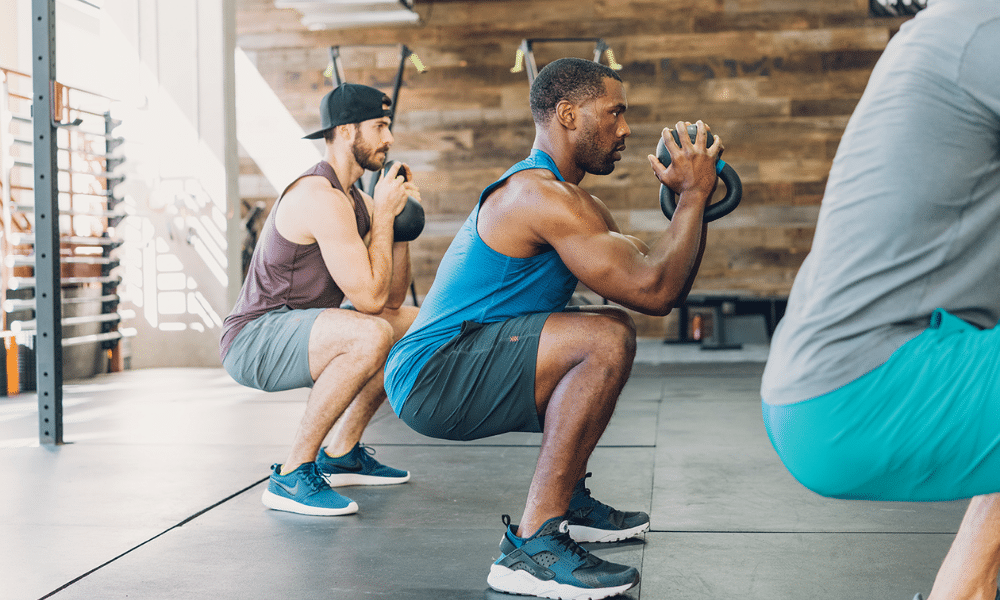 Rhone
For those that have high expectations from their gym gear, Rhone is a brand built for you.
The regular gym-goer needs workout clothing that is robust enough to keep up. Rhone is a premium athletic brand that engineers pieces with a remit for durability and comfort.
Equipped with anti-stink technology their clothing will see you through the toughest of workouts. Utilising the brand's SilverTech and GoldFusion technologies the attire is longest-lasting, odour-fighting, and fast-drying.
Essential for any workout.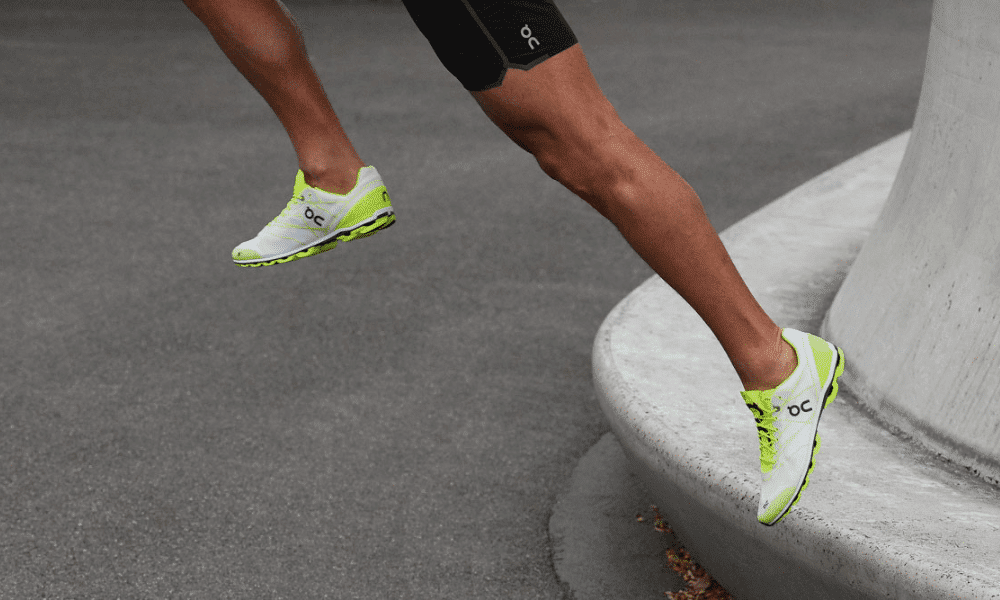 On Running
Born in the Swiss Alps, On develops high-performance running shoes and clothing.
Focusing on one sport has enabled the brand to build technology solely for enhancing performance for runners. The key is lessening the impact on the legs and feet through cushioning, whilst propelling the foot forward into its next motion.
One of three co-founders is a former duathlon and Iron Man winner, Olivier Bernhard. The expectations from him on the gear he was using was very high. So he set about creating a brand that could meet his demands.
On running shoes have won multiple design and technology awards through their ability to lower pulse rate blood lactate levels when worn during running. They are the brand of choice looking for the best running shoes on the market.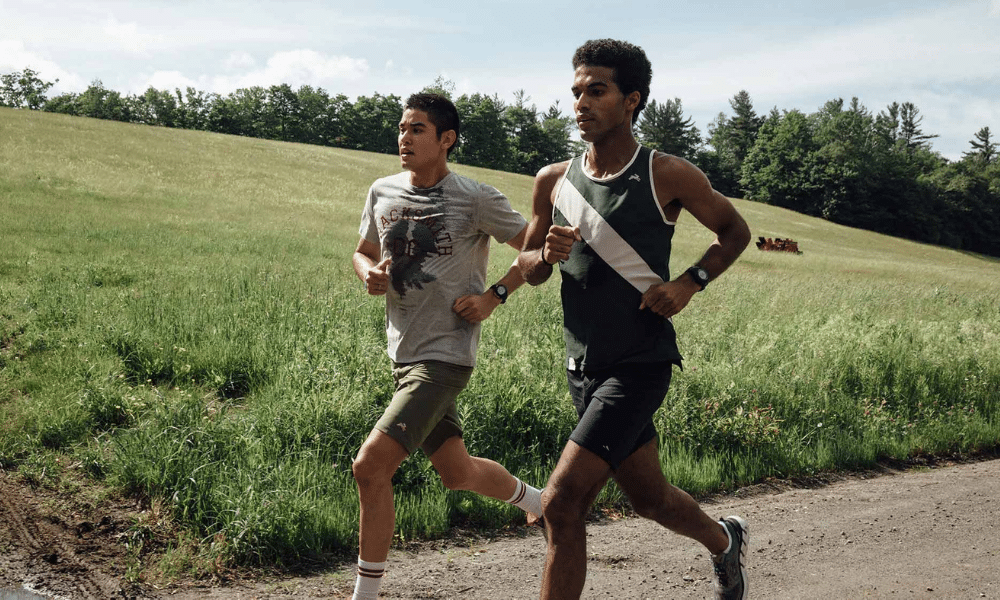 Tracksmith
Another running focused brand, Tracksmith was founded in Boston. Celebrating the amateur spirit, they produce products for training, racing and recovery.
Their target audience is a step up from the 20 minutes cooldown on the treadmill. This is men striving to achieve personal excellence through non-professional but competitive running.
With a shop/community hub on the course of the Boston marathon, Tracksmith is passionate about the sport. They live and breathe it. The reason they started the brand was that they felt running companies had lost touch with the community and spirit of running. They are here to change that.
Ryu
Ryu is a Canadian brand bringing to the table innovative and tailored urban athletic apparel for every athlete.
Designed without compromise, the brand engineers clothing for fitness, training and performance. Through clean lines and modern styling, the traditional workout gear has been given a more tailored aesthetic.
The concept with Ryu is that the clothing can handle the toughest workouts but can easily be worn to the office.
Using their traditional retail spaces more as community centres for like-minded people they are looking to empower their customers. Instore, customers can be introduced to trainers that represent different disciplines helping them to utilise the instore gyms.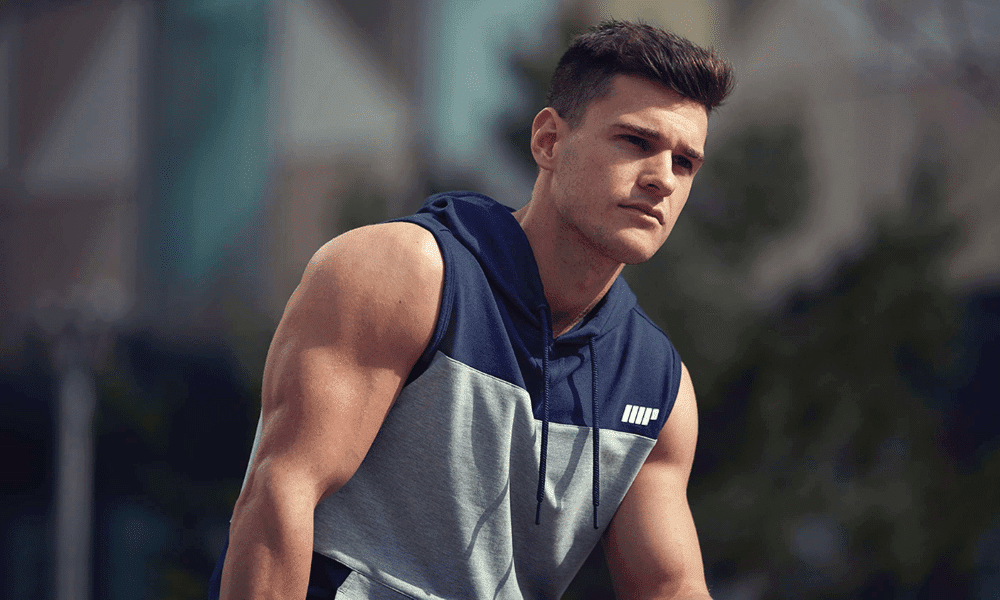 My Protein
Famous for helping their customers achieve their fitness goals through the consumption of specially formulated proteins and shakes. My Protein also sells a range of clothing for men and women.
Designed to work with your body during workouts, their technical clothing delivers on-trend athleisure pieces. Combining advanced performance technologies with the latest sportswear looks it provides stylish support for any workout.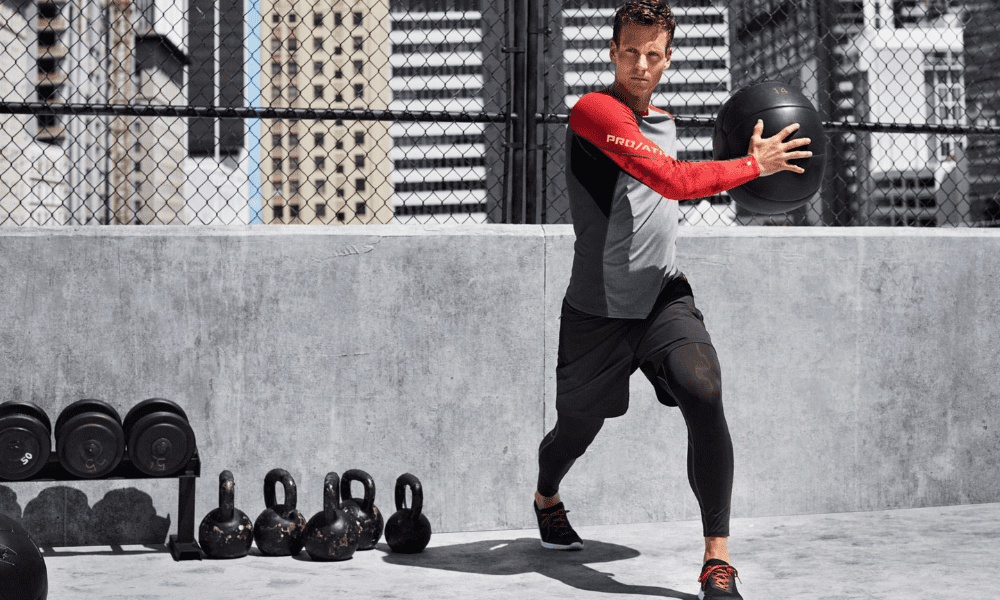 H&M
The Scandinavian high street giant has given men another reason to shop from them. Their sportswear range has grown in options since its release and comes in at a good price as you would expect from H&M.
Covering individual training gear like shorts, hoodies and tops. There is also a range of technical outerwear to support outdoor activities. Ideal as we move into colder months and don't want to sacrifice our new exercise routines.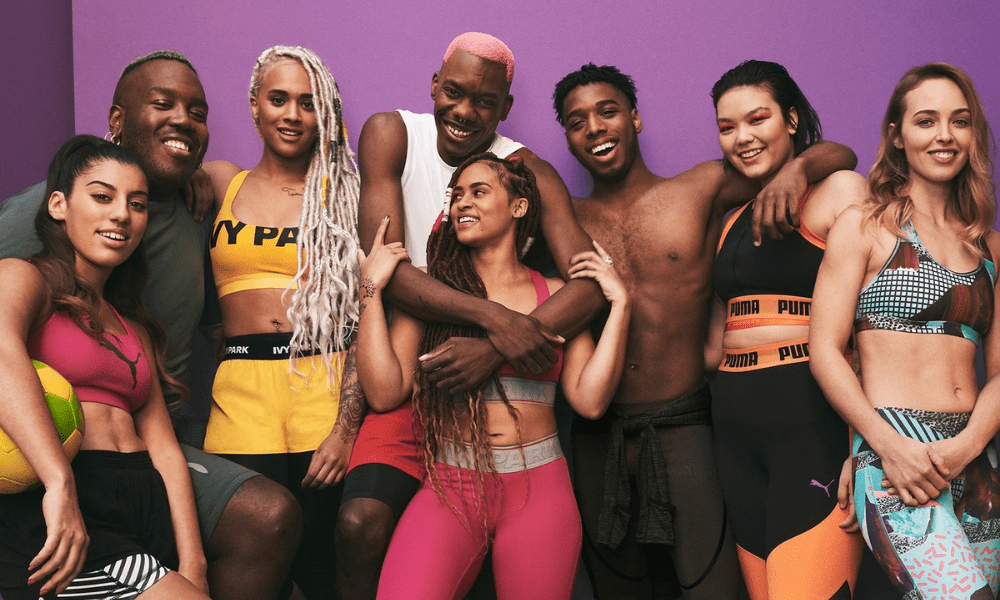 ASOS
Alongside familiar brands like Nike and Adidas, you can get your hands on ASOS's very own ASOS 4505 range.
With the focus of empowering men and women of all ages and sizes, it has your expected splash of trend-led colourways and prints. From compression tights to fleece joggers the collection is varied and can be applied to multiple disciplines.
For men looking to maximise their budget, then ASOS 4505 could be a great starting point.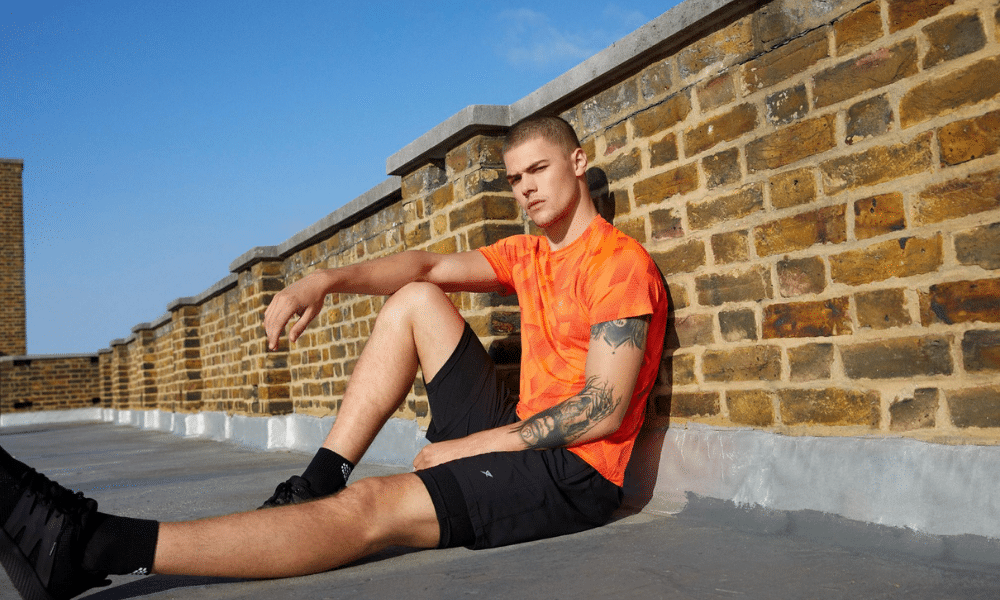 Primark
Looking to spend even less, then Primark should be your next visit. Those that need a few pieces for working out but aren't willing to invest large sums, Primark offers a range of bold sportswear.
Sustainability maybe isn't a word you associate with the budget-friendly fashion brand. But, their entire performance range is made from recycled polyester. So, if a lack of adequate clothing is stopping you from exercising, that excuse no longer stacks up.
Topman
Another high street stalwart to get involved in the activewear market, Topman mixes its own-brand collection alongside streetwear favourites like Champion.
The Signature collection from Topman is a celebration of an elevated classic range that includes tops and tracksuits. Its suits men that want less fuss from their workout gear with a modest colour palette throughout.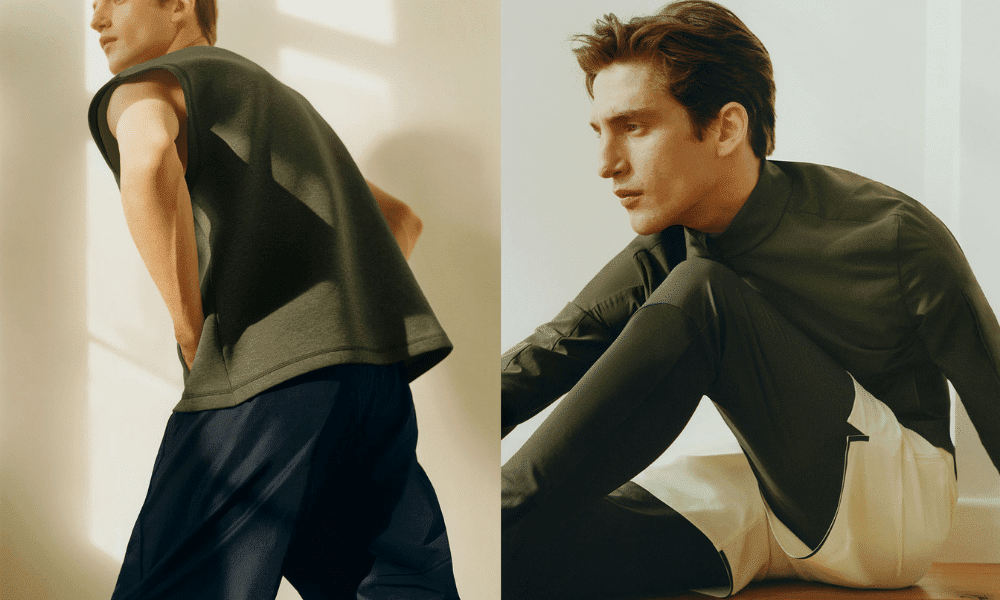 COS
Made using recycled materials and seamless technology, COS activewear is a welcome addition onto the list.
Famed for their minimalist aesthetic this follows through into their sports clothing. Built with comfort, functionality and style in mind its unique designs cover a non-extensive range of tops, bottoms and a few accessories.
Crafted for the gym and beyond, this collection can easily integrate into your daily wardrobe.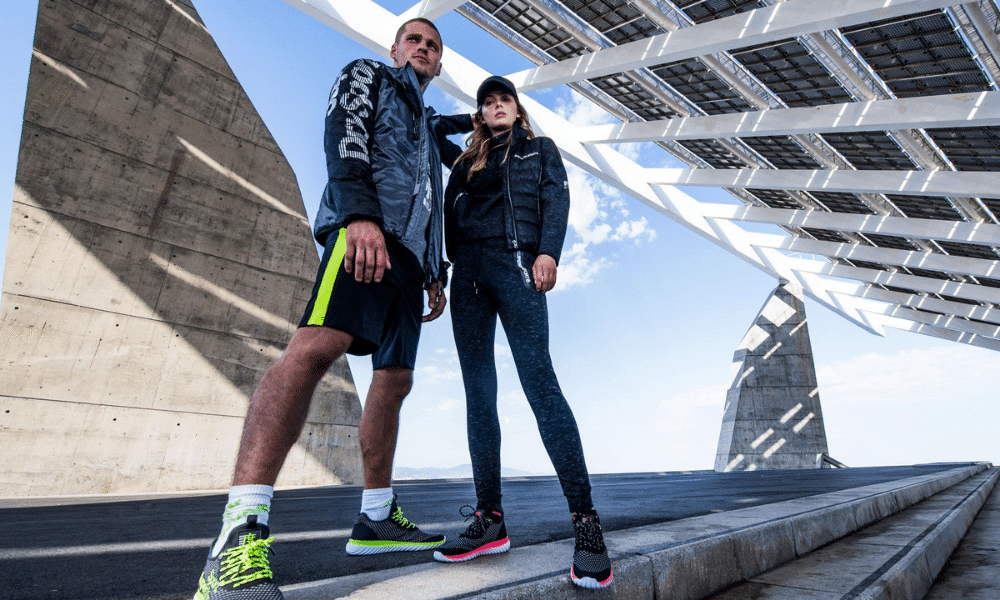 Superdry
With clothing for the avid gym-goer, Superdry has ticked the box when it comes to great workout gear. From moisture-wicking to stretch technology, the range is engineered to help you push your limits.
Superdry's products have always been designed with research at the heart of what they do. The SuperDesign Lab was set up to help further their investment in materials and innovative concepts that can be applied to their products.
The Superdry sportswear range was a direct result of the research that came from the SuperDesign Lab and the brand sees it sitting perfectly within their more established offering.
Armani Exchange
The EA7 range from Armani has a breadth of high-tech, on-trend styles from trainers to performance tops.
Specialising in activewear clothing, this luxury sportswear brand has a distinctively Italian feel. From ski wear to gym attire the company is powered by Giorgio Armani, himself a lover of sport.
Like with a lot of companies on the list, EA7 aims to bridge the gap between sport and lifestyle. With a world-renowned fashion brand behind it, the brand is well placed to achieve its goal.