The French Crop: A Timeless Haircut For Men
No, it isn't a piece of Provencal agriculture. The French crop is in fact an ideal men's hairstyle for the warmer months. Similar to a Caesar cut, it is a slight variation on a classic men's haircut style. Easily manageable it will suit the vast majority of men in a short or medium length.
Read on to find out whether the french crop is the right haircut for your face shape and hair type.
The Details
In essence, it is a short, back and sides but with a textured top. The fringe can either be worn down to take the edge of the hairline or styled across in a textured side parting. There are variations of a french crop whereby the length variation on the sides and top is quite extreme. Some men even prefer to accentuate the difference in length further by going an even shorter grade around the ears.
Having more of a fringe is ideal for men with long faces or large foreheads. As it creates a less severe hairline. Wearing it sideways at the front is a great way to update a classic and timeless style. A surefire way for men to look great in the boardroom or in the bar.
How To Cut The Style
Your barber should already familiar with the French crop style. But, if they aren't, there are a few things to take into account. The back and sides are often cut with scissors to gain a soft transition to the hair on top. For men with quite thick or curly hair, we recommend a shorter side. It offers a modern look with a more drastic transition to the longer hair on top.
Remember, you can always take along a photo of the desired haircut. This gives your barber a better understanding of what you want.
Taking note of your hair thickness will also determine the weight on top. Thick hair can look lifeless on top of your head. So, ask your barber to use a 'point cut' to add texture. Those like me that have thinner hair can ask for a 'blunt cut'. It is great at combating hair that sticks up at the crown.
Styling A French Crop
With this effortless style, you don't want it to look too polished. Clay's and pastes can add texture but without removing the freedom of movement.
As the hair is scissor cut with a natural finish this style tends to grown out nicely. So, in theory, there are fewer trips to the barber.
In conclusion, the French crop is a pretty low maintenance hairstyle for men. Go as short or as long as you feel comfortable and work with your barber to find an outcome that isn't going to look best for your hair type and face shape.
French Crop Gallery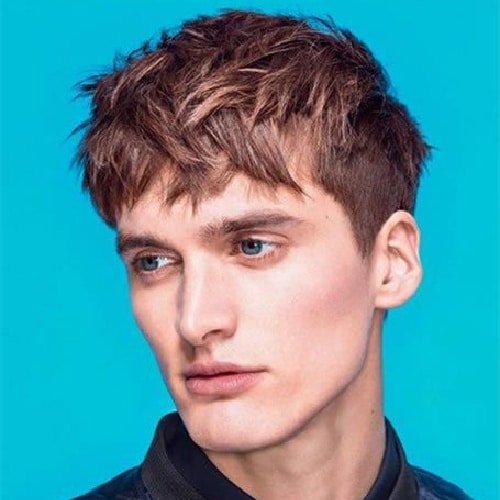 Please follow and like us: