The Best Scented Candles For Men
Men can take time to see past the outdated perception of unisex products. Scented candles have always traditionally come with floral scents. Therefore men have seen them as a female product. But, times are changing. Mainly due to recognised 'male' brands releasing candle ranges in scents that have a more 'manly' woody, or spiced aroma. As a result, there is now more choice than ever for men when it comes to scented candles.
There are also some key advantages men will gain from using scented candles more. When lit, they are an instant mood-setter, creating an ambience of sophistication to a home. Then there are the aromatherapy benefits. A relaxing smell can help you unwind after a stressful day at work. Are you expecting a guest? A subtle candle fragrance can also help mask any unwanted odours.
Remember when lighting your candle to keep the flame away from fabrics and to keep the wick trimmed to avoid smoking.
Whether used in your living room, the bathroom or a man cave, scented candles have become an essential interiors accessory. But, choosing a good product is key. Cheap alternatives will lose their smell quickly and when the candle is burning, the scent won't be able to fill the room.
To help you on your scented candle quest we have pulled together a list of 10 of our favourite scented candles for men.
1. Acqua di Parma Buongiorno
More prominently associated with men's fragrances. Acqua di Parma has crafted a sumptuously scented candle that transports you to a wooded Italian countryside.
Notes: Lemon, Mint, and Rosemary
£51 from Harrods
2. Murdock Black Tea Candle
Regulars at Murdock barbers will recognise the scent as it is burnt in the shops. An intriguing mix of subtle spices, it is housed in a head-turning black vessel.
Notes: Leather, and Tobacco
£45 from Murdock London
3. Apothekeco Charcoal Candle
Apothekeco delivers a full-bodied woody scent with Charcoal. The New York candle specialists use perfume-grade fragrance oils with wax hand-poured in the US.
Notes: Amber, Oud and Sandalwood
£35 from Conran Shop
4. Malin + Goetze Leather Scent
The grooming brands best-selling scented candle. It blends sandalwood and leather for a warm, sophisticated aroma. This is a perfect autumn/winter fragrance for any man's home.
Notes: Soft Leather, Sandalwood and Sueded Amber
£42 from Cult Beauty
5. Byredo Safran Candle
A slightly sweeter smell than some of the other candles in the list. Typical masculine notes like leather are broken up with vanilla to lighten the overall tone.
Notes: Vanilla, Black Pepper and Saffron
£57 from Space NK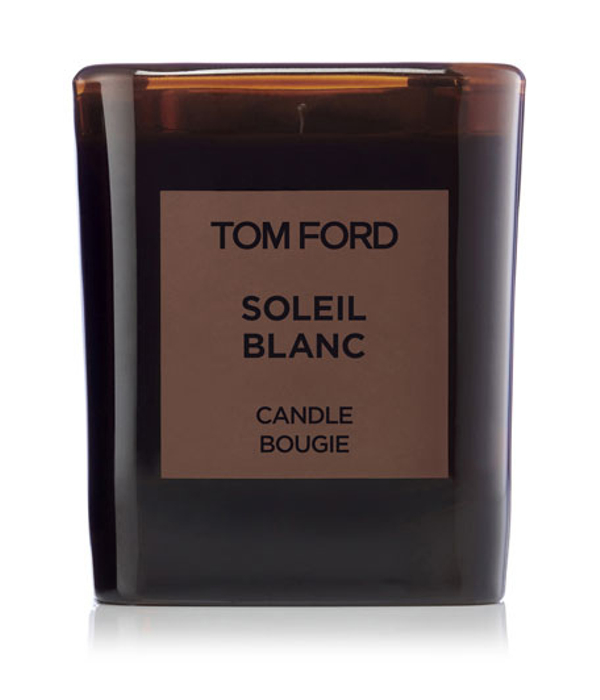 6. Tom Ford Soleil Blanc
Well if it is good enough for Tom Ford, then it is good enough for us. This private blend will have you dreaming of walks on white sandy beaches. It is inspired by the pursuits of luxurious sun.
Notes: Floral, and Amber
$98 from Tom Ford
7. Jo Malone Oud Scented Candle
Derived from dark tree resin, oud is a rare scent that gives off a rich, deep scent. This combination of citrus and wood fragrance is a real winner.
Notes: Cedar and Bergamot
£58 from Mr Porter
8. Diptyque Black Baies Candle
French brand Diptyque has been creating candles since the 60's. This scent has an exquisite touch of blackcurrant to it and is highly rated from the likes of GQ.
Notes: Roses and Blackcurrant
£62 from Mr Porter
9. Ralph Lauren Home
This was made specifically for the holiday season. It is Christmas in a candle. Made in the US it is an elegant scent that makes you want to curl up in front of the fire.
Notes: Redcurrant and Juniper
£60 from Ralph Lauren
10. Tom Dixon Eclectic London
There wouldn't be any old container to house designer Tom Dixon's candle. This is a handspun copper vessel. It houses 'London' a scent evocative of walks through the parks and streets of the capital.
Notes: Oud and Patchouli
£100 from Mr Porter
Please follow and like us: